Photos
Rooms
Services
Facilities
Info
Location
Berg-Gasthof Butterberg
Butterberg 1, 01877 Bischofswerda, Germany Show on map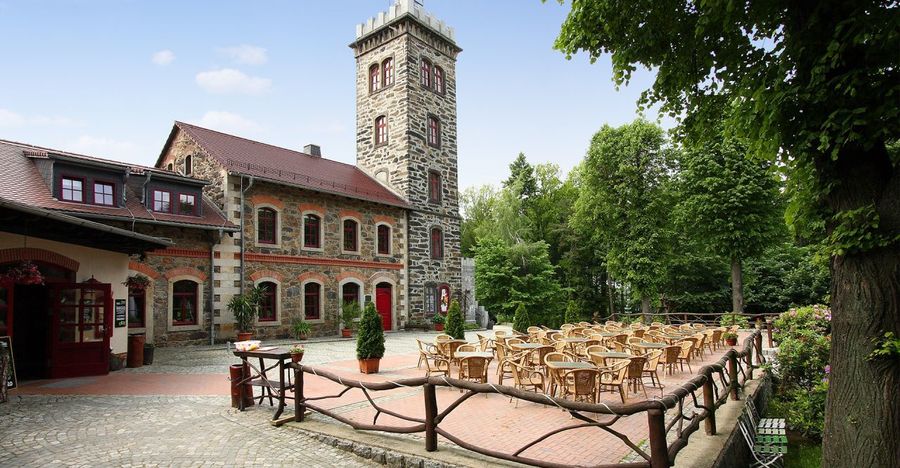 15 Photos
Less
More
Payment:
You do not require prepayment: in case of cancellation or no show you take care of collecting your cancellation/no show fee directly from the guest.

The guest can cancel free of charge until 1 day before arrival. The guest will be charged 100% of the total price if they cancel after 1 day before arrival.
Show details about this room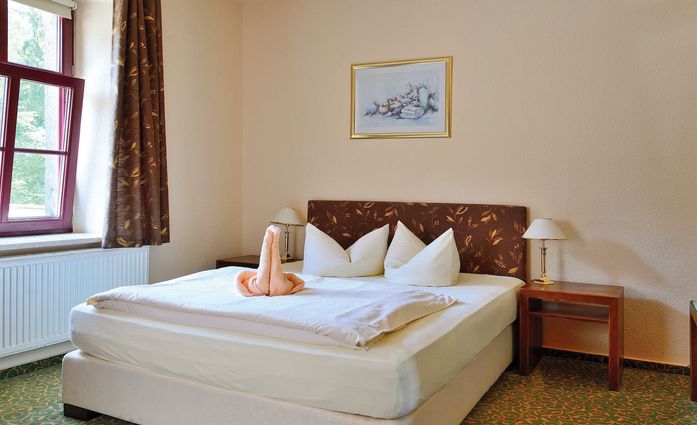 2 photo
Facilities
Meeting/banquet facilities
Private check-in/check-out
Shuttle service (surcharge)
WiFi available in all areas
Berg-Gasthof Butterberg Details
Berg-Gasthof Butterberg hotel in Bischofswerda (Saxony), Upper Lusatia, is an amazing combination of breathtaking mountain views, German traditions and modern services. Wide range of options for comfortable living, business needs and entertainments are offered.
Restaurant
The hotel's restaurant will pamper you with dishes and drinks of both regional and international cuisine. For vegetarians and those with food allergies the chef will cook something special meeting their needs. Staying inside is not the only option available - you can enjoy your meal also at the beer garden or the terrace.
You don't want to miss any Thursday in the restaurant as it is a steak day! Take a chance to spend an amazing evening with a glass of wine in front of a fireplace.
Lodging options
While staying at Berggasthof Butterberg you have a choice between single and double rooms and apartments. All of them feature Wi-Fi, TV and necessary toiletries. Meals are provided as well - you can order breakfast or half board arrangement.
Apartments are presented in different designs - depending on their type (Trend, Family, Cult-Loft or Young). Capacity varies as well: from two to six people can accommodate. In addition to living areas, bathroom and kitchen with provided equipment and cooking appliances there is a cozy yard with barbeque. In majority of apartments there is an option of parking a car in the yard right in front of a house.
Business meetings
In Berggasthof Butterberg you are welcome to hold any of your conference, seminar or training, as the hotel provides you with state-of-the-art technologies including TV sets, beamers, flipcharts, overhead projectors, video recorders, sound and light equipment.
If you need something that is not listed, please feel free to contact the hotel and communicate your need.
Nutritious snacks and multi-course meals are offered, so your guests and business partners won't stay hungry during your conference. Different rooms with individual seating plan of your choice are available.
You are welcome to take your pet with you, but you need to give advance notice. Smoking is prohibited in all rooms.
Events
The hotel offers planning, organizing and implementing of parties, family celebrations and corporate events. For each of them food, whether menu or buffet is provided. There are several options concerning your celebration place: a guest room (50 seats), Tuscan-style fireplace room (for 22 people), veranda (60 seats) and a ballroom (up to 100 people). If you prefer staying outside, the hotel has a spacious beer garden, marquee and the pagoda tents.
Something special is offered for those getting married: an exquisite wedding cake, that the hotel's chef will bake according to your demands.
Activities
Located among picturesque mountains, Berg-Gasthof Butterberg is a great place for those preferring outdoor activities such as biking, hiking and sport games. You can rent a bike nearby and follow an offered route or create your own one. If you love spending time with your friends, you will definitely appreciate the group tours offered. Our HotelFriend website provides a full list of the rooms, services and deals available, so you can easily choose and book the ones you like the most.
Berg-Gasthof Butterberg