Dates
Check In - Check Out
Guests
Adults 2

, Children

0
Dorfring 2, 27801 Dötlingen, Deutschland Show on map
Why guests like this hotel
Hervorragende Gastfreundschaft
Grillbüffets im Sommergarten
Renovierte, ruhige, saubere Zimmer
Erstaunliche Landschaften
Restaurant für 180 Personen
Rooms
There are no rooms available for these dates
Try to change the dates and try again
Services offers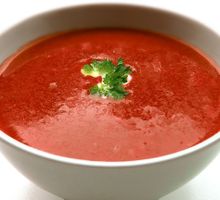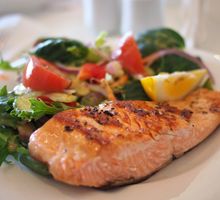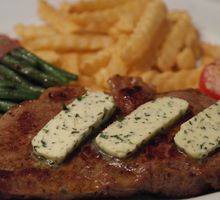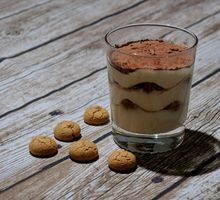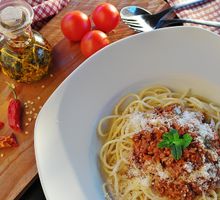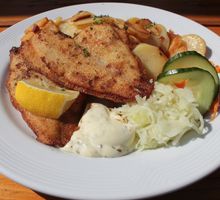 Plaice fillet "Finkenwerder Art"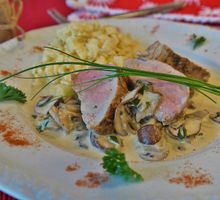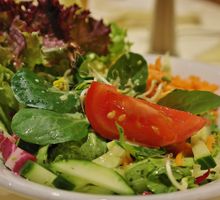 Facilities
These amenities are available to you.
Bar
Bicycle rental
Cycling
Designated smoking area
Free WiFi
Show more: 22
Description
Original German family-run hotel in a museum-like place. The reception is very Nordic-warm and this ambience accompanies you during the entire stay. Here the charisma of the house and the hospitable professionalism of the owners will convince you to stay with Dötlinger Hof again and again.
Food
The Lüdeke family also run the restaurant on the territory of the hotel. The owners are very friendly and extremely helpful, dedicated to deliver high-quality service at affordable prices. The menu creatively combines modern trends with traditions: goose, duck and other poultry, vegetarian dishes, home-style currywurst with various rustic grilled specialities and mouth-watering Mediterranean diet known for its healthy impact on increased lifespan and overall feeling of well-being.
The food offered is seasonal, depending on the time of the year it features BBQs in the summer garden and cabbage parties in the cold season. Aficionados of culinary delights will appreciate special asparagus offers starting in April. All year round foodies will definitely get their money's worth.
The breakfast in particular is very varied and rich. Breakfast buffet offers salmon, boiled and scrambled eggs, various sorts of sausage, fresh rolls, black bread, cheese, juices, cereals, jam – you name it. The owners are very flexible, ready to go the extra mile to make your stay enjoyable, including rearranging the furniture for your comfort if you travel in a big company. For large celebrations up to 180 people there are personalized arrangements; individual buffets and menus promise to make it a memorable occasion for the guests of your private party.
Rooms
The guests are pleasantly surprised and highly satisfied with the feel-good atmosphere of the rooms, which are newly renovated, very modern and nicely decorated. Everything is very clean and comfortable and value for money is 100%.
Culture
Dötlingen is a very nice place and the area has much to offer. Apart from its almost 1000 years old village oak, the place is famous for its artists' colony, set up in the early 20th century in this area, picturesque landscapes of which keep inspiring its viewers to create masterpieces. In order to preserve culture, facilities and typical houses in the municipality of Dötlingen, the Dötlingen Foundation was founded in 1999. It has set itself the goal of promoting landscape and nature conservation as well as listed buildings.
5 reasons to stay in Dötlinger Hof when you are in Lower Saxony:
• Outstanding hospitality of the family running the venue;
• Exceptional restaurant on the premises, capable of hosting up to 180 people;
• BBQs in the summer garden;
• Renovated quiet clean rooms providing excellent sleep comfort;
• Amazing landscapes and cultural heritage of the area.
Dötlinger Hof