Photos
Rooms
Deals
Services
Facilities
Info
Location
Hotel Rathener Hof
Weißig 7D, 01796 Struppen, Deutschland Show on map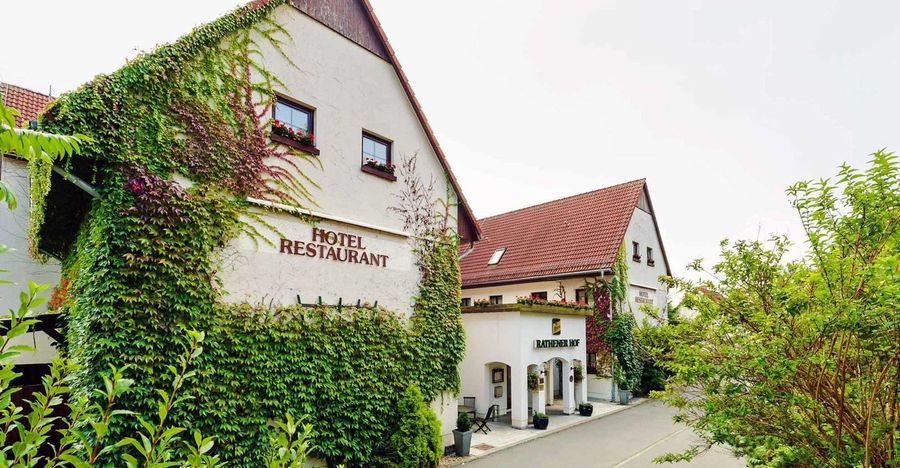 19 Photos
After buying the deal, please, contact the hotel to agree on the dates available for check-in. Choose your travel package.
Send request to hotel to get price

2 photo
Wellness
persons: 1
Nights: 2
Spa special
Classic double room + 6 Services included
Hotel Rathener Hof
Weißig 7D, 01796 Struppen, Deutschland
More
Romantic
persons: 2
Nights: 2
Romantic arrangement for two
Classic double room + 5 Services included
Hotel Rathener Hof
Weißig 7D, 01796 Struppen, Deutschland
More
Facilities
Express check-in/check-out
Facilities for disabled guests
Shuttle service (surcharge)
WiFi available in all areas
Hotel Rathener Hof Details
Rathener Hof in Weissig is a holiday family-run hotel in the center of the Saxon Switzerland national park. All European hikers have to visit this place because it's a real mecca for hiking tourism.
A lot of professional tourists choose Weissig as a place, where it's possible to enjoy the fantastic mountain and forest landscape, and to visit a number of outstanding natural and historical attractions. Hotel Rathener Hof (Struppen-Weißig, Germany) is the most traditional and authentic place near the river Elbe. The hotel is the favorite place of rest among hikers as it has all facilities for a sporty and active weekend.
Hotel Rathener Hof has just 29 rooms (6 single and 23 double). Reception works from 6 AM till 10 PM.
Rathener Hof's distinguishes
You can easily walk down to the river Elbe, go along forest paths and enjoy gorgeous cliffs. But not only hikers choose this hotel. A lot of newlyweds come into Rathener Hof in Weissig and celebrate wedding ceremony here. There is a large terrace for 60 persons in the garden, where you can organize ceremony and wedding dinner. Of course, a suite for bride and groom is free!
SPA services
After a long journey through the forest, you will be glad to rest in sauna, especially, because it's free for guests. You may choose a traditional dry sauna with 90° or a wet sauna with 45°. If you prefer SPA-centers with pool and massage, you may order all types of wellness services on our web-site. However, remember that SPA-center is situated in the partner Hotel Elbschlösschen in two kilometers from Rathener Hof.
Cuisine
Breakfasts and dinners are free for all guests of the hotel. For dinner or business lunch, you may choose three dishes, which are always different. The chef has created a special menu for the vegetarians, so every guest will enjoy rich and tasty traditional cuisine of Saxon Switzerland.
The restaurant has a winter garden and a terrace with a panoramic view. You also may drink a cup of mulled wine in the bar near the fireplace.
Rent service
The city center of Weissig is situated just 1.5 kilometers away from the hotel. You may rent a car or a couple of bicycles and go to the center or spend time in the surrounding area. If you don't have hiking boots or special equipment, you may rent it for a day or for the whole vacation. Not far from Rathener Hof you will find a stable, where you can ride a horse.
Entertainments
In Saxon Switzerland, you may visit natural and historical attractions: Kustal, Lichtenhain waterfalls, Königstein's fortress, Stolpen's fortress and Rathen's rock theater. There are a lot of interesting places for the youngest guests, e.g. the biggest mini railway road is situated in 1.5 kilometers away from the hotel. If your child is a fan of dinosaurs, he/she will be absolutely amazed by the dino-park Sebnits.
Country hotel Rathener Hof Weissig is the most interesting place for a sporty, funny and absolutely romantic weekend. If you want to merge with nature and prefer active rest, you need to book a suite right now! Moreover, we have a lot of interesting propositions for the visitors of our web-site. Don't waste your time and start planning your trip with us.
Hotel Rathener Hof