Photos
Rooms
Services
Facilities
Info
Hotel – Restaurant Zur Sonne
St. Peter
Baden-Württemberg,
Germany
Zähringer Str. 2, 79271 Sankt Peter, Deutschland Show on map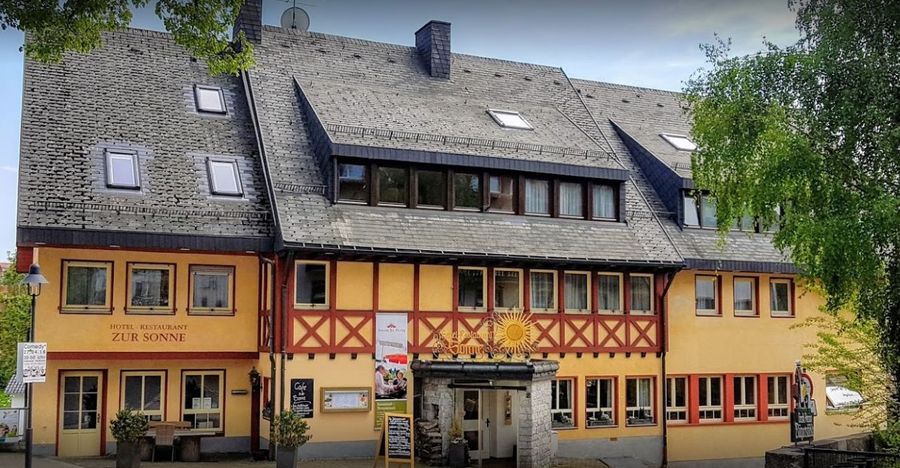 7 Photos
After buying the deal, please, contact the hotel to agree on the dates available for check-in. Choose your travel package.
Send request to hotel to get price

1 photo
Hotel – Restaurant Zur Sonne Details
The Hotel – Restaurant Zur Sonne crosses the mind as a wonderful place if you wish a pleasant holiday in any season. This pleasant 3-star guest house proposes a vast range of options including a restaurant, everything necessary for your pet, wellness centre and children's playground. We invite you to stop at this place if you are planning to take a break from daily routine with your youngsters, beloved one, pet.
Spa&Relax
Spa&Beauty offers are waiting for you, as Hotel – Restaurant Zur Sonne is positioned as a place for giving residents a deep relaxation. Enjoy the sauna and other treatments offered in the hotel. You won't be disappointed if you immerse yourself in every one of these procedures to rejuvenate your skin.
Accommodation&Facilities
This complex includes tastefully furnished double rooms with nice design. There are non-smoker rooms upon demand. The lodging is pet-friendly.
Food&drink options
A team of professional restaurant's cooks treats foodies with scrumptious culinary classics of ethnic and international cuisine. During the summer season, take pleasure in your meal on the hotel terrace.
The Hotel – Restaurant Zur Sonne is advised as a top place here, in accordance with guest reviews. Plan each day of your rest in every detail from the comfort of your home. Discover special offers, deals and travel smart.
Hotel – Restaurant Zur Sonne