Photos
Rooms
Deals
Services
Facilities
Info
Ringhotel Residenz Alt Dresden
Mobschatzer Straße 29, 01157 Dresden, Deutschland Show on map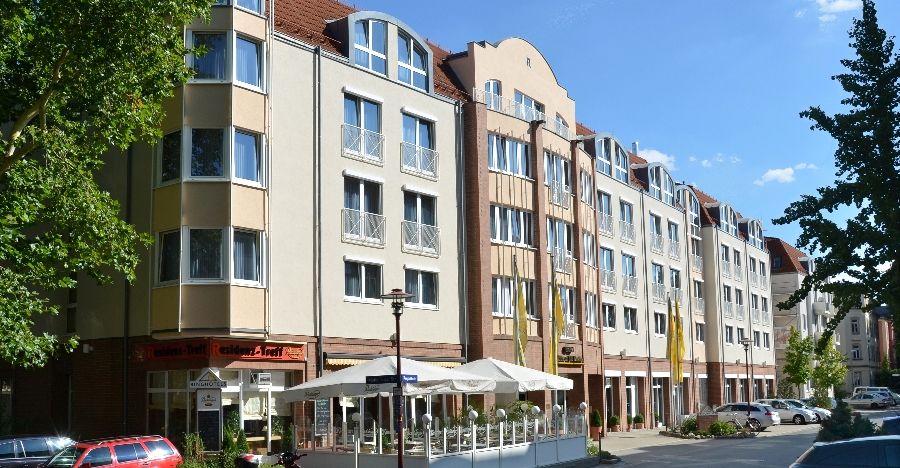 20 Photos
After buying the deal, please, contact the hotel to agree on the dates available for check-in. Choose your travel package.
Send request to hotel to get price

3 photo
Facilities
Facilities for disabled guests
Meeting/banquet facilities
Special diet menus (on request)
WiFi available in all areas
Ringhotel Residenz Alt Dresden Details
The Ringhotel Residenz Alt Dresden is an amazing variant for lodging in any season of the year, that welcomes its guests with familiar atmosphere, varied cuisine and thousands of leisure activities. The stunning 4-star guesthouse provides a large assortment of comforts that include bar, meeting/banquet facilities, everything necessary for your pet (upon request), bicycle rental and restaurant. We advise you to stop at the place if you intend to get away from everyday life with your pet, the whole family, friends, beloved one as well as if you are on a business travel.
Types of accommodation
This hotel has well-furnished and excellently designed double rooms. The complex has rooms with hypoallergenic bedding, rooms set up to meet the needs of handicapped people upon demand. All rooms are no-smoking. Guests with pets are welcome here.
Local cuisine
The inn is proud to present own restaurant with foods from the region together with European cookery. Moreover, special diet menus are served. During the warm months, take pleasure in your food on the sun terrace. There's also a classy bar on the territory. Hotel's helpful staff can prepare you a takeaway lunch.
Upon the opinions expressed by guests, the Ringhotel Residenz Alt Dresden will guarantee your laid-back vacation. Think your stay in Dresden through. Our expert team will help you with pleasure with this!
Ringhotel Residenz Alt Dresden