Photos
Rooms
Deals
Services
Facilities
Info
Location
Markt 10, Peitz, Deutschland Show on map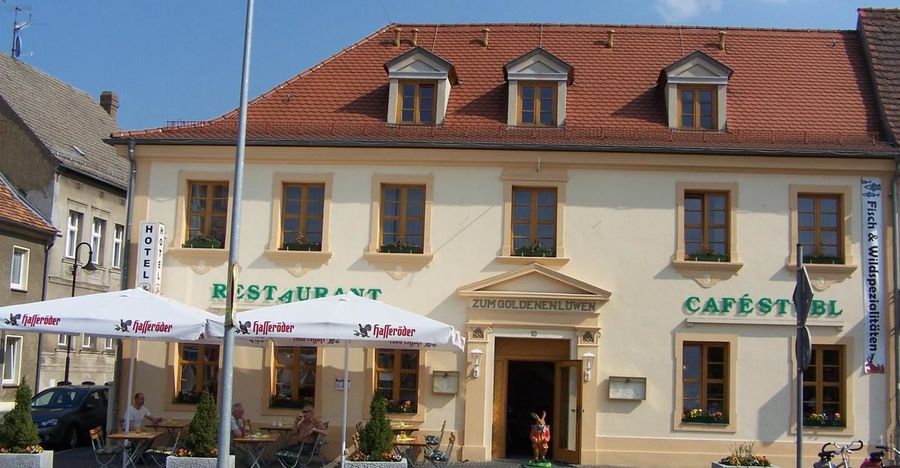 17 Photos
After buying the deal, please, contact the hotel to agree on the dates available for check-in. Choose your travel package.
Send request to hotel to get price

3 photo
Active holidays
persons: 2
Nights: 2
Spreewald two day vacation
Double room + 5 Services included
Zum Goldenen Löwen
Markt 10, Peitz, Deutschland
More
Facilities
Shuttle service (surcharge)
Zum Goldenen Löwen Details
Where else you could go hiking and fishing, visit folklore fairs, have a look at the ruins of a medieval fortress and then, upon return, enjoy incredible dishes of freshly hunted game meat? Once you are going to Peitz, consider staying at the family-run hotel Zum Goldenen Löwen.
Opened in 2000 in the old town of Peitz, the hotel has been successfully run by the Roschke family during all these years. Its location in the historical center, right by the market square makes it an attractive place for guests to drop in and stay.
Accommodations
Single, double and family rooms (for 3-4 persons maximum) are available in the hotel. Everything necessary for your comfortable stay is provided: wireless Internet, satellite TV and a bath or a shower. In total there are 28 rooms featuring light and simple, yet pretty design.
Events
There is quite enough options provided by the Zum Goldenen Löwen hotel for a memorable celebrating of your events, feasting and just having fun.
Both lovers of active and passive leisure will find something interesting: if you prefer staying outside and can hardly imagine spending a day without getting a new experience, you should definitely try boat trips, hiking, bicycle or bus tours, dancing and folklore events, skeet shooting or carriage riding, offered by the hotel. For hanging out with your friends group tours around the Spreewald and Peitzer Land are being offered.
Enjoying Peitzer carp weeks at the restaurant, discovering the old center and appreciating amazing views are just some of the options for those preferring calm rest.
Food
In addition to dishes of traditional German regional cuisine Zum Goldenen Löwen Restaurant & Café is also proud of its delicious specialities, such as the famous Peitzer carp and dishes of deer, wild boar and pheasant, that will be hunted specially for you.
Please note the restaurant working hours: Monday to Thursday - from 4 p.m. to 9 p.m., Friday and Saturday - from 11.30 a.m. to 11 p.m. On Sundays and during holidays - from 11.30 to 10 p.m. If you need to stay longer because of your event, you will have to agree it individually.
Once you have appreciated the food offered you would probably like to please guests of your holiday or event with a splendid buffet, organized by the team of professionals. The whole range of exquisite dishes, nutritious snacks and refreshing drinks are at your disposal, so take your time to enjoy the party and communication while the hotel team cares of everything else: planning and organizing, cooking, serving and cleaning afterwards.
Zum Goldenen Löwen