Central Reservation System
Cutting-edge hotel reservation software that keeps all the vital information about your hotel together in one place.
The importance of CRS
Central reservation system (CRS) is indispensable software for hotels and every fast-developing accommodation facility, aimed at maximal customer engagement and reservation management in a single system. By automatizing a large portion of tasks, you make the best use of available work resources, time, and budget. Moreover, the real picture of the marketing situation in the hotel enables you to expose fallacies and develop new sales policies. Not to mention the fact that keeping in step with the times (which means using new-generation programs) is a necessary condition for hoteliers who want their business to grow.
Benefits of HotelFriend CRS
Efficiency
Economy of time, money and resources
Effective communication with guests & staff
Realization of the hotel's full potential
Visibility
Free mobile app on App Store & Play Market
Significant online presence
New marketing strategies
Revenue Flow
More bookings
New ways of selling services
Improved guest experience & loyalty
How it works with HotelFriend
PMS
An advanced cloud-based property management system is integral to every modern hotel's performance. With the help of PMS the entire daily workload can be compartmentalized, priorities — set, staff's tasks — made easy, saving you time, money, and hassle. Its modular as well as open construction is able to meet the demands of both small businesses and hotel chains, allowing hoteliers to implement and customize it according to their needs easily. Our customer support specialists will give you their undivided attention so that the system works seamlessly and effectively. Its features include naming just a few: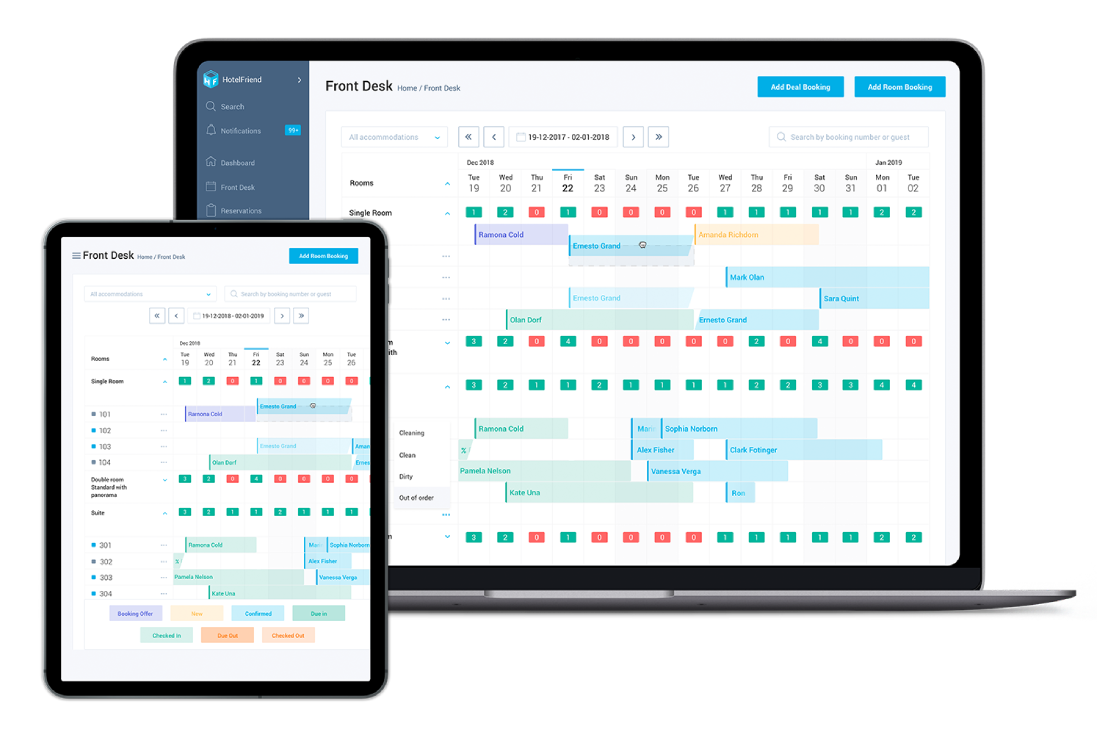 Front Desk
Is a single tool to manage bookings, administrate rooms, keep track of check-ins and check-outs, and have a handle on any changes through instant notifications. Planning work schedules months ahead is made possible thanks to a clearly laid out calendar.
Room Rates
Is a flexible instrument for hotel operators to make pricing plans highly manageable, vary them depending on seasons, number of guests and their age, board types, included services, etc. Restrictions and Cancellation Policy settings can be changed at your discretion.
Guests
Tab helps hoteliers to get to know their customers better, define their buying patterns, find out about their room preferences and favorite services.
Accounting
With Accounting you can create invoices for persons or company, conveniently sort them out, configure payment transactions and methods, maintain Documentation.
Channel Manager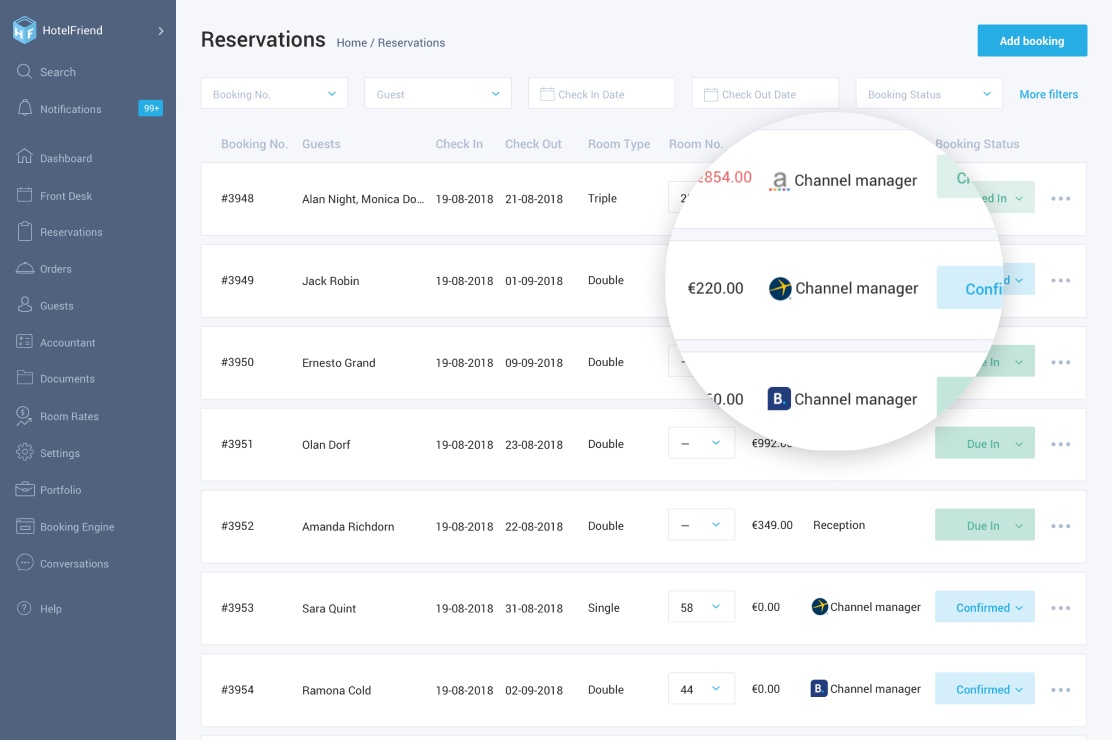 Increases bookings and accelerates online presence.
Firstly, it connects to the PMS and automatically distributes relevant information on room inventory and rates to an unlimited number of booking websites and OTAs in real time.
Secondly, it continuously updates this data across online distribution channels almost instantly.
Concierge App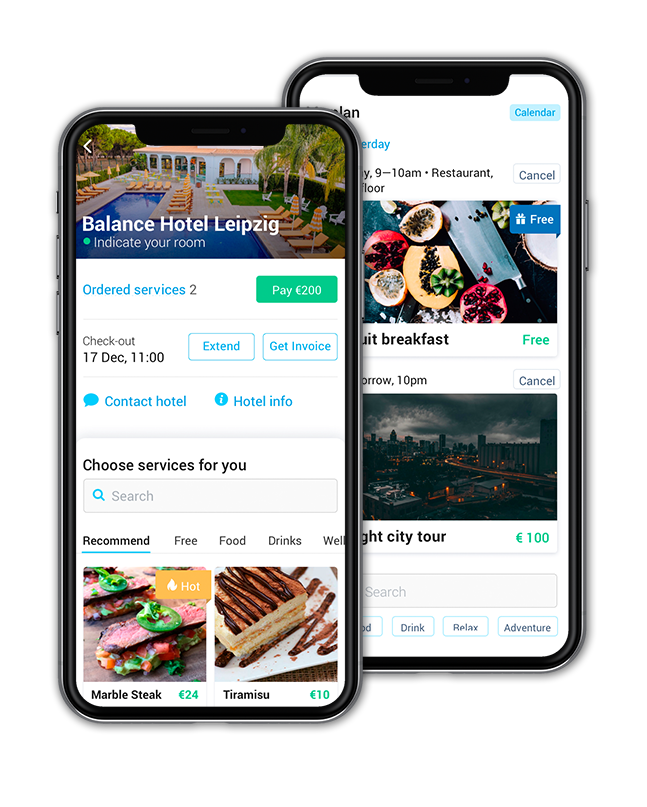 An innovative offer for hoteliers and their guests, matching the challenges of the new hospitality era.
With this app, every hotel manager is able to boost the service rate and quality by digitalizing the provision of services.
Your property's full potential will be plainly visible right on the smartphone screens of the customers.
Deal Manager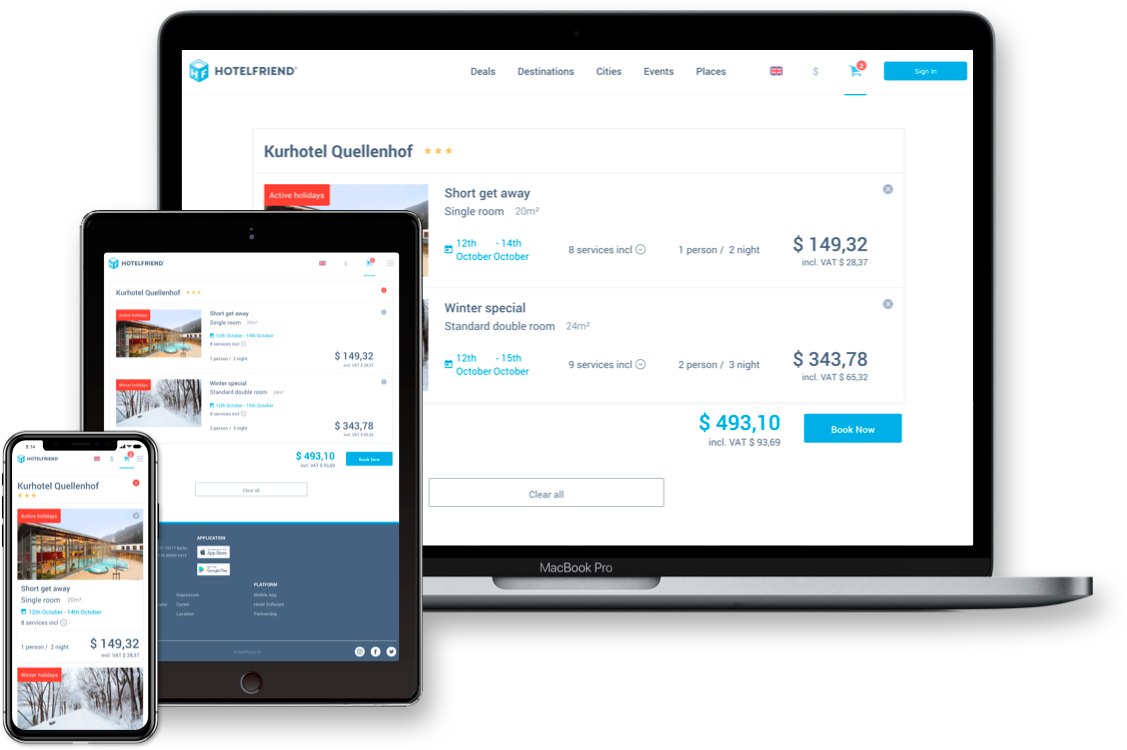 Brings the upselling of services to a new level.
Our platform affords ground for creating your own package deals or vouchers with the assistance of our experts.
All you have to do is handpick a few services and combine them with an overnight stay, then set an attractive price to sell on our Marketplace or even directly on the hotel's website. With such an innovative and client-friendly approach your hotel will surely be on everybody's lips.
More features
Housekeeping
Employees Management
Accounting & Invoicing
Notifications
Direct Chat
Booking Engine
Booking Offer
Hotel Info Management
Hotel Dashboard
Multiple Property Support
Analytics & Reporting
Daily Reports
Reservation Form (Fast Check-In)
Voucher Extranet
Portfolio
Pricing
CRS
from €99
per month
Channel Manager
Booking Button
Concierge App
Deal Manager
+more
Reservation Form (Fast Check-In)
Daily Reports
Employees Management
Web Hotel info
Central Reservation System covers hoteliers' major problems, from check-in and -out of guests to the realization of the hotel's untapped capacity by bringing essential processes across channels and platforms.
Just leave a request, and our sales team will get back to you shortly. We will choose a solution to fit both your short- and long-term goals.