Please, enter a destination
Filters
Top facility
More
Hotels in Bad Saarow
(112 results)
Bad Saarow - village in the past, international health resort nowadays
There is a beautiful city near Berlin that is located in the state of Brandenburg. This is an affiliated community known as a recreational and leisure area for its healing thermal springs, and a big lake Scharmützelsee. You can not only recover your health here but also participate in different activities. Bad Saarow is actually an international, regional and supra-regional city.
The weather in Bad Saarow
In summer, the weather is moderately warm. The average temperature is 18.8 ° C. In winter, the mean temperature is -1.2 ° C.
Interactive map of Bad Saarow
Thermal springs
The Highlight of Bad Saarow is the Saarow Therme. There are natural remedies used: the natural mud and brine. It helps to relax and sometimes even cure chronic diseases. The natural mud is particularly topical in the treatment of joint pain, rheumatism, and spinal diseases. These two aids make the Saarow Therme unique.
The high oxygen content of the air and the location on Scharmützelsee provide the conditions for a holiday with a high wellness factor. There are also the salt oases, the Therme Shop, and the beauty area available here. Regular usage of Salt Oase shows beneficial effects on respiratory disorders and skin diseases, allergies, and headaches.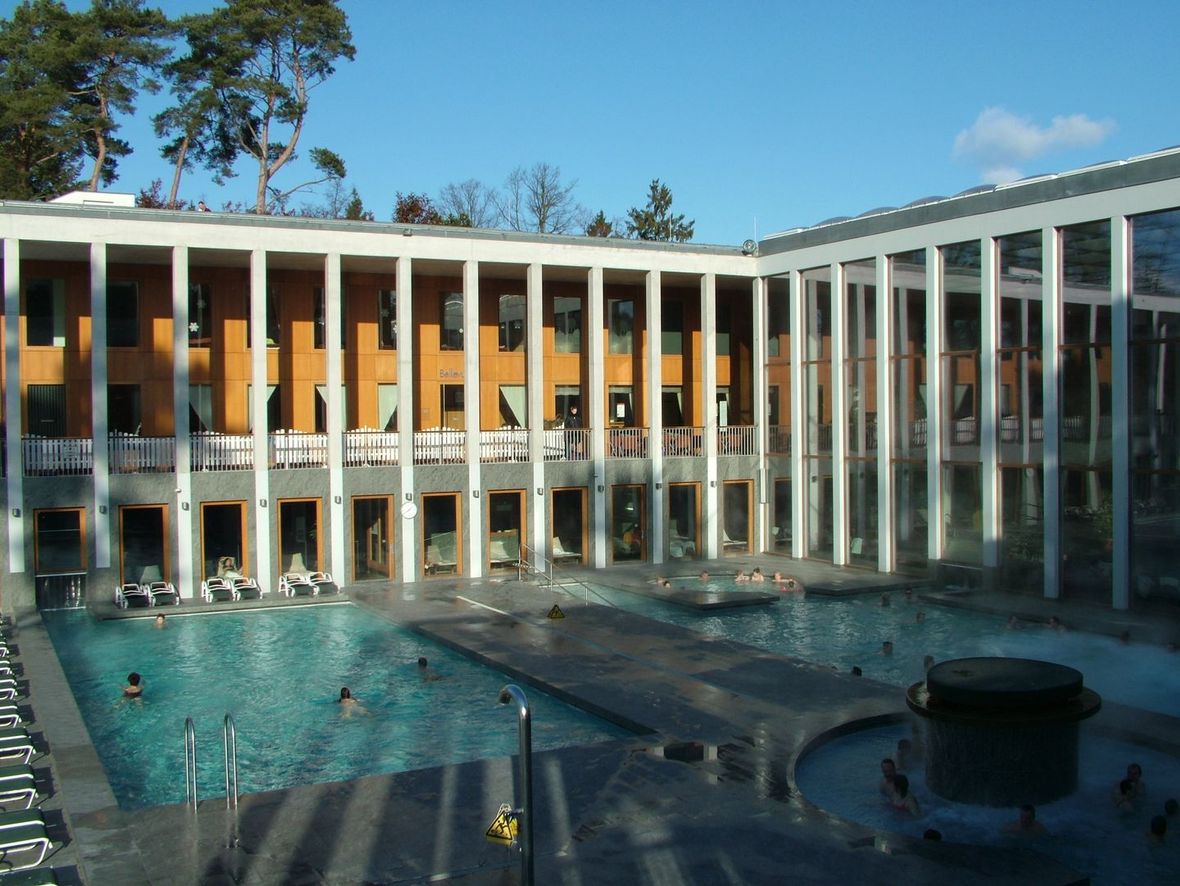 There is also a special offer for couples: the so-called "Sternzeit" (date under the stars) is the opportunity for lovers to spend time together in a healthy and romantic way, bathing in thermal springs and enjoying healthy food up to late at night. You can book this arrangement only by phone or email.
Tipp
Don't visit the thermal springs during the school holidays, then you can not enjoy the atmosphere in full
It is advisable to take your own towel as the rent costs 4 euros
!Please note: the thermal springs are overcrowded on weekends.
Offers in Bad Saarow
There are plenty of services available in Bad Saarow, but the most popular of them are offers on thermal springs:
Zauberhafte Augenblicke für 2
Entspannte Südseeträum
Meeresbrise
Chill out for real men
Zauberhafte Augenblicke für 2
This is a unique so-called girlfriends package for 229 euros allows you to enjoy a few hours with your best friend and use the services that this offer includes:
Manicure
Wellness drink
Massage
Chill out for real men:
This deal is actually for the men who want to spend their day without any stress as well as get some interesting experience. This offer contains the following services:
Facial treatment for men
Beer bath
A little delicacy
Thermal bath
Sauna
It is not so expensive to boot, for only 152 Euro you can spend all day in this paradise.
Helios Clinic in Bad Saarow
This clinic enjoys great popularity among the people who want to strengthen their health. There are several offers available here:
Parenting classes "Hebammerei"
Physical and occupational therapy
Private clinic
Parenting classes
This is the exclusive "school" that can not be found anywhere. Only here you will have the opportunity to get professional guidance during pregnancy. There is a possibility to get support and advice after the child's birth.
There is also special offer for those, who have free time only on weekends:
It is an advantageous alternative if you want to book your wellness package on weekends only. You should pay just 195 Euro for the time you will never forget:
Skin care
Massage
Sand light bath
Scharmützelsee - "Märkisches Meer"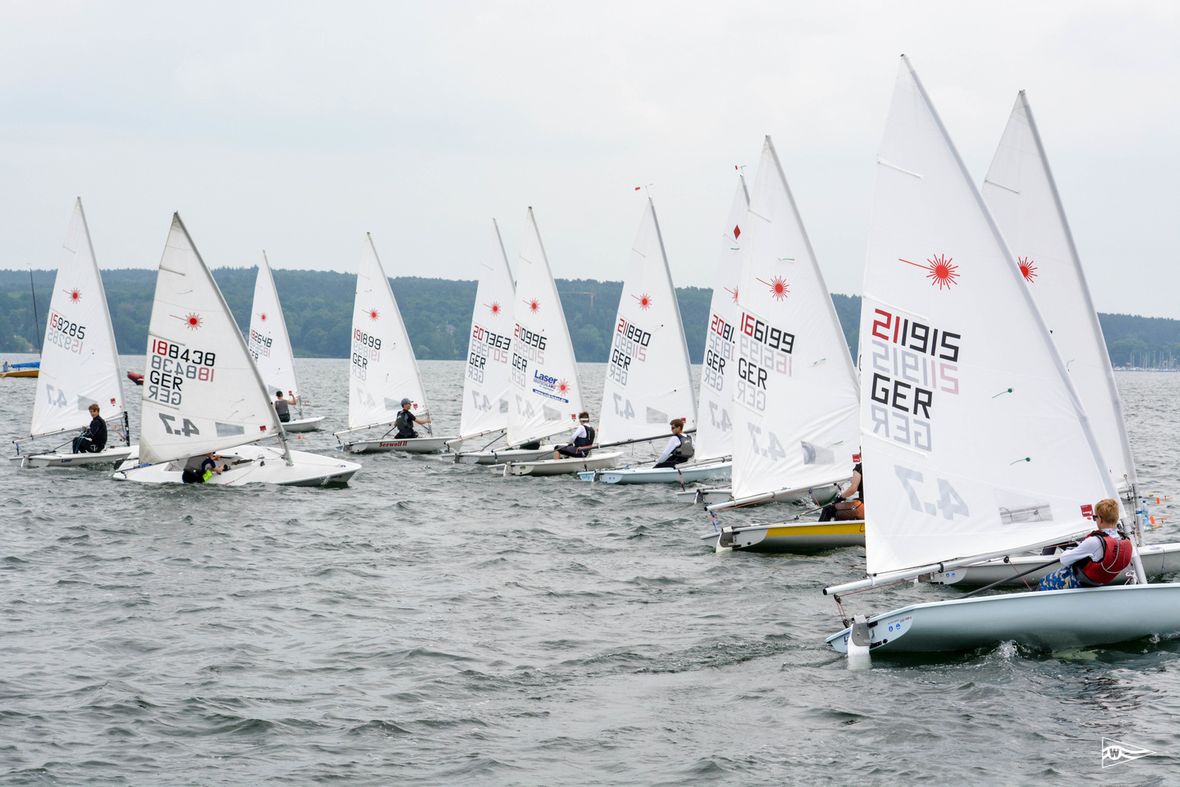 Foto: ssvaw_scharmuetzelsee / Kamera: Udo WIlke, Rainer Krüger, Niklas Kappel
There is a perfect place for lake lovers in Bad Saarow - Scharmützelsee. The lake is the largest in Brandenburg. You will find a lot of excursion tips, sights and things to do: swimming, sailing, surfing, kitesurfing, paddling and rowing, pedalo, motorboats and steamers. If you want to learn sailing, there is a possibility: several sailing schools offer a multi-faceted courses here. The Yacht Academy Axel Schmidt is particularly popular because it offers not only courses, but also the rental of different boat classes. The sailing community Scharmützelsee organizes regattas on the lake.
Do you want to enjoy the shores of the lake? Then take the ship, which is suitable for excursions.
If you want to have the wellness rest, Scharmützelsee is also the right choice. Spa, sauna and other recreation centers are available here.
Activities
You can participate in different sports and water activities in Bad Saarow.
* Tennis
You definitely have to come here if you not only play tennis for fun but also want to improve your skills having through professional training headed by expert instructors.
* Toboggan run
The summer toboggan run is unique and popular attraction in Germany. Please note that it will be more affordable if you buy the group card.
* Climbing
The Bad Saarow climbing forest is very popular in Germany: you can get an unforgettable experiences here and also find something interesting during the passage 8 routes with over 100 elements.
* Watersports
If you are fond of water skiing, sailing or wakeboarding, then we have good news for you: The fantastic possibility of water skiing and wakeboarding in Bad Saarow is suitable for almost all age groups. If you have no experience but want to participate in sailing, with the help of a skipper you can actively participate and sail.
Sights and attractions
If you want to get an unforgettable impression, you must undoubtedly visit these sights in Bad-Saarow:
Beeskow castle
You should visit this castle if you want to enjoy breathtaking view of the city. You can also find the historical museum and art exhibitions there.
Das Theater am See
You can enjoy not only unique culture, but also delicious cuisine here. Delicious food, current stage programs, exhibitions, classical or rock concerts, whiskey tasting, cabaret or dance classes: there is always something interesting in Theater am See.
Scharwenka Kulturforum
Here you spend the time at cultural events of all kinds. There are various concerts, exhibitions, readings, lectures, film screenings:
Neuhardenberg Palace
Domestic animal park
St. Mary's Cathedral
Königs Wusterhausen Palace
Events
For the most active ones there are a lot of unforgettable events:
* Flammender Scharmützelsee & Dragon Boat Race
This is a big event at Märkisches Meer, which guarantees show, dance and good mood. The finale of the extensive entertainment program is the spectacular fireworks at the lake.
* MP3-Tour Traumgehäuse
Take a walk through the center of the health resort of Bad Saarow and learn more interesting facts about the history of the city.
* Summer cinema on the park stage (open-air cinema)
It is an absolute must-see, if you have the desire to visit the park stage in the summer evening to watch cinemas. A colorful cinema program matches every taste.
* Kunst am Bahnhof
Are you art lover? Then the gallery "Kunst am Bahnhof" is right decision. Here you can have a look at various works of artists. There are a lot of paintings, graphics, photographs, sculptures.
Wining and dining
We have prepared a list of the most popular restaurants for you:
Das Dorsch (vegan food)
The vegan restaurant equipped with the lounge bar by the lake is a wonderful eating place for all vegans.
Tipp: The reservation on the same day can be impossible because all seats may be booked out.
Restaurant "Park-Cafe" & Theater am See
This is the most popular place for the tourists who really want to "feel" Bavaria as there is an excellent and exclusive cuisine with regional dishes and international dishes with fresh ingredients.
Saarower Fischtopf
If you look for the best seafood dishes - go to this restaurant and taste something delicious here.
Seebad Bad Saarow
There is a wide selection of dishes available: regional food, tarte flambée, vegetarian dishes as well as homemade ice cream and various pies.
Lotusquan
Vietnamese restaurant.
Accommodation
In Bad Saarow a large variety of hotels, boarding houses, holiday homes and holiday apartments awaits you.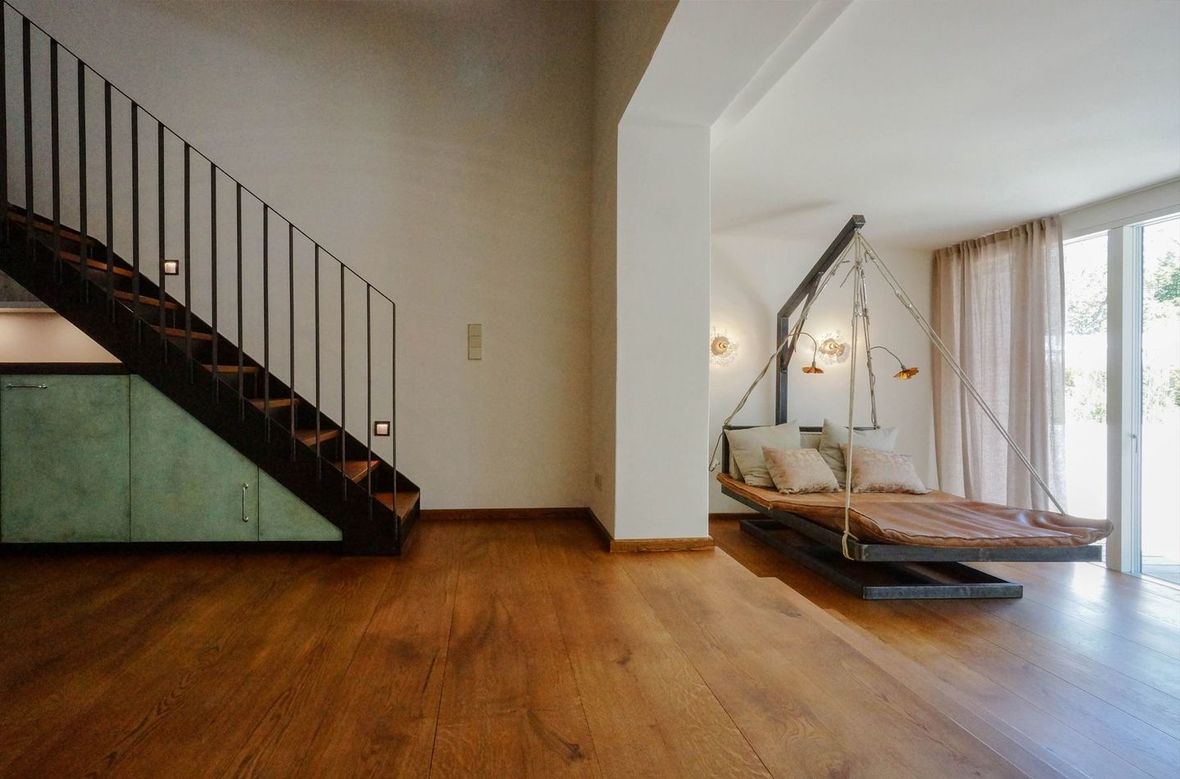 Holiday homes:
Holiday home on the lake Scharmützelsee
Seeperle
Seeperle with a whirpool
Kolumbus with a balcony and a terrace.
Every holiday home has modern design and all necessary amenities. Each can accommodate from 2 to 4 people. A rich variety of sports and recreational opportunities for tourists of all ages can be found here.
Hotels:
A-Rosa Scharmützelsee
Hotel Esplanade Resort & Spa
Hotel a-ja Bad Saarow
Hotel Alte Eichen Landhaus
Wasserwerk Bad Saarow
All hotels are located in proximity to the subway and there is an excellent road network to boot.
The best hotel deals in Bad Saarow can be found on our website.
Boarding houses:
Victoria Suites
Hotel "Am Werl"
Bahnhofshotel die Bühne
Haus am Spreebogen
All these boarding houses have the best price-performance ratio in Bad Saarow. They are really affordable and have all necessary for a comfortable stay. If you want to make a trip at an attractive price, then you should definitely choose a boarding house.
Holiday apartments:
Haupthaus am Kurpark
Geschwister-Schloss-Straße
Ferienwohnung am Scharmützelsee
Holiday home directly by the lake
These are the most popular places to rent holiday apartments. All of them have a balcony and a terrace, some of them have a sauna and a fireplace, it depends on the price. The apartments are also different, each of them can accommodate 2 to 4 people.
Arrival
The health resort is easy to reach.
* If you travel to Bad Saarow by car, you should take the A12 motorway, exit Fürstenwalde-West / Bad Saarow.
* Using train you can depart from Frankfurt or Berlin.
* It is possible to get to Bad Saarow by ship from Berlin.
Description
The trip to Bad Saarow means to spend time on the lake Scharmützelsee, to improve health with the help of thermal springs and to participate in various activities.
Bad Saarow - a health resort with thermal springs and recreational activities.