Dates
Adults
2
Please, enter a destination
Filters
Top facility
More
Top facility
More
Hotels in Bayerischer Wald
(1013 results)
Bavarian Forest
Have you ever seen lynxes or llamas in free nature, gone hiking through pristine forest wilderness or experienced something typically Bavarian other than Oktoberfest? If these questions leave you scratching your head, you should plan your next trip to a magical region of Southern Germany - the Bavarian Forest. The nature reserve on the German-Czech border has been one of the most popular destinations for nature lovers for already a half-century and attracts not only Bavarians, but also tourists from all over Europe.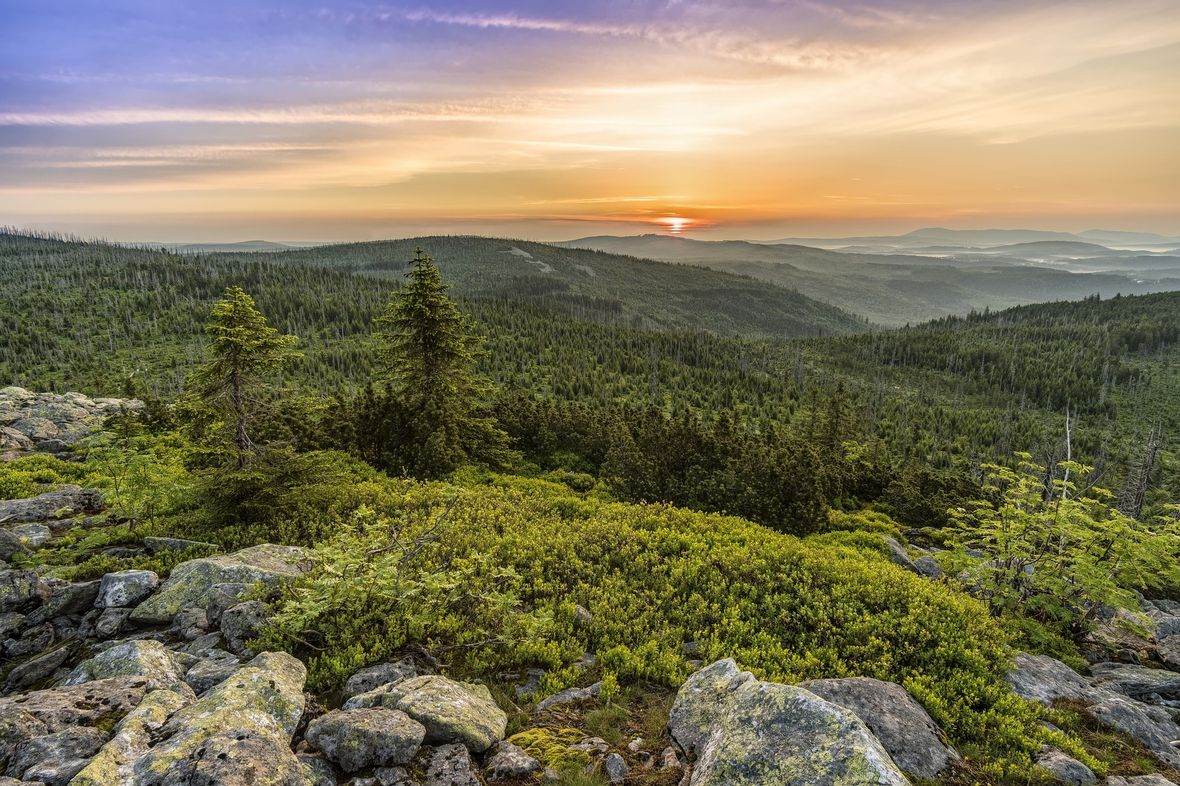 Location and weather
The Bavarian Forest is the low-mountain region in the south-east of Germany, that is situated in the Free State of Bavaria and creates a natural border to the Czech Republic. It stretches from north to south over 100 km, covering the territory of about 6000 square kilometers and reaches its highest peak of 1456 m. Together with the Czech Bohemian Forest in the East and the Austrian Sauwald in the South-east the Bavarian Forest forms the largest contiguous forest landscape in the Central Europe, also called "green roof of Europe".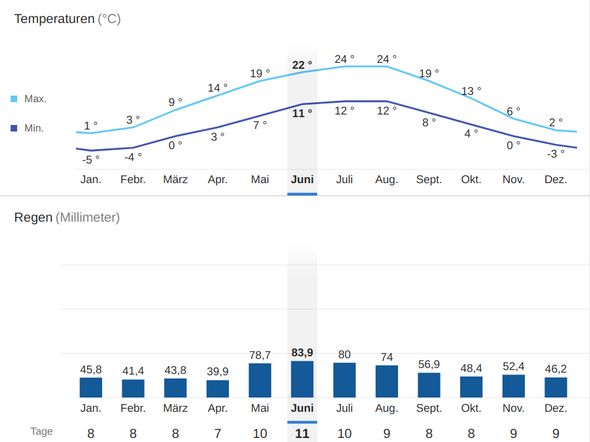 The climate of the region is conditioned by its mountainous terrain and rivers flowing through the territory. However, it varies depending on altitude and features characteristics of Central European type as well as continental one. Ample rainfall is often registered on mountain peaks in winter and summer. Though it decreases towards the Bohemian Forest. The highest mountains of the Bavarian Forest, the Great Arber (1456 m) and the Great Rachel (1453 m), are almost always covered with a thick layer of snow during the cold season, which creates wonderful conditions for winter tourism, e.g. snowshoeing and skiing.
In general the weather is warm and mild throughout the woodland all year round: in winter the average temperature lies between 3–8º C and in summer — over 25º C.
Map Bavarian Forest with Tips
Nature Park Bavarian Forest
The Bavarian Forest can be divided into three zones, each of them has its own specific features when it comes to flora, fauna and landscape use. The Bavarian Forest Nature Park spreads over the central part of the Forest north of the Danube river. It was founded in 1967 and is therefore one of the oldest nature parks of Bavaria occupying an area of about 278.000 ha. On the one hand nature is cherished here, measures for enhancement and preservation of natural habitats are taken, on the other hand landscape development and nature-compatible tourism are encouraged here. This means that both tourists and representatives of local wildlife can coexist peacefully. That is why all those who want to get a closer look at the indigenous nature are more than welcome in the Bavarian Forest. To do so one can make use of 35 adventure trails and explore the highlights of the park on foot or by bicycle, for instance forest landscape, waterscape as well as river scenery of Ilz and the Wildbachklamm Buchberger Leite gorge.
Upper Bavarian Forest Nature Park
In the north this nature park is adjacent to a somewhat smaller zone — the Upper Bavarian Forest Nature Park, which is one of the biggest parks in the Free State of Bavaria with its 179.600 ha territory. Its heights reach up to 1293 m and provides the required conditions for an active holiday replete with hiking, cycling and skiing. Moreover you will find numerous natural treasures here, such as lake area near Cham called Rötel Lake area and Kleiner Arbersee lake with three floating islands, that can enrapture even very sophisticated tourists.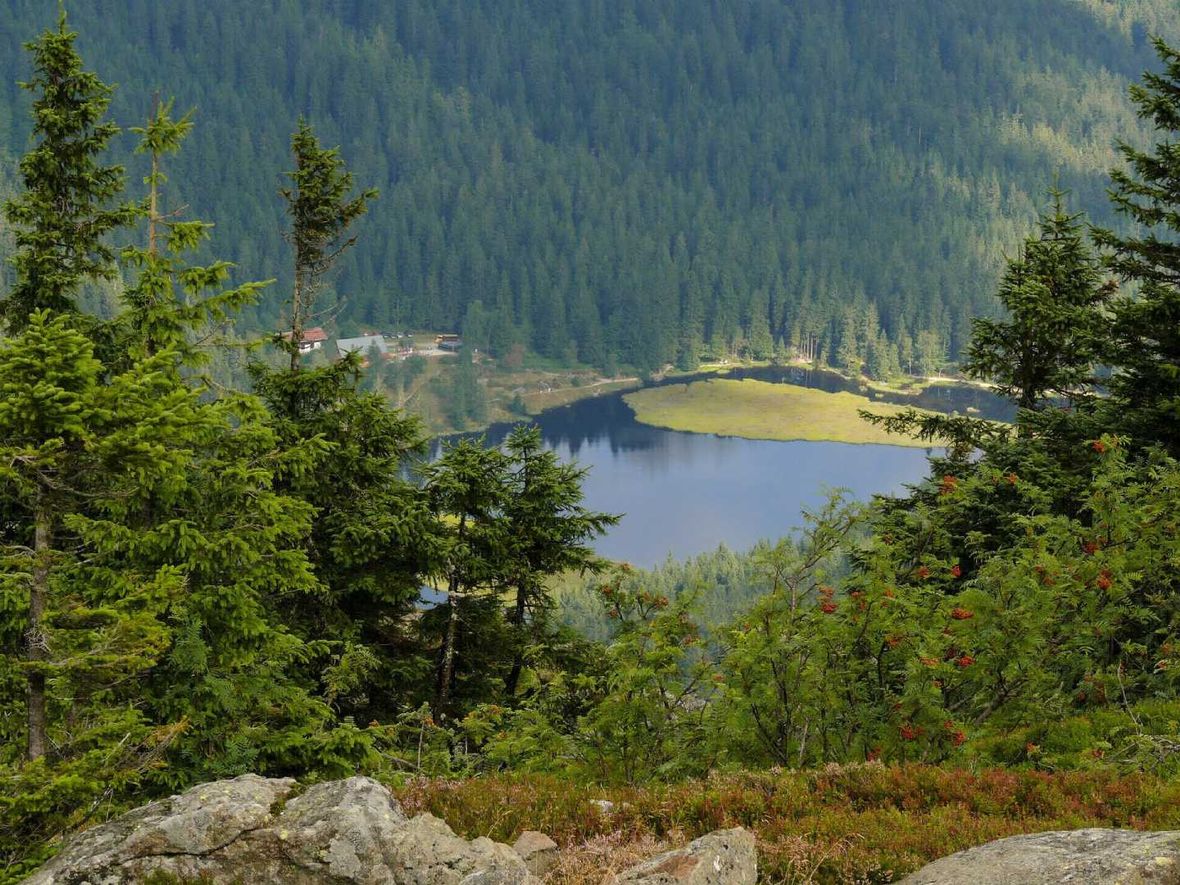 National park Bavarian Forest
Surrounded by Bavarian Forest Nature Park to the left and by Bohemian Forest (Šumava) to the right, situated along the Bavarian-Czech border is the oldest national park of Germany — Bavarian Forest. It was founded in 1970 and nowadays comprises 243 square kilometers of primeval forest. Unlike the two nature parks mentioned above the nature of the national park evolves according to its own laws without being exposed to human influence. Any interventions for tourist or economic purposes are absolutely excluded. This provides a foundation for fast restoration of nature, that was thoughtlessly exploited for a long time. The results of such environmental policy can already be seen today: a vast amount of threatened animal and plant species populate their natural habitat again.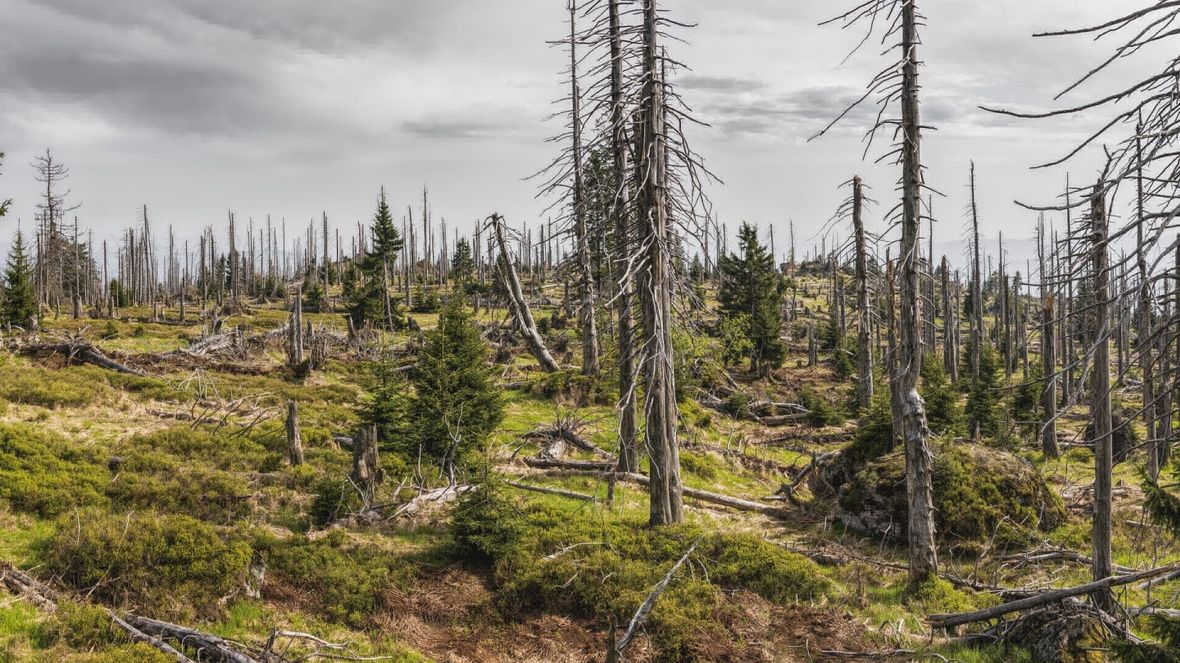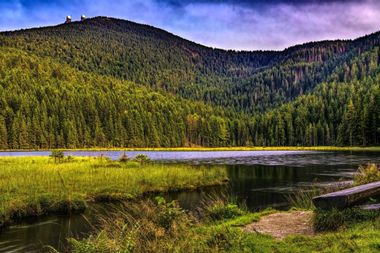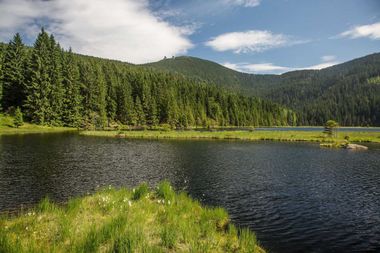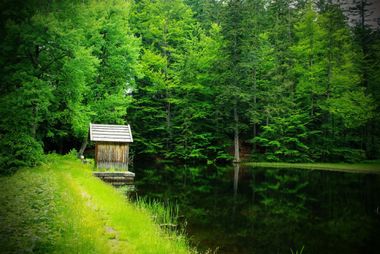 The representatives of local fauna can be seen at every turn here. Lynxes wandering through the forest on soft paws were almost completely eradicated for a century and a half, and have only found a new home in Bavarian Forest since the nineties. Until recently the otters were also considered to have been extinct, but today their home is in Bavaria too, where this species is protected and cared for with much love and thought. Great attention is paid to the cleanliness of the water and fish abundance of local streams. An actual mascot and heraldic animal of the region at the same time is the Europe's largest flying forest bird — capercaillie.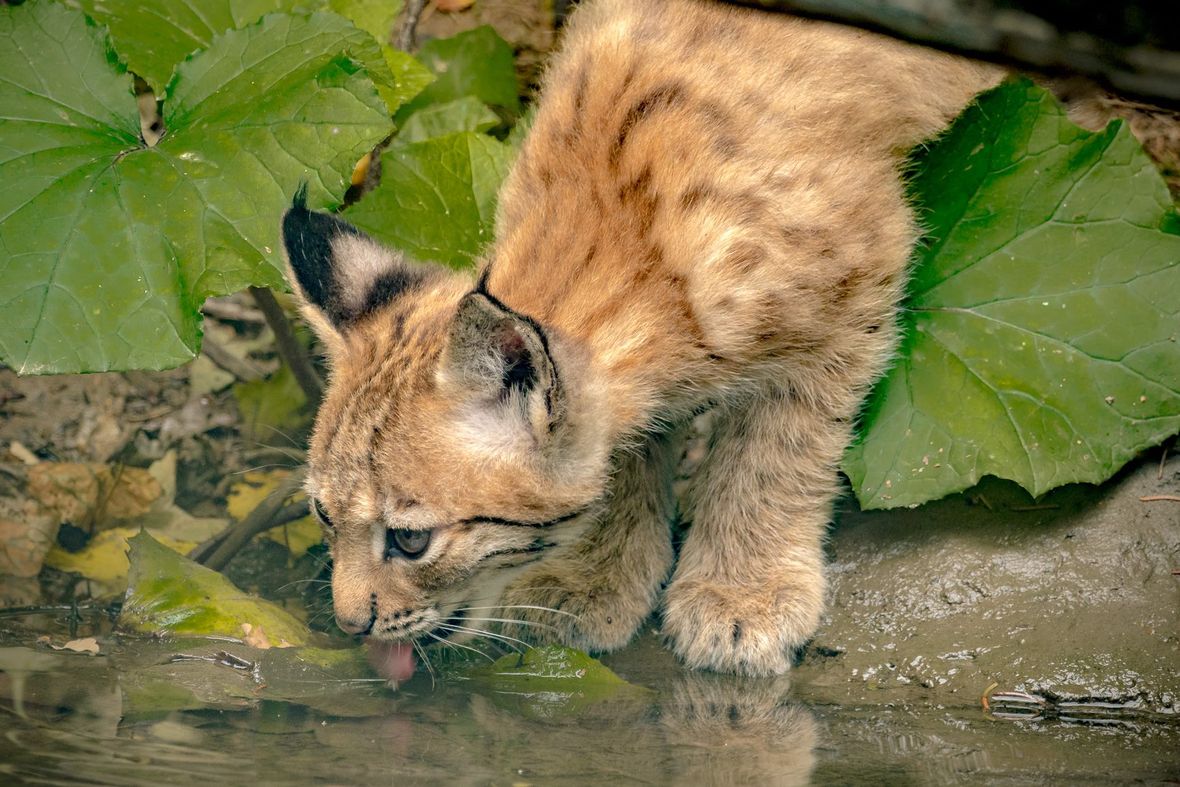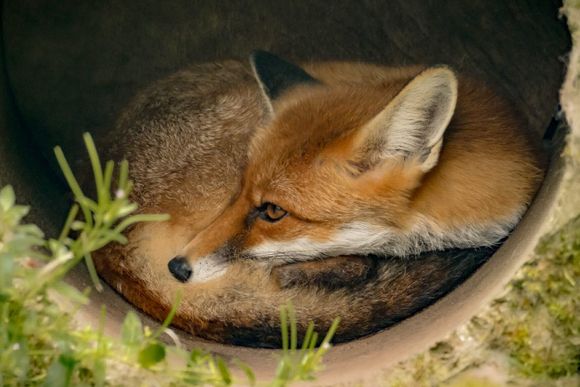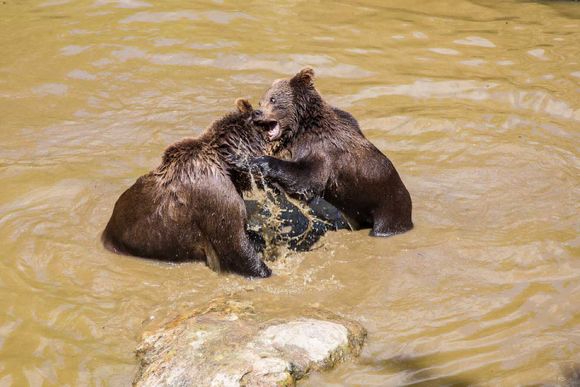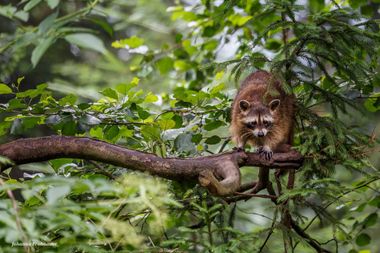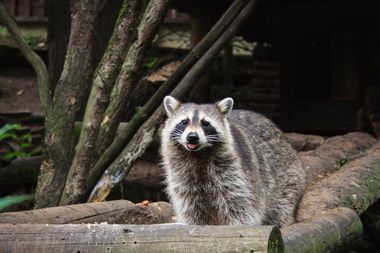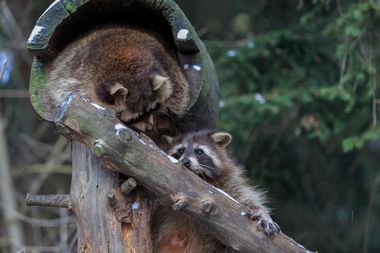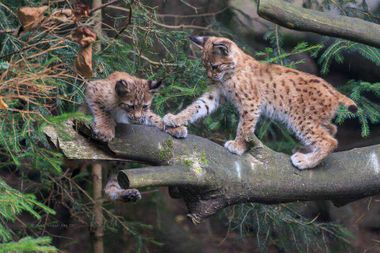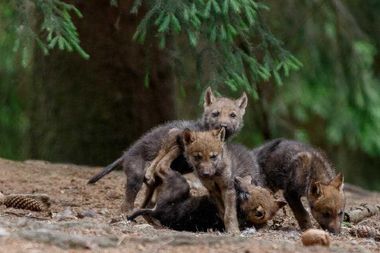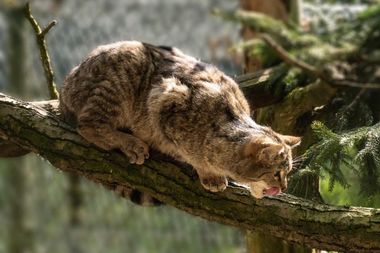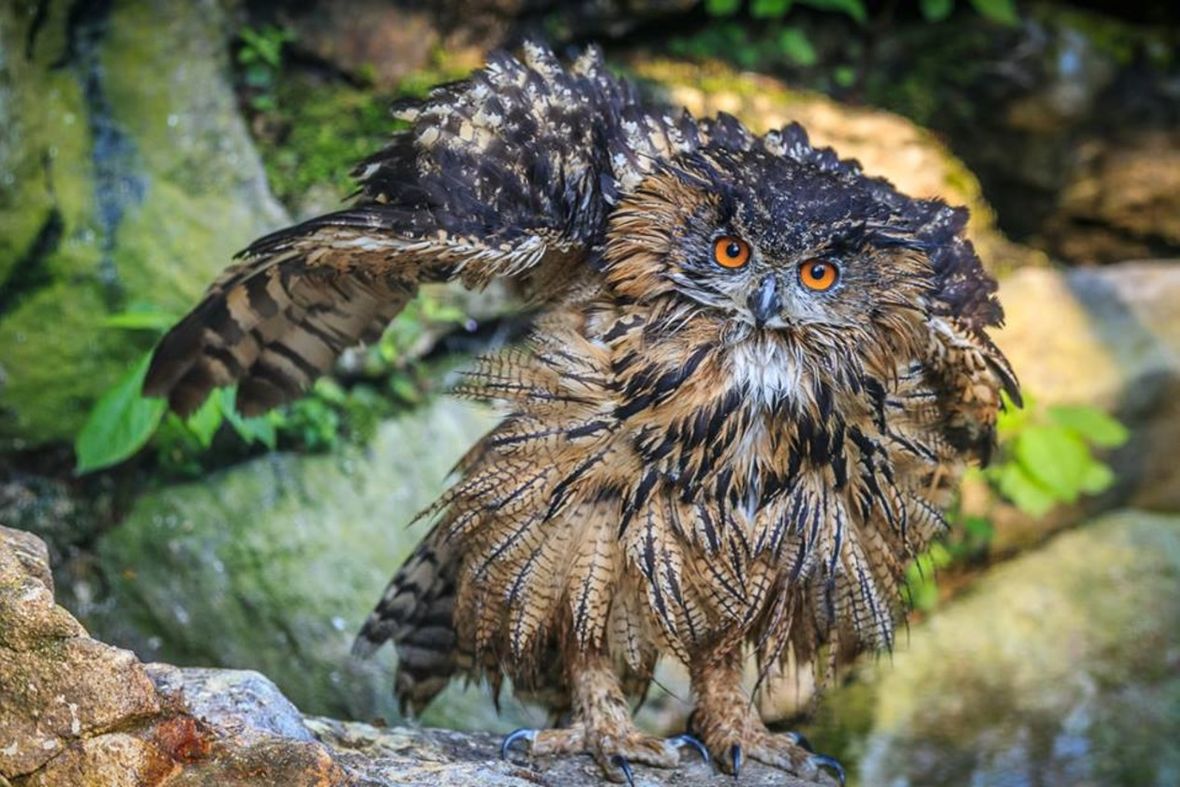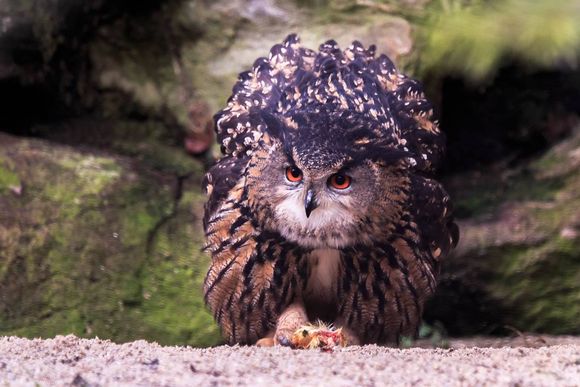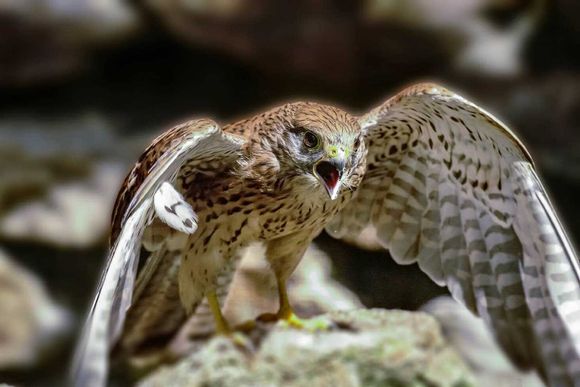 One can meet many endangered animal species in special open-air enclosures in the thicket of Bavarian Forest: for instance harts, wolves, lizards, beavers and bats.
Bavarian Forest holiday
One will find a huge selection of recreational activities at this unforgettable place. Here you can:
☼ go on a hike through the picturesque National Park
☼ get to know rare animal species closer in animal parks
☼ experience regional culture and visit unique sights
☼ gain new knowledge about art, history and botany of the region on excursions
☼ take the adventurous tree top walk and explore many other tourist attractions
☼ ride a bicycle or a motorbike quick as the wind
☼ enjoy water adventures and treatments
☼ wind down properly savouring countless wellness and spa treatmentsn
☼ spend a wonderful time on festivals, exhibitions and concerts
☼ give your children a magical and educational adventure
☼ travel dog-friendly with your loyal four-legged friend
Hiking
Hiking in Bavarian Forest is absolutely worth it, to let the beauty of the hilly landscapes completely sink in. By doing so one can come to know the region better as well as improve their own health and wellbeing. Crystal clear water of Bavarian lakes and ponds, dreamy moors and densely wooded slopes can help you relax and wind down, sometimes much better than hours of lounging on the seashore does. Passionate alpinists can experience some adrenaline rush while climbing the Großer Arber (1456 m) and Große Rachel (1453 m) mountains. First of all, one needs to purchase sufficient and reliable equipment to do so, such as trekking shoes, a rain shelter, a bedroll and a backpack, but the views of the valleys, lakes and surrounding massifs are truly worthwhile. Those who want to test their stamina, willpower and fitness, can go on a long-distance hike, e.g. take a 660 km long premium trail Goldsteig or choose a slightly shorter 131 km long trail Pandurensteig. Furthermore, there are many tours available, that will guide you through the famous highlights of the region: churches, monasteries, museums, glassworks and historic settlements.
Baumwipfelpfad
Tree top walk enjoys great popularity among guests with children. This wooden construction involves visitors of all ages in discovering and experiencing pure nature as well as picturesque landscapes at a dizzying height. The 1,3 km long path stretches 8–25 meter above the ground through dense forests and allows you to practically touch the tops of age-old trees. A viewing platform of the observation tower waits at the end of it, where at an altitude of 44 meters opens the panoramic view from Bavarian Forest down to the Alps.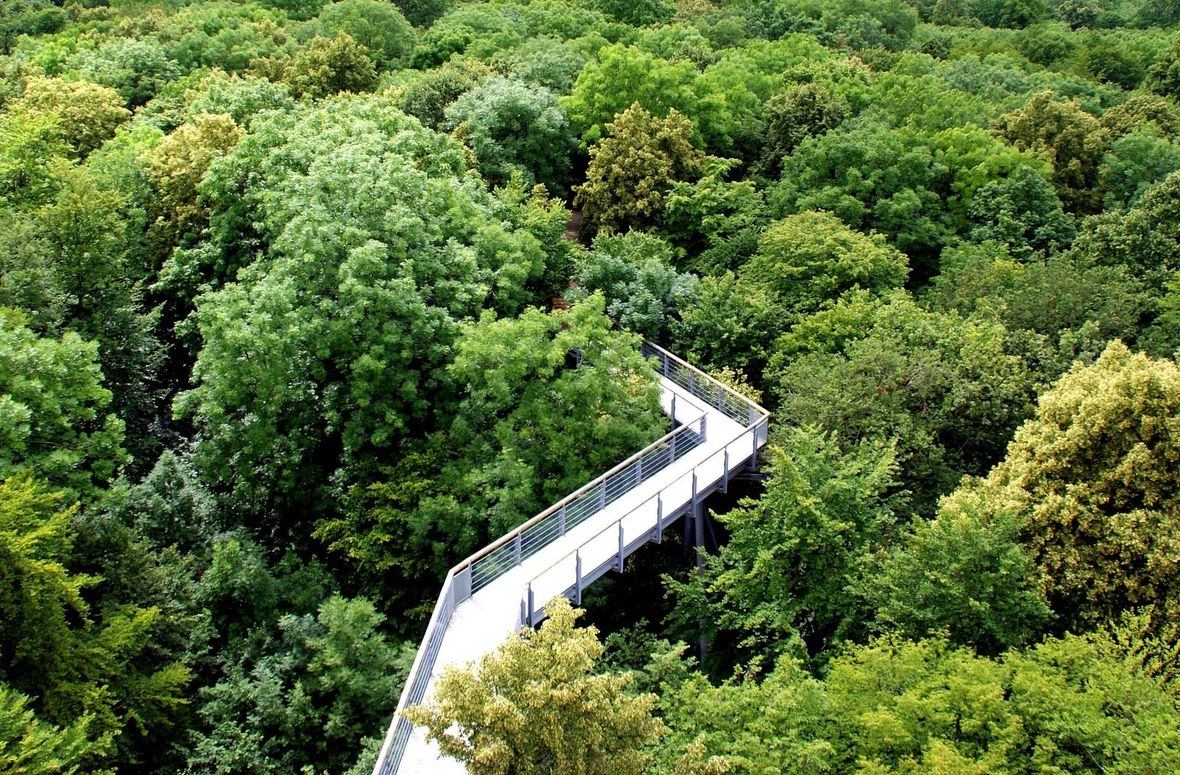 A viewing platform of the observation tower awaits at the end of it, where at an altitude of 44 meters opens the panoramic view from Bavarian Forest down to the Alps.
Cycling and motorcycling
Both inveterate professional bikers and amateur cyclists can get lots of impressions of the nature in the Bavarian Forest park and improve their skills through easygoing or fast cycling. For that a large number of bicycle tracks and mountain bike trails of varying difficulty and length are on offer. One can enjoy approximately 7000 km of routes not only by bicycle or mountain bike, but also by e-bike.
An unbeatable highlight for cycling fans is the MTB-ZONE Bikepark Geißkopf. The park along with a bike school and challenging tracks was founded already in 1999 and in 2016 it was extended with the first Uphill-Flow in the world. Among other things there are freerides, jump trail, slopestyle line, training area and kids park here. The bike park is open from Easter to November.
Feeling bored on the flat mountain routes and longing for action and adventure? Then you should test your strength and endurance on the mountain bike route Trans Bayerwald, that stretches for more than 700 km and poses a real challenge even for experienced bikers. It leads through the most beautiful mountain landscapes of Bavaria and lets you delight in untouched nature. Ideally, the tour from Furth im Wald to Passau and back lasts around 2 weeks and is perfectly suited for mountain bikers, that want to turn their vacation in Bavarian Forest into a true adventure.
If "sustainable living" is not an empty word for you, but a lifestyle already, you can go on environmentally friendly holiday right in this region. Renting e-bikes or charging them is not an issue here. Numerous rental and charging stations are spread out across the entire territory, so that an enjoyable and nature-friendly ride could go on for as long as necessary.
Wellness
If you are looking for a relaxing vacation with all kinds of wellness procedures, then the Bavarian Forest is just the place for you. There is a multitude of wellness hotels and accommodations throughout the whole area, that captivate their guests with a rich variety of relaxation offers. All wellness and spa treatments one could think of are available here at a good price: Ayurveda, foot reflexology massage, hydro-jet massage, mud packs, Qi Gong, tecaldarium, Thalasso therapy, magnetic field therapy and so much more.
Sights & culture in Bavarian Forest
The Bavarian Forest is not only the largest nature oasis, but also one of the cultural centres in southern Germany. Once you arrive, you're able to hike for days, go swimming or explore landscapes and sights, taking pictures of them. Culture-oriented tourists and children thirsty for knowledge come to every small town or large city of the region and find something exciting for themselves: ranging from state-of-the-art museums of various subjects and ancient churches or monasteries to the medieval fortresses and castles.
Museums
One cannot marvel enough at the diversity of museums, galleries and exhibitions. It is advisable for technical enthusiasts to stop by at Gerhard-Neumann-Museum in the Niederalteich village, Streicher vehicle and art museum and Roding fire brigade museum. A lot of interesting information about local economies is provided in the Webereimuseum Breitenberg or craft museum Deggendorf, while the exhibits of the World Art Museum in the castle of Altrandsberg and the Kalina gallery can tell stories about art of yesterday and today. Those who are hungry for something bizarre should betake themselves to the Snuff and City Museum of Grafenau, the First German Dragon Museum or witch museum in Ringelai.
Custels
The Free State of Bavaria looks back on an eventful history of more than 1500 years. A great plenty of forts and castle ruins throughout the state and in the Bavarian Forest in particular is a convincing evidence of that. The most admired ones among them are the fortresses Falkenfals, Velhartice, Falkenstein, Ranfels and Klenau. Assorted events and guided tours are regularly organized for the visitors there. Weddings and family celebrations may be arranged in the castle complex upon request, where the guest will be served delicious seasonal specialities from local restaurants.
Remarkable is also the regional glass-making. Everyone interested is able to immerse oneself in glass culture. Glassworks, glass museums and many other local attractions, e.g. Glass Garden, Glass Forest and the glass pyramid in the Glass town of Zwiesel will make sure of it. You will get such a fairly large amount of information on history, manufacturing and development of glass industry only here.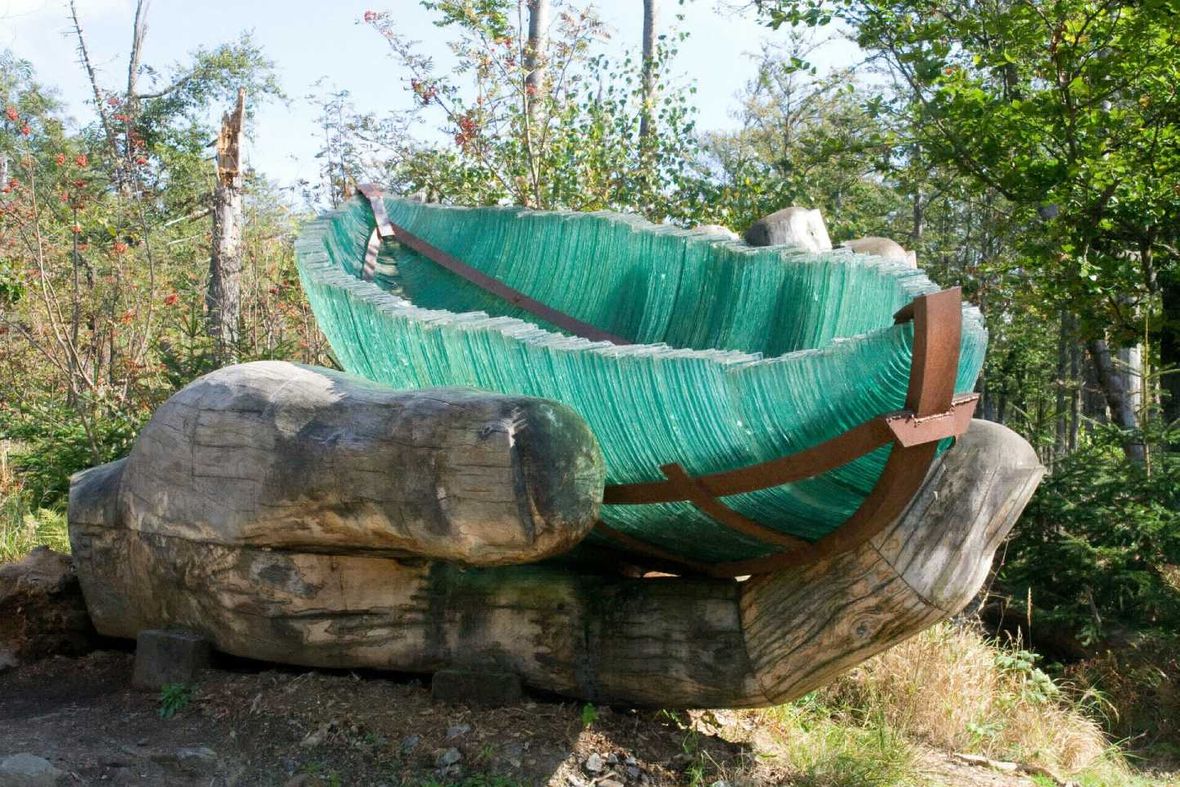 Family holiday
The Bavarian Forest is a goldmine of amusing excursions with the whole family. Sport and adventures, pleasant strolls through wild and romantic woods, acquaintance with most beautiful wild animals, new knowledge about art, history and botany or many water adventures — let your children choose something, that sparks their interest and gives them tremendous joy. Spending several hours on one of the countless farms and experiencing life in the countryside first-hand will undoubtedly give little animal lovers great pleasure.
First of all they can familiarize themselves with domestic animals such as goats, pigs, sheep and fowl, feed and pet them. Game reserves and modern wildlife enclosures offer an opportunity to raise kids' awareness for the importance of animal protection and care as well as to bring them up to be friends of nature and ecoconscious people. Together with you they can explore regional fauna in the open air and observe such rare animal species like lynxes, alpacas, llamas and red deers.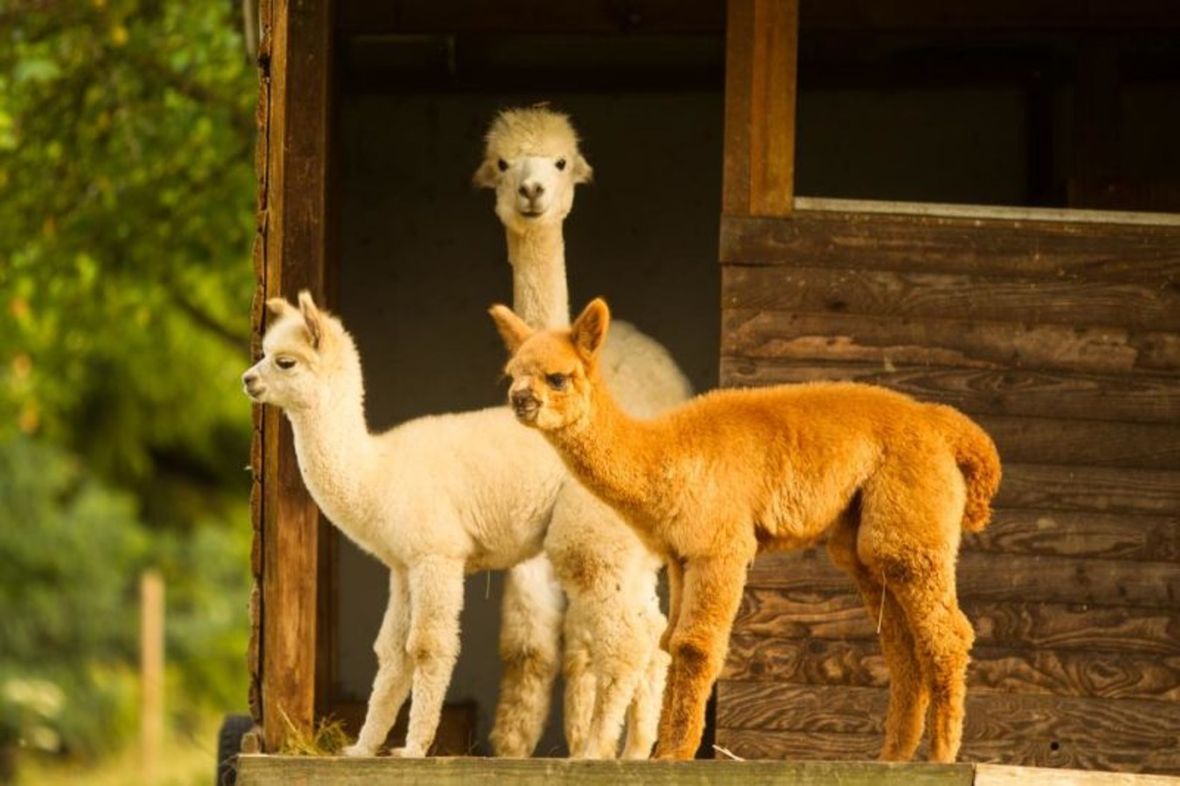 There's a wide variety of recreational and sporting activities in Bavarian Forest for children, who cannot sit still for even a minute and are always active and fit. A large number of leisure parks with playgrounds, minigolf courses and summer toboggan run, where one can reach the speed up to 40 km/h. Furthermore the kids can release their energy and let off steam properly in the climbing forest, ropes course, high rope park and skatepark. And last but not least, diverse leisure and outdoor pools, where people can bathe or swim all day and simply allow body and mind to dangle, are at the guests' disposal to boot.
Holiday with your loyal four legged friend (with a dog)
Are you inseparable from your dog and cannot imagine a vacation without each other? Then you have an option to spend a lovely time together in Bavaria's wildlife park. Tourism operators have seen about providing you and your pet with everything you need for fun and high comfort. You are allowed to go for a walk with your dog with no trouble almost throughout the entire Bavarian Forest and discover the nature of the region on foot. All that you're asked to do is merely to keep the pet leashed while guiding him or her through the territory of the National park in order to avoid damage to indigenous fauna and flora.
You'll find varied dog-friendly accommodations and inns in the area, equipped with all modern amenities so that your pet has everything necessary for a perfect al fresco holiday. Please note, however, that there are a few establishments, where dogs are not allowed. Dog crates with water bowls stand in front of them, so that your companion animal can rest comfortably and find a refreshment.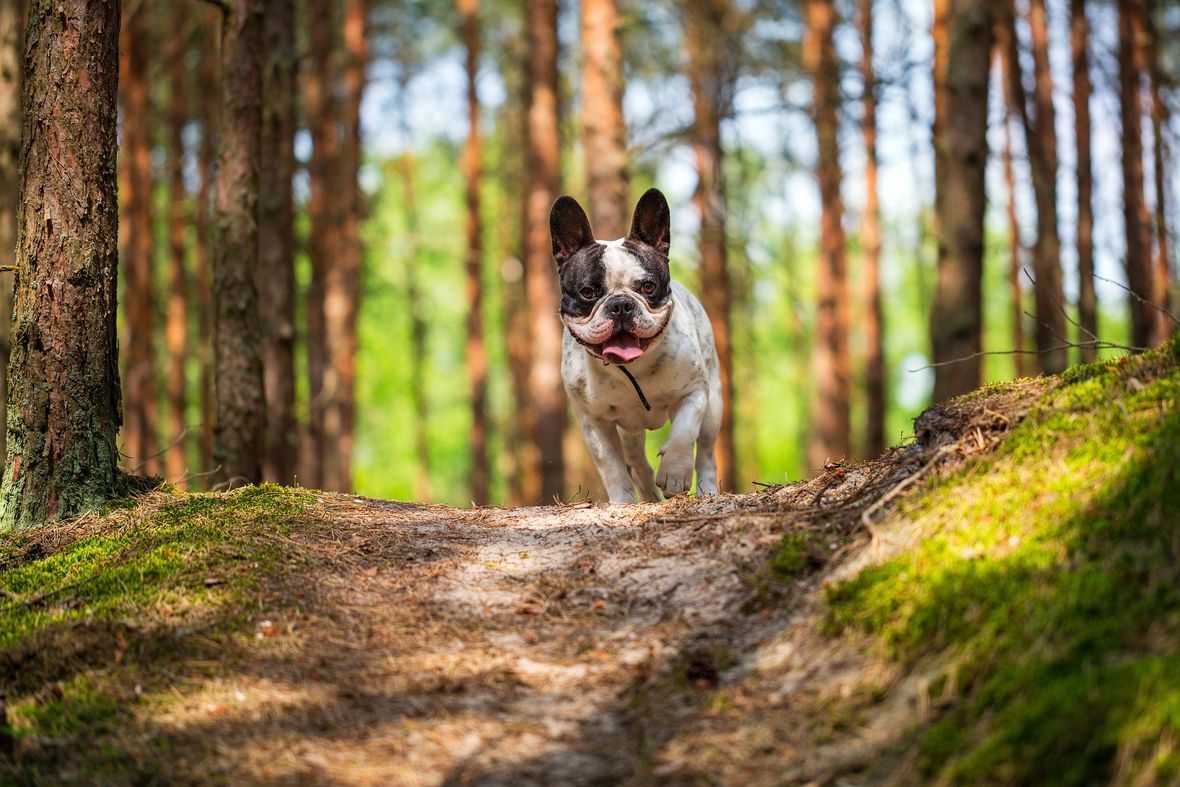 If you use public transport instead of taking your own car to travel across the nature reserve of Bavaria, inquire about the rules for bringing dogs along in advance. They differ from district to district and in some places you'll have to buy an extra ticket for your four-legged friend. Usually your animal companion rides with you for free. Also muzzle is required in exceptional cases.
Events in Bavarian Forest
Some exciting and exceptional occasions to celebrate can be found in Bavarian Forest all year round. Whether it's a concert, a festival, an exhibition, a hike or a party, you can enjoy quaint traditions, scenic beauties and first-class performances to the fullest.
Сlassical music concerts
If you're into modern or classical music, visit the concert by the Opera Studio of the Bavarian State Opera or one by the Trio con Brio from Copenhagen this autumn. The pianist Ronald Bräutigam will bring special joy to the fans of L. Beethoven by performing his renowned 32 piano sonatas. In addition, the masterpiece "The Seasons" by Joseph Haydn will be played in composer's honour by the Capella Augustina at the Concert Hall Blaibach at the end of June.
Festivals
Those who are interested in history and customs of Bavarian Forest will appreciate varied festivals steeped in tradition. TradiVari — one of the most spectacular events — is annually held in Deggendorf town. Travellers can experience a folk festival including demonstration of different Bavarian costumes and a pageant through the city centre with the whole family on the 10th of July. Besides, many varied events take place in the region this summer: Schwarzenburg Festival, traditional Waldmünchen Festival and Glashüttenerzählungen (glass factory stories).
Exhibitions
Art enthusiasts will be offered a comprehensive range of diverse exhibitions, where they can admire masterworks of prominent artists up close. Among other things, there's an opportunity in 2018 to get sight of paintings by Petra Klingseisen, Salvador Dalí, Frantisek Libal und Claudia Gerstendorff. Finally, it needs to be mentioned that the Bavarian Forest National Park is abundant with all manner of museums for young and old alike, that occasionally arrange something special. So you'll never be bored here and can always learn some new, interesting and entertaining information.
Overnight stay in Bavarian Forest
Since the Bavarian Forest Nature Park is one of the most popular tourist destination of German as well as foreign tourists, hundreds of accommodations of various and sundry types to suit every budget are on offer here. Cozy hotels, family-run guesthouses, idyllic farmsteads, comfortable holiday apartments and perfectly outfitted camping sites can be booked at a reasonable price in every season.
All your dreams about a perfect vacation with your family, friends or partner will easily come true at this place, if you look for suitable accommodation in advance and book just the things that fully meet all your requirements and wishes.
For example, the 3 star hotel am Steinbachtal, situated in the famous spa town Bad Kötzting is highly recommended. It captivates the guests with home-made delicacies and delicious dishes made from regional ingredients. It is a good starting point for excursions in the Upper Bavarian Forest Nature Park, where people can discover and experience breathtaking sceneries and cultural sights to their heart's content. On the HotelFriend website you can find and book every hotel deal, that invite you to relax in a Finnish sauna or on a massage table, not to mention the indulgence of Turkish steam bath and whirlpool. Plan your journey with us and enjoy it from the very first minute!
Plan your journey with us and enjoy it from the very first minute!