Please, enter a destination
Hotels in Chiemsee
(39 results)
Hotels in Chiemsee
(39 results)
Chiemsee
Diverse in many ways, Chiemsee-Alpenland is a region in the heart of Bavaria, favorably located in the Alpine foothills between Munich and Salzburg. It borders on Austria in the south, on the Chiemgau - one of the most popular recreational areas in Bavaria - in the east. In addition, the region belongs to the cultural areas of Mangfalltal and Inntal. The tourists will therefore find the Quintessence of true Bavarian spirit here, without having to travel through the entire Free State. The scenic diversity and charm of the lake Chiemsee leave nobody cold: breathtaking mountains, serene lakes, emerald-green forests, fabulous bogs, hilly meadows and idyllic mountain pastures... Such picturesque landscapes bring joy not only to nature lovers, but also to hikers, cyclists, water and winter sports enthusiasts, for whom plenty of leisure activities is provided in the area. The trippers should keep following highlights of the region in mind: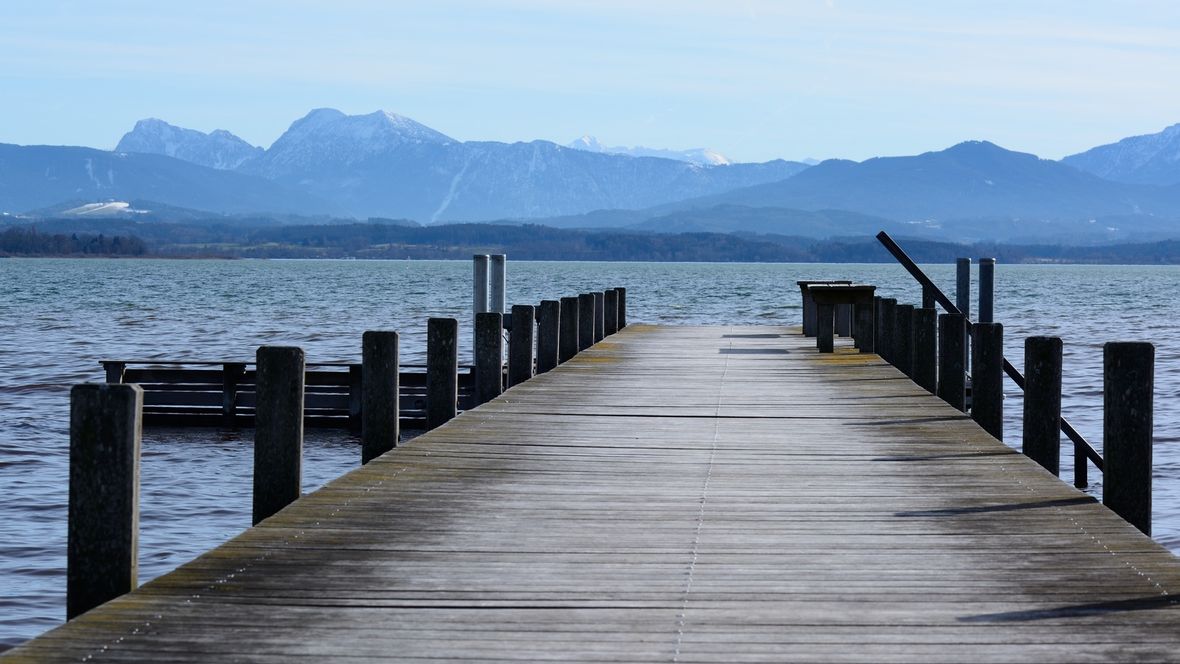 • The largest lake in Bavaria and the third largest lake in Germany - Chiemsee
• Herreninsel island and the Herrenchiemsee castle located there
• Fraueninsel island with the monastery Frauenchiemsee
• Historic towns Gstadt, Übersee, Prien and many others
Climate
The main tourist season coincides with August and July, which are also the hottest months at Chiemsee. In contrast, the place is not crowded at all from November to April. If you are keen on winter sports, the period from October to March is right for you.
As far as the local climate is concerned, it is continental and lies in the temperate zone. Chiemsee region is one of the Upper Bavarian areas, the coolest and wettest landscapes in Bavaria. The average temperatures rarely exceed 25 ° C and don't drop lower than - 4 ° C. The precipitation values are relatively low, it rains mostly in June and July.
Map
How to get there:
Regardless of whatever means of transport you prefer the Chiemsee Alps region is easily accessible.
- Do you favour planes? This picturesque part of the country is conveniently located between the international airports of Munich, Salzburg and Innsbruck.
- If you travel with your own car , the motorways A8 Munich-Salzburg and A93 Munich-Innsbruck will lead to the destination.
- Another comfortable transportation option would be the railway, namely the lines Munich-Innsbruck-Rome and Munich-Salzburg (north-south direction), as well as the route of Mühldorf – Rosenheim from the East. If you want to learn more about railway timetables and travel costs, go to:
• https://www.bahn.de/
• http://www.suedostbayernbahn.de/
• https://www.meridian-bob-brb.de/
- Infos about the long-distance bus lines can be found at https://www.flixbus.de/. Thanks to great traffic connection one is able to reach the most popular excursion destinations by bus in no time.
How to travel within the region?
Schifffahrt
The family-run Chiemsee ferry network is often the first choice of many travelers and rightly so. For already 170 years the ferries bring tourists to the main attractions of the region - Fraueninsel and Herreninsel - all year round. Affordable as well as comfortable adventure rides for young and old with guided tours and gastronomic offer, generous discounts, unforgettable special trips and other exclusive services will pleasantly surprise you and provide an unmatched holiday with a partner or children.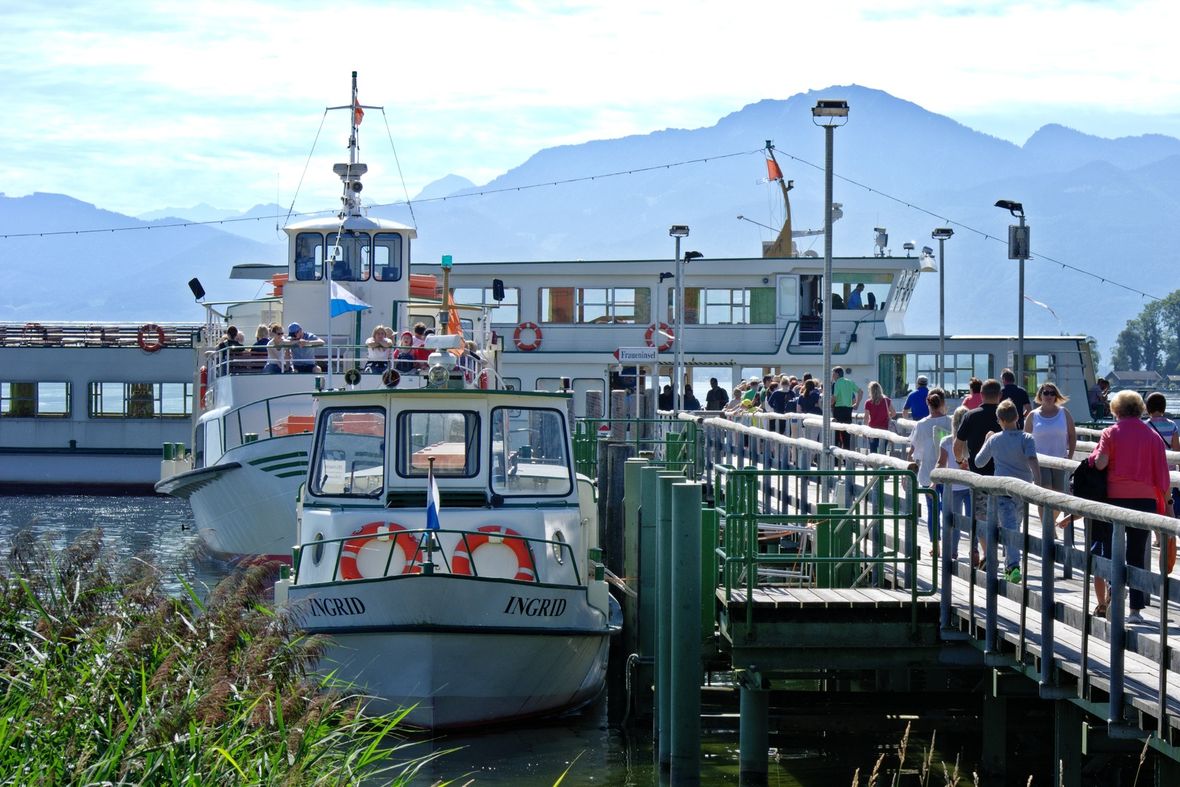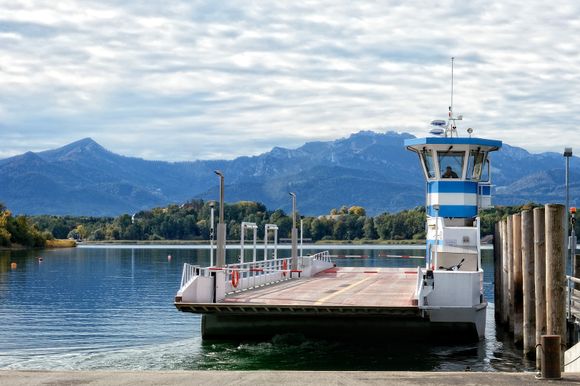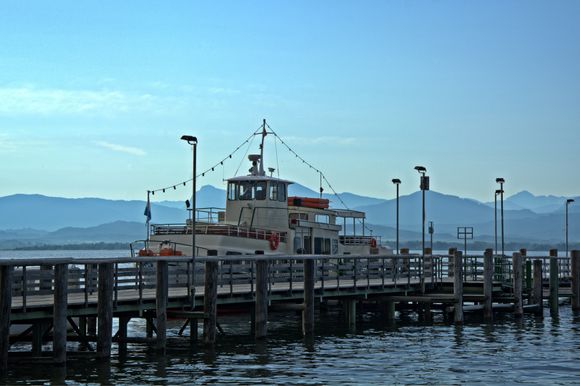 Route

Prices in 2018 *

Travel time

Prien / Stock - Herreninsel
- Adults 8,20 €
- Children 6-15 y.o. 4,10 €
- Groups 7,40 €
- Families 22,60 €
approx. 15 minutes
Gstadt - Fraueninsel
- Adults 6.10 €
- Children 6-15 y.o. 3,00 €
- Groups 5.50 €
- Families 16.70 €
approx. 10 minutes
Herreninsel – Fraueninsel
- Adults 6.10 €
- Children 6-15 y.o. 3,00 €
- Groups 5.50 €
- Families 16.70 €
approx. 10 minutes
Island tour West
(Herreninsel and castle visit, Fraueninsel and walking tour)
- Adults 9,40 €
- Children 6-15 y.o. 4,70 €
- Groups 8,50 €
- Families 25,90
approx. 1.5 hours
Island Tour East
(Fraueninsel: minster, gatehouse, thousand year old linden tree, Herreninsel and the castle)
- Adults 6.10 €
- Children 6-15 y.o. 5,00 €
- Groups 9,00 €
- Families 27,50 €
approx. 1.5 hours
Grand Tour of Chiemsee
(all lakeside locations and both islands)
- Adults 13,00 €
- Сhildren 6-15 y.o. 6,50 €
- Groups 11,70 €
- Families 35,80 €
approx. 1.5 hours
* prices shown are intended for round-trip tickets. Guests have the option to buy a single-ride ticket
- Opening hours: 06:40-19:30 from Monday to Saturday, 07:10-19:30 on Sunday
- You can depart from Bernau, Übersee, Chieming and Seebruck during summer
- The tickets are only available on site, you can't book them online
- Island Tour East and the Grand Tour of Chiemsee only take place in summer
- Accompanied children up to 5 years and people with disabilities are welcome to travel for free
- Group discount is possible starting from 20 people. Please note, that you must sign up groups of more than 100 people
- Dog lovers can also bring their four-legged friends with them. It is however obligatory to put them on the leash. The dog ticket costs 3.00€
- For 4.00 € one can take a bicycle on board, but it is not possible on every ship. Nevertheless bicycling is forbidden on both islands
- There is a large parking area at the docks in Prien/Stock. The parking fee is approximately €4.50 per day.
💡

Tipps
💡 You can either buy tickets at the ticket offices at the port or on board. Note that the queues at the harbor are much longer!
💡 If you want to enjoy the famous islands late in the evening (19:00-24:00), the night taxi will gladly offer its services to you at +49 (0) 170 2053542.
💡 You can save approximately 10% and even more with a family ticket for 2 adults and any number of children up to 15 years or special offers for seniors and youth groups.
Chiemsee-Bahn
During a holiday at Chiemsee you'll have the unique opportunity to hit the 1.8 km long track from Prien station to the port of Prien/Stock with the legendary steam train . This is the world's oldest steam tramway in operation. Since 1887 the guests of the region delight in this romantic steam train ride. This old-fashioned journey in the original saloon carriages awaits travelers from mid-May to mid-September.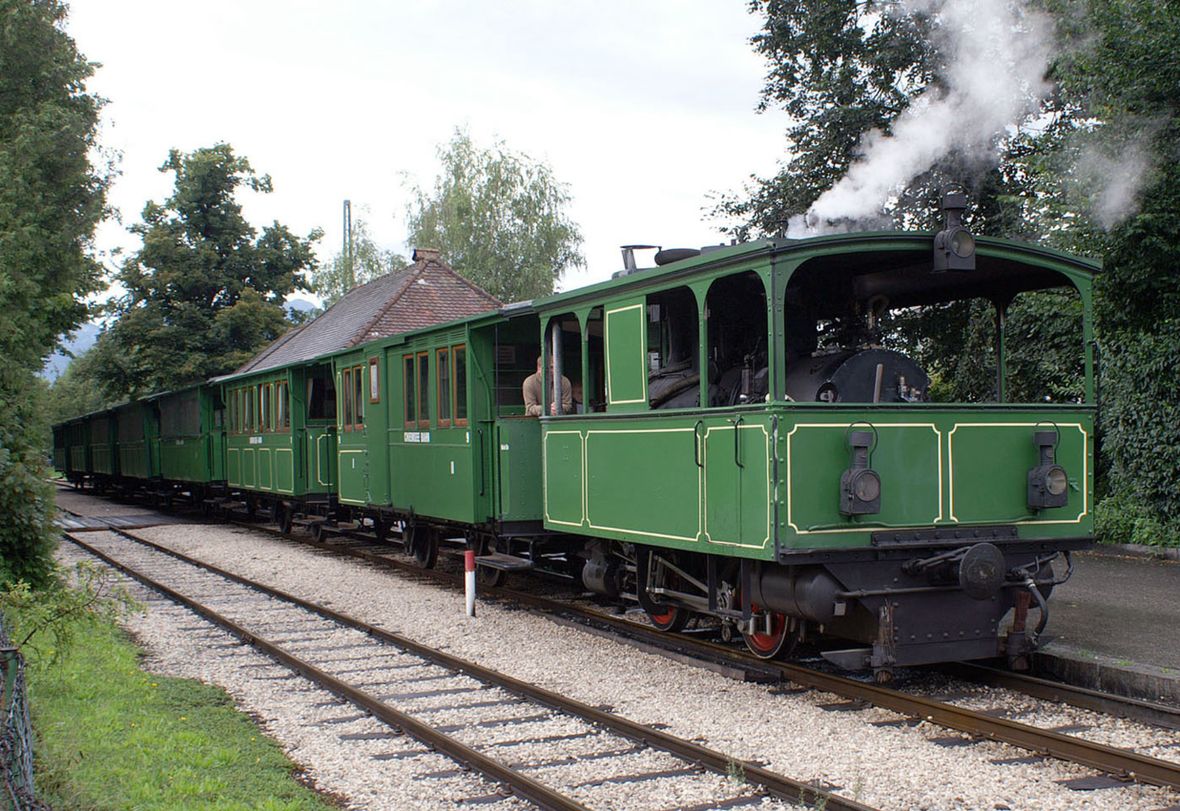 Photo by John Law
Route
Preise in 2018
Prien station - Prien/Stock port
Round-trip
- Adults 4.00 €
- Сhildren 6-15 y.o. 2,00 €
- Groups 3.60 €
- Families 11,00 €
Prien station - Prien/Stock port
single ride
- Adults 3,00 €
- Сhildren 6-15 y.o. 1,50 €
- Groups 2.70 €
- Families 8,30 €
- Opening hours: daily 09:30-18:15
- The locomotive goes from the station of Chiemsee-Bahn, which is close to those of DB and MERIDIANS
- In preseason (from May 1) and postseason (up to mid October) the train runs only on Saturdays, Sundays and public holidays
- You can get tickets for the Chiemsee-Bahn at the ticket office at the harbour, at the Chiemseebahn station in Prien and in the trains
- If you prefer a ride with special comfort, you have the opportunity to travel in the first class for an extra charge (1€)
- Furthermore, you can kill two birds with one stone by using a low-priced combined ticket to experience both Schiffahrt and Chiemsee Bahn
💡

Tip
You can save almost 30% compared to the individual tickets with the See-Gipfel-Ticket.
Services:
• round trip by the historic Chiemsee-Bahn
• West Island tour with the Chiemsee Schiffahrt
• reduced admission to the castle Herrenchiemsee
• ascent and descent with the Kampenwand ropeway in Hohenaschau
• reduced entrance to the PRIENAVERA waterpark
Price:
Adults 28 €
Children (6-15 years old) 16 €
Chiemgau local train (LEO)
This is another historic railway line, that turns your journey from Obing to Amerang into a nostalgic retro-experience. The local diesel railcars from 1952 and steam trains from the thirties bring you to your destination in just 45 minutes, unique atmosphere included.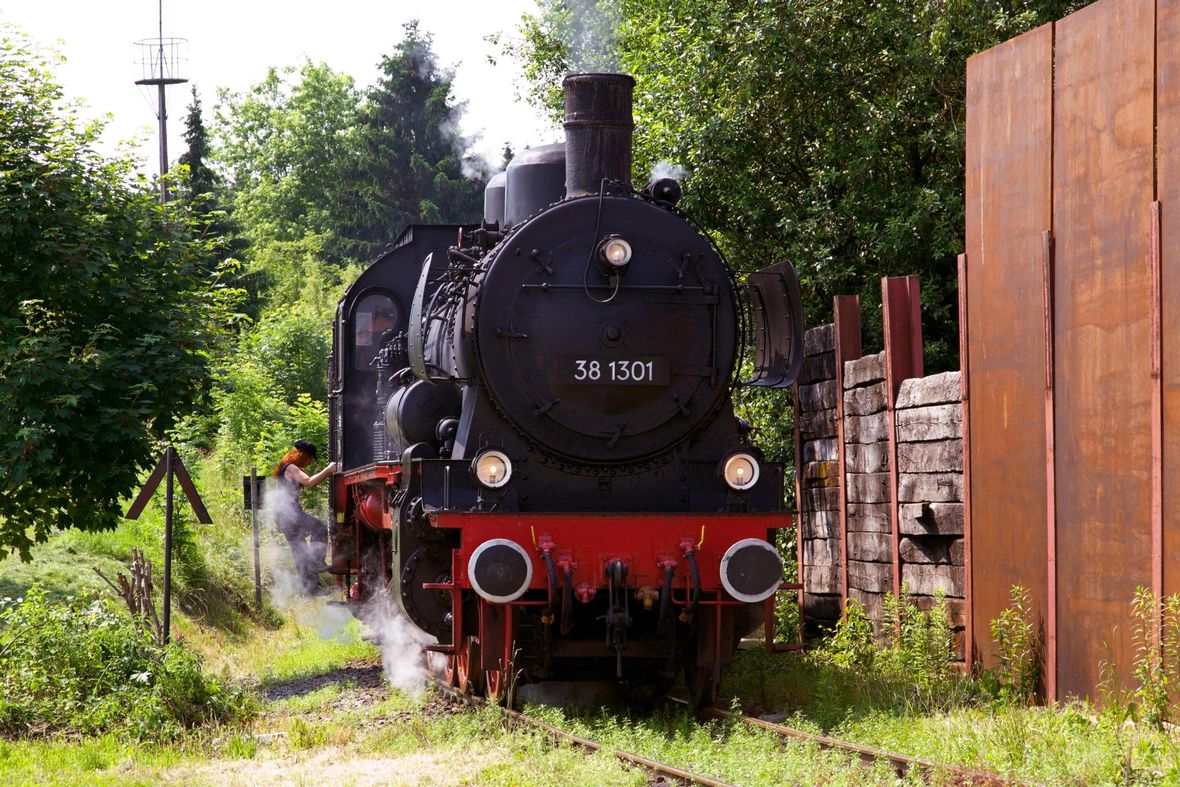 Photo by Peter Specht
Train
Prices in 2018 *
Diesel train
- Adults 12 €
- Children 6-14 y.o. 6 €
- Family ticket 25 €
Steam train surcharge
- Adults 3,00 €
- Children 2 €
- the diesel railcar runs on Sundays and public holidays 01.05. - 28.10.2018
- The tickets are to buy at the iPoint in Bad Endorf (pre-sale) or from the conductor
- Free transportation of bicycles, dogs and wheelchairs
Children under 6 years travel for free
- Group discounts (10%) starting from 10 persons, prior reservations from 20 persons
- On offer are also private charter tours by historic railbus, that drives the guests to the prominent museums and beer gardens
💡

Tipps
💡 A discount of 1 € on the LEO fare is available to holders of Bayernticket / Schönes-Wochenende-Ticket / Guten Tag-Ticket / Panorama-Pass as well as tourist pass to the communities Bad Endorf, Halfing, Amerang and Obing am See
💡 With a ticket for the Chiemgau local railway you'll get reduction on the admission prices for the following tourist attractions on the day of validity:
- Amerang castle
- Amerang Automobile Museum
- Amerang farmhouse museum
- Chiemgau thermal baths in Bad Endor
Other mobility options
• Chiemseeringlinie - a free bike and hiking bus around all sites and locations of Chiemsee
• Wendelsteinringlinie - circuts the Wendelstein, one of the most famous panoramic mountains in Upper Bavaria
• Samerberg hiking bus - trips to the hiking and cycling paradise of Samerberg
Chiemsee citizen's bus, various local and tour buses as well as night express lines are available too. Such a well-developed regional transport network allows you to choose any mean of transport according to your personal taste
Sights - The Alpha and Omega of Chiemsee
Chiemsee
• Area 79.9 km²
• Maximum depth: 73,4 m
• Longest water route 8 km
• Originated about 10 000 years ago
Roughly 30 lakes adorn the landscapes of the Chiemsee-Alpenland, but the Chiemsee itself (also known as the Bavarian sea) is an unbeatable frontrunner, when it comes to tourism in the region. The lake's water is of high quality, its temperature is between 17 and 27 degrees during the summer season. Imagine crystal clear water surface, smooth as a mirror, with the Alpine panorama in the background... A perfect place to try out all sorts of water activities, is it not? It is not for nothing that the Chiemsee lake is one of the most important sights in Germany. Here you can enjoy: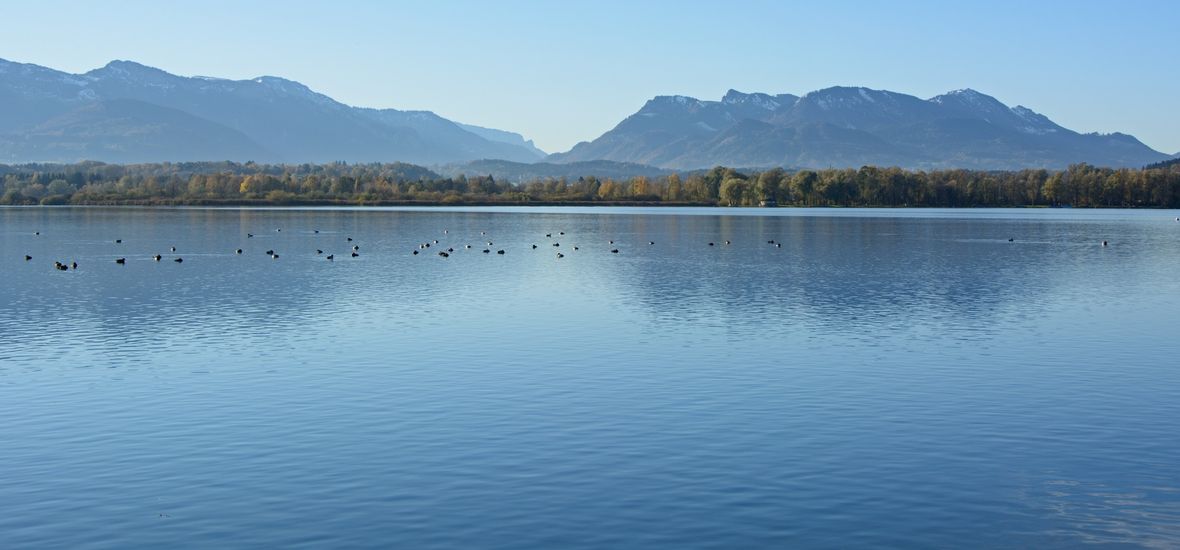 Swimming & bathing
Not only Chiemsee, but also other picturesque mountain and forest lakes of the region welcome guests with their freely accessible well-kept beaches and exceptionally clean water. Here you'll be pleasantly surprised by free parking lots, comfortable sunbeds for rent, kiosks and playgrounds. There's no shortage of fresh air and beautiful views for lovers of nature or those, who go on vacation with dogs.
Sailing
Regardless of whether you just want to go on a romantic sailing trip, take an introduction course for any level of proficiency at one of the sailing schools at the lake Chiemsee or even get a sports boat driving license - the warm alpine wind guarantees you a good ride !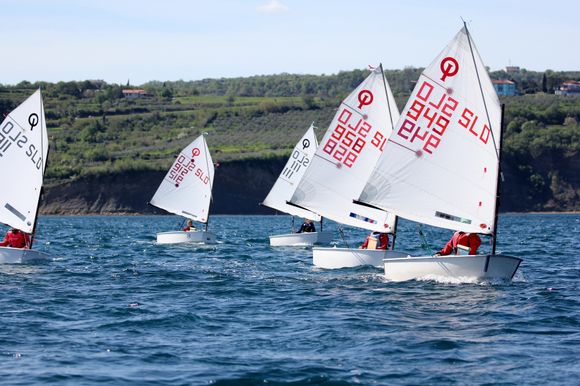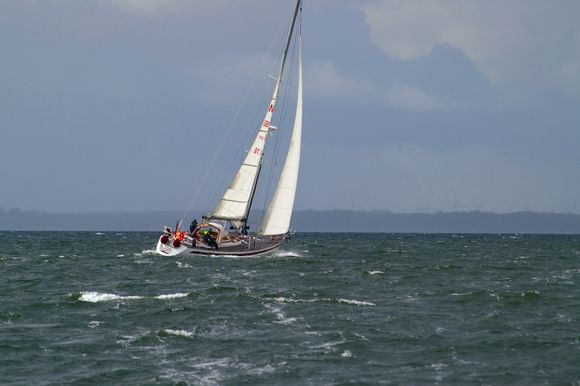 Stand Up Paddling and windsurfing
Do you want to master the Hawaiian sport of Kings? Here's your chance! Stand up paddle boarders stand on their boards and use a paddle to propel themselves. Although SUP is considered to be easy for almost everyone, it involves all muscle groups and brings the athletes meditative calm. You will find all necessary equipment for windsurfing, exciting courses and tours at Chiemsee.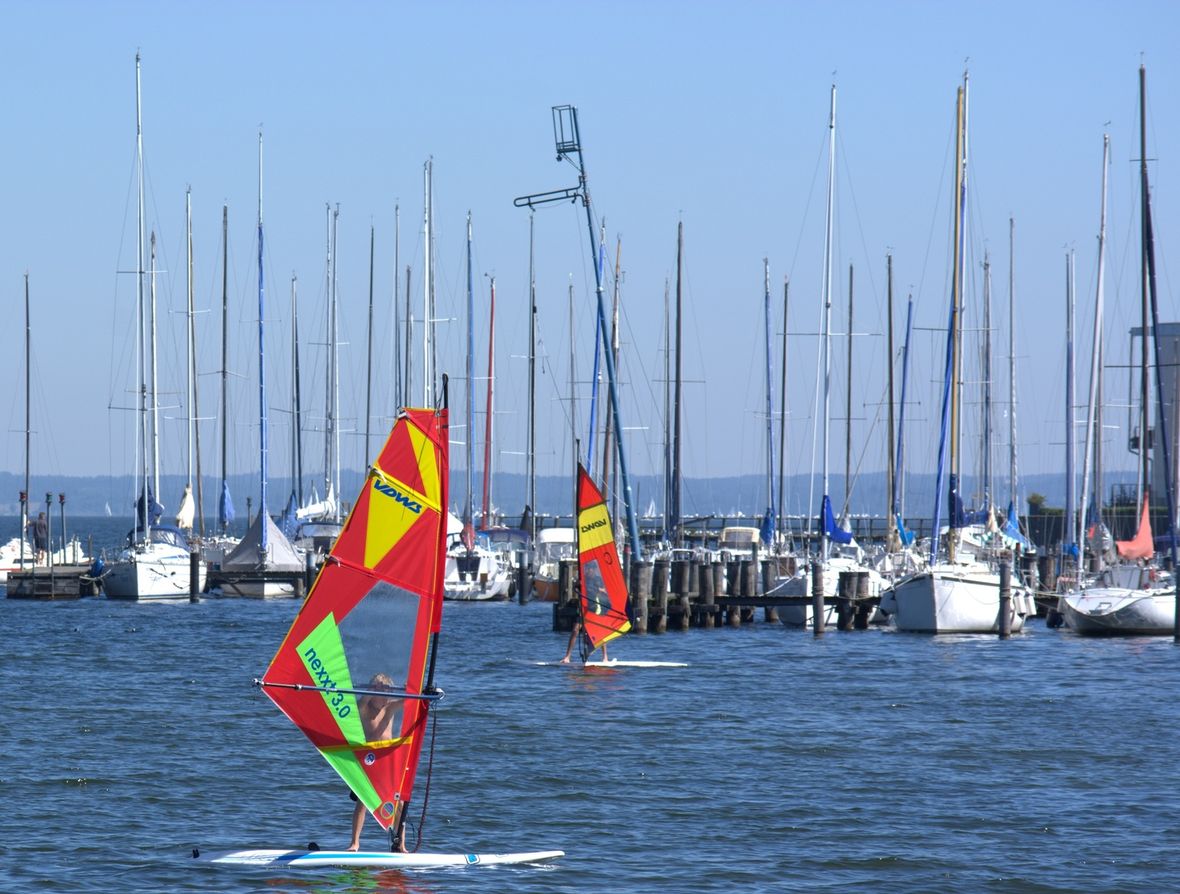 Cable skiing
The opportunity to try out mono skiing, wakeboarding and water skiing for young and old presents itself on the lake Hödenauersee, making it a perfect spot for an exciting family holiday.
Boat rental
Rental of kayaks, canoes, dinghies, catamarans, you name it. Motor boats are not allowed in order to minimize environmental hazards.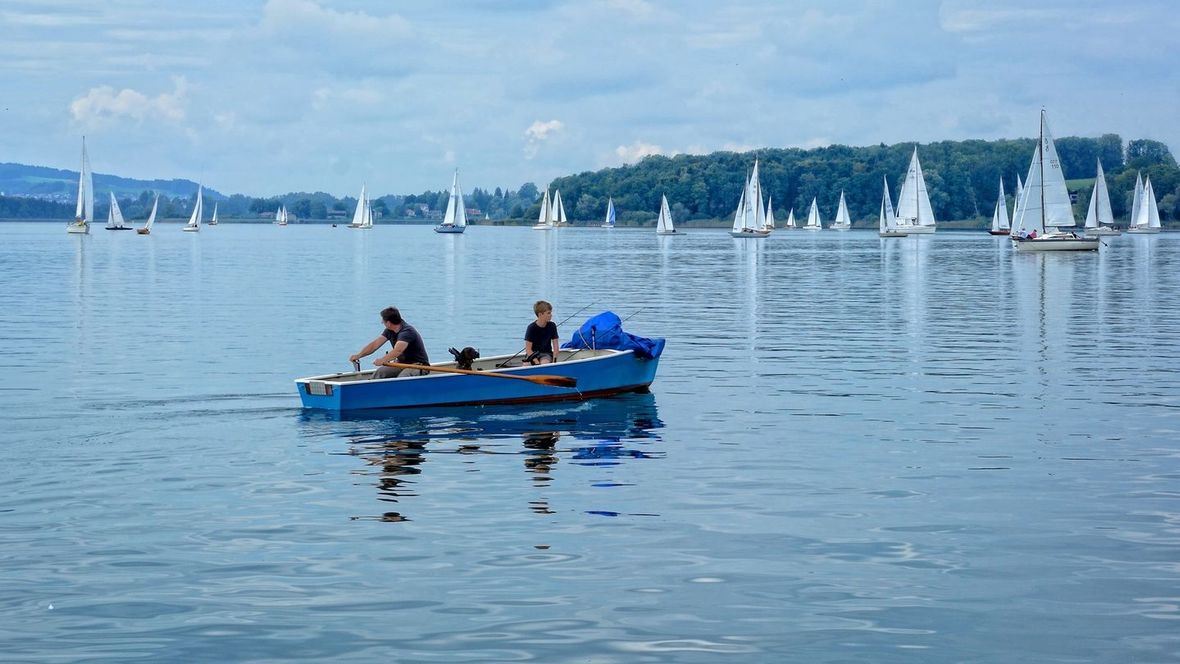 Fishing
Fishing is a 400-years old tradition here. The possibility to immerse completely in the world of fishing arises at Chiemsee, Simsee and Hartsee against extra charge (from 14 to 190 €). Have you ever caught a lake trout, a perch or perhaps an eel? Not yet? Then set off on a short holiday at Chiemsee!
Herreninsel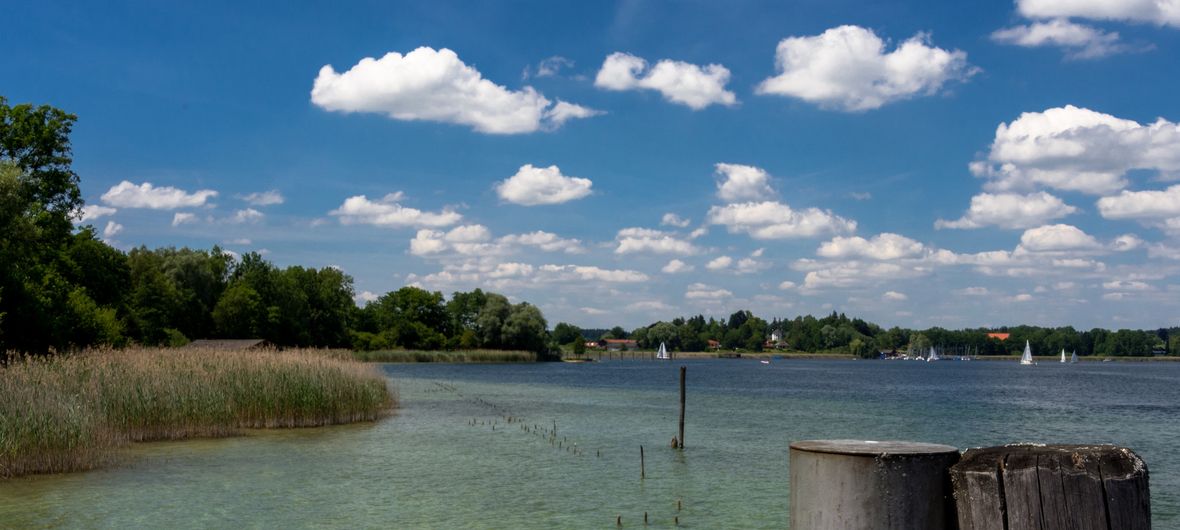 Foto: Davide Cerri
• Area 238 ha
The Herreninsel (formerly Herrenwörthist) is the largest of the four islands in Chiemsee lake. Together with the Fraueninsel and the Krautinsel islands it's the second smallest municipality of Bavaria named Chiemsee. Residents and guests of the region owe it to the penultimate king of Bavaria that this splendid location wasn't deforested by wood speculators in 1873, but instead has become a magnificent green oasis for strolling and admiring. Charming horse-drawn carriages turn exploring the Herrenchiemsee into a truly royal experience from around early April to late October. You will find here an organic distillery for adults and a wildlife enclosure with deer and roe, as well as playgrounds for children. Visit is a must when it comes to following sites:
Herrenchiemsee Castle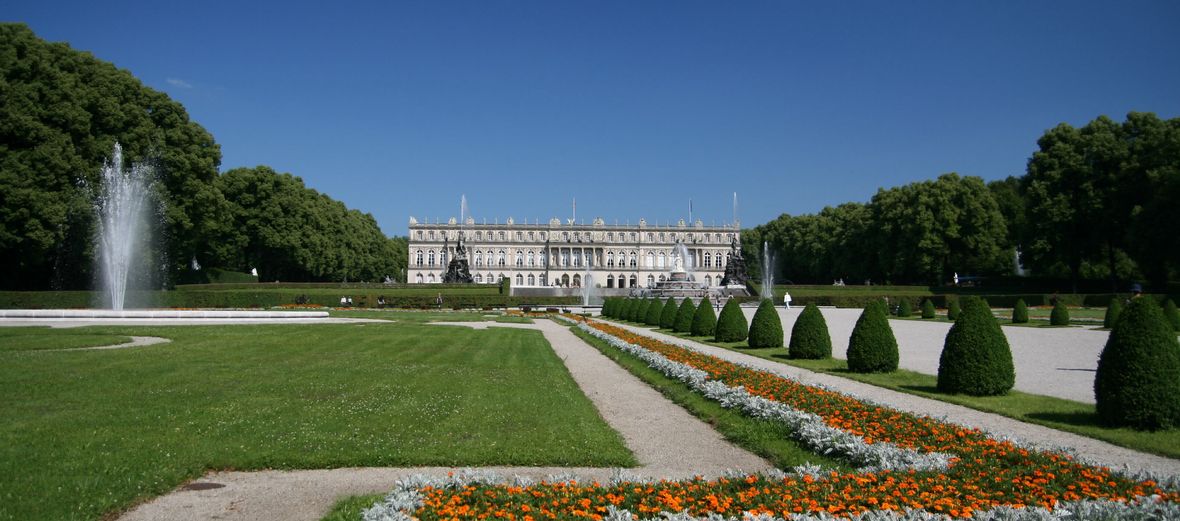 Photo by Bernhard
The residence of the fairy-tale King Ludwig II, which was built according to example of the Versailles castle, attracts travelers from far and wide. The lush park area, fine statues and sumptuous fountains excellently complement the luxurious building and create genuinely princely atmosphere. If you take interest in the art from the 19th century, or merely want to satisfy your aesthetic hunger - the interiors of the castle with its porcelain items, high quality textile and stunning décor are just what you need! What's the point of driving a thousand kilometers to France, when Herrenchiemsee is both closer and more splendid than Versailles?
- Please note: the 'Bavarian Versailles' can only be visited with a guide (last tour approx. 17:00)
- Opening hours 1st April - mid-October: 9.00 – 18.00
Mid-October - March 31st: 9.40 - 16.15
- Closed on the following days: 24.12.2018 to 25.12.2018
31.12.2018 to 01.01.2019
to 05.03.2019
- Tickets are only available at the box office in the tourist information centre (BIZ) at the boat Jetty
- The admission is free of charge for children and adolescents under 18 years of age, as well as students enrolled in general compulsory education
- Older excursionists have to pay 10 to 11 € (new castle, King Ludwig II.-Museum, museum and galleries in the Augustinian monastery included)
- Dogs and other animals are not permitted in the castle
King Ludwig II Museum in the Royal Castle
Opened in 1987, the museum is located on the ground floor of the Royal Palace. Its visitors will learn everything about the fairy tale King's life with the help of unique works of art, find out his relation to the prominent composer Richard Wagner and get insight into Bavarian history, arts and crafts.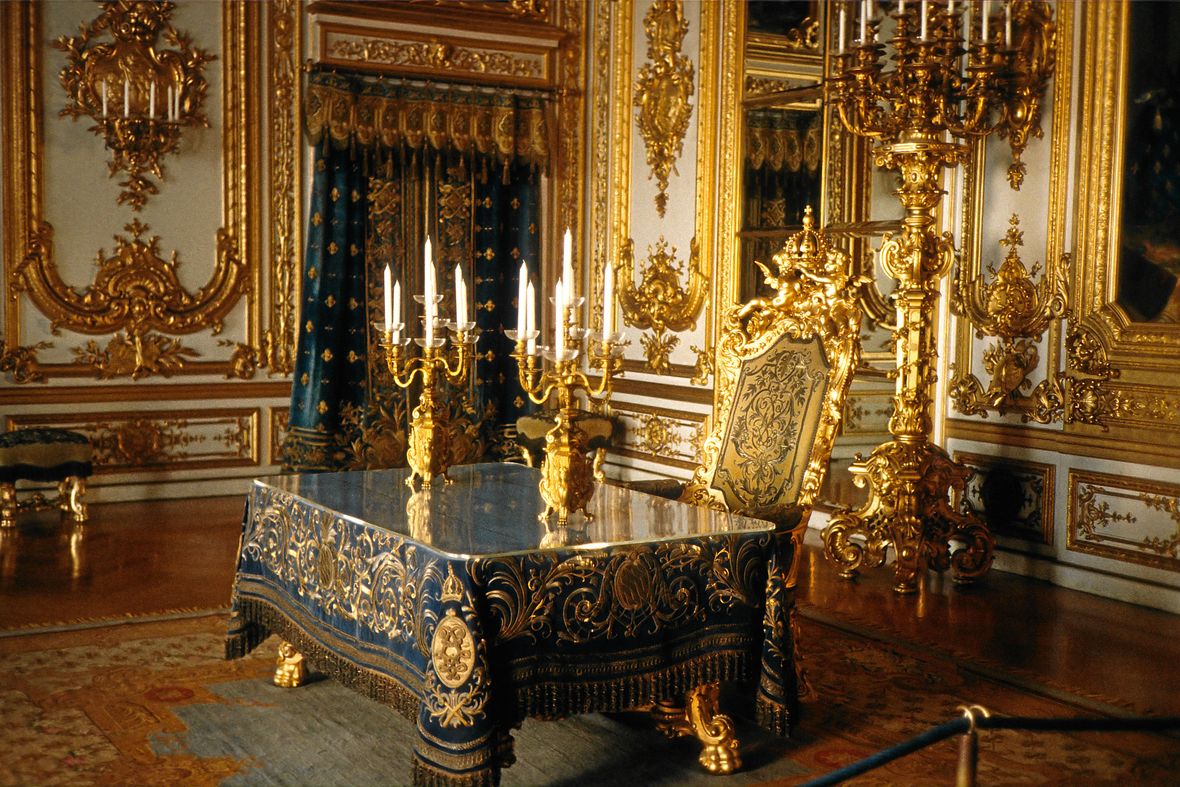 Photo by Karl Prucha
- Opening hours:
1st April - mid-October: 9.00 – 18.00
Mid-October - March 31st: 10.00 – 16.45
Museum in the Augustinian monastery
Formerly this historical old сastle building was a monastery of the Augustinian monks, then a brewery, and now it accommodates a museum with fully preserved baroque rooms and halls as well as the Constitution Museum, where the Basic Law of Germany was drafted in 1948. You can enjoy the beauty of nature in the monastery's yard, surrounded by a rose garden or in the "Plane Tree Grove"
- the openinghours coincide with those of the King Ludwig II Museum
- Entrance fee: 3 to 4 € (excluding castle visit)
Galleries Julius Exter and Maler am Chiemsee
These two painting exhibitions are located on the second floor of the museum. Julius Exter aka "prince of colours" was a German painter and sculptor famous for being one of the founders and a member of the Munich Secession movement. Around 100 works by the pioneer of modern Munich art can be admired here. In the permanent exhibition "Maler am Chiemsee", art fans will find the artworks by Karl Millner, Friedrich August Kessler, Friedrich Wilhelm Pfeiffer, Karl Raupp and many other painters from the Chiemsee-Alpenland region.
If you require some more convincing arguments to pay a visit to Herrenchiemsee (really?), perhaps, the quaint bats exhibition or exciting fairy tale tours for every taste & age could help you make the only right decision.
Fraueninsel

Foto: Golf Resort Achental Team
• Area 15,5 ha
Surprisingly, this island is the second largest in Chiemsee, although one can circumnavigate it in 20 minutes on foot. In contrast to the Herreninsel, approx. 300 inhabitants live in about 50 houses all year round on Frauenchiemsee. It is also known as one of the oldest artists' colonies in Europe. While Herrenchiemsee is a symbol of opulence and grandeur, Frauenchiemsee with its cute farmhouses, lovely gardens and delightful sacral architecture conveys an exceptional homelike atmosphere with rustic flair. Come and visit one of the traditional potteries, try fresh haul of family-run fisheries or taste local specialty beers in one of cozy beer gardens. Everyone finds something pleasant to do out here. We recommend to visit the following places on the Fraueninsel island:

Photo by Jens Splittstoesser
Frauenwörth monastery on the Frauenchiemsee
Founded in 782 by Duke Tassilo III. and consecrated by Bishop Virgil of Salzburg, the abbey is the oldest one in Germany. The story still recalls the first known abbess of the monastery - saint Irmengard, who was buried here and is now considered a patron saint of the whole region. Thus far the Benedictine Sisters live in Frauenwörth and take care of this seminar venue and place of pilgrimage. Music events, weddings, annual Christmas market steeped in tradition take place here.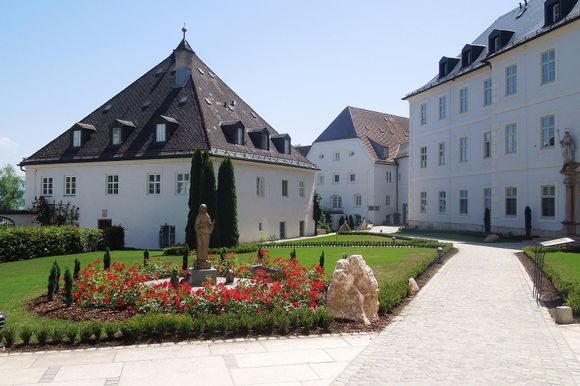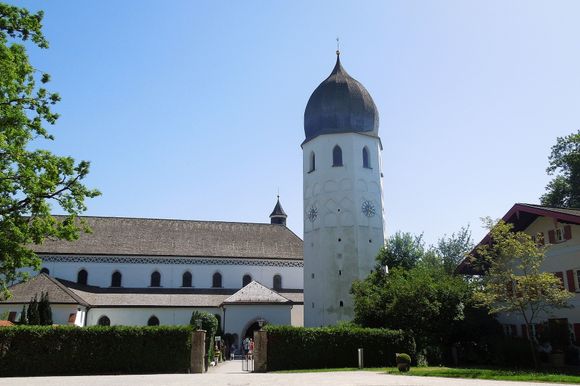 Photo by Tobias Nordhausen
- Opening hours: May to October : 11 am-5pm daily
- Entrance fee: free admission
Carolingian gateway hall
This building broke the record of the Abbey for the oldest construction - it derives from the 9th century St. Michael's Chapel, which attracts visitors with its beautiful frescoes and "memorials of Bavarian piety from times of the Carolingians and Agilolfings" and varied art exhibitions lies on the first floor of the gateway hall.
Campanile (free-standing bell tower)
Say "hello" to the most photographed attraction of Chiemsee region and don't miss the opportunity to make an Instagram post featuring it - plenty of likes guaranteed 🙂 It is situated in the monastery garden next to the approximately 1200 years old Marienmünster cathedral and is a 36 meter high landmark of the entire island.
Tassilolinde and Marienlinde limetrees
These two are called "the 1000-year-old linden" by the locals even though they actually go back roughly 5 centuries. To enjoy the local atmosphere in full, you totally should stand in the shade of these trees for a while.
Activities - On foot or on bike, that is the question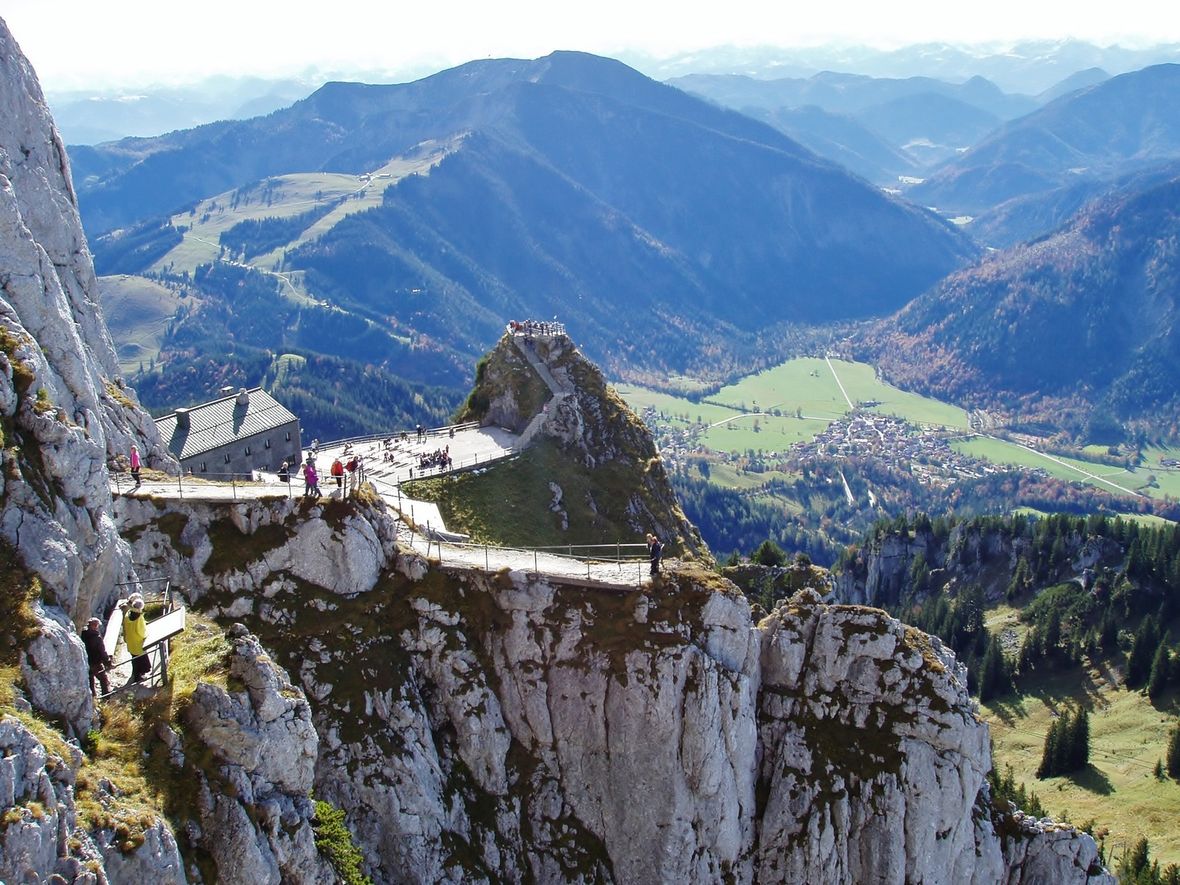 Hiking and cycling are the most popular activities in the area next to water sports, that sweeten any leave. The land of active tourism is rich in mountains and the most popular ones are Kampenwand (1,669 m), Wendelstein (1,838 m), Chiemgau in the east, Mangfallgebirge in the west, Tyrol and high mountain ranges of the Alps in the south. The mountain railways rapidly bring hikers up to the mountain tops, presenting them with spectacular views of the valleys. All facilities are provided here for rock climbers, tobogganers or skiers, snowshoe hikers, hang-gliders and paragliders, cave explorers and many others. In addition there is a large number of guided tours and thematic adventure trails with legendary figures, which are also well suited for children. You can wander through the woods, past the bogs, in the mountains or around any neighboring towns - everything your heart desires is at your disposal. The Chiemseerundweg trail leads the adventurers round the Chiemsee.
• Top 3 hiking trails:
Steinlingalm alp - Sonnenalm alp trail from Kampenwandbahn
Steinlingalm alp - "Chiemsee view" trail from Kohlstattweg
View over the Hartsee - forest trail from Bad Endorf
As far as biking is concerned, the Chiemsee-Alpenland is often called the cycling region. The popular Chiemsee Radweg bikeway stretches for about 55 kilometers along the banks of the lake and sits very well with pro cyclists and e-bikers. Mountain bikers will not be bored in the Alps either. Bike rental, bike parks, charging and service stations can be found at every turn. Suddenly exhausted? No problem, the buses of the Chiemseering line have trailers for bicycles at the ready!
Photo by Chris Juden
• Top 3 cycling tours:
Chiemsee - View of the Fraueninsel tour from Bernau am Chiemsee
View of Lake Chiemsee - Langbürgner lake tour from Prien-Stock
View of the Fraueninsel - Chiemsee tour from Urschalling
Most tours lead past the following small towns and villages, where you would absolutely love to spend your vacation:
Aschau am Chiemsee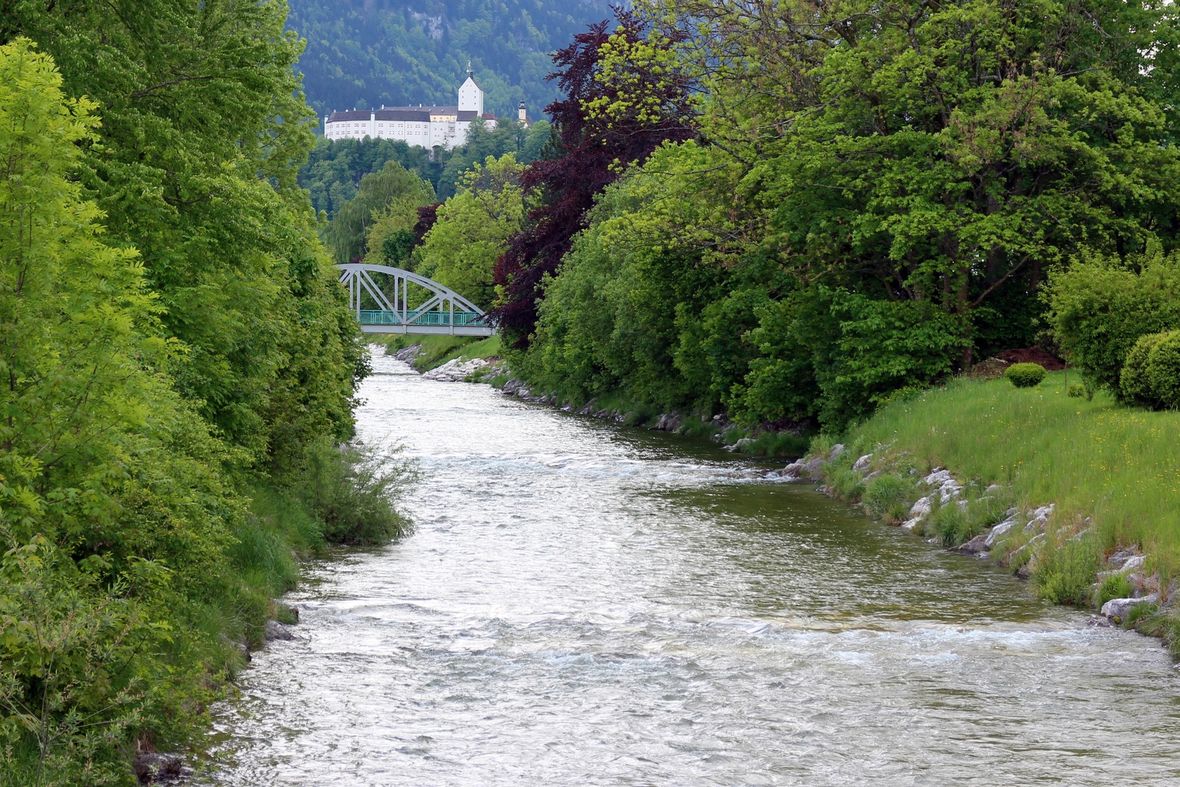 What is there to see?
• the castle Hohenaschau and rococo church with historical church square
• Prientalmuseum
• Mountain village Sachrang with baroque church and Müllner Peter's museum
What is there to do?
⇒ Falconry with birds of prey presentation
⇒ Alpine and mountain hikes
⇒ Cable car ride to the Kampenwand with a view of the Großglockner (highest mountain of Austria)
⇒ two family-friendly outdoor pools
Seebruck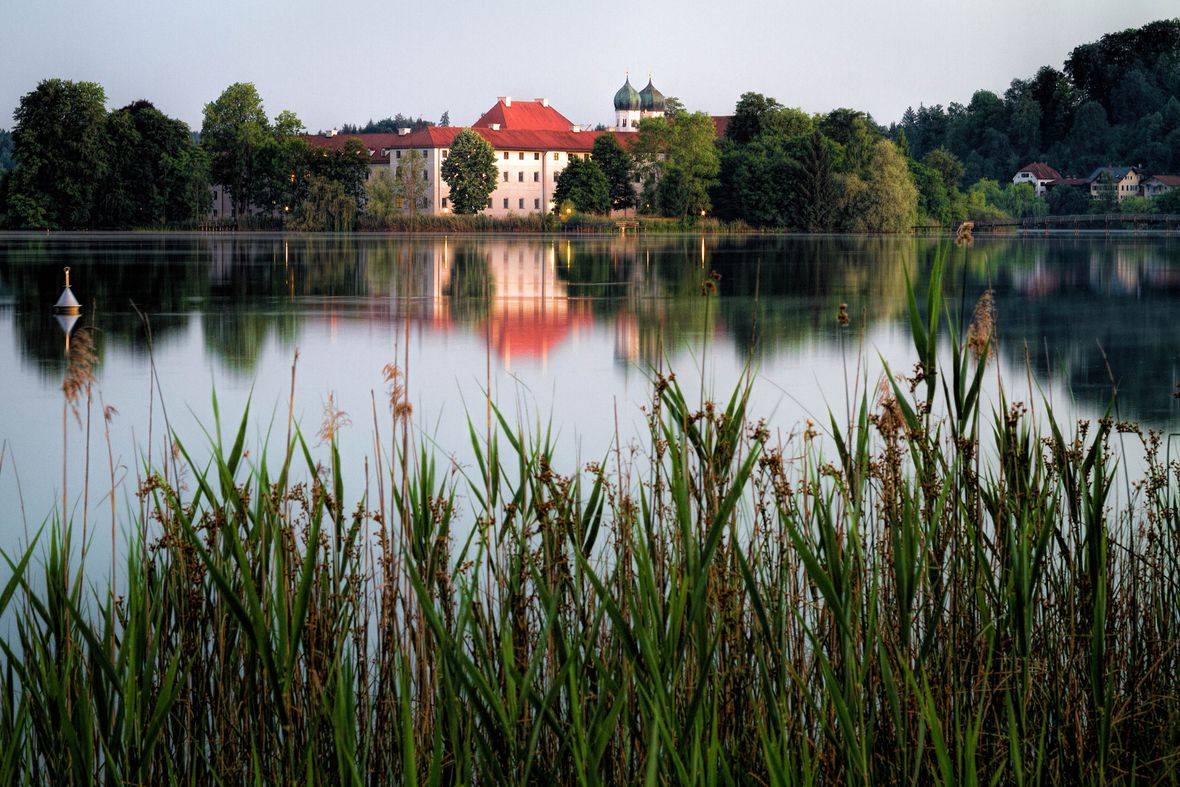 Photo by Oliver Wittmann
What is there to see?
• the Roman museum "Bedaium" with a fort wall
• the Celtic homestead Stöffling
What is there to do?
⇒ Raft trips on the Alz river (July - September)
⇒ Adventure performances with a Roman legionnaire
⇒ the Celtic homestead Stöffling
⇒ Steamboat trips to the Chiemsee islands
⇒ Bird watching on the tower
Chieming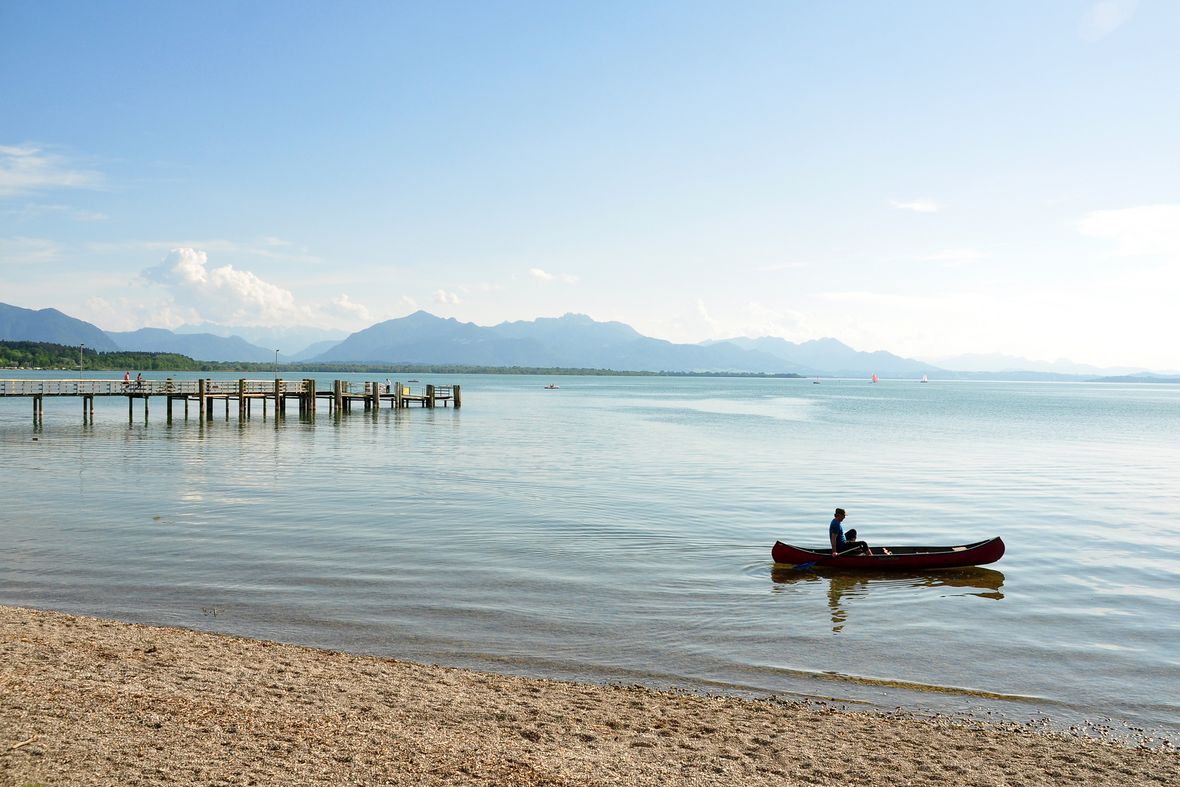 Photo by Brigitte Stolle
What is there to see ?
• Roman St. Peter's church
• the most beautiful and longest lake promenade with alpine panorama
What is there to do?
⇒ Nature Observation deck
⇒ freely accessible pebble beach
Grabenstätt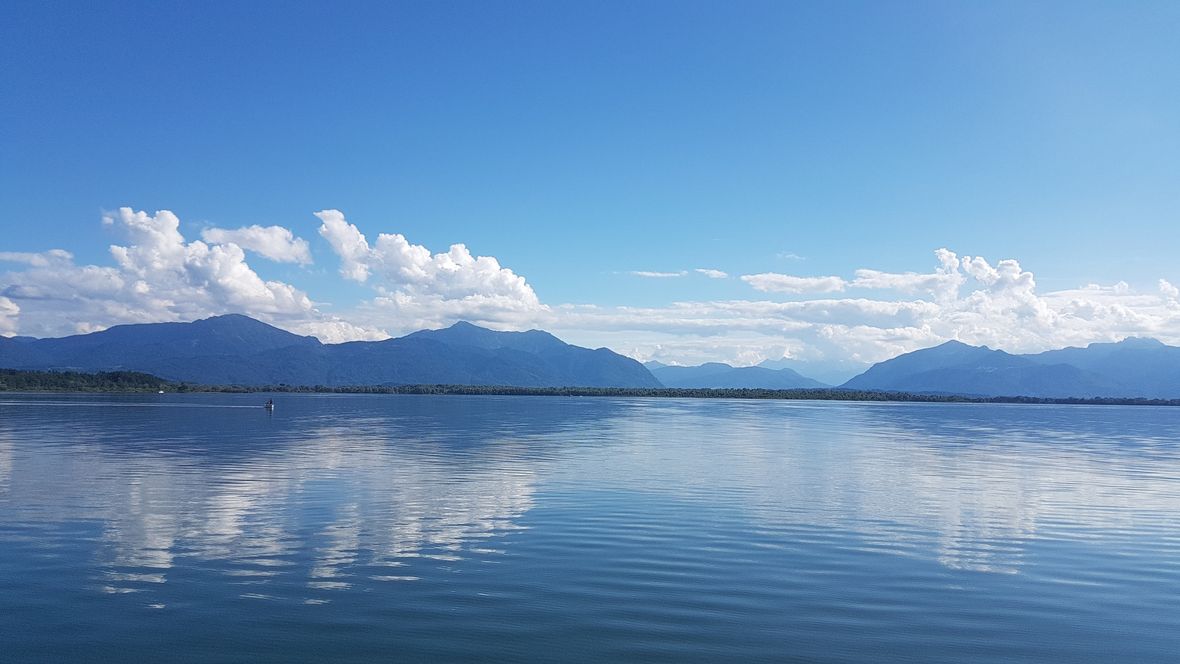 Photo by mydas The Wind
What is there to see ?
• Maximilian Church in neo-Romanesque style
• the Gothic church of St. John with frescoes from the 14th century
• Loreto pilgrimage chapel
• Grabenstätter castle (Town Hall nowadays)
• The Roman museum and the Chiemgau Impact Museum
What is there to do?
⇒ Hikes in the surroundings
⇒ Lido with restaurant
Übersee
What is there to see ?
• neo-Gothic brick church
• Gothic church of St.Peter and Paul with views of the Achental valley and the Kaisergebirge mountains
• the nature reserve "Mouth of the Tiroler Achen river"
What is there to do?
⇒ beautifully situated bays
⇒ all kinds of water sports
⇒ extensive beach area
⇒ Climbing garden
Bernau am Chiemsee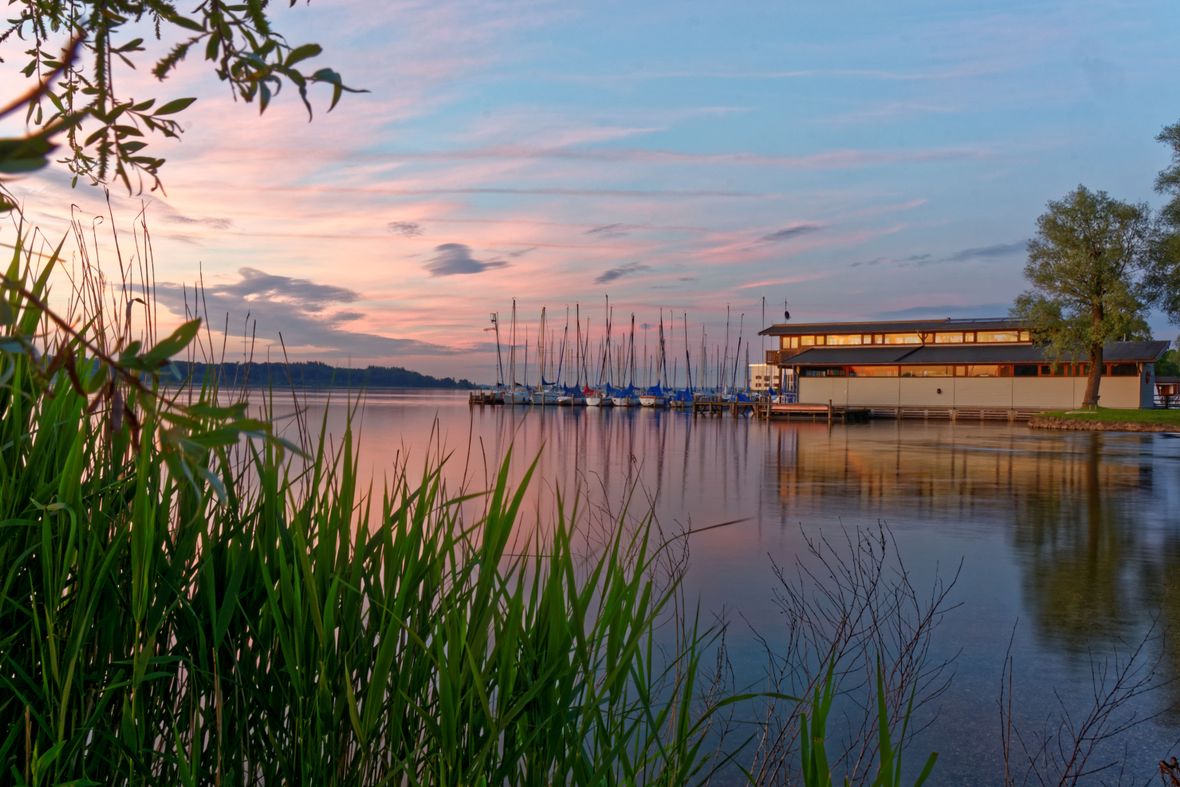 Photo by Dirk Schermuly
What is there to see?
• Chiemsee park Bernau-Felden
What is there to do?
⇒ Lido with beach volleyball and beach soccer
⇒ Beer garden of the Chiemsee anglers
⇒ Observation tower on the Irschener Winkel bay
⇒ Family indoor swimming pool BernaMare
⇒ Miniature golf course and bowling
⇒ spa park with Kneipp basin
Prien am Chiemsee
Photo by Pixelteufel
What is there to see?
• the Assumption of the Virgin Mary parish church (rococo style)
• protestant Christ Church
• gallery in the Old Town Hall (contemporary painters of Chiemsee)
• museum of local history Prien with Chiemsee painter gallery
• Gries district with well-preserved historic buildings
What is there to do?
⇒ PRIENAVERA adventure pool directly on the shores of the Chiemsee
⇒ climbing forest with 13 courses
⇒ bathing places: PRIENAVERA bathing beach, bathing places Schraml and
Schöllkopf
Rimsting
What is there to see ?
• church with baroque altars and the sculpture of church patron Nicholas
What is there to do?
⇒ freely accessible beach resort
⇒ nature observation station with beavers and birds presentations
⇒ Adventure trails for hikers
Breitbrunn am Chiemsee
What is there to see ?
• the neo-Baroque church of St. John
• the historic inn "zur Post"
• moving image in the chapel of the pond
What is there to do?
⇒ numerous walks through picturesque areas to everyone's liking
Gstadt am Chiemsee
Photo by Peter Specht
What is there to see?
• late Gothic St. Peter's Church
• lakeside promenade
• the Aischinger Höhe hill
What is there to do?
⇒ Hofanger nature park
⇒ Beach, boat rental, windsurfing school
Grassau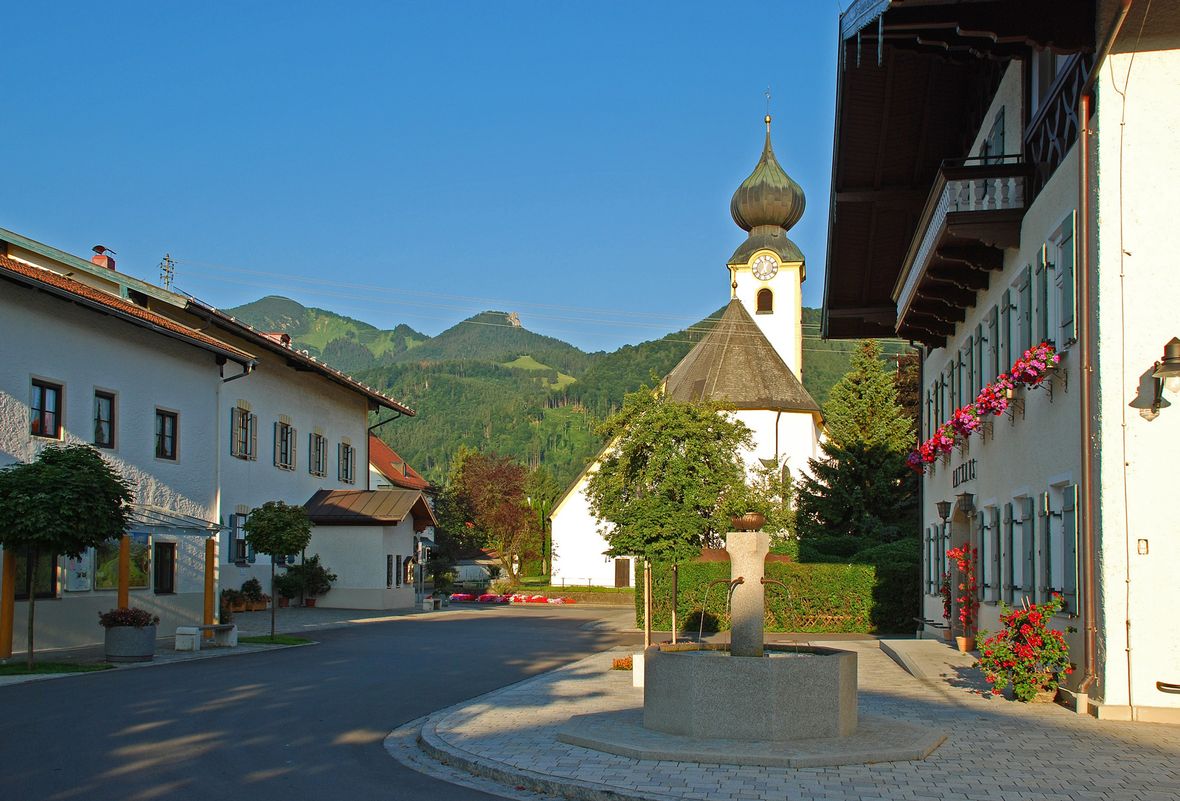 Photo by Peter Specht
What is there to see?
• the Assumption of the Virgin Mary parish church ( rococo style)
• museum "Salt & Moor"
• historic museum about peat
• nature reserve "Kendlmühlfilzen" (raised bogs)
• the historic doctor's house in the heart of the town
What is there to do?
⇒ moor adventure trail + moor circular trail
⇒ Hiking and cycling network
⇒ swimming in the Reifinger lake
Wellness - Let your hair down
Not only beautiful scenery and fresh air can be referred to as the natural treasures of the Chiemsee Lake, but also natural remedies such as mud, sulphuric thermal waters, iodine thermal brines, that make the lake and its surrounding area to a favoured wellness and health region. If you want to truly relax and regain energy, these facilities have many surprises in store:
Bad Aibling and Bad Feilnbach
These are the oldest mud baths whose "black gold" activates muscles, inhibits inflammation, relieves pain and strengthens immunity. It has been proven to cope with a significant number of disorders in multiple organ systems such as chronic, hormonal, degenerative diseases and many more. There is also a thermal bath with curative waters from a depth of nearly 2,300 meters in Bad Aibling.
Some of the available treatments are:
• all medical baths
• all classic massages
• water, electric, photo and ice therapy
• Kneipp treatments...
Bad Endorf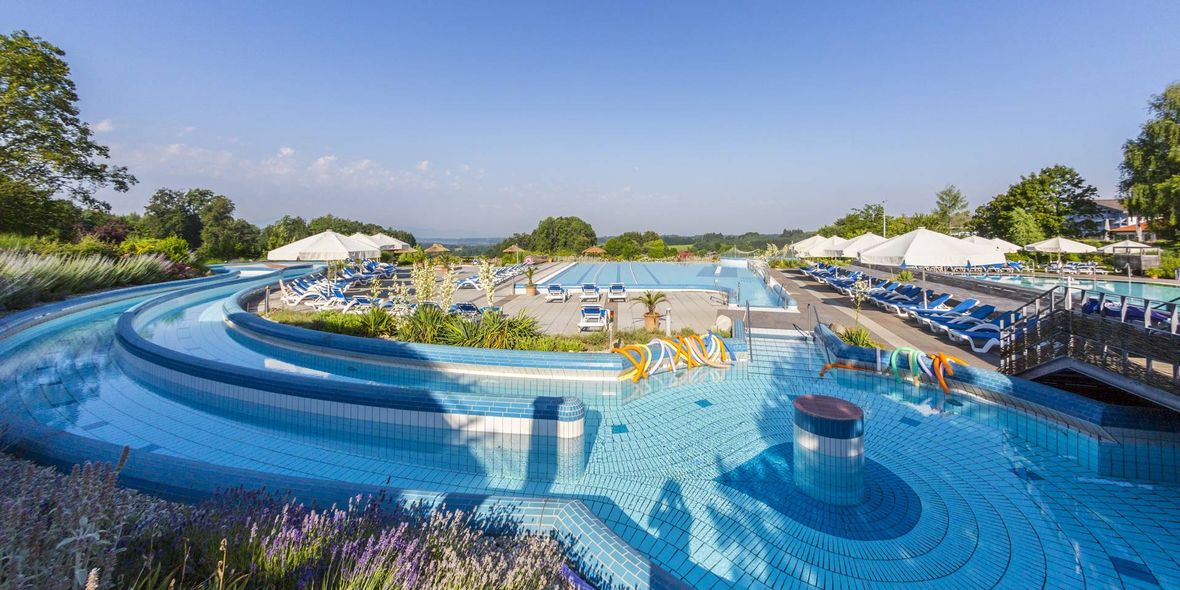 The health resort at the Chiemgau thermal baths offers pure relaxation with its strongest iodine brine spring in Europe and the Dead Sea salt grotto. Whether the musculoskeletal system, eye disorders or cardiovascular diseases seem to be the problem - Bad Endorf can undoubtedly provide relief.
Deals
Thermal baths
persons : 1
Nights: 2
Chiemsee Pur
Double room category 2 + 3 Services included
Hotel Gasthof Kern
Kirchplatz 5-6, 83128 Halfing, Deutschland
PRIENAVERA water park
We present to you the only recognized Kneipp health resort of Upper Bavaria. Here you'll have some unforgettable bathing fun:
• Lido with adventure and wellness pools
• bubble massages
• King Ludwig salt room and other saunas...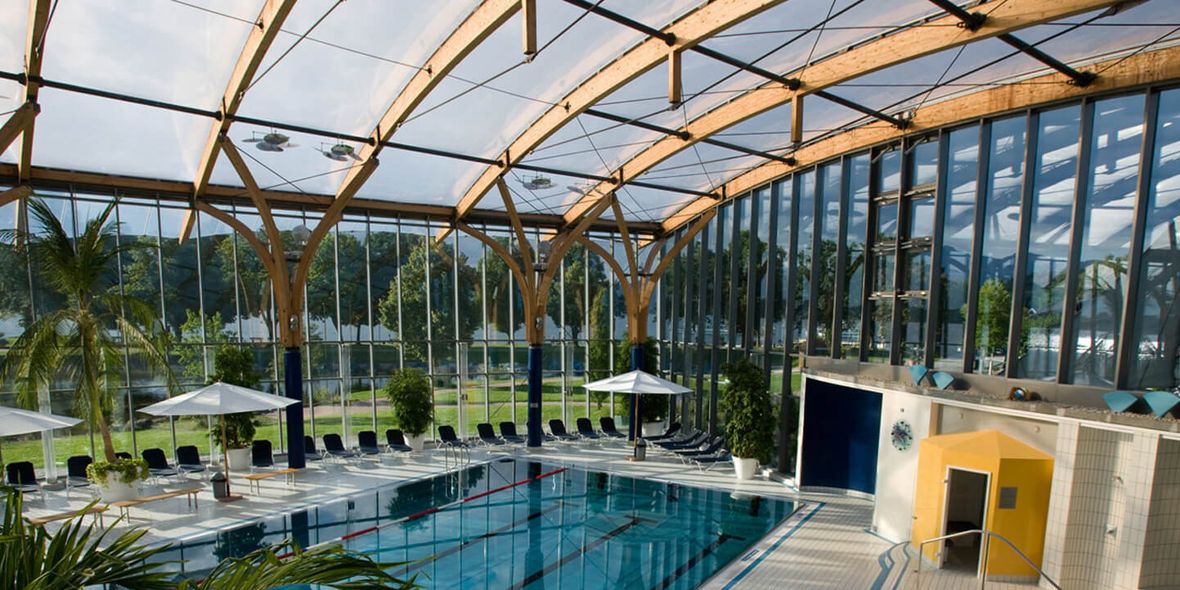 Highest hospital density in Europe, rich wellness offer, top services, healthy food and professional consultations await you directly at Chiemsee lake.
Events - Circenses et circenses!
Events in the Chiemsee-Alpenland region will cause hearts to beat fasterand even the most demanding guests won't be disappointed. Here is the up-to-date calendar of events 2018 for you!
Pageants
Traunsteiner summer concerts
1st to 8th of September
Inntaler Klangräume
21st to 23rd of September
Attler autumn festival
7th to 10th of September
Concerts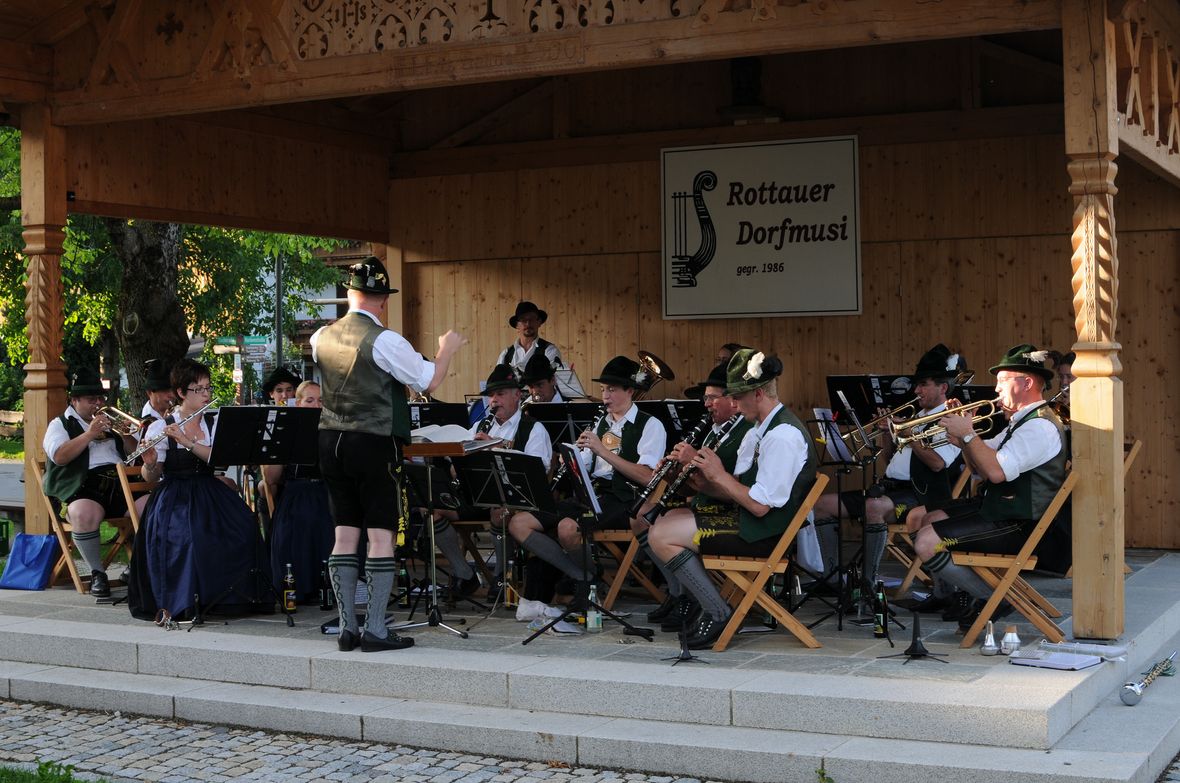 Photo by Grassau Tourismus
concerts in the Neubeuern castle
April 2018 to May 2019
island concerts on Herrenchiemsee
May to September
chamber choir of Rosenheim
October 5th
Theater & Cinema
folk theater Flintsbach - Romeo & Juliet in the mountains
May to August
400 years of knight plays in Kiefersfelden
July 28th to September 16th
nonfiction documentary festival Bad Aibling
March 2019
Sports
Chiemsee horse festival Gut Ising
August 30th to September 9th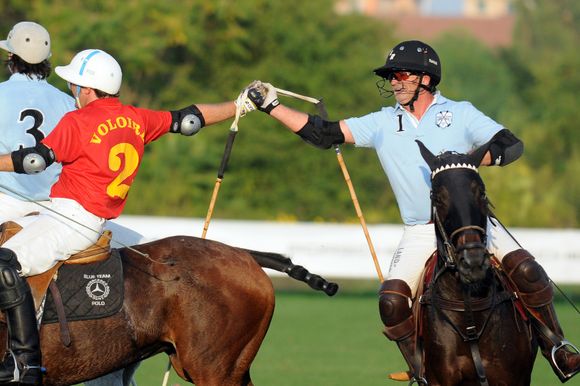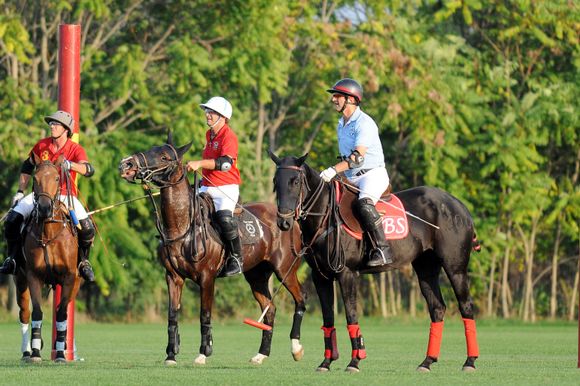 Photo by Giovanni Daniotti
Chiemsee Fraueninsel long-distance swimming
2nd of September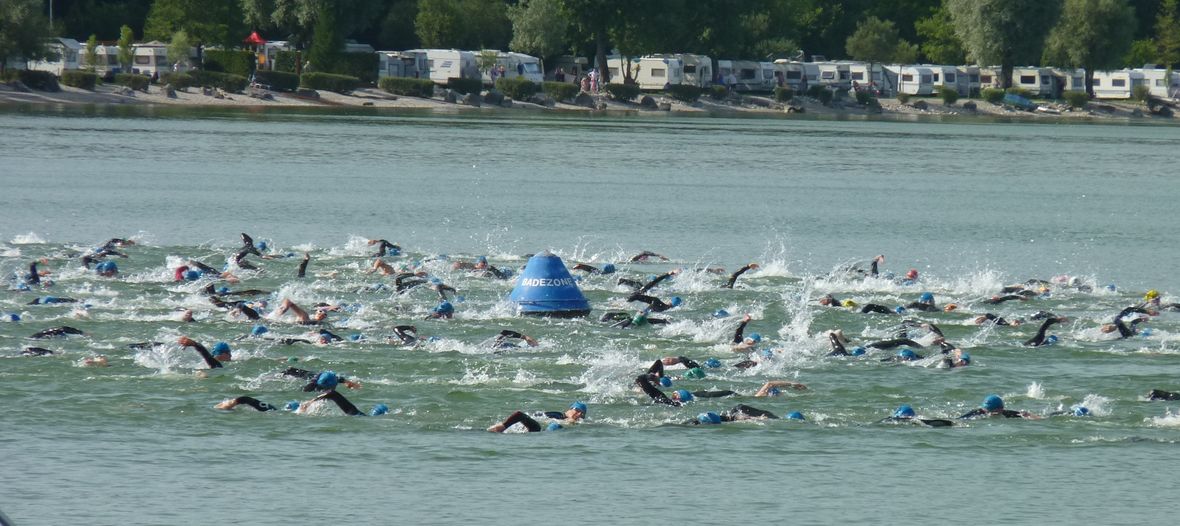 Photo by Golf Resort Achental Team
12th Bavarian Swim-Run Bad Feilnbach - Bad Aibling
15th of September
Festivals
Luegstock festival at Luegsteinsee lake
1st of September
19th International Guitar Festival "SAITENSPRÜNGE" Kurhaus Bad Aibling
November 2nd to November 24th
Miscellaneous
oldtimer and bulldog meeting Wasserburg
September 9th
Important! We eagerly await the impressive Chiemsee Summer Festival in 2019. Hip hop, rock and electro fans can by no means miss this renowned party of love and freedom!
Food and Drinks - Feasting in Bavarian style
You have definetly heard about the hearty Bavarian gastronomy already, but such a taste has to be experienced firsthand. The region Chiemsee-Alpenland is an excellent place to do so.
Some fisherman families are in business for over 400 years and have sharpened their skills thoroughly: grilled, baked, fried, fresh fish delicacies - all that one can wish for! Gourmets are simply not allowed to leave this region without tasting the Steckerlfisch.
A halt after the hike or a break in a cycling or excursion tour would be a suitable occasion to have an authentic Bavarian snack: White sausage with crunchy fresh pretzels or wood-oven baked bread and sweet mustard, meat loaf, organic fruit and vegetables from a pastoral farmer's market... The list of delicacies could go on forever.
Farmhouse cheese dairy and farm shops, which offer all sorts of cheeses fresh from the alpine pasture are another distinctive feature of the region: cheese fans can savour mild and spicy sheep's, goat's, cow's milk cheese, fenugreek cheese, chili cheese, Grainbacher special cheese and many others on the Lochnerhof farm at the Samerberg mountain or Audorfer cheesery in Oberaudorf and so on.
Sweet tooths will highly appreciate farm ice cream, hot apple pies, homemade cakes, pastry, chocolate and chocolates with a cup of premium-quality coffee. It is particularly advisable to try the iconic marzipan "Pilgrim bread" from the Frauenwörth Abbey!!
If you are looking for somewhat harder stuff countless local beers and liqueurs are at your command. Do not miss the chance to sample the monastery liqueur handmade by nuns and relish some Kymsee whiskey!
Along with Bavarian specialties different cuisines are served in numerous restaurants throughout the region: from Mexican to Japanese.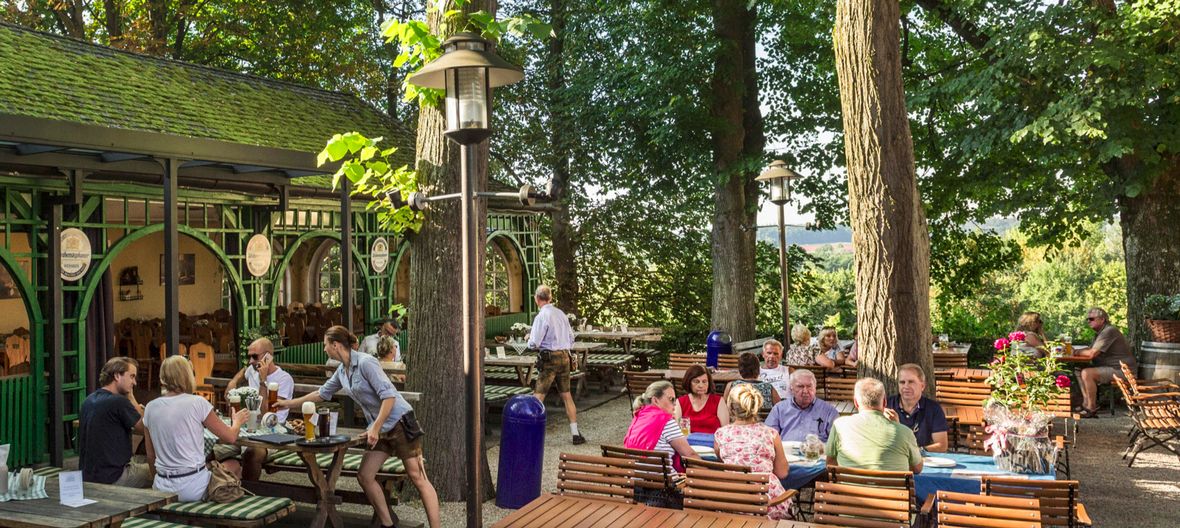 Those, who are ready to lose themselves in the culinary world of Bavaria, can put our list of eateries, which belong to the classification "Excellent Bavarian cuisine" to good use:
1. See Café Toni directly at Chiemsee lake with a view of the Schafwaschener bay and the Chiemgau Alpine peaks
2. Schlosswirt Maxlrain by the former building of the castle Maxlrain
3. SonnenAlm at 1,500 m altitude on the Kampenwand
4. Brewpub Maxlrain with scenic alpine panorama
5. Entenwirt (duck and venison specialties)
6. Zum Fischer am See
7. Flötzinger brewpub
Insider-Tipps
💡Tipp
Wenn Sie ein eigenes Boot besitzen, können Sie die Boje 96 auf der Herreninsel erreichen – dort kann man den Sonnenuntergang am besten bewundern.
💡Tipp
Die köstlichsten Weltklasse-Cocktails findet man im Café Sol.
💡Tipp
Die Kaffeerösterei und das Café Dinzler sind beliebte Lokale von Einheimischen zum Frühstücken und Kaffeetrinken.
💡Tipp
Die Lieblingseisdiele vieler Chiemsee-Bewohner befindet sich in Gstadt – Eiscafe Venezia.
💡Tipp
In der Getreidegasse in Salzburg kann man prima shoppen.
💡Tipp
Statten Sie mit Ihren Kindern der Familie Hasenöhrl einen Besuch ab und streicheln Sie die Alpakas.
Did you know that one man found a gold cauldron weighing about 10.5 kilograms at the bottom of the lake Chiemsee in 2001? HotelFriend can give you no guarantee that you'll discover something equally precious here. Instead we assure you, that the real treasures lie not in the waters of the lake, but throughout the region Chiemsee - Alpenland, such as the warmest memories and the greatest experiences for couples, friends, families and those travelling alone too.
Chiemsee
Deals in Chiemsee
(7)