Please, enter a destination
City tours in Munich
City trip offers to Munich
(62)
City Tour in versatile Munich
Traditional and conservative or open-minded and risqué - Munich has it all covered and served under a good old jaeger sauce with schnitzels. What can be more German than that? If Bavaria can reflect quintessential Germany, then the best way to test-taste it is the very heart of it – Munich. Hollywood and Silicon Valley – all in one, Munich is the wealthiest part of Germany both culturally and economically. It is a must-see if you enjoy history, arts, jewellery, science, and watching people having good lives, working hard and partying even harder.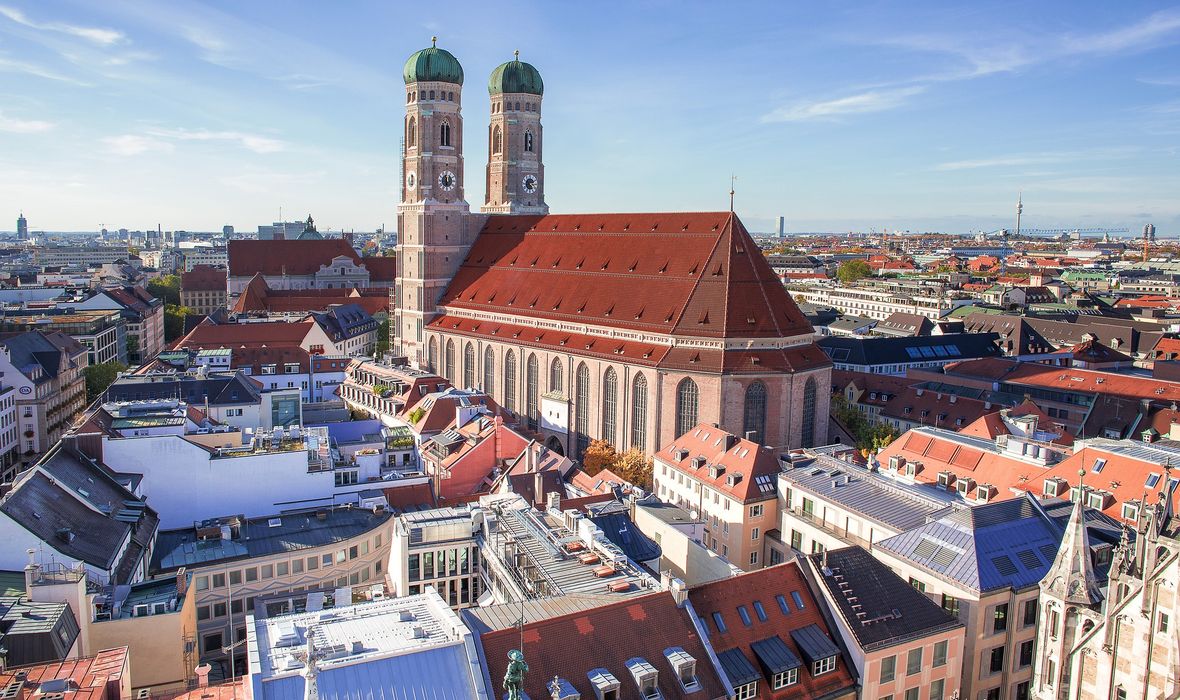 Munich city tours can show you more jewels and relics than any city outside of Rome. And it is hard to imagine without the oldest church of the town - St Peter's Church, with such attractions as a densely jewelled skeleton. It is holding a glass filled with dried blood, dating back to the 4th century. Many regalia and grandeur can be found in the family palaces and castles of the Wittelsbachs, who ruled Bavaria over 700 years and competing with the Habsburg left a remarkable architectural legacy.
More landmarks
299 steps up the St Peter's tower and here is the best lookout point in Marienplatz-central square of Munich, which will give you a feel of an ancient European city. But it's not just a legacy from previous generations, that was a conscious decision of Munich people, and it came at a high price. Everything you can see there was ruined during the war and rebuilt since then. Many German cities encountered this challenge. While some of them, like Frankfurt, opted for starting from scratch and got the title of a "German Manhattan", Munich residents voted for reconstruction and managed to keep the spirit of a small German town. The attempts of the city council to keep traffic away by putting up an excellent public transportation system were resultative, and the city is quiet and cosy with a lot of greenery. Marienplatz and the surrounding street have been pedestrian since the 70s in the 20th century, which caused a wave of complaints at first. Today the biggest pedestrian zone in Europe allows for 9000 shoppers an hour, which makes the shop owners happy.
Food and Science
Munich travel guide will inevitably bring you to Viktualienmarkt, which might be modern street food's mother and the best budget eating ever! Local authorities keep the rent low for the vendors to be competitive with the fast-food giants. Grocers here meet the high expectation by always having fresh organic produce at affordable prices and delivering the friendliest service possible. There is no need to wait until Oktoberfest to appreciate local food and beer. Connoisseurs of fine dining must check out Dallmayr indoor market and stockpile on really royal delicatessen.
For several decades, Munich has had the highest share of technology patents by population in German. More than 50000 people are working in technological research and development, so it can also be called the new hotspot of the startup scene. With this level of interest, no wonder that the Deutsche Museum is the largest in the world science museum covering more than 50 branches of science.
Attractive hotel deals in Munich
If you are looking for a cosy hotel that will not break your budget but have all the necessary facilities for your comfortable stay, HotelFriend is the go-to platform. We have hundreds of deals with a discount of up to 50%. They include such advantages as early check-in, free Wi-Fi and parking, breakfast buffet, late check-out, spa amenities, and other services. Check out all the latest offers now!