Please, enter a destination
A City tour to the Swabian capital
Surrounded by vineyards and forests, the city on the banks of the river Neckar is famous for its Rieslings, philosopher Hegel, and car manufacturers Carl Benz, Gottlieb Daimler, Wilhelm Maybach, and Ferdinand Porsche. Stuttgart is the capital of the German state Baden Württemberg. It was founded by Ludwig von Schwaben in the 10th century around his stable, hence the name - Stuttgart, literally meaning "horses' garden", which is reflected in the coats of arms of the Swabian capital. You can find multiple healing mineral springs, the most incredible eclectic palace complex with a botanical garden, and a zoo – Wilhelma, in Stuttgart. It's a city of big businesses, big sports, shopping, postmodernist aesthetics, medieval culture and natural spa treasures.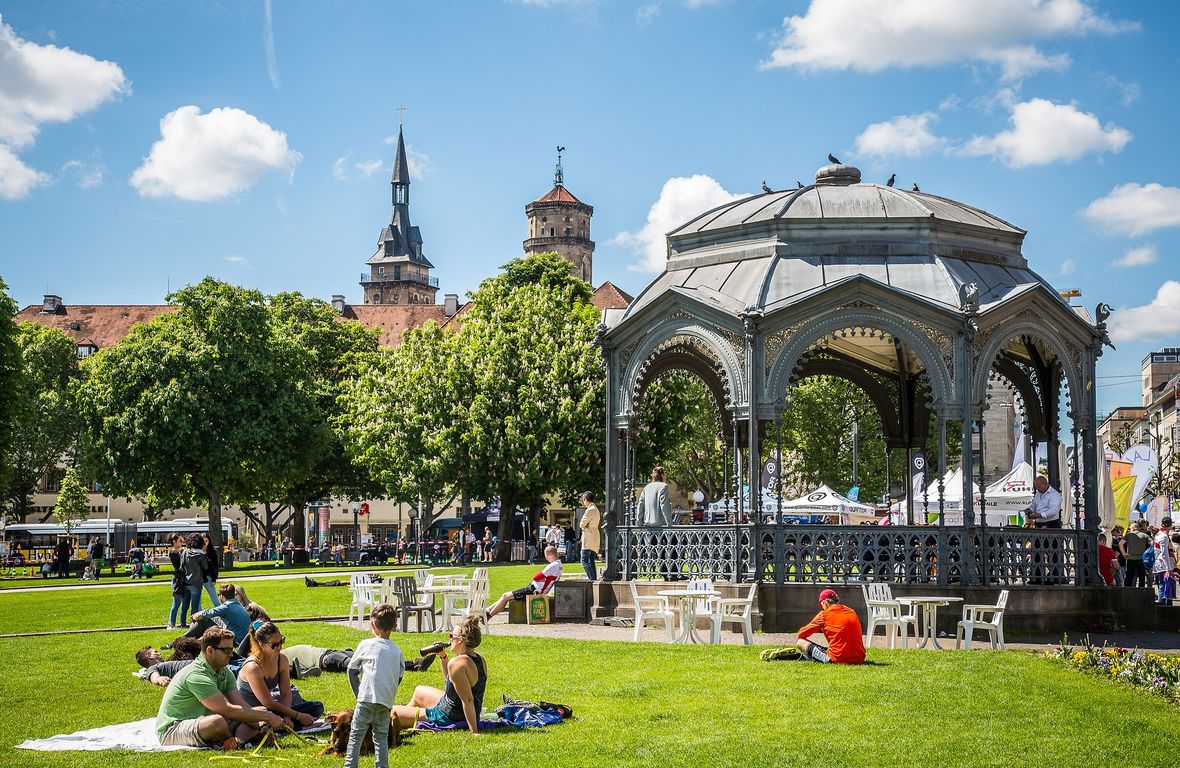 Since Stuttgart is just 200 km away from Munich, these cities have a lot in common: e.g., many hours of sunshine and access to the Alps and forests. They even conduct beer festivals on the same dates. Stuttgart positions itself compared to Munich as just a bit less touristy, more sophisticated, and a lot more affordable.
Stuttgart's attractions
Among the most visited Stuttgart attractions, Mercedes Benz's DNA-shaped museum is noteworthy, without a doubt. Admission costs about 8 Euros, and it comes with a neat audio guide. The museum is quite impressive, housing slightly under 1000 vehicles on its 9 floors, starting from motorized carriers, first constructed by Benz in 1888, limousines of the 20s and 30s by Daimler, the legendary "Blitzen-Benz" – a racing car capable of accelerating to 228 km per hour already in 1911, to a cool simulator, which is a must-try. There is also a great show-room on the ground floor. Both car aficionados and those who aren't much into vehicles will find a lot to their liking here. For instance, the museum's restaurant is famous for its schnitzels, which might as well be the best in Stuttgart.
The Porsche Museum is the second most famous attraction in Stuttgart. It looks like a large flying box. Here, they show the history of car-manufacturing. The exhibition on Ferdinand Porsche is dedicated to his engineering spirit and the resulting constructions such as the Volkswagen.
The most well-known postmodern building in Europe is Stuttgart's Staatsgalerie by the architect James Sterling. The gallery has collected artworks from the 15th century to contemporary masterpieces. Tourists are attracted here by such great names as Picasso, Renoir, Monet, and others. No less popular among the artistic elite is the elegant glass cube - Kunstmuseum.
Shopping and cuisine
Stuttgart is impossible to imagine without its shopping areas. The Königsstraße in Stuttgart is the longest car-free shopping street in Germany. Overall, the supermarkets and department stores of the city are true cult objects. Stuttgart's Breuninger can only be compared with Harrods, the most famous department store in London.
A Stuttgart city tour would be incomplete without exploring its cuisine, which can be best described as love to flour. For instance, you could try gigantic Maultaschen (ravioli), which is translated as 'mouth-pocket", Spätzle – iconic egg noodles, cooked according to traditional Swabian recipes or the historical soup "Gaisburger Marsch", which was given to the Swabian army before long marches. All these dishes prepare you perfectly for every shopping trip or city tour. If necessary, simply add some Riesling or local beer for an extra energy boost.
Top hotel deals in Stuttgart
Although Stuttgart is not overrun by tourists, the city offers many excellent hotels that offer a variety of options for travelers of all kinds. However, finding a comfortable and affordable accommodation is a difficult task. To make your life easier, we have put together the best hotel deals on our website for an unforgettable and affordable stay in the Swabian capital. Buy a travel voucher now and redeem it at any time within 36 months. You can either use this voucher for yourself or as a perfect present for your family or friends.