Please, enter a destination
Filters
Top facility
More
Hotels in Cologne
(246 results)
Cologne Travel Guide
The biggest city of the North Rhine-Westphalia, Cologne has a population of over 1 million people. It stands on the left bank of the river Rhine and is considered as one of the major metropolitan areas in Europe.
Cologne is a popular tourist destination, but it is less touristy than Berlin and Munich. This fact makes it even more attractive since it is possible to spend a great holiday on a budget. With its numerous museums, hip cafes, and magnificent architecture it will win your heart instantly!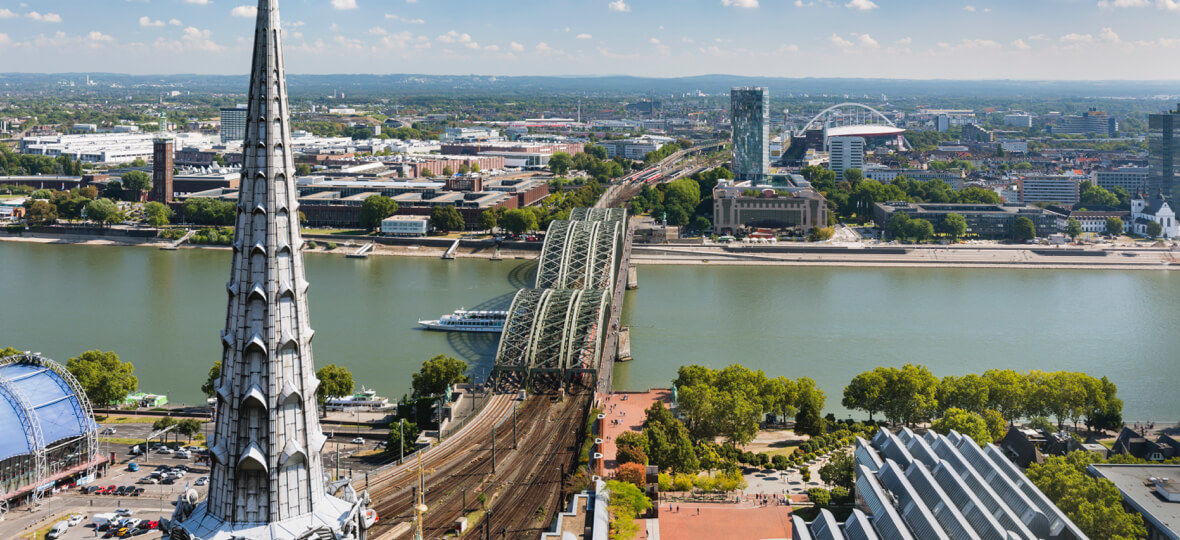 The best time to visit Cologne
In general, Cologne has a temperate oceanic climate. It means that daily highs vary greatly during the year due to humidity, and rainfalls are more likely to happen every month.
The best time to visit Cologne for sightseeing is Spring and Autumn. Summer is mild but humid and brings swarms of tourists, as well as higher hotel rates. In Winter, tourists can enjoy the vibrant Christmas atmosphere of the city, but the weather may feel either temperate or extremely cold because of the winds.
November is rich in festivals. A museum night and Kunstsalon music festivals are great opportunities to unwind during your weekend in Cologne. The same goes for July, with its Summerjam Festival, Christopher Street Day parade, and amazing Kölner Lichter firework show.
Interactive Map of Cologne
Top tourist attractions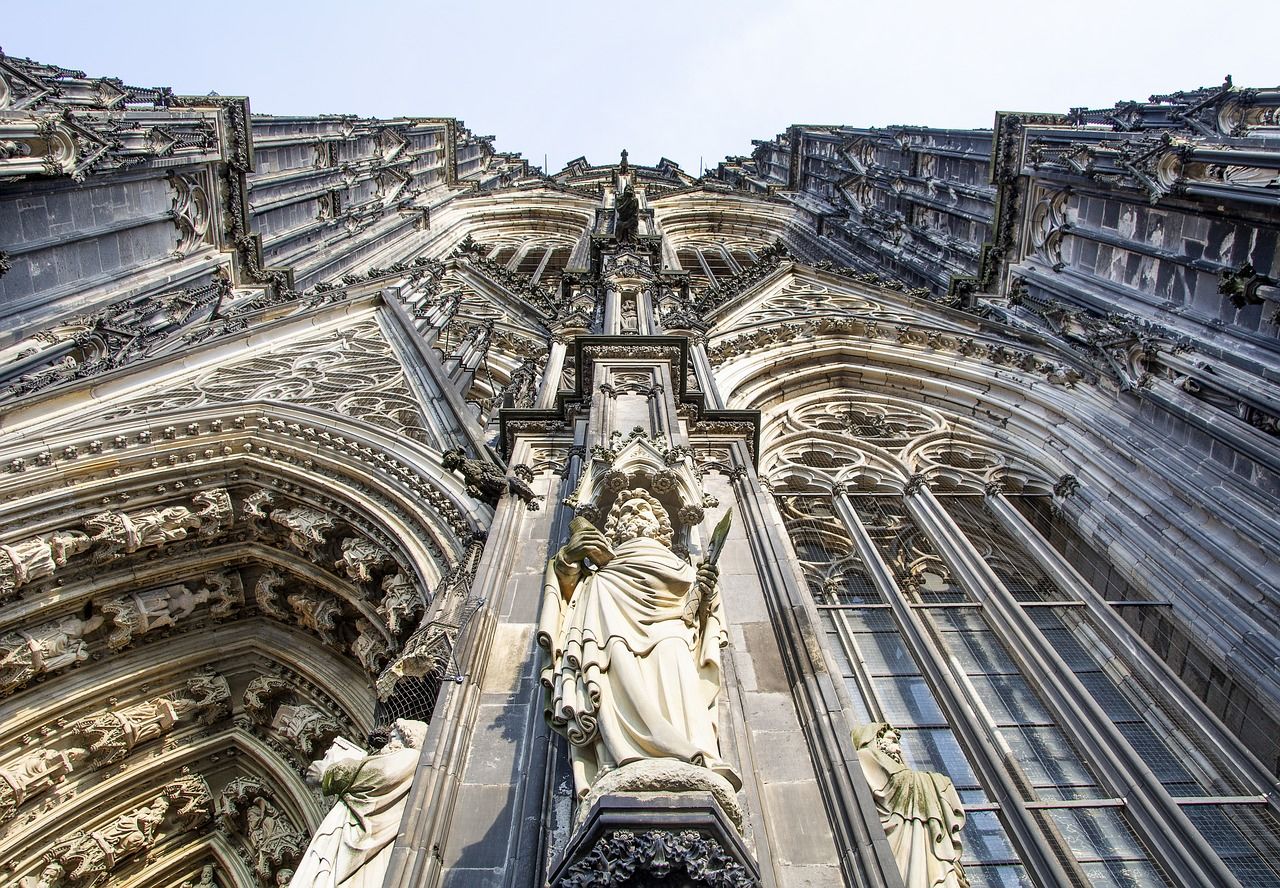 This city with an almost 2000-year history and Roman past is much more than just the city of fragrance. It is also a cathedral city, which boasts 12 Romanesque churches, the most impressive from which is the famous Cologne Cathedral. One of the biggest in Europe, this church is a fine example of High Gothic architecture and a definite must-visit.
Apart from several architectural masterpieces, Cologne is so great because it has a vibrant creative atmosphere. Thanks to more than 30 museums and almost 100 galleries, it became a sort of mecca for contemporary artists.
The entire city almost disappeared during World War II, and then was quickly rebuilt. No wonder that Cologne may not strike you with beauty at first glimpse. Nevertheless, the true beauty of Cologne is in its overall atmosphere and its citizens.
Here are the 10 landmarks we recommend you to visit to understand the essence of Cologne: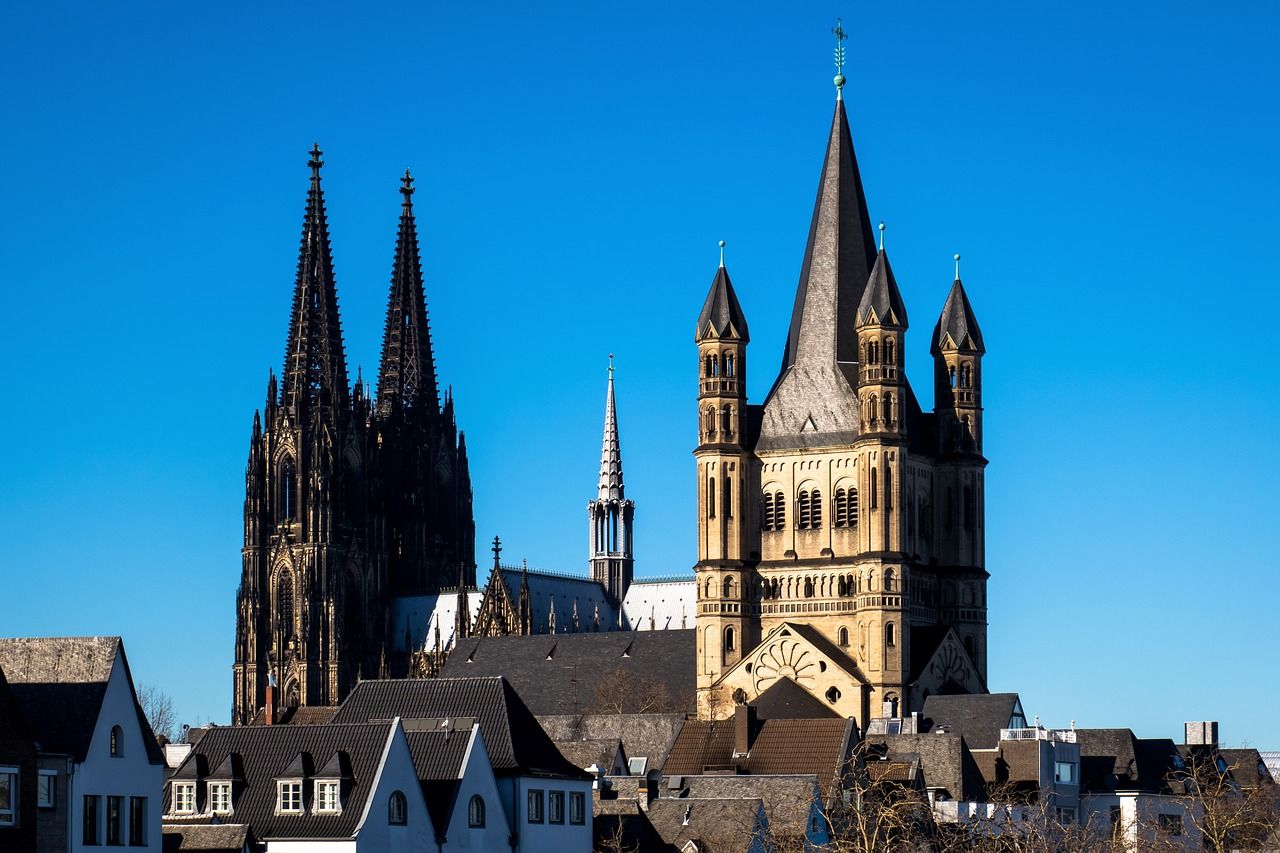 • Ludwig Museum
• The Old Town
• Groß St. Martin
• Botanical Garden
• Cologne Cathedral
• Schildergasse
• Cologne Cable Car
• Hohenzollern Bridge
• 4711 House
• Chocolate Museum
Tip: Taking a Rhine River Cruise is a great way to view all main attractions if you are short in time. The spectacular scenery, which you will see from the board, features the twin towers of Cologne Cathedral, neat buildings from the Old Town, and Hohenzollern Bridge.
Getting around Cologne
Cologne is very convenient in terms of infrastructure. It has well-connected public transportation links, and all main tourist attractions are located within walking distance from each other. You can get around the city by bus, by tram, by subway, by bike, by car, or simply on foot.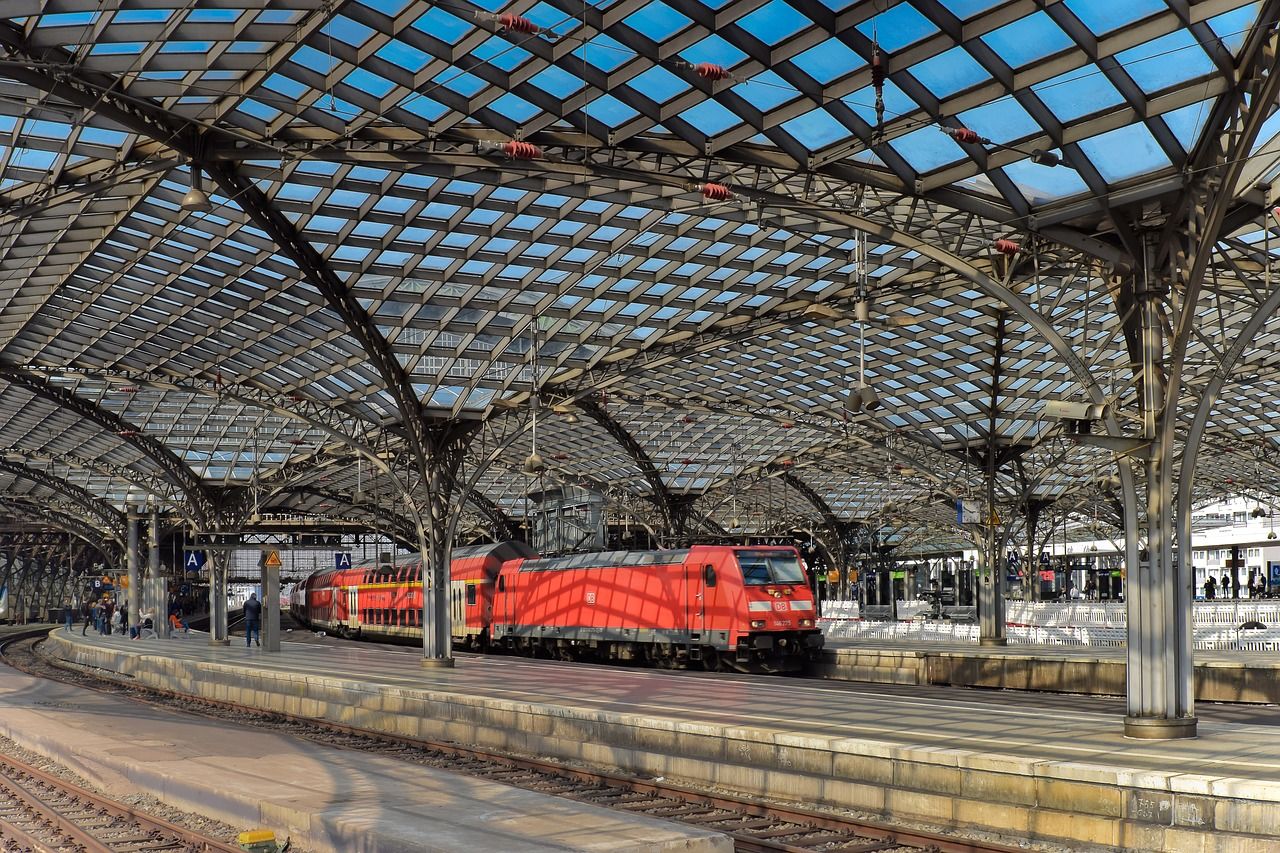 By Public Transport
Cologne has good transportation connections: you can get to any part of the town by subway, tram, or bus. The whole network is managed by the Kölner Verkehrs-Betriebe (KVB), and has, totally, around 60 lines. You can purchase tickets for a ride from vending machines in any means of transport, or in customer services centers. There are different types of tickets available, starting from day-tickets for one person to prolonged tickets for groups of people.
Tip: If you plan to use public transportation network in Cologne frequently, consider purchasing a Köln WelcomeCard. With this special card, you will be able to travel by public transport for 24 hours and you will also receive up to 50% discounts from more than 100 partners.
By Bike
This is one of the best ways of getting around the town. Cologne is a really bike-friendly city, and you will have an opportunity to easily follow your own itinerary. You can rent a bike for a whole day at the "Radstation", located in proximity to the central station. There you can find various types of bicycles, such as the city, trekking, or even tandem bikes!
By Car
In Cologne, you will find such major car hire companies, as "Avis", "Budget", and "Europcars". There is also a car-sharing option available, and all you need to do is to download an app, sign up, and validate your driving license. However, driving in Cologne has its flaws and may not be such a convenient option.
On foot
Cologne is a beautiful compact city, with no elevations. All of the major tourist attractions are located nearby and are easy to reach on foot. Therefore, we encourage you to walk around, as it a free and exciting way to explore the city. But be careful and walk on the designated pedestrian part only, as the areas painted in red are meant for cycling.
The best hotels in Cologne
What to eat in Cologne
Looking for something tasty in Cologne? Well, this city has something to offer for you. Local cuisine may not be a sophisticated one, but it is really filling and tasty. Many recipes include meat, potatoes, and sauerkraut – typical ingredients of German meals. However, it does not make Cologne cuisine less original and authentic.
In our guide, we gathered the top 5 dishes, which are a definite must-try during your stay in this charming city.
Tip: It will be a great idea to wash down any meal from the list below with a refreshing glass of Kölsch beer.
Hämmche
Meat is one of the staples of Cologne cuisine, and Hämmche is a great illustration of this statement. This regional variation of Eisbein is usually made from a pickled pork knuckle, which is then seasoned and cooked in the oven. As a rule, it is served with mustard and fries or sauerkraut on the side.
Mettbrütche
This is a non-vegetarian alternative of Halve Hahn – German snack, popular in Düsseldorf and Cologne. Generally, this is a slice of bread slathered with butter, raw minced pork, raw onion on the top, seasoned with salt and pepper. Locals adore this dish and often eat it for breakfast or lunch.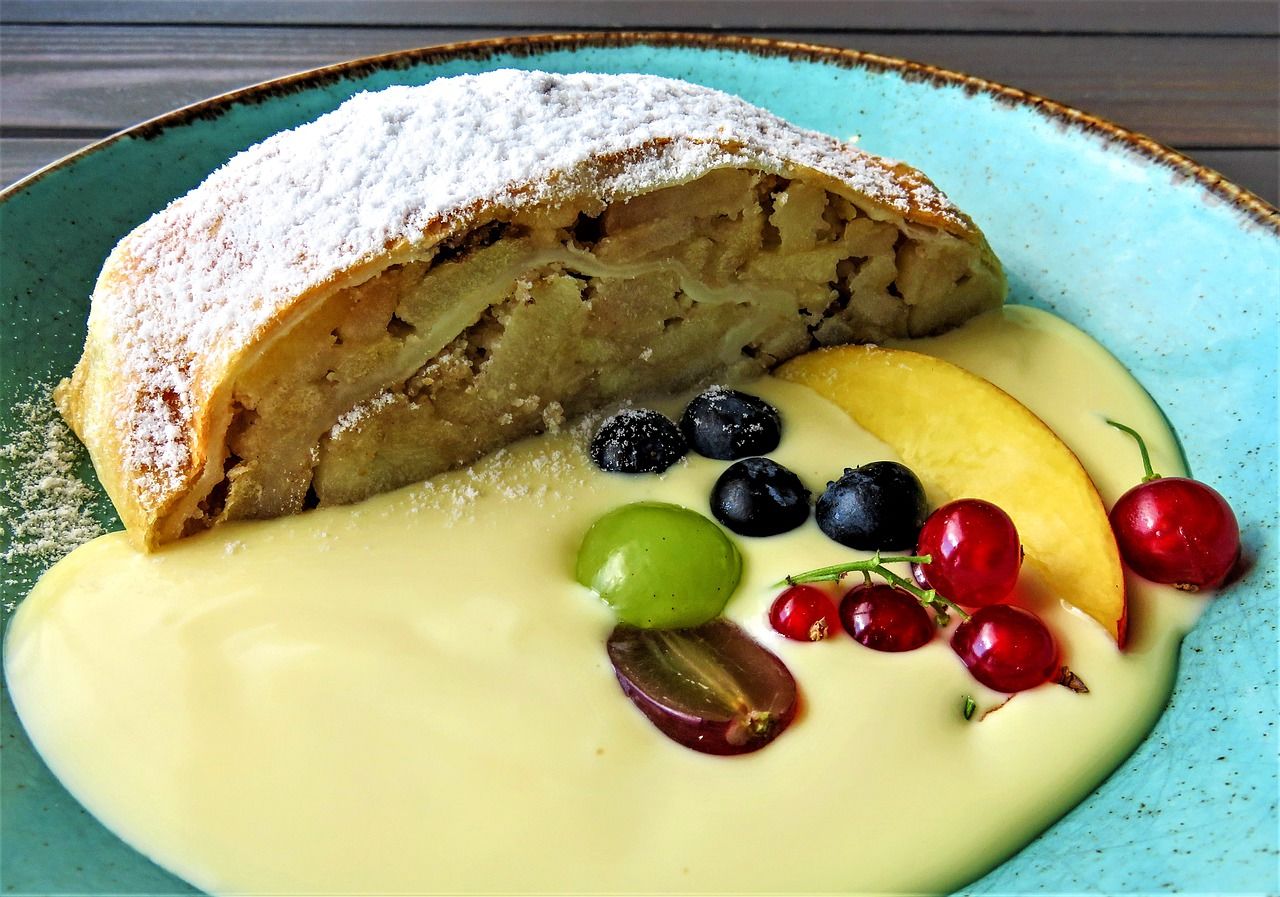 Apple strudel
Even though Apfelstrudel has Austrian origins, this delicious pastry is available all over Germany. Restaurants in Cologne serve it as well, and bakers usually follow the classic recipe. The main parts of this dish are unleavened dough casing and filling made from apples, brown sugar, lemon, nuts, and cinnamon.
OSchnitzel
Another famous dish in Cologne, which simple and tasty at the same time. Schnitzel is a variation of pork chops, coated with breadcrumbs, and then fried. It may be served with fries and a squeeze of lemon, or gravy sauce.
Bratwurst or Currywurst
Both Bratwurst and Currywurst are pork sausages but cooked in a different way. Bratwurst may be just fried or grilled, while Currywurst is steamed, fried, and topped with curry ketchup sauce. This meal is a great option for a quick bite in the city center.
Accommodation and hotels
Cologne has 86 neighborhoods (called "Veedels" in the local dialect). Each of them has its distinct character, formed by inhabitants, and offers a large spectrum of accommodation. You may find comfortable hotel rooms, cheap self-catering options, and even large family houses for your stay. The choice is unlimited, but first, we recommend you to decide which part of the city suits you best.
Here are the most interesting and comfortable neighborhoods to stay in: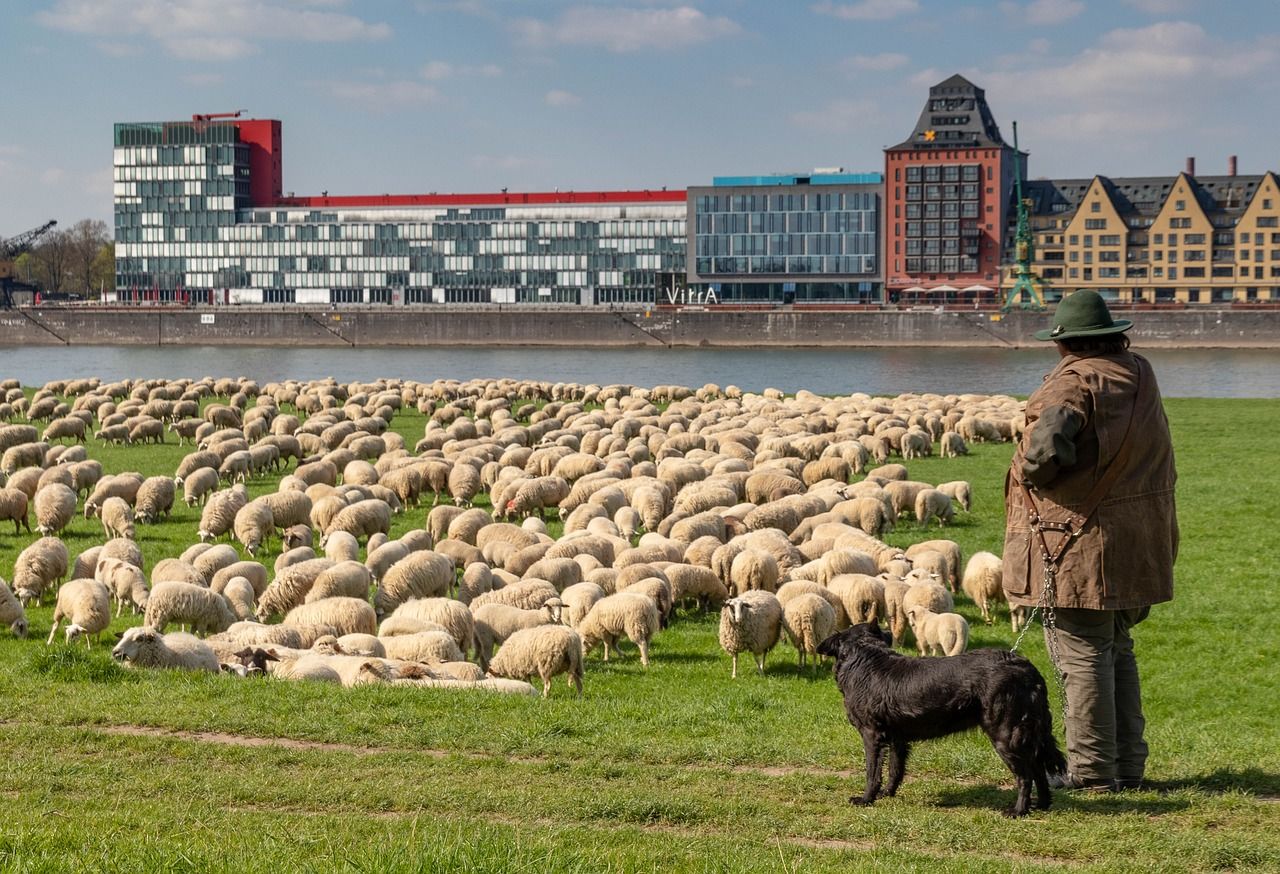 ● Neustadt – or "New Town", is a convenient family-friendly area with lots of modern hotels and great public transportation networks. It has many little cafes, bakeries, and may be described as a place with a nice relaxed atmosphere.
● Belgian Quarter – a part of Neustadt-Nord, this area attracts young people with numerous bars, galleries, local nightlife, and bohemian spirit.
● Deutz – the entertainment hub of the city, this quarter is a place of open-air concerts and sports events. Here you will easily find budget accommodation to stay with friends or family.
● Ehrenfeld – located away from the center of the city, this neighborhood attracts people with its graffiti artisan coffee shops and beer gardens. This is a place of nightlife and art, suitable for active and creative people.
● Altstadt – the best place for those who came in Cologne for the first time, or for those who came to visit Christmas Market. All the main tourist attractions are located in this neighborhood.
Once you understand which quarter appeals to you best, do not hesitate to look for accommodation at HotelFriend. We always have the best deals and discounts for curious travelers like you!