Please, enter a destination
Filters
Top facility
More
Hotels in Düsseldorf
(85 results)
Düsseldorf Travel Guide
Düsseldorf is the capital of North Rhine-Westphalia and the seventh-largest city in Germany. A wide range of galleries and museums, famous Königsallee with classy boutiques, beautiful architecture of Medienhafen – all of that makes this place a hidden gem of Germany.
It is a city of contrasts, where the traditional is interlaced with the new, and where you can see modern skyscrapers and medieval landmarks creating a harmonious ensemble. In our guide, we are going to reveal the beauty of Düsseldorf and help you to plan your unforgettable vacation there.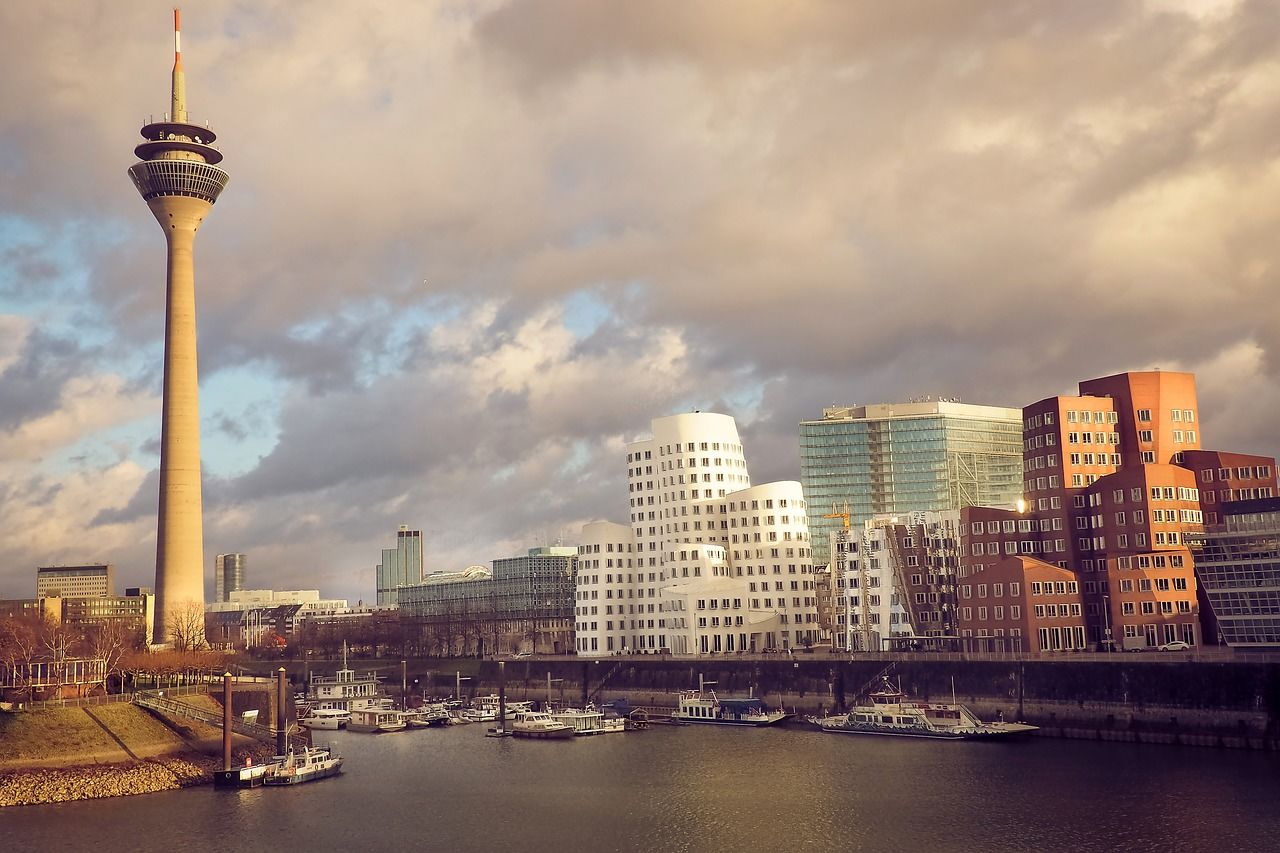 The best time to visit Düsseldorf
There is no better time to visit Düsseldorf than the months from September through December. Daily highs during this period vary from +8°C to +21°C. Late spring and the first month of summer are great as well, as you will have an opportunity to enjoy warmer and milder weather during your trip.
During September and October, the city acquires its unique autumn charm. A real highlight of the season is Chinafest, where you can try Chinese foods and watch "dragon dance". However, keep in mind that the weather in Autumn may be cold and rainy.
Many tourists come to visit Düsseldorf in December to spend an unforgettable Christmas holiday there. And this is the right place indeed, as the city has so many things to offer in Winter: from Christmas Markets to spectacular New Year's Eve celebrations.
Interactive Map of Düsseldorf
Top tourist attractions
Even though much of the city was destroyed during World War II, it was rebuilt, and then transformed into a major center of education, art, and world-class shopping. It has plenty of green areas, "the longest bar in the world" (which is, basically, a neighborhood), and unique art collections in local museums.
If you want to see all of that firsthand, here is the list of top 10 best tourist attractions to visit: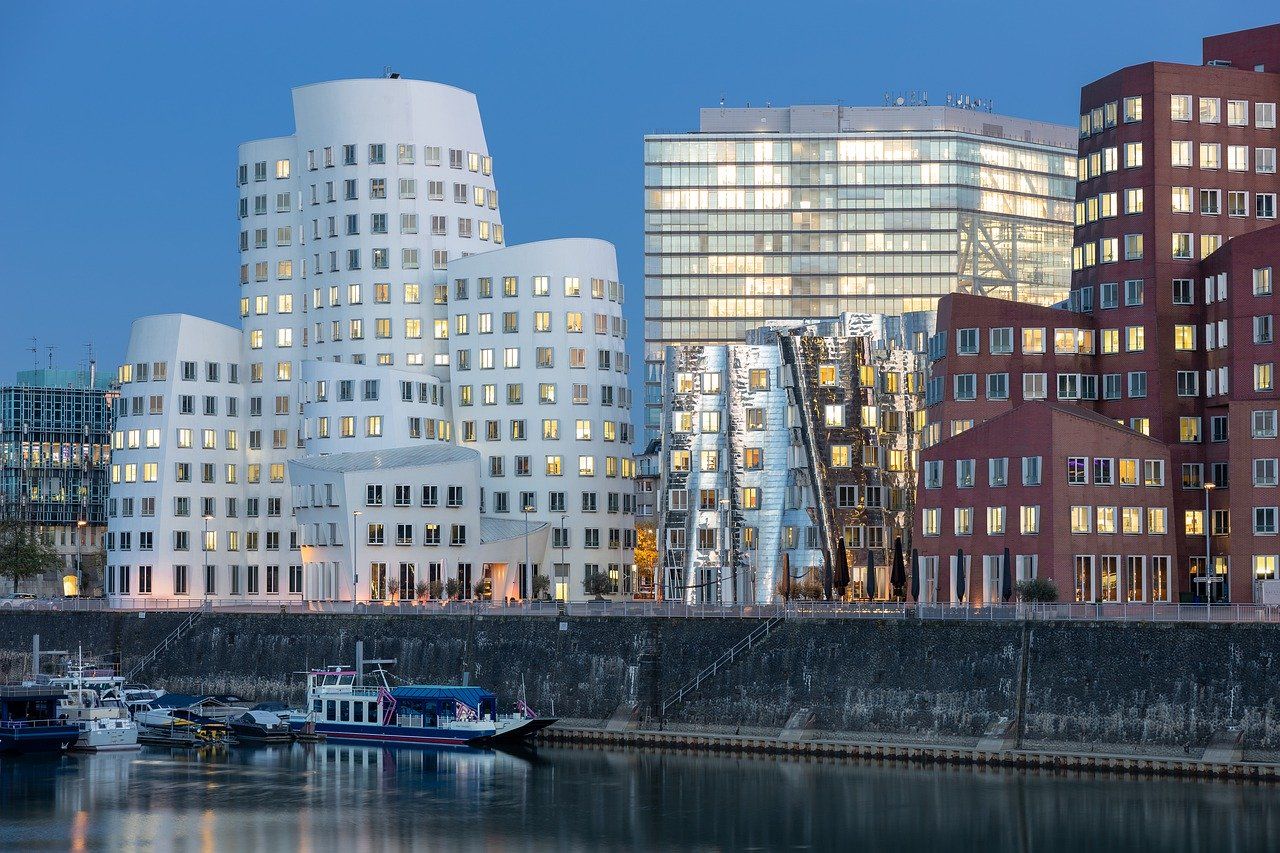 • Altstadt
• Rhine Embankment
• Medienhafen
• Königsallee
• Schloss Benrath
• Hofgarten
• Nordpark's Japanese Garden
• Carlsplatz Market
• Kunstsammlung Nordrhein-Westfalen (Museums K20 and K21)
• Kaiserswerth
Another interesting fact about Düsseldorf: it is very cosmopolitan. The population counts more than 600,000 inhabitants and almost 18% of it consists of foreigners. This makes the city incredibly diverse, and thus, amazingly interesting to explore. To make sure that it's true, just visit Japan Quarter – one of the largest commercial quarters of the Japanese community in Europe.
Tip: The most convenient way to see it all in one day is by travelling by bike, which is a favorite means of transport in Düsseldorf.
How to get there
Like almost every city in Germany, Düsseldorf is easy to reach. You can get there by any means of transport from any corner of the world. In our guide, you will find the essential information you need to know about travelling there by bus, by plane, by train, or by car.
Getting there by plane
Ranked as the third-largest airport in Germany, Düsseldorf Airport is located around 7 km far from the center of the city. This is one of the main international air hubs in the country, which serves more than 190 destinations worldwide.
It takes only 10-15 minutes to get from the airport to the center of Düsseldorf by bus (721, 896) train (S11), taxi, or metro (take Regionalbahn train at Düsseldorf Airport Terminal Station).
Getting there by train
The main railway station of the city is Düsseldorf Hauptbahnhof. There are 16 platforms in use, and the station serves all types of rail transport, including InterCity Express, InterCity, and EuroCity. There are high-speed trains from such destinations as Paris, Brussels, and Amsterdam available.
Getting there by bus
It is also possible to reach the metropolis by bus. Düsseldorf's central bus station is located on the Worringer Strasse, not far from Hauptbahnhof. The National Express buses depart from London regularly. Visitors from Europe can also travel there by buses of international operators like Eurolines, OuiBus, and Flixbus.
Getting there by car
If you plan to travel by car, you can get there from any destination via motorways A3, A 44, A 46, A 52, A 57, A 59, or A 524.
Hiring a car on the site is also a popular and convenient way of getting around the city, especially during family trips.
The best hotels in Düsseldorf
What to eat in Düsseldorf
Düsseldorf's cuisine is famous for its international character. While there are plenty of regional dishes that you can taste within the city, it is also possible to find the finest examples of Asian food.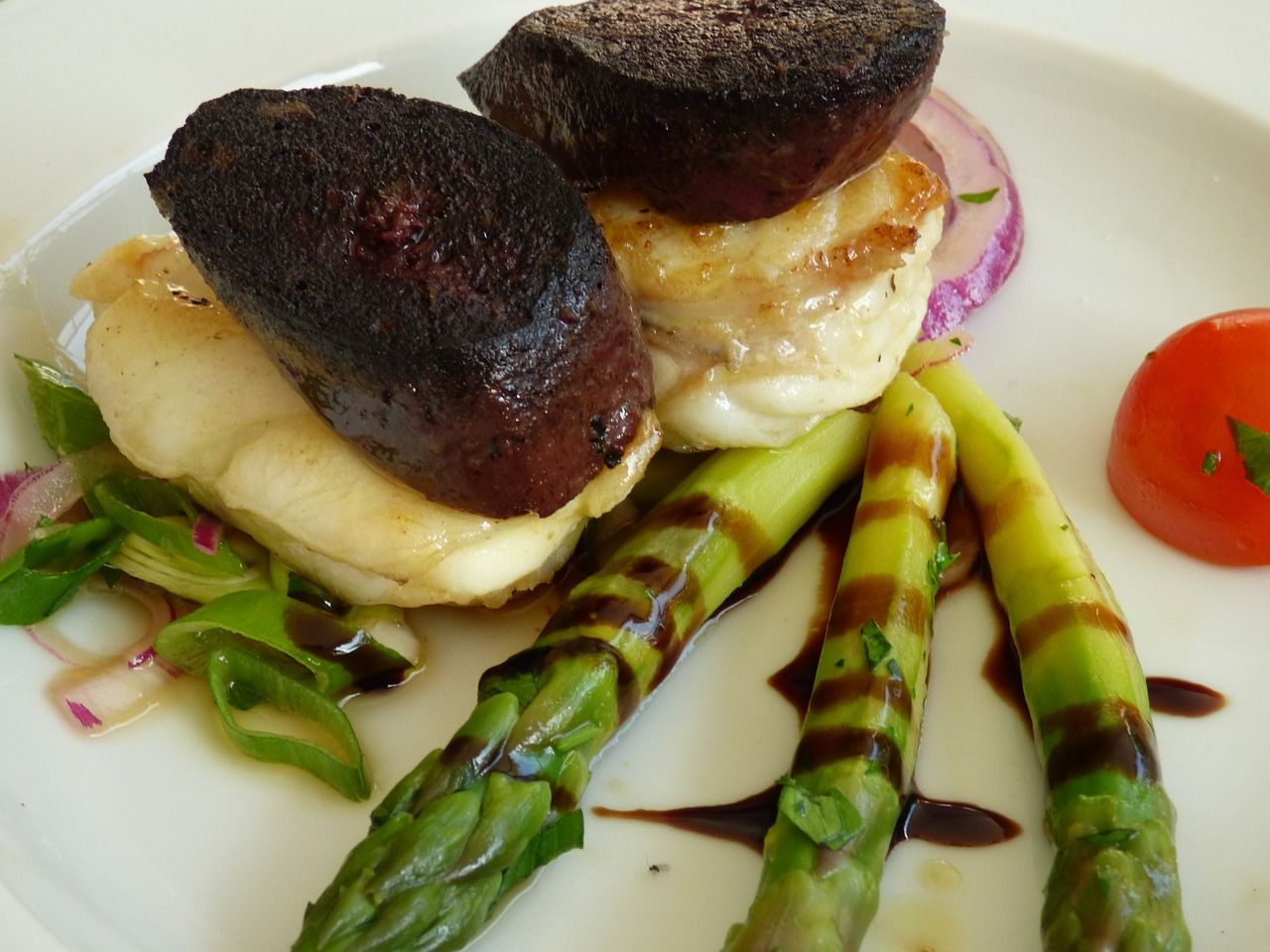 Here are the top 6 dishes that you must try in the capital of North Rhine-Westphalia:
Blutwurst
A possible ingredient of Himmel and Erde, blutwurst (or blood sausage) can be served as the main dish with mashed potatoes, salad, and bread on the side. This is a specific delicacy, made from pork leftover, mutton scraps, onions, and herbs, thickened with blood, and then dried. It may not sound like your cup of tea, but it definitely worth a try!
Himmel and Erde
A traditional local dish, which title translates as "sky and earth". This meal got its unusual name thanks to such ingredients as apples, which symbolize fruits of heaven, and potatoes, which represent the earth. Other ingredients are black pudding and onions, and many restaurants also include sausages (for example, blutwurst).
Soleier
Another traditional dish, these are hard-boiled pickled eggs, which you peel and prepare in a particular way. Here is what you have to do to enjoy this snack: first, you peel them and slice in half. Then, you should remove the yolks with the knife. After that, add some mustard, oil, vinegar pepper, and salt into each yolk hole. Finally, plop the yolk halves in the sauce. That's it!
Tip: If you want to eat Soleier like a local, wash it down with a glass of Altbier – the most popular drink in Düsseldorf.
Sushi and ramen
Yes, these specialties may not be the first thing that comes to your mind when you choose what to eat in Düsseldorf. But thanks to the large local community of Japanese immigrants, here you can taste the most delicious authentic dishes of the land of the rising sun.
Tip: For the best sushi and ramen, seek the place called Naniwa.
Miesmuscheln
This dish is a must-eat if you like seafood. It is made from mussels, steamed in white wine, and served with rye bread spread with butter.
Halve Hahn
Halve Hahn is a really simple dish – basically, it is a toast slathered with bread and local cheese. Served with mustard, onions, and pickle on top, this dish is a tasty vegetarian option.
Accommodation and hotels
Düsseldorf neighborhoods are rich in various types of accommodation: you can rent an apartment, villa, or book a room in a hotel. Here you will find many boutique hotels, apart-hotels, and vacation homes for a reasonable price.
If you consider Düsseldorf as your holiday destination, we recommend you to stay in one of those neighborhoods: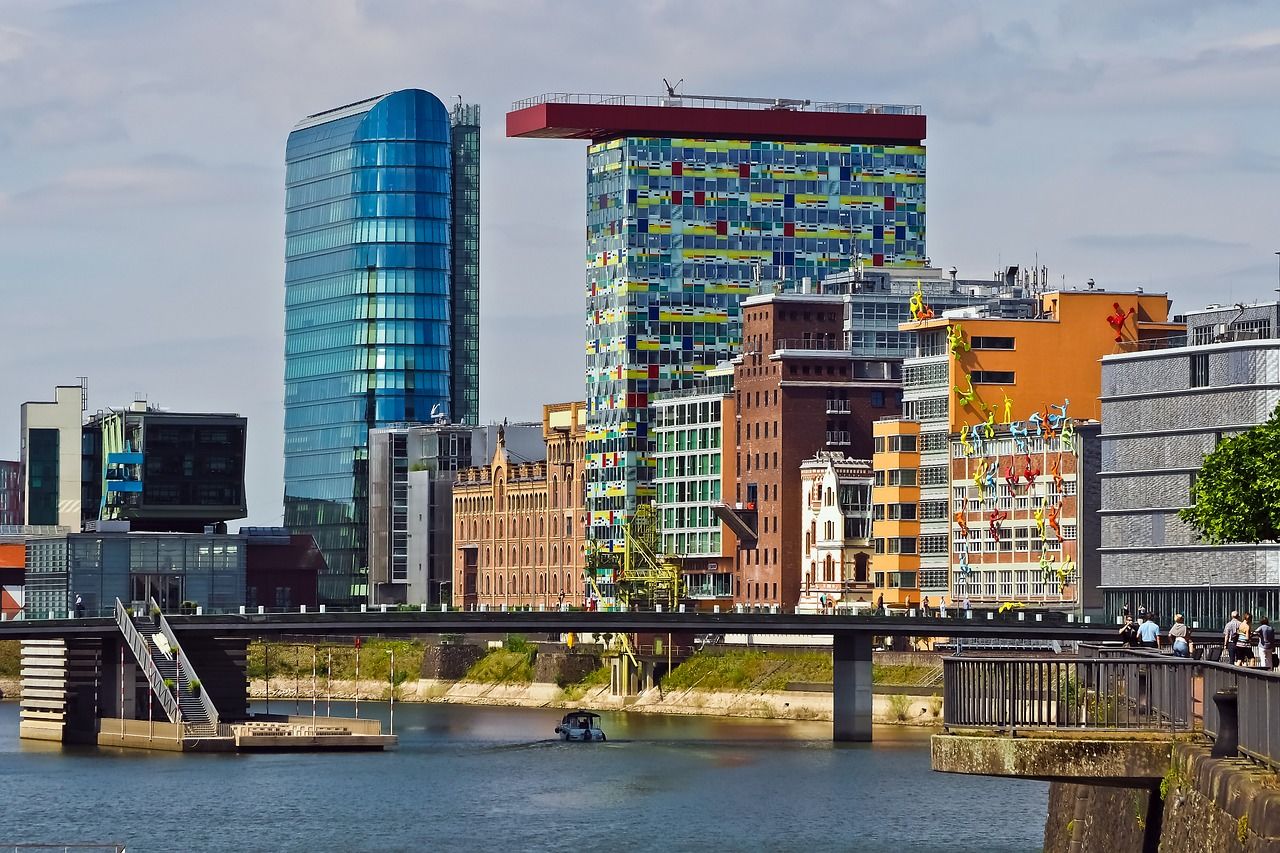 ● Altstadt – picturesque area with cobblestone streets, great for sightseeing. It is also one of the centers of Düsseldorf's nightlife, as there are almost 300 bars located there!
● Medienhafen – a center of art and creativity, this neighborhood boasts modern architecture, as well as cafes and luxury hotels.
● Stadtmitte – a convenient central area, with a great variety of chic 5-star restaurants and fancy hotels. Ideal for shopping and sightseeing lovers.
● Oberbilk – this neighborhood is ideal to stay in if you are traveling with family. This is a quiet area, located close to the center, where you can visit theme parks and the local zoo.
● Bilk – an area, suitable for youth and students. Here you will find plenty of apartments and hostels at a lower price.
Choose wisely and book accommodation with Hotelfriend. We care for our clients and offer the best deals and hotel options for everyone eager to travel!