Please, enter a destination
Movie nights at the Elbe river
Every year in Dresden all cinema fans have a unique opportunity to enjoy their hobby along with thousands of like-minded people. During the summer months, thousands of Dresden residents and guests gather to watch all sorts of movies and shows in the open air. Therefore, the film nights on the banks of the Elbe is one of the most spectacular open-air cinema festivals in Europe and the largest event of this kind in Germany.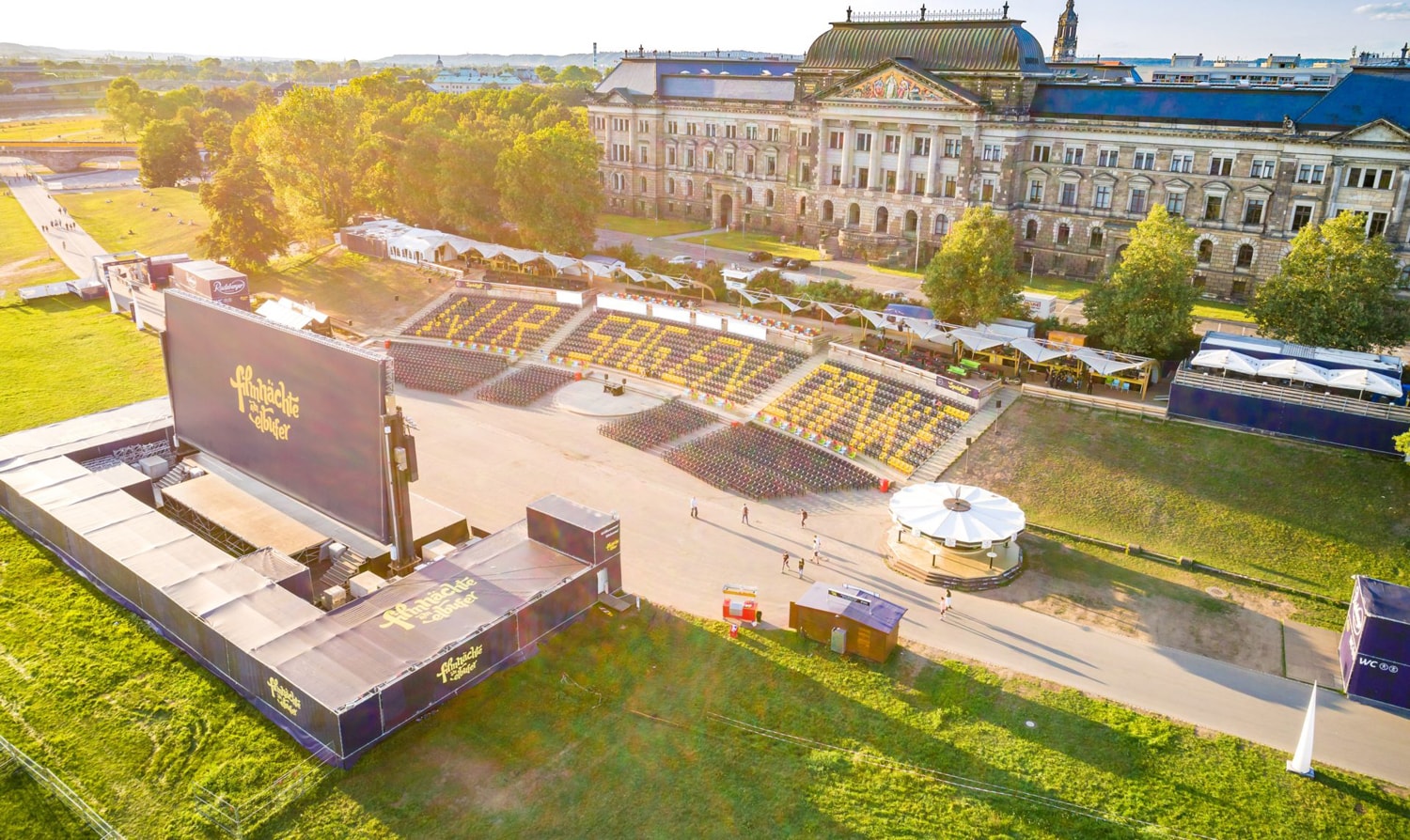 Movie nights at the Elbe river
When and where
The open-air cinema Dresden was opened in 1991 when the films were shown to the general public on the Elb meadows. And to this day the concept of the event hasn't changed. It still takes place at the same location – so much the city dwellers liked the event. Even though it seems simple, it still can be a fascinating experience – to sit on the bank of the legendary Elbe, scrutinize the illuminated Old Town, breathe the warm summer air and enjoy a classic movie or modern blockbuster on a huge screen, surrounded by thousands of other viewers.
For more than 25 years, two summer months in Dresden have been devoted to legendary movie nights. In 2020, the festival will be held from June 25th to August 23rd, with various events taking place almost every night on the open-air stage. The Königsufer – a flat area in the city center that extends below the Ministry of State between the Carola Bridge and Green Vault – was originally chosen as a venue. Among the townspeople, the location has long been known as the "Filmnächte-Areal" and is particularly popular because of a wonderful view of the historic part of the state capital on the other side of the Elbe.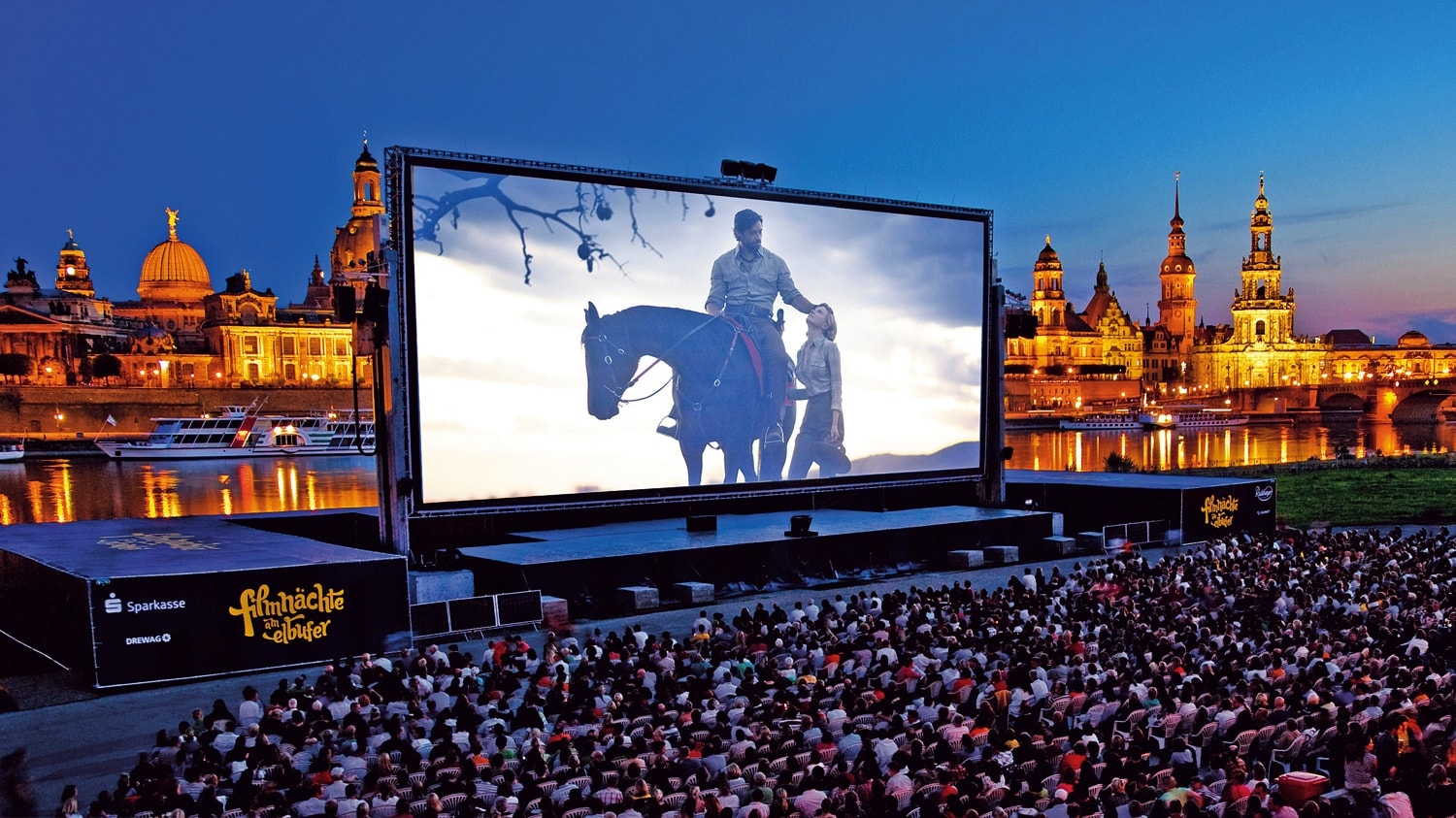 As part of the open-air festival in Dresden, all sorts of historical and modern movies are screened along with the concerts involving German and world-famous musicians. R.E.M., Loreena McKennitt, Roxette, Unheilig, Sarah Connor, The Fantastic Four, Rammstein, James Brown, Joe Cocker, Sting, and Nelly Furtado all brought down the house here.
On average, 55 films were shown. To ensure the best image quality on a 32 x 14-meter screen, movie viewing sessions start mostly from 9 p.m. At earlier dates, family shows were shown on a modern 23 sq. meter LED display.
Fun fact: the movable giant screen is 448 square meters, and it's the largest movable screen in the world.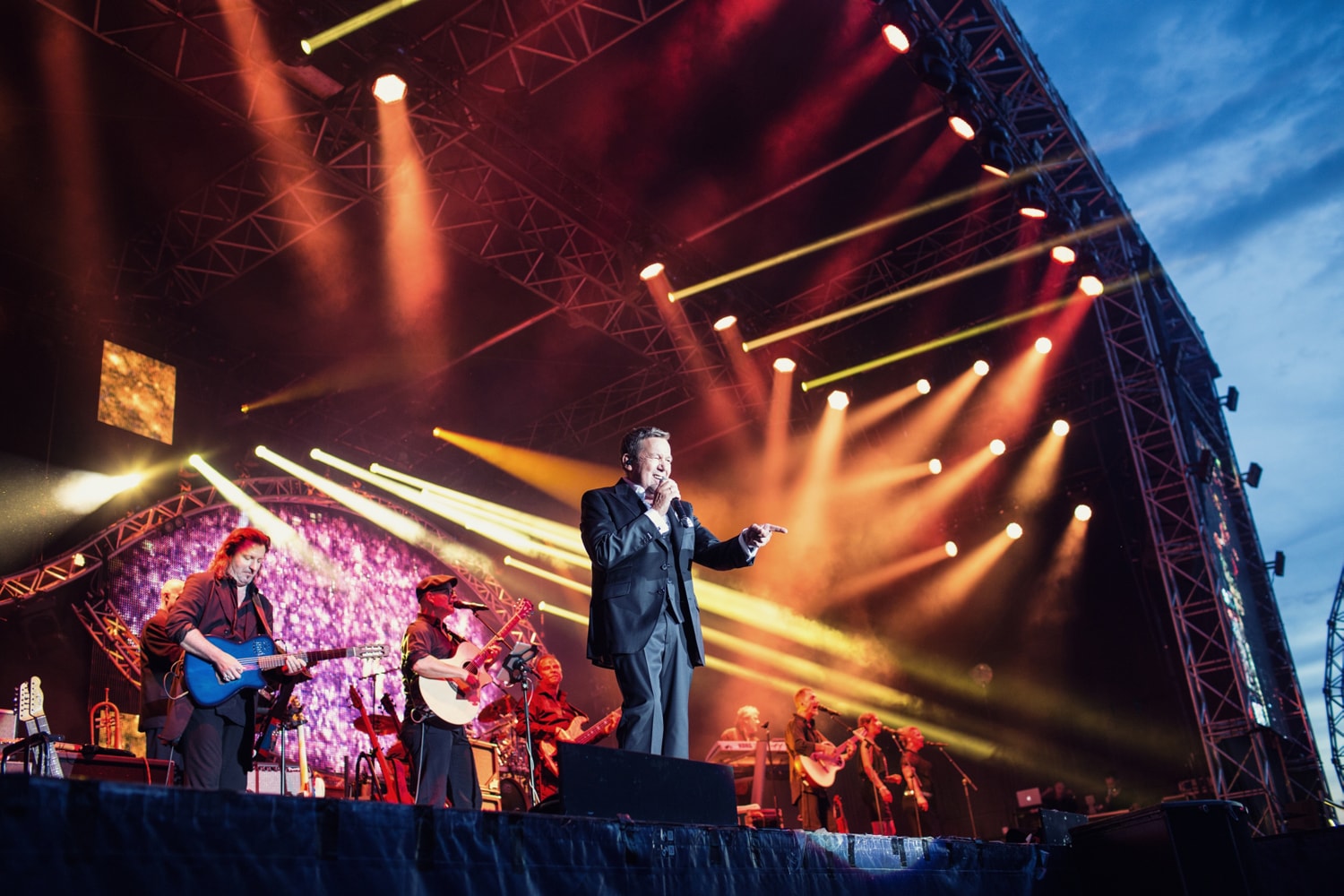 Roland Kaiser
Special features
Every year increasingly more people come to the Elbe to one of the open-air events. Sure, this sets very high standards for the organizers as they are both responsible for the comfort and safety of the spectators and should organize an electrifying and spectacular event. Since 2009, there is also a comprehensive gastronomic offer. In addition, every year the organizers work on the seating area improving and rain protection.
The cinema area can accommodate up to 15,000 visitors who come to cheer their favorite stars here. There are 3500 seats, and 12000 fans can enjoy live concerts. About 400 spectators can find a place in the restaurant area– the so-called movie garden – which is roofed and thus protected from the rain.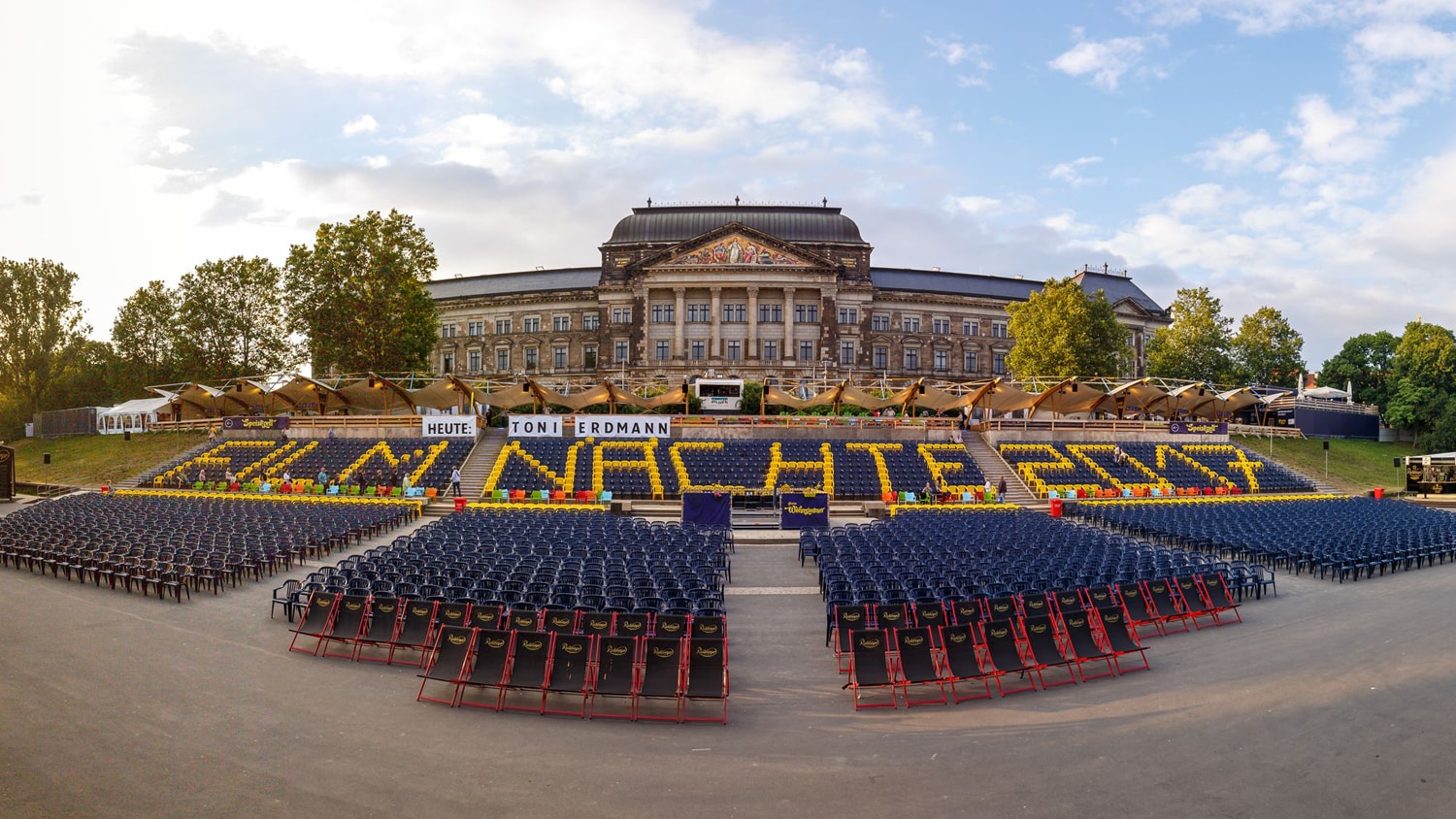 There are different cool drinks served in abundance, including beer, cocktails, and snacks like pizza or currywurst with fries. This is the perfect place for those who are a little hungry. Here you can treat your palate before the movie starts or just chill dance to the beat of the music. This year, the organizers expect to host 200,000 guests and hope to break the former visitor record again.
If you want to visit a classic movie or a concert of your favorite band, enjoy a variety of delicacies and refreshing drinks and contemplate a priceless view of the tranquil Elbe and the historic scenery of the old town, then book a table in the covered movie nights lounge. It is also well suited for corporate events. Please note that you should not schedule an event for more than 40 people for organizational reasons.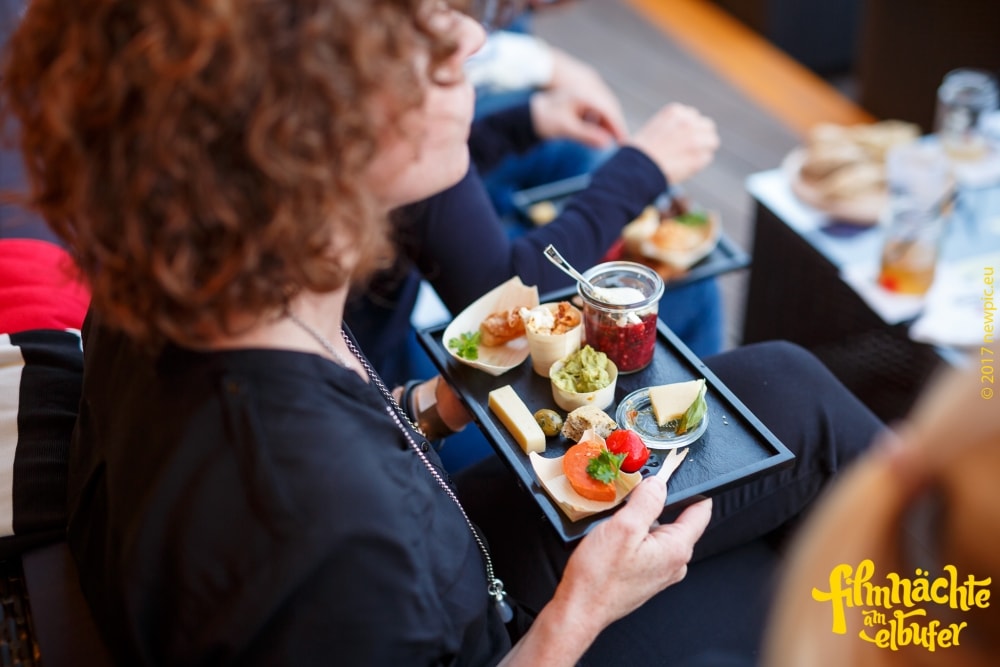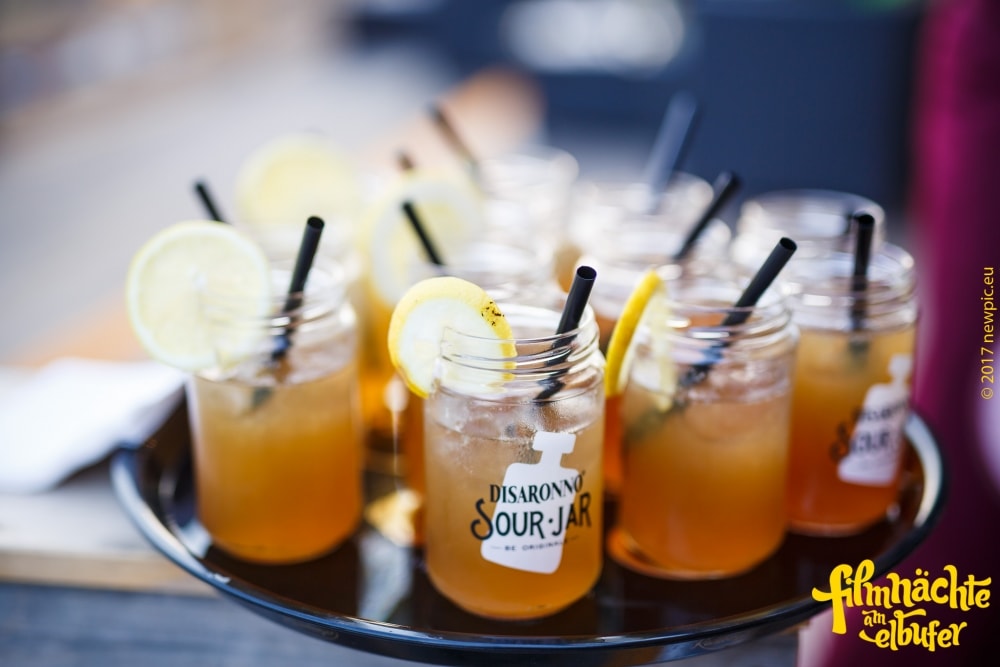 The program of movie nights at the Elbe river 2020
The 2020 program looks very promising and seems to be well received by both children and adults. It ranges from concerts and performances of ingenious musicians and most famous bands, legendary movie classics and potential blockbusters of the year to cabaret shows and comedy slam. Choose the event that suits your taste and you don't want to miss and get the tickets in advance.
Date
Time
Type of event
Name
Commentary
Tickets
Friday, June 26, 2020
4:30 p.m.
Concert
herrH ist da – introductory concert for the whole family
Simon Horn is an actor, known for herrH: Das ist meine Wanne (2016). He is a star of "Neue Deutsche Kindermusik" children's music. herrH makes family music.
Reduced fare: 17 Euro /
children: 13 Euro
Saturday, July 4
7:30 p.m.
Festival
ALLIGATOAH – WIE ZUHAUSE – OPEN AIR 2020
Following the success of the recent tour "Hotel Kalifornien", Alligatoah announces Open Airs 2020.
Seats in category 1: 49,98 Euro
Friday, July 10
8:30 p.m.
Concert Open Air
DRESDNER PHILHARMONIE – THE NINTH – OPEN AIR
Outdoor concerts with Ludwig van Beethoven's "Ninth" have a long tradition at the Dresden Philharmonic.
Ludwig van Beethoven
Symphony No. 9 in D minor, op.125 (1824)
with the final chorus on Schiller's ode "To Joy"
25/14 €
Open air ticket including seat in the concert hall in adverse weather conditions 20/9 €
Open air ticket
Wednesday, July 15
7:30 p.m.
Concert
DIE TOTEN HOSEN LIVE – 'ALLES OHNE STROM 2020'
Publication of the new acoustic project "Alles ohne Strom" (Everything without electricity)
Sold out
Thursday, July 16
7:30 p.m.
Concert
DIE TOTEN HOSEN LIVE – 'ALLES OHNE STROM 2020' – ADDITIONAL CONCERT
additional concert
Sold out
Saturday, July 18
7:30 p.m.
Concert
MARK FORSTER AUF LIEBE – OPEN AIR TOUR 2020
With over 50 shows that were completely sold out, 2019 was a terrific concert year for Mark Forster and his fans. The personable musician delighted fans with a sophisticated show and many small surprises. Following the great success of the LIEBE Open Air Tour 2019, there will be a sequel next year.
Sold out
Friday, July 24
6:30 p.m.
Concert
BROILERS – OPEN AIRS 2020
The Broilers celebrate 25 years of band history, create their own gin, and write a new, massive hit album. The band is ready to make 2020 as intense as ever.
Sold out
Saturday, July 25
8:00 p.m.
Concert
DEICHKIND – Open Air 2020
DEICHKIND - Open Air 2020 Peoplepower for powerpeople! Bingobongo for binge watchers! Booth full people for beautiful people!
DEICHKIND - Open Air 2020 Really outside stuff! Who dares?
Seats in category 1: 49,95 Euro
Friday, July 31
8:00 p.m.
Concert
KAISERMANIA 2020 – ROLAND KAISER LIVE WITH BAND
In 2020, the beautiful panorama of Dresden's old town will be the perfect backdrop for KAISERMANIA once again. Roland Kaiser and his fantastic live band will set the city of Dresden in a boiling Kaiser fever again on the two consecutive weekends in early August 2020.
Sold out
Saturday, August 1
8:00 p.m.
Concert
KAISERMANIA 2020 – ROLAND KAISER LIVE WITH BAND
-
Sold out
Friday, August 7
8:00 p.m.
Concert
KAISERMANIA 2020 – ROLAND KAISER LIVE WITH BAND
-
Sold out
Saturday, August 8
8:00 p.m.
Concert
KAISERMANIA 2020 – ROLAND KAISER LIVE WITH BAND
-
Sold out
Friday, August 21
7:30 p.m.
Concert
SILBERMOND – SCHRITTE LIVE – ADDITIONAL SHOW
The Bautzen rock stars come back to Dresden and announce a big reunion at the Open Air 2020 on Saturday, August 22, 2020, during the fantastic film nights on the banks of the Elbe.
Seats in category 1: 49,50 Euro
Saturday, August 22
7:30 p.m
Concert
SILBERMOND – SCHRITTE LIVE – ADDITIONAL SHOW
-
Sold out
Sunday, August 23
4:30 p.m.
Action reading
Animals caress people - the action reading
TIERE STREICHELN MENSCHEN (ANIMALS CARRY PEOPLE) is the name of the spicy action reading from Martin 'Gotti' Gottschild and Sven van Thom, in which not only the ears, but also the eyes, heart, and testicles rattle. And for joy.
Two types that could hardly be more different are the musical comedy reading duo "Tiere streicheln Menschen" (Animals stroke people). full‐payer seats: 15 EUR
Tickets & directions
You can buy tickets online either through the well-known ticket agencies. In addition to traditional tickets, a set of five tickets for 34 Euro is also offered. With this set, you can visit five events or watch 5 different movies on the open-air stage. However, you should take into account that the 5-ticket set is not valid for concerts, does not guarantee a seat, and only available if the film has not already sold out.
You can buy 8.80 € vouchers for a long-awaited visit to the cinema on the banks of the Elbe and make a nice gift for a loved one.
The Film Nights areal can be easily reached on foot, by bicycle, by public transport or by car. The site is located on the Königsufer and can be reached from the historic district via the Carola or Augustus Bridge. If you come with a bicycle, you can park it at one of the two entrances, as there are about 200 parking spaces provided for this purpose.
The car owners should notice that the driveway directly to the site is not possible. So you have to park the car at the parking lot in the Wigardstraße about 200 meters away. Other recommended parking spaces are located in Theresienstraße, Sarrasanistraße, and Schießgasse. However, the number of parking spaces is strictly limited. So take care of it beforehand.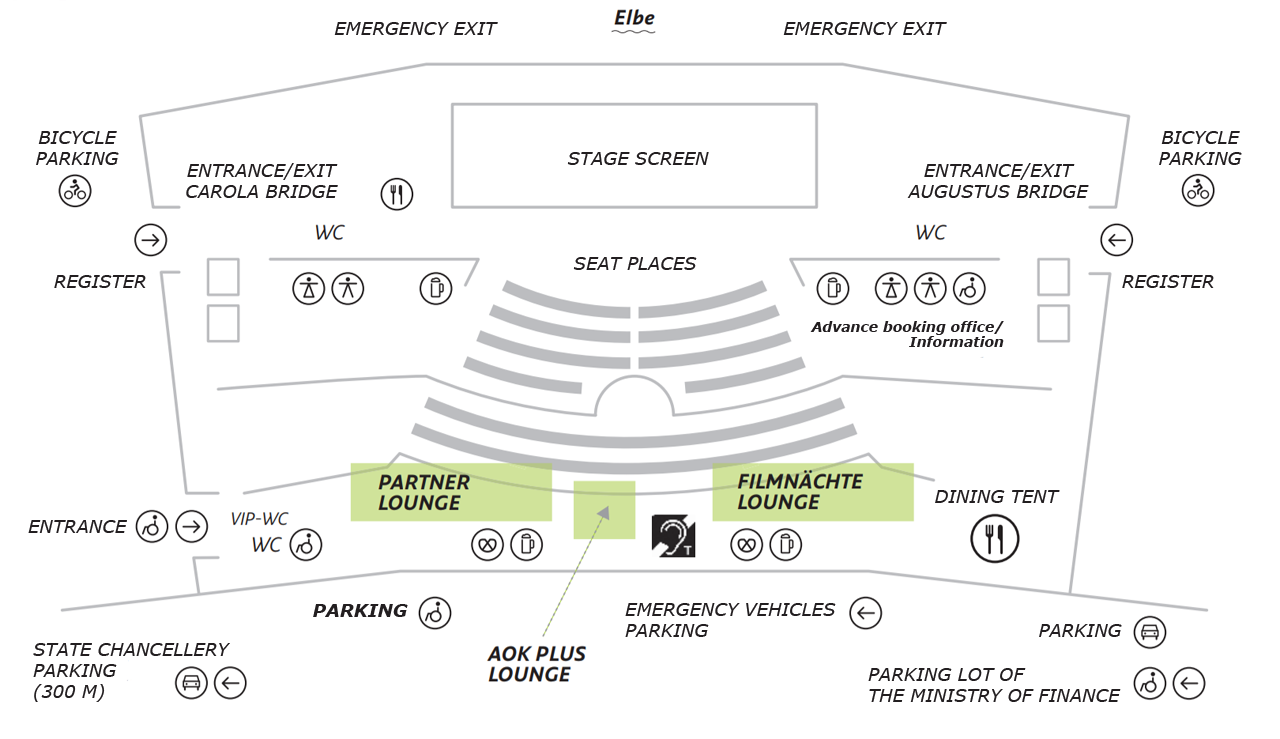 Area map
The dense tram network Dresden is quite well thought out. So you can get almost from all parts of the city to the site of the Movie Nights. At Neustädt train station or central station take tram line 3, which goes to the stop Carole Platz. Tramlines 7 and 8 also go there. Another stop located within the walking distance of the Film Nights area is called "Neustädter Markt" and can be reached by trams 4 and 9.
Accommodation
If you visit Dresden as a tourist or a businessman for a few days in the summer, HotelFriend recommends you to select and book the accommodation in advance. The reason is that July and August are well known among the city's inhabitants for the Film Nights. This means hundreds of movie lovers, as well as numerous fans of German and international artists usually take a short break and flock to the metropolis of Saxony. Therefore, the best hotels in Dresden are fully booked at this time of the year, and cost tourists a great deal.
But with the HotelFriend app, you can book a very nice hotel room with all the amenities for a reasonable price. Bülow Palais Dresden offers spacious, stylish, and comfortable double rooms and suites where everyone can relax after a busy day and get the most out of their vacation. Do not hesitate and let's make your trip unforgettable!
Hotels in Dresden
(220 results)
Hotels in Dresden
(220 results)