Please, enter a destination
Hotels in Georgia
(475 results)
Hotels in Georgia
(475 results)
Explore Georgia - Travel Guide for Perfect Holidays
Georgia is a country of excellent wine, friendly people, and amazing landscapes. If you visit it once, you will never forget it. Beautiful Georgia offers conditions for any type of vacation: trekking in majestic mountains, lazy holidays on a beach and swimming in the warm sea, or non-stop sightseeing. And if you try local dishes, this place will stay in your heart forever.
To help you understand this country better, we have compiled a travel guide, where Georgia is shown from different angles every traveler should know. What to visit, how to get to the sights you like, what events to attend, when it is best to come, what to do in your free time, what cities are top choice for holidaymakers, and many other questions are answered here.

Climate
Winters in Georgia are mild, although temperatures can vary depending on the region. Summers are quite hot. It is better to plan a visit to this country in fall or spring. However, the fall might be rainy, so the spring is the most suitable option.
Interactive Map of Georgia
Cities
The following cities belong to the most popular travel destinations in Georgia:
⚡Tbilisi - the capital of the country. Highlights: Narikala, Holy Trinity Cathedral, Jvar, Bridge of Peace.
⚡Batumi - a port and resort at the Black Sea. Highlights: Batumi Botanical Garden, Gonio Fortress, Batumi Boulevard, Europe Square.
⚡Mtskheta - one of the oldest cities. Highlights: Svetitskhoveli Cathedral, Samtavro Monastery, Shio-Mgvime Monastery.
⚡Stepantsminda - a historical town, hidden in the mountains. Highlights: Gergeti Trinity Church, Gveleti waterfall, Mount Kazbek, Toti waterfall.
⚡Kutaisi - a city with a long-term history. Highlights: Bagrati Cathedral, Motsameta Monastery, Gelati Monastery, Colchis Fountain.
⚡Gudauri - a ski resort on the Caucasus Range at an elevation of 2,200 meters. Highlights: Gudauri Ski Resort, Jvari.
⚡Borjomi - a resort town with mineral waters and springs. Highlights: Borjomi Central Park, Likani Villa, Mtsvane Monastery, Monument to Prometheus.
Things to do in Georgia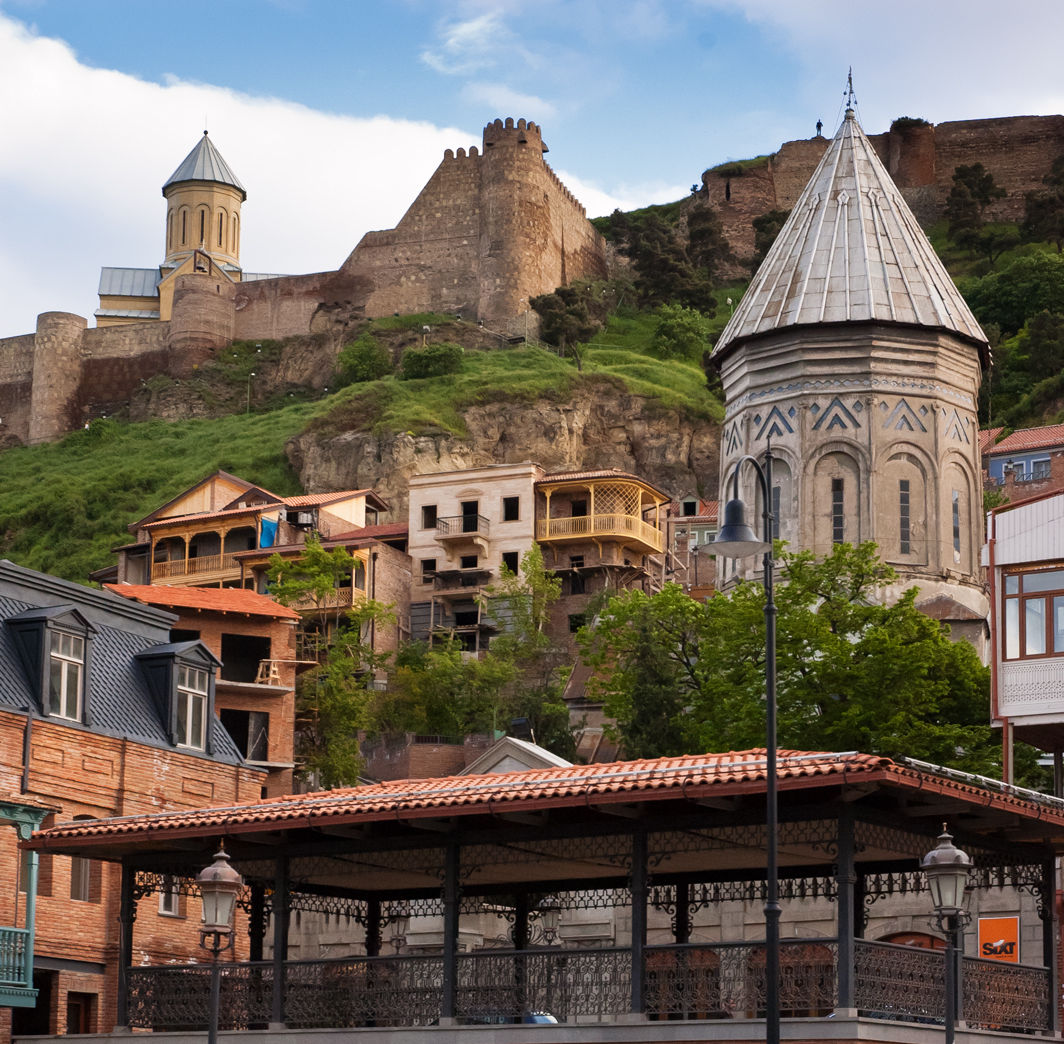 Places to visit
The country boasts not only its cuisine and wine but also various ancient sights. In Georgia, tourist attractions seem to be frozen in time, and the number of monasteries and cathedrals fills with enthusiasm any culture lover.
Narikala
The Mother Fortress of Tbilisi. Although there are only ruins left of an ancient fortress, built in the 4th century, it still enchants visitors with its unique magnetic charm and a gorgeous panorama of the capital. You can enjoy a pedestrian route, spiced with breathtaking views, or take a cable car, which costs only 1 GEL (~0.32 EUR), and save your energy to see more attractions of Georgia. Admission to the fortress is free.
Photo by Genadi Yakovlev, https://www.flickr.com/photos/photo_by_gy/5743765418/
Uplistsikhe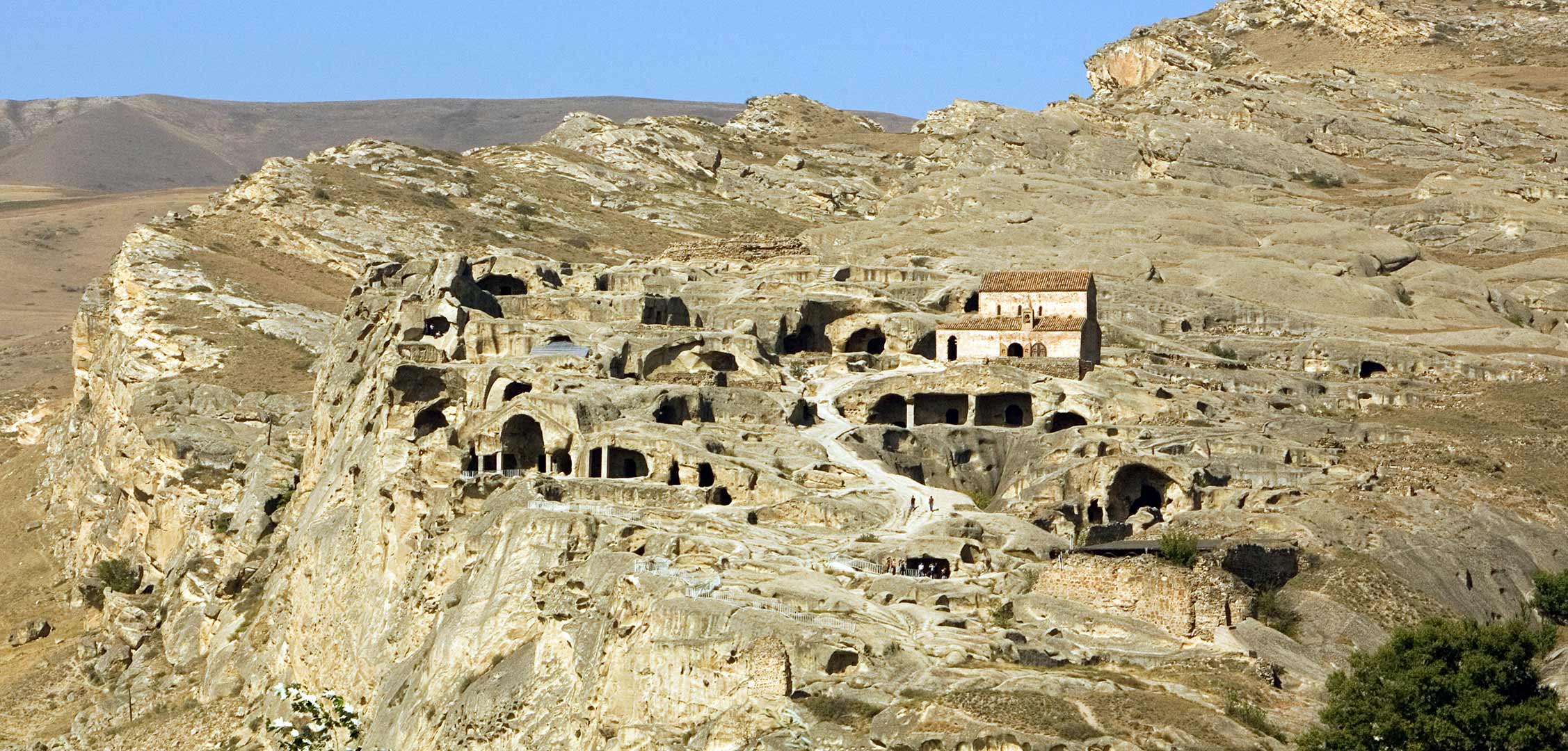 Uplistsikhe, an amazing rock-hewn town, the history of which goes back to the Early Iron Age, means "the lord's fortress". It covers around 40,000 square meters and is divided into three areas, some of them are connected to each other with impressive tunnels. Here you can admire pagan and Christian architecture coexisting together: a stone basilica of the 10th century, amphitheater, prison, pharmacy, and bakery. Explore stone carvings, which decorate many buildings in the town. Take a train or a bus from Tbilisi to Gori, then take a cab to get to one of the most popular tourist attractions in Georgia.
Vardzia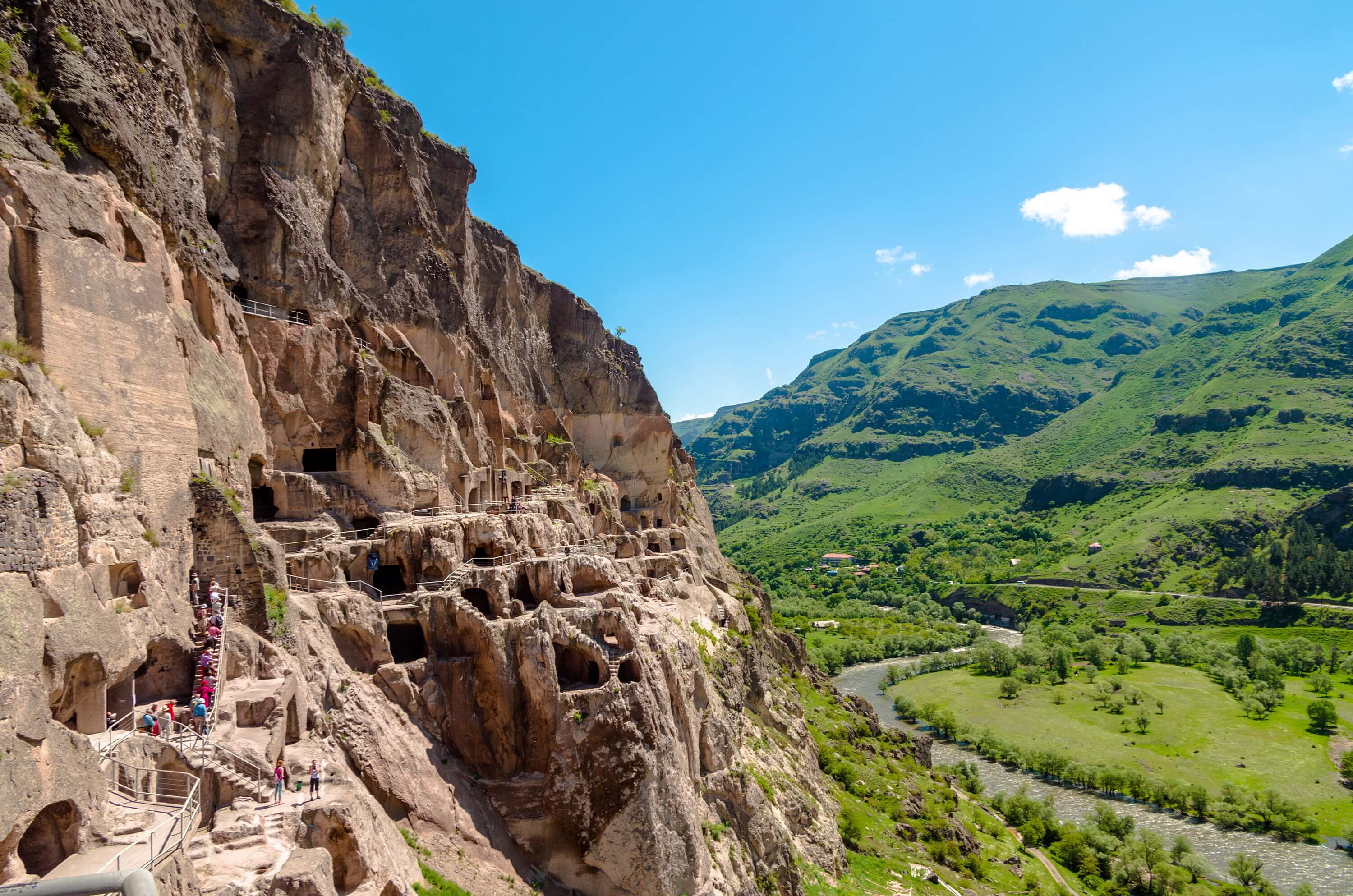 It is a cave monastery and fortress, dating back to the 12th century. Visiting this place, you will immerse in the world of "Lord of the Rings" or at least in the atmosphere of ancient times. Successfully dealing with attacks of enemies, it was destroyed by a natural disaster: an earthquake ruined more than two-thirds of the city. To get to this site, use minibus transportation from Akhaltsikhe.
Gergeti Trinity Church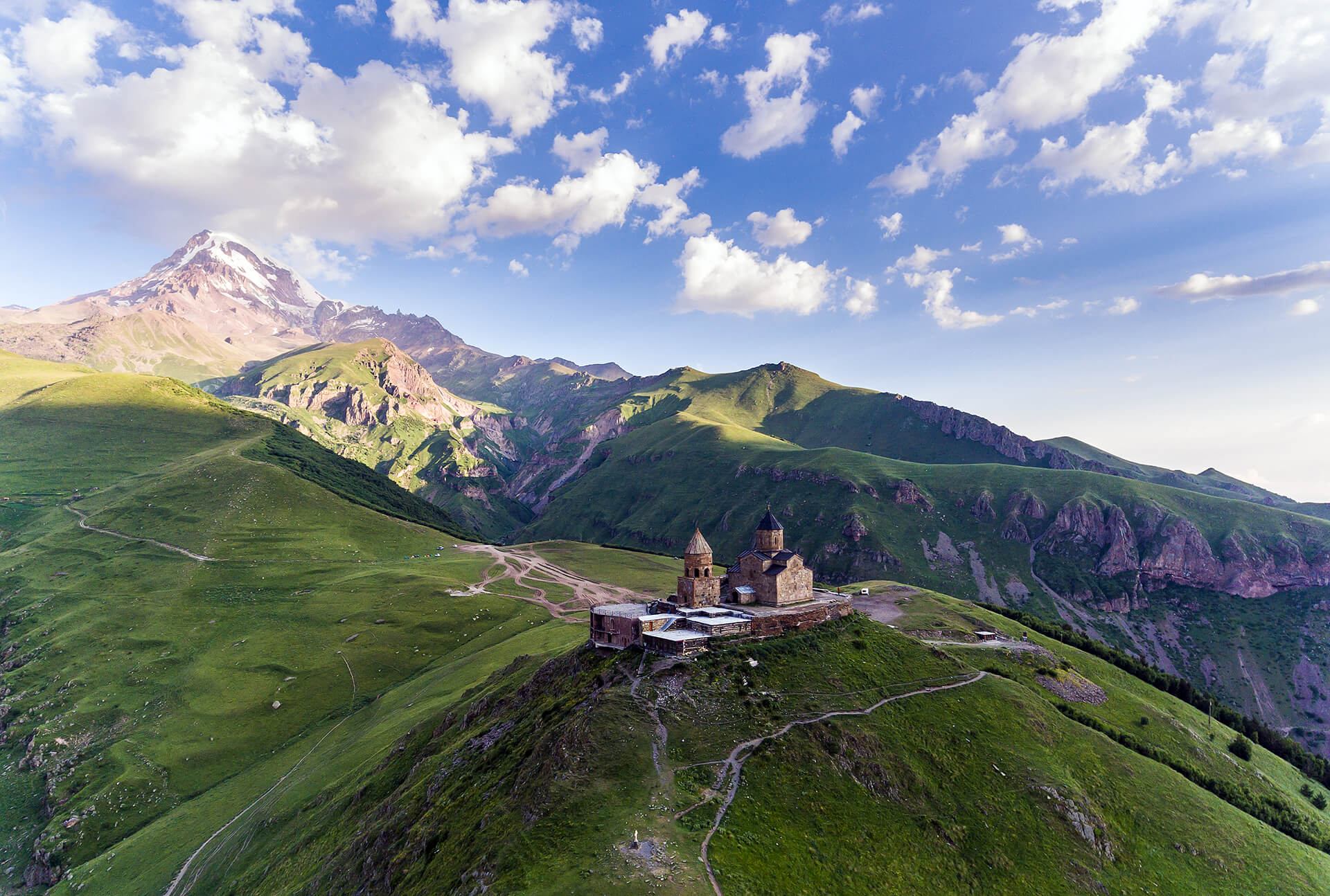 The church of the 14 century is situated at the height of 2,170 meters under the feet of Mount Kazbek. According to folklore, Amirani, a Georgian Prometheus, was chained to the top of the mountain. By the way, Mount Kazbek, the third-highest peak in the country, is known as a relatively accessible and challenging goal among trekkers. You can get to the church by car, as a new road has been recently laid up to the location.
Bridge of Peace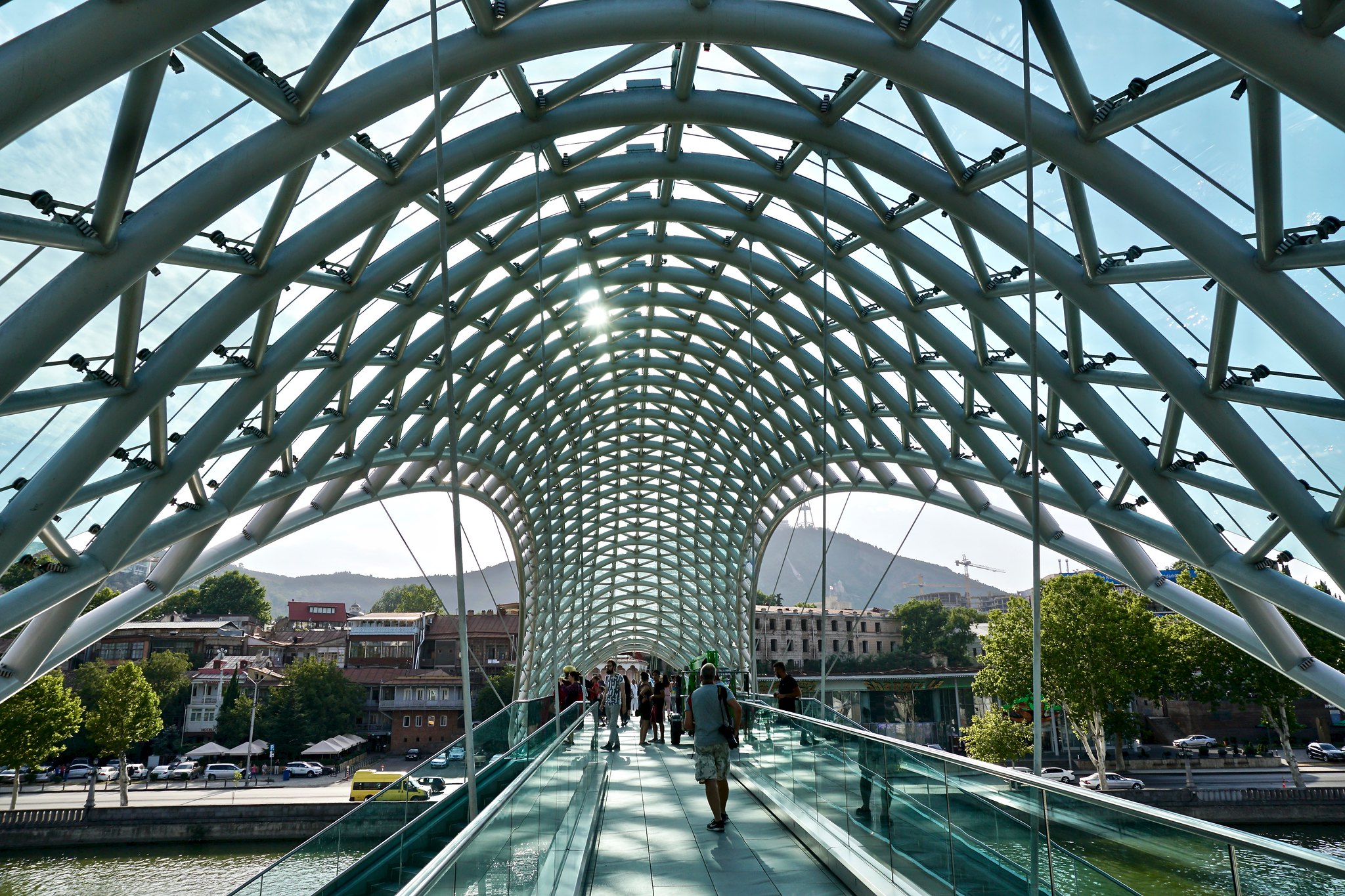 If you want to explore Georgia from its modern aspect, this spot is exactly what you need. Located in Tbilisi, the sight is thought to be in the top 13 unusual bridges of the world. It is 156 meters long and contains about 10,000 LED lamps saying chemical elements, which exist in a human body, in Morse code. Moreover, you can admire wonderful views of Tbilisi from this glass bridge and get to the other side of the city.
Photo by Shalika Malintha, https://www.flickr.com/photos/10414946@N02/28401682669
Mtatsminda Park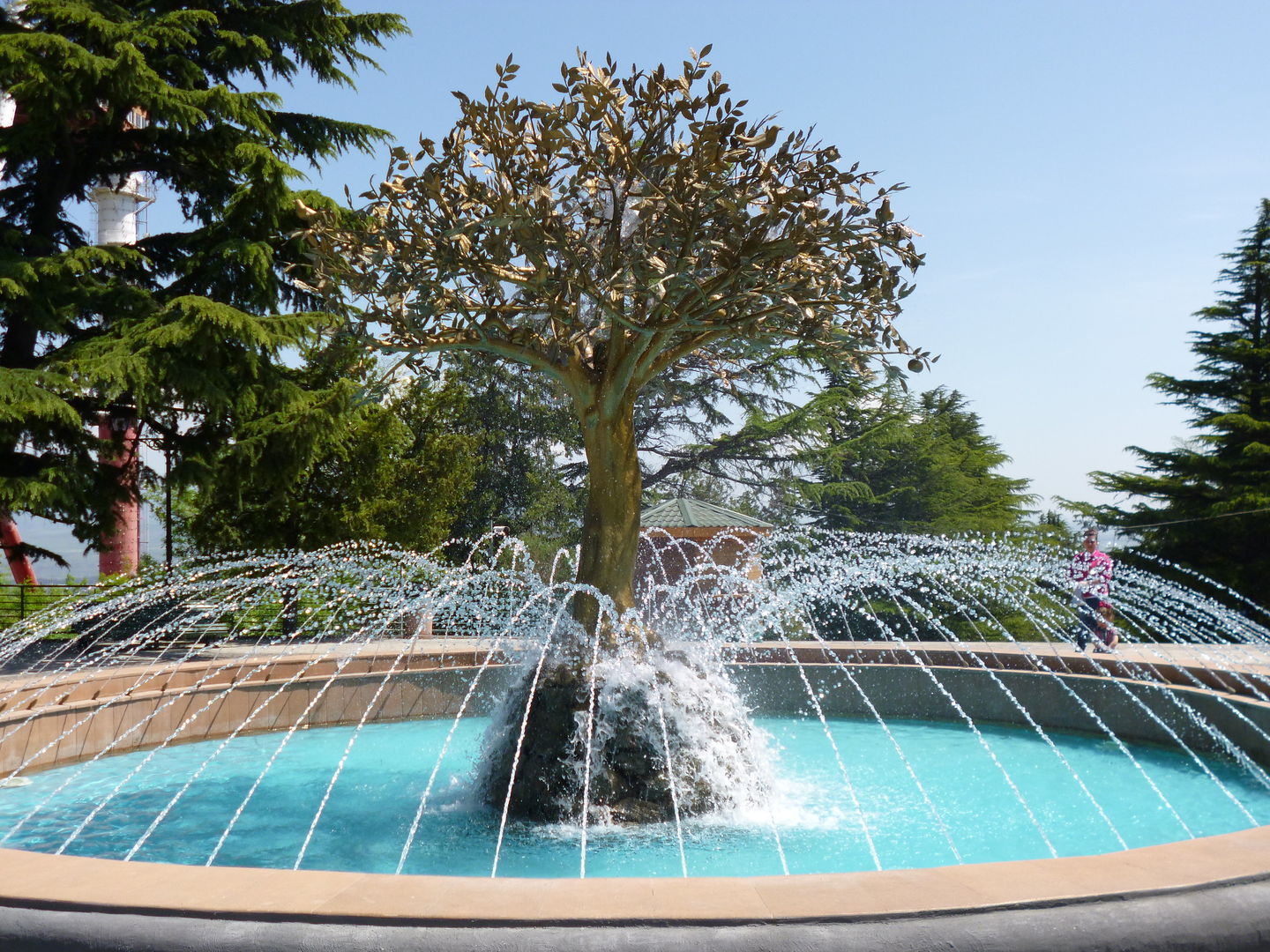 A perfect travel destination for families with children. The fun park is located in the capital of Georgia, atop Mount Mtatsminda, and offers a wide variety of activities, suitable for visitors of any age. Here you will find fun rides, picnic areas, bungee, an entertainment center for kids, a shooting gallery, a jumping tower, small bumper cars, and much more. Also, there are a lot of beautiful buildings and sculptures, and you will have a feeling as if you were in a fairy tale. You can buy a park card for 2 GEL (~0.65 EUR) to enjoy all the facilities, or pay with cash.
Photo by James Emery, https://www.flickr.com/photos/62126383@N00/8962876274
Festivals
One of the most popular events in the country, held since 2009 and gathering famous artists from around the world. It lasts from three to four days and provides its visitors with the camping area.
Tbilisi Open Air 2019
One of the most popular events in the country held since 2009 and gathering famous artists from around the world. It lasts from three to four days and provides its visitors with the camping area.
| | | |
| --- | --- | --- |
| 🏕️ | When | June |
| 🏕️ | Where | Lisi Wonderland, near the New Hippodrome |
| 🏕️ | Who | Franz Ferdinand, Mokumoku, Unkle, Davis August, Mogwai, The Subways, Freedom Fighters, and many others. |
Admission
| | | |
| --- | --- | --- |
| 🏕️ | Daily ticket | 75 GEL (~24 EUR) |
| 🏕️ | 3-day ticket | 180 GEL (~58 EUR) |
| 🏕️ | Night ticket | 40 GEL (~13 EUR) |
Art-Gene Festival
This event welcomes a lot of artists whose excellent skills you can enjoy for a whole week. Here you can listen to Georgian songs, see dance performances, take part in classes, and buy some souvenirs. 1-day tickets cost 20 GEL (~6 EUR), on the first day the festival - 29 GEL (~9 EUR).
| | | |
| --- | --- | --- |
| 🎭 | When | July |
| 🎭 | Where | Tbilisi, Museum of Ethnography |
New Wine Festival
An ideal place for wine lovers. Nobody will go home thirsty. The festival takes place each year and presents numerous Georgian types of wine. Here you can take part in entertaining lotteries and visit unique events.
| | | |
| --- | --- | --- |
| 🍷 | When | late May or early June |
| 🍷 | Where | Tbilisi, Mtatsminda Park |
Tbilisoba
Tbilisi has a long-term tradition of celebrating its birthday. You will immerse in the sea of fruits, vegetables, cheeses, and other local delicacies. Georgia will dine and wine you with its unique hospitality. Moreover, the festival offers an extensive program with concerts, fireworks, dance performances, etc. You will hear famous Georgian polyphonic singing. And don't forget a big bag for all dainties and handmade souvenirs you will buy here!
| | | |
| --- | --- | --- |
| 🎉 | When | October |
| 🎉 | Where | Tbilisi |
Ice Sculpture Festival
It is held annually in the village Bakuriani, which is also known as a skiing resort, and lasts several days. The festival is a good option for families with children: there are a children's play area and a lot of multifarious ice sculptures from artists from around the world, who have carte blanche at choosing a theme of their works. Also, you can enjoy fashion shows of famous designers here.
| | | |
| --- | --- | --- |
| 🌠 | When | January |
| 🌠 | Where | Bakuriani |
Museums
What is the best way to understand a country? Understand its culture and history - and you will see the real face of Georgia. Explore its diversity in numerous museums and galleries.
Ethnographic Museum "Borjgalo", Batumi
It is the best place to see the way of life, customs, and traditions of Georgians. This museum was created by one person - Kemal Turmanidze, a master woodcarver, who still improves it and adds new exhibits. Here you will find examples of his fantastic works like paintings, sculptures, and wood engravings. Among the exhibits, there are also original household items, which were used by locals.
| | | |
| --- | --- | --- |
| 💶 | Admission | 10 GEL (~3.20 EUR), and each visitor is accompanied by a guide. |
| ⏲ | Opening hours | 10 a.m. - 6 p.m. |
State Museum of Theatre, Music, Cinema and Choreography, Tbilisi
The museum's architectural style is quite unusual for Georgia, but it is still considered to be one of the brightest gems of the country. Due to the historical circumstances, the building was in poor condition, but now, thanks to the hard work of restorers, it looks gorgeous again. You will see extensive collections of theater costumes, paintings, sheet music of famous composers, stage sets, and, of course, beautiful interiors.
| | | |
| --- | --- | --- |
| 💶 | Admission | costs about 2 GEL (~0.65 EUR). |
| ⏲ | Opening hours | Mon - Fri, 10 a.m. - 5 p.m. |
Georgian National Museum, Tbilisi
Discover the history of national costumes, Georgian flora and fauna, magnificent exhibitions of arms and jewelry. Be sure you have at least two free hours at your disposal because the museum has 4 levels.
| | | |
| --- | --- | --- |
| 💶 | Ticket prices | vary between 3 and 15 GEL (~4.80 EUR). |
| ⏲ | Opening hours | Tue - Sun, 10 a.m. - 6 p.m. |
Joseph Stalin Museum, Gori
This place will be especially interesting for history fans. You can visit the house, where the world-famous leader was born, his personal train carriage, and the museum. You will see things which surrounded Stalin, with your own eyes and can learn something that teachers don't tell at school.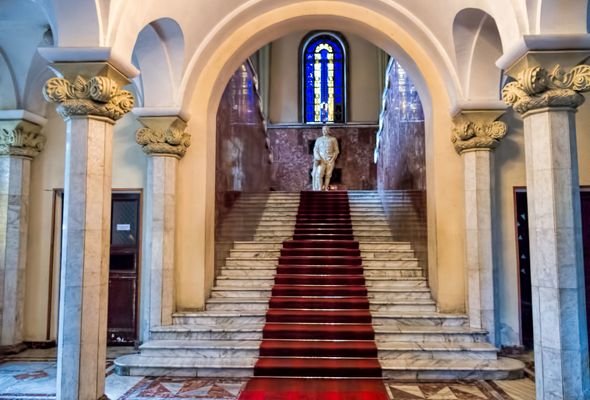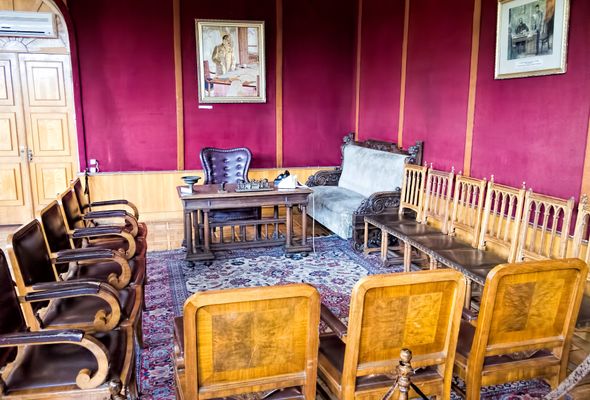 Photo by Dan Lundberg, https://www.flickr.com/photos/9508280@N07/31966270571
| | | |
| --- | --- | --- |
| 💶 | Admission | the museum costs about 10 GEL (~3.20 EUR), to the train carriage - 5 GEL (~2 EUR). |
| ⏲ | Opening hours | 10 a.m. -6 p.m. Apr - Oct, 10 a.m. - 5 p.m. Nov - Mar. |
Freetime activities
The country is really universal. Do you like enjoying yourself on a sunny beach? Or maybe you are a fan of active rest? All holidaymakers will find perfect conditions for their favorite activities on vacation.
Fun on a beach
To spend a sunny day on white sand enjoying the sun, you can choose the following vacation spots in Georgia: Tbilisi; Borjomi; Tskaltubo; Bakhmaro; Surami; Shovi.
Wellness
If you want to improve your health, Georgia offers a bright palette of destinations for any taste and budget, where you can enjoy thermal springs: Tbilisi; Borjomi; Tskaltubo; Bakhmaro; Surami; Shovi.
Skiing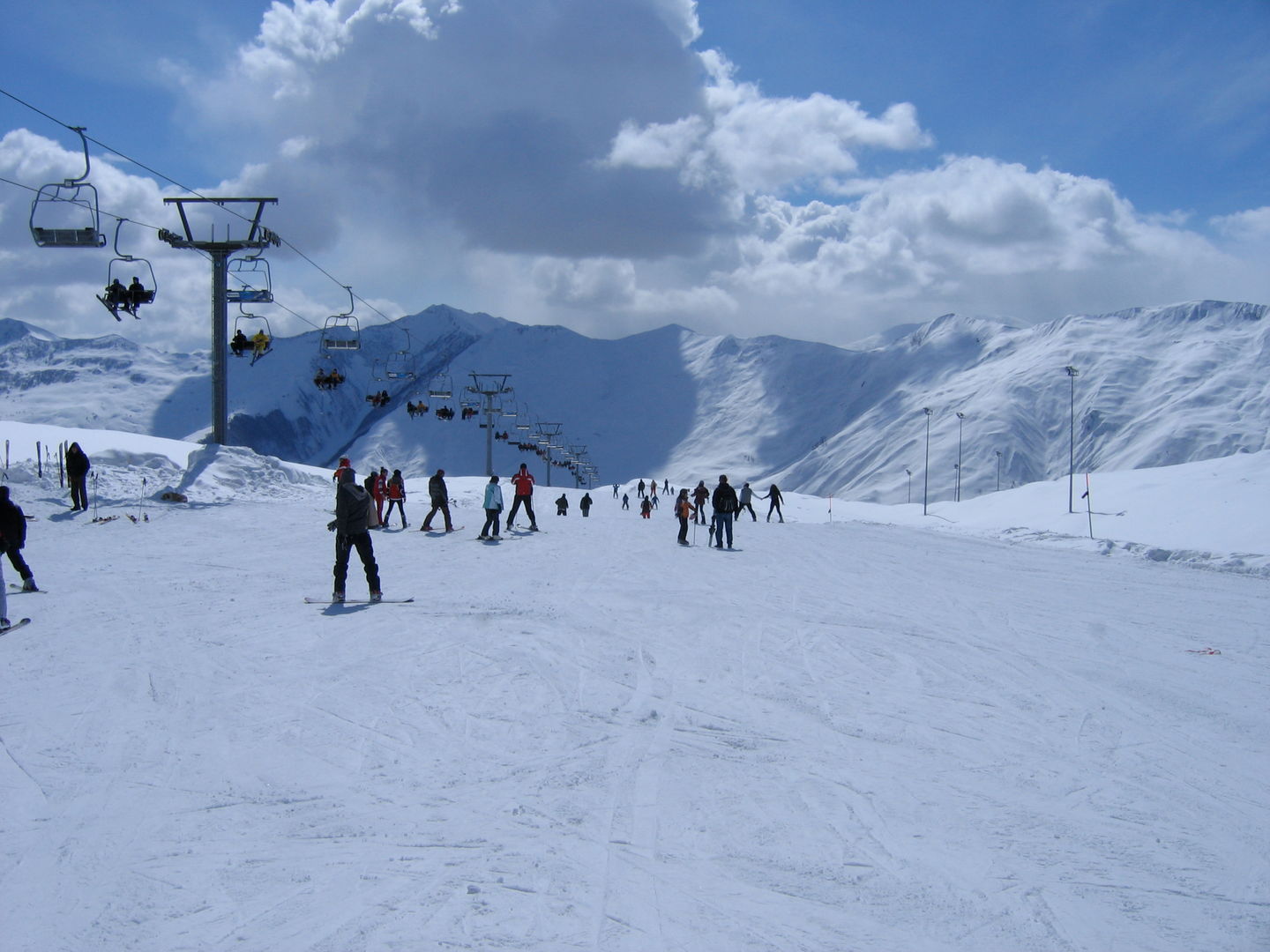 The main benefit of a winter vacation in Georgia is that it is budget-friendly. Ski passes, as well as accommodations, will cost you much less than you would spend in some world-famous resorts. An average price for a 1-day ski pass:
🏂 Gudauri - 40 GEL (~13 EUR);
🏂 Bakuriani - 20 GEL (~7 EUR);
🏂 Hatsvali - approx. 42 GEL (~14 EUR);
🏂 Tetnuldi - 25 GEL (~8 EUR).
Photo by DDohler, https://www.flickr.com/photos/ddohler/5522520775/
As for highlights of each ski resort, we have gathered some useful information to help you to decide what place will be the best choice for you.
Gudauri belongs to the most popular ski resorts in Georgia. It will be a perfect winter vacation option for families with children, beginners, freeriders, and fans of heliskiing.
Bakuriani is also a suitable option for families with kids, sport and nature lovers.
🎿 1993 m - 3276 m;
🎿 32,5 km of ski slopes;
🎿 Ski pistes for beginners, intermediate, advanced learners, and experts;
🎿 Freeride ski area;
🎿 12 lifts: chairlifts, gondolas, T-bar lifts, Sunkid Moving Carpet, helicopter;
🎿 Kids park, ski schools;
🎿 Tubing, paragliding, night skiing zone.
🎿 1740 m - 2702 m;
🎿 29 km of ski slopes;
🎿 Ski pistes for beginners, intermediate, advanced learners, and experts;
🎿 15 lifts: funicular, chairlifts, gondolas, lifts for beginners, Sunkid Moving Carpet;
🎿 Toboggan run;
🎿 Ice skate rink;
🎿 Kids park.
Hatsvali will be an ideal vacation spot for experts in skiing and snowboarding.
Tetnuldi is the most suitable for experts and intermediates.
🎿 1868 m - 2348 m;
🎿 5,6 km of slopes;
🎿 Ski pistes for beginners, intermediate, advanced learners, and experts;
🎿 Most slopes (4,5 km) are appropriate for experts;
🎿 4 lifts: chairlifts and T-bar lifts;
🎿 Night skiing zone.
🎿 2265 m - 3160 m;
🎿 13,4 km of slopes;
🎿 Ski pistes for beginners, intermediate, advanced learners, and experts;
🎿 5 lifts: chairlifts and T-bar lifts.
Wine tours in Georgia
A popular vacation option among tourists. You will visit different Georgian cities, learn their unique history, and degustate wines. You will find out what techniques are used in producing these nectars. Do you know how many sorts of grapes are planted in this country? How has the tradition of winemaking started according to the legend? What is the hot spot of the wine industry? These questions are answered on wine tours.
Transport
Georgia has 6 airports and about 1,683 km of railways. Most roads are still considered to be in poor condition or unpaved, although the country has invested large amounts of money in modernizing its transportation system. Also, several ports are at your disposal.
Accommodation
Georgia, a country for tourism with any budget, has a wide spectrum of accommodation prices. For instance, one night can cost you 2 Euro, as well as 200 Euro. But instead of paying for just a room, get more. Buying a deal on HotelFriend website, you will live in comfortable conditions and enjoy additional services of the hotel like a welcome drink, massage, museum vouchers, etc. Spend the same amount of money on your vacation but have more exceptional experiences than ever before!