Please, enter a destination
The best hotels in Leipzig
The most atmospheric and fanciest restaurants of Leipzig
If you happen to be in Leipzig for the first time, you must seize this opportunity and make this journey an unforgettable culinary experience. Along with the numerous historical and cultural attractions, Saxony's metropolis has a unique gastronomic scene, which is characterized by a mixture of regional specialties, international delicacies and a rich national cuisine.
Leipzig has a lot of different pubs, bars, cafes and restaurants to satisfy even the gastronomes and connoisseurs of unique and delicious food. Such a diversity truly amazes and lets everyone find something for their taste and purse. Whether it's a reasonably priced bar, a renowned cafe or a restaurant recommended by Michelin and Gault et Millau, it will provide you with first-class gastronomic delights due to its rich selection and high-quality service.
FALCO
Developmental. High situated. Legendary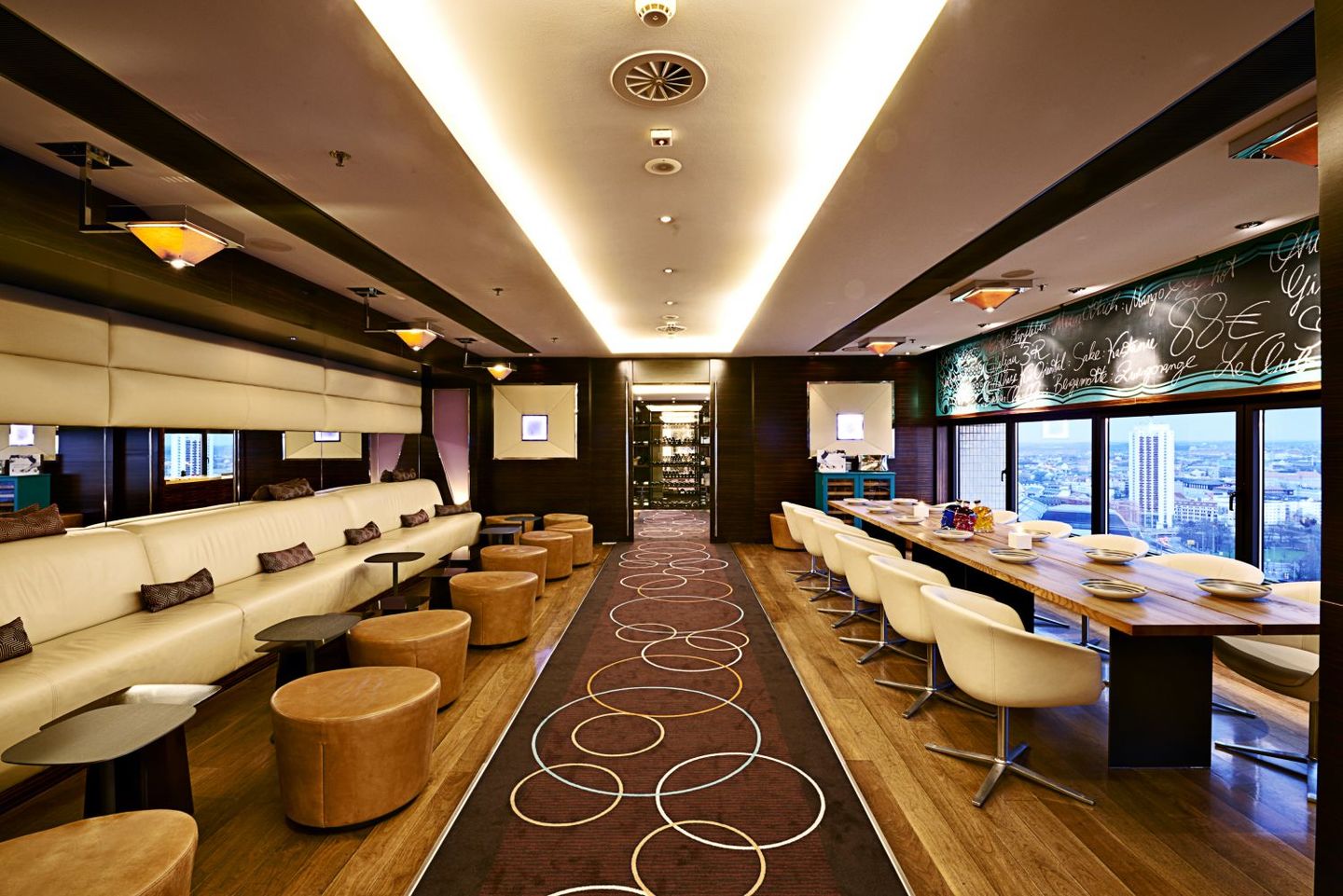 Photo: Falco restaurant / falco-leipzig.de
For more than a decade Falco has been headed by the well-known chef Peter Maria Schnurr, whose creativity and eagerness to experiment contributed to the fact that the restaurant in the city center has already been awarded with two Michelin stars. Moreover, it is rightfully considered one of the best and most fashionable places for gastronomers not only in the Free State of Saxony, but also in the whole Germany. The secret of his popularity, however, is not just his famous boss. A few years ago, his team was strengthened by the award-winning sommelier and highly experienced maître, who gave the gourmet paradise its present brilliance.
Falco is located on the 27th floor of the hotel "The Westin Leipzig" and lets its guests enjoy incredible views of the city from its dizzying height. The glorious "passion légère" menu, the wine list with nearly 1000 positions, a wide range of original long drinks as well as classic cocktails at the bar, and a selection of luxury cigars from Cuba and the Dominican Republic attract hundreds of tourists, business people and city residents into this gourmet oasis hovering in the sky. At your request, Falco's premises can be redesigned, decorated and adjusted to your needs, so that you can organise a lot of incredible events here, such as a conference, a birthday party or a wedding.
If you would like to taste a four-course meal from one of Saxony's most prominent chefs, it is advisable to make a seat reservation in advance. The restaurant is easily accessible from anywhere and is open from Tuesday to Saturday from 7 p.m. to 10 p.m. In the bar & lounge zone, however, you can be served from 6 p.m.
Address: Gerberstrasse 15.
STADTPFEIFFER
When music and cuisine are a single whole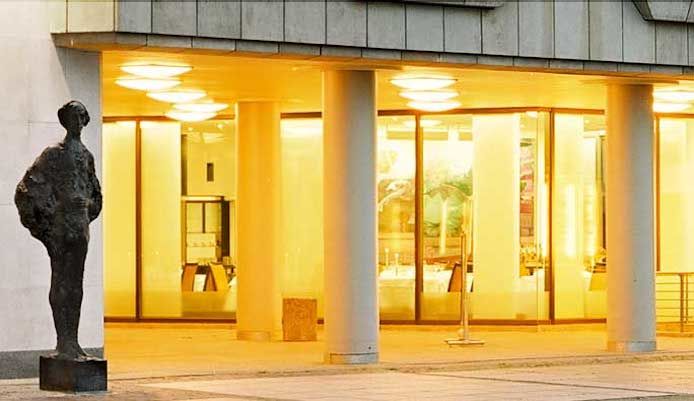 Photo: Stadtpfeiffer restaurant / stadtpfeiffer.de
What could be better than to attend a real culinary concert in the middle of the city, but away from the everyday hustle and bustle? It is possible at Stadtpfeiffer, one of Leipzig's most magnificent restaurants , located in the building of Gewandhaus, famous in the whole Germany. Petra and Detlef Schlegel took the leadership here in 2001, and since 2002 the Michelin star has been shininghere. Situated close to many tourist destinations, it is a perfect place for discerning tourists, longing for relaxation in the evening and willing to pamper themselves with the different delicacies.
Stadtpfeiffer serves modern European cuisine with a French twist and a focus on seasonal, high quality products. With a variety of exotic seafood dishes for reasonable price, it is a gourmet place, where everyone can get their money's worth. The rooms for company parties, weddings or small banquets in a family atmosphere are also available. Art lovers can take the opportunity to book one of the special offers that includes both the concert visit and the five-course meal. The offer is rounded off by the cooking classes, where one can prepare their own dish under the guidance of the chef and deepen his or her knowledge of cooking.
If you come to the capital of Saxony for the first time, it would be best to book the accommodation in its heart, near the main attractions. HotelFriend can suggest you the 4-star Seaside Park Hotel, where you can rest and fill up with energy after a stressful day, and a substantial dinner in the Stadtpfeiffer. Please note, however, that the restaurant in the Gewandhaus is only open from Tuesday to Saturday from 6 p.m. And it is recommended to reserve a table in advance in order to have a good place at the desired time.
Address: Augustusplatz 8.
MONDSCHEIN
Mysterious. Sparkling. Intimate

Located in the city center of Leipzig, Mondschein stands for creativity and tingling experiences. The concept of the place, which is reflected predominantly in its furnishings and helped it to glory, lies in the complete darkness in the dining room that makes guests literally blind. According to the rules of the restaurant, you are not allowed to use lighting elements here - whether it is a mobile phone, a flashlight, a cigarette or a watch. This ensures a highly intimate atmosphere, giving you a rare opportunity to challenge all your senses except the sight, i.e. taste, smell, hearing and touch, and to focus exclusively on food and lively communication at the table.
Although at first the promised gourmet pleasure seems to be quite questionable under such conditions, it should not be doubted in reality, because the comfortable stay is guaranteed here by a friendly staff, who gladly fulfils any guest requests during the whole evening and is supportive in any difficult situation. In addition to that, every visitor is first met in the lounge area with the light and treated to an aperitif. Then one is spoilt for choice: either to stay in this room and enjoy exquisite specialties with the light on or to choose the menu and go into the famous dark room to experience the taste of the dishes in a whole new way.
Sometimes you just have to "listen to your tongue" and rely on your own nose
The culinary offer lets everyone here pamper themselves with lots of delicacies. The Mondschein offerings include the dishes for meat and fish eaters as well as for vegetarians and vegans. There are four different four-course menus to choose from that will delight your palate and allow you to enjoy the intimate and mysterious ambience to the fullest.
For your special occasions, Mondschein can place its premises at your disposal and organize your celebration with regard to your wishes and ideas. So, you can make yourself comfortable in a complete darkness or in a dimly lit dining room with your guests and taste delicious dishes and all sorts of drinks.
Moreover, the concept of this restaurant in Leipzig is advantageously used for carrying out of various events. The blind dates, where you can meet new people without getting any optical impressions and maybe even find your love, are being held here on a regular basis. And every second and last Sunday of each month healthy rich breakfast is served here, so the guests have a possibility to delay waking up a little bit and to spend their morning time in a cozy atmosphere.
Reserve the table via the telephone or online form and explore the Mondschein every day except of Monday, from 5 p.m.
Address: Pfaffendorfer Strasse 1.
AUERBACHS KELLER
Traditional restaurant for real connoisseurs
Anyone planning a trip to Leipzig must find a few hours for dinner in one of the most famous places not only in the city, but also worldwide. The history of Auerbachs Keller goes back to the 16th century and is closely tied with such German personalities as Johann Wolfgang von Goethe and Martin Luther. Since Auerbach's wine bar was one of the most popular places at that time, both of them were often guests here. Their presence is also felt today: two out of four historic wine taverns are called "Goethe Keller" and "Lutherstübchen". Apart from that, the focus is still made on authenticity and traditional atmosphere, attracting so many guests of the city.
Not only seasonal and classic dishes of Saxony, but also the ones of international cuisine are served at the table in Auerbachs Keller. You can try them in the "Grossen Keller" daily from 12 p.m. However, if you would like to celebrate a special occasion with your family , friends or colleagues here, you can book one of the four dining rooms, where the groups of 20 or more people can enjoy a wide range of events. Sitting in a gothic vaulted, cozy wine cellar with ancient paintings on the walls, guests can taste hearty home-style cooking and delicious drinks in a historic ambience, as well as imagine themselves sitting on the chair, where Goethe or Luther used to sit.
Located in the city center and surrounded by so many myths, Auerbachs Keller is a real magnet for the tourists
If you appreciate live music and a vivid atmosphere, try the Mephisto Bar from 9 p.m. - the newest and the only one part of the Keller, operating above the ground. There is a wide selection of cocktails, coffee and tea specialties along with the fresh pastries served here. Entertainment is quite varied, so you can enjoy all sorts of music in the evening: from the popular songs and jazz to the piano melodies. Those interested in theater and the fans of the world-famous work about Faust can attend one of the Mephisto performances, taking place in dining rooms.
In addition to luscious cuisine and extravagant drinks based on traditional recipes, the second oldest restaurant in Leipzig still has much to offer. Thus, the tourists, who want to save some money and see the best of the city within a few days, can benefit from special arrangements suiting all tastes. So, it is possible to see the rare species of animals in Leipzig Zoo before the dinner, to admire a unique exhibition in Panometer or to take part in a city tour. However, HotelFriend recommends you special deals of the Hotel Via City that could give you even more. For example, booking a Romantic Arrangement, you get two nights in a double room and the three-course menu in the Auerbachs Keller at a very affordable price.
Address: Grimmaische Strasse 2-4.
THÜRINGER HOF
Regional specialties for every taste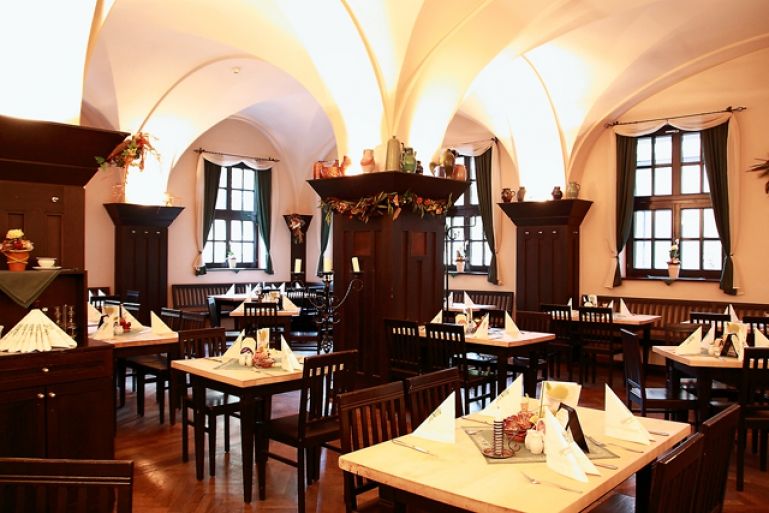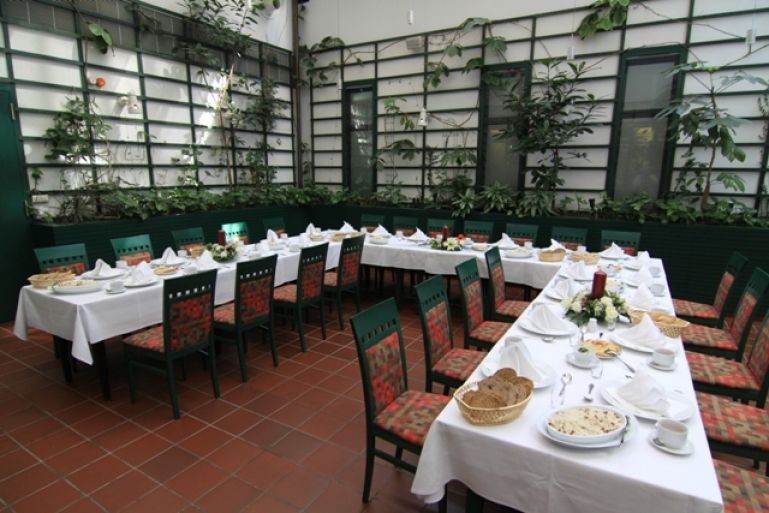 Photo: Thüringer Hof restaurant / thueringer-hof.de
Like Auerbachs Keller, the history of Thüringer Hof extends over many centuries and begins in 1446, when an old-fashioned dormitory Studentenburse was quartered in Burgstrasse 21. In 1515 the inn changed its ownership and was taken into possession by Dr. Ing. Heinrich Schmiedeberg, whose friend Martin Luther often dined here according to tradition. In 1838 the restaurant got its actual name and since then was gaining an increasing popularity in the Free State of Saxony. Unfortunately, in the Second World War the building was completely destroyed during the bombing raids and then rebuilt only in 1993 - 1996, stylized as a pre-war construction and opened again.
Nowadays, Thüringer Hof zu Leipzig invites residents and guests of the city to hearty lunches and dinners in an authentic ambience, where they can sit at a rustic table made of solid wood and enjoy delicious regional specialties. There are two halls to choose from: Luther's Hall, which accommodates up to 200 guests, and a glass-roofed courtyard with 40 seats. After the prior arrangement, you can organize the celebrations of all kinds, be that a company anniversary, a wedding, a birthday party etc. Thanks to the friendly and attentive service, your stay here will be an unforgettable experience that you will keep as a good memory forever.
The restaurant main focus is on the Saxon-Thuringian cuisine with plenty of seasonal delicacies, beer and wine sorts. The culinary offer is really rich, from roasted redfish fillet of horseradish sour cream sauce and a cooked ox breast in parsley root sauce to a pork jelly in remoulade sauce. For dessert you can get the classic German small pancakes made of curd, called Quarkkeulchen, or a warm apple strudel, while your thirst can be satisfied with all sorts of juices, alcoholic and hot drinks. Alternatively the guests of Thüringer Hof may just choose one of three- or four-course menus in various combinations and the tour group menus, which can also be ordered in advance.
The restaurant opening times are: Sunday - Wednesday from 11.30 a.m. to 11 p.m. and Thursday - Saturday from 11.30 a.m. to 12 a.m.
Address: Burgstrasse 19.
Filters
Top facility
More
Hotels in Leipzig
(207 results)