Please, enter a destination
Filters
Top facility
More
Hotels near Les Portes du Soleil Ski area
(272 results)
Les Portes du Soleil Ski Resort
Les Portes du Soleil (The Doors of the Sun) is regarded as one of the largest ski areas in the world, whose history dates back to 1934 when the first cable car started transporting the skiers. It's situated on the territory of two states and comprises 13 villages - seven French and five Swiss, which are covered on one lift pass. The ski area encompasses the territory between Lake Geneva and Mont Blanc, which is why the idyllic landscapes are the undoubted complement to your winter holiday.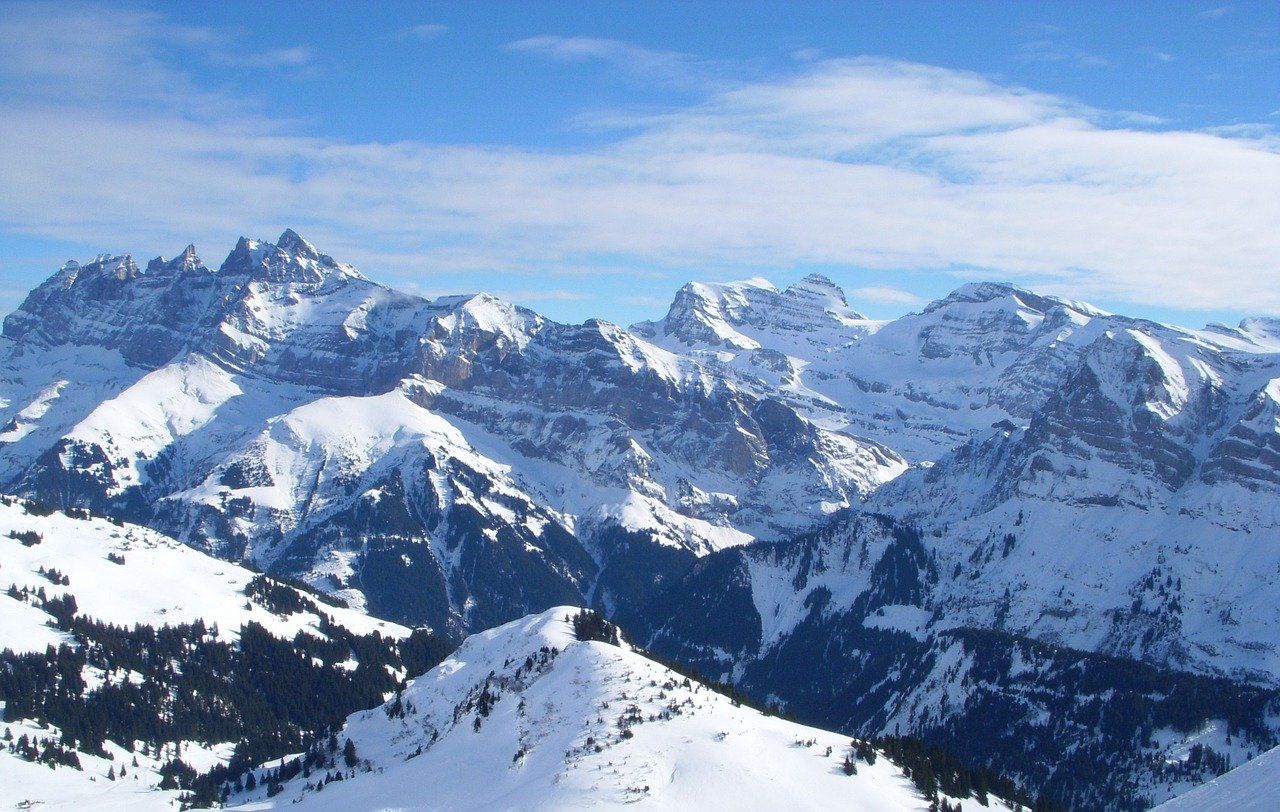 Visitors can make use of 580 km of slopes and 172 lifts. The highest skiing area is on the elevation of 2,254 m, whereas the lowest resort's altitude is 985 m. The operating times of the current season are the following: 2020-12-19 - 2021-04-25. Due to the immense size of the winter sports area, it's barely possible to explore all runs in one trip. Nevertheless, the main circuit connects most of the resorts (Chatel-Morgins-Champoussin-Les Crosets/Champery-Avoriaz-Chatel) where skiers can slide in a clockwise and counterclockwise direction.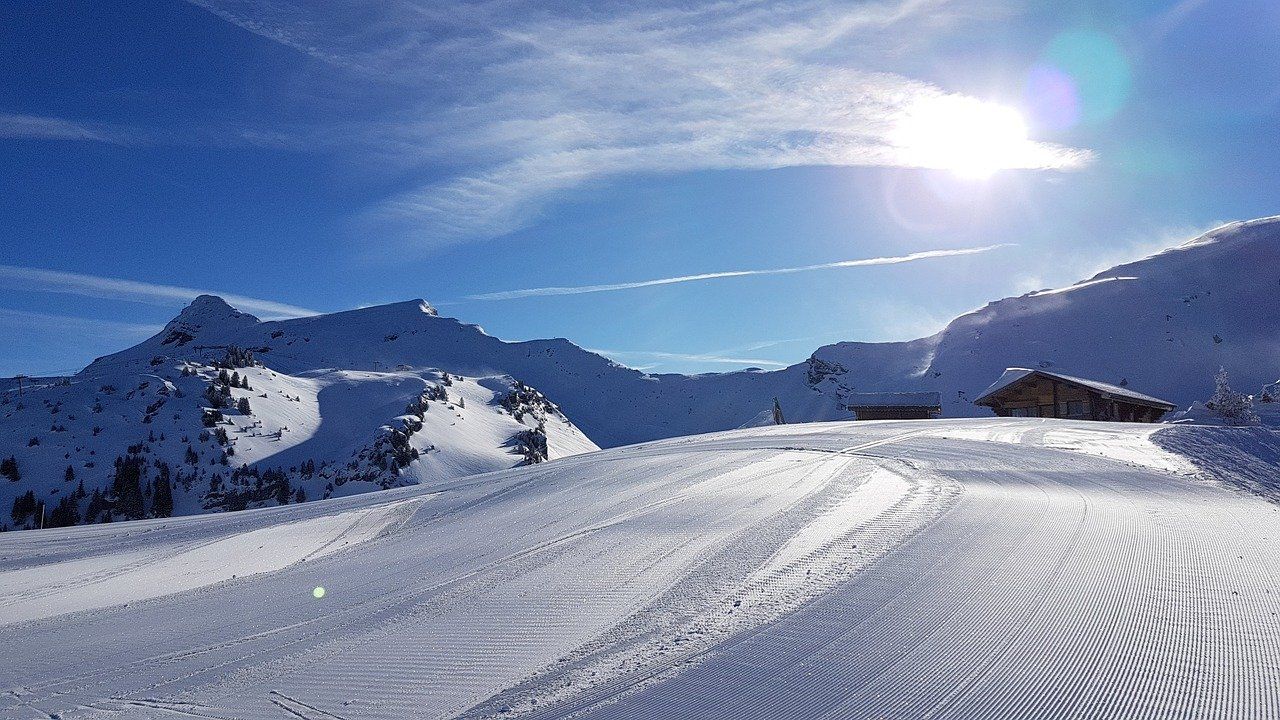 Weather in Portes du Soleil
The continental climate of this region implies large variations of temperature, with hot summers and cold winters. Annually, there are around 185 days with dry weather, and the months of October, September, April, and March are the ones with the minimum chance of precipitation. Thus, the most favorable time to come to Portes du Soleil for winter sports is February, or mid-November, when the first snow is often the deepest.
The wind in this area is gentle, mainly described as "a light/moderate breeze", so it will not interfere with any of your activities. During the ski season months, the temperature varies mainly between 0°C and -8°C.
However, we strongly recommend checking the weather forecast beforehand!
Les Portes du Soleil interactive piste map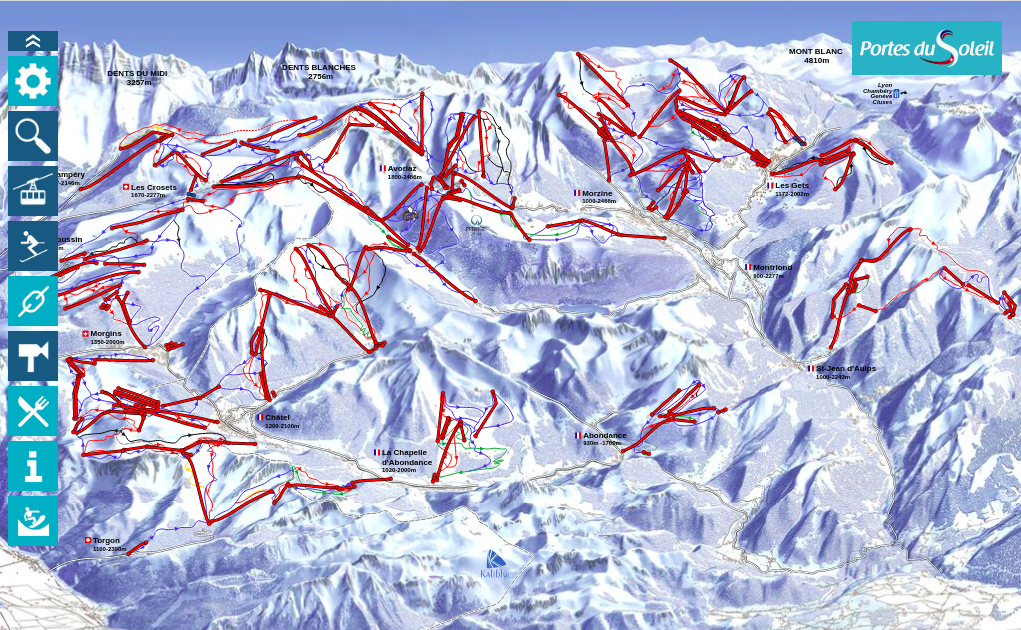 Source: winter.intermaps.com/
Les Portes du Soleil: special regulations in the light of COVID-19
Les Portes du Soleil ski resort will be open this year, however, with some changes to its working time. Some parts of the area are expected to open on the 11th of December, and all slopes will be ready to welcome winter sports lovers from the 18th of December. The ski lifts in Les Portes du Soleil will run at full capacity, operating according to official health guidelines. Besides, the resort is certified with the SafeGuard label by Bureau Veritas France, ensuring compliance with all prevention protocols.
Travel restrictions vary for each country, and while coming to France, guests from certain countries must be ready for a week of obligatory self-quarantine. In some cases, providing a medical certificate with a negative COVID-19 result that was issued within the last 3 days will be enough. For more information, check this link with official advice for foreigners coming to France: https://www.diplomatie.gouv.fr/en/coming-to-france/coronavirus-advice-for-foreign-nationals-in-france/
Here is a shortlist of the main sanitary measures, introduced in Portes du Soleil this season:
● All guests of the resort must wear masks in the public areas while queueing and on the ski lifts;
● Buying ski passes online is strongly recommended (plus, while purchasing them online, you will get a discount!)
● The guests must pay attention to special markings on the floor in the waiting areas and maintain physical distance;
● The visitors must maintain hand hygiene as well: hand sanitizers will be provided at checkouts and near the entrance to the ski lifts;
● In the restaurants and bars, there will be self-service only, and the guests must maintain a distance of 1 m;
● All frequently touched surfaces will be thoroughly cleaned and disinfected by specially trained staff.
● All gear will be disinfected before renting.

Note: You can subscribe to the optional insurance that covers your stay in quarantine if you turned out to be COVID-19 positive, as well as the hospitalization of your ill relative. The cost of insurance for Coronavirus-related problems will be up to 4% of the sum of your stay.
How to get to Portes du Soleil
Are you planning to spend your vacay at "The Gates of The Sun" this winter, and looking for the most convenient ways of getting there?
Here is how you can travel to Les Portes du Soleil:
By car
Situated on the border of the Haute-Savoie and the Swiss Alps, this ski area is just 1-hour drive from the city of Geneva in Switzerland. But you can easily get there from any other major European city. Keep in mind that if you are going to drive there in winter, you should have snow chains with you. Another important thing to mention is that the French highways called "péages" have payment sections, where you can pay the required toll (this can be done with a credit or debit card).
The main routes are the following:
● D907 or D902 that lead to Avoriaz 1800 (via Cluses);
● D902 that leads to Avoriaz 1800 (via Thonon-les-Bains);
● A1 in Switzerland ( when driving from Geneva, with the border crossing in Bardonnex), then A41 or A40 that lead to Morzine;
● A9 that leads to Champery;
● Eurotunnel from Folkestone.
Tip: If possible, plan your itinerary with the opportunity to have a pit-stop in Tinqueux (near Reims) or Dijon. These cities offer a much better foodie experience than average motorway stops where the food is often expensive and low-quality.
By train
The railway line that has several stops near Portes du Soleil is Lyria TGV. It connects France and Switzerland, offering trouble-free access from Paris to Geneva or Bellegarde-sur-Valserine, from where you should continue your journey to the resorts on the regular charter bus or on a taxi.
The alternative way to travel there is by Léman Express trains. Launched in 2019, it was the first commuter railway service, which gives an opportunity to quickly reach Cluses and Thonon-les-Bains from Geneva, Bellegarde-sur-Valserine, or Annecy.
You can also take a direct Eurostar train from London to the Alps. It departs every Sunday at 9:30 a.m. and arrives at your destination at 6 p.m. However, these ski trains will not be running this year due to the Coronavirus situation.
By plane
The most convenient way of getting to Portes du Soleil is taking a flight to Geneva. Transfer from Geneva International Airport to the resort will take around one or two hours depending on the weather conditions.
It has 2 terminals, and serves over 60 airlines (including EasyJet), with more than 100 destinations worldwide.
Note: We do not recommend withdrawing cash from the ATMs in this airport, as you will get your money not in Euro, but in local currency!
Skiing in Portes du Soleil and ski pass prices 2020/2021
Les Portes du Soleil ski area offers a truly endless range of possibilities for the lovers of active recreation. More than half of the slopes are suitable for beginners (there is 310 km of green and blue pistes). Intermediate skiers will be able to enjoy the 210 km of red trails, and the experts can try to push their limits while practicing on 60 km of the black ones.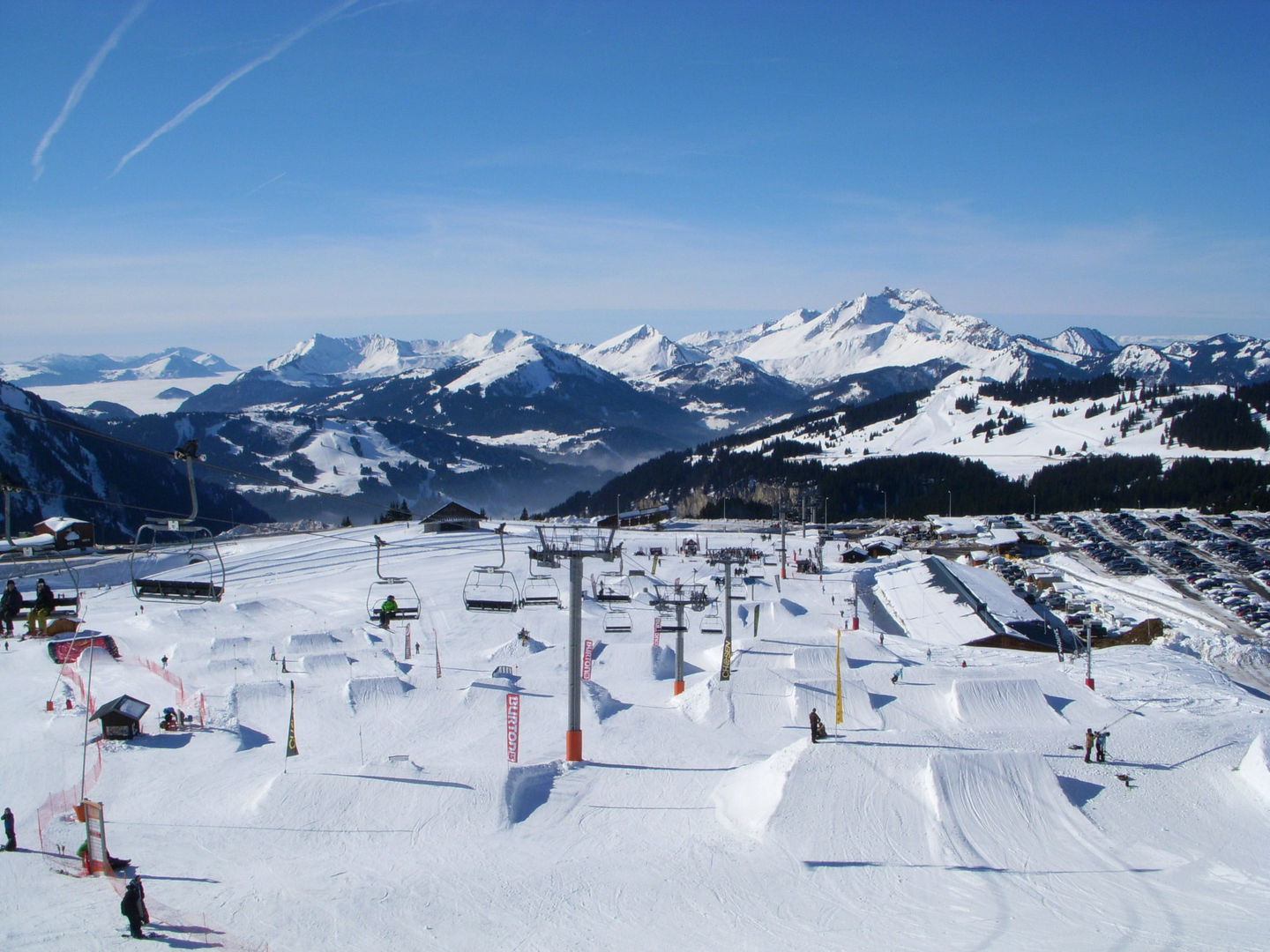 The famous snow parks of Avoriaz will delight free-riders and snowboarders with its halfpipes and off-piste sections. This part of the resort is the highest and powder is the deepest here. In its turn, Morzine is perfect for those who have just learned the magic of skiing. Les Gets and Châtel will be great for beginners as well since they have special training zones with pistes that will cater to families with kids. Children will be particularly happy to visit the local snow park near the Chavanne ski lift. And the experts from ski schools of Portes du Soleil will help you to master this kind of sport and enhance your confidence.
More advanced sportsmen will have a whale of a time here too. The Portes du Soleil circuit, which goes through Morzine to Chatel, and returns via Switzerland back to Avoriaz, is the main must-try ski trail of this region. And the run on this route will take you about 6 hours or less, according to your skill.
If you have a solid experience in skiing and are craving adrenaline, you can challenge yourself on the Swiss Wall and Yeti mogul trails.
Ski Pass 2020/2021: prices and special offers
The whole resort of Les Portes du Soleil, including both French and Swiss parts, can be covered with one ski pass. In case you are not planning to ski through all of the slopes, then opt for cheaper passes that are valid only in certain areas (Morzine-Les Gets/Avoriaz).
Les Portes du Soleil Season Pass prices:
| | | |
| --- | --- | --- |
| Type | Price | Price for ½ of the season |
| Adult Season Pass | €1028 | €565 |
| Senior Season Pass | €927 | €509 |
| Kid's Season Pass | €771 | €424 |
Prices for 1, 2, and 6-days ski passes 2020/2021:
| | | | |
| --- | --- | --- | --- |
| Type | Adults | Seniors | Children |
| 1-Day Pass | €59 | €53 | €44 |
| 2-Day Pass | €113 | €102 | €85 |
| 6-Day Pass | €295 | €266 | €221 |
These ski passes are valid on the entire ski area, including Abondance, Avoriaz, Châtel, la Chapelle d'Abondance, Les Gets, Morzine, Montriond, Saint-Jean d'Aulps (La Grande Terche, domaine du Roc d'Enfer) and Torgon.
And this season, you will have an opportunity to benefit from the following promotional offers:
The offer
Conditions
FAMILY & FRIENDS ("PASS GROUP") OFFER
If 4 guests or more buy their lift passes for the same amount of time and pay with one single transaction, they can benefit from a 10% discount on these passes.
FLASH SALES
Get a 30% discount for skiing on Tuesday and Thursday while buying a single-day ski pass online (during Flash Sales from Friday to Wednesday)
The offer is valid from 5 January to February 2021, from 9 March to 13 March 2021, and from 23 March to the end of the season, and on the adult passes only.
BLACK FRIDAY SKI OFFER
Buy a 6-day Portes du Soleil lift pass on Black Friday (November 27th) for the price of 3 days!
The offer is only valid for online purchases made on 27 November 2020. Adult Ski Pass : 160 € Children Ski Pass : 120 € Young / Senior Ski Pass: 144 €
FAMILY OFFER
Get a 10% discount for a Family Pass
To benefit from this offer, you need to purchase a ski pass for the same duration for 4 people (2 adults and 2 children up to 19 years old)
"DUO" & "TRIO" ONLINE DEAL
When buying passes online, you can save €15 if you buy 2 adult passes (each for 6 days minimum); and €24, if you buy 3 adult ski passes (minimum 6 days each)
The offer is valid during the whole season except during the Rock The Pistes Festival week from 14-21 March 2021.
3 FOR 1
Get a 30% reduction on accommodation + lift pass + ski lessons
The offer is valid for the 6-day Les Portes du Soleil passes, related to all-inclusive accommodation offer + ski lessons from January 9 to 16, 2021.
Note that the ski domain of Morzine - Les Gets will be operating from 19/12/2020 until 11/04/2021, and Avoriaz – from 11/12/2020 until 25/04/2021.
The best hotels near Les Portes du Soleil
What else to do in Portes du Soleil
Both adrenalin junkies and seekers for serenity can find an appropriate activity here. In Les Portes du Soleil, you can try a snowshoe hike, ice diving, off-piste skiing, ice-skating, sledding, snowkiting, ice climbing, helicopter tours, or geocaching session. The ones who want to practice jump tricks will find multiple jump parks and half pipes here.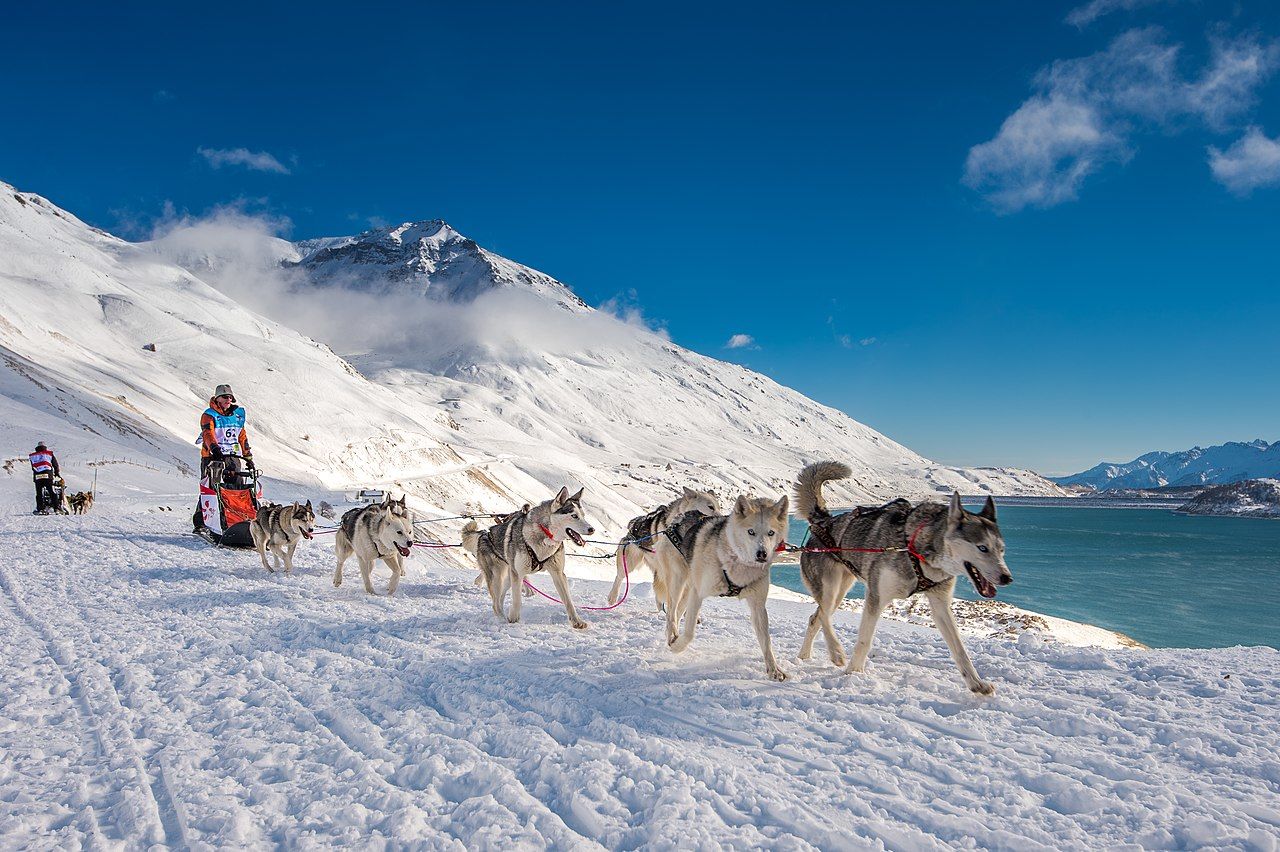 In general, there are 10 Snowparks, 4 Boarder Cross, 4 Halfpipes, 4 Snowcross at guests' disposal. Also, fans of après ski are welcomed in numerous bars and clubs of Avoriaz and Morzine.
La Grande Odyssée and Chavanette Session should be mentioned among the top events in the resort. The first one is the international dog sled race taking place in January, whilst the second one is an extraordinary ski race luring expert skiers every year in February.
Author: Benoit Diacre, https://goo-gl.su/mdfM
Accommodation in Portes du Soleil
As the resort is huge indeed, it may be challenging to choose the right place to stay. The modern town of Avoriaz is certainly the right choice since it's considered to have the largest number of beds and the best facilities. Besides, it offers various entertainment options, namely 3 fun parks, border cross, snowcross zones, etc. In its turn, Morzine is the largest town in the resort and also provides a wide range of accommodation options. It's a charming market town that the idea to build the huge interlinked area originated from, and it has the longest run at 11 km in the region. Travelers who want to escape destinations packed with people should consider either Morgins or Torgon - the picks for a secluded vacay. If you value picturesque landscapes, Champery is the best choice for you as it has earned the fame of traditional "Swiss Mountain Village".
Although the number of hotels in the region is limited, and they are quickly booked out, travelers can consider such options as chalets and apartments. You should take into account that the Swiss part of the ski area is less busy than the French. If you are planning to get to the resort by plane, the nearest international airport is Geneva, located 2 drive hours.
If you want to enjoy your vacation in a cozy home atmosphere, holiday homes or apartments are the right picks for you.
Top chalets and huts
Individuals who want to experience the flair of mountain villages should book one of the numerous chalets or huts options.
Hotels right at the ski lifts
For those who value a favorable location, it's recommended to consider one of the following options located a minute's walk from the ski lifts.
Best hotels at the lowest prices
If you plan your trip reasonably and aim to save your time and money, take a look at these lodging variants.
Accommodation options for families
Families with kids can find an appropriate stay in this resort and revel in the best amenities and services.
Whatever is the purpose of your trip or your preferences, on HotelFriend, you can easily find a great accommodation option for an outstanding holiday in Les Portes du Soleil.