Please, enter a destination
Hotels in London
(1000 results)
London Guide
London is the biggest city in the UK, and, as all of us know, its capital. This is a cosmopolitan city, where diverse cultures combine with authentic British traditions.
The city stands on the River Thames, and with its 9.30 million population boasts for being the third-largest city in Europe. "The Old Smoke" has also gathered a large number of titles with the qualification of being "the most". It is famous for being the world's most powerful, most influential, most visited, and most-popular-for-work city. And its "Tube" is the oldest underground railway network on the globe!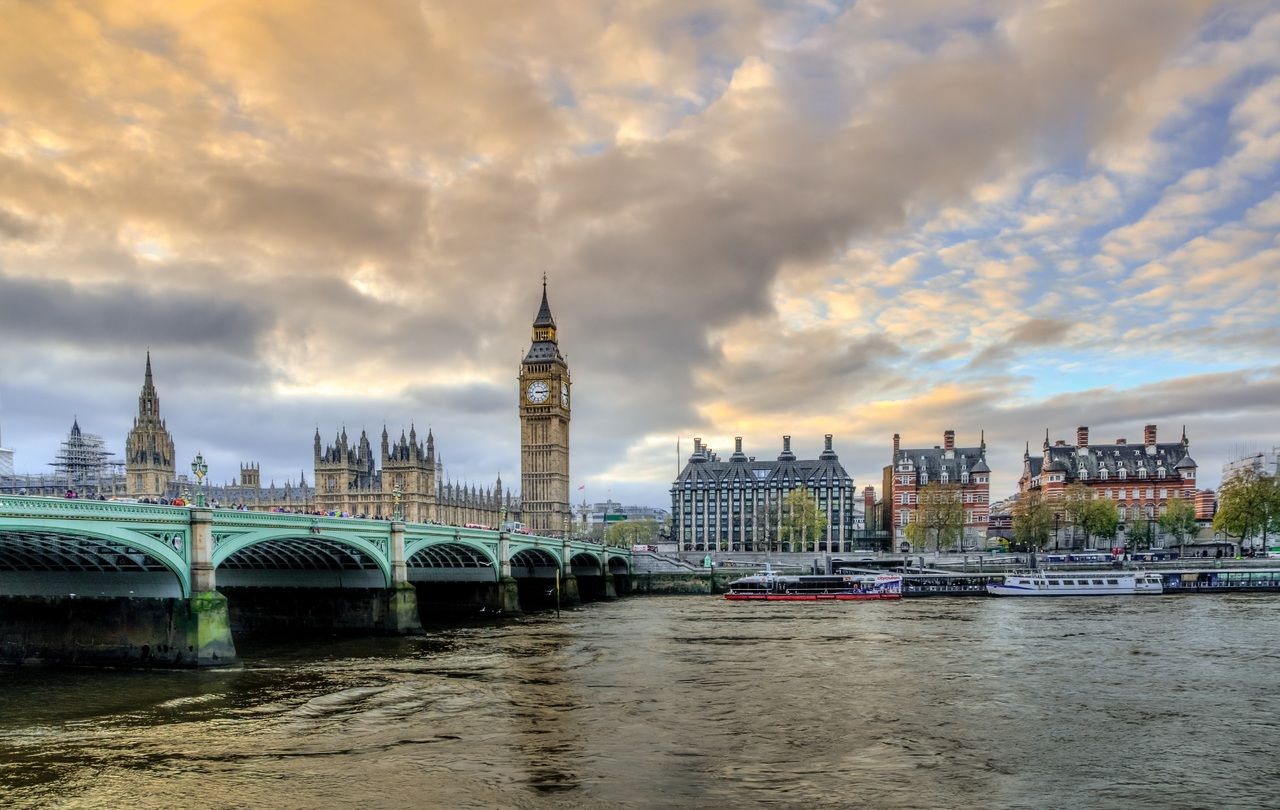 Besides, London is associated with the literary heritage of Shakespeare, Arthur Conan Doyle, and the universe of Joanne Rowling's "Harry Potter". And apart from World Heritage Sites and numerous palaces, this city has much more to offer for each of its guests.
Map of London
Climate and the Best Time to Travel
London has a temperate climate, which means that any time of the year will be suitable for traveling there. The average daily high temperature in Summer is 18°C and it may go above 30°C, bringing hot weather conditions. In Spring and Autumn, the weather is mild and humid, and temperature varies from 11°C to 15°C. Winter is colder, but not that much to spoil your plans, with its average temperatures of between 2 and 6°C.
Late spring and summer are the tourist peak seasons, and there are plenty of outdoor fairs and music festivals. Many tourists also choose this city as a place where they can spend their Christmas holidays and celebrate New Year's Eve. We recommend such months as of May, June, July, August, September, and December as the best time to travel to London.
But whatever season you decide on, remember, that London is notorious for its rainy weather, and don't forget to take your umbrella!
Tip: January and February are the off-peak months, so prices on accommodation and attractions are lower.
Attractions
What should you do on your first trip to London? Well, there is a number of main sights that are a must-see for every traveller. So if you are not sure where to go and what to see first, just follow this checklist: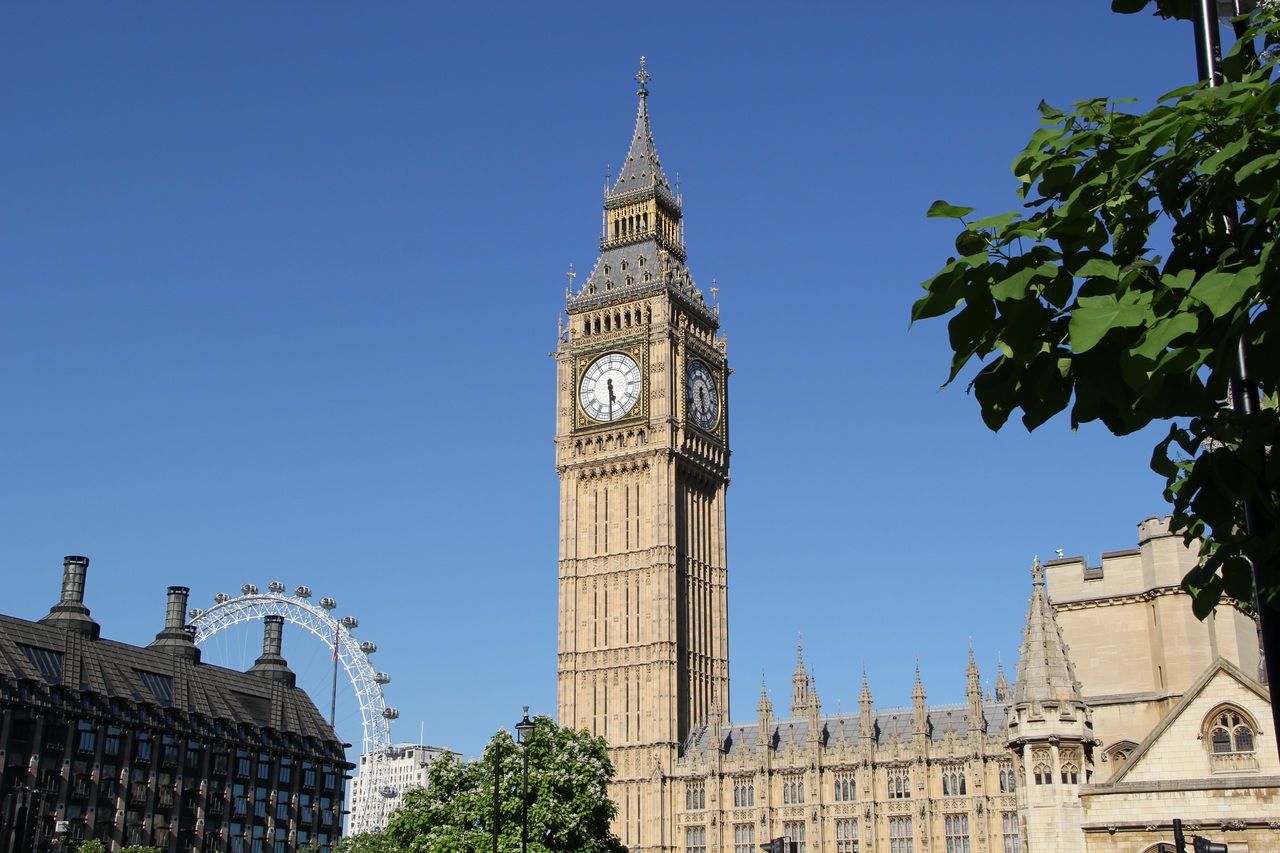 ● Big Ben;
● The Houses of Parliament;
● St. Pauls Cathedral;
● The Tower of London;
● Tower Bridge;
● The London Eye;
● Buckingham Palace;
● Trafalgar Square;
● Madame Tussauds Museum;
● Westminster Abbey.
Those attractions are easy to get, as they are all located in the central part of the city. Many of them lie on the banks of the River Thames, so you may take a boat cruise and enjoy sightseeing from the river.
You can choose the type that appeals to you most from a city cruise with a hop-on hop-off tour, a luxurious dining cruise, or an exhilarating speedboat experience. If you have already tried those options, we recommend taking a ride along the Regent's Canal with its picturesque views.
It is possible to pre-book your tickets online or buy them at pier ticket offices. By the way, some of the river tour companies offer discounts if you are a Travelcard holder!
But this checklist is only the beginning of your unforgettable trip around London. It won't be complete without something special, and we can't help but tell you about some fascinating alternatives!
Museums
Tate Modern

Tate Modern is a contemporary art gallery, housed in the building of the former power plant. Quite an unusual choice of placement for a museum, but its size is impressive - it is almost as big as Westminster Abbey!
It is one of the largest museums of modern art in the world, which holds a collection of art from 1900 to the present day. The main collections are arranged by themes, not chronology. Works of artists from different epochs are brought together in order to show an ongoing dialogue through generations.
Tate Modern is a child-friendly space, and it has special creative zones for kids, where they can draw, relax, and play.
Admission is free, but the entrance fee may be charged for some of the temporary exhibitions.
Tip: The top floor of the Switch House, one of the pavilions of Tate Modern, has a terrace with one of the most a picturesque panoramic views of the London, and the access is also free!
Opening hours:
● Sunday - Thursday, 10.00-18.00
● Friday and Saturday, 10.00-22.00
British Museum
Opened for public in 1759, this museum is known as one of the oldest in the world. Its collection covers 2000 years of human history, art, and culture, and houses almost four and a half million objects. Among them, there are the Parthenon sculptures, the Egyptian mummies, and even an Easter Island head statue!
The Reading Room, situated in the centre of the Great Court, is a historic place, where such great personalities as Karl Marks and Mahatma Gandhi once were cardholders. This museum is just huge, so it is better to schedule multiple visits.
Prices
Entrance to this museum is free of charge, but we recommend to make a donation of £5. Temporary exhibitions and events may require a separate entrance fee. Several museum tours and audio guides are also paid, but they are irreplaceable helpers in your journey to the past. You can choose the type of tour that suits you best: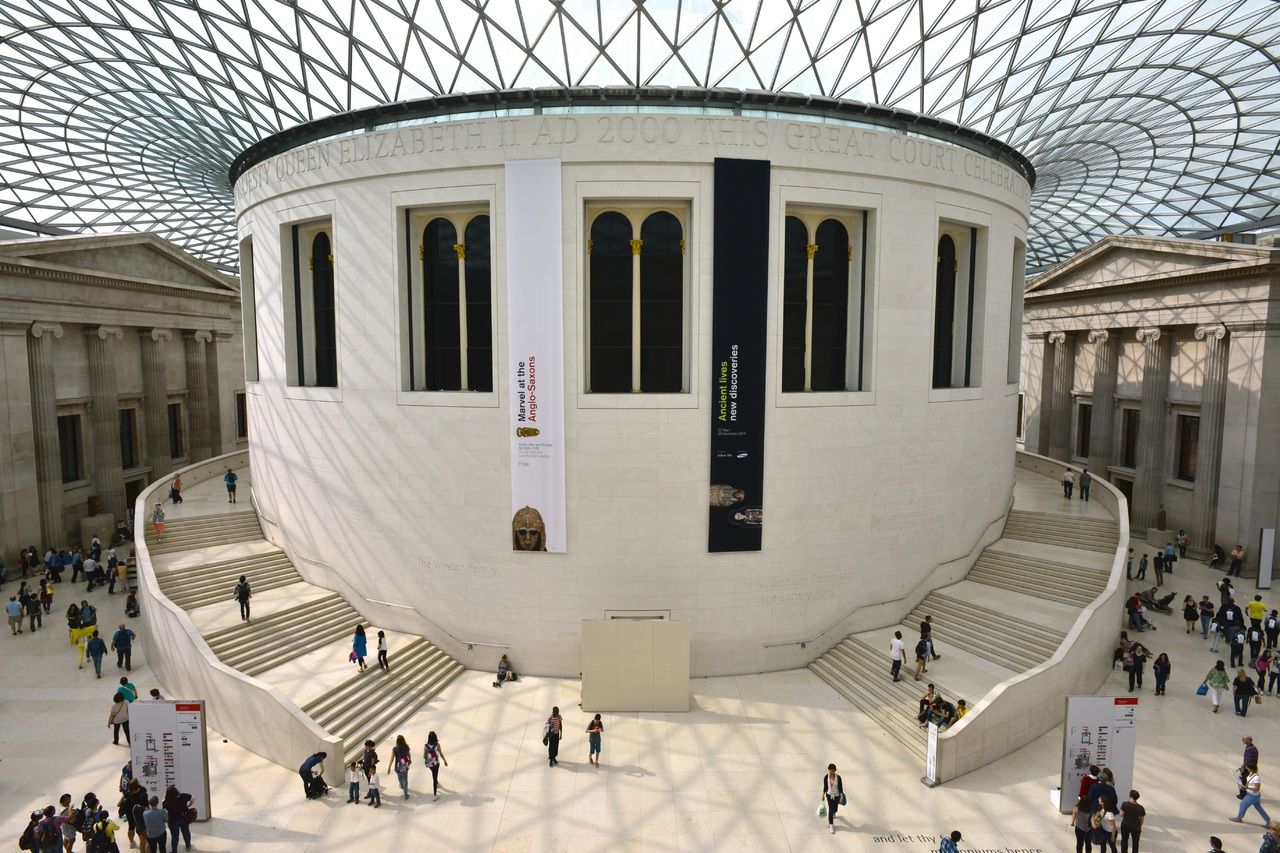 | | |
| --- | --- |
| Type of tour | Price (all ages) |
| Out-of-hours tours | £30 per person |
| Around the world in 90 minutes | £14 per person |
| "Eye-opener" tours | FREE |
*Please note that advance booking is essential!
Tip: The "Around the world in 90 minutes" tour is the best way to both save time and see all of the important collections of the museum. You can book a ticket in advance through the museum's site.
Opening hours:
● Great Court: 09.00–18.00 (20.30 on Fridays)
● Galleries: 10.00–17.30 (most open to 20.30 on Fridays)
● Ticket Desk: 09.00–16.45 (19.45 on Fridays)
Science museum
Founded in 1857, the Science Museum holds a collection of 300,000 items, associated with technology and the industrial revolution. Among those objects, there are such world-famous items as the earliest steam engines and the Apollo 10 command module. This is the right place for kids to get educated about the world's most important inventions, but adults won't last indifferent too.
"Interactive and thought-provoking, the Science Museum is a great place to see, touch and experience science first-hand." - Tripadvisor
Admission is free, but if visitors are able, their donations are welcome.
Opening hours: All days of the week, 10:00 AM - 6:00 PM.
For art and theatre lovers
Painted Hall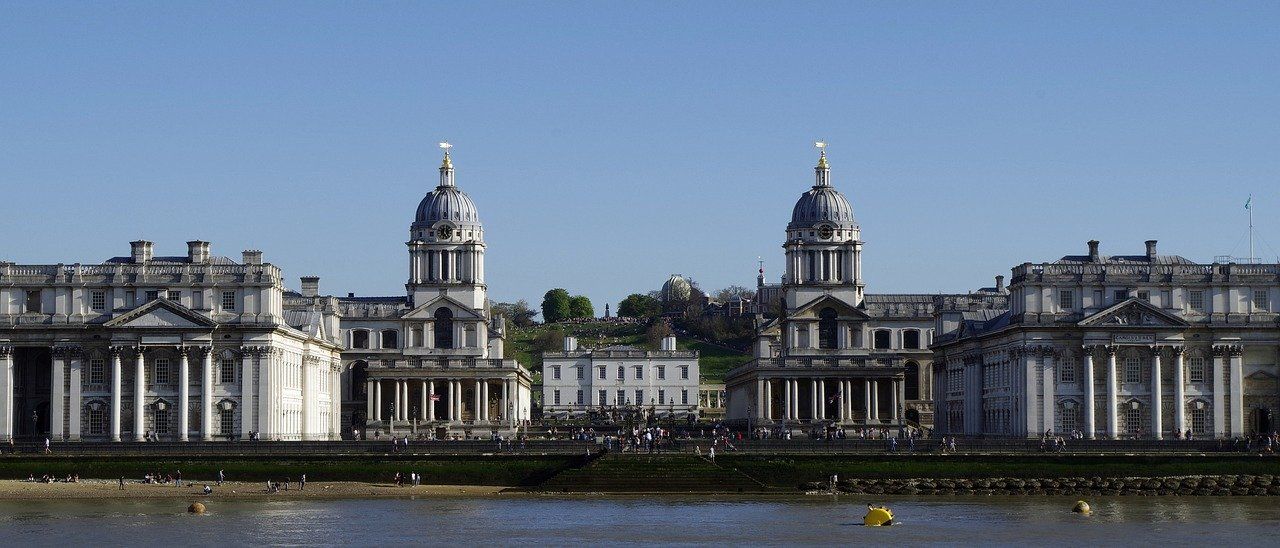 The Old Royal Naval College hides a truly unique masterpiece. This breathtaking ceiling painting was made by Sir James Thornhill, and it took him 19 years to finish this work. He used a great variety of baroque techniques to create an illusion of depth and light. For this stunning artwork, the Painted Hall is known as a "Sistine Chapel of the UK".
The ticket includes entry to the Painted Hall with an audio guide and a guided tour around Greenwich buildings.
| | |
| --- | --- |
| Type of ticket | Prices |
| Adult | £12.00, £11.00 - if buying online; |
| Child | FREE |
| Adult Group Rate (Day Ticket) | £12.00, £9.50 - if buying online; |
| Student | £8.50, £7.50 - if buying online; |
| Jobseeker | £8.50, £7.50 - if buying online. |
Opening hours: open daily, 10am–5pm
Tip: Greenwich is situated a little bit far from the city center, so it will be convenient to get there by one of the Thames Clippers Boats.
Shoreditch
Shoreditch is a neighbourhood and an open-air art exhibition at the same time. This area is a real sanctuary of street art. You can see murals everywhere: from alleyways to the wheelie bins. If you go there, go to the Rivington Street and look for the yard of the Cargo Club, which features a satirical graffiti from a world-famous street artist Banksy.
The Redchurch Street and Shoreditch Triangle can boast the most impressive artworks of the kind. In addition to graffiti, this bohemian area has many cafes, non-standard shops, and cinema clubs.
Shakespeare's Globe
Attending this theatre is a dream of every theatre or literature admirer. Although it is reconstructed, it perfectly resembles an authentic playhouse, for which Shakespeare wrote his plays. The building is constructed with 600 oak pegs, and not a single nail or screw was used during the reconstruction.
You can take a guided tour around the theatre, where you will find out fascinating details of Shakespeare's biography and work.
Box office opening hours: Monday – Saturday 10.00am – 6.00pm, Sunday 10.00am – 5.00pm.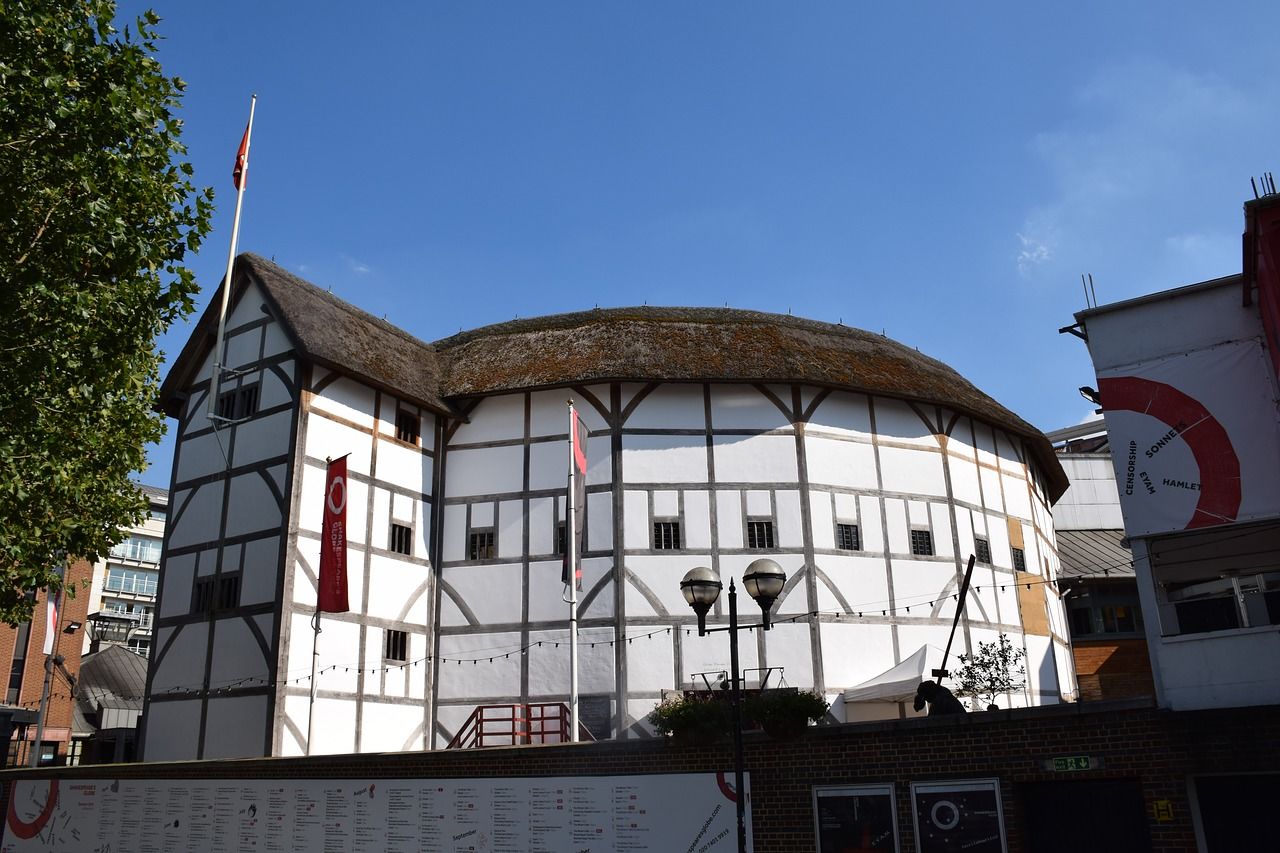 Globe theatre guided tour prices
| | |
| --- | --- |
| Standard | £17.00 |
| Child ( 5 – 15 years) | £10.00 |
| Senior (60 years and over) | £15.50 |
| Student(16 yrs + with ID) | £13.50 |
| Family | £46.00 |
Tip: Shakespeare's Globe is an open-air theatre, so if you are planning to attend a play, don't forget to grab your raincoat.
Shopping
Borough Market
A long history of this market dates back to the 12th century, making it one of the oldest food markets in London. The variety of foods from artisan bakers, cheese makers, and farmers is enormous, so be careful while going there with an empty stomach!
This unique spot is located near the London Bridge, so you can grab some street food from the market and sit along the bank of the Thames, enjoying your meal and a spectacular view.
Tip: You should take cash, as most places operate more easily with it.
Opening hours: Monday - Thursday 10:00 a.m. – 5:00 p.m., Friday 10:00 a.m. – 6:00 p.m., Saturday 8:00 a.m. – 5:00 p.m., Sunday - closed.
Portobello Road Market
Portobello Road market is a place which worth a visit even if you are not a fan of shopping. It is full of antiquities, vintage clothes, vinyl records, paintings, and it takes hours to walk around it all. Here you can also find stalls with international cuisine, excellent pastry shops and a farmer's market with fresh fruit and vegetables.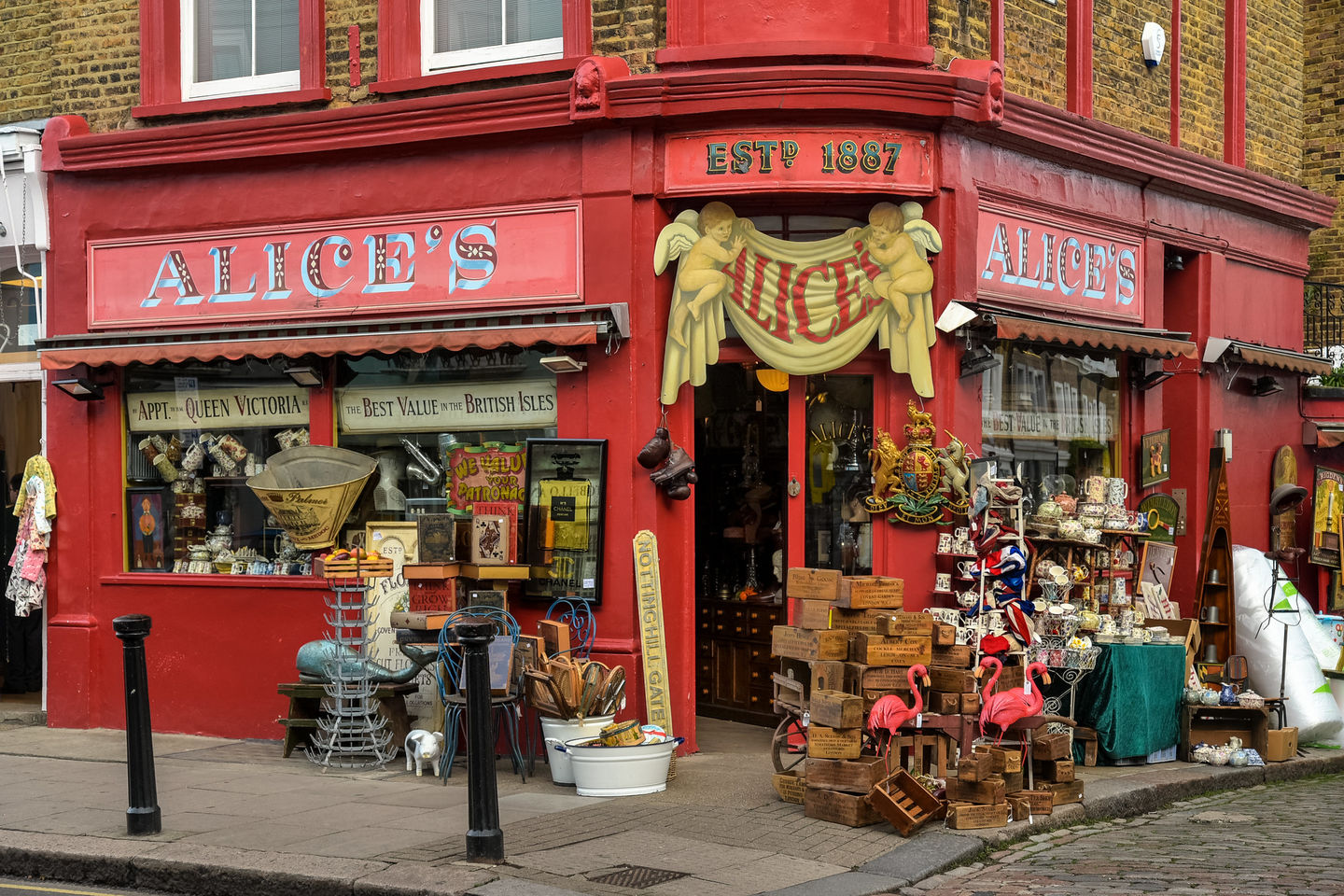 This is a six-day market, which is closed on Sundays. Main market days are Friday and Saturday, and to avoid the crowds, it is better to visit it in the morning.
Opening hours: the Portobello Road Market open from 8:00 a.m. to 6:30 p.m., Monday through Saturday.
Tip: Saturday is the day, when hundreds of all of the antique shops and stalls are open.

Photo by: Jorge Franganillo, from www.flickr.com/photos/franganillo
Neal's Yard
This small alley, which leads to a courtyard with a lot of multi-colored buildings and plants, is a true hidden gem of London. Situated in Covent Garden, this place is not so easy to find, unless you know about it.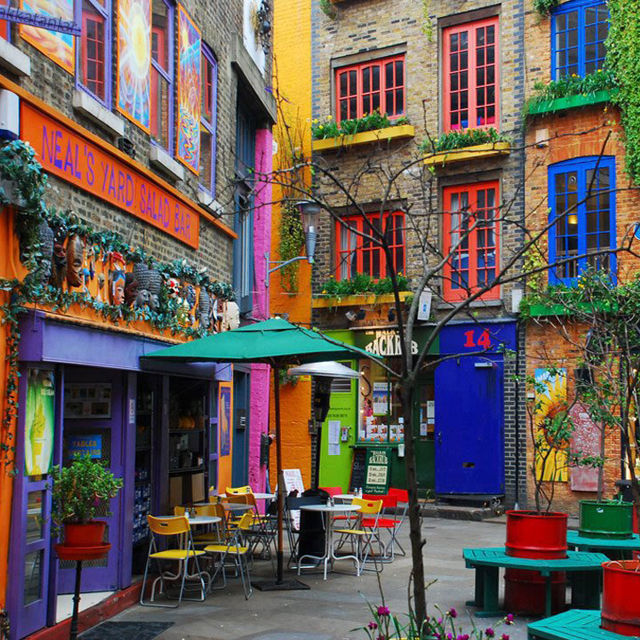 Apart from being a great photo opportunity, Neal's Yard is also a place with local shops and small cafes. If you want to buy something unusual, this is the right place to go. Here you can find independent shops, focused on health and sustainability, such as:
• Neal's Yard Dairy, described as "London's foremost cheese store"
Opening hours: Monday - Saturday 10:00 am - 7:00 pm, closed on Sundays.
• Neal's Yard Remedies shop, which sells natural and organic beauty products
Opening hours: Monday - Saturday 10:00 am - 7:00 pm; Sunday 11:00 am - 6:00 pm.
Tip: It is better to get there early or on a weekday when shops and cafes are not that busy and overcrowded.
Events, festivals and holidays
London is famous for its vibrant atmosphere, and you can embrace its true energy by visiting local festivals and celebrations. Carnivals, parades, and a great variety of special shows will make your trip to London an unforgettable experience. They take place every season, so you will not miss an opportunity to join any of these!
Here are some of the brightest events that you can visit during the year: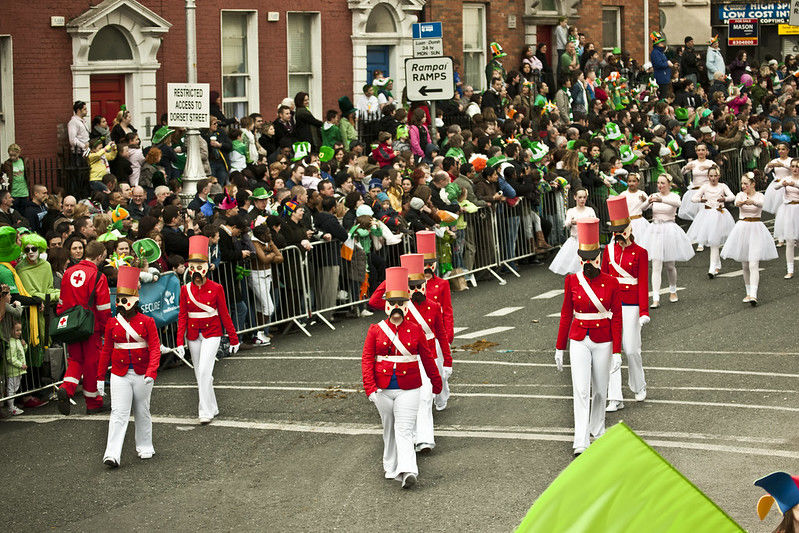 Spring:
• The Regent's Park Open Air Theatre events;
• St. Patrick's Day celebrations;
• Gala Music Festival;
• The Chelsea Flower Show;
Summer:
• Wimbledon Tennis Championships;
• The Trooping the Colour Military parade; Taste of London in Regent's Park (Food festival);
• Notting Hill Carnival;
• Greenwich+Docklands International Festival;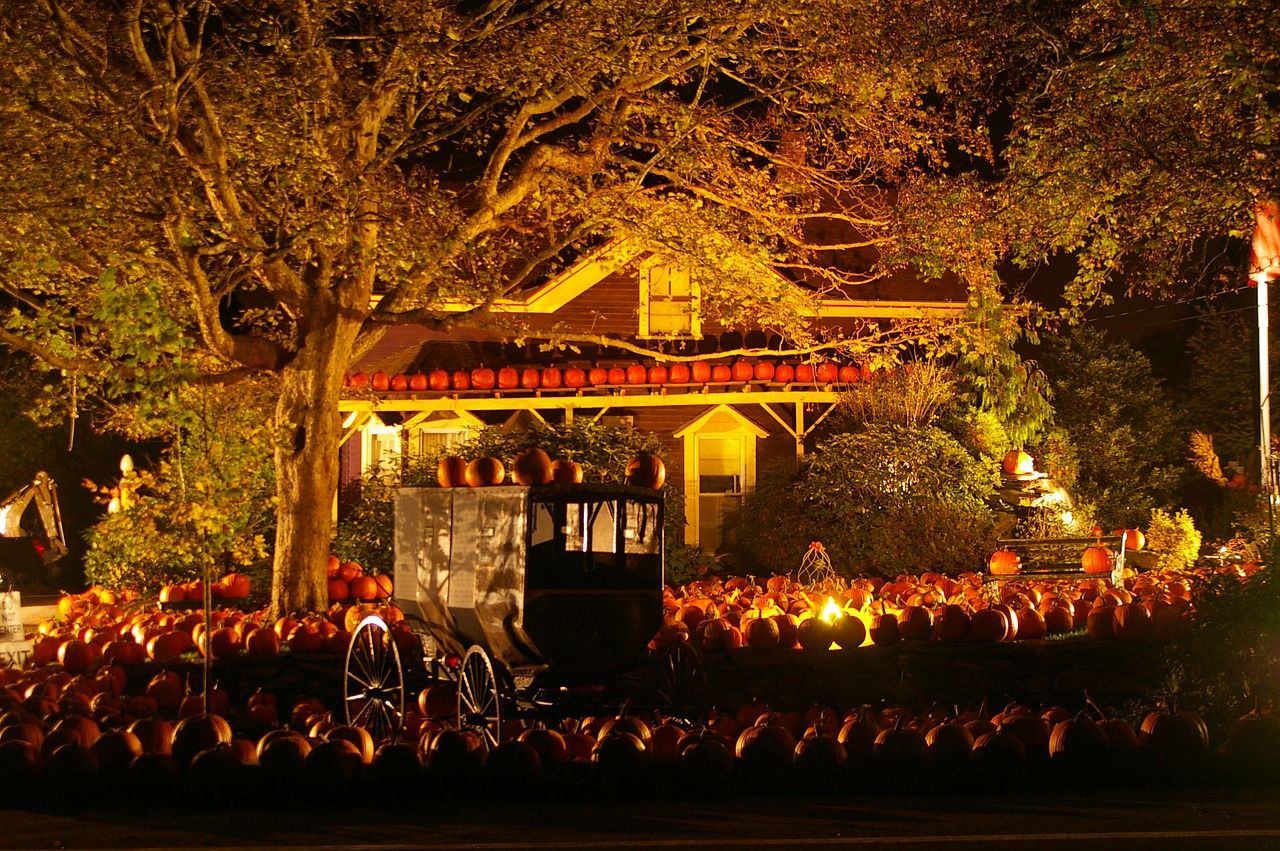 Autumn:
• London Design Festival;
• Halloween Celebrations;
• The Bonfire Night Fireworks;
• EFG London Jazz Festival;
Winter:
• London's New Year's Day Parade;
• Chinese New Year Celebrations;
• Christmas Market;
• Christmas at ZSL London Zoo.
What does the local cuisine have to offer?
If you wonder where to eat in London, check out our short list with the best spots where you can have a delicious meal.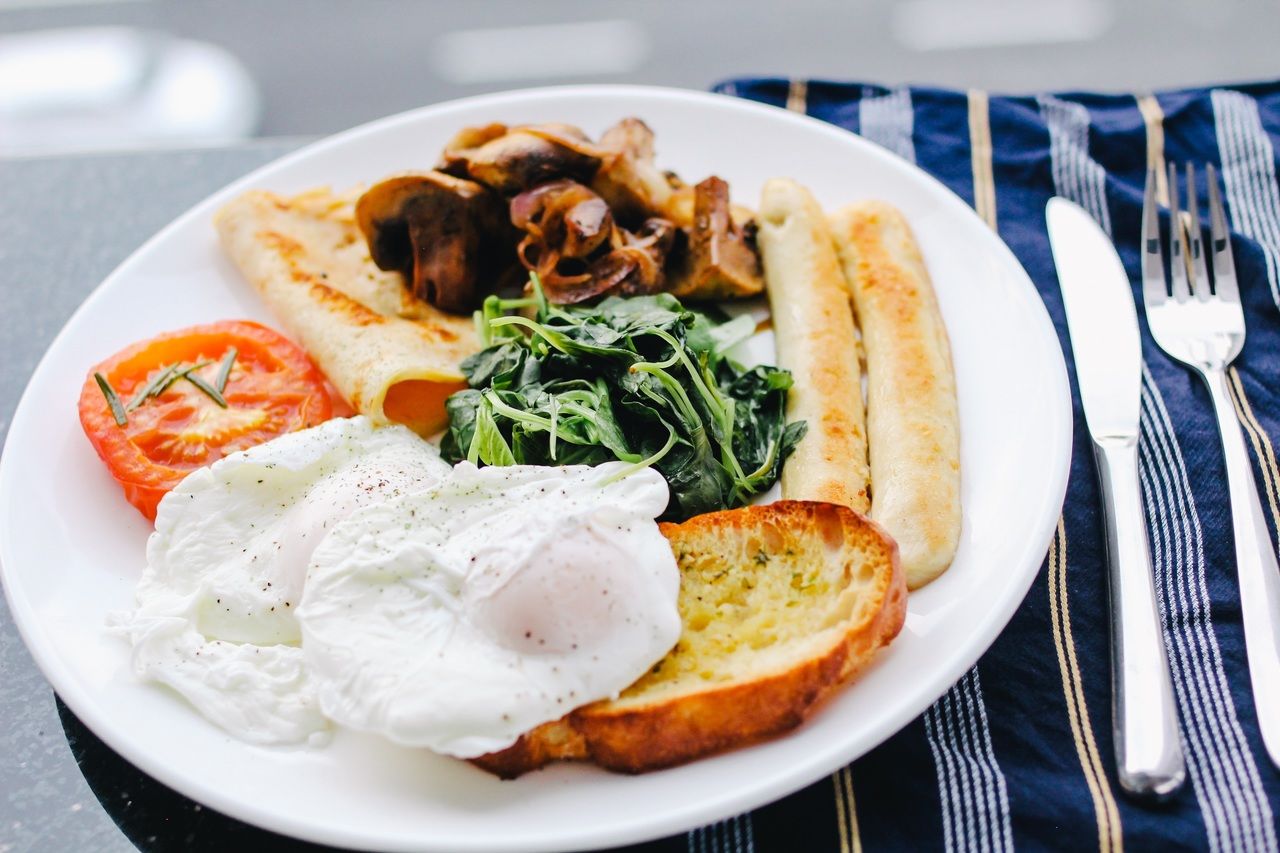 Brunch and Breakfast:
● Where the Pancakes Are, London Bridge
A dish to order: any type of pancakes, the banana praline marshmallow
● The Barge House, Haggerston
A dish to order: 'Breakfast in Bread'
● Honey & Co, Bloomsbury
A dish to order: green shakshuka
Vegan-friendly spots:
● Farmacy, Notting Hill
A dish to order: the artichoke pizza
● Redemption Bar, Shoreditch
A dish to order: jackfruit tacos
● Mildred's Burger, Soho
A dish to order: a black bean burger
Restaurants:
● Amrutha Lounge, Earlsfield
A dish to order: brownie or lemon cheesecake
● The Clink Restaurant, Brixton Hill
A dish to order: duck and lamb
● Bar 61 Restaurant, Streatham Hill
A dish to order: mediterranean prawns
Public transportation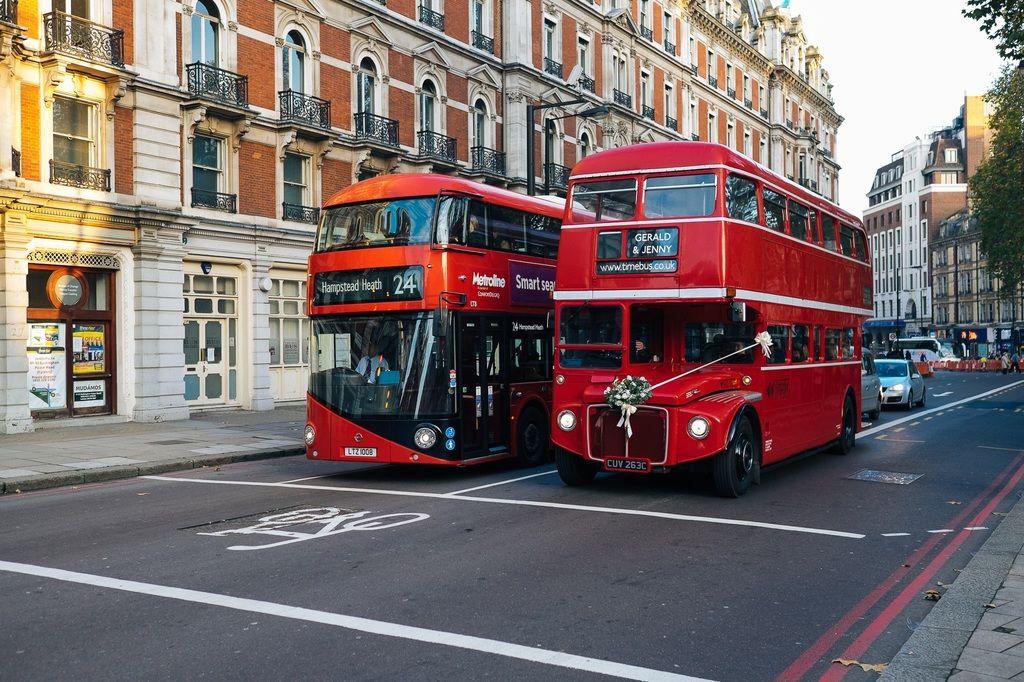 London has one of the largest transportation networks in the world, which includes various means of transport. The most popular and convenient way of getting around the city is by "Tube", but you can also take a ride on the iconic red double-decker buses or use river bus services. You can pay for the rides by cash, but using Visitor Oyster cards or Travelcards reduces your spendings a lot.
Buy Visitor Oyster Card online or at the TfL Visitor Centres, stations and Oyster ticket shops.
Tip: Try to avoid travelling by Tube during rush hours (weekdays, 7-9am and 5.30-7pm).
Visitor Oyster Card
(a rechargeable smartcard)
● Accepted on most of London public transport, including Tube, buses, Tram, DLR, London Overground and most National Rail services;
● Saves up to 50% on travelling by public transport;
● Could be used for travelling to Heathrow and Gatwick Airports;
● Offers additional discounts at top restaurants, shops, and venues;
● Children under 11 can travel for free;
● Offers 10% discount on Thames Clipper river boats and Circular Cruise;
Price: £20 for 1-2 days; £25 or £30 for 3-4 days; £50 for a week.
Travelcard
(paper ticket)
1-Day Travelcard: this type of ticket allows unlimited travelling for a single day. It can be used on the bus, Tube, DLR, tram, London Overground, and most National Rail services within London.
Anytime Day Travelcard: valid at any time on the day and any day of the week for any journey until 04:30 the following day.
Anytime Day Off-Peak Travelcard: allows travelling from 9:30 Monday to Friday and all day Saturday and Sunday.
You can buy Travelcards from ticket machines, ticket offices or at Visitor Centres.
Accommodation
If you wonder where to stay in London, don't worry - there is a great variety of types of accommodation available. You can choose from hotels, bed & breakfasts, hostels, and self-catering options, depending on your budget and personal preferences.
Hotel accommodation is a universal and flexible option, which suits for both budget and better-off tourists. If are looking for an appropriate hotel in London, consider these variants:
Budget hotels:
● Tune Hotel Westminster (ensuite double rooms with air-conditioning and power showers).
Price: £40.80 per night.
● QBIC Hotel London City (clean and comfy accommodation, rooms feature free wifi and shower).
Price: £60.60 per night.
Family-friendly hotels:
● Darlington Hyde Park (just 5 minutes' walk from Paddington station and the Heathrow Express)
Price: £155.00 per night (family with ensuite bathroom).
● Athenaeum Hotel and Apartments (all rates include free Wi-Fi access, complimentary soft drinks and snacks from the minibar; kids age 12 and under eat free when dining with an adult.)
Price: £320.41 per night.
Romantic boutique hotels:
● Park Grand London Kensington Hotel (a 4* boutique hotel within easy walking distance to Harrods, the Natural History Museum and Hyde Park)
Price: £103.84 per night.
● Radisson Blu Edwardian, Mercer Street Hotel (the hotel is located close to London's iconic Theatreland, Covent Garden's famous Piazza and the cafes, bars, and shops of Bond Street).
Price: from £200.00 per night (double with ensuite bathroom).
Best hotels for solo travelers:
● Express by Holiday Inn London Greenwich (great for business travellers as it offers wifi in all bedrooms and public areas).
Price: £47.99 per night.

● Ibis London Blackfriars Hotel (modern rooms and amenities such as bar, restaurant, free wifi).
Price: £79.00 per night.
● St Giles Hotels (24-hour reception, concierge service, 3 restaurants, a bar, a casino, and free wifi).
Price: £85.00 per night.
You can find these and other worthy options on our HotelFriend website. We always have discounts and special deals, that will lighten up your trip.
Keep travelling and discover the world's most beautiful places with HotelFriend!