Dates
Adults
2
Please, enter a destination
Filters
Top facility
More
Top facility
More
Hotels near Baltic Sea
(6238 results)
Holiday at the Baltic Sea
The Baltic coast in Germany is a perfect summer escape for both: those, who like to relax and those, who appreciate good entertainment and variety of activities. This vacation region is located in the northern federal states of Schleswig-Holstein and Mecklenburg-Vorpommern. Wide meadows, fields, hilly landscapes, picturesque places and views of the sea - that`s what makes this magical place so loved among tourists and you will not be an exception.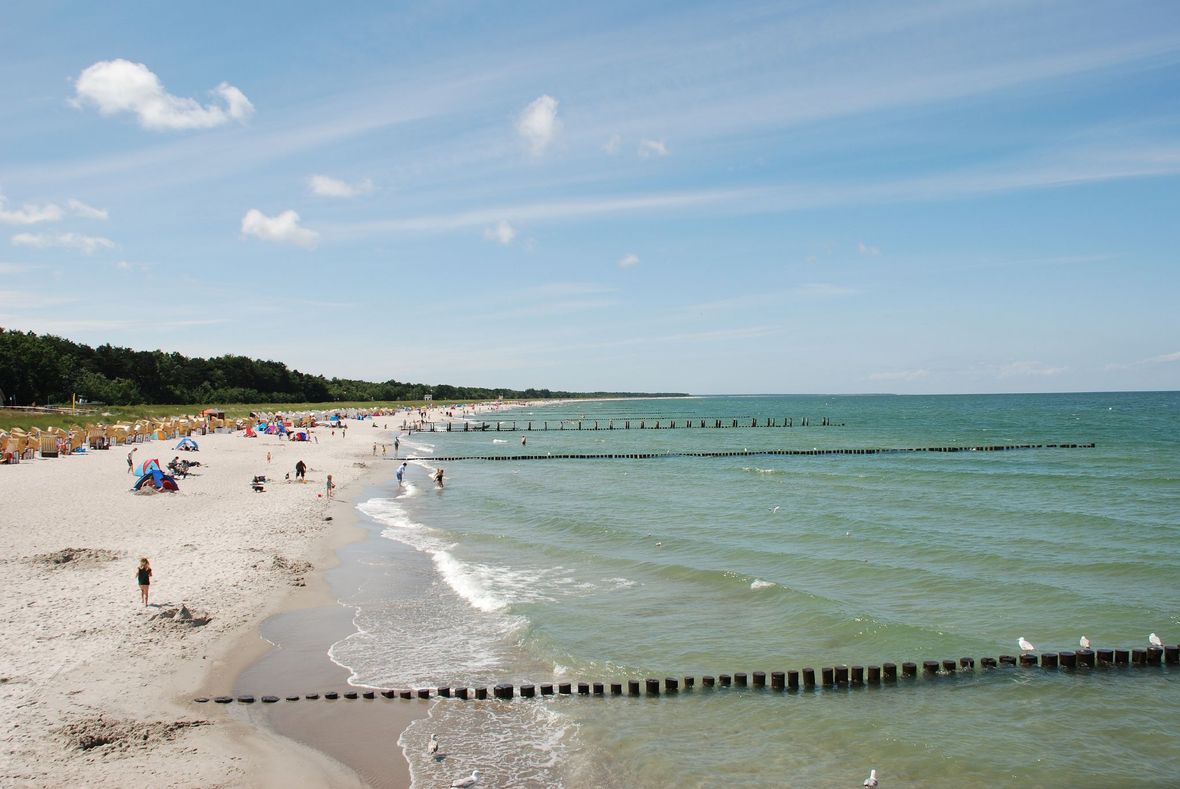 Photo by Norman27
Climate
Early summer is the best season for your holiday on the Baltic Sea, because of long lasting, warm and sunny days. Nevertheless, midsummer - is the main period, when every riparian state is crammed with tourists. Hotel and flights prices might be most expensive during this time, but you can save if you purchase well in advance.
When visiting the Baltic Sea coast in winter, consider that the busiest month is January.
Map Ostsee with tips
Regions
The German Baltic Sea coast extends from the Flensburg region in Schleswig-Holstein to the Szczecin Lagoon in Mecklenburg-Vorpommern and includes, the great islands of Fehmarn, Rügen and Usedom.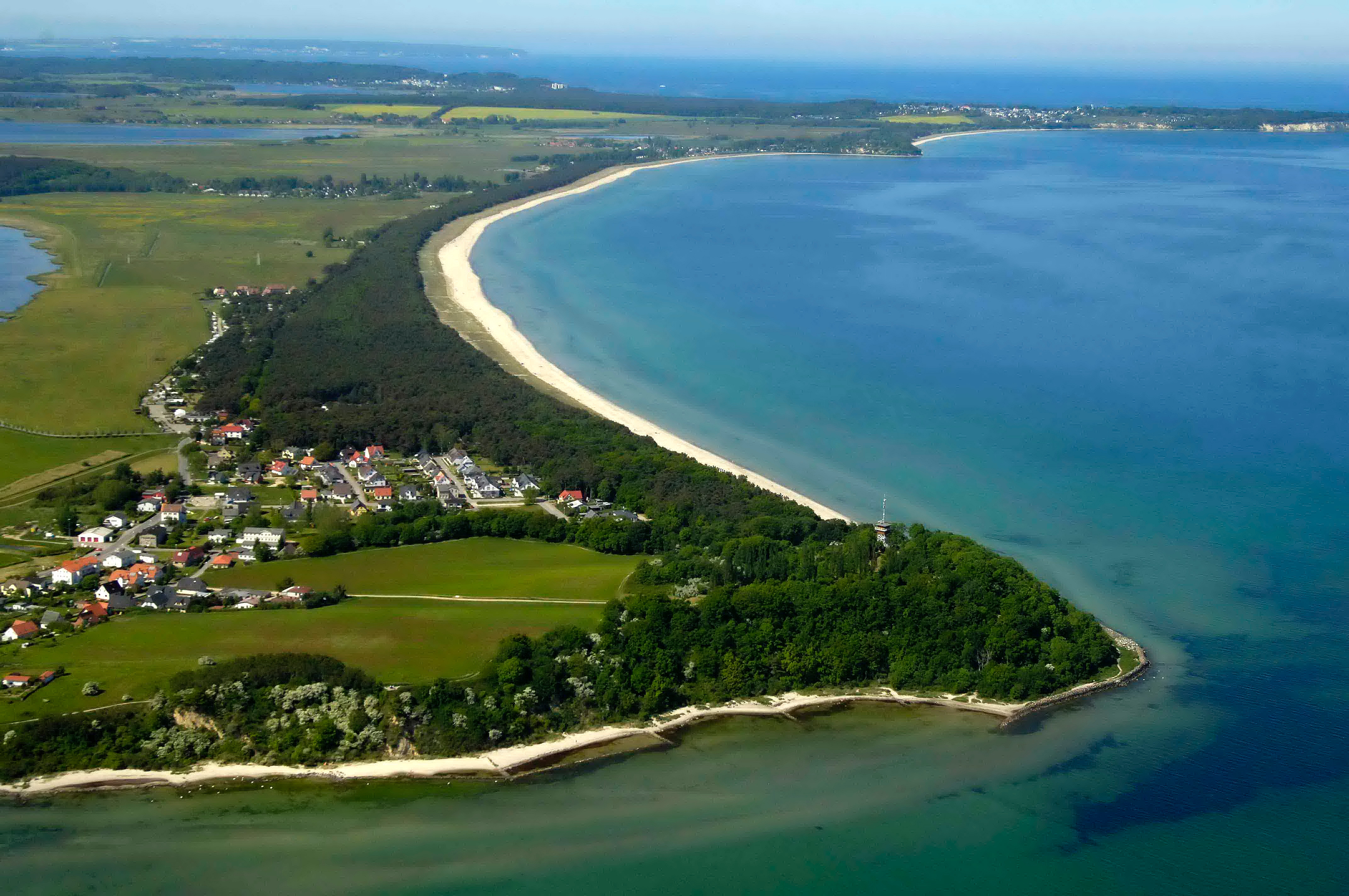 Islands
Rügen
Our overview of the most beautiful Baltic islands starts with Rügen - the largest German island. You can reach Rügen by going across the dam or the bridge, without a need of the ferry. Of course, the island is known for its pure nature and chalk cliffs. These can be found in the Jasmund National Park, one of Germany's most beautiful parks, which attracts a large number of visitors each year.
Magnificent sandy beaches and old seaside resorts also await you on this Baltic Sea island (Binz, Sassnitz and Sellin are especially popular). On the beaches of Rügen you can not only swim or bask in the sun, but also go surfing, kiting or do other sports. If you don`t want to miss out on culture and sightseeing, Rügen is the right place for you: go visit Jagdschloss Granitz or Kap Arkona.
Check out our Mecklenburg-Vorpommern page to get more information about Rügen!
Usedom
The beautiful island of Usedom is also called - island of superlatives. That`s because it has some special features, that make it a perfect holiday destination: the longest beach in Germany with a length of 45 kilometers, the longest beach promenade in Europe with 8.5 kilometers and the first seaside resort in Germany - Bansin. For wellness enthusiasts there is an extensive range of services offered. Usedom is just right for you if: you go on vacation with your family, are a wellness recreation fan, love historic villas, piers, sun bathing and swimming, want to take your dog on vacation with you.

Photo by Nicky39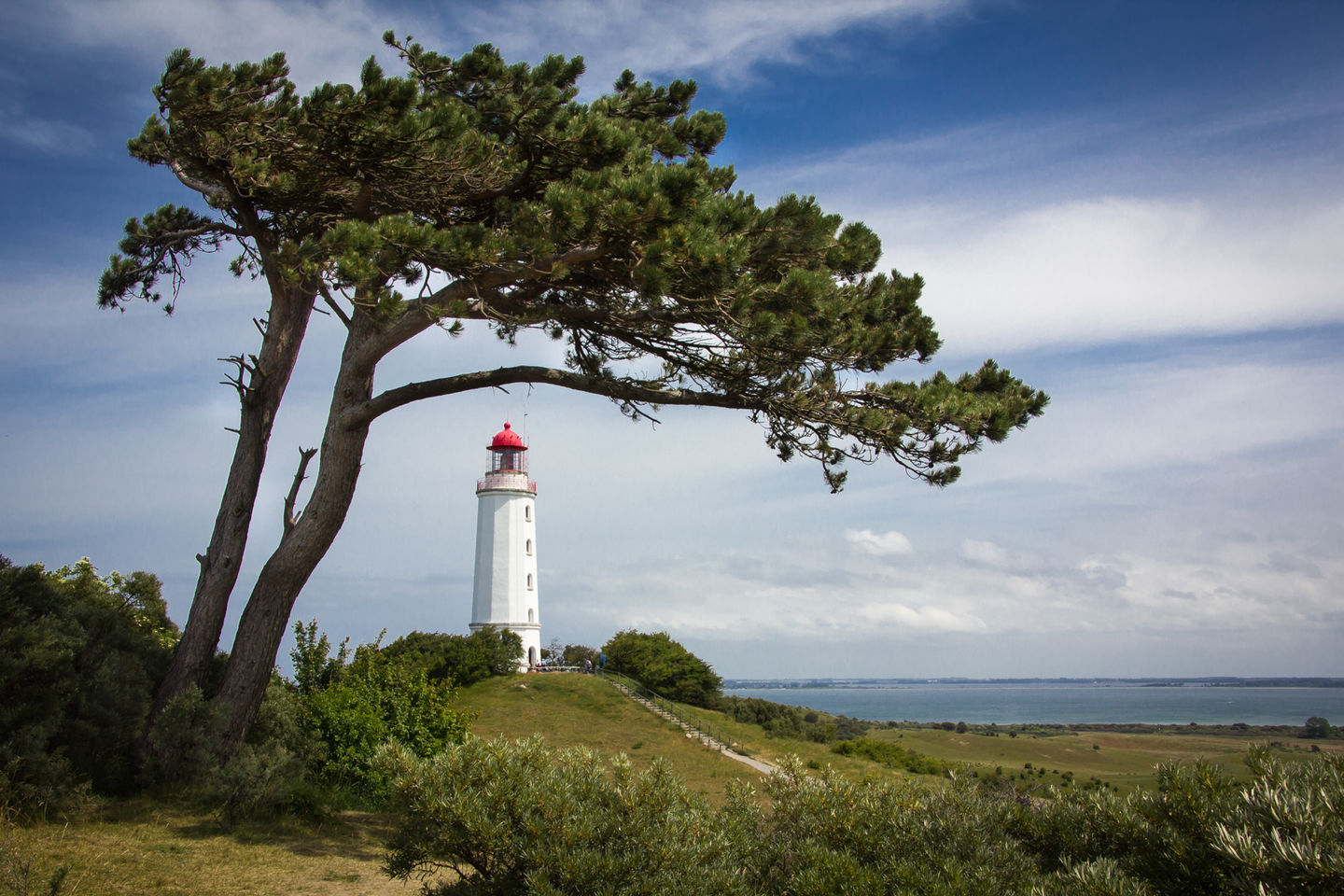 Hiddensee
West of Rügen in the Baltic Sea lies the small island Hiddensee. Like on many Baltic Sea islands, on Hiddensee there are no cars allowed. If you are looking for a holiday destination, where you can escape from your hectic everyday life and enjoy beautiful nature, then - go to Hiddensee!
Photo by Chrictian Hoffmann
Places to visit in Fehmarn
1. Meereszentrum Fehmarn
The Meereszentrum Fehmarn in Burg on the island of Fehmarn is one of the largest aquatic museums in Europe. In more than 35 separate aquariums and an underwater tunnel, living coral gardens with countless kinds of fish have found their home: clown fish, sharks, seahorses, poisonous lionfish, moray eels, stonefish, puffer fish, rays and many more unique aquatic creatures dwell here.
When is the Meereszentrum Fehmarn open?
| | |
| --- | --- |
| March - October | 10:00 - 18:00 |
| November - February | 10:00 - 16:00 |
How much does it cost?
| | |
| --- | --- |
| For adults | 11,00 € |
| Reduced entrance* | 9,00 € |
| For children (4-15 y.o.) | 7,00 € |
*with ID: for seniors, disabled people and students
2. Jimi Hendrix memorial stone
To everyone, who loves the 60-70`s era and music legends of this time - this place is a total must-see. The last Jimi Hendrix performance took place at the Love and Peace Festival on Fehmarn a few days before his death. This memorial stone near the camp site at Flügger Strand commemorates the occasion.
The 6 most beautiful beaches on Fehmarn:
• Südstrand in Burg
• Strand Katharinenhof
• Gammendorfer Strand
• Strand Gold
• Bojendorfer Strand
• Flügger Strand
Poel
The Baltic Sea island Poel is located off the Mecklenburg-Vorpommern coast, approximately in front of the city Wismar. Poel is a very popular area for all kinds of water sports: kiting, windsurfing, SUP, sailing - there is enough space for everyone along the coast. From here you can reach Wismar, Rostock and the Hanseatic city of Lübeck quickly and comfortably.
In that way, you can combine your relaxing beach holiday with a visit to one of the port cities.
Ummanz
This island is also referred to as the "little sister of Rügen". Ummanz is part of the Vorpommersche Boddenlandschaft National Park and is a popular resting place for beautiful migratory birds. If you love nature and animals, then Ummanz is just the right place for you. One of the most interesting and popular activities on the island is - horse riding. On the back of proudly adored haflinger horses you can enjoy wonderful landscape of the Baltic sea coast. On Ummanz you can spend your cozy holidays in silence and peace. However, if you are more into sightseeing you can easily reach the big neighbor island.
Vilm
Vilm is a pure nature reserve and can be visited by tourists only as part of a guided tour. A prior registration is necessary, because maximum 60 people are allowed to go to the island at once. During the guided tour you can explore the almost for 500 years untouched nature. 400 different species of plants and ferns, as well as a hundred different types of moss and lichens were counted on the island. Some of the old trees have a diameter of several meters.
The ferry transfer from Lauterbach to the Isle of Vilm takes 10 minutes. The ferry is run by BfN and is free of charge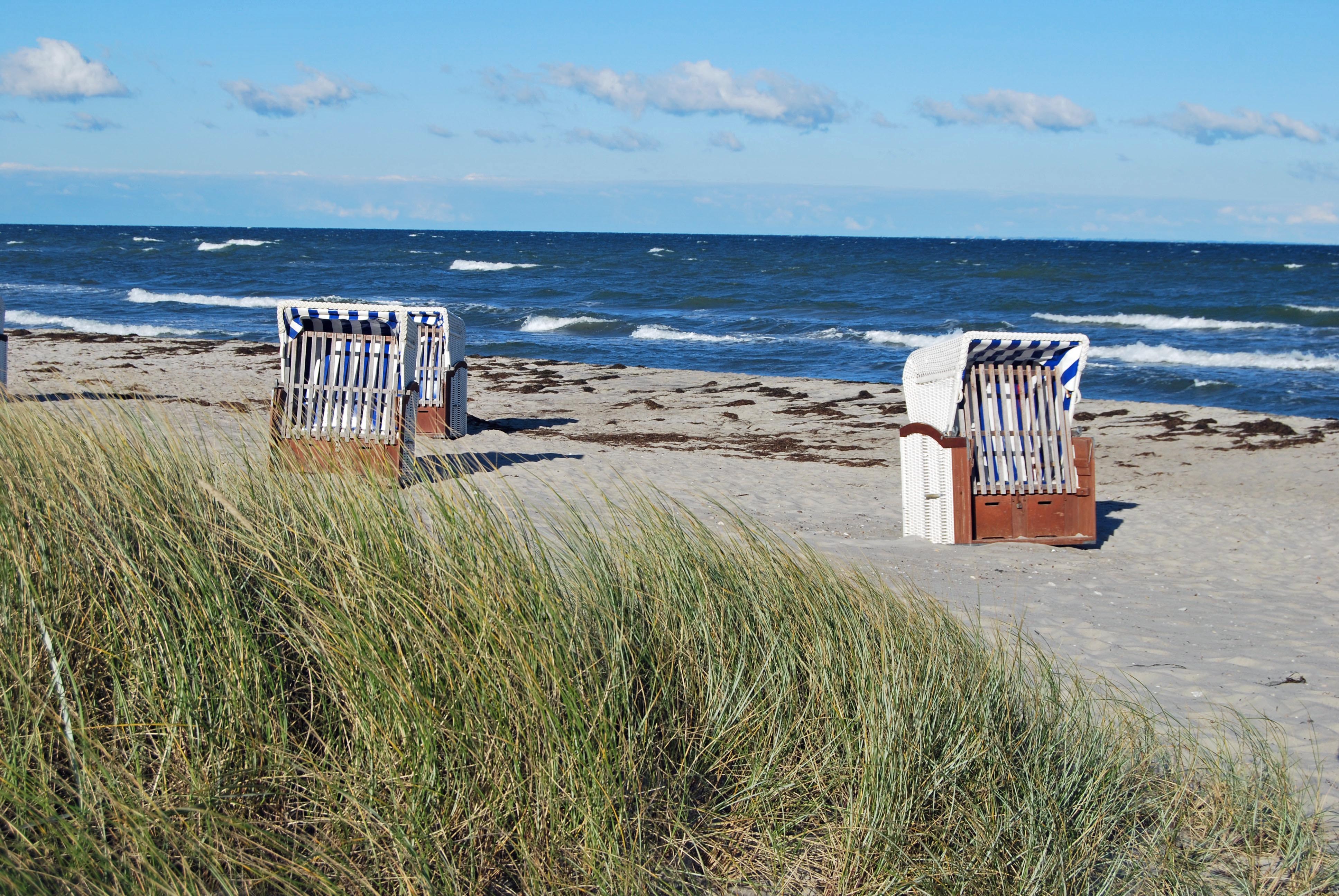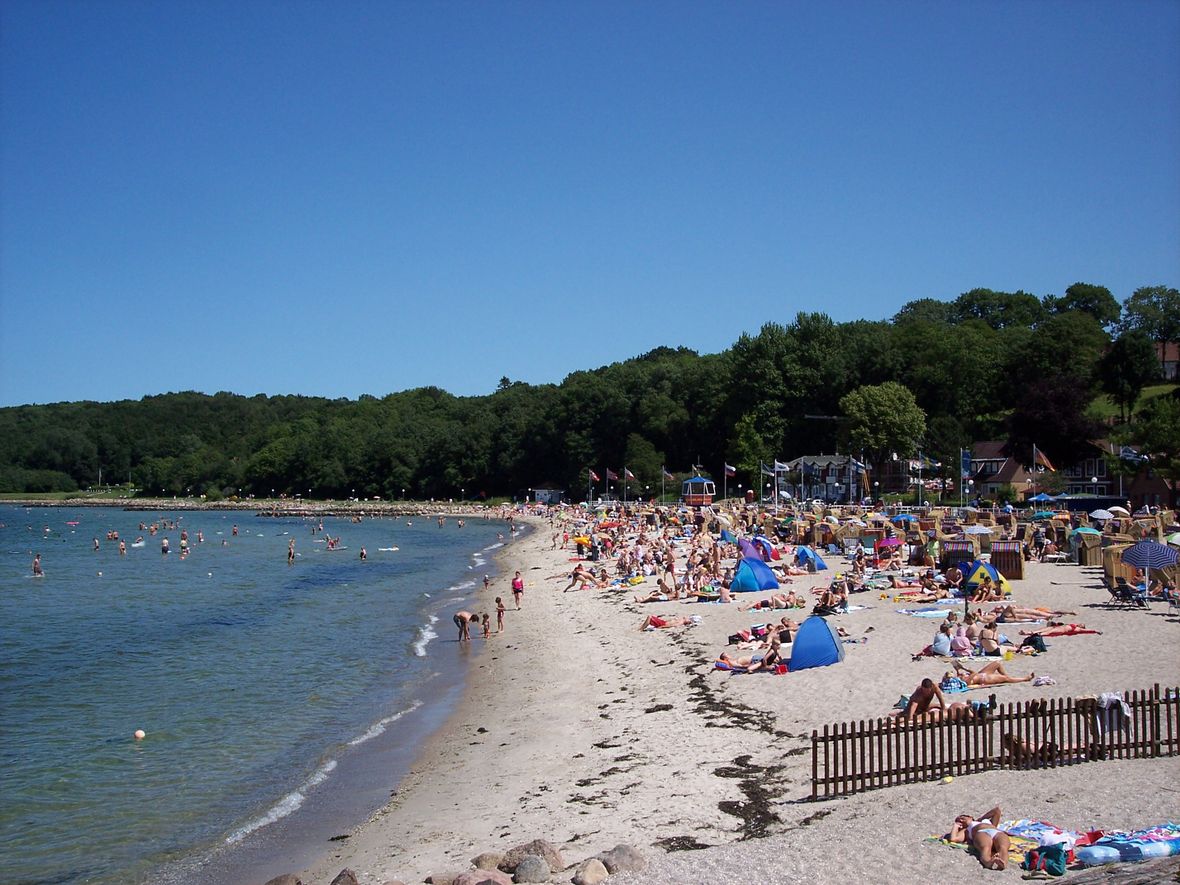 Fantastic and cozy beach with a chic new promenade and several snack bars. A special highlight of the place is the roofed wicker beach chair (Schlafstrandkorb), where you can sleep or even spend the night in.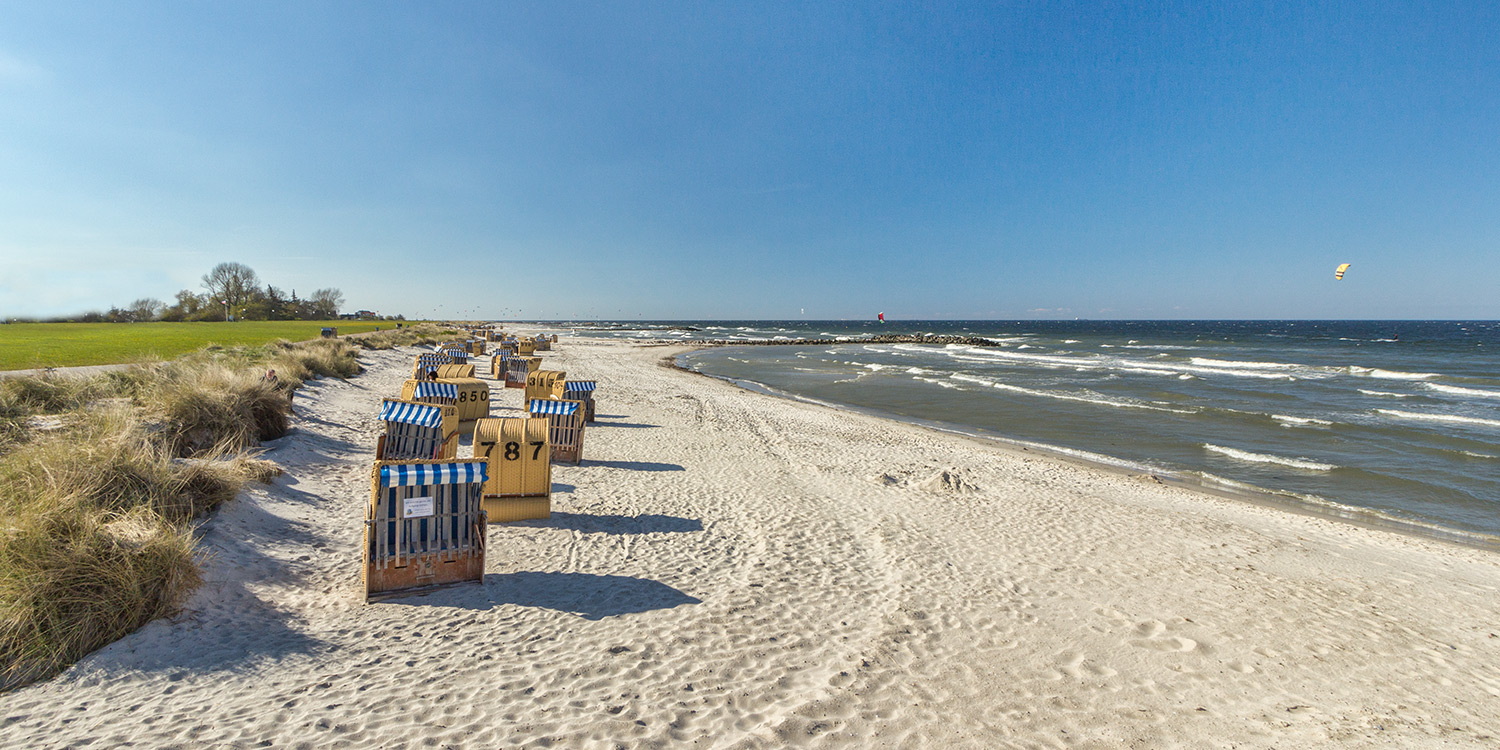 Kalifornien
Kalifornien is a part of the seaside resort Schönberg and is located directly between the two beach sections "Brazil" and "Heidkate". Here are a lot of water sports possibilities on offer: surfing, sailing and water skiing. Near the beach, right behind the dyke there are many restaurants, a bakery, cafes, a mini golf course, bike rental and a grocery store available. One-day parking ticket costs 2 €, as well as the visitor's tax (2 €).
Other beaches, that are totally worth to visit:
• Weissenhaus
• Klützer Wildstrand
• Hinter Wangern
• Rosenort
• Darßer Weststrand
Attractions and recreation
Water sports on the Baltic Sea
Sailing
Anyone who has ever sailed through the Baltic Sea, will know: it is considered the most beautiful sailing area in the world. There is no more varied and magnificent option.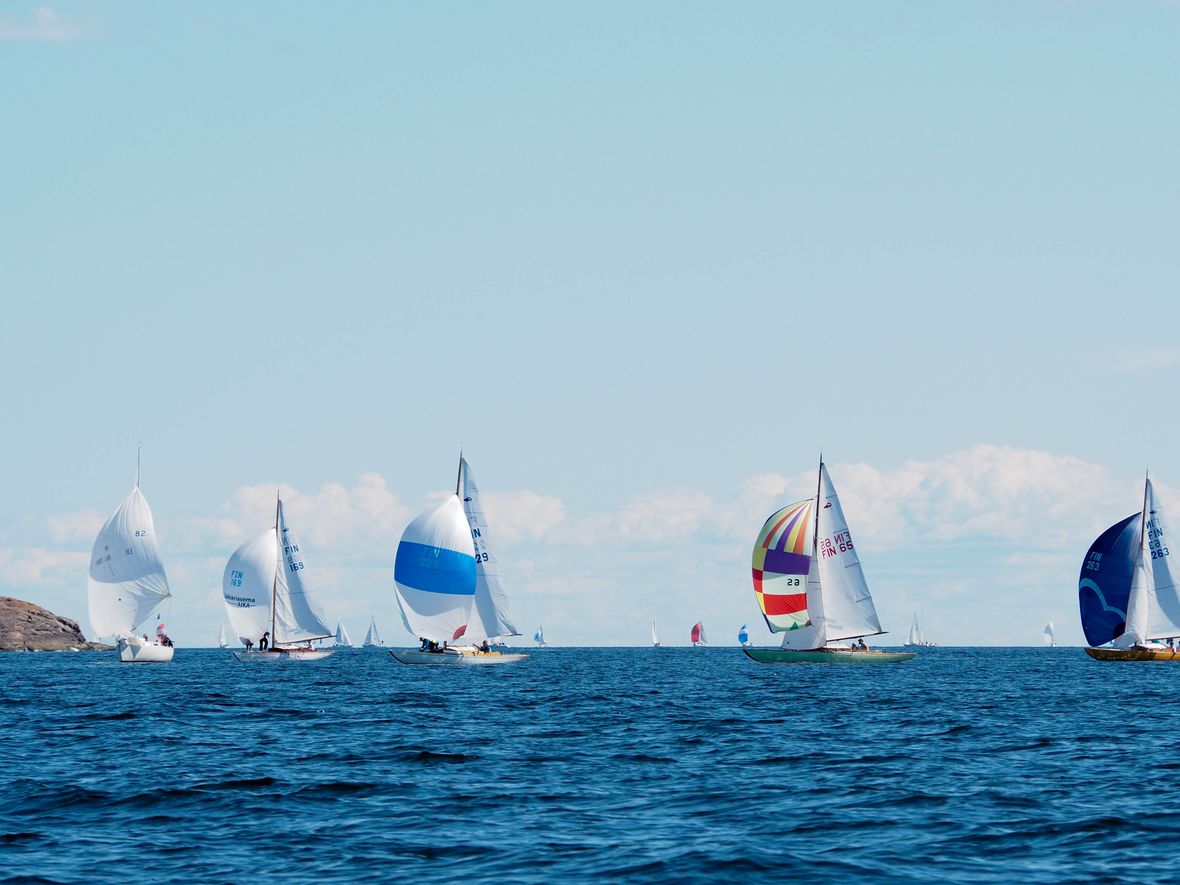 Here are our highlight sailing events, that are held annually on the coast:
1. The Kieler Woche - Kiel, in June
The biggest and best known sailors convention in the world!
2. The Travemuender Woche - Travemünde, in July
Every year, the Travemuender Woche attracts thousands of active sailors and around one million enthusiastic spectators and visitors, who enjoy both the major sport event and the fine festival on land.
Photo by Kidemaa
3. FRIENDSHIP-CUP - various locations on the Baltic Sea, in June
Oin the cross-border regatta for sailors and non-sailors, which is probably the largest one in Europe. Instead of lounging on the beach, hoist the sail yourself for free and leave the solid ground for new exciting impressions on the water.
Sailing courses
Numerous sailing schools along the Baltic coast of Schleswig-Holstein offer special taster courses. Here are fun and teamwork guaranteed: discover the diverse teaching program. Professional teachers ensure a sound training and the necessary security for you.
Surfing
The absolute windsurf paradise with more than 17 surfing spots is the island of Fehmarn. The Surfcity Pelzerhaken on the Bay of Lübeck, Heiligenhafen and the places of the Probstei (Laboe, Stein, Schönberg, Brasilien and Kalifornien) also offer best surfing conditions.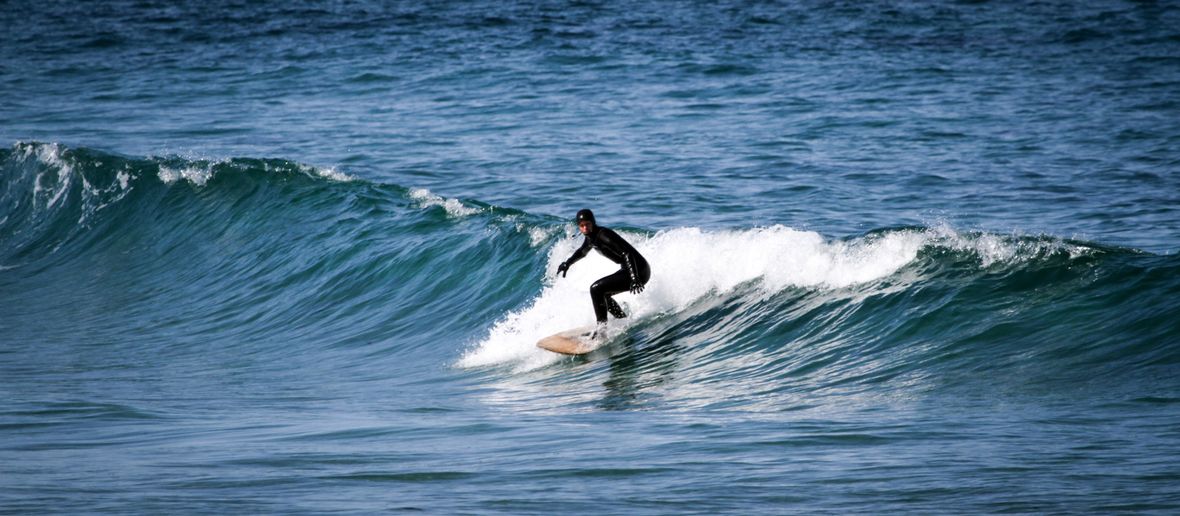 Photo by Reinhard Wilting
Surfing courses
It doesn`t matter if you want to ride the waves for the first time, or if you already had experience on the surfer scene: the professional staff of surfing schools will help you acquire practical knowledge and also learn the theory well.
You can contact these local associations to get more information about trainings:
VDWS - the German Windsurfing and Water Sport Schools Union
German Association of Surf Instructors
Surfing events:
• Multivan Windsurf Cup The Multivan Windsurf Cup is the highest ranked German regatta series in windsurfing.
• Mercedes Benz Surf-Festival Fehmarn More than 30 well-known and popular water sports brands are represented at this Europe's largest outdoor windsurfing fair and you have the opportunity to test every windsurf and SUP board, sail and other surfing equipment absolutely for free. Testing is only possible after showing your ID.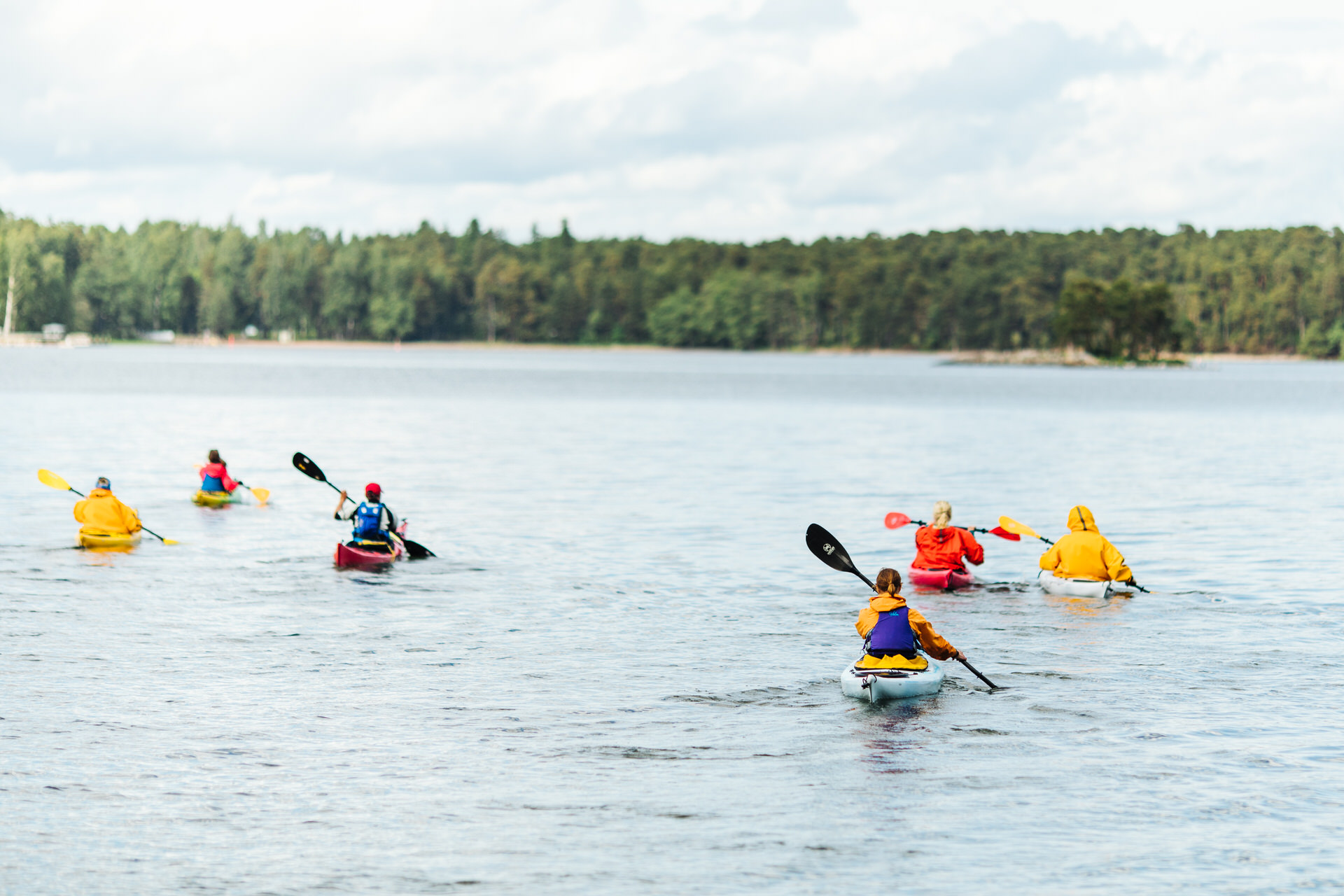 Canoe and kayak
In the Baltic coast and in the Holstein Switzerland on the Schwentine you will find the most beautiful waterways for canoeing and kayaking:
• Flusslandschaft on Eider, Treene and Sorge
• Lauenburgische Seen – Trave
• Stör - Holsteiner Auenland
Canoe tours
On Haubentaucher and Eisvögel canoe tours you can explore the regional flora and fauna and also enjoy breathtaking landscapes.
If you don`t wanna miss out on interesting attractions, than the guided city canoe tour in Plön will be the right choice for you. You will cross five wonderful lakes and discover numerous sights, such as the Plön Castle.
Kulinaria-Malente tour will be an unforgettable experience for gourmets (just like for all people who like to eat tastily though). The tour begins in Sielbeck and leads along the northern shore of the Kellersee right to Bad Malente-Gremsmühlen. On your way you will make short stops to try culinary specialties like freshly fried fish or smoked ham directly from farmers.
Other tours for you to check out:
• Kleine-Eutin-Rundfahrt
• Fischer-Tour Großer Plöner See
• Schwentine-Wasserwanderung
Interesting places and sights
The Baltic sea has so many beautiful beaches to offer - but is there anything else that might spark your interest during the holiday? Of course! There is an unreal number of highly interesting attractions on the coast to see and explore. The best ones are all assembled in our list :)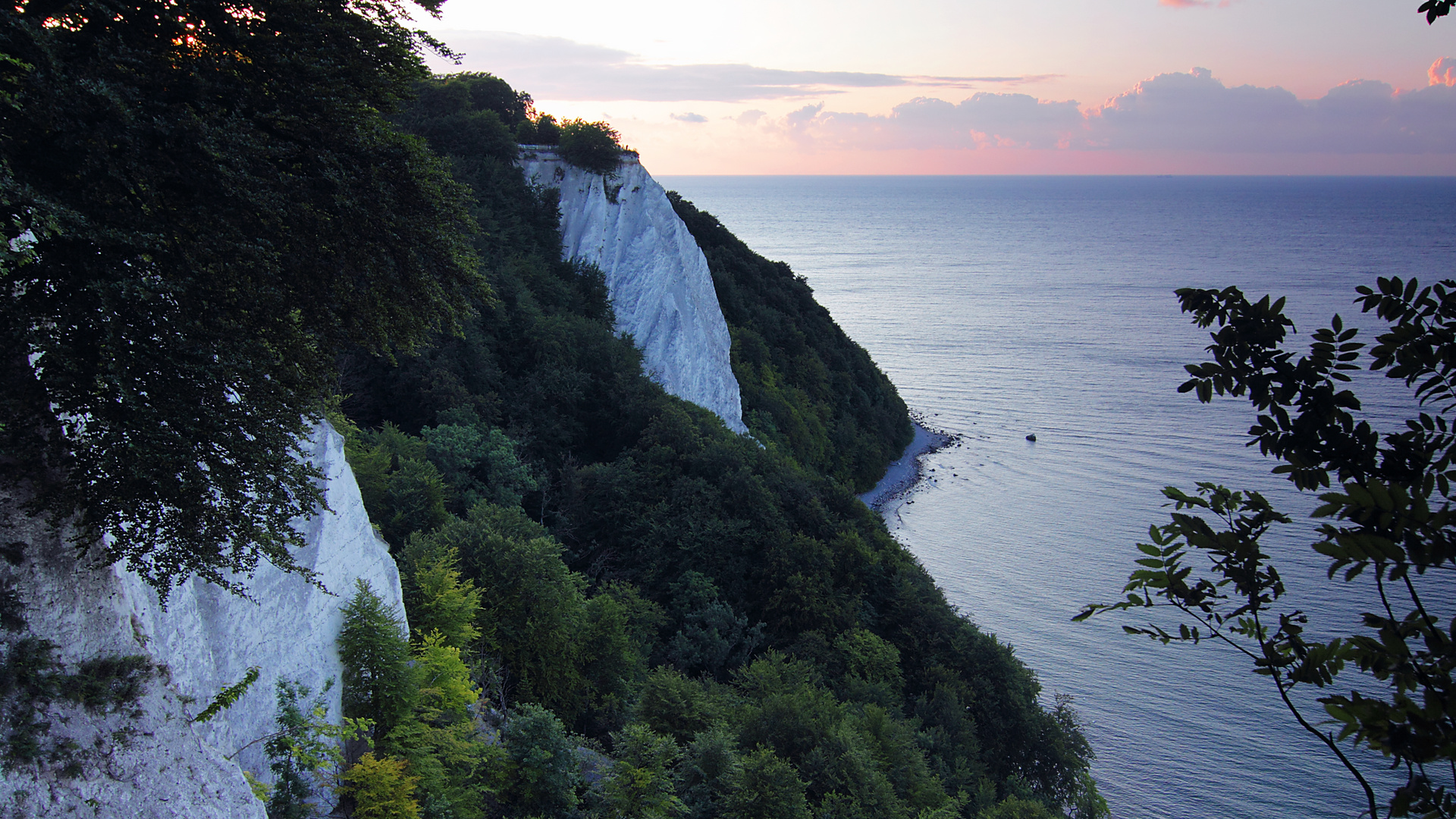 1. Königsstuhl chalk cliff, Rügen
The most impressive natural spectacle in Jasmund National Park. It measures 118 meters in height. From the 200 square meter observation deck in the park, visitors can see the spectacular multifaceted landscape. We recommend you to start your tour in Sassnitz and hike on the high shore trail through the UNESCO World Heritage Site of the Old Beech Forests.
Photo by MH Naturfoto
2. Darßer Ort Natureum, Fischland-Darß-Zingst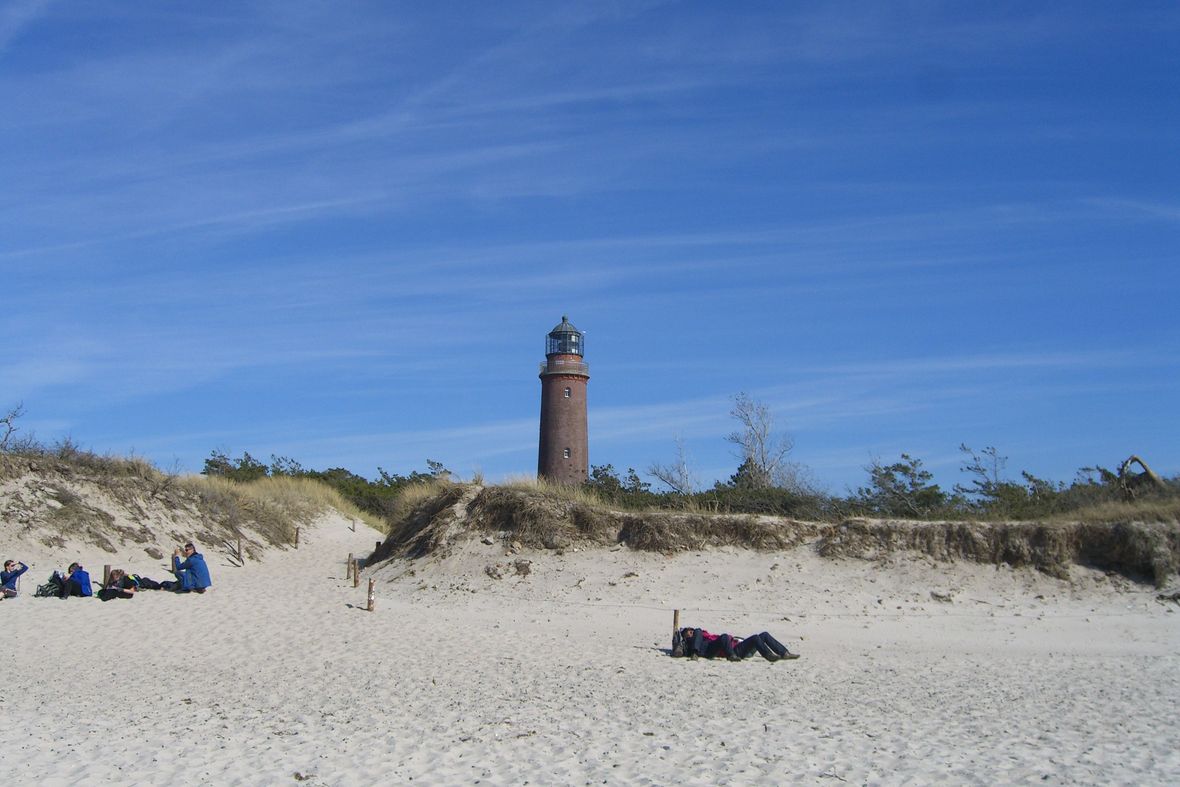 In the middle of the Vorpommersche Boddenlandschaft National Park, the German Oceanographic Museum Stralsund runs an attractive satellite - the Darßer Ort Natureum. The NATUREUM shows exhibitions about:
• Natural area of Darßer Ort
• Animals of the Darß landscape
• Baltic Sea coast
• Coastal dynamics
• History of the Darßer Ort Lighthouse
Photo by TV FDZ
Only a few meters away from the Darßer Ort Natureum you will find the Darß west beach, that was shaped by the wind and the sea. We highly recommend you to go along the circular hiking path, that leads through the dunes of Darßer Ort and gives you interesting insights into the hidden places of the national park.
When is the Darßer Ort Natureum open?
June - August

every day

10:00 - 18:00

Mai, September - October

every day

10:00 - 17:00

November - April

Wed. - Sun.

11:00 - 16:00
How much does it cost?
| | |
| --- | --- |
| For adults | 5,00 € |
| For children (0 - 3 y.o.) | free entrance |
| For children (4 -16 y.o) | 3,00 € |
| Reduced entrance* | 4,00 € |
*For students, trainees (from the age of 17 up), federal volunteers, disabled persons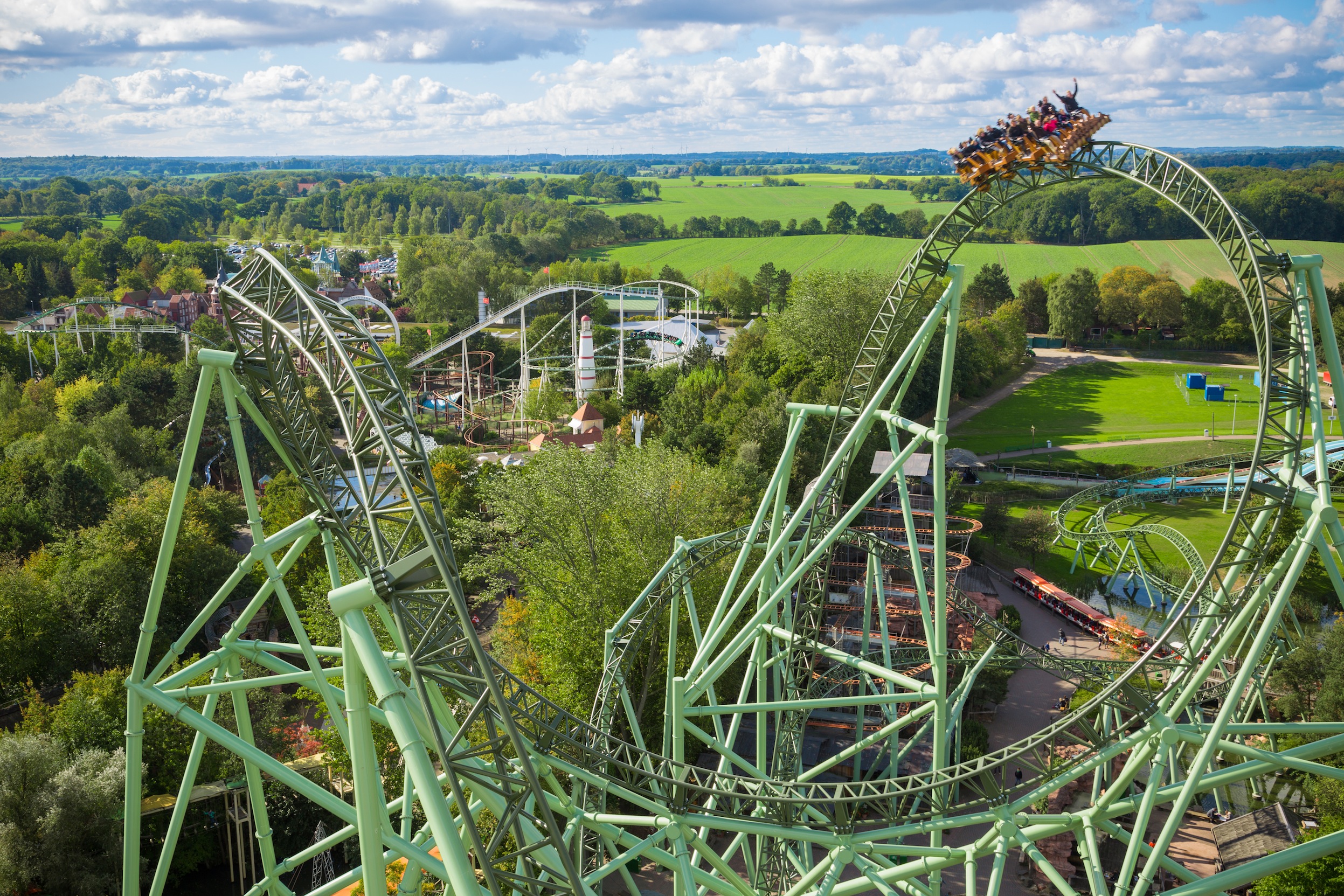 3. Hansa-Park
Hansa-Park is a seasonal amusement park in Sierksdorf (Schleswig-Holstein). Look forward to more than 125 attractions, thrilling roller coasters, four amazing live shows and the unique combination of theme park and the Baltic Sea beach. There's plenty to fill more than a day: explore and discover suspension bridges, slides, a free high ropes course, water mazes, real boats etc.
Photo from Hansa-Park (official site)
When is the Hansa-Park open?
| | |
| --- | --- |
| March - October | 09:00 - 18:00 |
How much does it cost?
day ticket
| | |
| --- | --- |
| For children (4 - 14 y.o.) | 29,50 € |
| For adults | 37,50 € |
Parking ticket costs 4,00 €. You can also buy a season ticket, whis is reusable and costs 85€. In very nice and warm (hot) weather, the Hansa Park is a bit emptier, since most tourists are more likely on the Baltic Sea beaches to be found.
4. Schwerin Castle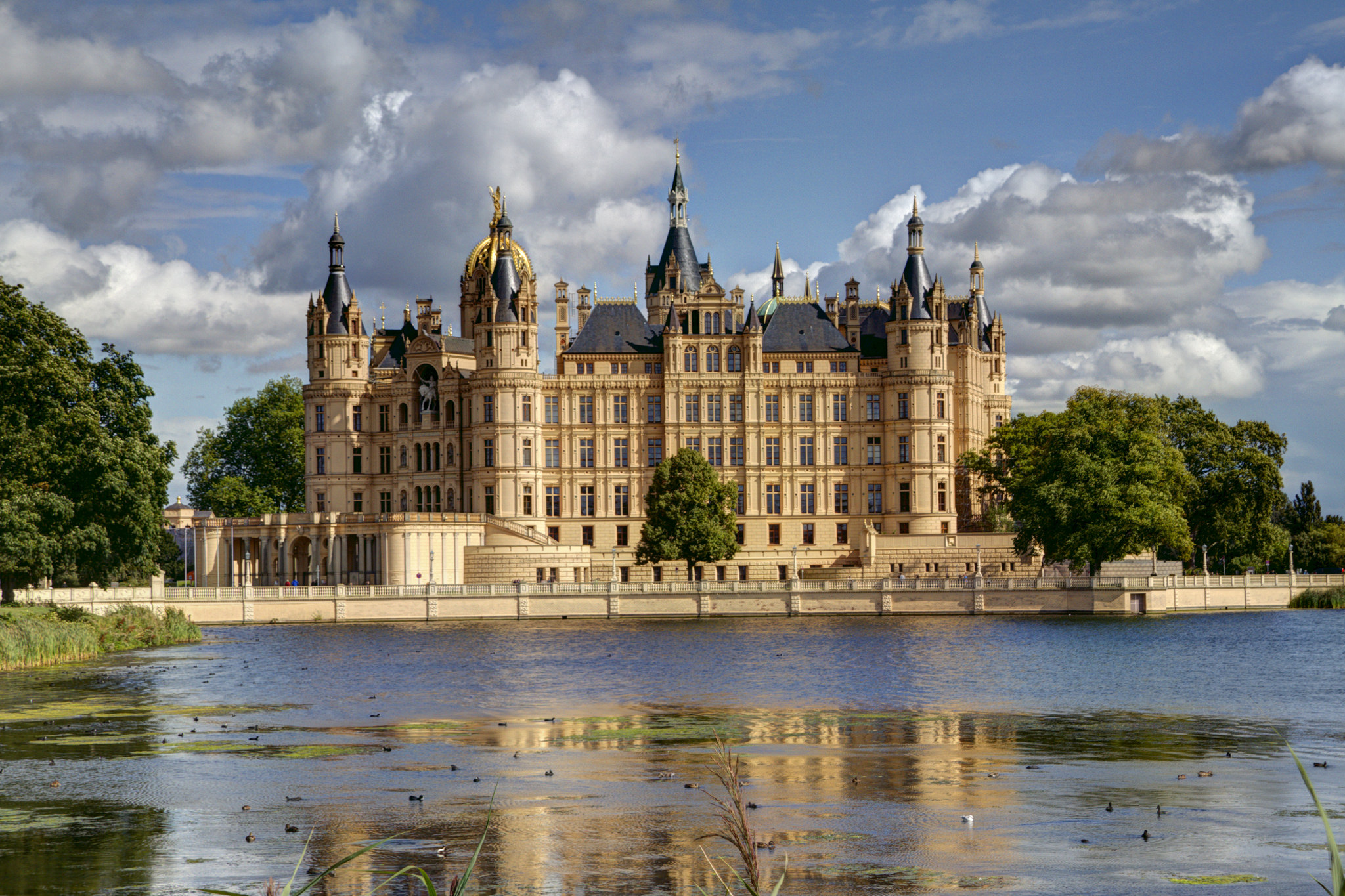 Surrounded by the picturesque Schwerin Lake, the castle is located just in the center of the city. The sight of the magnificent, former residence of the Grand Dukes of Mecklenburg is magical and impressive. Inside the castle the old children's room is especially worth seeing. There you can find the exhibitions of valuable porcelains (for example from Meissen or Berlin) and paintings from the 18th and 20th centuries. You should also definitely stroll through the lovingly maintained castle park, where beautiful sculptures and landscapes await you.
Photo by Nic Frank
For ticket prices and other details go to our Mecklenburg-Vorpommern page.
Festivals and events
1. Sea and Sand Music Festival
''Join The Human Spirit''
Relaxed chill-out sounds put on by various national and international DJs create a lit beach club atmosphere in Mecklenburg's largest seaside resort - Ostseebad Kühlungsborn. The festival is usually held in August and lasts 4 days. The price of the combined ticket - 20 €. Tickets for individual days are also available.
2. Zuparken Festival on the Kägstorf beach
''Home is where you park it!'' The festival is a tribute to all van-driving surfers and water lovers. The name of the event means, that hundreds of colorful VW buses and RVs can be parked on the campsite of the festival. Here you can find: water sports, good music, surfing workshops, SUP yoga classes, cooking lessons in the buffet car and much more. The festival begins in June and lasts 4 days. You get a one-person ticket for 111 € (46 € festival ticket + 60 € camping ticket + 5 € garbage deposit). However, it would be better if you check the prices right before your trip on official website of the event, because they may change throughout the year.
3. Rostock Cruise Festival
From 14 to 16 September, the seaside resort Warnemünde becomes a hot spot for all cruise fans. Huge variety of activities are offered on the event: classical symphonies, jazz, house, electro parties - all for music lovers and night owls; fireworks and laser show; children program (pirate show), regional and exotic specialties and Edutainment World.
Other interesting festivals: Pangea Festival, Seaborn Festival To find out more check out our Mecklenburg-Vorpommern page.
Holiday with your dog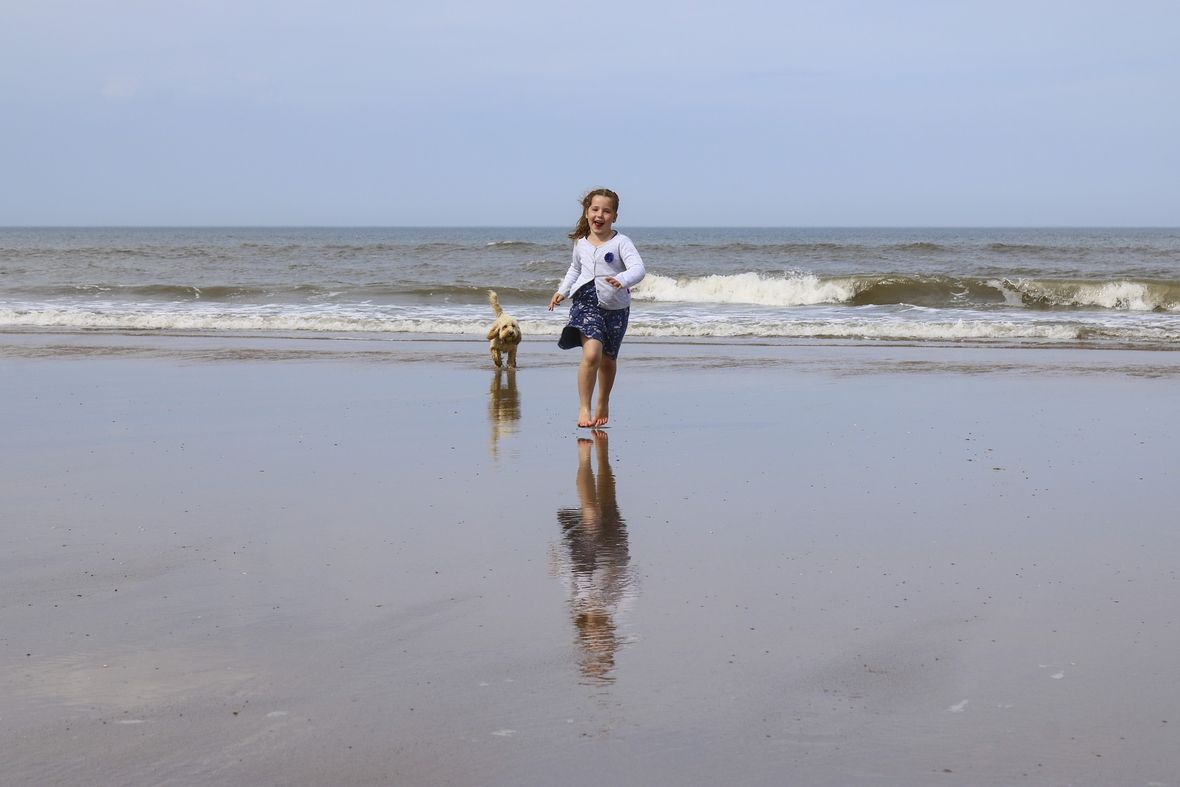 There are hundreds of beaches on the Baltic coast, where you can spend wonderful time with your dog for free. In Grömitz you will find one of the most beautiful dog beaches on the coast in Schleswig Holstein - the Lenster beach. It is located at the northern end of the promenade and is signposted ''especially for dogs''. There are beaches, where you should pay an extra visitors tax for your dog, the price is usually about 0,50 € – 1,00 € per day. On those places the dog must always be leashed. Also when looking for hotel, please keep in mind, that ''Pets allowed'', does not mean that every size or number of dogs is welcomed.
Photo by Gideon Parirenyatwa
The most beautiful Baltic Sea dog beaches:
• Ahlbeck (Usedom)
• Boltenhagen
• Zinnowitz (Usedom)
• Binz (Rügen)
• Timmendorf beach
• Pelzerhaken
Our little tip for dog owners: in low season, it is easily possible to let your four-legged friend run unleashed almost on all beaches.
How to get to the Baltic Coast
The coast is easily reachable: either by car, train, plane or ferry. Here are our little tips how to do this most conveniently:
By car
Drive along the A20 (so-called "Baltic") motorway, which lays parallel to the Baltic Sea coast in Mecklenburg-Vorpommern. You can also use the A1 and A7 motorways in the direction of Schleswig-Holstein, or the highways A 19 (to Rostock) and A 11 in the direction of Szczecin.
By train
The Baltic Sea regions are all accessible by train. With the Ostseeticket offered by DB (Deutsche Bahn), you can easily reach various train stations on the coast: Bad Doberan, Barth, Greifswald, Ostseeheilbad Graal Müritz, Ribnitz-Damgarten West, Rostock, Stralsund and Wismar.
By ferry
There are many passenger ferries crossing the Baltic Sea, between all countries along its coastlines. Major ports are Lübeck/Travemünde, Rostock and Kiel.
By plane
The two main airports ( Rostock-Laage and Heringsdorf on Usedom) are in Mecklenburg-Vorpommern to be found.
Accomodation
For short-stay and long-term guests, for beach fans and adventure seekers, for summer days and New Year's Eve fireworks, for families and couples - the Baltic Sea is the best destination ever.
The best accommodation options for sports vacation you will find on the Mecklenburg islands such as Usedom and Rügen, as well as on the coast of the mainland, from Flensburg to Stralsund.
High demands can also be satisfied here. The choice of luxury holiday homes and apartments is extremely wide. To book these you can turn to private owners or to room agencies.
Boarding houses are perfectly suitable for those, who search for a budget alternative to a hotel. In the meantime, many water sports enthusiasts discover the Baltic coast in campsites, that are placed in immediate proximity to the water.
Find the best accommodations for your stay on the Baltic Sea coast on HotelFriend!
The best hotels near Baltic Sea
Insider Tips
💡 Tip. Worth seeing for all nature lovers: Brodtener Ufer. For over 7,000 years, the shore has receded from the sea, a spectacular natural phenomenon.
💡 Tip.If you want to go out and have a party, Timmendorfer Strand is certainly a good address for you. On evenings the place becomes the center of the coolest discos.
💡 Tip.If it rains really hard, do NOT go to the Ozeaneum in Stralsund! That's what ALL other families do, and you'll be standing in a huge jam in one kilometer from the start of your trip. Ozeaneum is great,but not on rainy days :)
💡 Tip.When travelling with your kids, please buy the "Baltic Sea family guide" - it`s very handy, practical and has 55 interesting excursions and tours included in it.
💡 Tip.For ideal vacation with your dog - visit the Baltic coast in low season. So, you can go on different beaches and let your buddy run unleashed.
💡 Tip.While being on the island of Hiddensee don`t forget to rent a bike, or take your own with you. You will be fascinated with this cycling tour.