Dates
Adults
2
Please, enter a destination
Filters
Top facility
More
Top facility
More
Hotels in Salzburg
(275 results)
Salzburg Travel Guide
This city is forever imprinted in history thanks to its prominent son - Wolfgang Amadeus Mozart. But name-dropping isn't the only thing Salzburg can boast of. Here fascinating alpine landscapes and ancient architecture, vibrant festivals, and slow walks merge into a charming sonata. The cultural and musical heart of Austria will leave an indelible impression on itself. This guide aims to introduce Mozart City in all its glory, presenting the great pleasures both for your soul and body.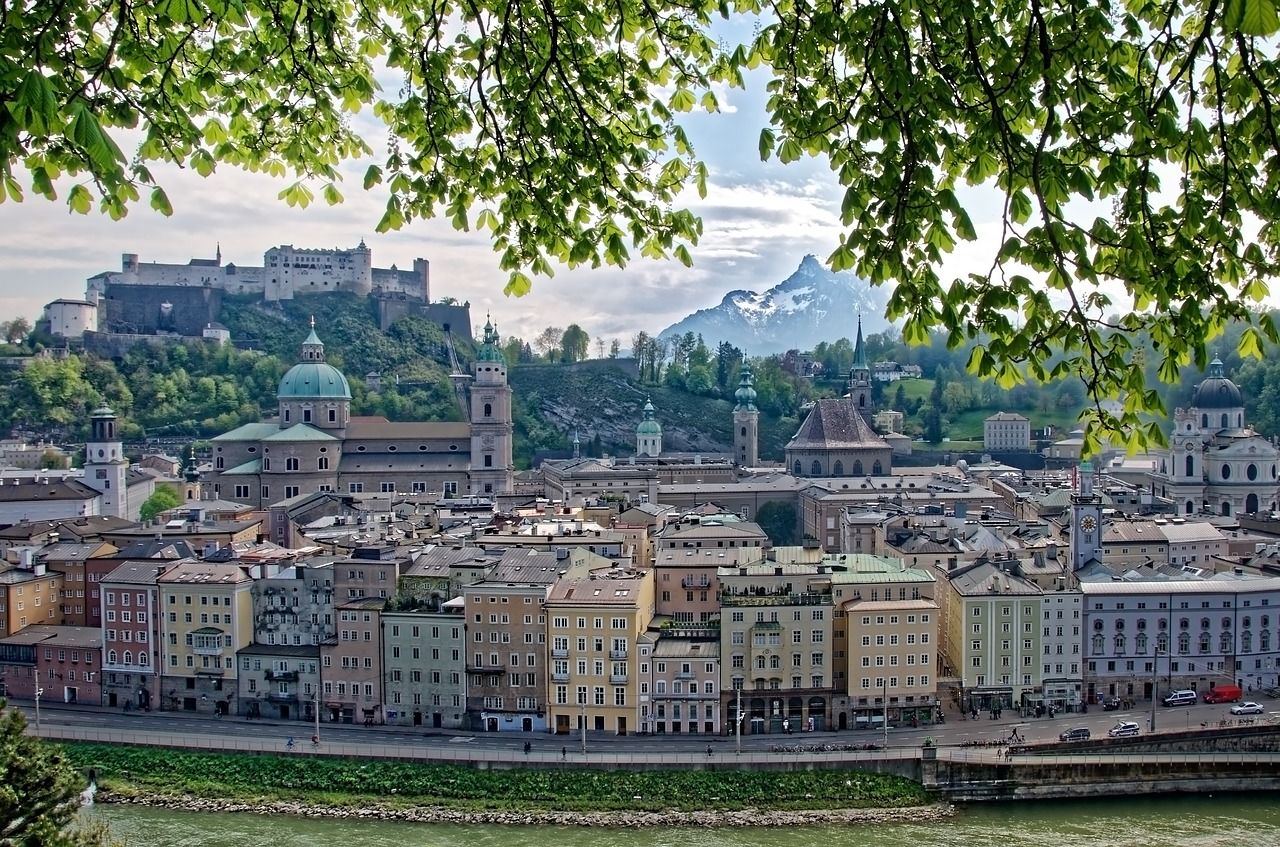 The best time to travel to Salzburg
Salzburg has something to offer tourists every time of the year. But the most eventful periods are summer and winter. In winter, Salzburg is an excellent starting point for trips to alpine skiing resorts. Moreover, the Christmas markets and the creepy masquerade Perchtenlauf (5-6 January) attract tourists. Also, in late January, the Mozart Week Music Festival takes place. But the most significant event is the Salzburg Festival, which celebrates its 100th anniversary in summer 2020.
Summer in Salzburg is rainy with average temperatures of 21-23 °C. Winters are snowy but pretty mild, and the temperature rarely drops below -10 °C.
Interactive Map of Salzburg
Top sights
The city, located in the Salzach river valley, impresses not only with its colourful festivals but also with Medieval and Baroque architecture, listed as a UNESCO World Heritage, which is a neighbour to the enchanting landscapes. Lavish palaces, parks with stunning landscape design, narrow streets, and broad squares - you will fall in love with Salzburg at a glance. Here are our Top-10 must-visit attractions of Salzburg.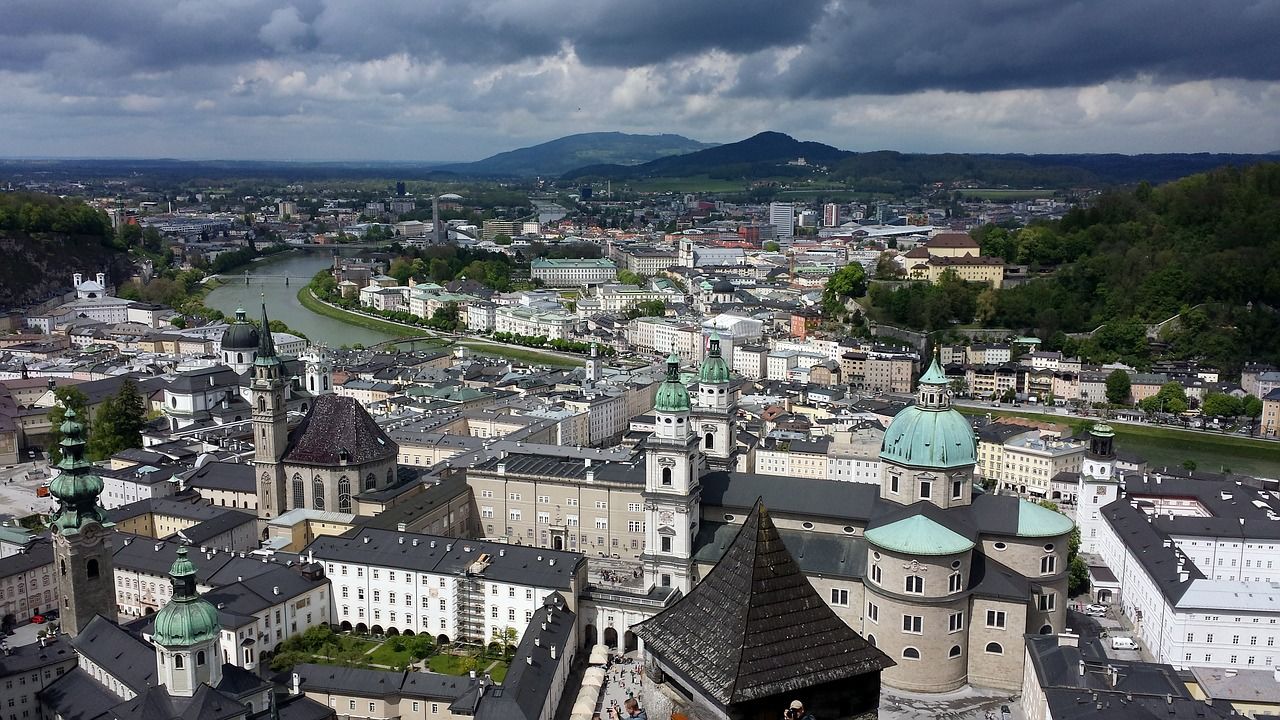 • Hohensalzburg Castle
• Mozart's Birthplace
• Salzburg Cathedral
• Schloss Mirabell (Mirabell Palace) and Gardens
• Altstadt Salzburg (Old Town)
• Schloss Hellbrunn (Hellbrunn Palace) and Fountains
• Getreidegasse
• DomQuartier Salzburg
• The Residenzplatz
• St. Peter's Abbey
Oscar-winning musical The Sound of Music was shot in Salzburg, and it's a particular draw for tourists as well. You can follow the traces of the musical's characters on the shooting locations tour.
With Salzburg Card, you'll enjoy free admissions to all city's attractions, free travel on public transport (except s-rail), and get discounts for events. The card is valid 24, 48, or 72 hours. The price of Salzburg Card is €29, €38 or €44 respectively. It's possible to buy it on your smartphone as well as at the reception of your hotel, at all tourist information offices, ticket bureaus, and the airport.
Die besten Hotels in Salzburg
Cuisine and specialties
The cuisine in Austria, as in Germany, is mostly simple, peasant. The traditional ingredients are meat, potatoes, sour cabbage, various herbs, and gravy. All this is customary to wash down with a glass of local craft beer and have a bite of a salty pretzel.
Don't miss the opportunity to try the famous round marzipan chocolates and with the image of Mozart on a wrapper (kugel). Until now, each Mozartkugel is made by hand and wrapped in silver-blue foil. You can buy authentic sweets (€1.10 each) only in Salzburg in five FÜRST company stores.
Visit Müllner Bräu Brewery at Augustiner Abby to plunge into the bustling atmosphere of a traditional bar. Here you can enjoy a glass of refreshing beer poured directly from a wooden barrel
Order a cup of coffee with fresh pastries in Austria's oldest and most iconic café - Café Tomaselli, the favorite haunt of Mozart and his wife.
Arrival in Salzburg
You can get to Salzburg by plane, which arrives at Salzburg Airport or by train if you are coming from Vienna. If you are travelling by train, then along the way you'll be able to admire the pastoral landscapes.
You can take a public bus (the no. 1 or 2) from Salzburg Airport to the central train station and the city centre, which runs daily every 10/20 minutes. Single ticket costs €2.50, journey time takes approx. 15 to 20 minutes. You can also find a taxicab directly in front of the airport terminal.
Hotels and accommodation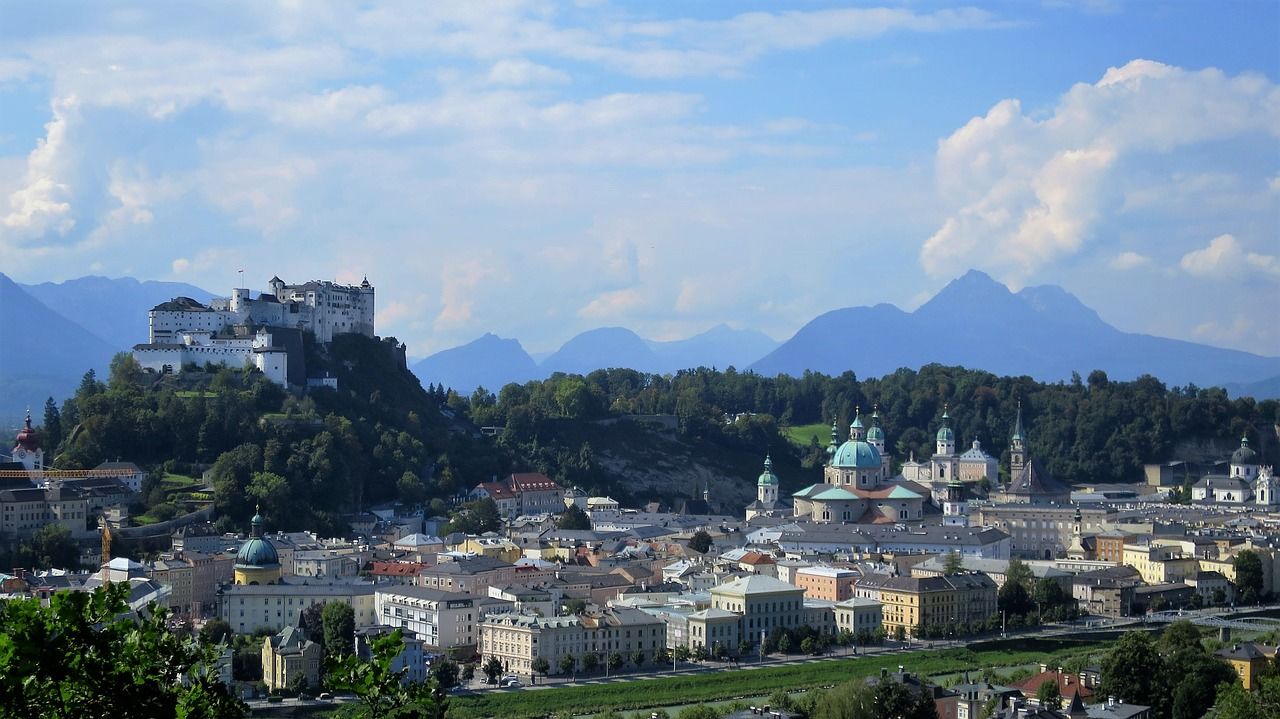 The choice of accommodation in Salzburg depends on the purpose of your trip and financial opportunities.
The most popular tourist destination is the Old Town, as the main attractions are located here.
A little cheaper, but still in the heart of the city is the Elisabeth-Vorstadt neighbourhood. The main attractions are within walking distance. The area is equipped with numerous bike paths as well.
The Nonntal neighbourhood also provides tourists with the opportunity to explore the city on foot. In particular, Hohensalzburg fortress is situated here. Medieval homes and modern villas can be found side by side, so everyone can choose accommodation here according to their taste.
On our website, we have put together the best hotels and accommodations offers at reasonable prices. Make sure to have a look and arrange your trip to the fabulous alpine city Salzburg with HotelFriend. Let us help you to discover Salzburg as enjoyable as possible!