Short vacation in North Rhine-Westphalia
Short holiday deals in NRW
A short vacation in NRW
NRW used to be Germany's industrial superpower, but now plants and mines have become open-air museums and cultural venues. Visiting one of the numerous old industrial sites on the theme trail - the Route der Industriekultur - might be an exciting adventure for a family keen on history. For instance, the stunning Zollverein Coal Mine Industrial Complex in Essen, which was once the largest one in the world, is visited by two million people annually. Apart from festivals and concerts all year round, you can spend time in two museums, open-air cinemas, and explore this symbol of the Ruhr industrial heritage with former miners as your guides.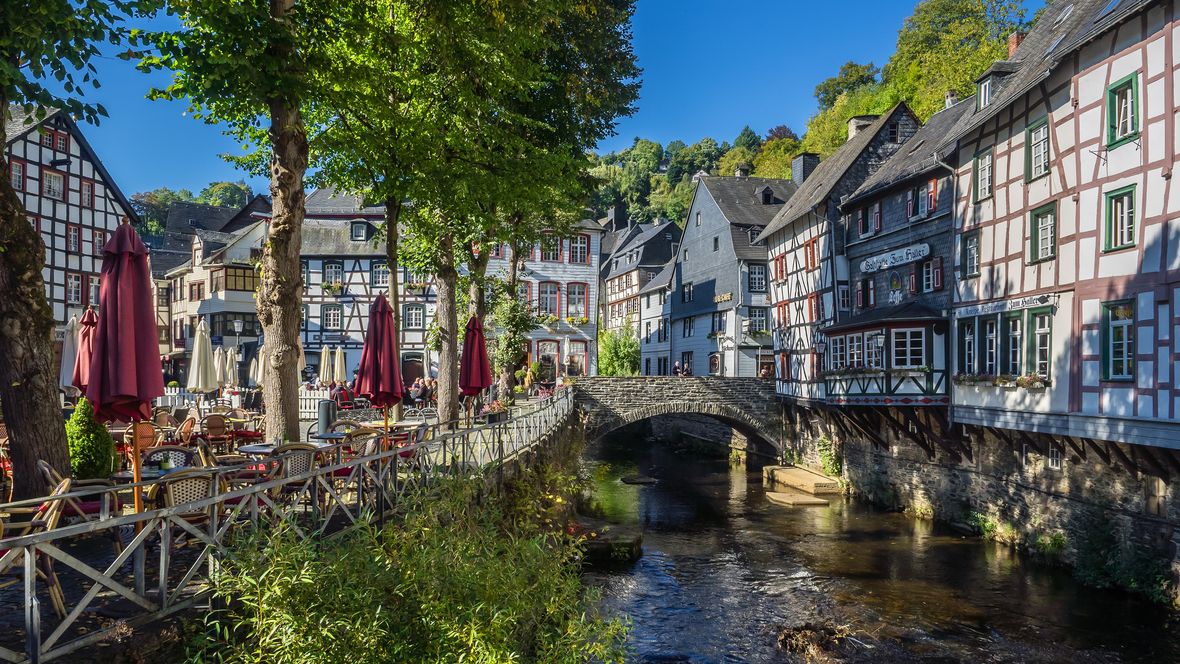 Photo by Frans Berkelaar
Another exciting exhibition and event hub nearby - Gasometer Oberhausen. A huge 117-meter cylindrical tank, formerly used for gas storage, has extraordinary acoustic parameters. If you go up in its panoramic lift, you will be amazed by the views of the western Ruhr. The town of Oberhausen also has a beautiful castle and a large mall - Centro, which attracts visitors not only with shopping but also sea life aquarium and Legoland discovery center. Oberhausen, with 19 other towns, is within the Emscher Landscape Park. The whole vast post-industrial territory has become a green recreational zone, with more than two hundred projects still underway. Cycling, hiking, excursions, and picnics are perfect activities to do here. There are many more sites to visit on the Route of Industry Culture during your short vacation to NRW, e.g., Ansa Coking Plant or Zollern Colliery in Dortmund.
A weekend trip to NRW
If you would like a traditional city break in North Rhine Westphalia, visit Cologne - the biggest city in the state. Cologne is a culture and museum mecca, and you need a few days to discover all its treasures. The breath-taking Gothic Cologne Cathedral is Germanys most popular landmark, and you must see it with your own eyes to understand why. Stroll on the cobblestoned squares of Old Town, throw a coin and make a wish at the Heinzelmännchenbrunnen - a fountain on Am Hof, which has its own gnome story. Botanical garden and the zoo nearby are a good choice for families with children. If you have more time, visit the Phantasialand in Brühl - an amusement park only 20 km away. Cologne has the highest ratio of pubs per person in the country, especially along Zülpicher Strasse, as well as over 70 nightclubs, so a weekend trip with friends will be fun, too.
There are other remarkable cities in NRW. Düsseldorf will impress you with its architectural cocktail of ancient and ultramodern buildings. Do some shopping in Altstadt and have a shot or two at the longest bar in the world (a row of over three hundred bars and discos). Take a river cruise from the Rhine Embankment to see Düsseldorf from another angle. For total relaxation, enjoy a luxury spa in the town of Aachen, and after, walk along its beautiful medieval streets and admire the cathedral, built in the eighth century A.D. by Emperor Charlemagne. Another place worth visiting is the hometown of Beethoven - Bonn, with the scenic Poppelsdorf Palace and Bonn Minster basilica.
Discover North Rhine Westphalia with HotelFriend
It will take many short vacation trips to explore all the attractions of the state. With our exclusive travel deals, you can afford more. Get an overview of the best offers for family, romantic, or wellness weekends. Do you prefer active pastimes with outdoor fun, relaxing spa retreats or city tours with museum hopping? There is a wide variety of hotels in NRW to match every vacation type perfectly. Choose your discount coupon on our site and get extra benefits.