Deals
Intro
New Year's events 2017
Hotels
Leipzig New Year's Eve
The celebration of New Year's Eve in Leipzig is a fantastic event that is usually held on the central market square. The citizens and the guests of the city prefer to celebrate in groups of friends outside their houses. People get together in front of the city Town Hall to greet each other with the coming new year and do a sensational farewell to the passing one.
One more center of celebration is the Augustusplatz, where people can listen to the Gewandhaus orchestra, one of the greatest musical ensembles in the world, and also observe the incredible fireworks in honor of Silvester.
If you are celebrating New Year's Eve 2017 in Leipzig, be sure to visit Panorama Tower.
From the City-Hochhaus roof-top viewing platform you can look at Leipzig from above, enjoy a dizzying view of the city landscape and New Year's Eve fireworks very close. The entry to the roof terrace is open from 11.30 pm and costs €50 per person including a bottle of Piccolo sparkling wine. However, it is also possible to spend not only the midnight, but also the whole New Year's Eve in a festive atmosphere. The Panorama restaurant offers its guests an extensive program starting from 7 pm, which includes numerous shows and an excellent five-course meal. Let the champagne corks pop and pamper yourself with culinary diversity, by booking this arrangement in advance for €185.
Leipzig fireworks on Silvester are among the best in Europe.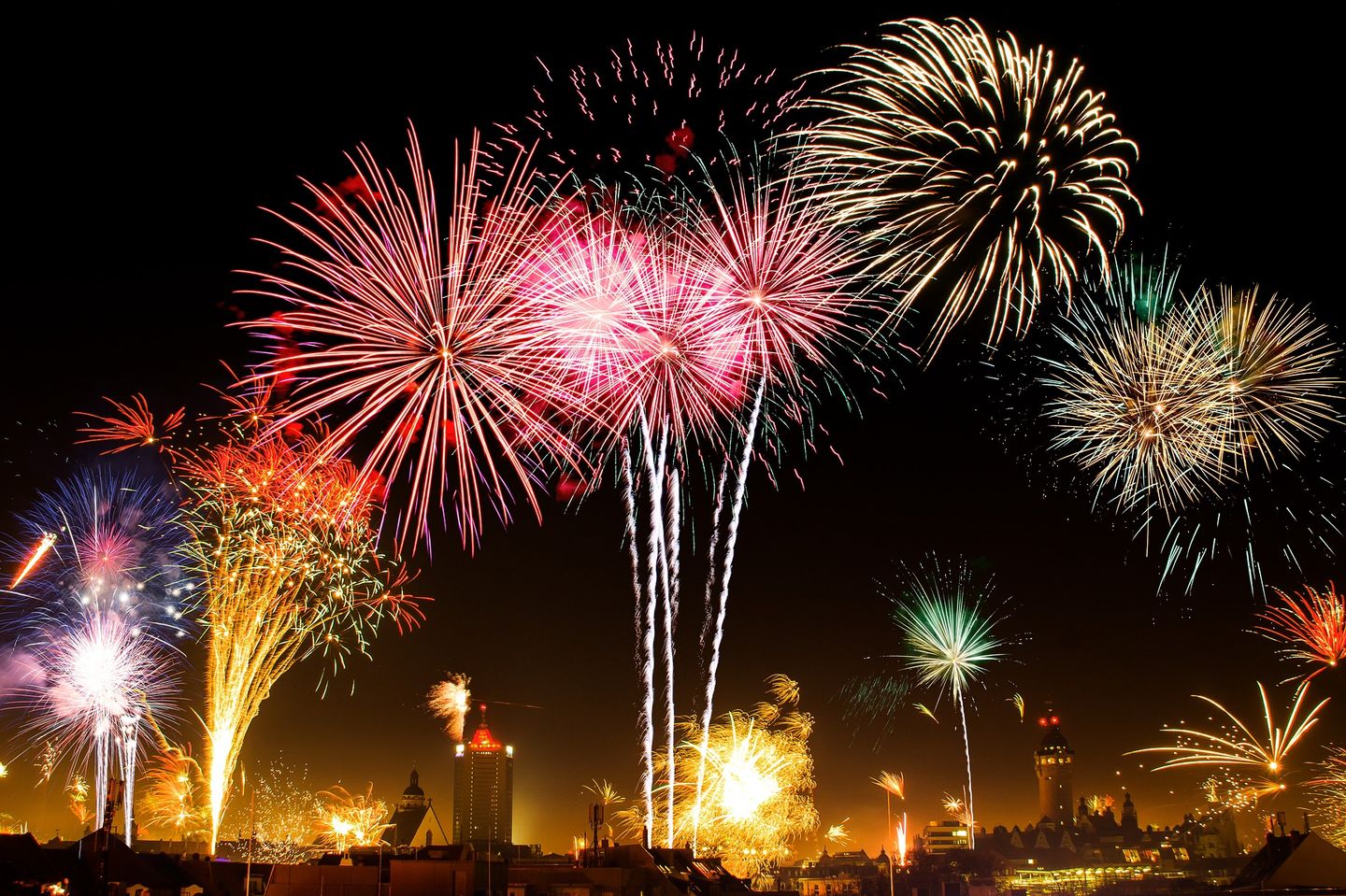 Leipzig is the capital of music in Germany that is why during the New Year holidays music is heard from everywhere in the city. On New Year's Eve, you can go to St. Thomas Church to listen to the boys' choir. The choir was established in the 13th century and it's considered as one of the oldest in the world.
Attend St. Thomas Church on Silvester to listen to the famous boys' choir.
The Leipzig Opera always prepares some special gala performances for the visitors on New Year's Eve, and an 2017/2018 event will not be an exception: on the last days of December, the Musical Comedy Theater will present "Princess Nefertiti" performance in three acts, and on the 31st of December, the Silvester Gala 2018 and the Party will be organized in the main Opera House.
Leipzig Opera arranges a fantastic night for New Year's Eve.
The nightlife in Leipzig during the New Year's Eve is full of fun and entertainment. Lots of city clubs and restaurants invite the guests for Silvester celebration and prepare special programs for incredible pastime. A nice party is organized at the Barfusz restaurant, which is located right in the heart of Leipzig. In its basement you can find a cozy club, where on December, 31st visitors will be offered a varied 3-course menu, a wide selection of soft drinks and a lot of dancing to live music. If you imagine your perfect New Year celebration exactly in such atmosphere, purchase the ticket for this event in advance. Pay only €69 and get a chance to spend an unforgettable night in Barfusz, beginning from 8 pm.
In the Barfusz restaurant you can celebrate the turn of the year 2017/2018 in a warm and friendly atmosphere.
Another great New Year's Eve party in Leipzig takes place in Media City Leipzig. In the glass Media Garden of this building complex situated in the southern suburbs, there is a special annual celebration called "Sternstunden in Leizpig", which attracts people craving for entertainment. Live band, DJ and artists of all kinds performing from 8 pm set the right mood while a hot & cold buffet with spirits and soft drinks provide enjoyment for your senses. At midnight, all the visitors can admire magical fireworks above the glass roof. You can buy the tickets for "Sternstunden in Leizpig" at the reception of Media City Leipzig for €125.
Besides live music and delicious festive food, the Media Garden offers a beautiful view of the fireworks on the New Year's Eve.
The Leipzig Event Palace is one more wonderful place for the celebration. The palace is located close to the Monument to the Battle of the Nations. The atmosphere in the event palace is stunning with its domed hall and super lounge club.
Events on New Year's Eve 2017 in Leipzig
Planning to spend the New Year's Eve, everyone can find something special in Leipzig according to their taste and see the old year off in the best possible way. The following table gives an overview of the city's most popular events, so you can choose something special.
| | | | | | |
| --- | --- | --- | --- | --- | --- |
| Date | Time | Place | Event | Price | Details |
| 31. 12. 2017 (Sun) | 11 am - 12 am | Mendelssohn-Haus | New Year's Eve Gala Concert DUO 9 - Joueurs de Flûte III | 22.70 € | Works by Franz Doppler, Johann Strauss, Taras Yachshenko, Astor Piazzolla and François Borne. |
| 31. 12. 2017 (Sun) | 11.15 am - 12 am | Mendelssohn-Haus | New Year's Eve Gala Concert | 20.00 € | Works by Felix Mendelssohn Bartholdy, Benjamin Britten, Johann Strauss. |
| 31. 12. 2017 (Sun) | 13.30 pm | St. Thomas Church | New Year's Eve motet | - | J. S. Bach: Cantata III from "Christmas Oratorio" BWV 248 and "Dona nobis pacem" from the "Mass in B Minor" BWV 232. |
| 31. 12. 2017 (Sun) | 3 pm | Sanftwut Cabaret Theatre | »New Year's Eve banger« | - | Playing: Uta "Moni" Serwuschok, Thomas "Manni" Störel & Ingolf "Mirko" Serwuschok. |
| 31. 12. 2017 (Sun) | 15.30 pm | RevueTheater AM PALMENGARTEN | Silvester Dreier | 40.00 € | New Year's musical cabaret |
| 31. 12. 2017 (Sun) | 4 pm | Kabarett Leipziger Brettl | Silvester-Sächsisch für für In- und Auswärdsche sowie Zugereiste | - | A cabaret exercise for Gusche und Nischel of and with Steffen Lutz Matkowitz.. |
| 31. 12. 2017 (Sun) | 5 pm | Congress hall at the Zoo | New Year's Eve Gala Concert 2017 with the Philharmonie Leipzig | - | The New Year's Eve Revue 2017 in the Congress hall presents evergreens, hits and melodies by Strauss / Lehar and popular classical music. |
| 31. 12. 2017 (Sun) | 5.30 pm | Gewandhaus Leipzig | New Year's Eve Concert »The Four Seasons« | 74.00 € | Works by Antonio Vivaldi, Peter Tschaikowski, Wolfgang Amadeus Mozart, Johann Strauss(Sohn), Johann Strauss(Father). |
| 31. 12. 2017 (Sun) | 6 pm | Victor's Residenz Hotel Leipzig | New Year's Eve Gala Dinner | - | Delicious gala dinner in 5 courses. |
| 31. 12. 2017 (Sun) | 6 pm | Apostolic Church Grosszschocher | New Year's Eve Concert | 7.00 € | Frank Zimpel - organ, Alexander Pfeifer - trumpet. |
| 31. 12. 2017 (Sun) | 6 pm | Gosenschenke "Without Concern" | New Year's Party "Without Concern" | - | Incl. menu or buffet, midnight barbecue & mulled wine bar, all drinks, New Year's cabaret, disco with DF Rudi, great atmosphere, fireworks, tombola, Gose quiz etc. |
| 31. 12. 2017 (Sun) | 7 pm | Gallery Hotel Leipziger Hof | Festive 5-course New Year's Eve Gala Menu | - | - |
| 31. 12. 2017 (Sun) | 7 pm | Panorama Tower | New Year's Eve in the highest restaurant of Central Germany | 185.00 € | Incl. 5-course menu and an exclusive program. |
| 31. 12. 2017 (Sun) | 7 pm | Kabarett Leipziger Brettl | Goggolohres digital - Knalleffekt im Nischel | 21.00 € | The best mix of and with the original Leipzig Steffen Lutz Matkowitz in a unique New Year's program of Leipzig. |
| 31. 12. 2017 (Sun) | 7 pm | Haus Leipzig | New Year's Eve Gala 2017 with Anke Geißler and a band | 139.00 € | Incl. a rich 4-course menu, drinks and the performance of jazz band "flakes & drops". |
| 31. 12. 2017 (Sun) | 7 pm - 2 am | Oper Leipzig | New Year's Eve gala and New Year's Eve Party | ab 83.00 € | An entertainment program of opera, operetta, musical and ballet. |
| 31. 12. 2017 (Sun) | 8 pm | Kohlrabizirkus | New Year's Eve Festival 2017 | ab 14.90 € | New Year's Eve party with numerous shows. |
| 31. 12. 2017 (Sun) | 11.55 pm | Werk 2 | THE NEW YEAR STARTS HERE | ab 9.30 € | Best of the 80s, 90s and 2000s of different genres. |
Stay in Leipzig on New Year's Eve
Leipzig turns into a dreamy city on the Christmas and New Year's holidays where a lot of tourists come for a celebration of the new year coming. The hotels also prepare special arrangements for their guests during the feast days to make your vacation really magic. HotelFriend is your helpmate in the accommodation planning in Leipzig on the New Year's Eve 2018. Book a room in the preferred hotel together with the desired services or special deal with discount. With HotelFriend you can plan your stay at the hotel as you can reserve the services in advance! If you plan to spend New Year's Eve in Leipzig, we recommend you to make the hotel reservation as soon as possible, as the city is one of the favorite places among the tourists for Christmas holidays' celebration.
Plan your New Year's vacation in advance and design your accommodation together with HotelFriend.