Deals
Intro
When
Where
Tickets and prices
Admission
Program 2018
Victorian Picnic
Accommodation
Hotels
Wave-Gotik-Treffen 2018 in Leipzig. When the city turns black
Every year for almost a week Leipzig literally turns black, with local shops and cafes decorating their facades with black, with thousands of people clad in black strolling around the city and even with a special "black tram" running through the city center. There is a reason for that: Wave Gotik Treffen - a massive festival of the "dark", goth culture, music, fashion, and arts.
With over 20,000 visitors WGT Leipzig is one of the biggest and most popular events of this kind in Europe and worldwide. It is held since 1991 and since then grew into a massive international event, known for its multicultural and relaxed atmosphere.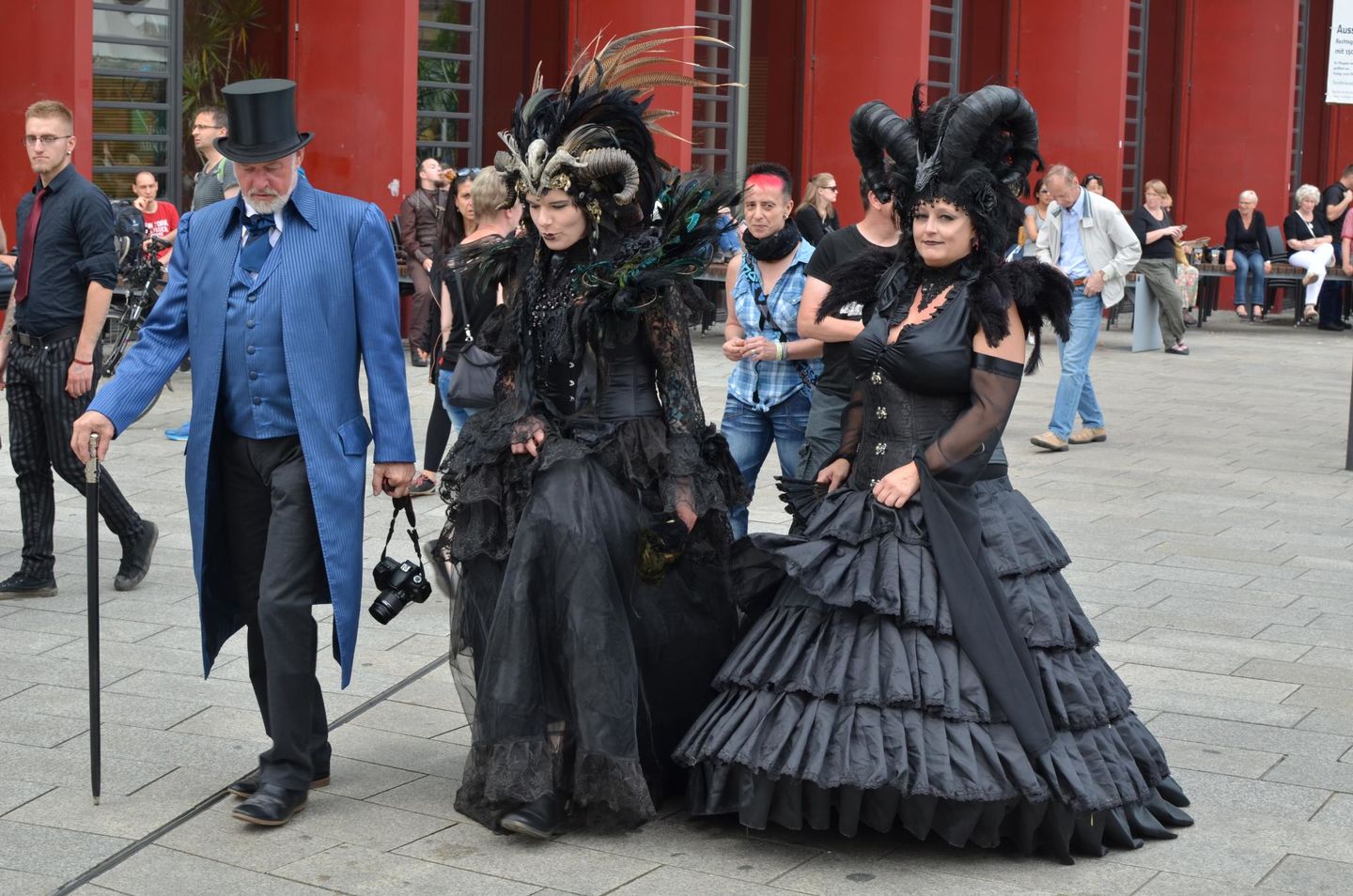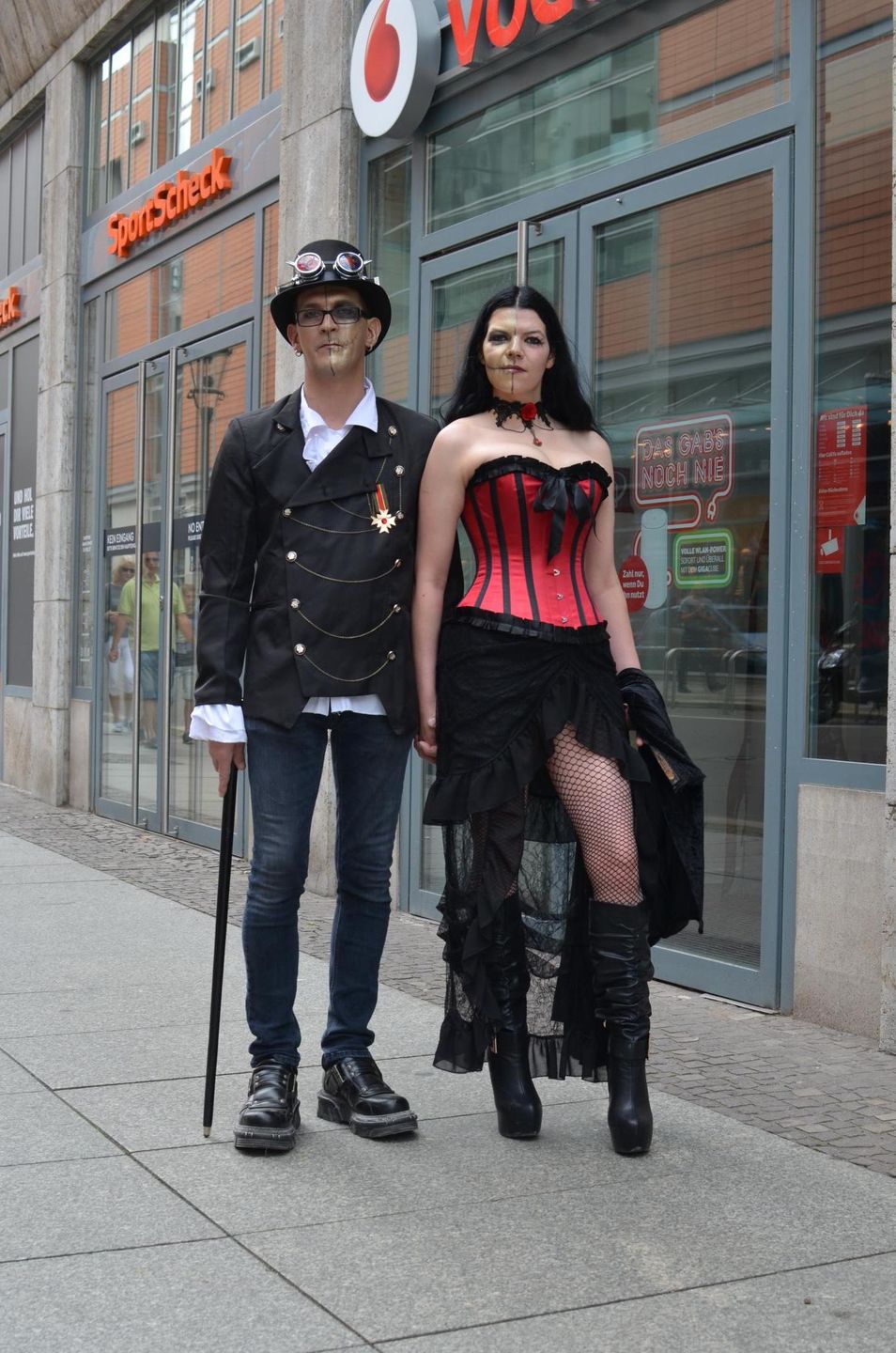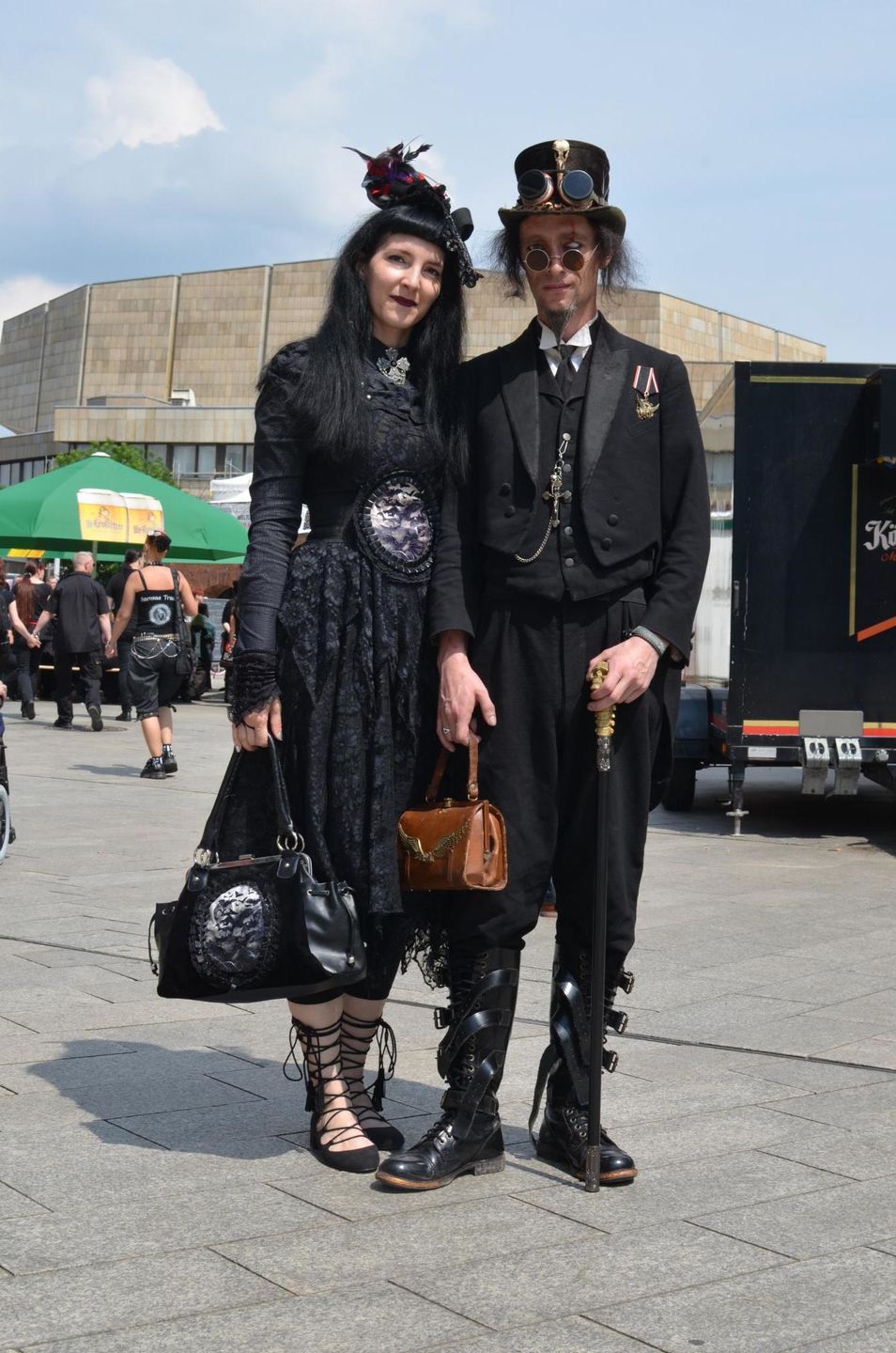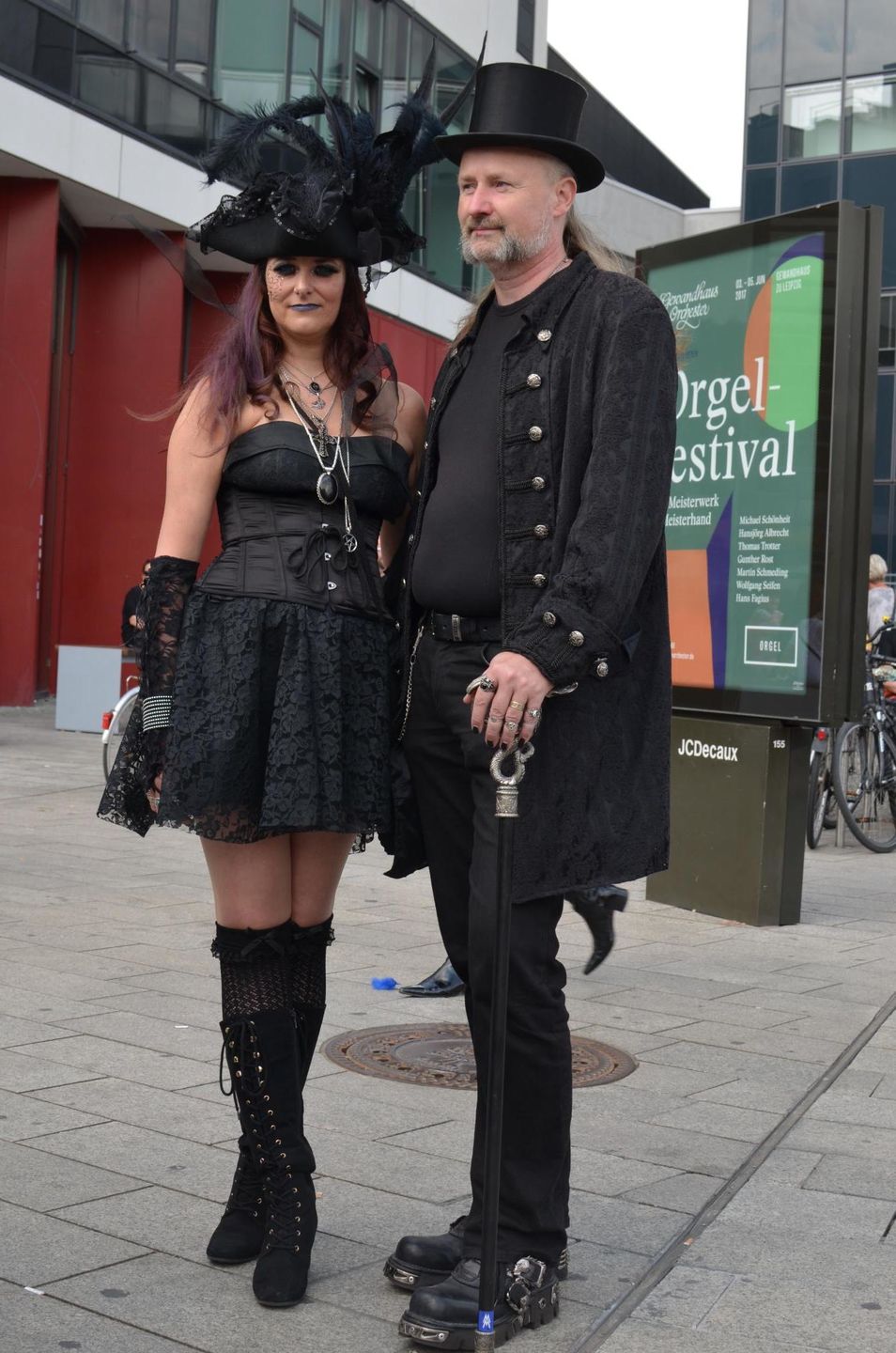 Photos by Torsten Maue
When it is held
The Wave-Gotik-Treffen dates are flexible, as the festival takes place around the Pentecost holiday, on the seventh weekend after Easter, and lasts four days, from Friday till Monday. However, unofficial events before opening start on Thursday evening.
Wave Gotik Treffen Leipzig 2018 will be held from 18 until 21 May.
Where it is held - main places
WGT is held in over 50 various venues scattered throughout Leipzig. The main venue though is a huge Agra-Messepark located in the South of the city. Headline bands and artists perform there, on the big stage. You can easily get there both by car and public transport. If you choose to travel by car, you can use the recently opened City Tunnel and park your vehicle at the huge Agra parking site. If you use public transportation, take tram line 11 or bus line 9 and get off at Leinenstraße station.
Note that WGT ticket gives you free access to public transport.
The biggest thematic fair called "Black Market", where you can buy Gothic clothes, accessories, and souvenirs is organized in Agra Hall too. There are also many smaller events, such as singing, literary readings, small markets and picnics, being held here.
Music performances also take place in Leipzig Opera, Gewandhaus concert hall, Drama Theater, Crypt of the Monument to the Battle of Nations and many more.
Several museums and galleries of Leipzig, among them Egyptian Museum and Museum of Fine Arts, offer free admission and special guided tours and lectures for the WGT attendees.
Smaller bands usually perform in Leipzig nightclubs, among them DarkFlower, Schwarz 10, Täubchenthal, FlowerPower, 4Rooms, Werk2, Moritzbastei, Noels Ballroom, Hellraiser, and others.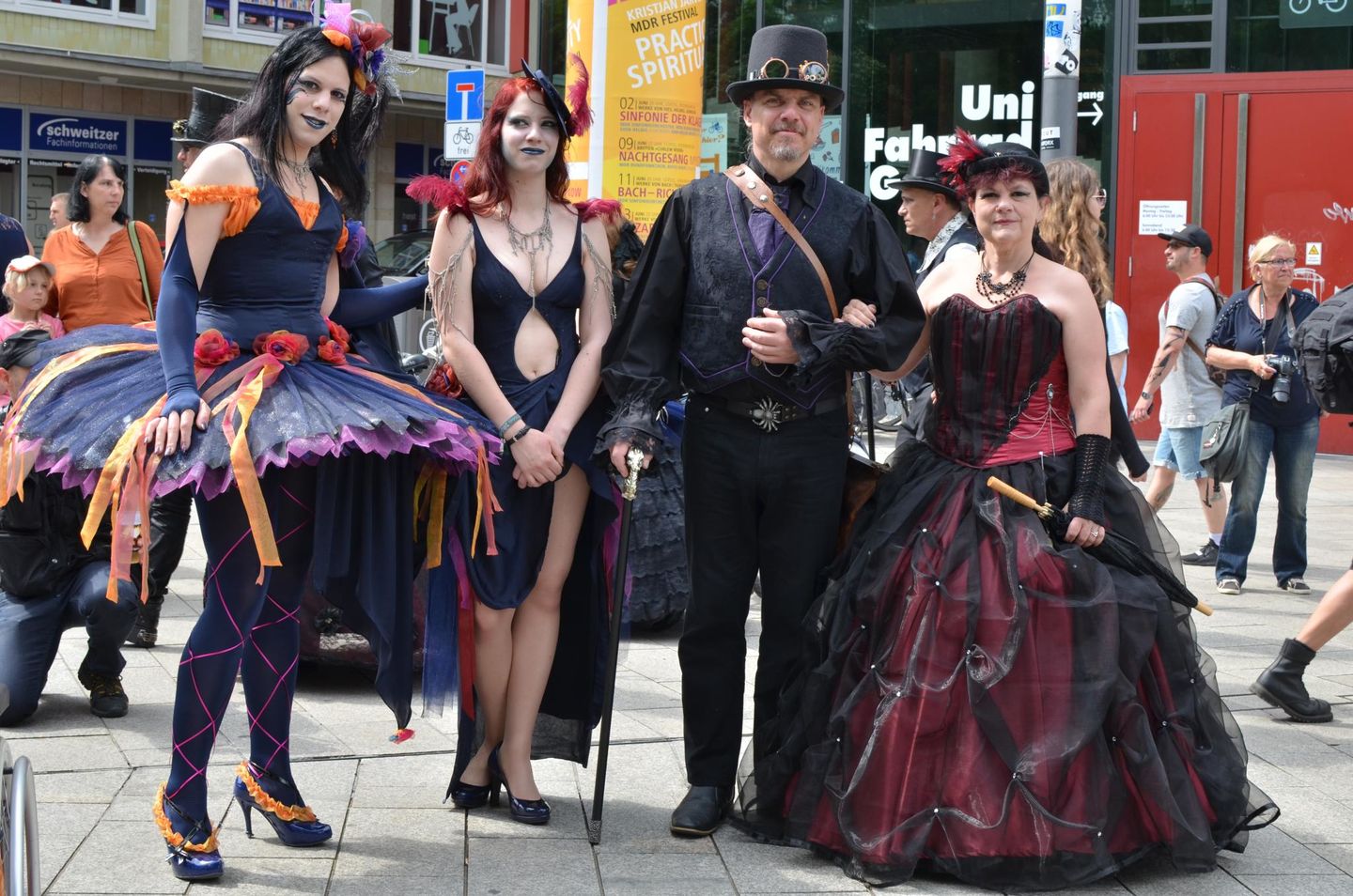 Photo by Torsten Maue
WGT Leipzig tickets & prices
The tickets for the Wave-Gothic-Treffen are valid for all 4 days of the event. The ticket price is the same a third year in a row. You can buy tickets online on the official website, at the venue or at the booking office for 120 €. The full list of local traders and addresses will appear soon. Please note that you could save some money buying several tickets online. Shipping fees are then only 8 € per max. 20 cards, while purchasing on-site you should expect a fee for each ticket.
Type

Price

Full ticket (four days, one person)
120 Euro
Valid for all festival events and venues. Grants access to all public transportation within the Zone 110.
"Obsorgekarte" (Camping ticket)
25 Euro
Allows to use Agra-Messepark parking area and camping site. Valid for one person and in combination with the Wave-Gotik-Treffen ticket.
"Parkingvignette" (Parking tickets)
15 Euro
Allows to use parking area near Agra-Messepark on all days of event. Available for pre-sale with your online ticket or directly at the entrance of the parking area.
"Pfingstbote" - The official WGT Book
15 Euro
Includes festival's program, guide and map of all venues. Can be bought at the venue or at the box offices.
The WGT ticket should be exchanged for the wristband upon arrival. You can do it at several Agra-Messepark entrances. The wristband gives you access to all the festival venues.
Admission
| | |
| --- | --- |
| Young persons under 16 | Can attend only accompanied by adults |
| Young persons under 18 | Can attend without accompanying adults only till 12 a.m. |
| Children under 12 | Can attend only with their parents |
| Disabled Persons | If the special note in handicapped ID is presented, an accompanying person can get a 100% discount on the entry ticket. |
| Animals | Not allowed. |
The guests arriving with children can get a special kindergarten service. Professional and experienced personnel will look after your children for up to three consecutive hours. The service is available from 3 p.m. till 10 p.m.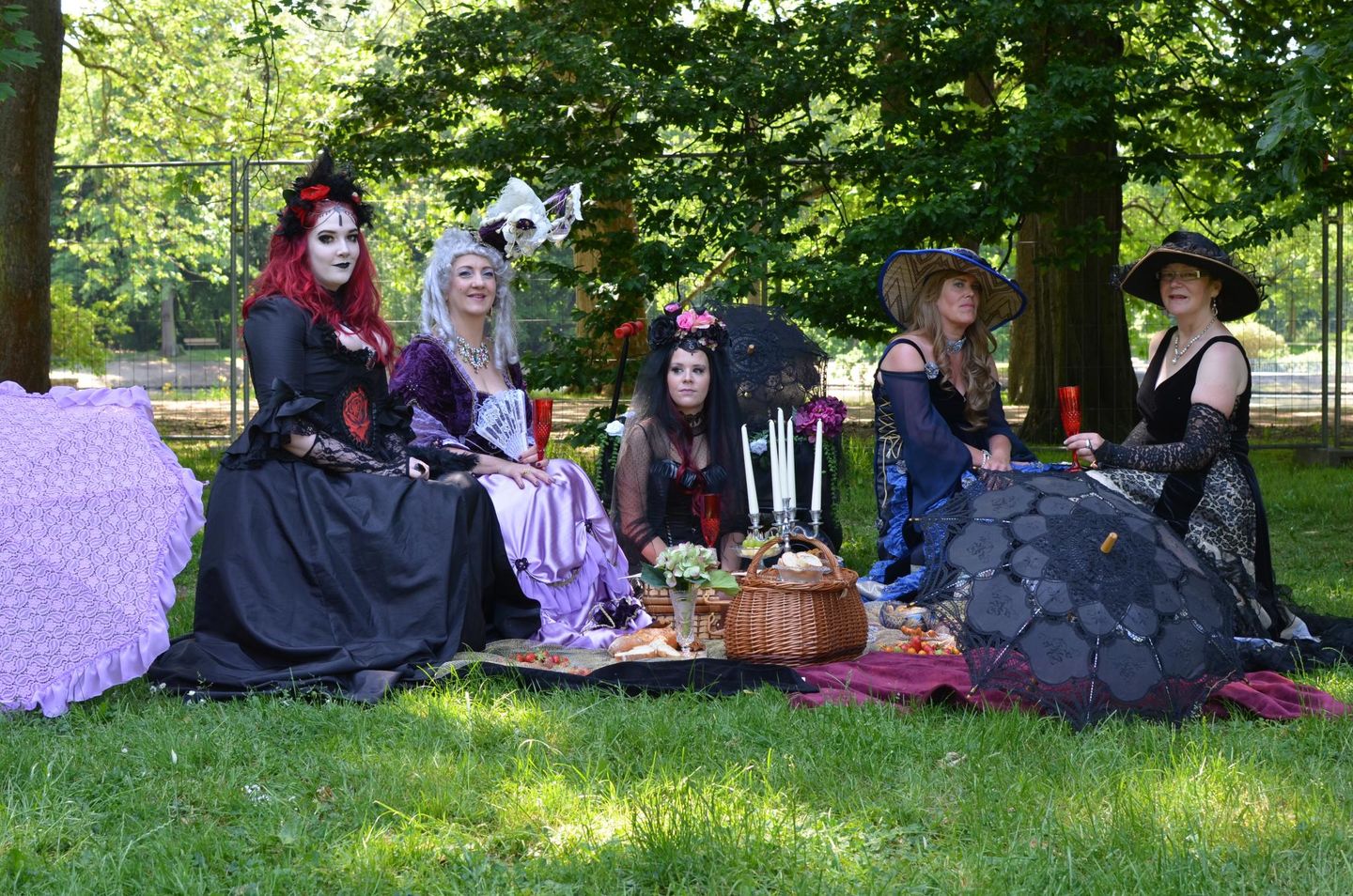 Photo by Torsten Maue
Wave-Gotik-Treffen Program 2018
The highlight of the event is live concert of artists and bands, representing "dark" music styles, such as gothic rock, industrial, gothic metal, dark wave, EBM, punk, symphonic metal, neofolk, neo-classic, deathrock and Medieval music. 131 bands and musicians have already confirmed their participation in the festival this year.
A
B
C
A Projection (S)
Actors (CDN)
Aeon Rings (USA)
Aeverium (D)
All Gone Dead (USA) exklusives Europa-Konzert 2018
Arcana (S)
Ash Code (I)
Ataraxia (I)
Autobahn (GB)
Beinhaus (D)
Black Light Ascension (GB)
Black Line (GB/USA)
Blanck Mass (GB)
Bootblacks (USA)
Boy Harsher (USA)
Buzz Kull (AUS)
Centhron (D)
Cesair (NL)
Chameleons Vox (GB)
Confrontational (GB)
Crisis (GB)
Crying Vessel (CH)
D
E
F
Dageist (F)
De/Vision (D)
Dead Leaf Echo (USA)
Detachments (GB)
Die Kammer (D)
Diorama (D)
Dive (B)
Drifter (S)
Eden Weint Im Grab (D)
Einar Selvik (N)
Eivør (FO)
Elegant Machinery (S)
ES23 (D)
Ext!ze (D)
Fabrik C (D)
Faderhead (D)
Fairytale (D)
Feuerschwanz (D)
Formalin (D)
Frank The Baptist (USA)
Front Line Assembly (CDN)
G
H
I
God Module (USA)
Grave Pleasures (FIN)
Grendel (NL)
Greyhound (D)
Grimner (S)
Guerre Froide (F)
Hekate (D)
Heldmaschine (D)
Hexheart (USA)
Imminent & Synapscape (B/D)
Imperium Dekadenz (D)
Ingrimm (D)
J
K
L
Japan Suicide (I)
Jo Quail (GB)
Joy/Disaster (F)
Kaizer (D)
Kiew (D)
Les Discrets (F)
M
N
O
Merciful Nuns (D)
Model Kaos (D)
Modern English (GB)
Monica Jeffries (D)
Mono No Aware (D)
Monolith (B)
Mr. Kitty (USA)
Nachtsucher (D)
Neun Welten (D)
Oberer Totpunkt (D)
Oomph! (D)
Ost+Front (D)
P
Q
R
Paddy And The Rats (H)
Palast (D)
Phil Shoenfelt & Southern Cross (GB/CZ)
Phosgore (D)
Principe Valiente (S)
Pyogenesis (D)
Qntal (D)
Raison D'être (S)
Randolph's Grin (USA/A)
Rapalje (NL)
Readership Hostile (USA)
Rome (L)
S
T
U
Sardh (D)
Sarin (IR)
Scarlet And The Spooky Spiders (I)
Schandmaul (D)
Scheuber (D)
Second Still (USA)
Seelennacht (D)
Seigmen (N)
Siglo XX (B) weltweit exklusives Konzert
Silent Runners (NL)
Siva Six (GR)
Solitary Experiments (D)
Spark! (S)
Stahlr (NL)
Still Patient? (D) Konzert zum 30. Jubiläum
Sturm Café (S)
Suir (D)
Suld (CHN)
Sulpher (GB)
Svartsinn (N)
[:SITD:] (D)
The Beauty Of Gemina (CH)
The Crimson Ghosts (D)
The Fright (D)
The Jesus And Mary Chain (GB)
The KVB (GB)
The Last Cry (GB)
The Other (D)
Then Comes Silence (S)
Tiamat (S) spielen Stücke aus den Alben "Wildhoney" und "Clouds"
Totus Gaudeo (D)
Traitrs (CDN)
Traumtaenzer (D)
Trepaneringsritualen (S)
Trisomie 21 (F)
Undertheskin (PL)
Unterschicht (D)
V
W
X-Y-Z
Vocame (D)
Vogon Poetry (S)
Vomito Negro (B)
Wardruna (N)
Xenturion Prime (N)
Zanias (AUS)
Zeraphine (D)
Zeromancer (N)
Parties
As a part of the festival, many thematic events will take place at various venues in Leipzig. Along with the musical performances of popular bands, the organizers offer a varied entertainment program including exhibitions, readings, fire shows, spectacles, archery and performances by DJs from around the world.
| | | | | |
| --- | --- | --- | --- | --- |
| Date | Time | Party | Venue | Address |
| Thursday, 17th May | 7 p.m. | WGT EBM Warm-Up | Felsenkeller/ NAUMANNs | 32 Karl-Heine-Strasse |
| Thursday, 17th May | 7 p.m. | WGT 2018 Pre-Party | Darkflower | 12-14 Hainstrasse |
| Friday, 18th May | 2 p.m. | Victorian Picnic | Clara-Zetkin Park | Clara-Zetkin Park |
| Friday, 18th May | 11 p.m. | Terror Dance | Ilses Erika | 152 Bernhard-Göring-Strasse |
| Saturday, 19th May | 2 p.m. | Steampunk Picknick | Deutsches Kleingärtnermuseum | 7 Aachener Strasse |
| Saturday, 19th May | 2 p.m. | Leichentreff | Südfriedhof | 3 Friedhofsweg |
| Saturday, 19th May | 10 p.m. | WGT Nine Inch Nails Party | NAUMANNs | 32 Karl-Heine-Strasse |
| Sunday, 20th May | 2 p.m. | WGT Weinverkostung (Wine tasting) | GRASSI Museum for Applied Arts | 5-11 Johannisplatz |
| Sunday, 20th May | 11 p.m. | Endless Night WGT Vampire Salon | The location is still kept secret and will be announced on the weekend of the WGT. | |
* The official 2018 schedule and a full list of bands are regularly updated, so stay tuned.
Pagan Village
Another WGT attraction is Pagan Village (Heidnisches Dorf). There are medieval markets usually taking place on Moritzbastei and Torhaus Dölitz. You can spend hours here, running about the market, shopping for thematic clothes and accessories, enjoying tasty food and refreshments in the shadow of trees and watching demonstrations of traditional arts and crafts. Medieval, folk and classical music performances are held during the day, while in the night you can enjoy an unforgettable fire show.
Pagan Village is open daily from 11 a.m., from Friday to Monday. Admission is free, so you don't even need a Wave Gotik Treffen ticket to attend.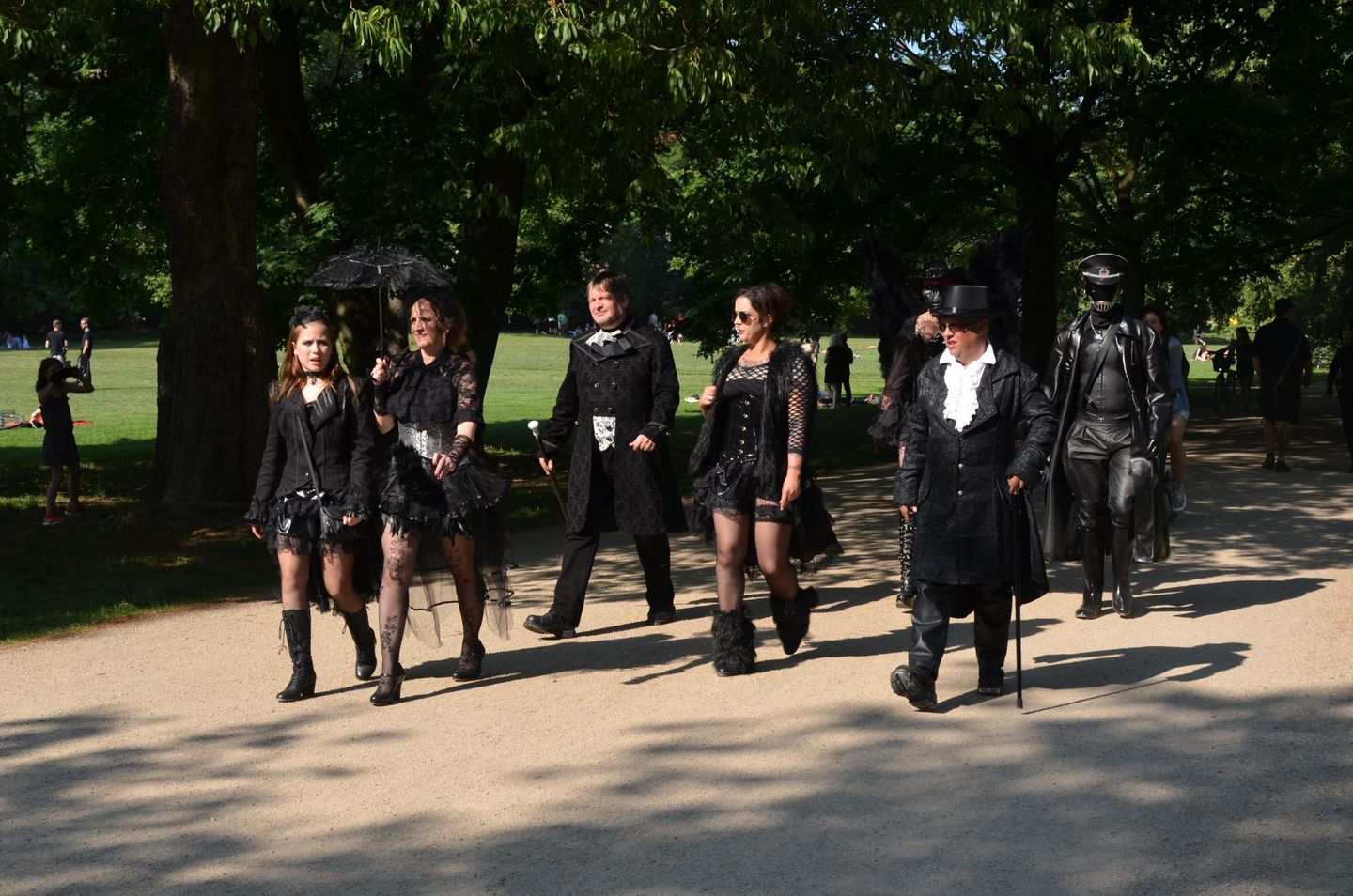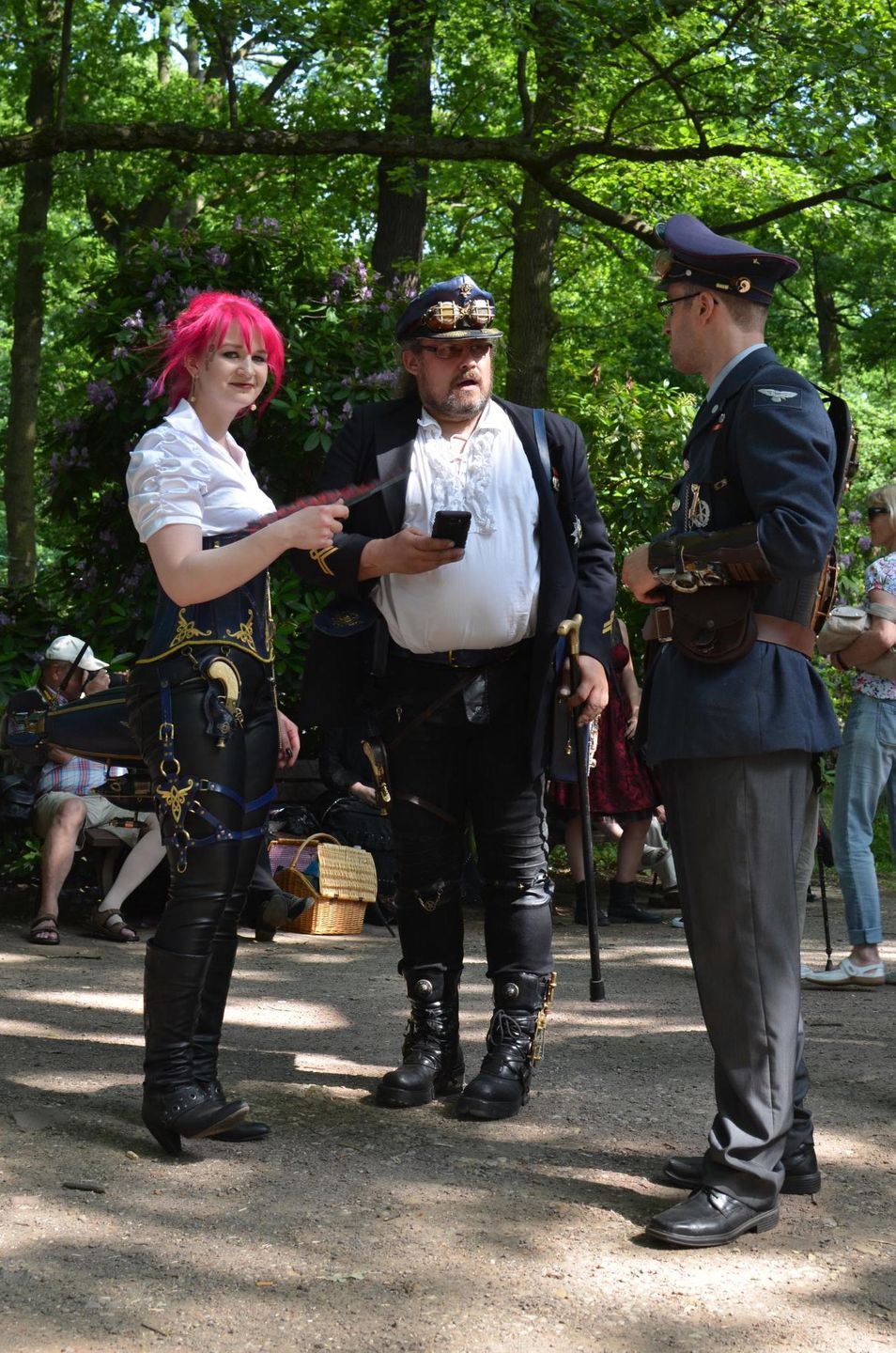 Photos by Torsten Maue
Victorian Picnic
Victorian Picnic is an iconic WGT event, taking place on Friday afternoon in Clara-Zetkin Park in Leipzig. It attracts people who like to dress in Victorian, dark romantic, baroque, Steampunk and other styles. Hundreds of them walk leisurely around the park in their spectacular costumes, chatting and picnicking. There is no special dress code though, so everybody can attend and enjoy the cozy and romantic atmosphere.
Guests can participate in costumes competition and tea parties, take dance lessons, visit a thematic market and enjoy music and arts.
The program varies from year to year, so you'll never be bored there. Admission is free.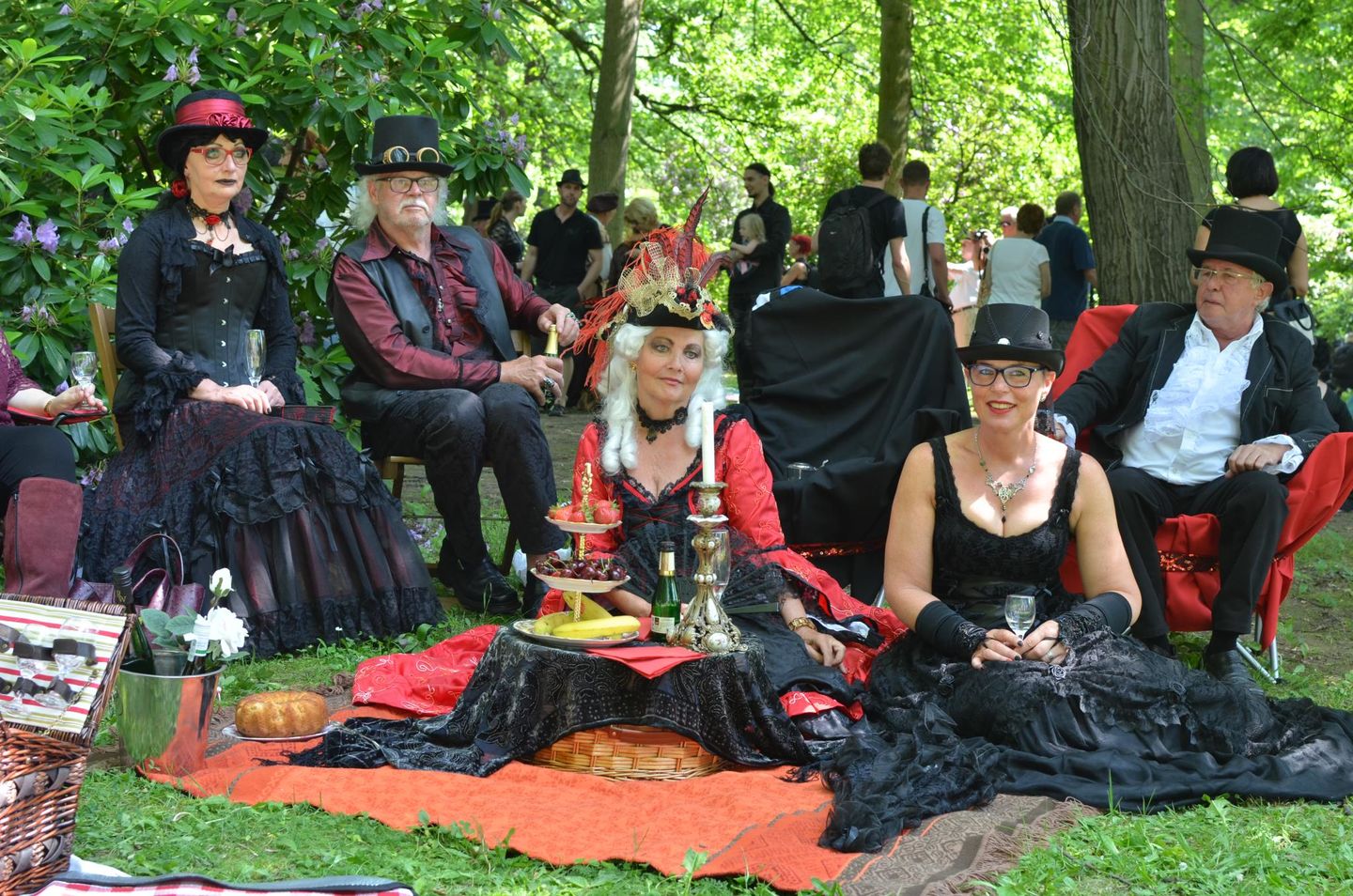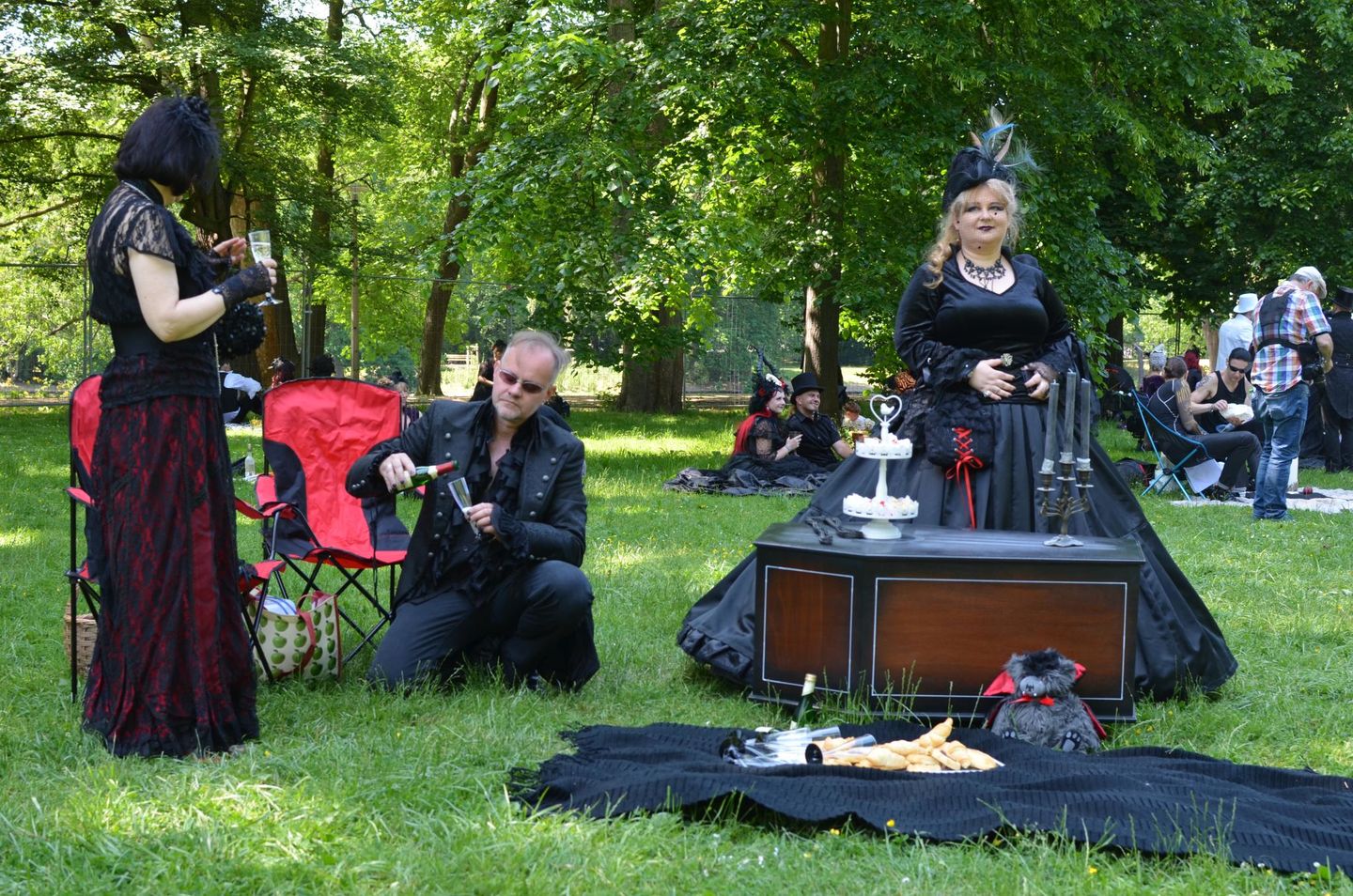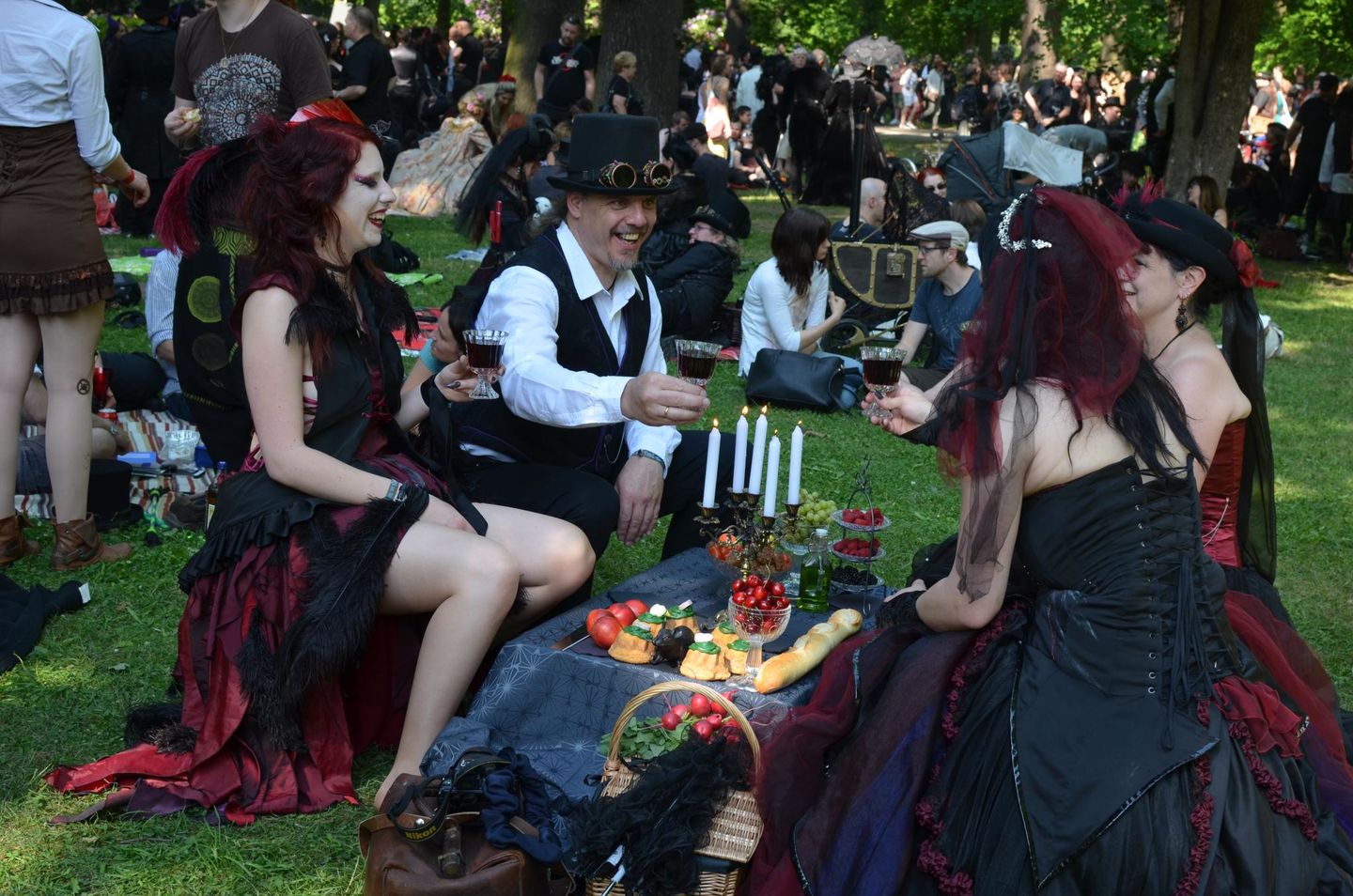 Photos by Torsten Maue
Accommodation
Participants of the Wave-Gotik-Treffen Leipzig often stay either at the designated camping sites on the territory of Agra-Messepark or in various hotels and hostels in and around Leipzig.
If you want to stay at the Agra-Messepark camping site, you should purchase the "Obsorge"-ticket granting you access to the camping area.
In case you decide to stay at the hotel in Leipzig, bear in mind that rooms are usually fully booked for the period of the festival. HotelFriend suggests that you book your hotels in advance, as early as six or even twelve months before the event. It is advisable to reserve your stay even before you'll get your WGT ticket.
Whereas you look for a nice place to stay close both to the city center and to Agra-Hall, which is the main WGT Leipzig venue, HotelFriend recommends you Hotel Leonardo. This four-star hotel has a great location and offers several types of comfortable rooms and a wide range of services for a reasonable price.
For those of you who travel to the festival with the family, Markgraf hotel would be the best choice, as apart from the standard room types it also offers spacious and cozy hotel apartments that will make you feel like home.
The HotelFriend platform helps you not only learn more about the city, various events and nearby attractions, but also book a hotel and order any services you like in advance, without even leaving your room. Enjoy your stay in Leipzig, and let us take on planning your trip.