Photos
Rooms
Deals
Services
Facilities
Info
Balthasar Neumann Speiserei & Gästehaus
Brühl
Nordrhein-Westfalen,
Germany
Janshofpassage 1, 50321 Brühl, Deutschland Show on map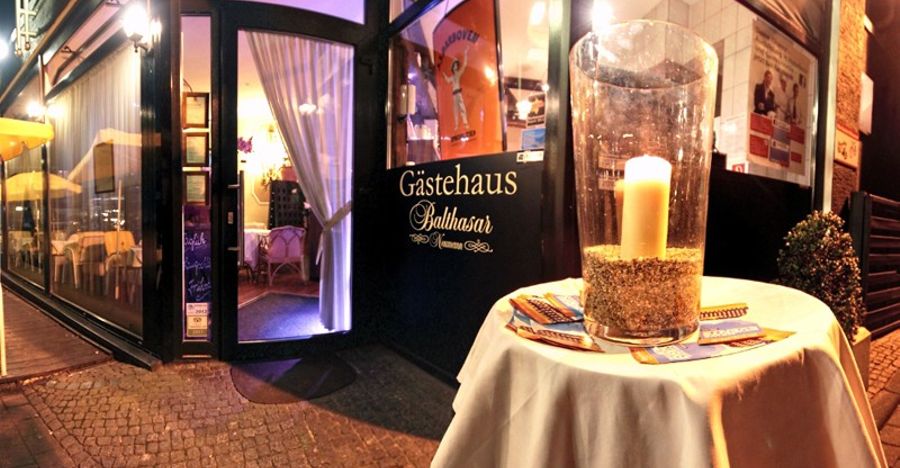 10 Photos
After buying the deal, please, contact the hotel to agree on the dates available for check-in. Choose your travel package.
Send request to hotel to get price

2 photo
Facilities
Meeting/banquet facilities
Special diet menus (on request)
Balthasar Neumann Speiserei & Gästehaus Details
You can certainly have a marvelous time in Brühl — if you stay at Balthasar Neumann Speiserei & Gästehaus. This restful 2-star guesthouse provides a large assortment of amenities including everything necessary for your pet, meeting/banquet appliances, and restaurant. We invite you to stay at the guest house if you want to switch off from day-to-dayness with your family, sweetheart, dog, friends or if you are on a business travel.
Lodging conditions
This hotel includes newly furnished double rooms with stylish decorations. Smoking is not acceptable in the hotel premises. The hotel is pet-friendly.
Leisure Time
There are both indoor and outdoor opportunities for sports and amusement on offer at the hotel. If you prefer cycling or hiking tours, want to - you will be well pleased with everything provided here.
Dining options
The guesthouse is proud to present an in-house restaurant with foods from the region along with European food. A considerable personnel will also serve a special diet menu or a take-out lunch per your request.
Upon the opinions expressed by guests, the Balthasar Neumann Speiserei & Gästehaus will certainly take care of your worry-free holiday. Plan your dream holiday with HotelFriend, exclusively tailored in accordance with the requirements you have.
Balthasar Neumann Speiserei & Gästehaus