Photos
Rooms
Deals
Services
Facilities
Info
H+ Hotel Limes Thermen Aalen
Aalen
Baden-Württemberg,
Germany
Osterbucher Straße, 1, 73431 Aalen, Deutschland Show on map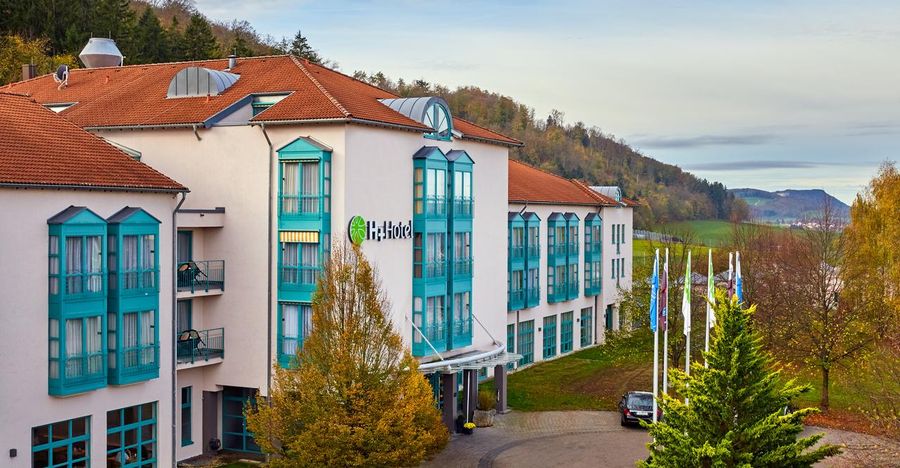 23 Photos
After buying the deal, please, contact the hotel to agree on the dates available for check-in. Choose your travel package.
Send request to hotel to get price

4 photo
Facilities
Express check-in/check-out
Facilities for disabled guests
Meeting/banquet facilities
WiFi available in all areas
H+ Hotel Limes Thermen Aalen Details
The H+ Hotel Limes Thermen Aalen is an unforgettable variant for staying both in summer and winter, that welcomes its guests with nice atmosphere, tasty cuisine and thousands of events. The splendid 4-star guest house offers a large variety of amenities including business centre, restaurant, everything necessary for your pet, meeting/banquet facilities, bar, and bicycle rental. That is exactly why this guesthouse is a terrific match for tourists, who always dreamed of idyllic romantic and family getaways or plan business trips.
Accommodation amenities
This guesthouse has beautifully furnished and elegantly designed double rooms. Upon request, you can settle in rooms with hypoallergenic bedding, handicapped-friendly rooms or non-smoking rooms. Give an energetic start to your day with the nourishing breakfast that is prepared in the room as required. The residents' pets are welcomed at the complex as well.
How to spend time with pleasure
The H+ Hotel Limes Thermen Aalen has a lot of indoor and outdoor comforts to offer. Whether you prefer cycling or hiking tours or want to have fun while playing table tennis - everything can be found here.
Food&beverage options
A team of professional restaurant's cooks prepares delicate delicacies of ethnic and international cuisine. During the summer season, take pleasure in your food on the sunny terrace. Visit our bar to appreciate a great collection of tasty drinks and have a whale of time with your company. Hotel's extremely attentive staff can prepare you a take-out meal.
Corresponding to guests' opinions, the H+ Hotel Limes Thermen Aalen will definitely vouch for your marvelous stay. Save your time and get more from vacation with us.
H+ Hotel Limes Thermen Aalen