Biendo Hotel Chemnitz
Straße der Nationen 12, 09111 Chemnitz, Deutschland

16 Photos
Facilities:
Bar
Bicycle rental
Express check-in/check-out
Facilities for disabled guests
Free WiFi
Heating
Lift
Meeting/banquet facilities
Newspapers
Check In - Check Out
Guests
Less
More
Show details about this room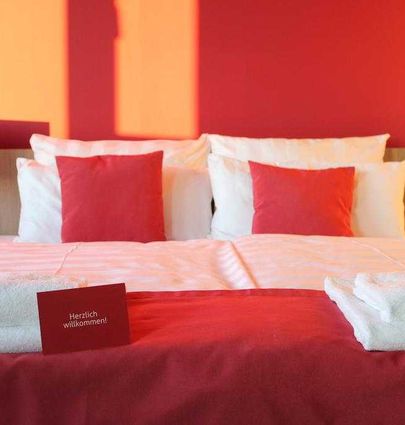 10 photo
Biendo Hotel Chemnitz Details
Biendo hotel is a stylish and modern complex, with friendly staff and good location in the city center. It is simple and practical, as everything in Germany.
If you plan to visit the Saxon region and the city of Chemnitz, you will be surprised to find such a cheap, clean and stylish lodging right in the center of the city, as Biendo hotel. A lot of tourists choose it for business vacation, but it can become a perfect place to rest for couples and families with children.
Hotel Biendo in Chemnitz has 100 rooms: boutique-style single and double rooms, trendy junior and family suites. All rooms have large windows with captivating panoramic views over the old part of the town.
If you travel with pets, you may safely book a room in the hotel, because it has all facilities for them. The cost for pet's accommodation is 15 EUR per night.
Main advantages of the hotel
Of course, the main advantage of Biendo hotel is its location. The building is situated in a pedestrian area, but very close to the main sights of Chemnitz: The Red Tower, Opera Theatre, the Theater Square and a lot of museums. So you can always book a tour for weekend or more roght on the page just above. For example, you may book not only room, but a special deal on our web-site: Discovery Tour, Segway Tour, Short Trip to Chemnitz, Art & Culture, Springtime in Chemnitz, New-years-eve under the dome and so on.
Meal plan
Breakfasts in the hotel Biendo are rich and tasty, with plenty of European dishes, but it has no great variety of lactose and gluten free food. Breakfast is included only in some types of accommodation: single comfort, double comfort, junior, barrier free and family rooms. Please note, it is excluded in single and double eco rooms! Breakfast will cost extra money for every guest of these rooms.
In the evening you may have dinner in the partner restaurant Tillmann's Chemnitz. It is less than five minutes' walk from the hotel. You will find cozy and nice atmosphere there, rich cocktail menu and elegant exclusive menu from the chef here.
Other services
You may rent a bicycle, a segway or even a limousine in Biendo hotel. If you come by car, you may leave it on a parking place near the hotel. It will cost 7.80 EUR per night. You have an opportunity to order a car place in advance on our web-site.
Biendo hotel Chemnitz is the choice for tourists, who appreciate comfort, cleanness and high-quality service. That's why it always full, especially in spring and winter. You may book a suite with a car place or choose a tour for the weekend on our web-site. We give you only the most profitable travel leads.
Facilities
Bar
Bicycle rental
Express check-in/check-out
Facilities for disabled guests
Free WiFi
Heating
Lift
Meeting/banquet facilities
Newspapers
Non-smoking rooms
Non-smoking throughout
On-site parking
Packed lunches
Pets allowed
Private parking
Safety deposit box
Table tennis
Biendo Hotel Chemnitz