Photos
Rooms
Deals
Services
Facilities
Info
Location
Hotel Zwickau Mosel
Niedermülsener Hauptstraße 79, 08132 Mülsen, Deutschland Show on map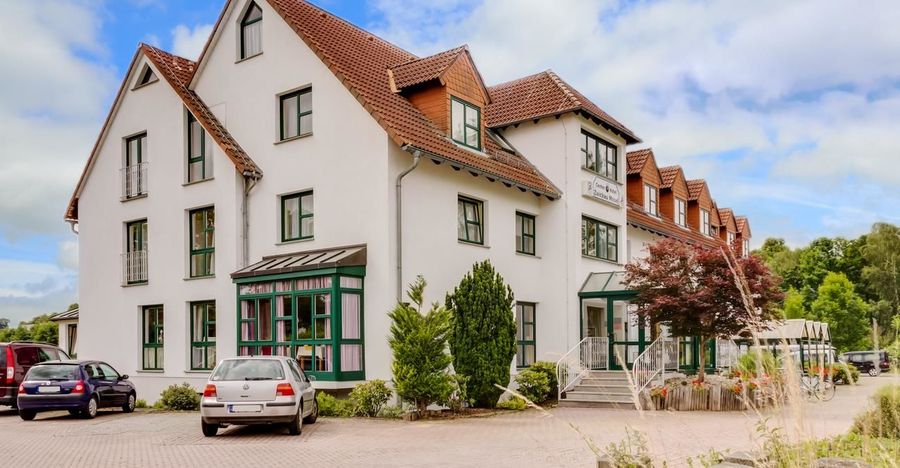 26 Photos
Why guests like this hotel
"Superbly clean and perfectly quiet"
There is a sauna and a solarium
Low rate accommodation
Easy access A4 freeway
Free Wi-Fi
Less
More
Payment:
You do not require prepayment: in case of cancellation or no show you take care of collecting your cancellation/no show fee directly from the guest.

The guest can cancel free of charge until 1 day before arrival. The guest will be charged 100% of the total price if they cancel after 1 day before arrival.
Show details about this room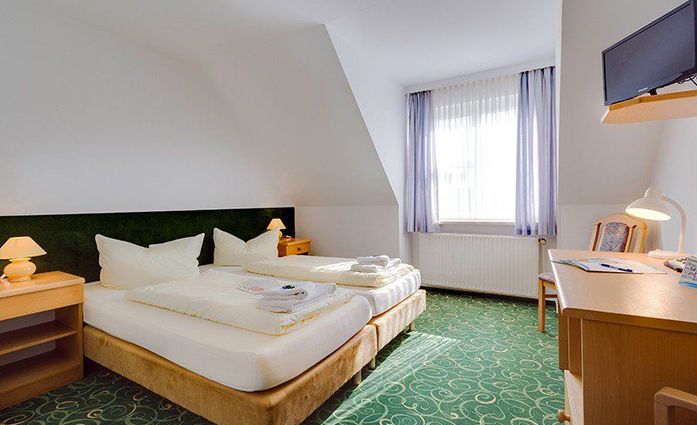 2 photo
Wellness
persons: 1
Nights: 2
Massage and wellness bargains
Single room + 5 Services included
Hotel Zwickau Mosel
Niedermülsener Hauptstraße 79, 08132 Mülsen, Deutschland
Short breaks
persons: 1
Nights: 3
Zwickau spring special
Single room + 3 Services included
Hotel Zwickau Mosel
Niedermülsener Hauptstraße 79, 08132 Mülsen, Deutschland
Leisure park
persons: 2
Nights: 2
Pure fun for families - Freizeitpark Plohn included!
Standard double room + 3 Services included
Hotel Zwickau Mosel
Niedermülsener Hauptstraße 79, 08132 Mülsen, Deutschland
Last minute
persons: 1
Nights: 2
Nasty weather bargains at last minute price
Single room + 3 Services included
Hotel Zwickau Mosel
Niedermülsener Hauptstraße 79, 08132 Mülsen, Deutschland
Facilities
Express check-in/check-out
Meeting/banquet facilities
WiFi available in all areas
Hotel Zwickau Mosel Details
A simple and modern family operated hotel in the Saxony countryside, surrounded by fields. A quiet place to settle in means you will get some solid shut-eye. German style buffet breakfast available at additional cost will help to kick start your day.
There is a sauna and a solarium on the premises as a quick fix to reenergize and remotivate a tired traveler or even a team and a small mini-golf course behind the hotel for a refreshing and fun pastime outdoors.
Amenities and Facilities
A budget hotel, with rates starting from 39 Euros per night, just a few kilometers off A4 motorway, with a convenient extensive and free parking lot.
Breakfast, which is reportedly ample, is included in many special deals offered, but not all of them, so make sure you opt in if preferred.
Business travelers and those who are always on-line might find useful meeting room as well as free Wi-Fi in the rooms, which are "superbly clean and perfectly quiet" according to customers' reviews.
Zwickau-Mosel is particularly suitable for those travelling accompanied. For groups and events for more than 6 people administration is ready to negotiate additional conditions.
The package deals will surprise you with affordable accommodation and variety of activities, starting with rejuvenating sauna and massage or a voucher for a session in the salt cave Salineè man ego Walde known for its curative power, all the way through a day ticket to experience oriental bathing culture in Johannisbad Zwickau or free admission to the August Horch Museum. Just take a look and you will find something interesting.
Location
The Zwickau-Mosel hotel is located in a few kilometers from the center of Zwickau, the motherland of Audi and Robert Schumann. Being one of the major players in car manufacturing (there is a VW factory in 2 km) this region is the best place to explore German automobile history. There are adrenalin pumping activities for bikers in Sachsenringand, which is 20 km away. Musicians might spend hours in Robert Schumann's house and enjoy a live concert there. Families will appreciate amusement park Plohn, salt caves or water activities in Johannisbad.
Landmarks and Sights nearby
Easy access from the hotel to the freeway A4 makes it ideal as a starting point for trips to Dresden, Chemnitz or the Ore Mountains. The area of Zwickau has plenty to offer as well. If you have a couple of hours to spare Schwanenteichpark is the place, lots of little graded areas to picnic, play football or hire a boat!
The old railway viaduct Goltzschtalbrucke is one of the best things to see in the Zwickau area for those interested in architecture, trains and nature. It's totally worth the short detour from the Chemnitz-Bayreuth highway.
Priesterhauser Zwickau requires no entrance fee to pay for admission. The display in the old priest's house is amazing. This museum is linked into another by a glass air bridge and it houses even more remarkable and extravagant display of the history of the region's porcelain industry, coal mining and precious metals, as well as historical armour and weapons from the region.
No matter where you go, the practice of walking into doorways and exploring always pays off!
Hotel Zwickau Mosel