Please, enter a destination
A fascinating city tour to Hamburg
Hamburg, one of the most coveted travel destinations in Germany, will surprise you with its views, tastes, and colors. There are a few ways to explore the city - walk or take a hop-on-hop-off tour with multiple lines leaving from the Central Station. Also, you can opt for a boat trip if you love river air. Hamburg, like many European cities, has an interesting mix of history and innovation. Visit its new and ultramodern downtown - HafenCity with eco-friendly buildings and state-of-the-art infrastructure. Occupying 157 ha, this mind-blowing construction project will have been completed by 2030, but it has already set the golden standard for the redevelopment of former industrial and port lands. One of the city symbols - the Elbephilarmonie concert hall, opened in 2017, is also located here, as well as two other places of interest - Miniatur Wunderland, and the Speicherstadt. The worlds most extensive collection of miniature replica - Miniatur Wunderland - is the most visited tourist attraction in the country. With thousands of figurines, model trains, planes, and buildings, these amazing theme-worlds are crafted with love and great attention to detail. The Speicherstadt is a historical district of warehouses, which are built with red bricks on oak piles. Take a city tour bus or a small barge along its narrow canals to admire this beautiful historical site and see Kaispeicher B - the oldest warehouse in the city, which is also home to Hamburg maritime museum. Another place that you cannot miss is the legendary Fish Market, operating for more than three centuries on Sunday mornings, where you can buy virtually everything, from fish to souvenirs. Not far from the Fischmarkt, take a ferry from Landungsbrücken pier, to admire the views of Hamburg Port from water.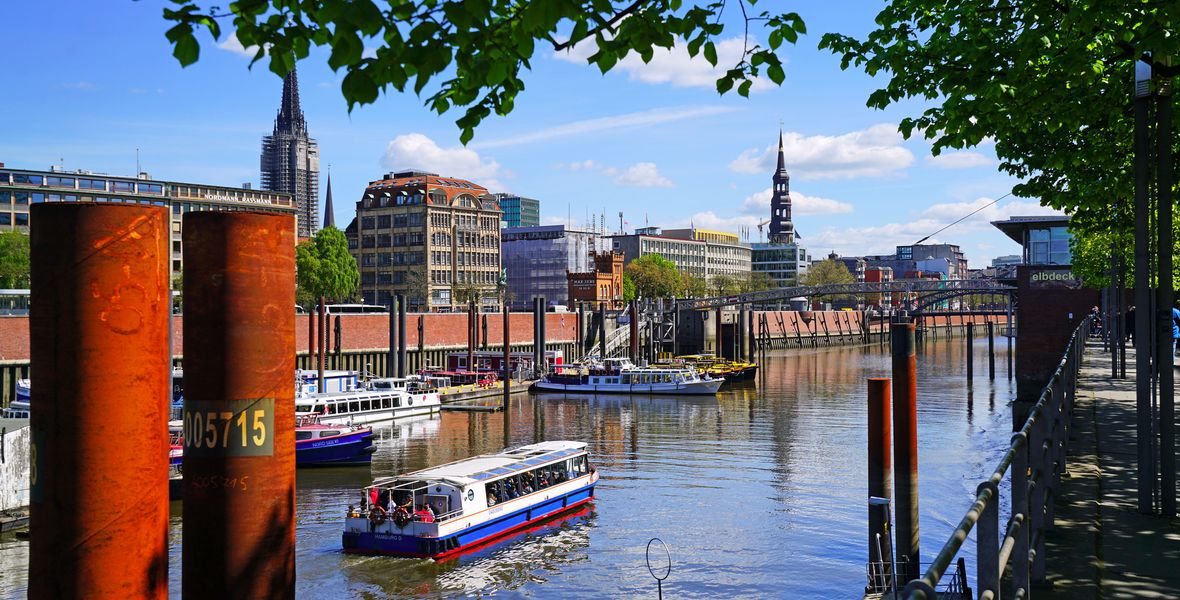 Your must-visit list
St Pauli district is famous for its nightlife, and the red light street - Reeperbahn. Interestingly, the border between Germany and Denmark used to run through it, and you can still see the demarcation lines on some streets. Enjoy the Elbe promenade before heading to one of the trendy bars or clubs abundant in St Pauli. The Panoptikum wax museum and the Planten un Blomen park are two other interesting spots of the neighborhood. Resurrecting from ashes like a Phoenix throughout its long history, St Michael's Church is the city's iconic landmark and the symbol of resilience. From its 106-m observation deck, you can enjoy beautiful harbor views. If you love art, Kunsthalle will leave you speechless with riches - Goya, Rubens, Picasso are just a few of many world-famous artists whose works are exhibited here. Without a doubt, apart from the well-known landmarks and sights in Hamburg, one will find something personally unique and special in this vibrant and inspiring city.
Explore Hamburg and save on your hotel stay
HotelFriend is a convenient platform where you can find the best hotel deals for your Hamburg city tours. Enjoy Hamburg's hospitality at almost half the price and get many pleasant bonuses. Save money with us and experience more in this amazing city. The number of our partner hotels is constantly growing, so you are very likely to find the deal that matches your budget and taste perfectly. Subscribe to our updates to be notified about newly available travel coupons. Buy now and redeem any time within 36 months!