Please, enter a destination
Filters
Top facility
More
Hotels near Les Quatre Vallées Ski Area
(756 results)
Les Quatre Vallées Ski Resort
Why is this resort so special? Well, to start with, Les Quatre Vallées (or The 4 Valleys) is considered to be the largest ski area in Switzerland, as well as one of the biggest in Europe! It comprises such resorts as Verbier, La Tzoumaz, Nendaz, Veysonnaz, Thyon, and Bruson. More than 400 km of slopes are available for winter sports lovers, who come here to get the best skiing experience in their lives.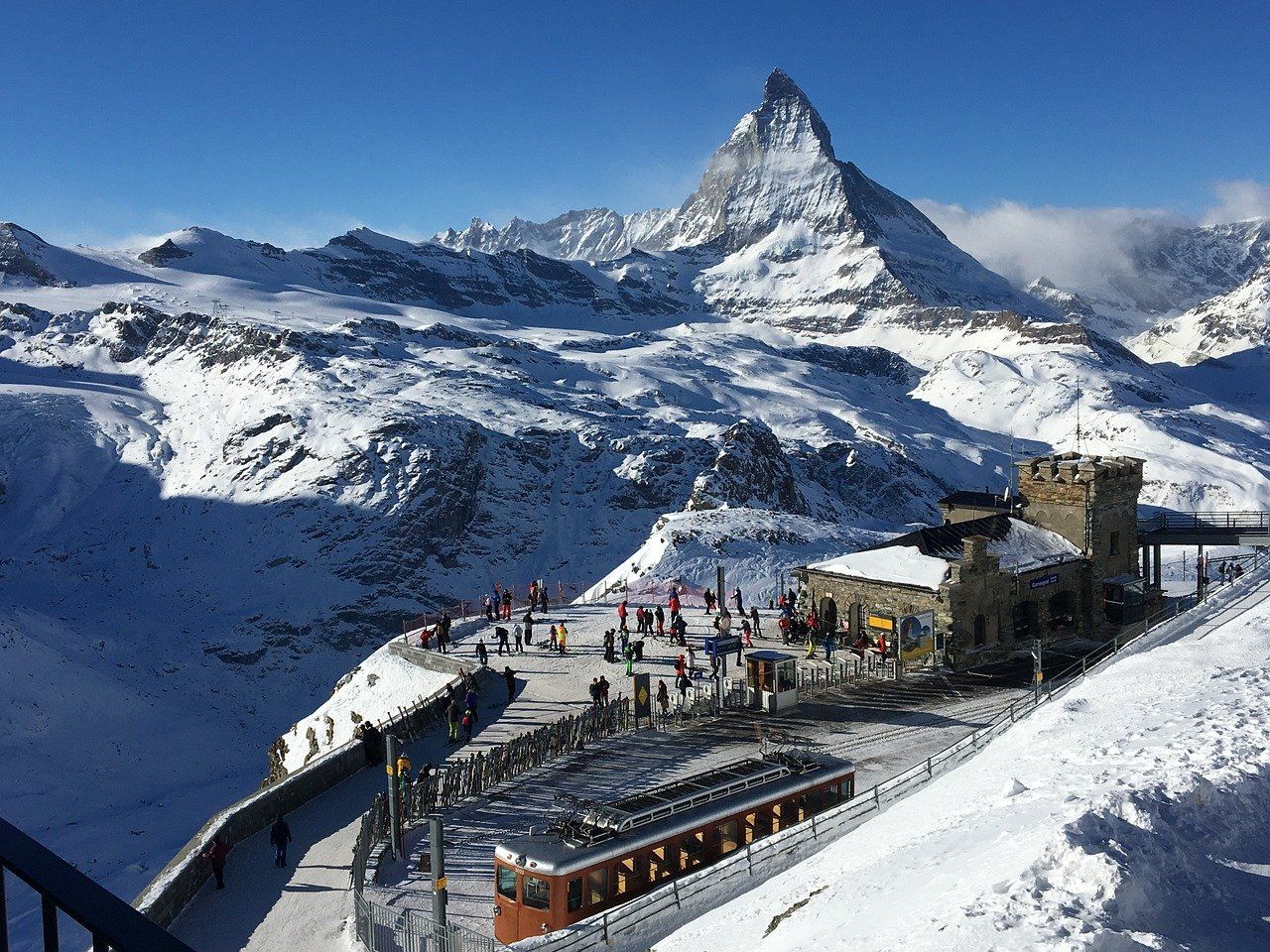 The highlights of this ski region are truly diverse, starting from iconic Matterhorn peak, and ending with panoramic views of the famous Mont Blanc. Piste de L'Ours, which hosts annual World Cup competitions, is another must-visit in the 4 Valleys. Hundreds of kilometers of fine ski pistes are waiting for you, so do not hesitate to make a booking in the foreseen future! This season, the operating times of the resort are 28.11.2020 - 11.04.2021.
Weather in Les Quatre Vallées
The canton of Valais is located in the southwestern part of Switzerland. It is considered to be one of the most humid and one of the driest regions at the same time. This is possible due to the variety of local relief, which consists of the valleys and mountains. Local lowlands receive fewer precipitations than mountains with their snow-covered peaks. For instance, the city of Sion receives less than 500 mm of rain annually!
Thus, the climate in the 4 Valleys is remarkably diverse, and in general, can be described as moderately continental. With its cold winters and hot summers, it provides perfect conditions to practice different kinds of activities, including hiking, snowshoeing, skiing, etc. In winter, the temperature usually drops below zero, especially at night. February is normally the coldest month, with an average maximum figure of 3°C, and an average minimum of -5°C. Thanks to these particularities, the snow is guaranteed in winter, and you can even ski here in summer!
Les Quatre Vallées piste map
Tip: For the latest information concerning operational statuses of ski lifts, ski pistes, and mountain restaurants, check out the official 4 Vallées live map. Here you can also find out more about the exact location of the tobogganing trails, webcams, and bus stops.
Sanitary measures to prevent the spread of COVID-19 in Les Quatre Vallées
The new health protocols, developed by the Federal Office of Public Health in Switzerland and the Swiss Confederation, are mandatory to follow at the resort. Individual outdoor activities such as skiing are allowed, and skiing groups should not exceed 5 participants. Those who come to Switzerland from the countries that are considered to be at risk must self-quarantine for 7 days.
Unfortunately, travelers from the UK and South Africa cannot enter the country for now. The government decided to carry out this radical measure in the light of the recent discovery of the new coronavirus variant in these countries. Moreover, those who have come to Switzerland from these countries after December the 14th must remain in quarantine.
Other protective measures include:
● Wearing a protective mask in all public places, on the ski lifts, and while queueing will be compulsory for every guest of the resort;
● The ski lifts will not reduce their capacity;
● All frequently touched surfaces will be disinfected daily, and hand sanitizers will be placed at the ski stations;
● Guests will be able to purchase or recharge their ski passes online;
● Those who would like to buy their ski passes on site will be kindly asked to pay contactless;
● Guests must maintain a distance of at least 1 m from each other;
● In restaurants and bars, there will be table service only;
● Private gatherings will be limited to 10 people, following the "two households" rule is strongly recommended;
● All mass events are banned;
● All discos and clubs will be closed;
● Restaurants and bars will be working until 7 p.m.
Tip: To facilitate contact tracing and protect yourself from COVID-19, we strongly recommend installing the "SocialPass" mobile app.
How to get to Les Quatre Vallées
Situated in the Canton of Valais, the 4 Valleys ski area includes 6 resorts, connected by diverse ski pistes. You can easily get to any of these resorts by car or by shuttle bus. But first, you need to reach the country. Getting to Switzerland by plane is by far the most comfortable option. However, you can also opt for the rapid train or get there on your own vehicle.
Getting there by car
If you would like to have the liberty of go-as-you-please, you can choose driving to the needed destination. The best option will be taking highway A9, which goes through the Rhône Valley.
Here is how you can reach local resorts:
● Planning to spend your vacation in La Tzoumaz? Then choose the exit Riddes. The approximate driving time is 23 minutes;
● In case you need to get to Veysonnaz, take the exit Sion-Ouest. The approximate driving time is 22 minutes;
● To successfully reach Nendaz, you need to take the exit Vétroz. The approximate driving time is 22 minutes as well.
In case you are driving from Italy, you should take the highway A5, and choose the exit at Aosta Est.
Tip: Parking is free in Le Châble and the majority of mountain villages, but for Nendaz and Thyon, where you have to park just near the pistes.
Getting there by plane
There are plenty of airports to choose from, but Geneva International Airport and Sion Airport are the closest to the resort. Other possible alternatives are Lyon, Chambery, and Grenoble. They offer a wide selection of regular and charter flights.
Geneva Airport serves numerous national, European, and long-haul destinations. It is located at a distance of 152 km from the 4 Valleys ski resort, and transfer from there to any of the villages will take you around 1 hour 34 minutes. It is easily accessible via the motorway A1 and has 6,000 parking spaces available on its territory. Sion Airport is located a little bit closer – the journey to Verbier will take you around 45 minutes.
Getting there by train
There is also a train connection, which leads to the resort of 4 Valleys. High-speed trains, such as SBB, CFF, and FFS, depart regularly from Geneva to Sion. They come and go every hour and stop at Le Châble station. The latter is located only 10 minutes from the heart of Verbier.
If you are eco-aware, then opt for this way of getting there, as this means of transport is sustainable and considered less harmful to the environment. You can easily reach the 4 Valleys by train from the majority of European cities, including Paris and London. However, if you are coming from London, the journey may be exhausting, as it will take you around 10 hours. The travel time from Geneva seems more adequate, as it will take you only 2 hours and 15 minutes to get to Verbier.
Skiing in Les Quatre Vallées and ski pass prices 2020/2021
The huge terrain of the 4 Valleys in Switzerland encompasses 410 km of trails, which can reach up to the 3330 m of altitude (the top of Mont Fort). Thanks to the favorable weather conditions and 214 state-of-the-art snow cannons, you will never be short of snow here! The runs of all difficulty levels – red, blue, and black are always perfectly groomed and well-prepared for the winter sports fans.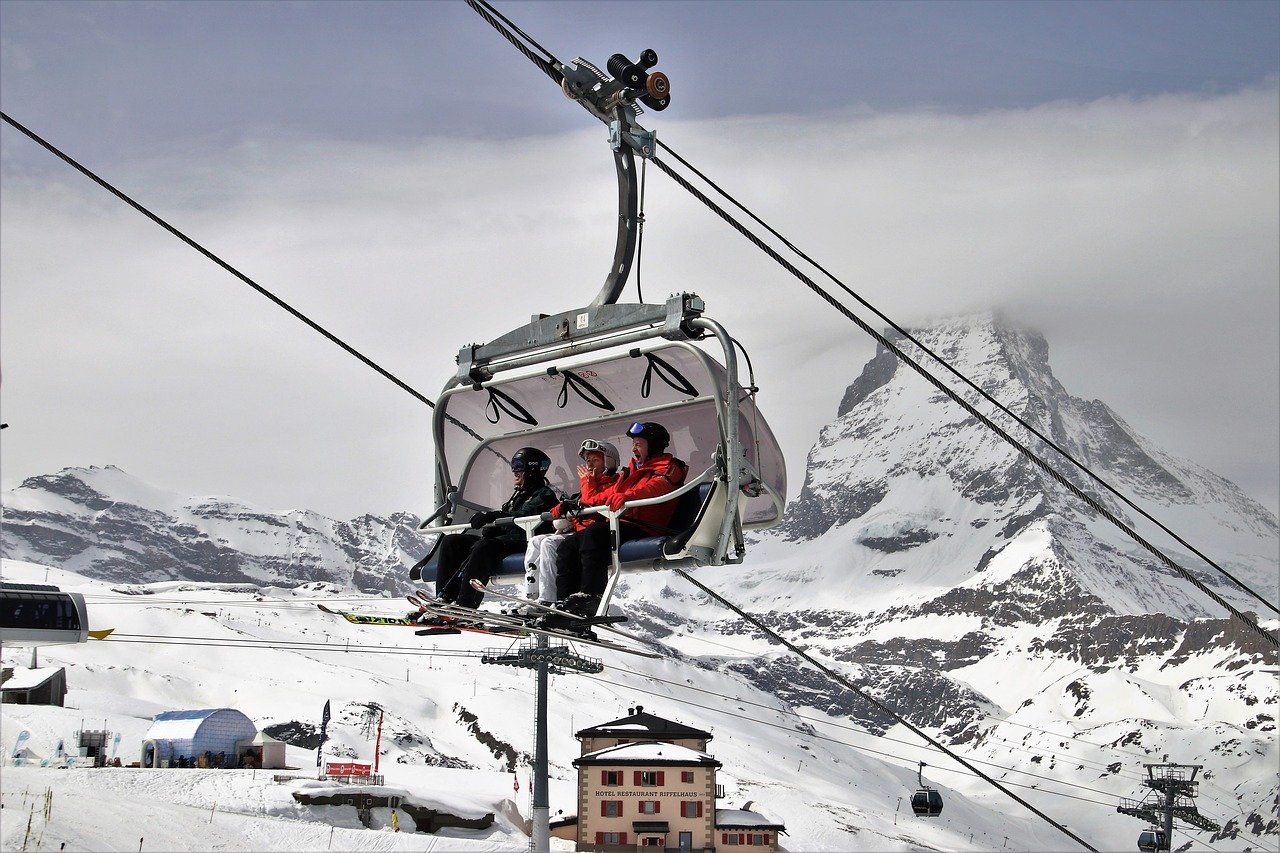 This resort is one of the favorite ones among the free-riders and professional skiers due to 55,5 km of almost vertical slopes. Every year, the Freeride World Tour takes place in Verbier. However, even if you are not that risky, you can also have a whale of a time in the 4 Valleys. Easier pistes for beginners and children cover 119 km of the terrain. They are located at a relatively low altitude, on the territory of La Tzoumaz and Verbier. The red pistes for intermediates and black pistes for adrenaline junkies cover 196 km and 29,5 km respectively. For those who prefer snowboarding, La Chaux snow park keeps its gates open, offering an extremely varied landscape for practice. And families with children will definitely like Nendaz – a ski resort with exceptional facilities for kids!
The 4 Valleys annual and season ski pass prices 2020/2021
| | | | |
| --- | --- | --- | --- |
| Type | Adult | Young/Senior | Child |
| Half of the season (from the 1st of February) | CHF 1199 (Adult 1957-1995) | CHF 1019 (Senior 1944-1956) | – |
| Season (1944 - 1995) | CHF 1599 (Adult 1957-1995) | CHF 1359 (Senior 1944-1956) | – |
| Annual (1944 - 1995) | CHF 1649 (Adult 1957-1995) | CHF 1402 (Senior 1944-1956) | – |
| Mont4Card (1996-2013) | – | CHF 600 (Young 1996-2005) | CHF 500 (Child 2006-2013) |
The 4 Valleys ski pass prices 2020/2021 (from 19.12.20 to 09.01.21, and from 06.02.21 to 06.03.21)
| | | | |
| --- | --- | --- | --- |
| Type | Adult | Young/Senior | Children |
| 1-Day Pass | CHF 78 | CHF 66 | CHF 39 |
| 2-Day Pass | CHF 153 | CHF 130 | CHF 77 |
| 6-Day Pass | CHF 373 | CHF 317 | CHF 187 |
| +1 day | CHF 54 | CHF 46 | CHF 27 |
● When purchasing passes for a large group (minimum 15 people), you can get a -15% group discount. The discount is only available for passes of the same duration;
● The will be no refund in case of illness or accident if you failed to take out insurance;
● Full insurance covers the refund of the lift passes, ski lessons, ski equipment rental, and rescue. For more details on insurance policies, visit www.snowassist.ch (Verbier and Thyon), or www.skicare.ch (Nendaz and Veysonnaz);
● All tickets are non-transferable, as they are meant for personal use only.
The 4 Valleys tickets for pedestrians 2020/2021 (hiking, snowshoeing, etc.)
| | | | |
| --- | --- | --- | --- |
| Type | Adult | Young/Senior | Child |
| Half-day ticket (from 13:00) | CHF 44 | CHF 37 | CHF 22 |
| 1-Day ticket | CHF 49 | CHF 42 | CHF 25 |
| Season ticket | CHF 681 | CHF 579 | CHF 341 |
| Annual ticket | CHF 739 | CHF 628 | CHF 370 |
Snow'n'Rail 4 Vallées: special offer for season 2020/2021
The following reduction will apply in this offer:
● There will a 10% discount on 1 or 2-day ski passes that cover the whole territory of the 4 Valleys;
● You can also benefit from the 15% discount for equipment rental;
● Plus, there will be a 20% discount on the two-way journey to Le Châble, Verbier, Veysonnaz, Haute-Nendaz, Thyon, Mayens de l'Ours, La Tzoumaz or Bruson.
Tip: If you want to find out more about this offer, visit the official page with all the necessary details concerning the purchase.
Operating times of the ski lifts in the 4 Valleys are the following:
● 08:45 - 16:30
Note that the operating times are subject to change according to weather conditions, day of the week, and on major holidays.
Other activities in Les Quatre Vallées
The large area of the 4 Valleys, which includes such outstanding resorts as Verbier, La Tzoumaz, Veysonnaz, etc., suits great for alternative outdoor activities. Sledding, snowshoeing, hiking, cross-country skiing, tobogganing – you can try anything that appeals to you most. And if you are a party animal, longing for vibrant nightlife and apres-ski, then numerous local bars will not leave you indifferent!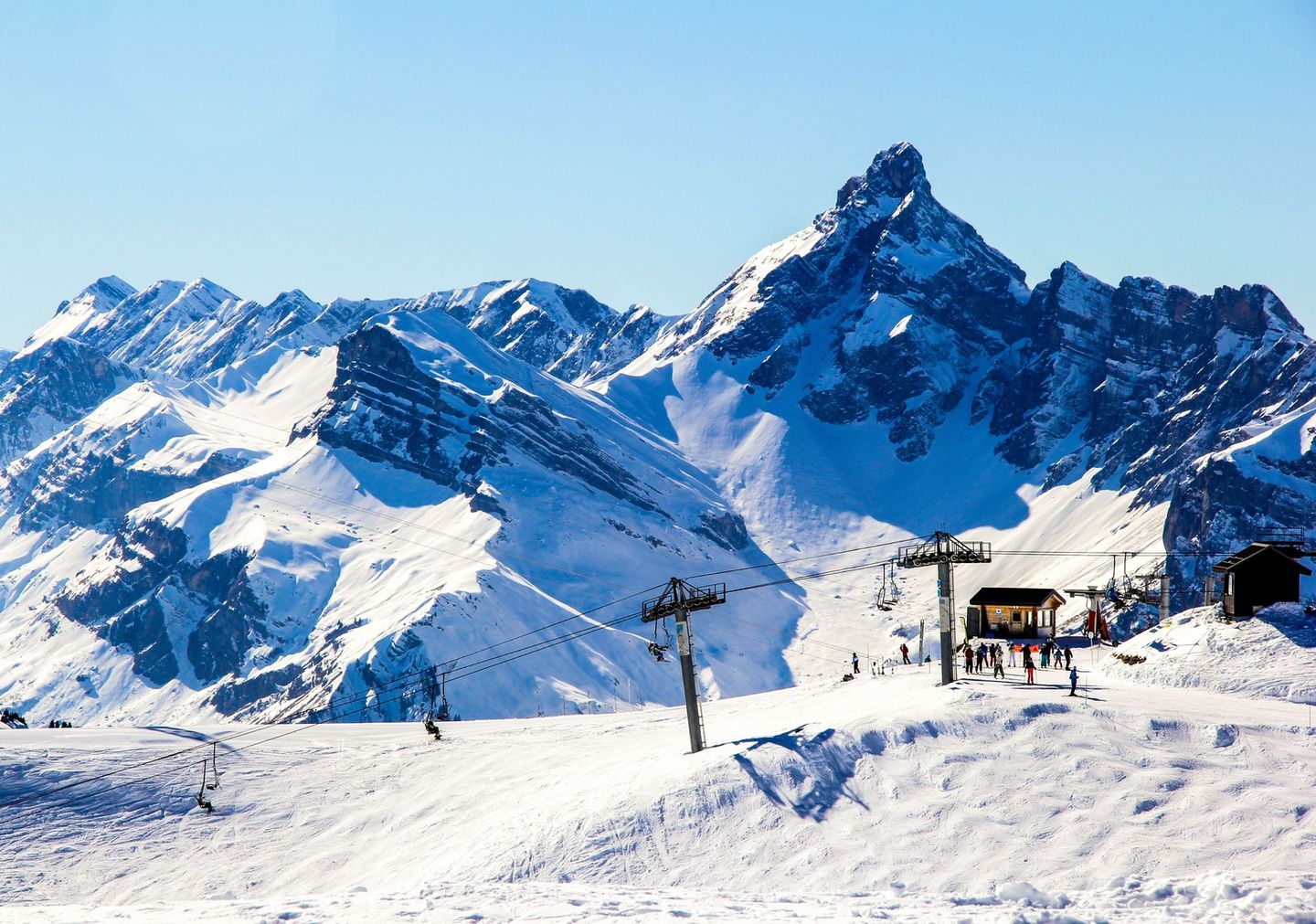 To admire breathtakingly beautiful landscapes while hiking, head to La Tzoumaz. Located just above the Rhône Valley, this place makes a perfect starting point for your adventure. A 10 km long toboggan trail can also be found in this area. And if you want to experience the fun of dog sledding, head to the Ruinettes. Here you will be able to start a panoramic TakiTrek tour, seating in the sled, pulled by 8 dogs. During the breaks, you will be able to pet the dogs and admire the beauty of the scenery. Want to take photos with the world-famous Matterhorn in the background? Then visit Thyon, where you also will be able to grab a bite at the Café-Restaurant Mont-Rouge at the height of 2,000 m above sea level!
A great selection of bars and restaurants can be found in La Tzoumaz and Verbier. Visiting the panoramic Igloo bar on the peak of the Mont-Fort is an absolute must! Other nice options are the Offshore Café, Fer à Cheval, and Le Rouge, where you can enjoy live music performances every evening.
The best hotels near Les Quatre Vallées
Accommodation in Les Quatre Vallées
The tourists who come to the 4 Valleys seek not only a pleasant skiing experience but also comfortable accommodation. And here they can find a large selection of top-class hotels with up-to-scratch service. Those who want to enjoy their apres-ski, usually flock to Verbier, and Nendaz and Veysonnaz are known to be great destinations for families. They have a much quieter ambiance and cater to guests who are just making their first steps in skiing. A great number of well-designed chalets and apartments are available to travelers here. La Tzoumaz is another quiet village, which offers plenty of options with great value for money.
Luxurious hotels
Top-notch 5-star hotels can be found in almost every resort on the territory of 4 Valleys. They all provide a broad range of amenities and services which can help you to indulge yourself in some luxury. For instance, W Verbier hotel boasts its restaurant, which serves European delicacies, and offers the best beauty treatment for your body and soul.
Cozy chalets
Embrace the rustic charm of elegant chalets, located just near the ski slopes! Chalet Aeolus in Veysonnaz is a 3-star lodging, which has everything you need for a comfortable stay. Apart from magnificent panoramic views, it offers a fully equipped kitchen, cozy fireplace, and an indoor swimming pool.
Family-friendly lodgings
Chalet Adele in Veysonnaz is a perfect choice for families with kids. Located only 300 m from the nearest ski lift, it has convenient ski-to-door access. Family rooms with modern design are equipped with comfortable king-size beds. The facilities of this chalet include ski storage, on-site parking, and wi-fi.
Hotels for the best apres-ski
If you are a fan of night clubs and want to party all night, then lucky you! The 5-star W Verbier is not only a mecca of luxury but also a place of interest for the party animals. Why is it so? Because it has its own nightclub with DJ music!
Great hotels with reasonable rates
In Nendaz, you will find a lot of great 3- and 4-star properties with rooms at cheaper rates. For example, 3-star Nendaz 4 Vallees, which offers all necessary conveniences for a comfortable stay. Wellness facilities and sauna will make it even better!