Please, enter a destination
Filters
Top facility
More
Hotels in Batumi
(341 results)
Visit Batumi: Travel Guide
Sunny Batumi on the coast of the Black Sea is an essential tourist location known as Las Vegas of Caucasus because casino games are also allowed here.
This spot belongs to the most beautiful places in Georgia, and its classy subtropical flora with palms, magnolias, and other exotic plants makes the city a vacation paradise.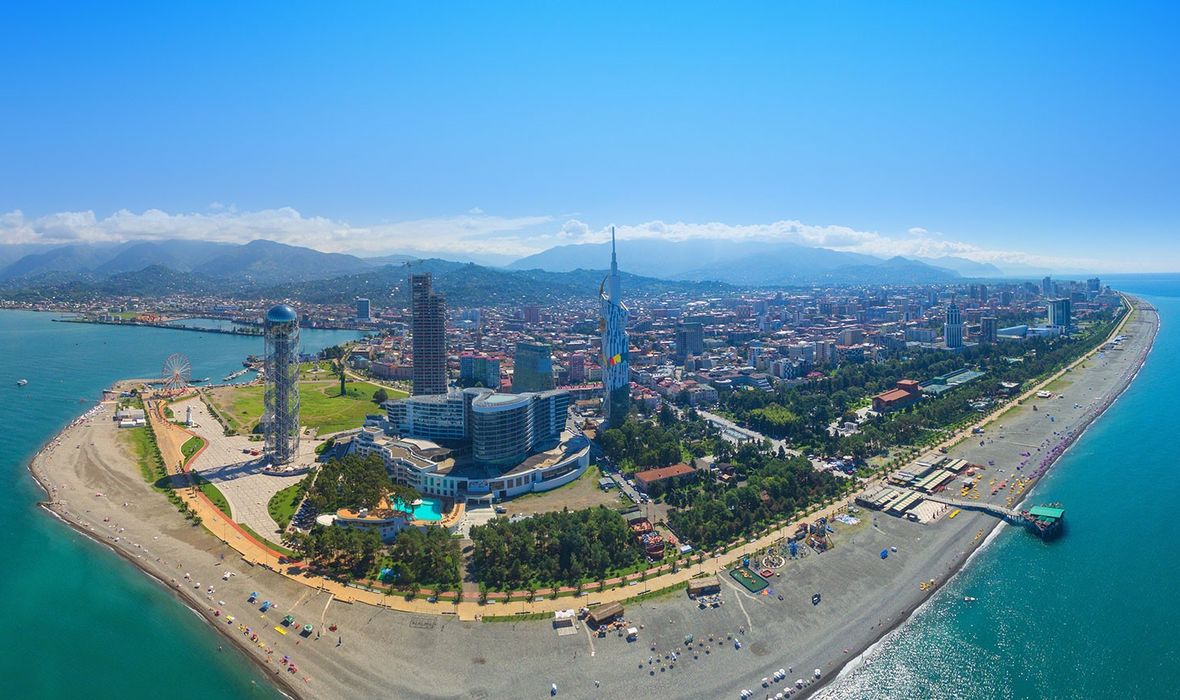 It is the third-largest city in Georgia and the capital of the Autonomous Republic of Adjara. Moreover, it is one of the most important ports on the eastern side of the Black Sea. Its guests can see departures of ships from "Seaside Park Boulevard" - a name given by locals to the promenade in Batumi.
Interactive map of Batumi
Top 10 sights of Batumi
Highlights in the Seaside Park (Batumi Boulevard)
In Miracle Park, you will experience "new" Batumi because most sights here were built only after 2008!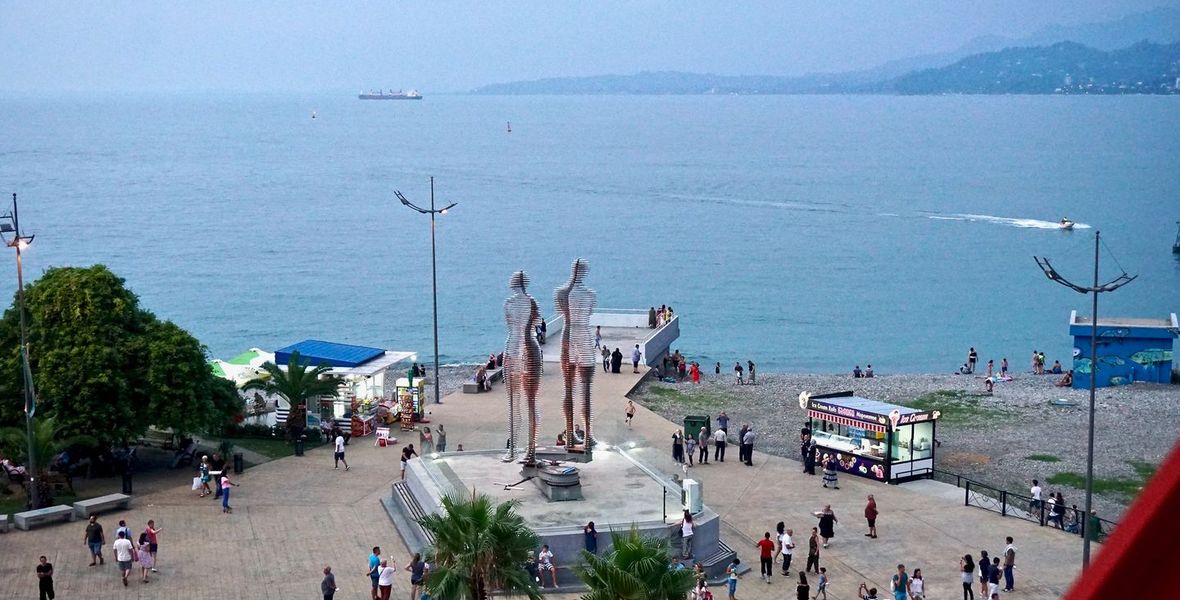 Photo by Shalika Malintha, https://www.flickr.com/photos/10414946@N02/41428430332
Here you will find:
| | | |
| --- | --- | --- |
| 👥 | Ali & Nino Statue (built in 2010, 8m high) | two abstract human figures as a symbol of forever love and understanding people of different cultures. In the night, the statue shines in various colors. |
| 🔠 | Alphabetic Tower (built in 2012, 130m high) | The structure of the tower is similar to the DNA structure. Here also 33 letters of the Georgian alphabet are presented. |
| 🗼 | Chacha Tower (built in 2012, 25 high) | A fountain, from what real chacha (highly concentrated alcohol drink) can flow. |
6 May Park - The second most important park on the Boulevard
Here you can visit the following old and modern sights:
| | | |
| --- | --- | --- |
| 🎭 | Summer Theater | (built in 1947, completely restored in 2013) for up to 1.200 visitors.This wooden theater offers numerous events and performances to its guests. |
| 🏛️ | Colonnades (built in 1934) | The colonnades are an architectural construction in Greek style symbolizing an amazing gate at the entrance to the promenade. They are a landmark of Georgia often appearing on stamps and postcards. |
| 🐬 | Dolphinarium | a water park with everyday shows and swimming with dolphins, as well as a small oceanarium. |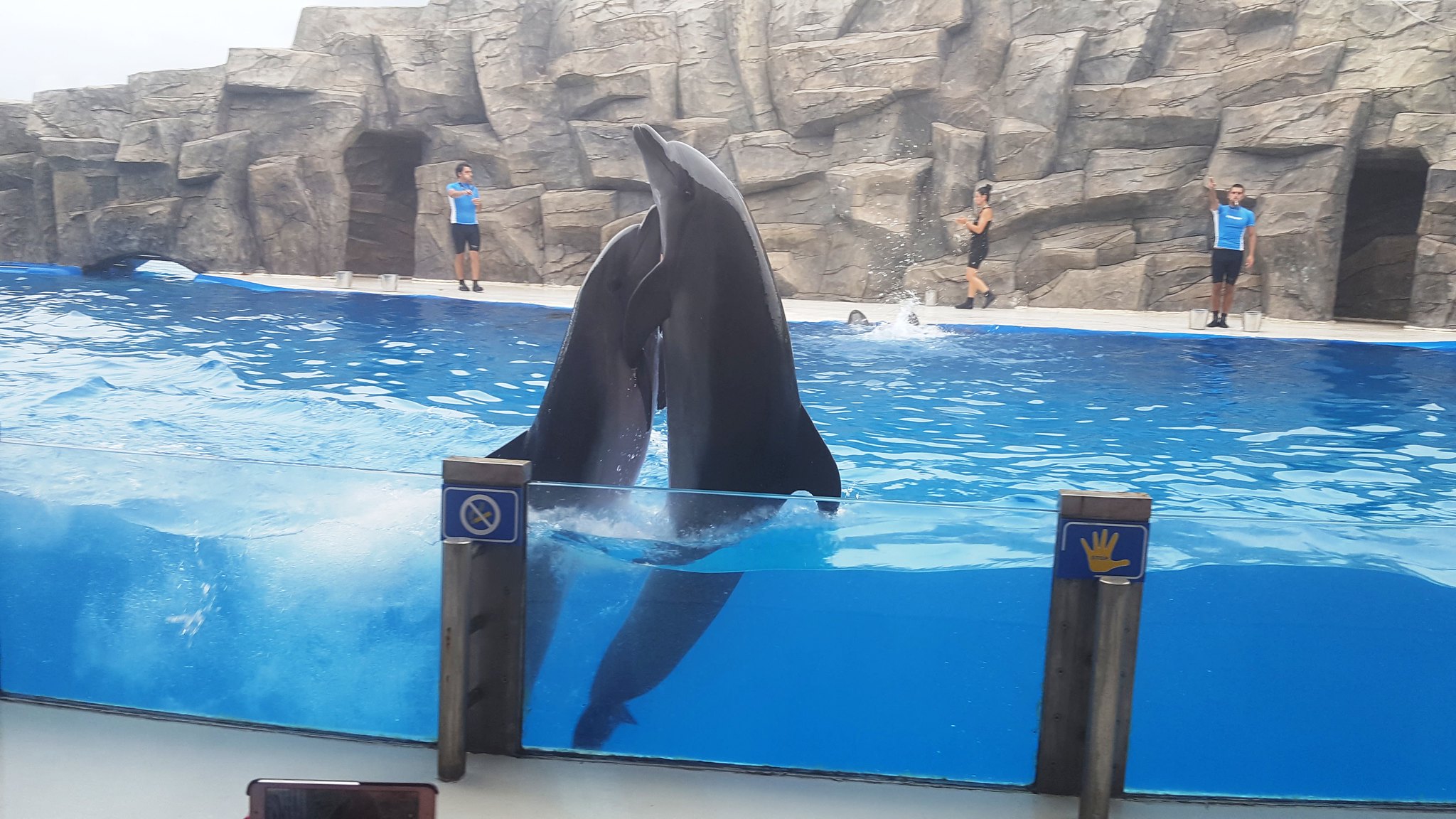 Photo by hovo hanragitakan, https://www.flickr.com/photos/152836271@N04
Dolphin show - every day (except Monday)
4 p.m. ticket price -15 GEL (~5 EUR)
7 p.m. ticket price- 20 GEL (~6.30 EUR)
9 p.m. ticket price- 20 GEL (~6.30 EUR)
Further information:
+995 599 005 780, +995 422 221730
Swimming with dolphins (15 minutes)
From 5 to 16 years - 150 Lari (~47 EUR), from 16 years - 200 Lari (~63 EUR).
Advance reservation under the number
+995 595 33 58 61
Aquarium
Aquarium - 2 GEL (~7 EUR)
Opening hours: 10 a.m. - 6 p.m.
Sightseeings in the historical city center

Photo by Uwe Brodrecht, https://www.flickr.com/people/33816554@N03
| | | |
| --- | --- | --- |
| 🌳 | Piazza Square | the most beautiful square in Batumi, a small part of Italy in Georgia. The name and the architectural style of this place are similar to the Venetian square San Marco. |
| 🇪🇺 | Europe Square | In 2007, the Medea statue was built in the middle of Europe Square as a symbolic unity between Georgia and Europe. From the Europe Square, you can also see the astronomical clock, another one point of interest of the city. |
Churches in Batumi
There are the following churches worth seeing:
The Greek Orthodox St. Nicholas Church
The Armenian Apostolic Church (built in 1885 under the supervision of an Austrian architect, reopened in 1992).
Nearby attractions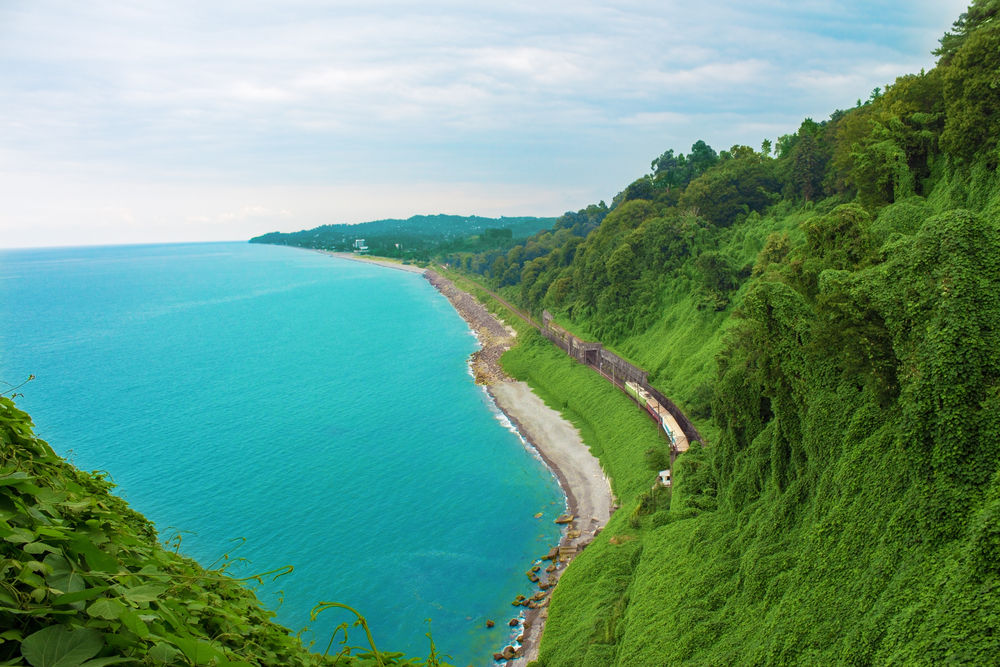 The botanical garden
Situated 9 km from the city center, its area amounts to over 108 hectares. Here you can admire more than 5.000 plant species. Admission 15 GEL (~5 EUR). Opening hours: every day between 9 a.m. and 8 p.m. A guided tour for 5 people with an electric car 60 GEL (~19 EUR). Camping in the park 20 GEL (~6.30 EUR).
The best time to come to Batumi
| | |
| --- | --- |
| 🌦️ | As it was already mentioned above, Batumi is situated at the Black Sea, so the local climate is mild. In winter, the average temperature is about 5°C, in summer - about 25°C. When to visit Batumi depends on what free-time activities you like. |
| 🌥️ | The best time to go for a city tour would be spring (April to June) and fall (September, October). |
| ☀️ | For those who prefer enjoying the sun on a beach, we would recommend visiting Batumi in summer (July, August). |
| 🏂 | The winter period is a perfect match for fans of winter sport arts. |
Free-time activities
Beaches
Beaches of Batumi at the Black Sea combine the best of mountains and sea.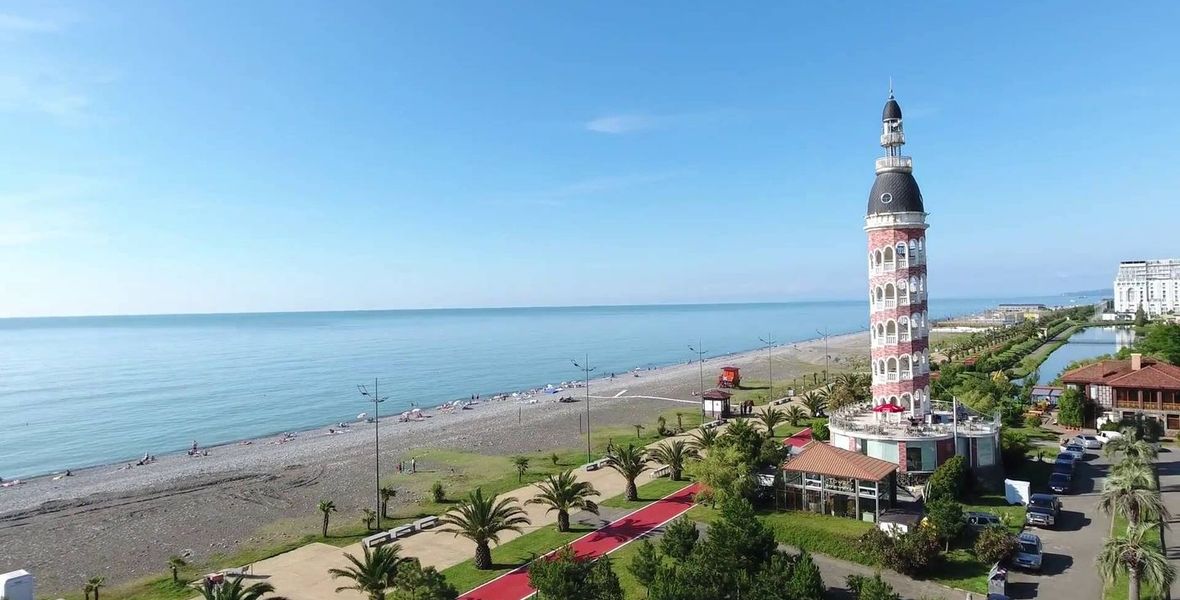 Central Batumi Beach
This beach has many benefits. It is free. The beach welcomes guests from luxury hotels, as well as ordinary tourists. At the same time, it is very clean thanks to the daily work of the municipal employees.
Kvariati
Kvariati is a small coastal village, 15 km away from Batumi. The beach of Kvariati belongs to the most beautiful and cleanest beaches of Georgia; the water in the sea is almost transparent.
💡 In the southern part of the Kvariati beach, there is the only diving center in Georgia. Here you can train and get a PADI certification card.
💡 Take water shoes because the Georgian coast consists mostly of pebbles.
Iveria
The Iveria beach boasts its clean seawater. The area is arranged very beautifully. The beach bar is a scenic combination of pebbles and lush greenery. In the menu, you will find European and Georgian specialties, a wide choice of cocktails. In the evening, you can enjoy DJ performances; also, parties are often carried out.
Casinos
Almost all casinos in Batumi are located in five-star hotels, which provide their service at the highest level.
Currently, there are nine casinos in the city, and the most popular ones are Casino Peace — Hotel Sheraton Grand Palace, Casino — Hotel Intourist Palace, Casino Iveria — Radisson Blu Hotel.
Local cuisine
Georgian cuisine is very authentic and original. The basis of national dishes is cereals and milk products. Dishes from fresh, as well as pickled vegetables, are quite popular. Each family often has its own receipt of a salad.
Instead of bread, people bake different cakes, as well as thick mush.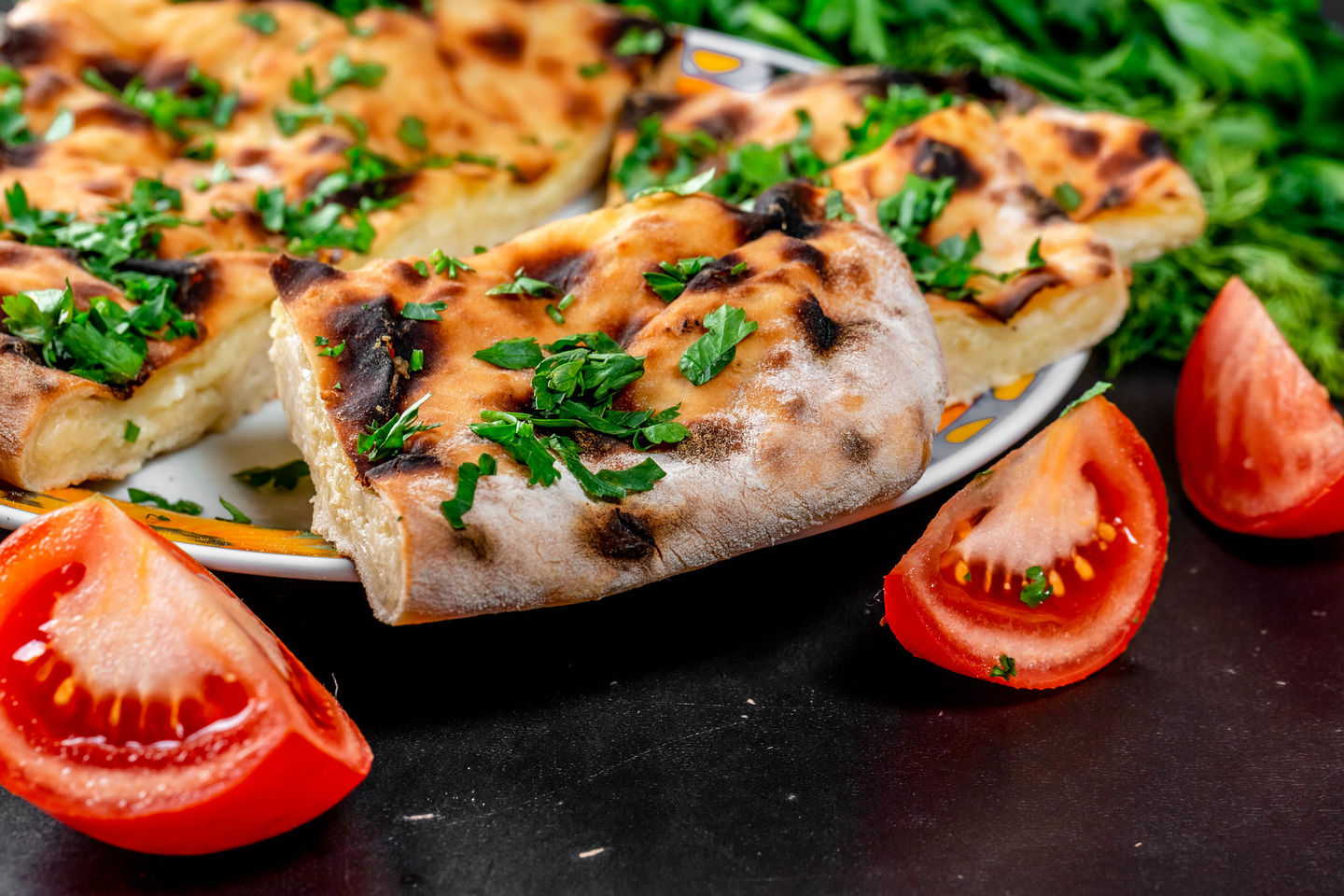 💡 Taste khachapuri - open pastries.
Among the national meat dishes, there are kebabs and khinkali - dumplings with mutton.
💡 You should definitely taste buglama - spiced lamb with pilaw, basturma, and hash - bouillon with garlic.
Photo by Marco Verch Professional, https://www.flickr.com/photos/30478819@N08/
You should also like the soup kharcho if you are a fan of spiced food.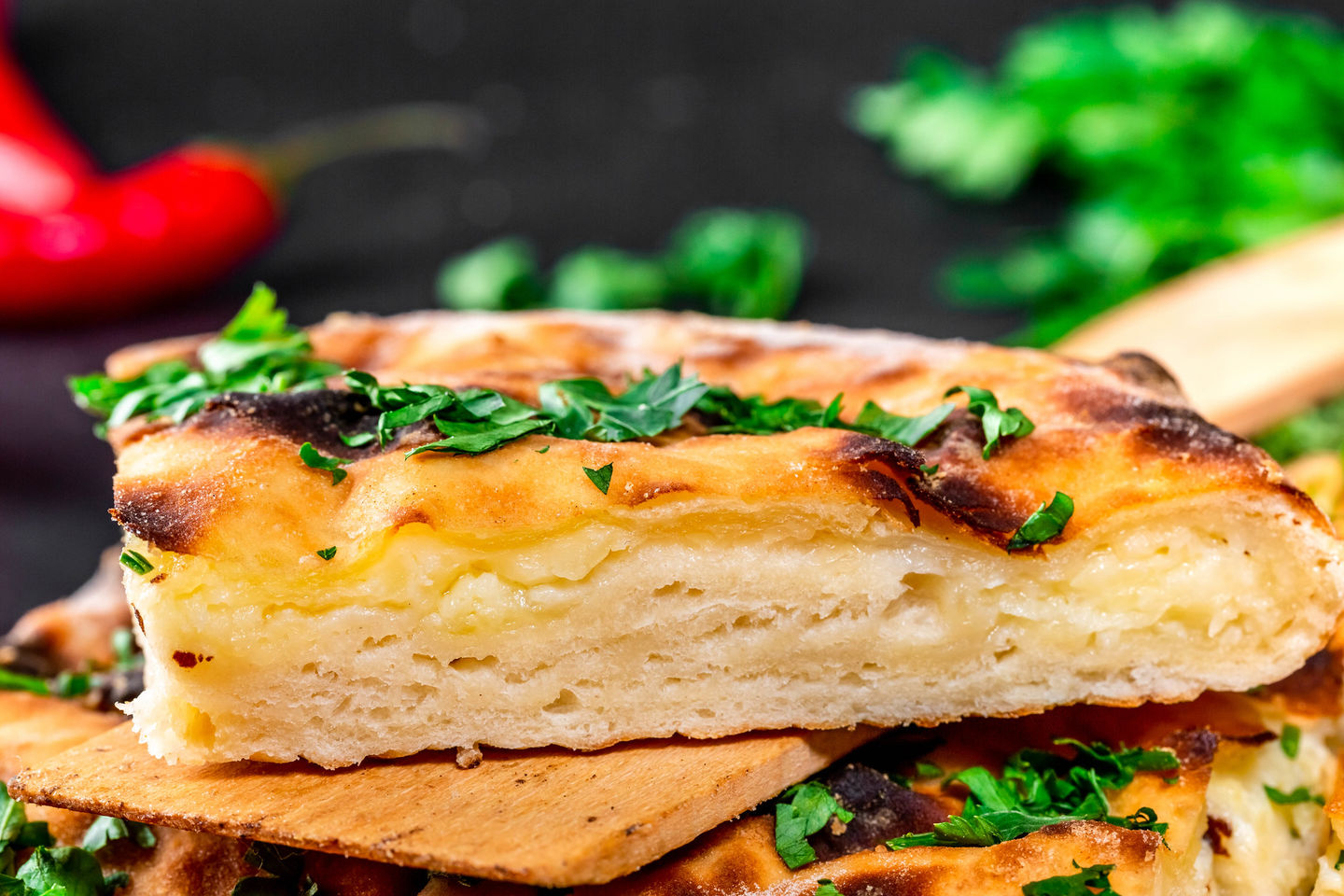 6 tastiest and budget-friendly national cafés in Batumi
🥗 Khachapurnaya Laguna
🥗 Khinkalnaya Kiziki
🥗 Shemoikhede Genatsvale
🥗 Restaurant Sachashnike
🥗 Cafe Retro
🥗 Restaurant Sazandari
Photo by Marco Verch Professional, https://www.flickr.com/photos/30478819@N08/
How to get to Batumi
From the airport Tbilisi
Batumi is situated almost 400 km away from the Georgian capital Tbilisi. Every day, several buses go there, there is also a train going 2-3 times a day.
From the airport Kutaisi: here you will find low-cost flights to Germany. There is also a local train from Batumi to Kutaisi, as well as many buses.
Accommodation
Batumi offers a wide choice of accommodations, which are only 15-20 minutes away from the sea: hotels, guesthouses, hostels, and apartments. Prices for a hotel room depend on amenities, vicinity to the sea, star category, and hotel occupancy. They can vary between 25 $ and ​​270 $. You can rent a flat from 25-30 $ per day, but mostly for 35 to 70 $. It also depends on amenities, condition of a building, vicinity to the sea, and the season, of course (at the beginning of the season, the prices are always lower).
Book hotels at the best price, plan your trip in advance with HotelFriend.