Please, enter a destination
Filters
Top facility
More
Hotels in Prague
(853 results)
A short tours in Prague
On a short vacation, most people want to go somewhere picturesque and inspiring and bring home a lot of great memories. Prague will live up to all your expectations! Friendly people, amazing sights, unique atmosphere, and tasty food - everything one needs to have a great city break. What are the must-visit landmarks in the Czech capital? First of all, it is the Old Town square, which has remained intact for more than ten centuries, with such gems as Rococo Kinský Palace, the Jan Hus monument, the Baroque Church of St Nicholas, etc. Soak up the colors and sounds of this spectacular and lively place and watch the medieval Town Hall clock - Orloj, which shows the current position of planets. Featured in millions of photos, the symbol of the city - the 14th-century Charles Bridge - is a stunning promenade, polished by thousands of feet every day. Prague Castle is another landmark you cannot miss. This UNESCO site is the biggest castle complex in the world. You can visit its cathedrals, palaces, exhibition halls, art gallery, Imperial Stables, or take a stroll in the well-kept gardens. The historic Jewish quarter, or Josefov, with six synagogues, the Jewish Museum and Franz Kafka monument, is also worth exploring.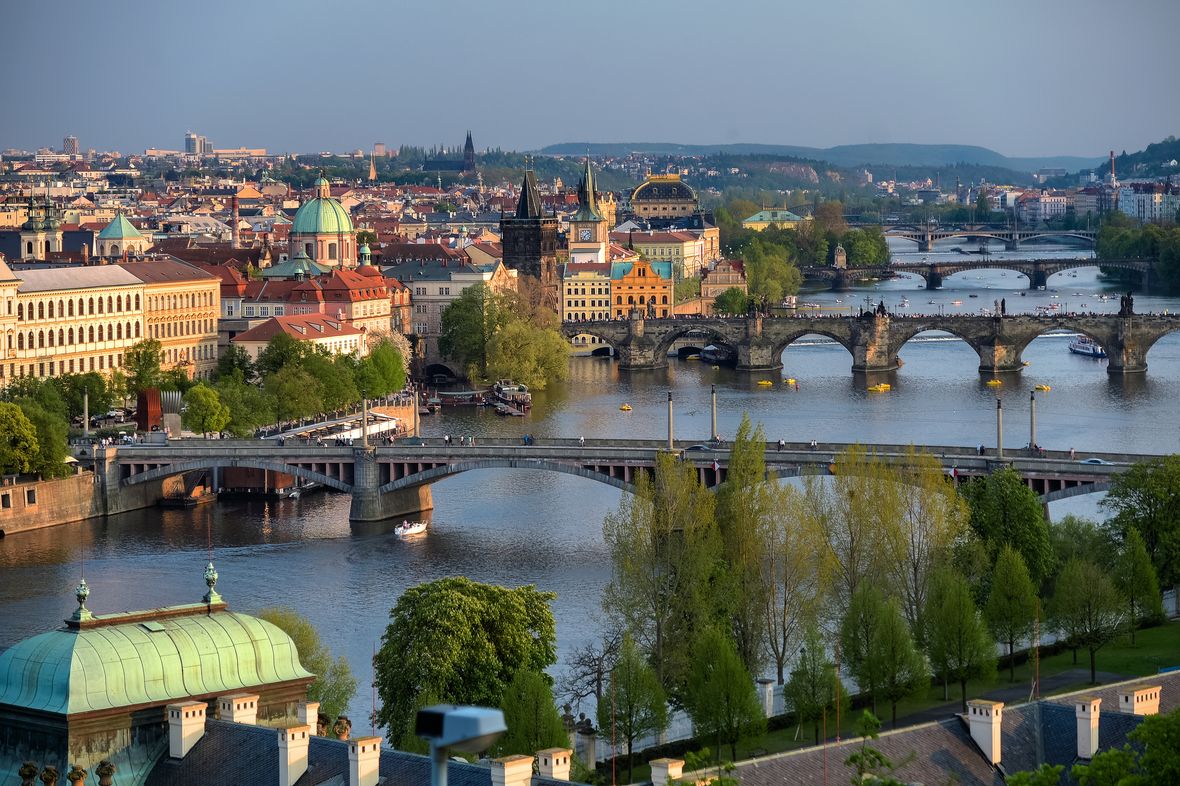 Admire Prague's exquisite architecture from water: take a 1-2 hours cruise on Vltava River (13-20 €), and enjoy the cityscapes, complemented with drinks or dinner. Another option is to avoid the crowd, hire a small mahogany boat with a captain and follow own route. On the left bank of the Vltava, the green Petrin Hill with landscaped gardens offers impressive views of the city. Go up on foot or use the funicular railway.
Prague City Card (from 62 €) is an excellent way to save on your short vacation if you plan an intensive cultural program - it is valid 2-4 days and includes free 2-hour bus tour, sightseeing and riverboat excursions, free access to multiple museums, etc.
Your unforgettable weekend in Prague
Delicious food is an integral part of the Prague experience. Czech beer is among the worlds best, and the Prague Beer Museum is a good spot to start. BeerGeek Bar, BeerGeek Pivotéka, and Nubeerbar are superb locations to taste craft beers. The beverage is also used as a marinade for another specialty dish - Koleno (pork knee). The Czech guláš (meat stew) served with the knedlíky (dumplings) is nutritious food to give you energy for long and exhilarating walks around Prague. Try local delicacies at Czech Slovak Restaurant Lounge Bar, Restaurant U Modre Kachnicky, Hostinec u Tunelu or Hostinec U Supa. Smažený sýr (deep fried cheese) is perfect food on the go - take a snack at food stalls around the city.
Prague boasts a bustling nightlife. Live music is at every corner here. For the highest concentration of jazz bands, visit JazzDock - a club on the bank of Vltava River. Lucerna Music Club, Chapeau Rouge, and Roxy are among Prague's top party hubs.
Low-cost options with HotelFriend
The Czech capital is a perfect romantic or family getaway that will take your breath away with its beauty. And HotelFriend will make your short trip to Prague much cheaper. At the same time, you will not have to compromise your comfort as we cooperate with the best hospitality providers in Europe. Purchase our travel coupon and get a considerable discount on your hotel stay with a breakfast buffet included.
The best hotels in Prague