Please, enter a destination
Filters
Top facility
More
Hotels near Frauenkirche
(79 results)
Dresden Frauenkirche
The famous Frauenkirche is one of must-see places while visiting Dresden. Called an extraordinary example of Protestant sacred architecture, with one of the biggest domes in Europe, it was almost completely destroyed during the World War II, reconstructed and finally reopened in 2005.
Location
The church is located in the city center, that makes it easily accessible by means of public transportation. The closest tram and bus stops are "Altmarkt" (tram lines 1, 2, 4), "Pirnaischer Platz" (tram lines 1, 2, 3, 4, 7, 12), and bus lines 62, 75.
Those coming by car cannot park right by the church (except for drivers with handicaps), but there are available parkings nearby.
Frauenkirche has several entrances, usually the D entrance is used for devotions and services.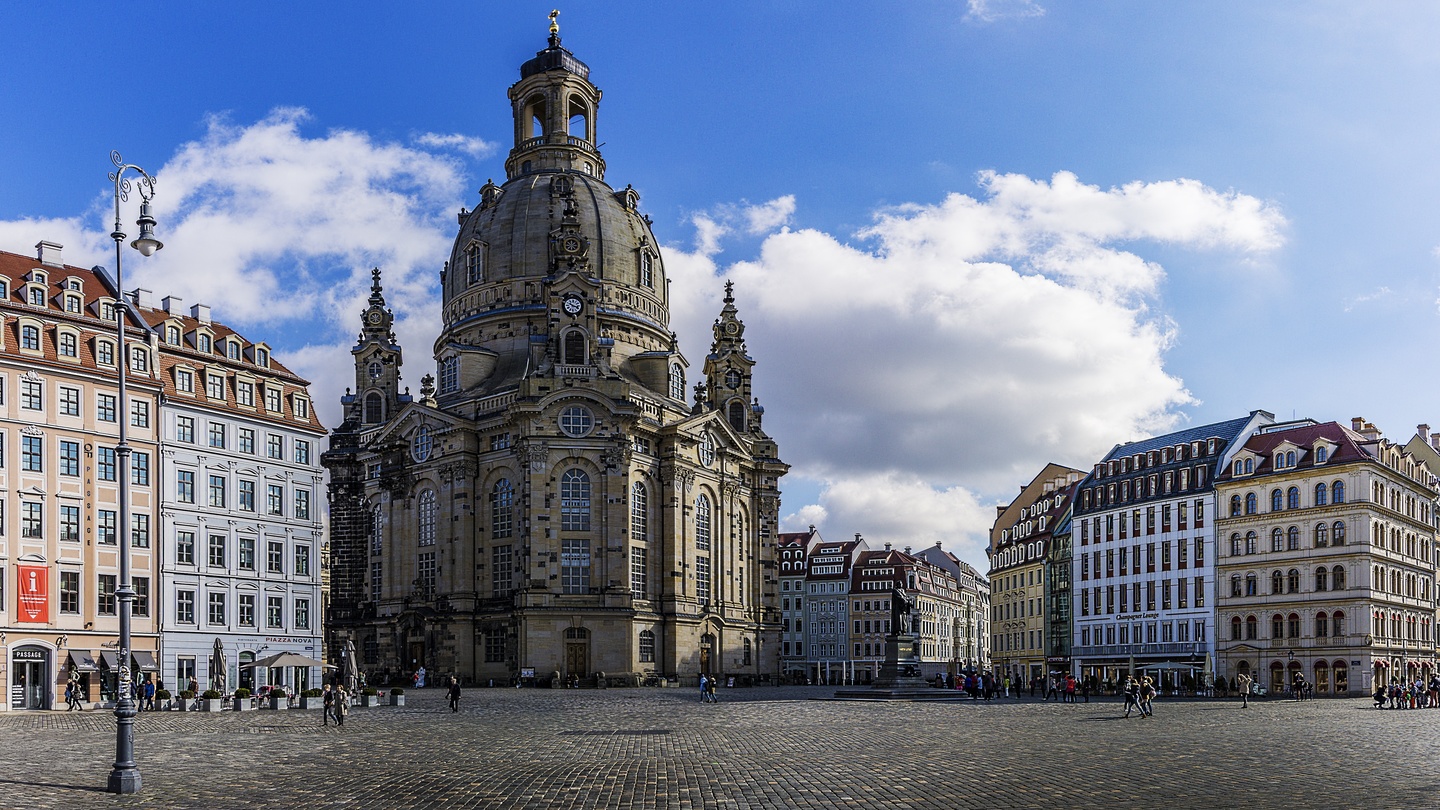 History
Frauenkirche was built in the 11th century and named after Virgin Mary. First it was a missionary establishment for surrounding villages and later in the 12th century it became the parish church of Dresden. As amount of the congregation kept growing, the need to rebuild it arose. In 15th century the church was redesigned in a late Gothic style. During the Reformation it was used as a burial church.
In 1722 George Bähr was commissioned to build a new edifice - this work was finished in 1743.
During the World War II after bombing of Dresden Frauenkirche collapsed and its ruins were announced a memorial. Official rebuilding started only in 1994. The outer shape as well as interior were renewed; in 2005 the reconstruction was officially finished with reinstallation of the organ.
Architecture
The Frauenkirche is built of sandstone on a small base area. The church is not only an edifice; its architect George Bähr set a goal to embody christian (and particularly Luther's) ideas into stone.
The lower part of Frauenkirche features octagonal outline with four towers on top and a circular dome with a lantern. There is no one main entrance; several doors marked with letters lead inside.
The church is divided into main and lower ones. The inner area features traditional for many protestant churches pulpit for sermons, and baroque altar designed by Johann Christian Feige.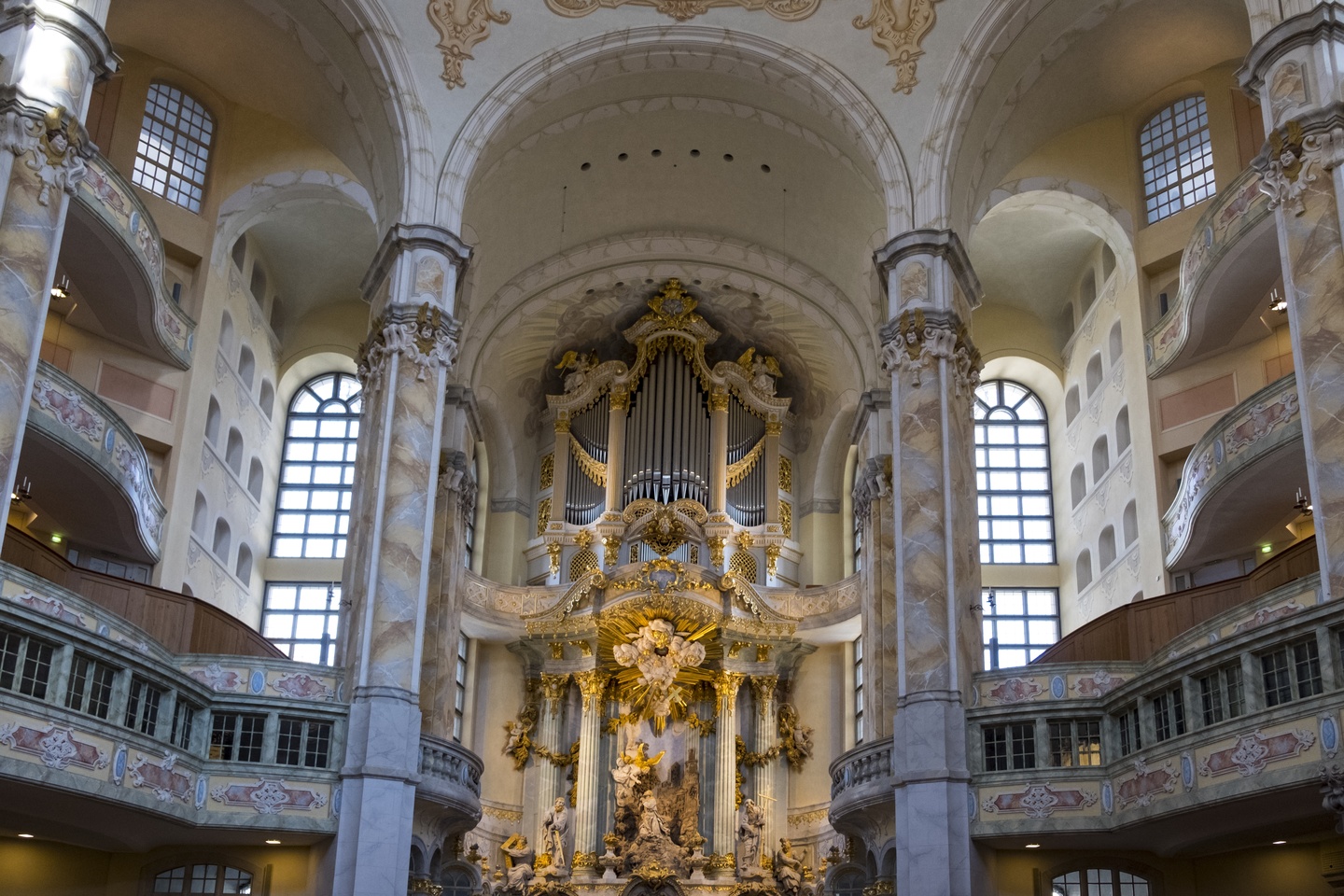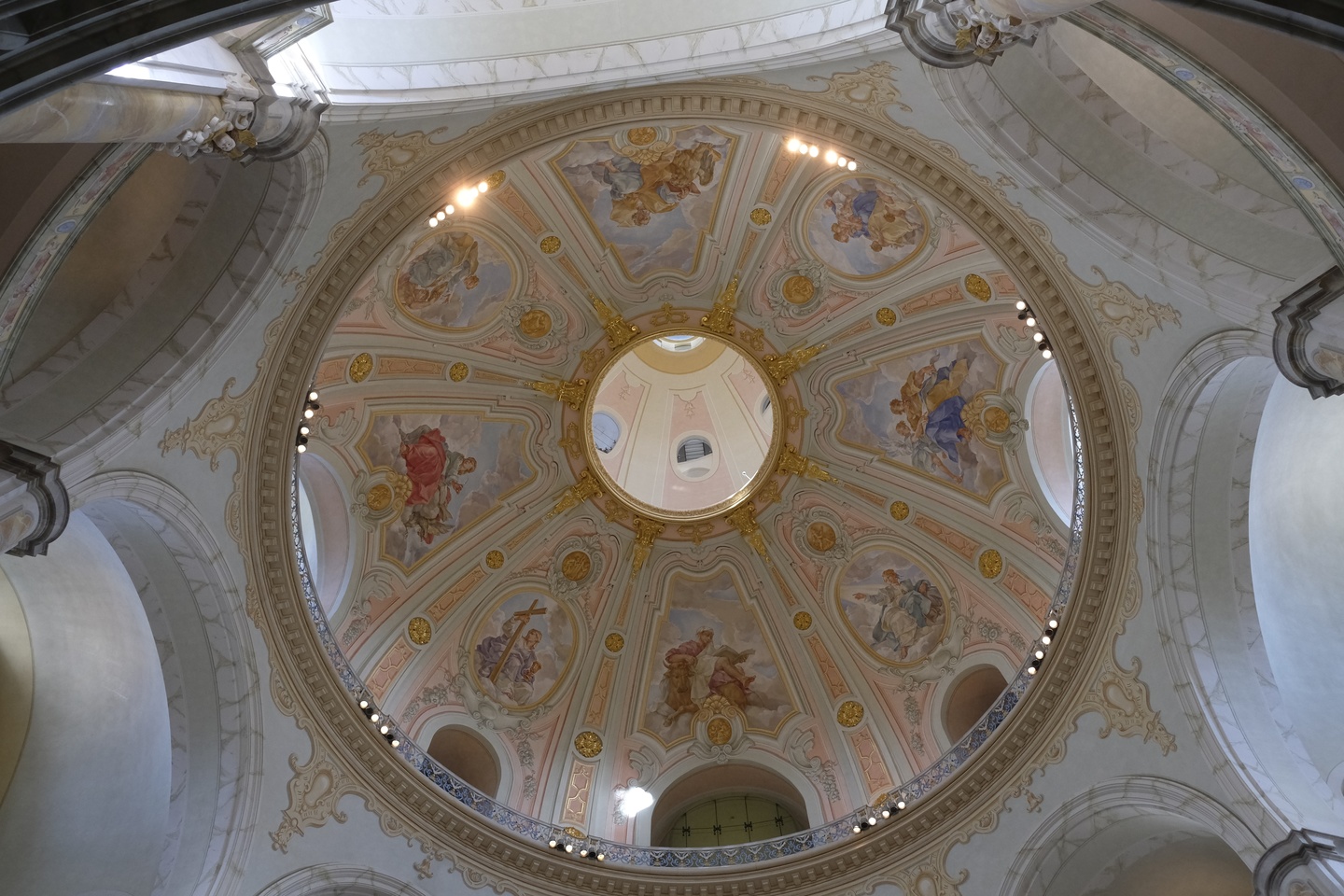 Services
In Frauenkirche there is an established schedule of the services.
the main church service on Sundays at 11 a.m;
the evening service at 6 p.m. on Sundays (once a month in English as an Anglican Evening Prayer service);
evening prayer is on Monday, Tuesday, Wednesday and Friday at 6pm;
the Bell of Peace the beginning of the midday organ prayer service;
ecumenical Evening Prayer service in the Lower Church organized by groups of christians from the city is on Thursdays at 6pm.
Services are available also for guests with special needs; moreover, for them along with a companion there is a 50% discount.
For those with mobility disabilities there are wheelchair parking places nearby. If you have any hearing difficulties, you are welcome to take a guided tour in sign language (on request). Blind people can enter the main church area with their guide dog.
For severely handicapped guests it's better to enter the A entrance.
Admission & Opening hours
As the Frauenkirche is an open house of God and man, there is no special requirements to those willing to come, whether to a service or just to appreciate architecture of the church.
Admission is free during the Open Church hour, however you can donate some amount if you are willing to support. You can visit the main church area almost at any time - except for the galleries, that are not freely accessible. In Frauenkirche often rehearsals, concerts, wedding ceremonies as well as christenings take place, that's why you'd rather learn more about schedule of events going on.
Frauenkirche is a functioning church, so please remember it and respect the fact that first of all it is a place to worship God. While visiting it there are some things you are not allowed to do, in particular:
to take photos or videos;
to switch on mobile phones, tablets and other electronic devices;
to eat inside;
to smoke;
to come in with animals.
Tours and upcoming events
In addition to traditional services and prayer meetings there are plenty of guided tours, where you will learn more about the church, its history and rebuilding and get answers to your questions. You are welcome to discover the prayer stalls, the galleries, the Lower Church, the exhibition of reconstruction or even ascent to the dome (good health and comfortable shoes are must have!)
You can go with your group, join an existing one or, if you prefer exploring places alone, take an audio tour. There are informational materials available as well, such as brochures and guides for children.
Please notice, that for majority of the tours you have to sign up in advance. Almost all of them are in German (except for the audio tour in six languages), other options are available on request.
Accommodations by Frauenkirche
While staying in Dresden you may wonder about places nearby where you can stay and relax. On the HotelFriend website you can find the hotel matching your needs and book rooms, services and special arrangements online.
The closest to the church are Bülow Palais at Königstraße and Dorint Hotel at Grunaer Straße - both are in the very center of Dresden, so you will be able to easily reach other places of interest.
Best hotels near Frauenkirche in Dresden