Dates
Adults
2
Please, enter a destination
Filters
Top facility
More
Top facility
More
Hotels in Formentera
(464 results)
Formentera Travel Guide
As one of the most popular destinations of the Mediterranean Sea, Formentera becomes the magnet for thousands of visitors every year. Located just 6 km away from the well-known Ibiza, this island impresses people with its picturesque nature, tremendously clear sea, diverse underwater life (which is why divers and snorkeling enthusiasts tend to come here), and seafood that is considered the best in entire Spain. It includes the only one relatively large city called Sant Francesc Xavier (also known as San Francisco Javier). In turn, the rest of the island is almost untouched by civilization; it is a flat, rocky plateau barely covered with plants.
Best Time To Visit Formentera
It is recommended to visit the island from May to October, as this period is associated with warm temperatures and limited rainfall. In July, the average temperature rises to 27°C, although January can be characterized by 14 °C. In fact, the island is located in a zone of a Mediterranean climate with hot dry summers and mild winters. At the same time, comfortable weather conditions of July and August encourage an increased number of tourists to arrive on the island. Therefore, in order to escape overcrowded beaches and high prices, you can visit the island in May, September, and October.
Interactive Map of Formentera
Attractions
There is no doubt that people tend to visit Formentera because of white sandy beaches and transparent water that presents surprising combinations of blues. Simultaneously, the island includes a variety of interesting local attractions that should be visited by tourists as well.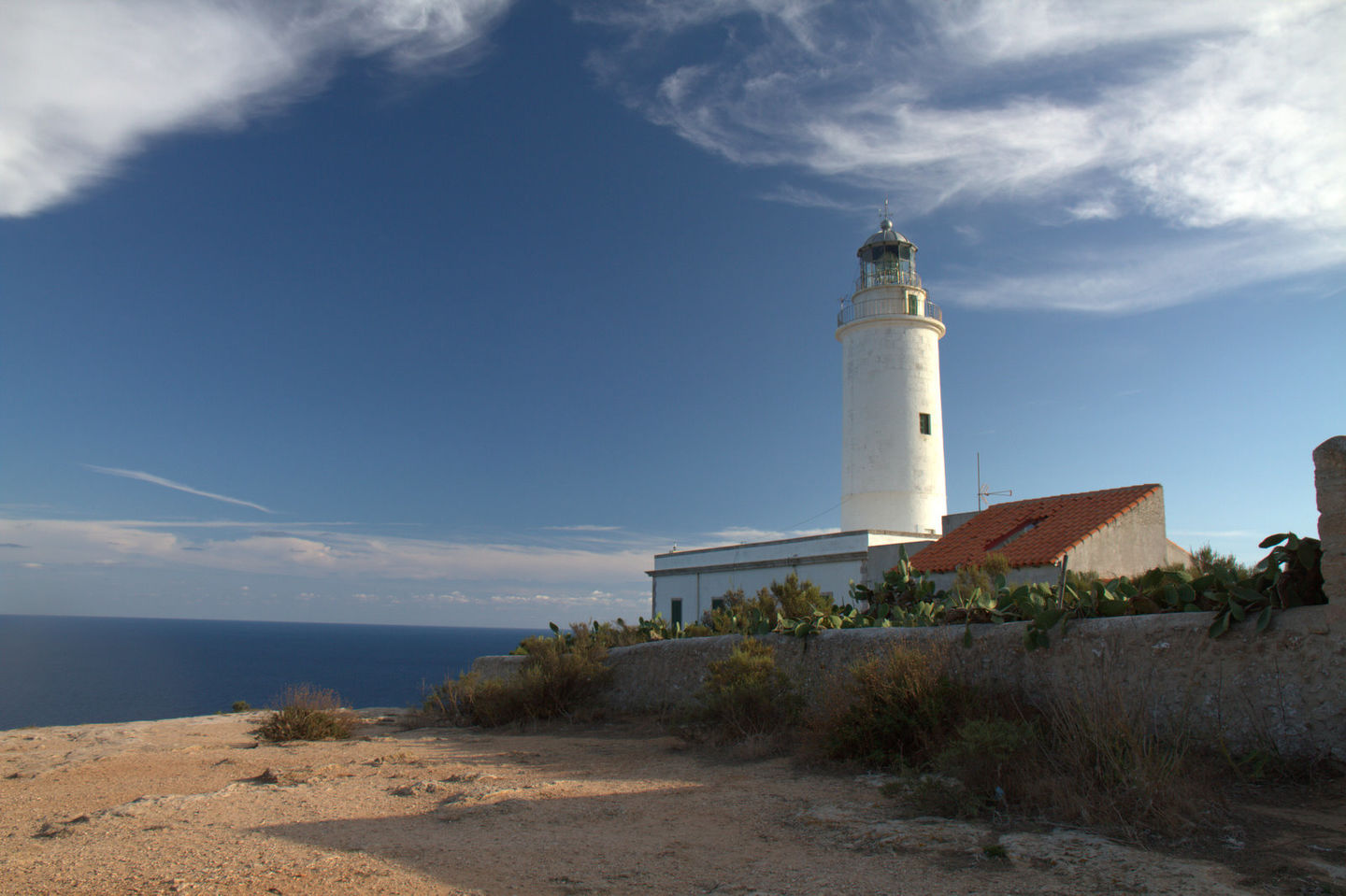 Far de la Mola
Far de la Mola is the lighthouse at the end of the world, which was described by Jules Verne in one of his works. It looks like a completely ordinary tourist attraction, although its location makes the attraction unique and very popular. At the foot of the attraction, you can also find the monument dedicated to Jules Verne and two beaches where you can relax. Tourists note that this part of the island has numerous lizards that like tomatoes. Subsequently, if you want to feed them, grab a couple of tomatoes.
Photo by yashima, www.flickr.com/photos/yashima
Es Cap de Barbaria Lighthouse
The second lighthouse of the island is famous for the beautiful views that it provides. Unlike La Mola, you can get inside of this building and climb to the observation deck. The upper terrace offers incredible views of the surroundings. Tourists are advised to meet the sunset here, as well as take a couple of photos of Formentera Island.
Nearby, you can find the small and very cozy lighthouse that can be entered from the side of the seashore.
San Francisco Javier
This village, named after the Catholic Saint of Spanish descent, is located in the central part of the island. At the moment, this is the largest settlement of the island and the main administrative center of Formentera.
The main attractions of the village are the Old Town Hall and Ethnological Museum. It is essential to take into consideration the local church that significantly differs from the traditional Catholic churches in Spain. It has snow-white stone walls, although there are no sculptures and stained glass windows.
The Things To Do In Formentera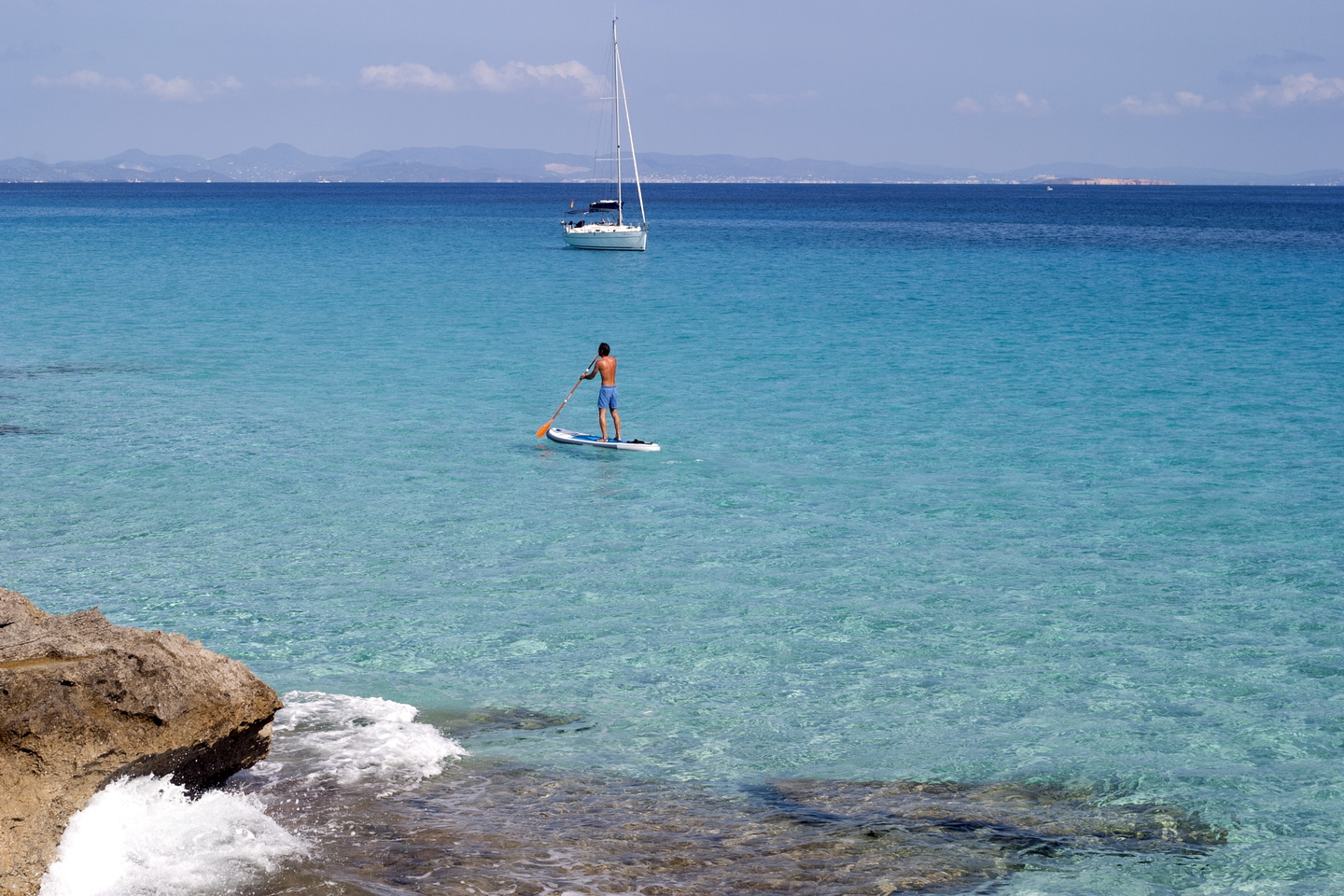 The island provides all appropriate conditions for admirers of water sports. For instance, if you are addicted to diving, windsurfing, surfing, parasailing, and sailing, you should definitely come here. In turn, the equipment can be rented in Es Pujols.
Diving
Thanks to crystal clear water with visibility up to 50 meters, Formentera attracts a huge number of divers. The island has the necessary infrastructure, including training centers and equipment rental. By the way, the island was recognized as the best island with a paradise underwater world by readers of the travel magazine Condé Nast Traveler.
Bicycle Rides
Formentera has a developed system of cycling routes; therefore, tourists can rent a bike and feel free to go discover the island. High-quality roads with an understandable system of road signs are expected to accompany a pleasant walk. It is allowed to enter the beach with a bicycle, as there are equipped parking lots.
Excursions On Formentera
On the island, you can join a sightseeing tour by bus, bicycle, or boat along the picturesque coast to the mysterious Es Vedra cape. Furthermore, you can go on excursion related to the wineries where local wines can be tasted.
Best Beaches
Formentera's beaches are included in the list of the best tourist destinations in Europe, as they are the cleanest and longest beaches in entire Spain. The beaches of Formentera are also known for the fact that nudism is allowed here.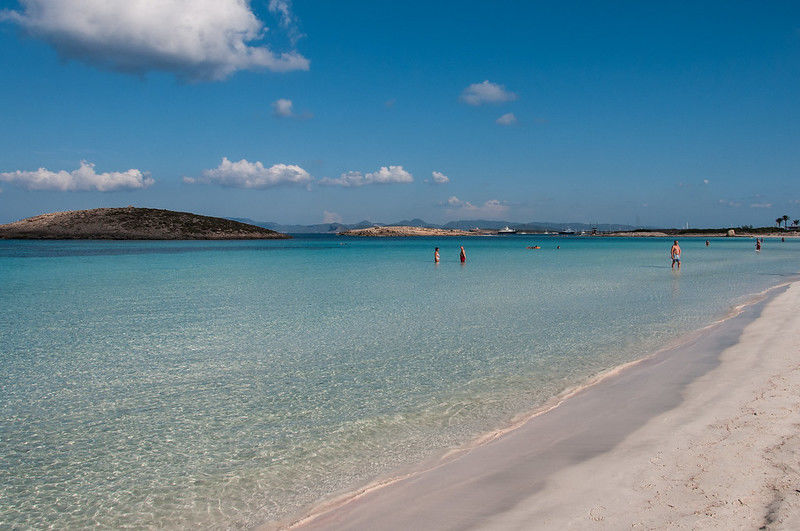 Ses Illetes
Located on the Trucadors Peninsula, this beach is considered one of the best ones on the territory of the whole island. In fact, it is a beach where pink corals combine with the glistening white sand and clear water. In order to get there, it is recommended to use the road from La Savina port. At the same time, if you prefer public transportation, pay attention to the local bus (L7).
Photo by Roberto Faccenda, www.flickr.com/photos/stefanedberg62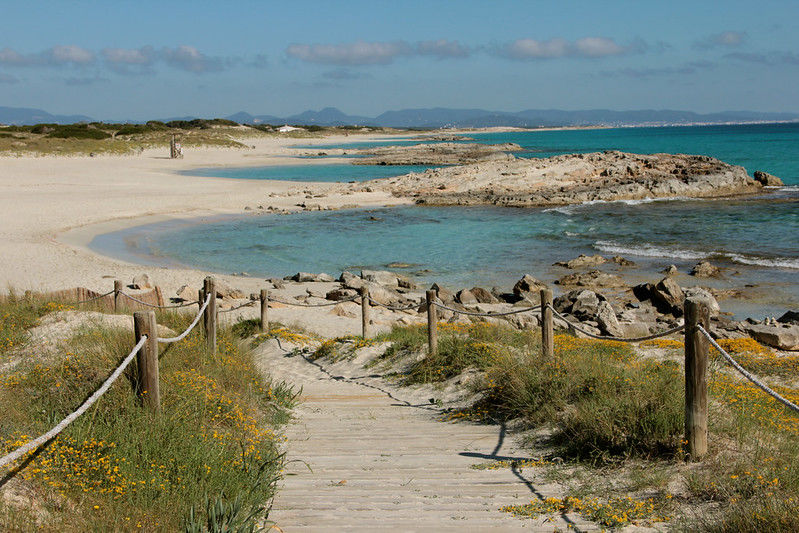 Llevant Beach
Taking into consideration that this beach is located on the side of the peninsula with the strong wind, it is less busy than other beaches. As a result, it is often visited by surfers who aim to improve their professional skills. Additionally, this beach is widely known as one of the island's most popular clothes-free beaches. In spite of the fact that it is a little windy on Llevant Beach, it is still popular among tourists during calm days.
Photo by Michela Simoncini, www.flickr.com/photos/comunicati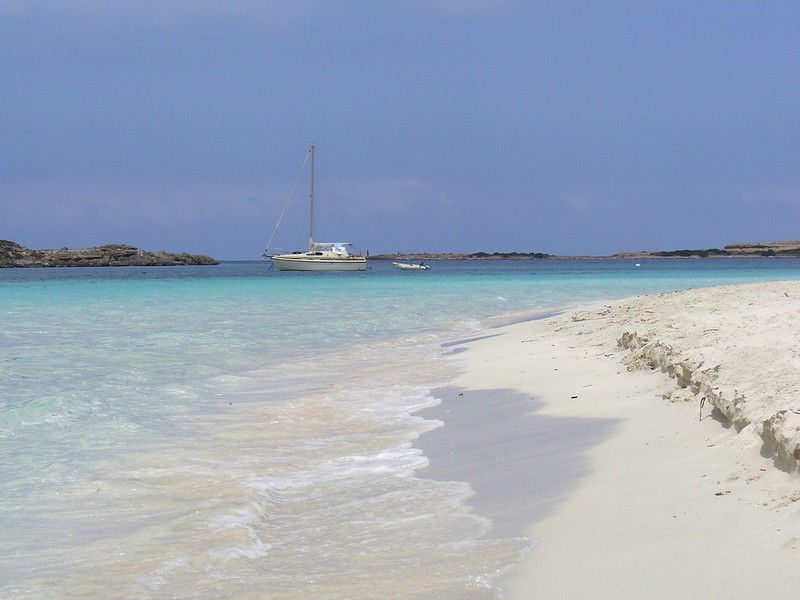 Playa De S'alga
Some people tend to escape overcrowded beaches, which can be explained by the desire to spend time accompanied by nature, sun, and sound of waves. If you belong to this group of individuals, take this beach into account. It is only accessible by boats, which means that you will be able to satisfy your expectation here. Moreover, this tourist destination does not include any buildings or facilities; therefore, you can concentrate on the beach vacation to the fullest extent.
Photo by Samu, www.flickr.com/photos/samualpedrete
Playa de Migjorn
As the longest local beach, Playa de Migjorn occupies the most considerable part of the Southern coast of Formentera. On the one hand, this beach is tremendously admired by tourists due to giant sand dunes. On the other hand, fans of relaxing vacation can find a variety of restaurants and bars nearby, whereas the rest of the individuals have the opportunity to get engaged in the sports activity on the territory of this beach complex.
Es Cavall d'en Borras
This beach is located near the La Sabina port, although it is still considered one of the island's quietest. The combination of clear turquoise waters with a lush forest of junipers makes this place an incredible spot for relaxing on the sun and enjoying sunsets. Nowadays, this beach can be reached by bus, car, or bike. At the same time, you can enter this tourist destination on foot.
Best Ways To Get To Formentera
First of all, it is essential to note that Formentera does not have an airport, which is why it can't be directly reached by plane. Therefore, in order to reach this island, you should find a way to get there by plane through the island of Ibiza. When you arrive in Ibiza, there is only one way to get to Formentera — with the help of the ferry. Today, there are several ferry companies that are based on the transportation of passengers or vehicles. For example, Aquabus is usually perceived as the most economical and speedy method to get to Formentera from Ibiza. If you are situated in mainland Spain, you can also reach Formentera by ferry. Simultaneously, it is better to check ferry schedules in advance, as they change every 2-3 months.
Transport
Formentera is a small island, which means that you have the opportunity to visit the main local attractions by renting a car or a scooter. Rental companies are located in the port of La Savina, where you can get a car for prices that range between 60-80 euros per day.
When it comes to bus services, you can use this kind of public transportation once every two hours from May to October. Simultaneously, the rest of the time, this bus passes through the port and three villages once a day. Moreover, if you are an outdoor enthusiast, pay attention to 19 cycling routes that have been developed for exploring the island, the total length of which is 35 km.
Accommodations And Hotels
Taking into consideration that Formentera is the island that welcomes numerous tourists from the whole world, it provides various accommodation options. For instance, this island includes luxury hotels, boutique hotels, and budget hotels.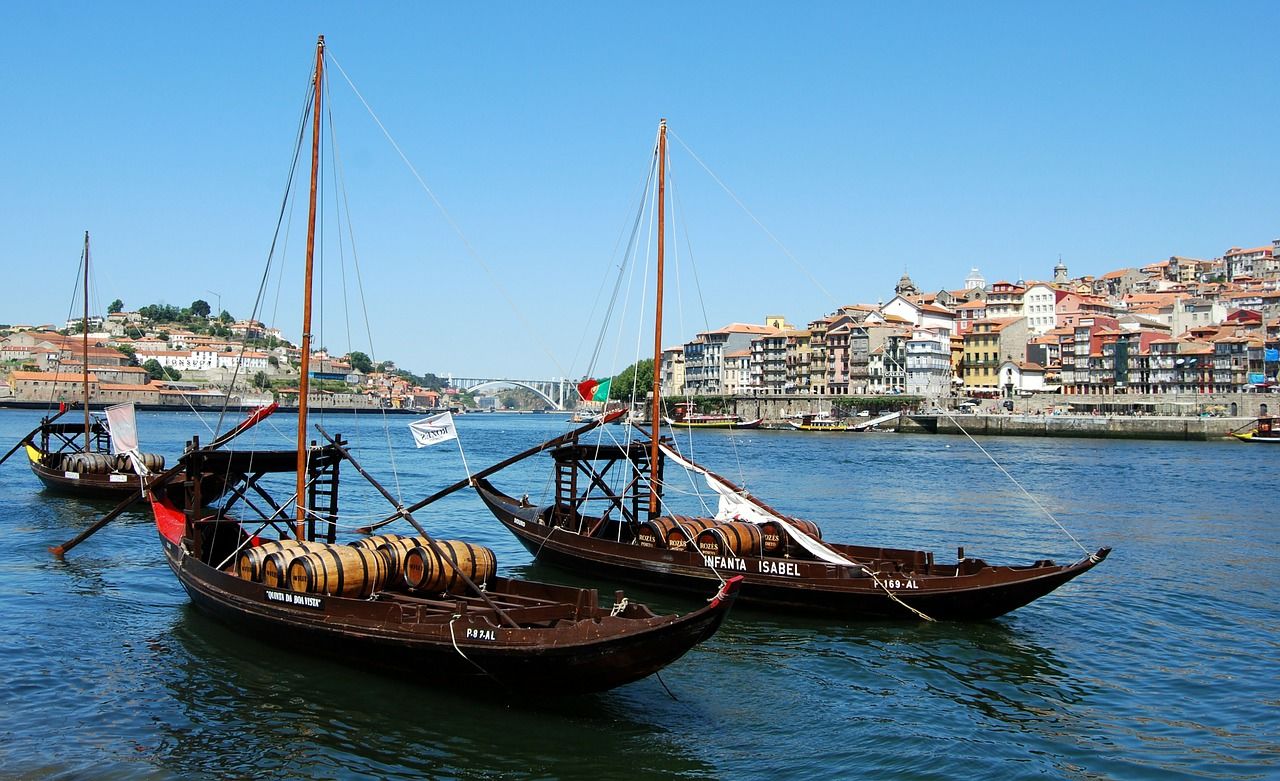 ● Located near Migjorn Beach, Gecko Hotel & Beach Club is considered an amazing 4-star hotel that provides high-quality services to its guests.
● Cala Saona Hotel & Spa specializes in luxury on a grand scale, as this hotel offers the opportunity to use the fitness center, outdoor swimming pool, spa, sauna, and restaurant that serves up traditional Mediterranean food.
● As a 5-star hotel, Five Flowers Hotel & Spa Formentera is widely known on the island due to zingy colors and a party vibe. Besides, it is located in the main resort in Formentera, where people can find numerous bars, restaurants, and shops.
● Blanco Hotel Formentera is a 4-star hotel that can be characterized by close location to Es Pujols beach, white colors, friendly staff, as well as stylish rooms and suites.
● Hotel Casbah is usually perceived as a guesthouse rather than a hotel. On the territory of this complex, people can find botanical gardens, enticing pool lined by sunbeds, a fully stocked bar, and an excellent restaurant.
Nevertheless, you can book a hotel according to your personal preferences with the help of HotelFriend.