Please, enter a destination
Filters
Top facility
More
Hotels in Frankfurt
(261 results)
Frankfurt Travel Guide
The largest city of the German state of Hesse, Frankfurt is indeed impressive. This metropolis is often included in the list of top 10 best cities to live in. Despite being one of the most expensive cities in the country, it is a site of European corporate headquarters and a home to the European Central Bank.
Apart from having the title of the financial center of Europe, Frankfurt is famous for being the hometown of Johann Wolfgang von Goethe. It is a green metropolis with the biggest inner-city forest in Germany, and every year it hosts more than 30 industrial expos. But there are so many more interesting things in Frankfurt, and we are going to reveal them in our guide.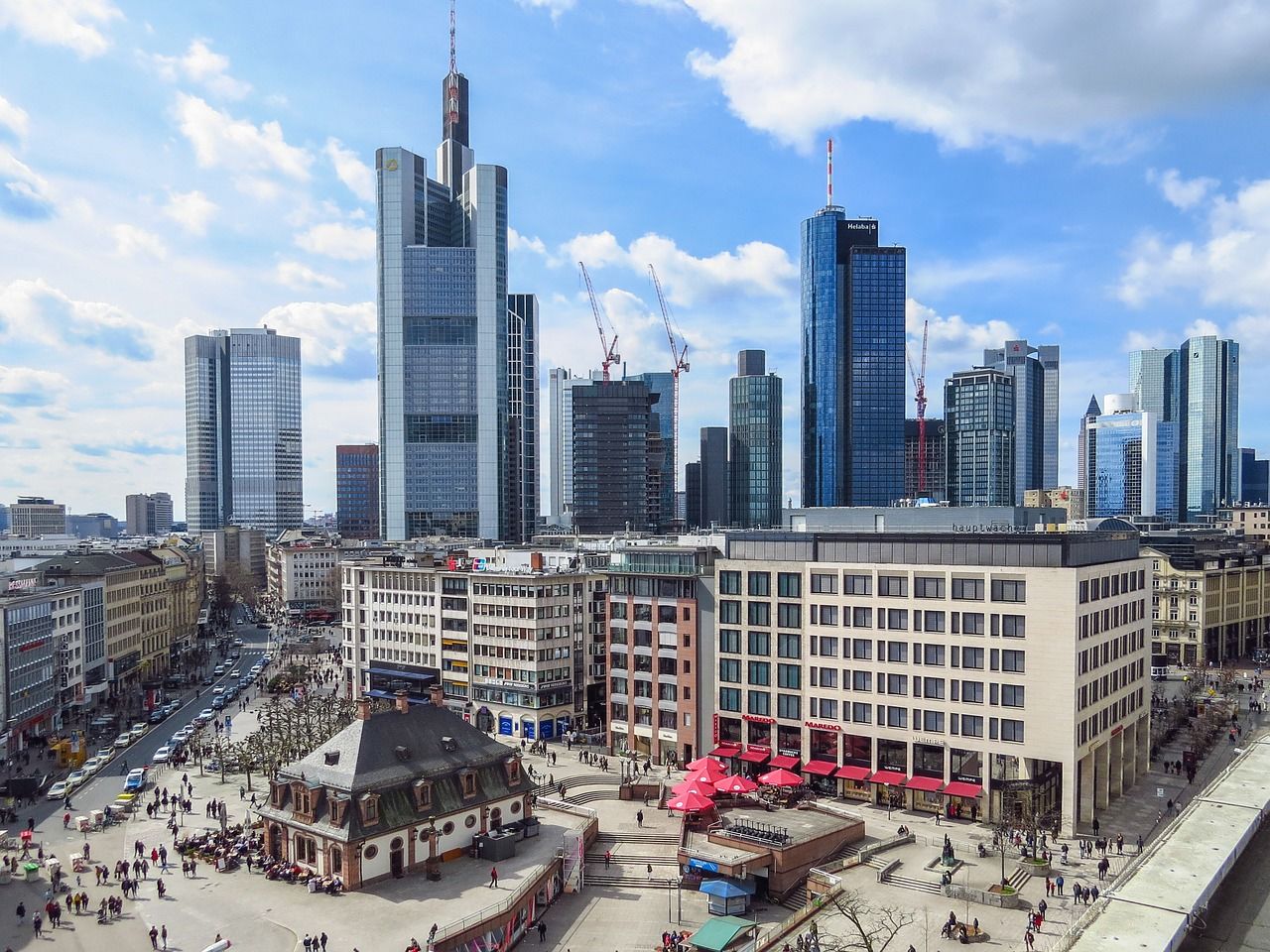 The best time to visit Frankfurt
Frankfurt has a continental climate with four distinct seasons. Thus, you should plan your trip for the months of April through September, as during this time tourists can enjoy the perfect weather for sightseeing. On the sunny and warm days of this period, the daily highs usually vary from + 17 °C to +26 °C.
This particular season (from late spring to early autumn) is rich in festivals and celebrations. For instance, April brings Easter and Spring Dippemess – the largest folk festival in the Rhine-Main region. In Summer you can have fun at Opernplatzfest or taste local wine and food at the Main Festival and Apple Wine Festival. Autumn brings another special event – the Frankfurter Buchmesse, which is the biggest book festival in Germany.
Interactive Map of Frankfurt
Top tourist attractions in Frankfurt
Frankfurt is known as the financial capital of Germany, and it even earned the nickname "Main-hattan" thanks to the abundance of skyscrapers in the banking district and its river Main. It is also a global hub of transportation, which boasts the biggest and the busiest airport in the country, and the largest Autobahn interchange.
However, this metropolis is much more than just a city of clerks and corporate culture. Even though World War II made most of the finest architectural gems disappear from Frankfurt's skyline, and the "Old Opera House", for example, was rebuilt and reopened only in 1981, it has its own particular character. Modern Frankfurt is a city of art, cultural diversity, and tasty cuisine.
Here are the top 10 Frankfurt attractions we recommend you to visit:
• Römerberg
• St. Bartholomew Cathedral
• Frankfurt Zoological Gardens
• Alte Oper
• Main Tower
• Kleinmarkthalle
• Historisches Museum
• Goethe House and Museum
• Palmengarten
• Eiserner Steg
Another interesting and convenient thing about Frankfurt is that it has a whole district of museums! The cluster of 16 museums is situated on both sides of the River Main, known as Museumsufer. This brilliant project was developed in the 1980s, and on this boulevard, you will find such highlights as Städel Museum, which houses masterpieces by Rembrandt Degas, or neo-gothic Liebieghaus. The latter holds a stunning collection of sculpture from the times of ancient Egypt through Renaissance and Baroque periods.
Other museums that definitely worth your attention are ethnological Museum der Weltkulturen, Deutsches Filmmuseum, Jüdisches Museum, or Caricatura Museum of the comic art. In August, the embankment attracts throngs of tourists during Museumsiferfest – one of the biggest cultural events in Europe.
Tip: The best way to save money on sightseeing is by purchasing a Frankfurt Card, which offers zero-fare travel on Frankfurt's public transport network (tram, bus, underground) and up to 50% discounts on admission to museums and top sights from the list above. The price of a one-day ticket for one person is 11 €, and a two-day ticket will cost you 16 €.
How to get to Frankfurt
Located at the geographical heart of Europe, Frankfurt has excellent transport links, and you can effortlessly reach this city by air, rail, and road.
Getting there by plane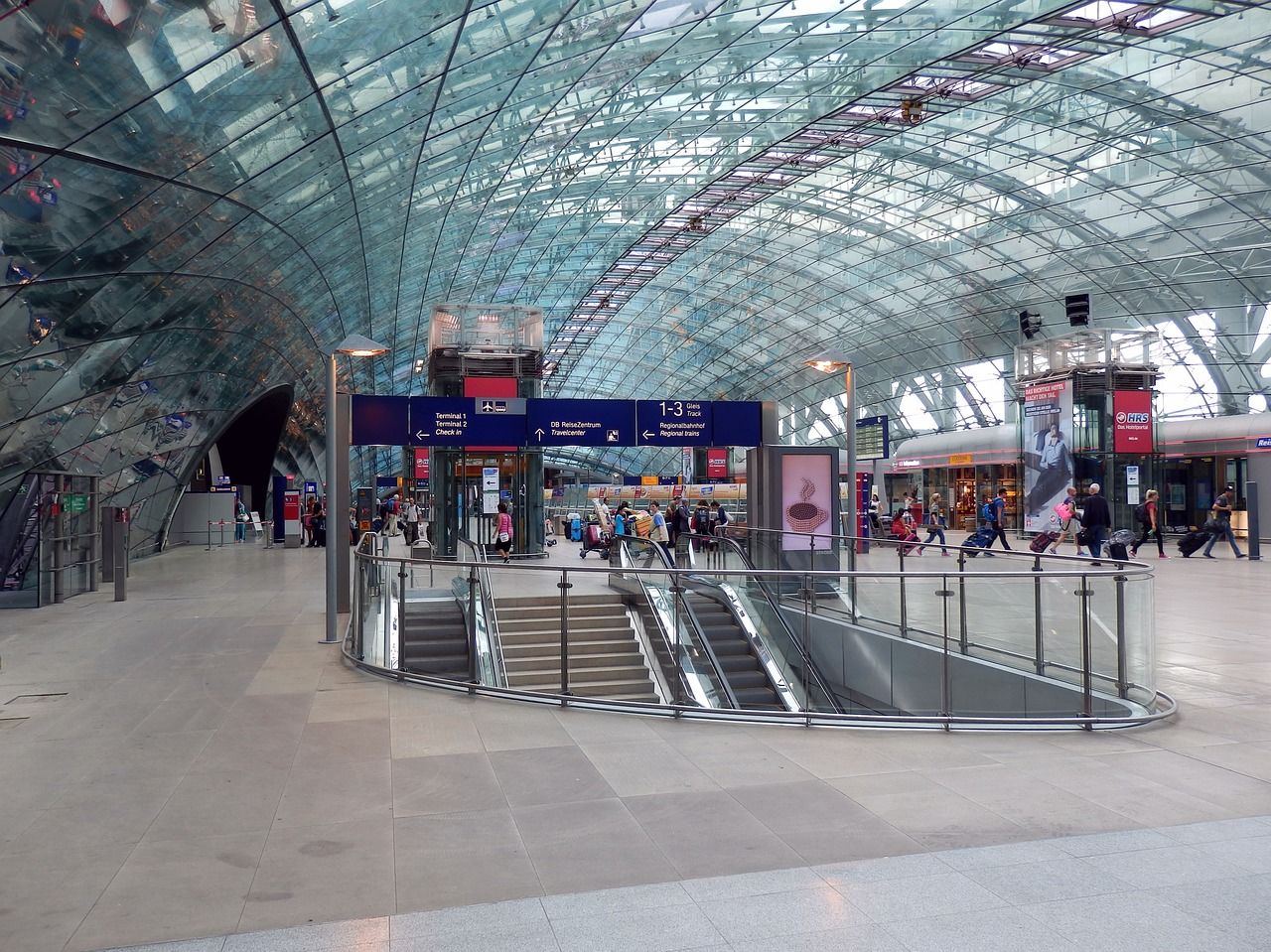 Frankfurt am Main Airport is the 4th biggest airport in Europe and one of the busiest in the world. It is situated 12 km from the center of Frankfurt and is a prime hub of intercontinental flights, serving more than 300 destinations worldwide. There are many direct flights from the USA and Canada available.
You can get to the city center from Frankfurt Airport by buses №61, 77, 72, 58, 62, or by night buses N81 and N7. The average fare is 4,35 €. You can also take an electric train (line S8 or S9), which will get you to Central railway station in 10 minutes, or take a taxi if you have bulky and heavy luggage.
Getting there by train
Frankfurt Hauptbahnhof is the main railway station in Frankfurt, which has connections with a great number of cities in Germany and with many neighboring countries via InterCity trains. The majority of trains leave from platforms 101-104, and if you do not understand how to reach them, do not be afraid to ask someone for directions.
Getting there by car
Getting to Frankfurt by car is no trouble at all. The city is connected to Autobahn A3, which is coming through the Netherlands, Cologne, and Bonn on its way, and A5, which comes from the northeast and continues to Switzerland. The Autobahn A60 connects with A66 from the west and leads to Frankfurt.
Tip: When traveling by car, try to plan your road trip in a way that you can avoid rush-hours, and this will save you a huge amount of time.
The best hotels in Frankfurt
What to eat in Frankfurt
Hessian cuisine is plain, with potatoes and bread being the basis of many local dishes. The dominant tastes are sour, due to such common specialties as Apfelwein, sauerkraut, and handkäse with raw onions and vinegar. Even though bavarian cookery definitely had an influence on Hessian cuisine, there are still so many authentic dishes to try in Frankfurt!
So we compiled a list with top 5 dishes that you must taste there
Grüne Soße
This delicious cold sauce, made from seven specific herbs and mayonnaise, sour cream, or yogurt is a real highlight of local cuisine. Traditionally, it is served with halved boiled eggs, potatoes, and meat.
Apfelwein
An unofficial symbol of the city, this is a tart apple cider, which can be found in any pub and restaurant of Frankfurt. You can also find variations of this drink, such as Apfelwein mixed with sparkling water or flavored soda.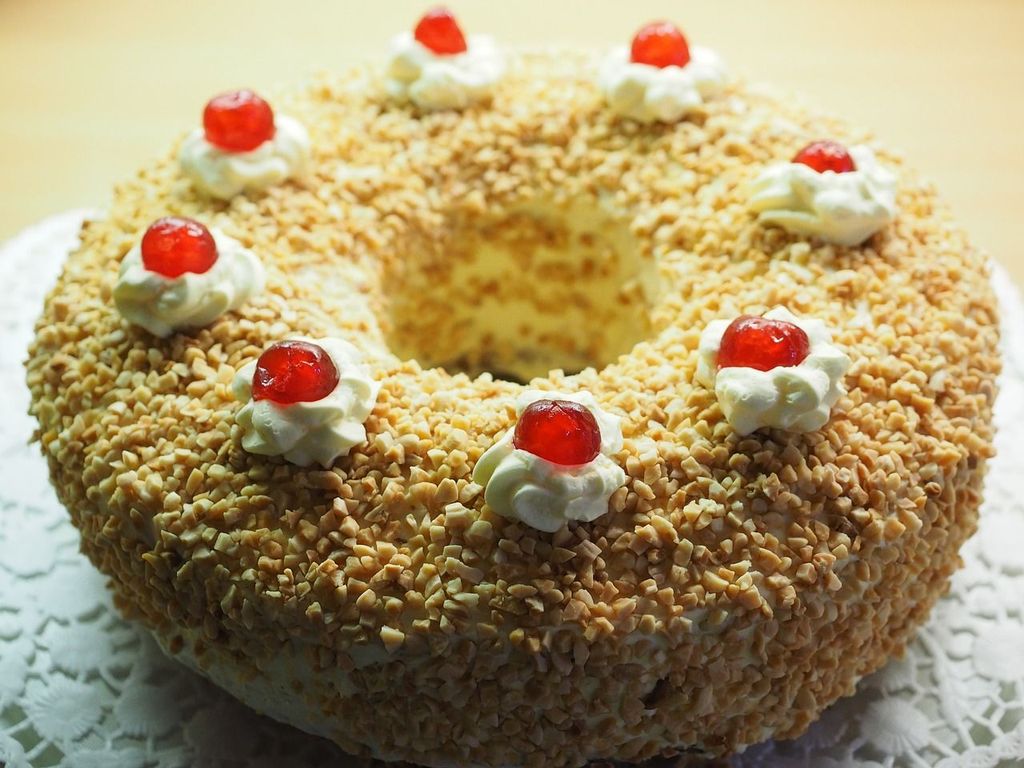 Frankfurter Rippchen
Another specialty worth noting is Frankfurter Rippchen – pork chops served with sauerkraut and mashed potatoes. The dish may be simple, but it is nutritious and really tasty!
Frankfurter Kranz
This cake will make your mouth water at first glance. The history of its recipe dates back to the 18th century when Frankfurt was considered the crown city of Germany. It is a simple sponge cake with buttercream and cherry jam, sprinkled with caramelized nuts.
Bratwurst
There is no German cuisine without sausages, and when in Frankfurt, do not hesitate to taste Bratwurst, made of pork or beef. It can be a great option for a quick bite on the go.
Accommodation and hotels
Finding accommodation for a reasonable price in the financial capital of Europe may be quite a challenging task. Luckily, Hotelfriend offers a wide selection of hotels in every price category!
If it is your first trip to the city, you may want to know which area will be a perfect match for you. So, before choosing a room, check out our short overlook of the best neighborhoods to stay in Frankfurt: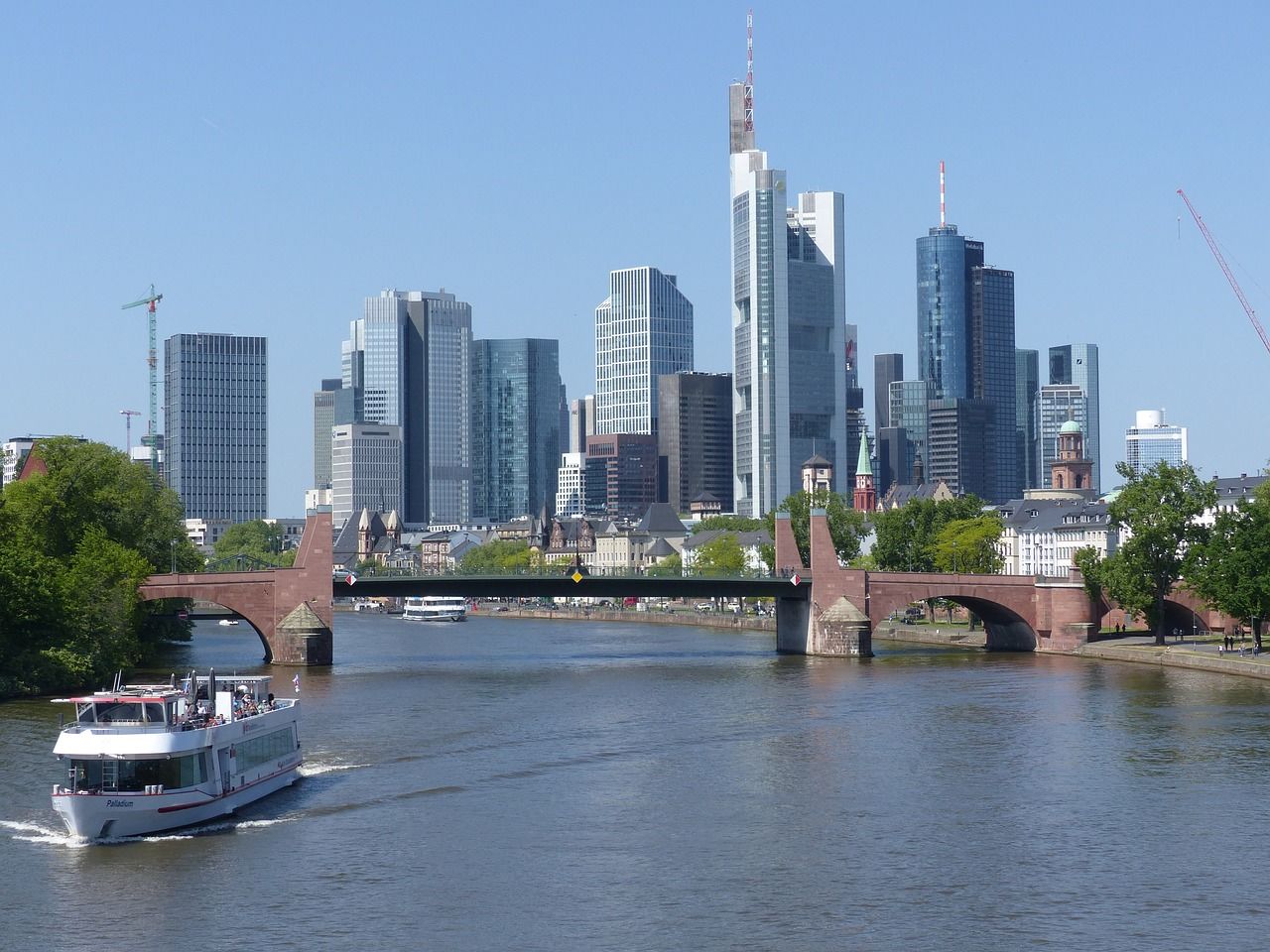 ● Zentrum-Altstadt – the best option for those who came to the city for the first time and plan a lot of sightseeing. It is very compact and all-important landmarks are located within the walking distance.
● Sachsenhausen – suits for those who prefer nightlife and like to wind down in the bar. A famous museum district and a cycling path along the Main River are also located here.
● Bahnhofsviertel – one of the liveliest areas of the city with numerous nightclubs, taverns, and bistros. A rare case of the neighborhood in Frankfurt, where you can actually find cheap accommodation options.
● Gutleutviertel – one of the newest areas of Frankfurt. During medieval times it was a poor port district, but now it is totally revamped. Here you can taste unusual dishes of Asian or Arabic cuisine.
● Bornheim – the main shopping neighborhood in the city with antique shops and boutiques, which sell clothes, gifts, and anything you can imagine. Such highlights as the Frankfurt Zoo and Botanical Gardens are located nearby. Quiet area, great for a family stay.
Have a whale of a time in Frankfurt and do not forget that HotelFriend always has the best offers and deals for you!