Please, enter a destination
Filters
Top facility
More
Hotels near Leipzig University
(64 results)
Leipzig University
Leipzig University is one of the most longstanding higher education establishments in Germany. According to the web-based Webometrics Ranking of World Universities, it is ranked second in Germany, twentieth in Europe, and 105th in the world.
A lot of outstanding people were studying there:
G. W. Leibniz, the prominent mathematician and philosopher
J. W. von Goethe, the famous writer and poet
W. R. Wagner and R. Schumann, composers
F. Bloch, the Nobel prize laureate
A. D. Merkel, the Chancellor of Germany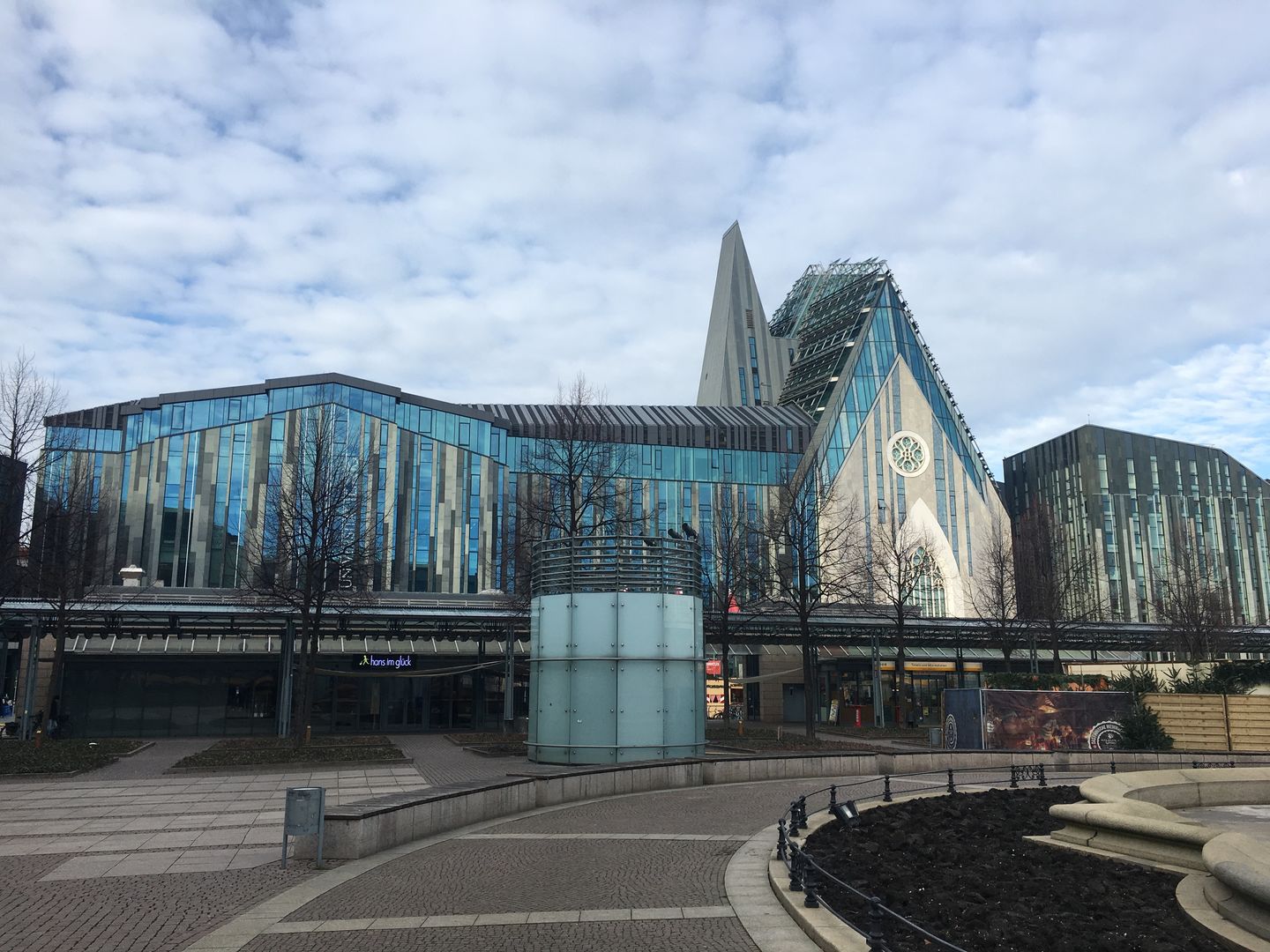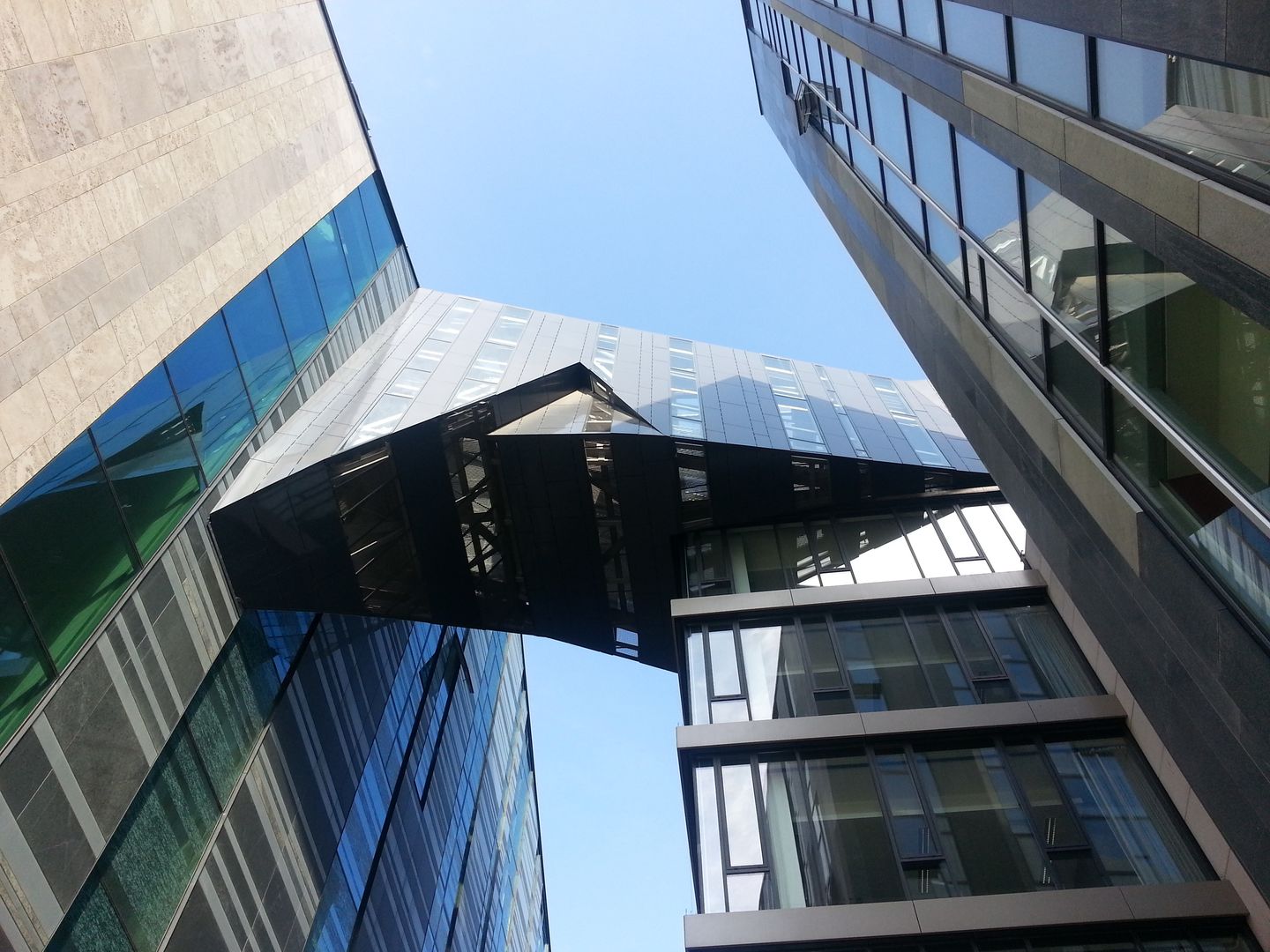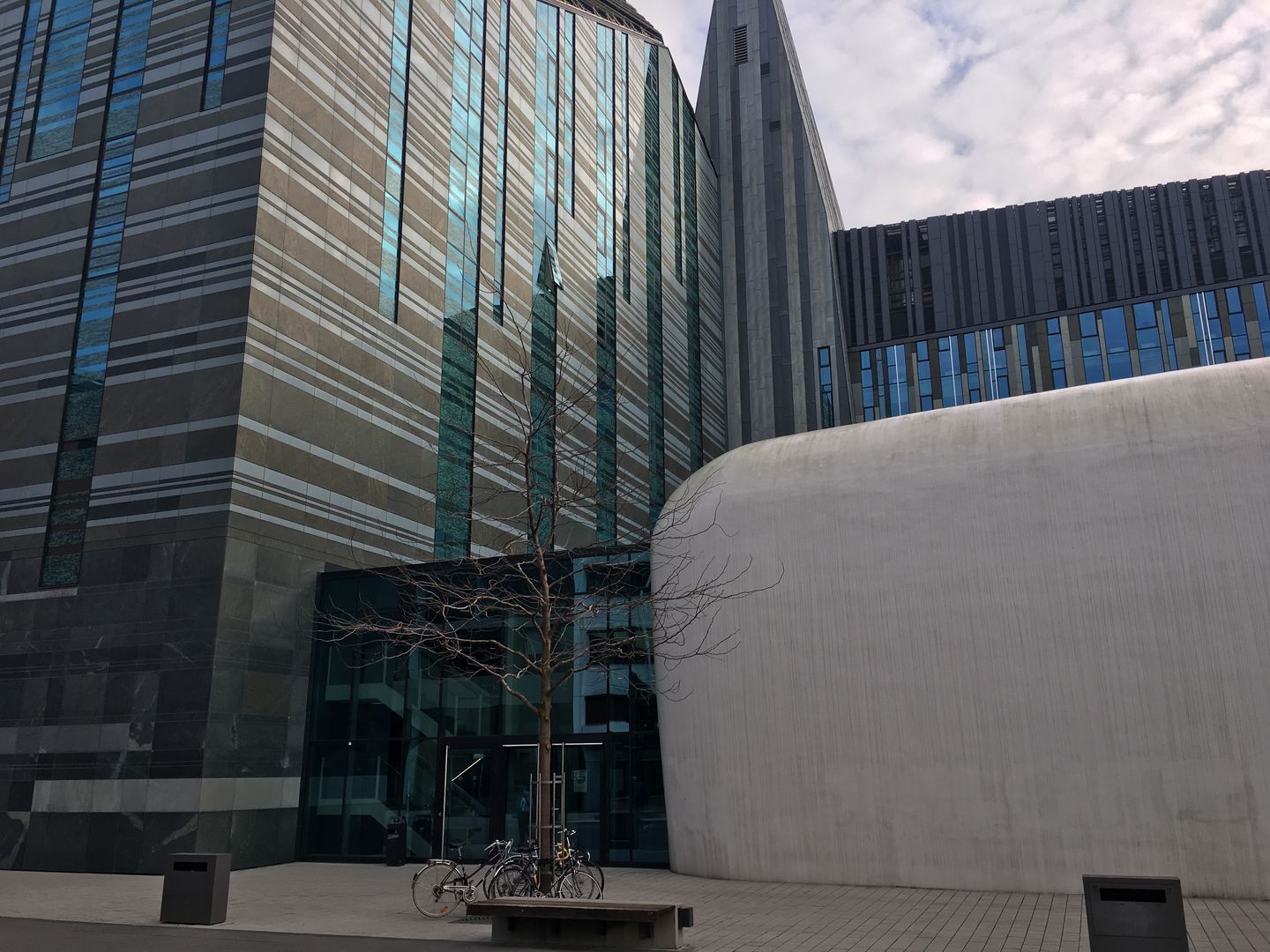 Unusual Building on Augustusplatz
The Uni, Leipzig is so famous for, was founded in 1409 by scholars from the university of Prague and modeled on it. During World War II most of the buildings got destroyed, but it kept working even in spite of it. Later in 2005, the university was reconstructed by Erick van Egeraat, an architect from the Netherlands, on the spot of the only church left undamaged, Pauliner Church. As the architect says, the edifice of the campus is one of the most impressive and significant works he has ever done. The design of van Egeraat is quite unusual, as he entwined the known silhouette of the church into the university building and reconstructed it inside as well combined ecclesiastical background with modern classrooms. The campus was opened for usage in 2012.
A traditional gothic fronton and a rose-window emerge on the contemporary front with graphic patterns made of various textures and finishing materials. The ancient shadowgraph comes through the modern architecture for youth keeping the spirit of this place.
The inner space is undoubtedly highlighted by the gothic church with its magnificent arches with plenty of nervures made of snow-white plaster. There are large sliding glass doors inside that divide the area into two parts – a church zone and space for secular events. In the auditorium, there is a white organ, the sound of which beautifies both the divine services and academic ceremonials.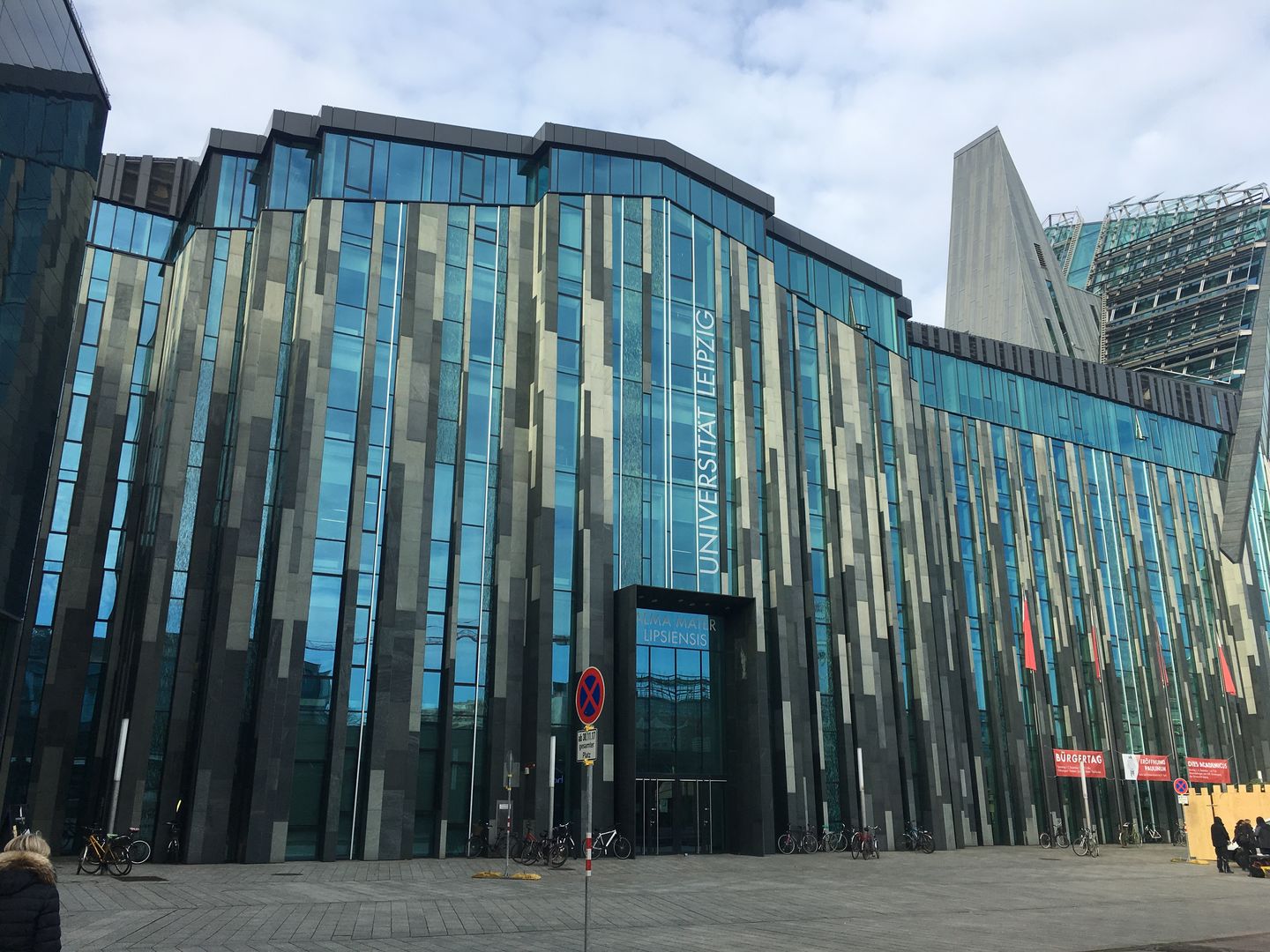 Faculties
Originally there were four faculties in the university: the Faculty of Arts, Theology, Medicine, and Law. Nowadays there are 14 of them in addition to some institutes:
Faculty of Theology
Faculty of Law
Faculty of History, Art and Oriental Studies
Faculty of Philology
Faculty of Education
Faculty of Social Sciences and Philosophy
Faculty of Economics and Management Science
Faculty of Sports Science
Faculty of Medicine (with a University Hospital)
Faculty of Mathematics and Computer Science
Faculty of Biosciences, Pharmacy, and Psychology
Faculty of Physics and Earth Science
Faculty of Chemistry and Mineralogy
Faculty of Veterinary Medicine
Institutes affiliated with the Leipzig University:
Translational Centre for Regenerative Medicine
German Centre for Integrative Biodiversity Research
Institute of East Asian Studies
Institute for the Study of Religions
Institute of Classical Archaeology
Institute for International Law, European Law and Foreign Public Law (InVEA)
Leipzig School of Human Origins (plus the Max Planck Institute of Evolutionary Anthropology)
One can get Bachelor's degree, Master's degree, Staatsexamen, Diplom and PhD's in the university.
Uni Leipzig offers a whole range of opportunities for foreign students including exchange programmes and some courses taught in English. Master's programs are available in American Studies, Global Studies, SEPT (MBA in SME Promotion) and there is one Bachelor/Master's/Ph.D. program in International Physics Studies Program.
Modern Facilities
Though the university is ancient yet it uses the most up-to-date technologies when it comes to studying. There are two online systems for module registration: Tool and Almaweb. Students are able to come through a catalogue of courses before the start of a semester and choose the ones that appeal to them the most.
In addition, the university uses free of charge Moodle online learning platform (Modular Object Oriented Dynamic Learning Environment), that makes students and teachers cooperation easier and more effective.
Leipzig University Library
The Uni Bibliothek Leipzig, is one of the greatest and oldest in Germany. A lot of books and handwritten manuscripts of cloisters are collected here. It started with 2500 items, and now there are approximately five million books, periodicals and manuscripts.
Location & Accommodation
Many tourists come to Leipzig because of reconstruction of the university, that impresses with its pomposity, beauty, and singularity. It is situated on the largest square of Leipzig, the Augustusplatz. It is easy to get to the spot by urban transportation: most of the city tram lines go by the square.
There are several three- and four-star rating hotels in close vicinity to the University of Leipzig. HotelFriend may recommend you the Best Western Hotel Leipzig with reasonably priced accommodation. The hotel is located close to the central railway station and just 15 minutes away by foot from the Augustusplatz.
For those who wish more comfortable accommodation with the wider range of services, consider Arena City Hotel. The hotel provides high-quality service, cozy rooms, and various arrangements for its guests. It takes approximately 14 minutes by tram number 4, 7 or 8 to get from Leipzig University to the Arena City Hotel.
HotelFriend will help you not only find the best lodging variant for you by the university but also design your stay in advance. Reserve a room along with the services and special arrangements beforehand, choose the most suitable time and enjoy your stay in Leipzig without fuss.
The Best Hotels near Leipzig University