Please, enter a destination
Wellness in Allgäu
Spa and Wellness deals in Allgäu
(7)
A wellness weekend in the Allgäu
The Allgäu is a beautiful piece of land between the states of Bavaria and Baden-Wurttemberg, where pristine nature, the unique microclimate of the Allgovian Alps, salubrious air, as well as modern spa facilities in numerous hotels and centers, create excellent possibilities for strengthening ones health. The Allgäu Alpenwellness concept is about the joy you can experience admiring beautiful landscapes and pampering your body. The village of Oberstdorf is one of the premium health resorts here with more than 80 wellness facilities such as Vital Therme, Moorbad Reichenbach, etc. The town of Lindau on Lake Constance has many relaxation options, too: the Vitalbad Limare sports complex with various saunas, and day spa centers in the hotels Bad Schachen, Bayerischer Hof and Helvetia with a wide range of baths and beauty treatments. The Königliche Kristall-Therme in Schwangau boast views of the Neuschwanstein and Hohenschwangau castles, so you can easily feel like royalty here. Alpspitz-Bade-Center Nesselwang is another must-visit place - it is a waterpark with a spa center, where the whole family can have a fun time. And these are just a few of numerous wellness gems in the area.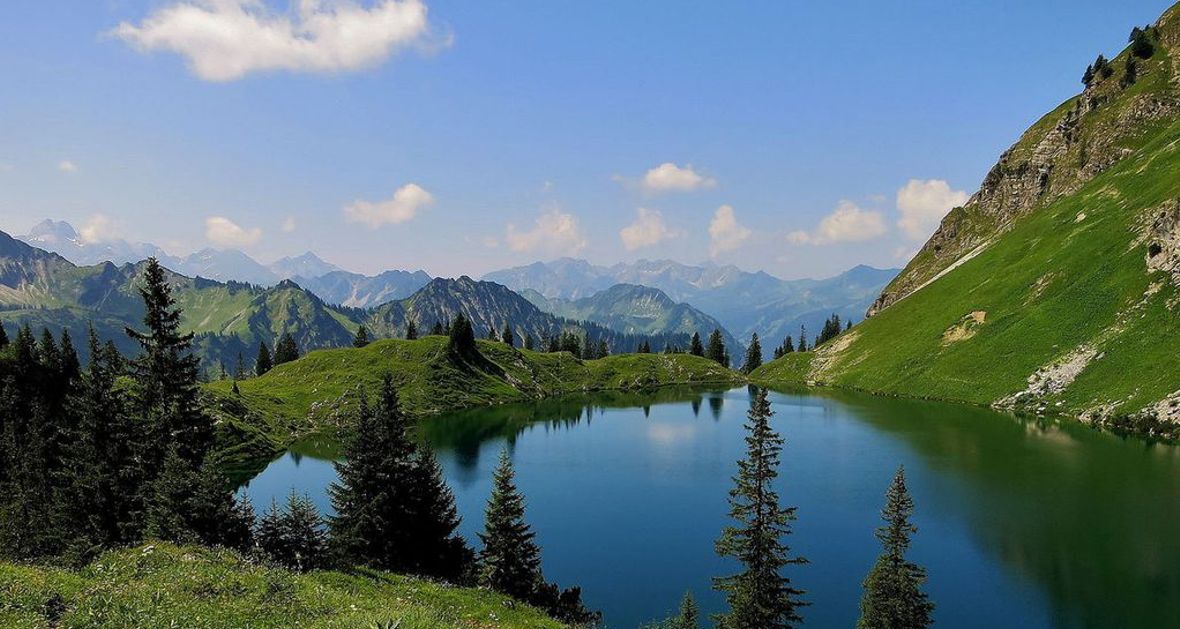 Follow a spa route with thermal baths
Soaking in hot water, naturally rich in minerals, has been used for relaxation, rejuvenation, and healing for centuries, and the Allgäu is among the world-class hydrotherapy centers. The Schwäbischen Bäderstraße is a route that starts in Überlingen am Bodensee and finishes in Bad Wörishofen. Along the 180 km of the road, you will find seven resort towns with thermal baths and wellness amenities for everyone, even toddlers. In these spa centers, you can try a huge variety of treatments that will address particular health issues and will benefit your body and mind holistically. Mud, the black gold of Upper Schwabia, is used for therapy in Bad Buchau, Bad Waldsee and Bad Wurzach. You can try Kneipp treatments in the resort hotels of Bad Wörishofen, as well as in its new spa hub -Therme Bad Wörishofen. It has two zones - blueFUN family and Sauna/Vitality baths, where you can spend all day in sweet oblivion (€32-37). The sulfur-rich waters of Sonnenhof-Therme in Bad Saulgau and Adelindis Therme in Bad Buchau, as well as excellent service and family-friendly approach there, will make your wellness days unforgettable.
Best wellness deals in the Allgäu with HotelFriend
If you would like to have a relaxing spa weekend or vacation in one of the most beautiful places in Germany, HotelFriend will help you to save on your hotel stay and to get free extra services. The coupons from the best wellness providers in the Allgäu often include access to thermal baths and other spa facilities, as well as such little pleasures as sauna and swimming pool towels, etc. Check all the deals on our website and book your budget-friendly wellness vacation now!