Please, enter a destination
Thomaskirche Leipzig: home to religion and music
St. Thomas Church, also known as Thomaskirche, is one of the two biggest houses of worship in the centre of Leipzig. With its rich history dating back to the XIII century, St. Thomas Church is one of Leipzig highlights and is annually visited by tens of thousands of tourists, coming here to marvel at its magnificent Gothic interior, to take part in the church services, to listen to the world famous motets performed by St. Thomas Boys Choir and to visit the place where one of the greatest German composers, J.S.Bach lived and worked until his death, and where his remains found their peace. Today it is a centre of organ music in Germany, where numerous concerts, festivals and events are being held all over the year.
J.S.Bach legacy
Thomaskirche gained its world fame thanks to J.S.Bach, who worked here for 27 years (in 1723-1750) as Music Director and Cantor of Thomanerchor, and his life was closely connected to Leipzig and to this church.
He composed most of his famous musical works here. His influence on St. Thomas Boys Choir, which is the oldest cultural establishment of Leipzig with a rich 800-years tradition, cannot be underestimated.
In 1950, 200 years after Bach's death, his remains were transferred to St. Thomas Church. Today, Bach's tomb is in the church's sanctuary, under the bronze epitaph.
A statue of Bach was dedicated in 1908 and created by Leipzig sculptor Carl Seffner. It stands in the churchyard, in front of the main entrance.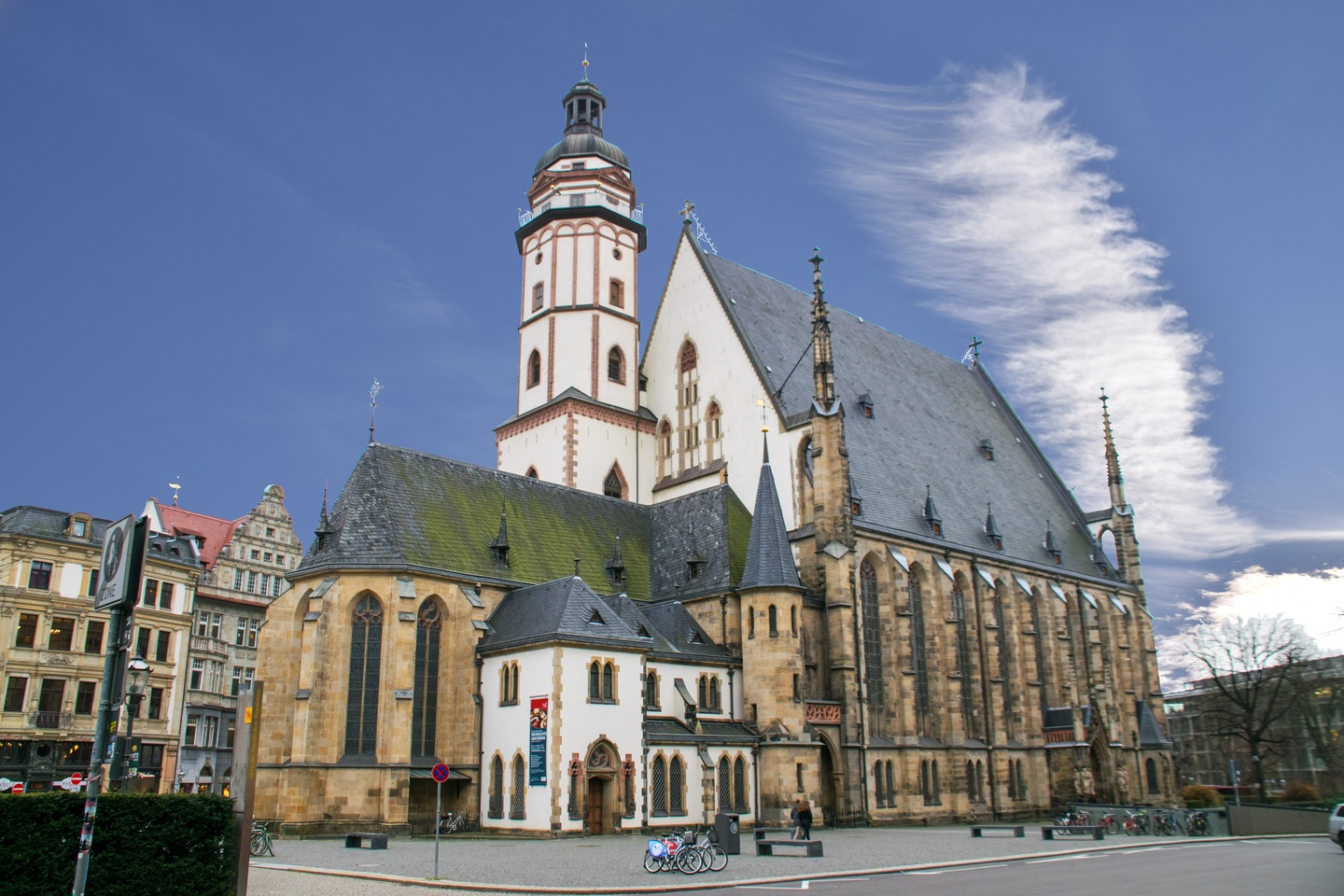 St. Thomas Church appearance and the Bell Tower climbing tours
This Church is an example of Late Gothic architecture. It stood almost unchanged for centuries. In the course of the first major restoration works in XIX century, most of its Baroque features were replaced, and the building gained its current Neo-Gothic appearance.
The Bell Tower has the steepest roof in Germany and was initially built in XVI century. It was badly damaged in 1943 as a result of Allied forces bombings of Leipzig, but renovation was swiftly undertaken with the aid of charity organizations.
The Church Tower is 68 meters high and has a viewing platform, where one can enjoy breathtaking views of the city of Leipzig. The Tower climbing tours are available from April to the end of November. You can find detailed information regarding schedule and fees in the table below.
Interior and organs
While the church's style is Neo-Gothic, the interior is a mix of Neo-Gothic and Romanesque styles. The altar and baptismal font are Neo-Gothic with its reliefs depict biblical scenes. The sanctuary contains Bach's tomb with the memorial plate. Thomaskirche interior is also famous for its magnificent colorful sanctuary windows showing scenes from Jesus life. In 2009 the church also received the new "Peace Window".
St. Thomas Church is also a cultural centre of Germany and is deemed the first place that documented organ music during the church services.
The church has two organs. One of them is the so called "Sauer Organ", built in XIX century. This organ though was found "unsuitable" for Bach's music, so another organ, the so-called "Bach Organ" was built in 2000. This instrument resembles the sound quality of the organs from Bach's time and is used for playing Bach's music.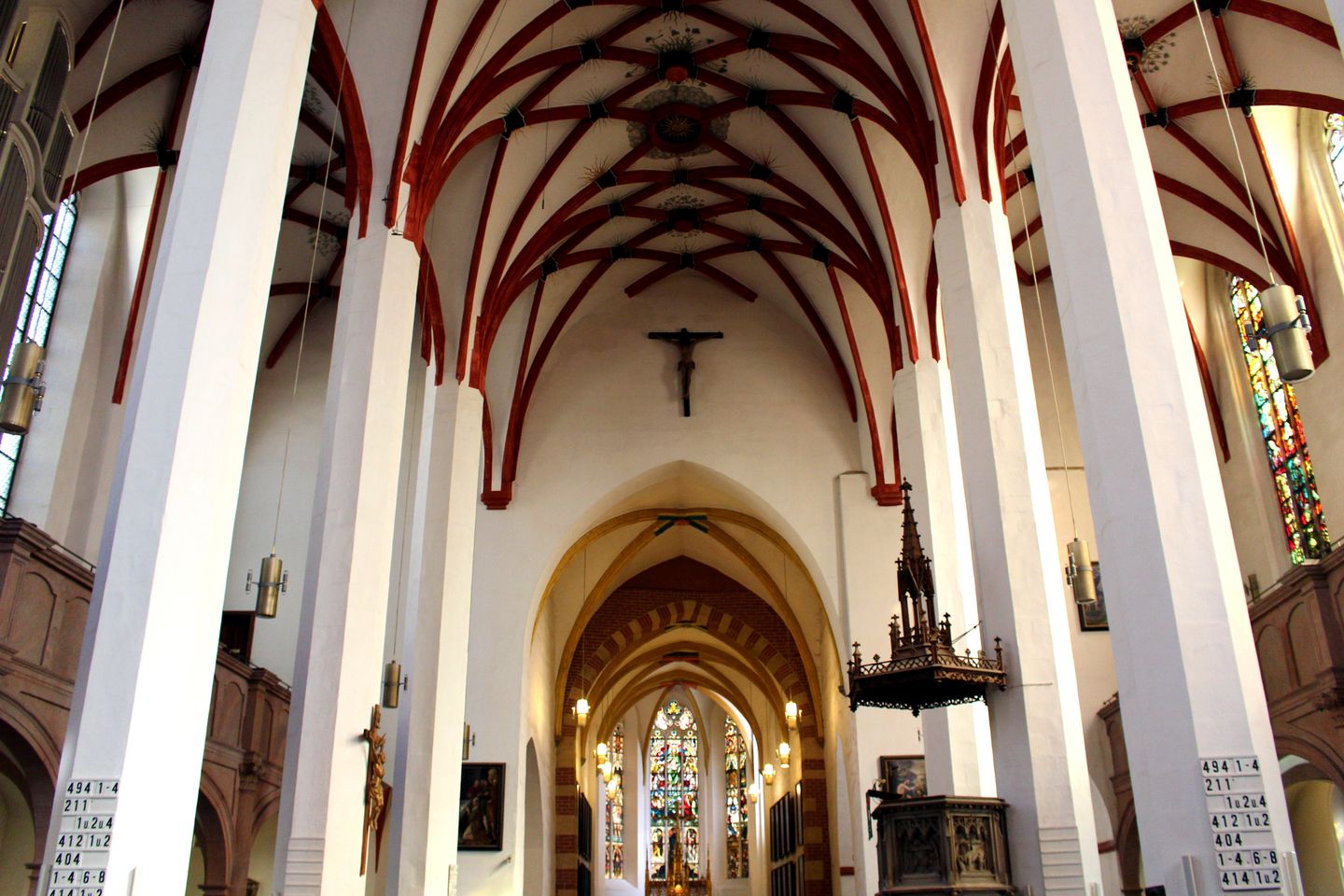 The church motets
Thomaskirche is a functioning church, so you can attend its regular services that take place here on Sundays and holidays twice a day. Children should be accompanied by adults. As for the visitors with special needs, there is a wheelchair access and designated places for hearing-impaired persons.
St. Thomas Church motets are performed by the famous St. Thomas Boys Choir and are mainly vocal and instrumental compositions with the sacred texts. The motets are performed on Fridays, Saturdays and Sundays. Hundreds of guests are usually drawn by the Christmas and the New Year's Eve motets. Note that there are no motets on Good Friday and during Summer Holidays in Saxony.
Guided tours
You can enjoy the beauty of Thomaskirche with its splendid interiors, its two world-famous organs and beautiful paintings during the guided tours done by the church's staff on the prior appointment. You can find more details on the services, motets and guided tours in the table below.
Opening hours
The church is open daily from 9 a.m. till 6 p.m. Visits and guided tours are allowed when worship services and motets aren't being held.
Thomaskirche services and prices
Service

Details

Admission fees

Church services
Sundays and holidays. Morning liturgy (9:30 a.m.) and Evening liturgy (9 p.m.).
Admission free.
Motets
Fridays (6 p.m.), Saturdays and Sundays (3 p.m., with Bach's cantata performance).
2 Euro, paid at the entrance.
Children under 12, students and Leipzig-pass holders: admission free.
Guided tours
During the church's opening hours, except the time when worship services and motets proceed.
1 Euro, paid at the Thomas Shop.
Bell Tower climbing tours
From April to the end of November. Saturdays: 1 p.m., 2 p.m. and 4:30 p.m. Sundays: 3 p.m.
2 Euro. Paid at the Thomas Shop.
Children under 12: admission free.
St. Thomas Church events program 2018
The church regularly hosts various concerts and musical festivals, such as BachFest Leipzig Festival or Bach Zyklen/Cycles.
Leipzig Thomaskirche is truly one of the centres of cultural and musical life of Saxony and Germany, with the Bach's Passions concerts and Christmas Oratorio drawing attention of thousands of visitors yearly.
Concert and event schedule 2018 includes the following events:
Date

Event

Tickets prices (depending on seat)

24 December
Christmas Organ Concert with the candlelight. 9 p.m.
Normal price: 13 Euro.
Reduced price*: 10 Euro / 5 Euro (children under 18).
Free choice of seat.
1 January
New Year's Organ Concert. Bach's works. 9 p.m.
Normal price: 19 Euro.
Reduced price*: 14 Euro.
21 March
Concert to J.S.Bach's 333rd birthday anniversary.
Admission free.
1 April
Easter Concert. J.S.Bach organ music.
Admission free.
20 May
Pentecost Holiday Concert with Oratorium.
Normal price: 26 Euro / 20 Euro / 16 Euro.
Reduced price: 12 Euro / 10 Euro / 8 Euro.
8 June
BachFest Leipzig Opening Concert: Bach's music works. 5 p.m.
Normal price: 105 Euro, 80 Euro, 52 Euro and 21 Euro.
Reduced price*: 89 Euro, 67 Euro, 42 Euro and 16 Euro.
8 June
BachFest Leipzig Opening Concert: J.S.Bach's "St. John's Passions" (with ballette). 7:30 p.m.
Tickets prices range from 18 Euro to 82 Euro.
9, 12, 14, 15, 16 June
"Bach Unterwegs" Concerts.
72 Euro.
9, 10 June
"Kantaten-Ring" Concerts: several concerts per day. 11:30 a.m. and 5 p.m.
Normal price: 82 Euro, 65 Euro, 42 Euro and 21 Euro.
Reduced price*: 72 Euro, 55 Euro, 36 Euro and 16 Euro.
11, 12 June
Piano Concerts: Bach's music works. 8 p.m.
Normal price: 17 Euro.
Reduced price*: 12 Euro.
14 June
"Passion 4" Concert: Bach's organ music works. 8 p.m.
Normal price: 105 Euro, 80 Euro, 52 Euro and 21 Euro.
Reduced price*: 89 Euro, 67 Euro, 42 Euro and 16 Euro.
17 June
BachFest Leipzig Closing Concert. Organ music. 6 p.m.
Normal price: 105 Euro, 80 Euro, 52 Euro and 21 Euro.
Reduced price*: 89 Euro, 67 Euro, 42 Euro and 16 Euro.
31 October
Concert to the Reformation Day.
Normal price: 25 Euro, 20 Euro and 15 Euro.
Reduced price*: 20 Euro, 15 Euro and 5 Euro.
4 November
Concert honoring Mendelssohn's day of death.
Normal price: 12 Euro.
Reduced price: 6 Euro (for children under 14).
*Reduced prices: for children, students, unemployed and disabled persons.
Tickets to the concerts and events can be purchased at Thomas Shop or at any tickets sales office. Before booking your tickets for the concerts and events, make yourself familiar with St. Thomas Church seating plan: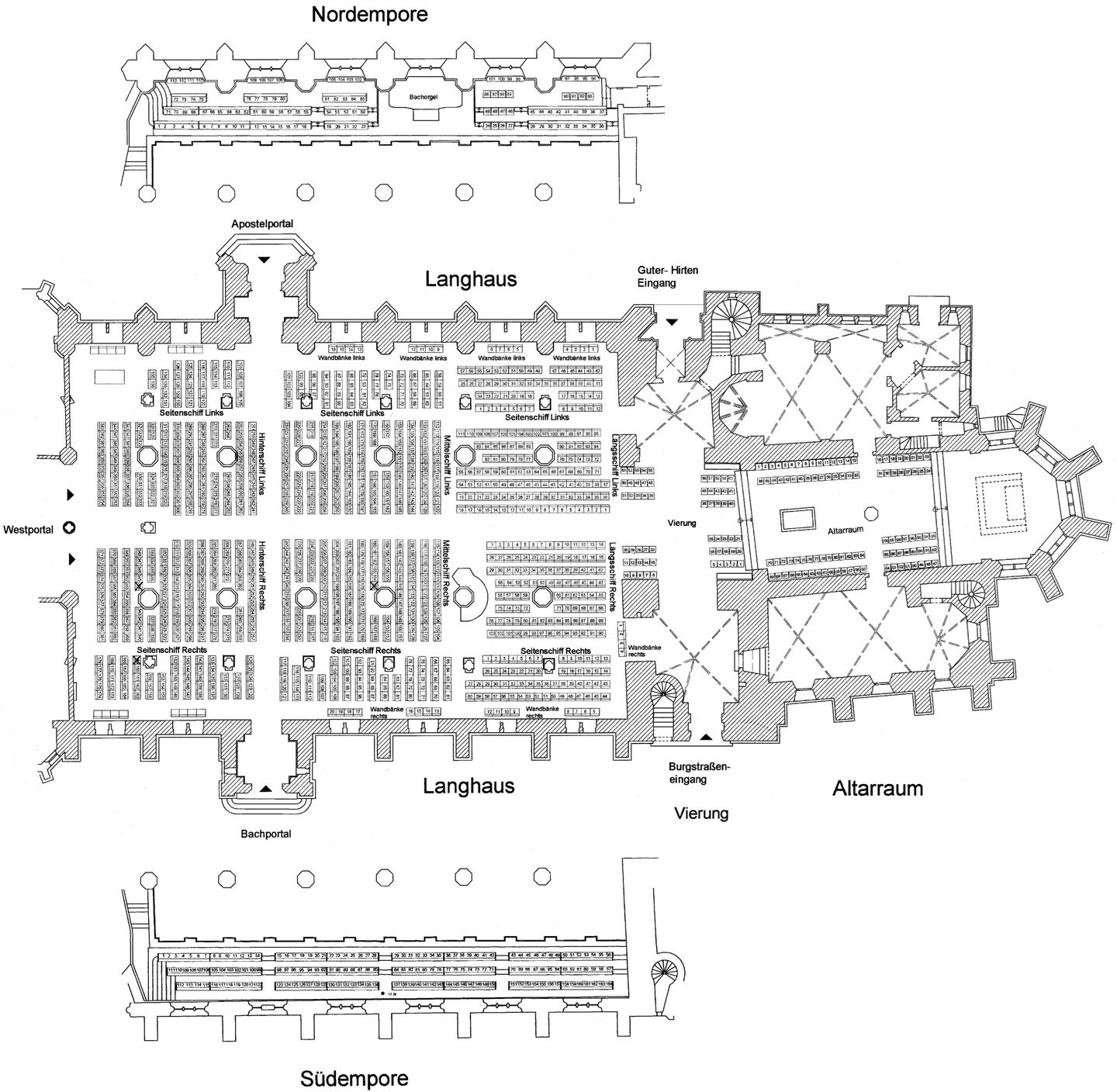 Thomas Shop is located next to the church and offers you a variety of CDs, DVDs, postcards, gifts and souvenirs, textiles, jewelry etc. There is also a Thomaskirche bookstore, where you can buy various books about the region, Leipzig, the church and local musical and cultural traditions.
For those of you who are also interested in local brewery and food traditions, there is a nice and cozy brewery called Thomaskirche Brauhaus. It can be found right in front of the church and serves both traditional and modern cuisine, while the brewery offers a huge variety of regional, locally brewed and seasonal beers at affordable prices.
Location and St. Thomas Church parking
Thomaskirche is located in the historical centre of Leipzig, close to the Market Square, Bach Museum and Madler Passage. You can easily get here using public transport. However, if you decide to come by car, you can park your vehicle at the huge QPark near the Market Gallery (Thomasgasse 2).
QPark is open daily, from 6 a.m. till 11 p.m. You can leave the parking 7/24.
Parking fees
| | |
| --- | --- |
| First 60 minutes | 2,20 Euro |
| Maximum daily fee | 15 Euro |
Accommodation tips
If you are looking for a nice and comfortable hotel not far from St. Thomas Church, HotelFriend can recommend you Best Western Hotel Leipzig City Center. It's a stylish three-star hotel located in the heart of the city that offers you comfort and lots of services at pocket-friendly prices.
Hotel Markgraf Leipzig can be your best choice if you travel to Leipzig with your family, as it offers spacious rooms and many special deals for the families as well.
Book a room and order any services you like online with the help of the HotelFriend application. Enjoy your stay in Leipzig and let us take on planning!
Hotels near Thomaskirche Leipzig