0% OTA FEE - SERVICES UPSELL - PACKAGE MANAGER
Booking Engine that earns
Beyond the limits of traditional direct booking: incentivize your future guests to book directly and promote upselling within their reservation process.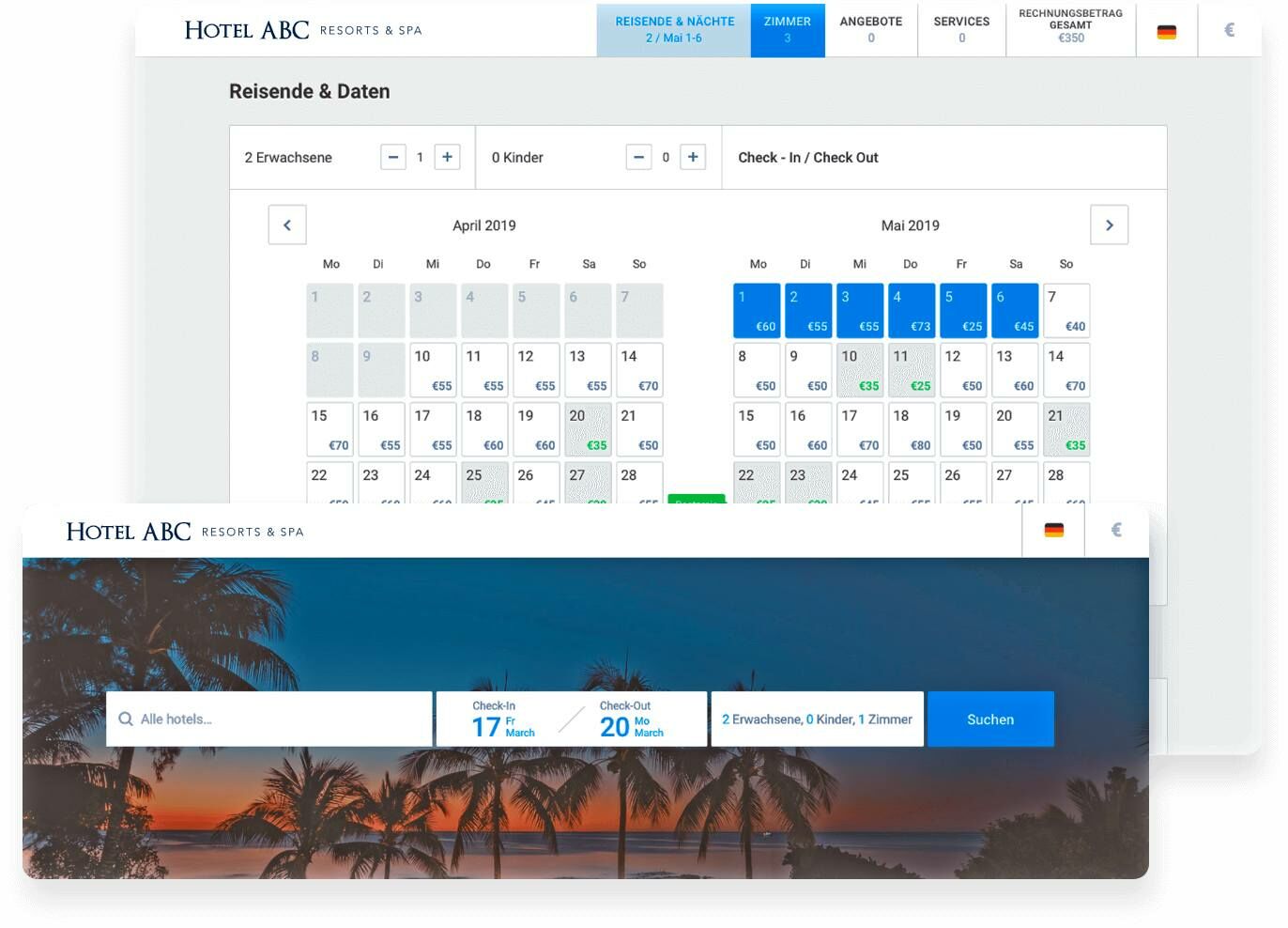 One step ahead of your competition
Today's guests expect more. They want deeper engagement, faster reactions, more flexibility, simplicity, and relevance. They value time and prefer to organize their trips in one place.
Put what your guests want at the forefront of your hotel! Online Booking Software centralizes everything within one platform — your client can check available rooms in a special calendar, book accommodation just in a few clicks, and order additional services or vacation package offers (deals) in advance via website or app. The simpler, the better!
How does it work?
The HotelFriend Online Booking System is more than just a booking button. Its interface goes beyond the choice of rooms and desired dates. You can also customize colors, add your hotel's logo, and fill the portfolio with descriptions of your offers, turning the Booking Engine into a small website for your hotel.
In the search bar, guests can select the date, the room price, the room type, the number of adults and children, and filter all other relevant features of the available room. When choosing the dates of their vacation, the calendar displays the lowest price available, so clients can quickly navigate in which period it is more profitable to plan their holiday.
In the shopping cart, customers can view a room and services they ordered, leave comments on booking and pay online. Once your guest completes the reservation, hotel staff receive a notification.
Since our Booking Engine is a part of PMS, the workflow will be fast and smooth. Your hotel inventory syncs in real-time so you don't have to worry about a thing.
Wondering how the Booking Engine works?
Make a demo reservation to experience our product firsthand
Awesome Booking Engines of our clients
Check our Booking Engine in action, take a look at some of the live systems here:
Introduce your hotel to guests
Your hotel boasts a prime location and a great spa? Or maybe it is a cozy chalet with a fireplace, set just nearby the ski run? Whatever are the benefits of your property, guests need to know about them. Add detailed descriptions and nice imagery to your Portfolio and put your hotel out in the best possible light.
Showcase available rooms
Our Booking Engine allows guests to choose the room in terms of type, size, and facilities with filters. In addition, guests will be able to review your cancellation policy, indicate whether they want to add meals and write a comment if they have any extra requirements.
Create package offers
With the Booking System, you can sell targeted deals you have created on the hotel's website. People book package offers more enthusiastically because they get accommodation, services, and other advantages at a more favorable price. Additionally, your hotel will be promoted free of charge by guests sharing their impressions of the faultless service.
Sell not only accommodation but also services
A distinctive feature of our software is the ability to sell your hotel services online, right away. This puts your guests in control of their stay and brings you increased income. Add any services available at your property: from food to wellness options, and your guests can pick up what they need before paying for the booking.
Increase the value of the shopping cart in the middle of the booking process
Multifunctional shopping cart allows you to create a potential need for further services, your special offers, and deals. Thus, guests order several products at once, which leads to an increase in sales in your hotel.
Let the guests pay in the way they're used to
The system enables payments via PayPal, Stripe, Visa, and Mastercard. Guests can choose the option that suits them best: whether it's online payment, bank transfer, or payment on the spot. Automatic invoicing will help business travelers to get complete documentation of travel expenses for their companies.
What you get
There is no need to engage third-party intermediaries to sell your rooms. Addressing your guests directly gives you more flexibility, as everything happens on your terms.
Unlike OTAs, we do not charge you any commissions for sales — buy a subscription and enjoy all the benefits of your package.
Customize anything you want: choose the colors of the page, links, and buttons. You can change the design at any time and up to your liking.
Sell your rooms, services, and package offers online. Your guests can pay in advance with a card, and payment for accommodation and services will immediately go to your hotel account.
Being part of our system, the Booking Engine is perfectly integrated with the Channel Manager. This way, your inventory syncs instantly, preventing any risks of overbookings or missed reservations.
If you do not have your own website, the Booking Engine can become one, as there is everything you need to effectively sell your accommodation and services. And if you want something bigger, we can build a full-fledged website for you as well!
Benefits of the Booking Management Software
Process automation
Fast, well-organized, and effective booking process.
Saves your own and your guests' time.
Revenue increase
Revenue increase due to the enhancement of direct sales.
Growth in sales of both rooms and other hotel services with upsells.
Enhanced selling
No commissions for direct bookings.
Add value to your rooms with deals, add-ons and packages.
Payment security
Tokenization keeps guests' sensitive data protected.
Receive money in advance with safe and secure prepayment options.
HotelFriend AG
HotelFriend is a global IT company and provider of business software with offices across Europe.
The company specializes in R & D in the travel and hospitality sectors, cloud computing, e-commerce, CRM, ERP, and the development of mobile and desktop apps.
450.000+
development hours
F.A.Q.
Do I need a separate account for the Booking Engine?
No, you just need to set up a Booking Engine by clicking on the Booking Engine module in the left-side menu. In case there is no such module in the menu, contact our support at
support@hotelfriend.com
. More detailed information on how to set up a Booking Engine is given
here
.
Is it possible to create a Promo Code for the company?
Yes, you can set up a Promo Code for a company by going to the Companies tab in the Guests module, opening the company card, and entering the code in the "Promo code for Booking Engine" field. You can find detailed instructions on how to set up a Promo Code here.
Is it possible to add extra information to Booking Engine Pages?
Yes, you can create additional pages and add any necessary information to your Booking Engine, such as a Privacy Policy or About Us section. To do this, navigate to the Booking Engine module on the left side of your account, click on the "Pages" tab, and select "Add page". For more detailed instructions, please refer to this link.
Can my future guests pay for a hotel room online during the booking process?
Yes, our system supports online payments through Stripe, allowing guests to pay for their booking with Visa or MasterCard. Additionally, guests can pre-order and pay for any services in advance.
Is it possible to customize the design and colors of the Booking Engine to match the style of my hotel website?
Yes, absolutely. You can easily change the design of the Booking Engine, including the colors of the page, links, and buttons, to match your hotel website style.