Time-limited special offer
A professional Bundle of must-have Hotel Property Management Tools that will simplify daily operations of any hotel.
Hotel Digitalization Offensive
Time-limited special offer
until 10.06
Optimize Cleaning Operations
Hotel Housekeeping System
With our HotelFriend software you can view and control your housekeeping operations in real-time, streamline the performance of the cleaning personnel and consequently improve service quality.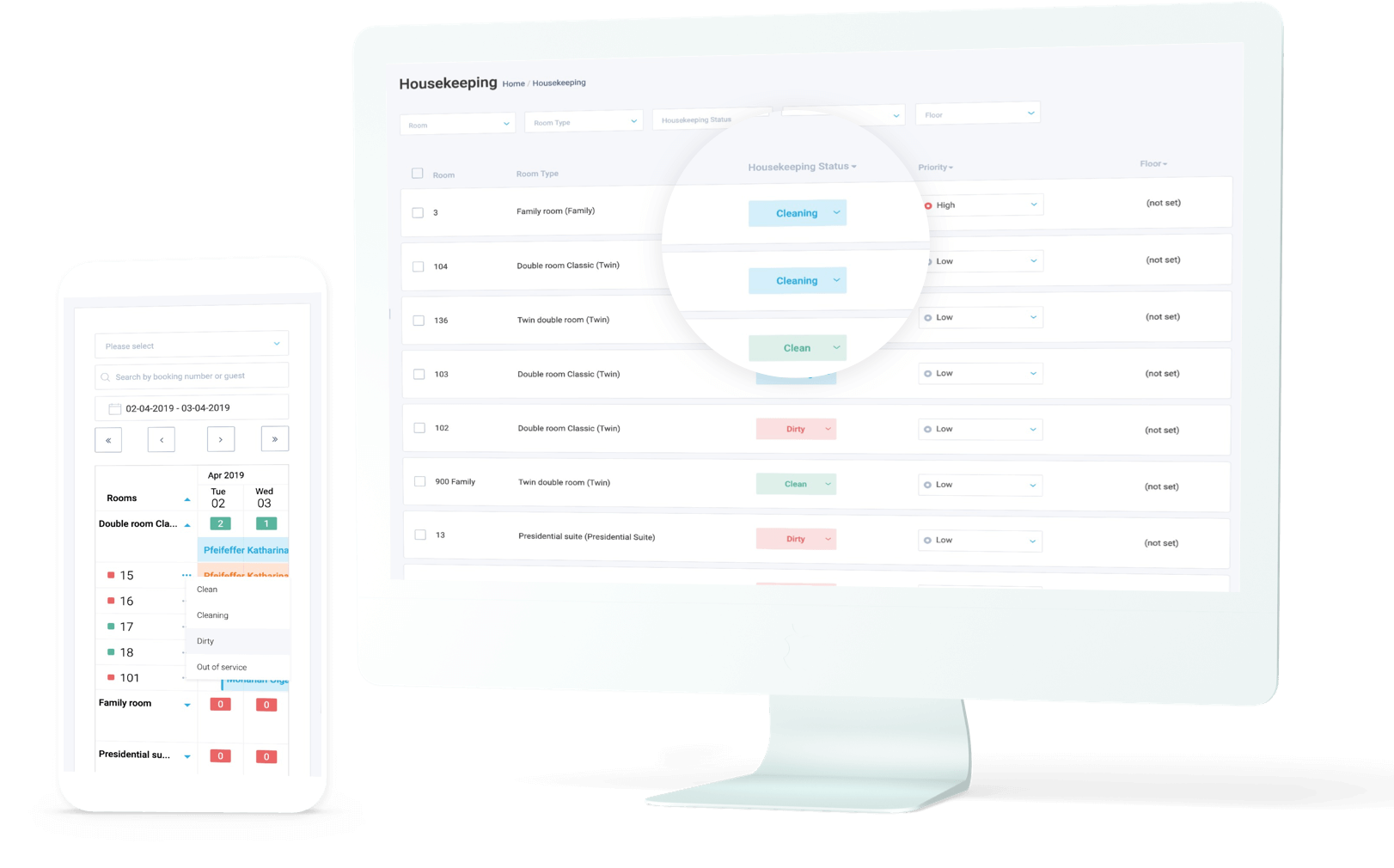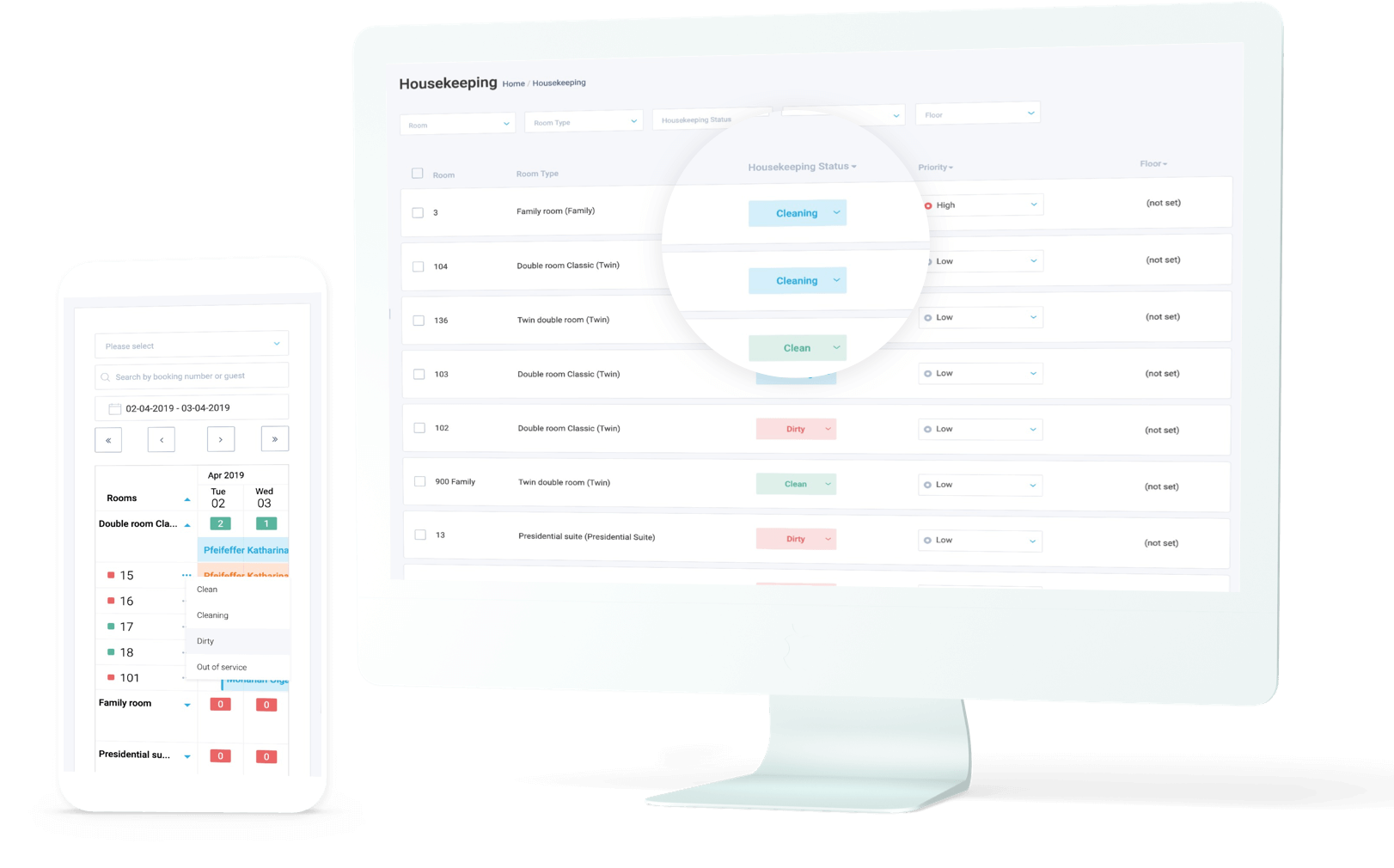 Why is it necessary
Our housekeeping tool is an integral part of the hotel management system that allows the hoteliers to track the change of housekeeping statuses of each room. The workflow of every housekeeper can be orderly organized and viewed on the cleaning schedule so that there is no risk to lose a task during the shift change.
Check-in, housekeeping, chat and more
Check-in, housekeeping, chat and more
guest can extend
hotel can manage
How does it work in our system?
As soon as the guest has departed and the room becomes vacant, its housekeeping status changes in Front Desk, and in the Housekeeping module immediately. According to the reservation plan and incoming check-ins, the cleaning priorities and urgent tasks are manually arranged by the department manager. Rooms with higher cleaning priority are automatically placed at the top of the list. By applying such filters as room number, type, housekeeping status, priority, and floor, it is easy to modify the list view to track all changes and make necessary adjustments.
The department manager can also choose several rooms, group change their cleaning priority and assign a housekeeper for these selected rooms. All assigned housekeepers - maids as well as quality controllers - can access the list of rooms within their responsibility and change their status in the system on their desktop or mobile devices in real time. As the Housekeeping module is instantly synchronized with Front Desk, where it is also possible to change room status, the front desk employee can immediately see which rooms are ready for the check-in.
A room can be ready for arriving guests on time or even in advance if the latter is requested and agreed on. As for the personnel, each housekeeper receives a cleaning schedule (as a printable PDF file) at the beginning of the shift, and on its basis, daily reports are prepared, which allows the hotelier to control all the work processes concerning the change of the room statuses.
All the changes are saved as log records, so it is easy to track when the cleaning of each room was done, and how much time it took. The software is intuitive - easy to navigate and manage. That results in no delays for guests, no stress for employees as well as timely and smooth housekeeping procedures for the hotelier.
Want to provide your guest with exceptional in-hotel experience?
Request demo for a complete tour of HotelFriend
Benefits
Easy organization
and management of
housekeeping processes
Assigning multiple
housekeeper roles to
employees in the system
Real-time room status
display in Housekeeping
and FrontDesk.
Fast and convenient
search with a set
of filters.
Prioritization of
guest rooms by the status
and cleaning urgency.
Possibility to
group-change the
cleaning status of rooms.
Possibility to change
room status in Front Desk
WE ARE MENTIONED














HotelFriend solutions
Fast Check-In / Out
Analytics & Reporting Hotel Portfolio