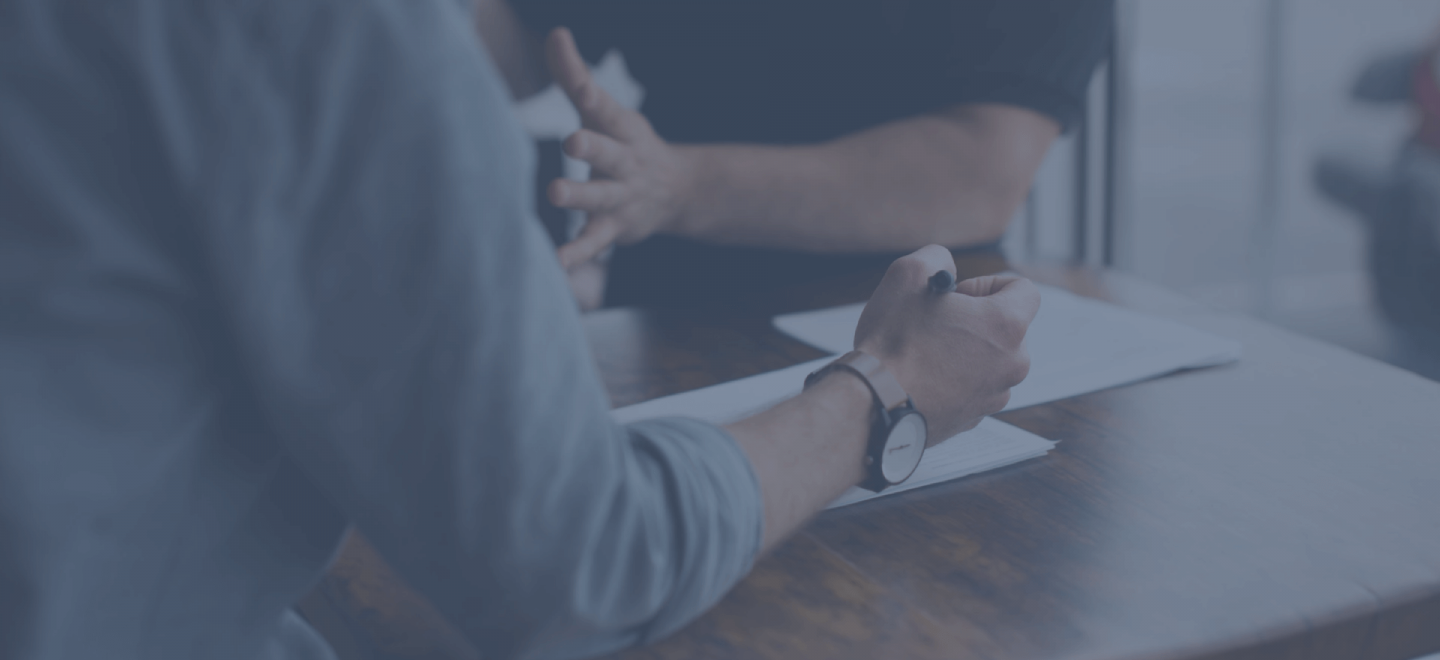 Hospitality Software Solutions for Properties and Enterprises
Your current software solution is the wrong size - too complex or too simple for your needs? We can fix that.
There is a multitude of offers on the market, but with HotelFriend, you get a package of tools tailored to the scope and specifics of your business.
Check it out
For Large Hotels & Chains
Multi-Property Administration
Concierge App
Mobile Ordering with Payments
Mobile Check-in
Employee Management
Reporting
HotelFriend Enterprise Solution
Cutting-edge hospitality solutions from the Hotelfriend. Take advantage of the - Concierge App with the revolutionary Mobile Ordering with Payments (Point-of-Sale) and Fast Check-in features for higher profits and happier clients.
Get an ultimate tool that will help maximize your upselling opportunities, turning hotel services into a profit engine, and at the same time, making your guests' stay as annoyance-free as possible.
See Price
Cloud-based, real-time synchronization of all data. Our mobile app feels like an integral part of your Oracle PMS.
Let your guests place orders like they are used to from their own device. Make your marketing and client care digital from A to Z.
24/7 support from our professional team. Get expert advice and help on any stage of the product use.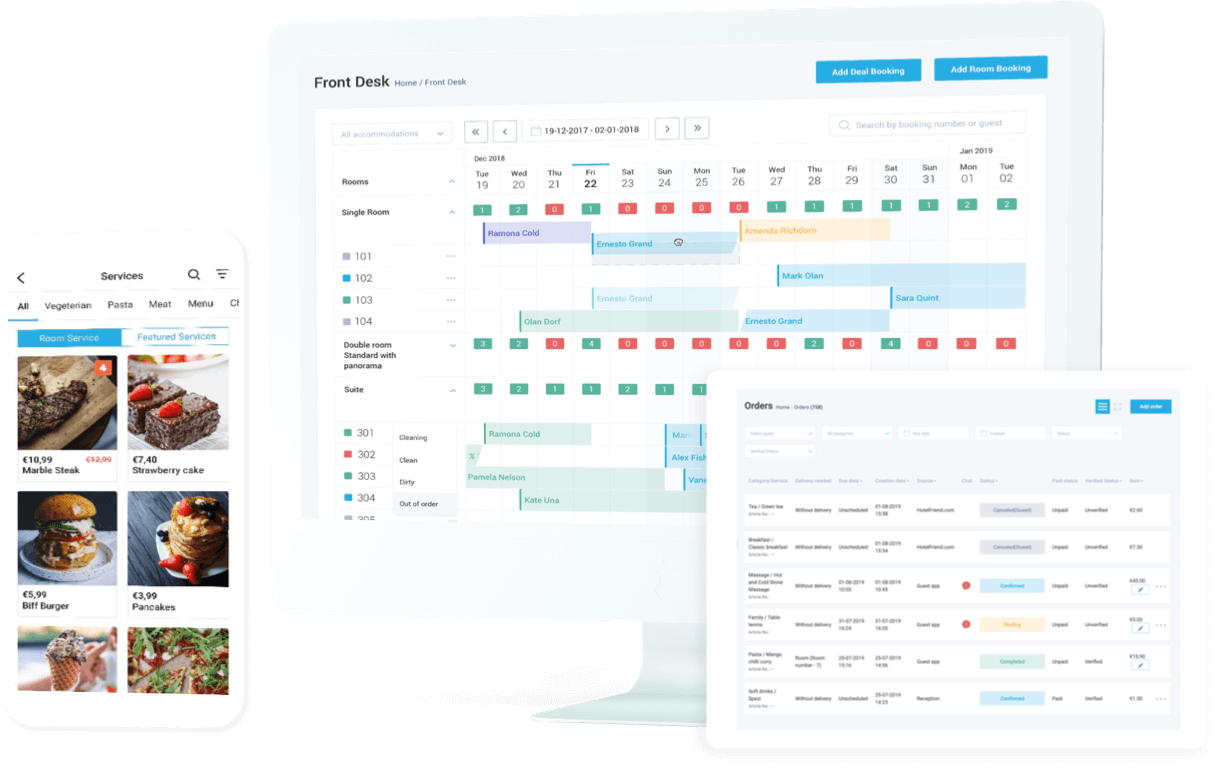 Front Desk
Concierge App
Channel Manager
Booking Engine
Deal Composer
All-in-one platform to manage multi-hotel groups
Multi-properties perform thousands of operations daily. And we offer a great variety of features that corresponds to the scale of your business. Great flexibility and performance even if you are expanding rapidly. All processes from booking to reputation management perfectly organized, even for dozens of hotels.
A boost in reservations with hundreds of booking channels in sync. Much higher profit through upselling with the revolutionary Fast Lane Flow.
See Price Free Trial
Everything in one system, with a single log-in - no errors, no duplicates.
Employees are less stressed and mobile. This allows them to focus on creating a high level of comfort for the guests.
Easy-to-retrieve financial and marketing statistics to build an effective strategy.
For Small and Medium Hotels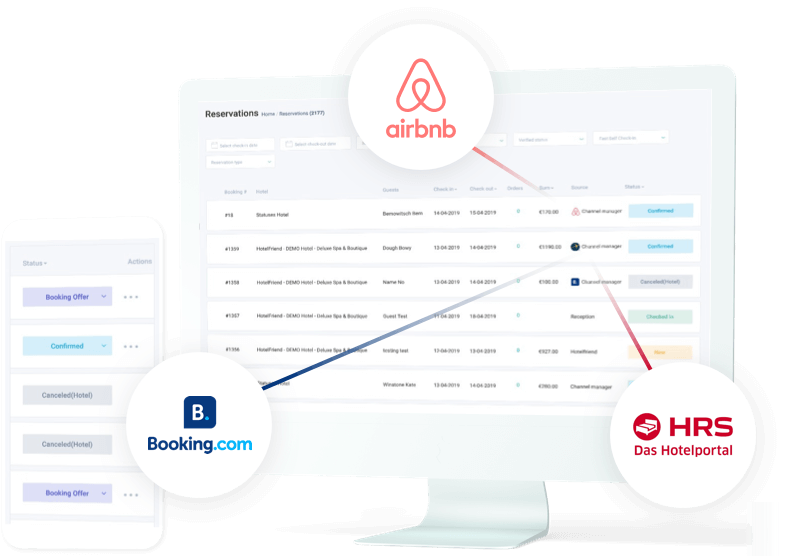 Front Desk
Guestbook Mobile App
Channel Manager
Booking Engine
Marketplace Listing
An indispensable part of the hotel development
Manage your Reservations and Guests. Handle room quotas and pricing. Get rid of the cumbersome Property Management System that slows down your business growth. Accounting, housekeeping, reporting -all digital and trouble-free. Our cloud-based PMS with responsive design works on all devices, which means your employees are not tied to their computers.
Even with a limited number of employees, routine administrative tasks are automated like never before. Win client loyalty and build a reputation that will save you plenty of advertising money.
The work of all departments is even better coordinated due to immediate status changes throughout the system.
All the required information is easy to find thanks to convenient filters.
The system is incredibly fast and smooth.
What makes HotelFriend Software Solutions perfect for your property?
We know what makes the life of a hotelier complicated. No more headaches, we got all your processes covered.
Go to Pricing
For Bed and Breakfast, Vacation Rentals, Guest Houses and Inns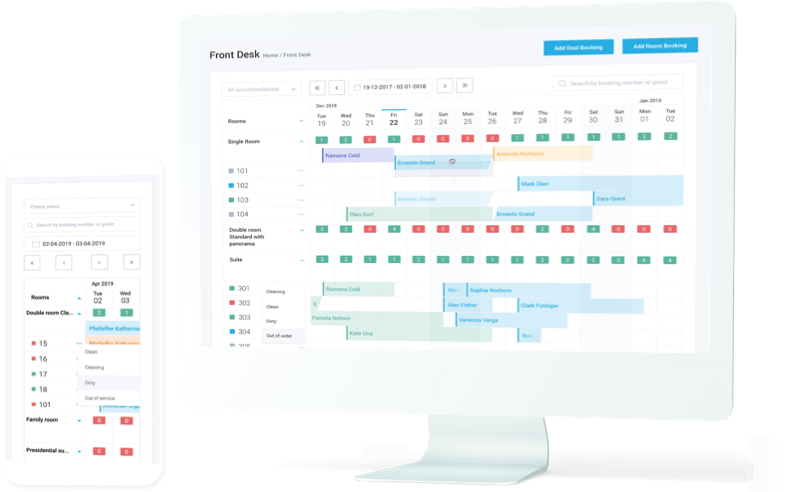 Front Desk
Guestbook Mobile App
Channel Manager
Marketplace Listing
An optimal solution for daily property management processes
Eliminate unnecessary paperwork at your cozy B & B or Inn. Even with limited personnel, your daily operations will be streamlined. Nothing unnecessary - basic but extremely practical features.
Make your home-like property digital and have the edge over your competitors.
A frictionless drag-and-drop calendar to manage reservations.
Automatic updates of rates and availability on different channels to avoid overbooking and errors.
Simple system that you could use with your eyes closed.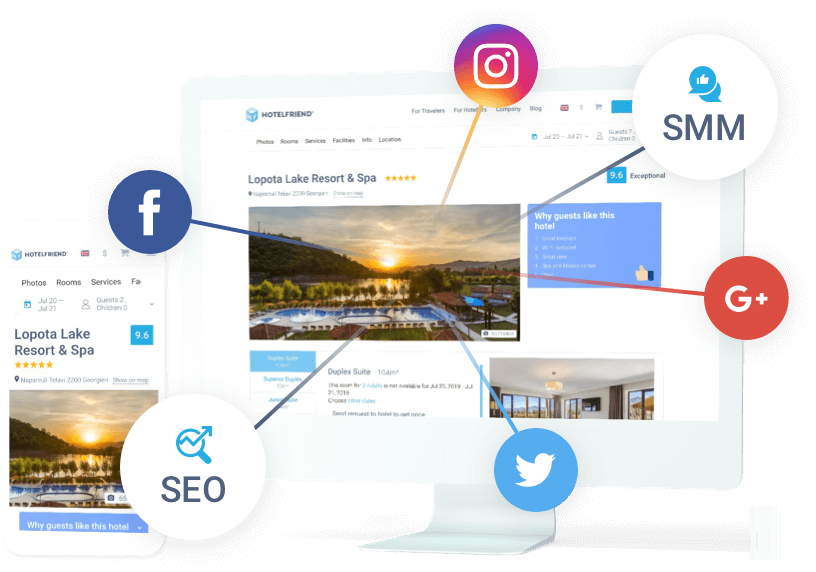 Front Desk
Room Service Mobile App
Channel Manager
Booking Engine
Marketplace Listing
A valuable asset for delivering the highly personalized experiences your guests deserve
Showcase the unique chic features of your boutique hotel across multiple channels with our commission-free Channel Manager. We are sure your website is as tastefully and beautifully designed as your property - turn admirers into clients with an integrated Booking Button.
Provide exclusive comfort to your boutique hotel guests with our Room Service Mobile App - gourmet food and cocktails ordered in advance, whenever it is convenient, and served with perfect timing.
With smart Front Desk functionality, the employees are free to give the warmest welcome to your guests.
Your hotel may be fully booked a few months in advance, but it will never be overbooked.
With the Mobile App, service feels first-rate and ultramodern.
Get ready to attract more customers instead of getting stuck in the daily grind.
Go to Pricing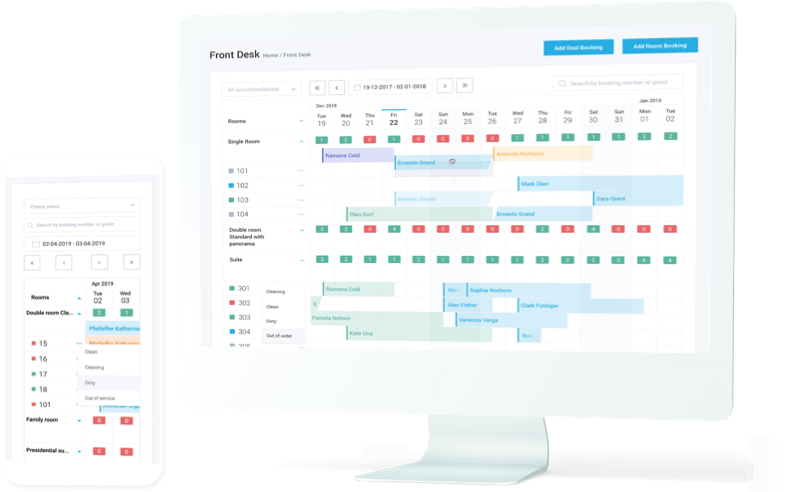 Front Desk
Channel Manager
Booking Engine
Marketplace Listing
The ultimate toolset for effective hostel management
Get your Front Desk connected to the main booking channels, such as HostelWorld and Booking.com, or add a Booking Button for direct reservations on your website. Enjoy the possibility to manage beds, as well as private rooms. Don't overpay for the features you don't need. One bed or hundreds, your life gets much easier.
It's like having a full time personal assistant. With HotelFriend smart tools, even one person can run a hostel effectively.
Automation that saves several hours of worktime every day.
All core functionality at a competitive price.
Intuitive interface that takes your hints.
Order Management System
Room Service App
Service Management
Invoices & Documents
Payments
Reporting System
A modern-age alternative to your tech-savvy customers.
Do you still accept bookings by phone calls and your waiters bring paper menus and use notepads for taking orders? Equip all your tables with printouts where your customers will find all the food and drinks offered, including the price - all your guests need to do to order is just to scan a QR code.
Hungry visitors will not have to wait in line: all dishes and cocktails can be pre-ordered and served as soon as they come to the restaurant or bar. People can find good food everywhere, but the care your business provides will be hard to forget.
Your great service starts long before your guests' visit.
Payments processed directly from the guests' smartphone without POS terminals.
All orders under control and a lifetime of hours spared for clients.
What makes HotelFriend Software Solutions perfect for your property?
We know what makes the life of a hotelier complicated… And we can make it stress-free. No more headaches, we got all your processes covered.
Cloud-based System
Instant synchronization of all data. Take your hotel everywhere with you.
Fully functional on mobile phone or tablet
You are free to move around and control your business processes wherever you are.
7 languages
You most likely speak one of them, so your software environment will feel native.
Intuitive UI
It does not take hours to figure out how everything works.
Multi-user /multi-property /multi-platform
Maximum flexibility to adjust to your type of property.
Drag -and-drop facilities
The most convenient way to make changes in the system
No installation
Set up requires minimum time, and we are ready to guide you through all the steps.
Free and automatic regular updates
No need for an IT department to take advantage of the latest features. If you feel you are lacking something, we are most probably already working on it.
Online Payments
A variety of payment systems (Sofort, Stripe, PayPal) for your guests' convenience.
Direct communication with your guests
You have never been closer. Respond to your clients' requests and complaints immediately.
Affordable and transparent prices
No hidden costs that will disrupt your budget.
Easy tracking of your business results
View statistics and generate reports for all stakeholders effortlessly.
HotelFriend Features
Hotel Management
Front-Desk
Department Management
Employee Management
Room Management
Hotel Dashboard
Housekeeping
Maintenance Management
Mobile Hotel Live Chat
Operations Outsourcing
Task Management
Finance & Payment
Accounting and Document
Payment Management
Reporting System
Booking Balance
Digital Cash Book
Revenue Management
Room Rates
Service Management
Guest Relations
Guest Management
Booking Request, Offer
Self Check-In
Guest Communications
Communication Automation
Digital Marketing
Hotel Website Development
Destination Management
Deal, Package Composer