Process Reservation Requests and
Create Offers Whitin Minutes
Reservation Request and
Booking Offer
Reservation Request and Booking Offer Module will help you interact with people who want to book your rooms in a more convenient and faster way. Create offers directly in the system, send them by email and get more bookings with our cool functionality.
What will you get
It goes without saying that people value fast service. With our hotel software tool, you will be able to handle phone booking inquiries and provide your potential and existing clients with relevant information via email swiftly like never before. While our Guest Management Module allows creating a comprehensive database of your guests, Booking Request and Offer functionality helps take advantage of these data: prepare your promotions easily and send them to potential matches all year round to maximize occupancy.
Imagine that prospective clients see your hotel among top recommendations in the area but prefer human contact instead of checking your website for availability. They call you with dates and preferences, and instead of overloading them with hard-to-remember information, you send a detailed booking offer to their email within minutes after they hang up. If you cannot meet your guests' exact requirements at the moment but want to describe a few alternatives, you can send several offers in one letter to choose from.
The system automatically changes the status of the selected room(s) to "Booking Offer" for three days to avoid multiple reservations. By clicking the link in the email, the client makes a decision to either decline or confirm your offer. If it is positive, the booking is added to your system and the room status changes to "Confirmed Reservation" in the Front Desk.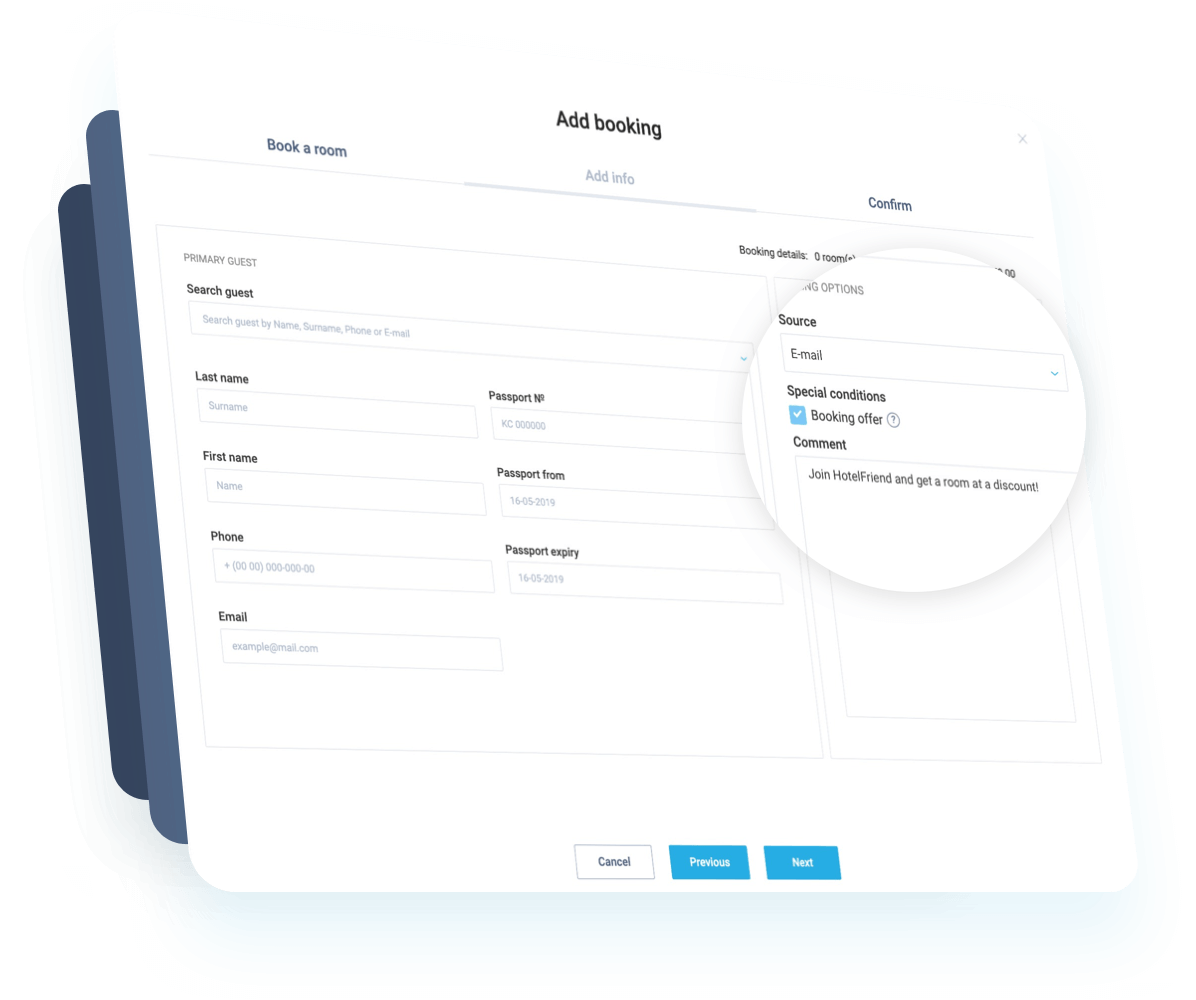 Booking Offer
Our Booking Request and Offer Module will also be a powerful tool for your marketing and sales team when working with an existing client database. For instance, you can propose more affordable prices during low season, reward your guests with a loyalty discount, introduce corporate packages, etc. First of all, it's important that the right type of rooms are offered to the right person or company. And secondly, finalizing an order must be a piece of cake for the client - just a few clicks. It is all possible and almost effortless with our software.
Win more clients with HotelFriend.
Request 30-day free trial now.
Get free trial
Benefits
Improved sales
Improved interaction with
your potential guests, which is
more likely to result in sales
Time Economy
Considerable time economy for
your Front Desk personnel
Group Offers
Possibility to create group offers,
which is convenient
with corporates
Offer What Guest Like
Make the most of your
client database - offer what
guest like for sure
Pleasant Customer Journey
First steps of the customer
journey pleasant and hassle-free
Instant Synchronization
Instant guest and booking data
synchronization throughout
the system
HotelFriend Features
Hotel Management
Front-Desk
Department Management
Employee Management
Room Management
Hotel Dashboard
Housekeeping
Maintenance Management
Mobile Hotel Live Chat
Operations Outsourcing
Finance & Payment
Accounting and Document
Payment Management
Reporting System
Booking Balance
Digital Cash Book
Revenue Management
Room Rates
Service Management
Guest Relations
Guest Management
Booking Request, Offer
Self Check-In
Guest Communications
Communication Automation
Digital Marketing
Hotel Website Development
Destination Management
Deal, Package Composer