Time-limited special offer
A professional Bundle of must-have Hotel Property Management Tools that will simplify daily operations of any hotel.
Hotel Digitalization Offensive
Time-limited special offer
until 25.05
Your digital personal assistant
Employee Management
This module enables a more comfortable management of the workflow. Just by using a computer with internet access, you can manage the entire hotel - everything is in full view in our system.
Why is it necessary
You could be relaxing on a beach with a cocktail and enjoying your vacation, while still being in control of your hotel's working process. Using the Employee Management module, you can solve problems regarding incorrect changes in bookings and orders: all the necessary data is already in the system. Manage the workflow without any unnecessary calls or messages.
How does it work in our system
The module offers a lot of possibilities. You can create, change, and delete users. They will be able to log in to the system using private accesses. There are four roles to choose from: Hotel admin, Department, Reception, and Housekeeper. Everyone has their own available options in the system:
• Department receives tasks and orders from guests, which will be assigned to particular employees.
• Hotel admin and Reception have similar possibilities (creating new guests or employees, editing information about them, etc.). The admin has a wider choice of actions, of course.
• Housekeeper (or the manager) changes the cleaning status of the room in the system right after the cleaning is done so that the receptionist can see what rooms are ready for check-in.
One more possibility of the module is that you will know who and when changed the order status and other information. It simplifies management quite a lot especially if the hotelier can't be present at the hotel but wants to keep in touch with the staff and be aware of the state of things at the hotel.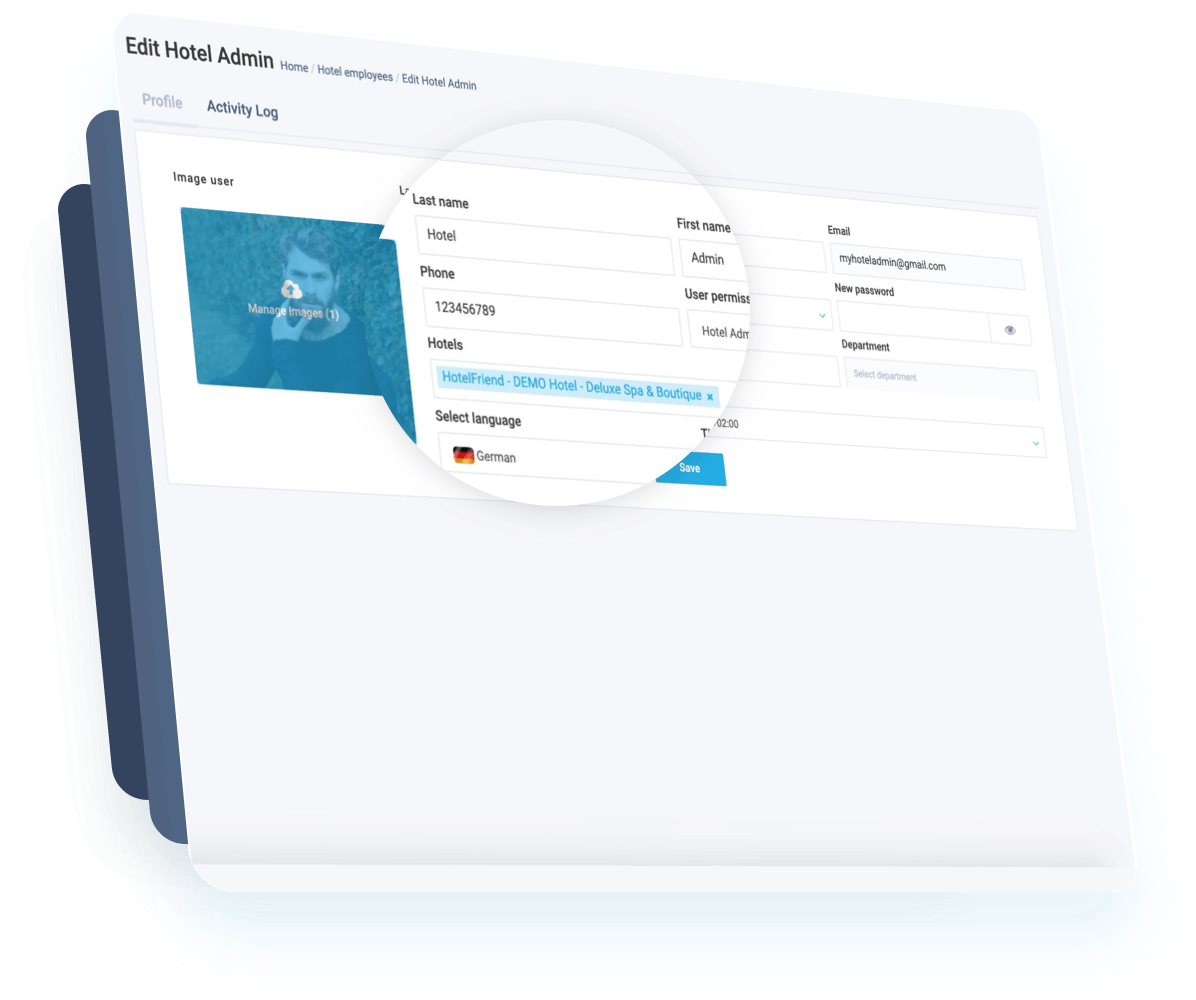 The system enables a handy and quick search
The system enables a handy and quick search. In the "Employees" section, you can sort employees by name, email, user permission, last login, and date of creation. Now your hotel staff is like an open book.
Benefits
Well-organized workflow
employees see only particular modules
in the system and won't be able
to change important information
by accident.
Everything is saved in the system
changes, personal and contact
information of employees, etc.
Quick access to information
you can solve working issues
from anywhere and anytime.
Handy interface and search.
DO YOU WANT YOUR HOTEL TO BE STATE-OF-THE-ART?
Do not hesitate. Try our demo, and you will see the changes!
WE ARE MENTIONED














HotelFriend solutions
Fast Check-In / Out
Analytics & Reporting Hotel Portfolio