Digital order & payment software
Order Management System
A groundbreaking Order Management Software for quick order, payment, and on-time delivery of services. The perfect combination of cloud-based PMS and native Hospitality App.
* The System can be integrated with any 3rd parties on request.
Online Order System with Digital Menu
Orders and service delivery is at its height whilst maintaining social distancing. Solution for every hospitality and service delivery business: Hotels, Restaurants, Cafes, On-demand beauty services, Spas, Health care, Fitness.
Make all your services and offers instantly available to clients. Create special offers, analyze sales data, generate reports, process payments, communicate with guests directly - all with a few clicks. And see your revenue grow every day.
Sell, manage, control. You don't need to hire a team of software developers, educate personnel, or invest in modifying your current system - the revenue boost is almost instant.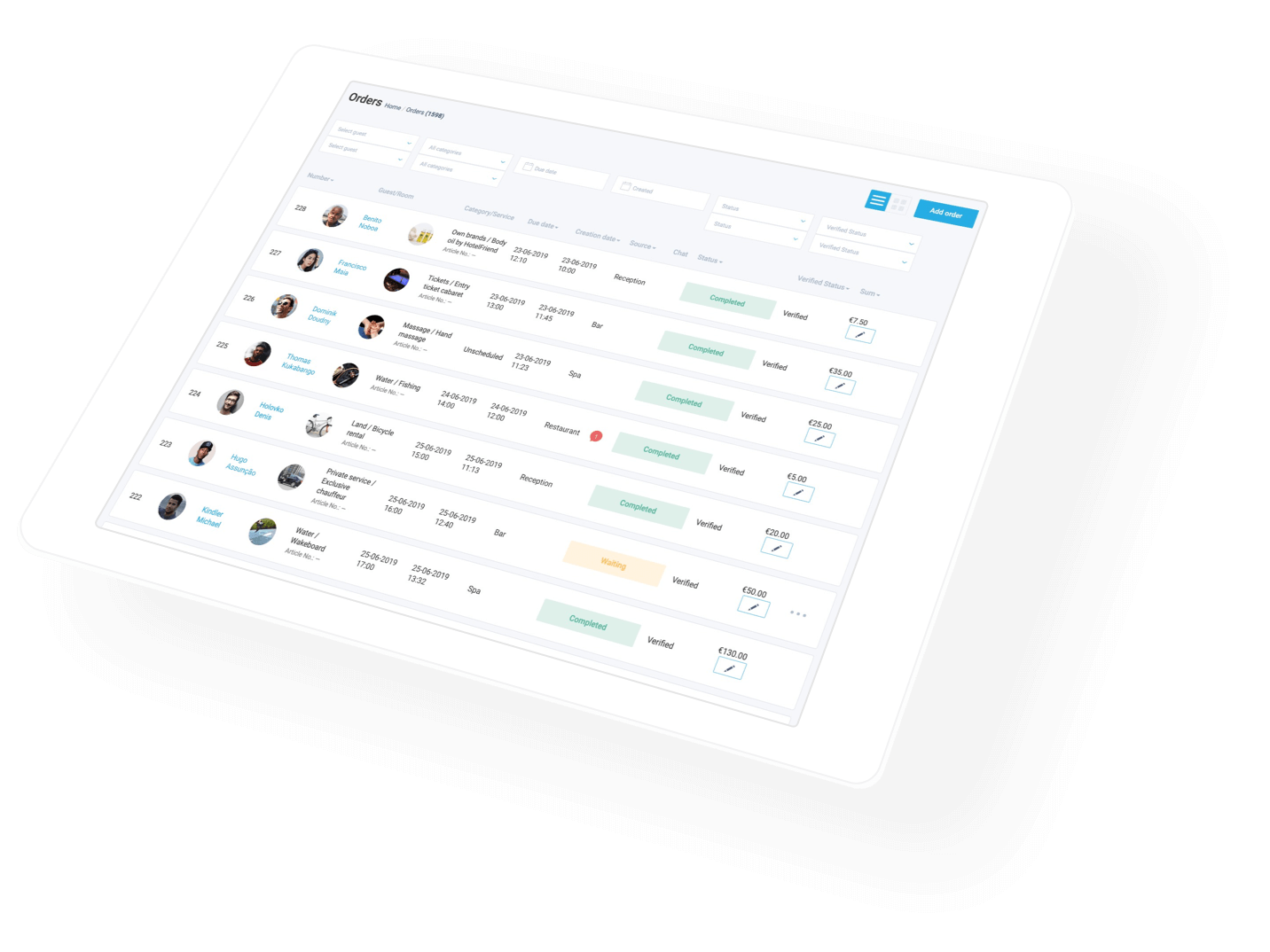 Step 1. Import services. Set up the Service Management module. Import services from our library with thousands of options. Create deals and bundles for even higher sales. Customize your services with nice pictures and catchy description texts if necessary.
Step 2. Create Digital Menu. Choose the preferred services from the catalog to generate respective QR codes for the promo leaflet with pictures and prices - a Digital Menu. Place them as printouts (in rooms, on tables in the hotel's restaurant, etc., each containing an individual room or table number) or on social media.
Step 3. Order from smartphone. Once the code is scanned, the guest will see a digital menu with the possibility to select services with all available options (duration of the activity, food details like gluten-free or vegetarian, etc.), set the quantity, date, time and place (the number of the table, deckchair, room, etc.) of delivery, change a pick-up point, and write a comment if necessary.
Step 4. Pay and Get. The guest can make an order immediately or just add an item with all the indicated preferences to the cart and return to other offers on the menu. An invoice is generated, and the payment for the service(s) can be made instantly and securely with a smartphone.
Change in Ancillary Revenue Streams Measured
by Revenue Management Systems from 2014 to 2017
What you get
Our Order Management System is compatible with any portable or desktop device and does not require installation. It is an integral part of the HotelFriend System. Traditional POS terminals are becoming a thing of the past. You don't need any equipment to process payments, which helps save money and time.
Guest experience
Negative experiences have a direct impact on guest loyalty. Most people have no tolerance for the waste of time - waiting for a waiter to come up to the table, waiting for the dish to be cooked, waiting for the bill to arrive… Waiting times can easily turn minutes into hours having serious consequences for the business. Avoid this and other delays while delivering a service thanks to the innovative functionality of our hotel management apps, which is an unbeatable tool for making services frustration-free.
Efficiency and savings
Customers expect real-time interactions with no delays. Our software eliminates the possibility of missed orders and allows full control of the ordering and delivering process because the order always goes to a particular department. You can also forget about POS terminals: our system doesn't need special gadgets. With Stripe technology, payments are made by guests through a smartphone and go directly to your hotel account.
Visibility and revenue
You have a roof terrace cafe with a perfect Instagram view, a cozy spa center with cool treatments, a swimming pool that can turn into a party spot, a conference hall with state-of-the-art equipment, but far too few people know about it? Changing this has never been easier: generate QR codes for all your services in the system and place the order sheet on your premises or in partner establishments.
Direct sales boost
Your excellent facilities will not stand idle. Sell to a vast target audience: put QR codes on your social media pages and ad campaigns for immediate access to a digital service menu in our app. No registration, no hassle, services pre-ordered and delivered precisely when your clients want - they will love it.
Advantages
Simplicity and effectiveness
Setup time - 2 hours
No support fees
No training needed
Multiple currencies
Multiple languages
Unlimited department access
Improved workflows
No missed orders
Better planning
Well-organized staff schedules and resources
Convenient reports to view the sales figures
Possibility to form invoices
Immediate payments and while checking out
Easy promotion
Market your hotel services on-site and on social media much easier
Offer exclusive mobile deals and incentives, additional services or products thanks to the digital menu
Shorten the customer journey to a minimum
HotelFriend Features
Hotel Management
Front-Desk
Department Management
Employee Management
Room Management
Hotel Dashboard
Housekeeping
Maintenance Management
Mobile Hotel Live Chat
Operations Outsourcing
Finance & Payment
Accounting and Document
Payment Management
Reporting System
Booking Balance
Digital Cash Book
Revenue Management
Room Rates
Service Management
Guest Relations
Guest Management
Booking Request, Offer
Self Check-In
Guest Communications
Communication Automation
Digital Marketing
Hotel Website Development
Destination Management
Deal, Package Composer