Time-limited special offer
A professional Bundle of must-have Hotel Property Management Tools that will simplify daily operations of any hotel.
Hotel Digitalization Offensive
Time-limited special offer
until 25.05
A New Take on
Pricing Management
Hotel Room Rates
This tool is all you need and more to adjust every imaginable variant of your hotel's pricing strategy, cancellation policy or sales restrictions. Change room rates according to room types and meal plans, seasons or even weekdays, sources of booking and types of guests. In one place, in real time.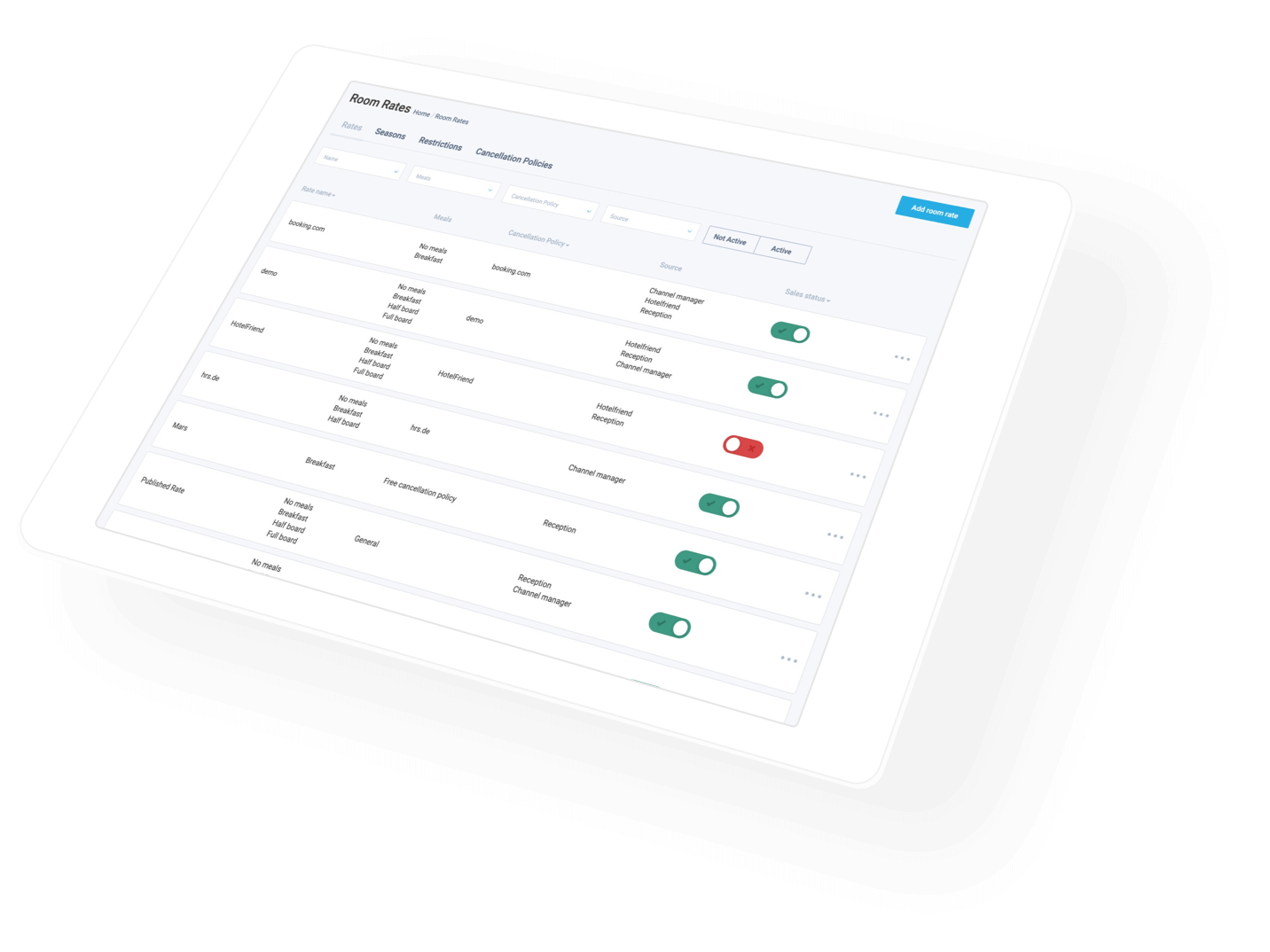 Flexible Pricing Policy
You don't necessarily have to spend loads of time on increasing revenue. Sometimes it's quite the opposite. As an addition to our property management software that will help you determine your guests' buying behavior, Room Rates is the way to act on this information and create a pricing policy that works for both your property and clients.
Using a single rate plan is not an option, as your business has to stay in sync with the market and be flexible when it comes to pricing. On the other hand, managing a whole number of rates at once seems to be an uphill struggle. HotelFriend's Room Rates tool is ready to challenge stereotypes and help you offer your guests more by doing less.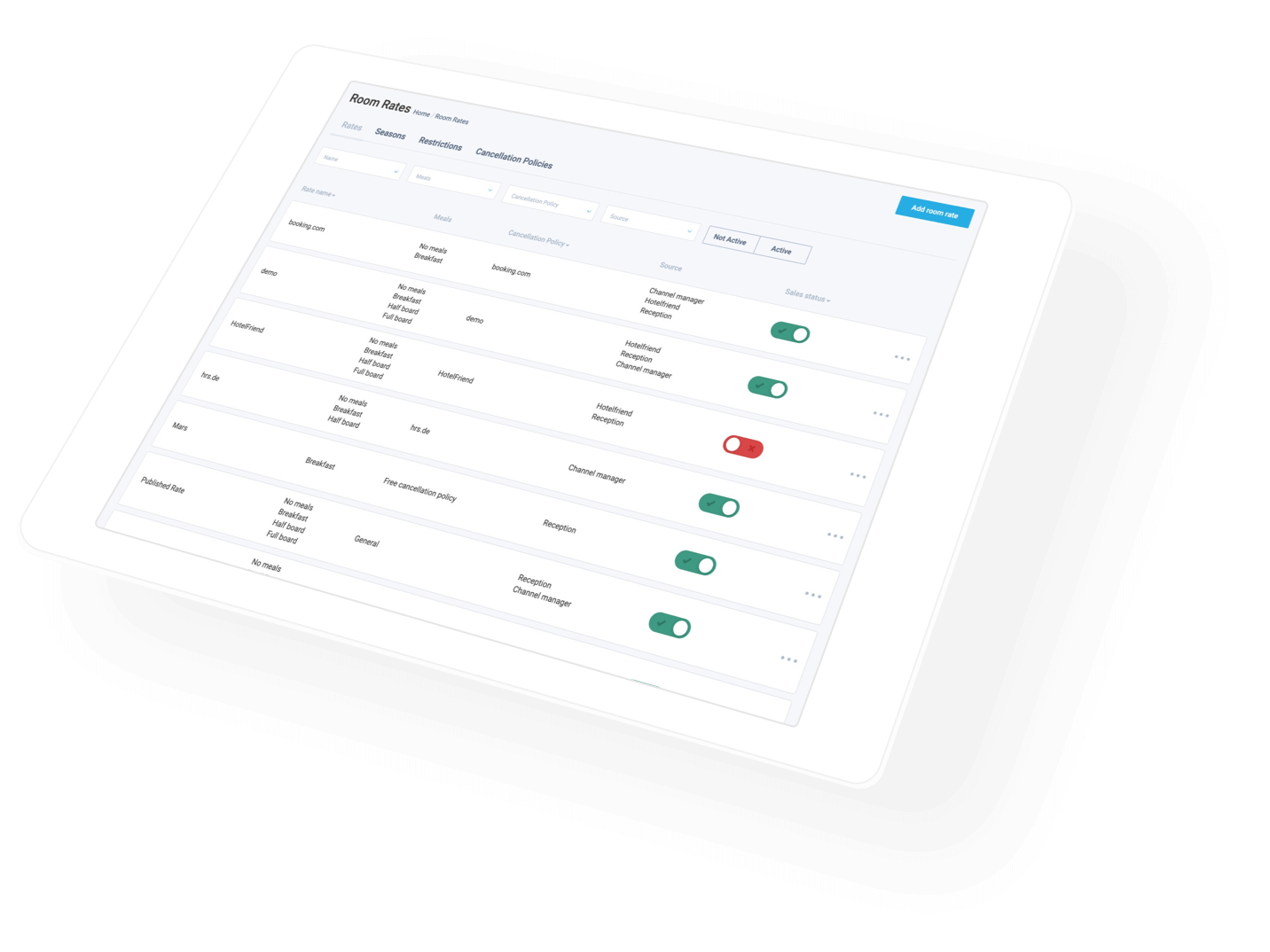 Adjust your hotel's pricing strategy, cancellation policy or sales restrictions
manage daily rates according to room types and meal plans
determine seasons or even weekdays, sources of booking and types of guests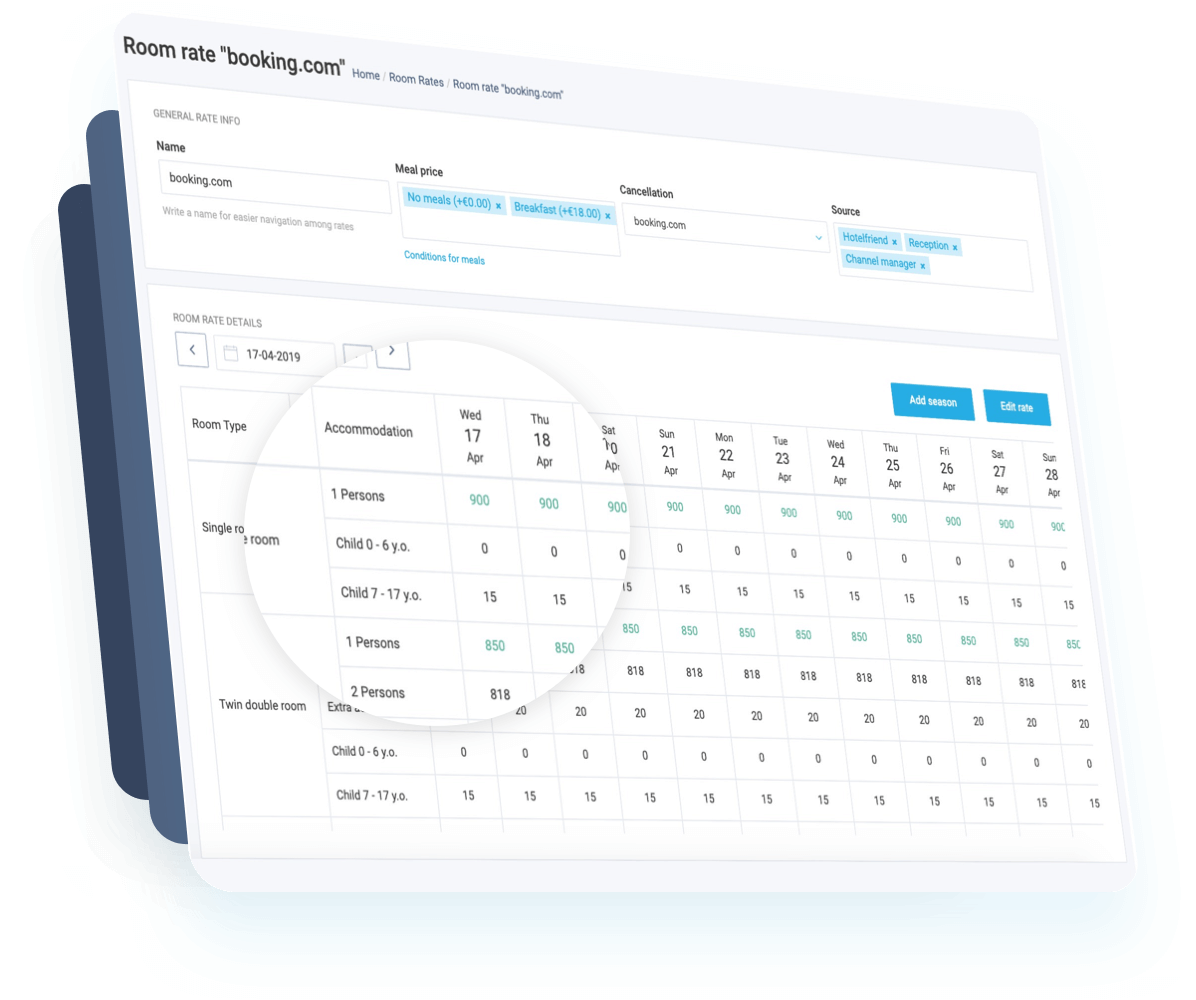 What You Will Get
Time-saving customization
First of all, you fill in the name of the rate and choose the board type if available. Then you select cancellation terms as well as the source (hotel's website, OTAs and others), for which this rate should be valid. Finally, pick room & guest types, and enter a default price or specify it for certain weekdays. That's about it; your room rate is up and running!
Unlimited variations
Give your guests a free hand in choosing a rate, and they will appreciate the variety. It may be a base rate, a special tariff or a seasonal one, to name a few. You can create any number of them at your discretion and adjust conditions as you see fit. Only you are in full control of every single price.
Clever cancellation
Cancellation Policies is a flexible module that allows hoteliers to secure themselves against risks that canceled reservations entail. We elaborated it down to the last detail, so that you can simply decide between most in-demand options like "Free cancellation policy" and "Not refundable" or add as many new ones as you wish. Life throws many curve balls, but with the HotelFriend software, it happens on your terms.
Seasons & Restrictions
All it takes to make rate changes automatic is to select a period, e.g. high/low season or winter holidays and edit prices in the table of the Seasons module. Then go to the Restrictions tab to administer limitations on sale in every possible way. You can set such limits as minimum/maximum stay, close-out, no check-in/out and more for any period, rate, weekday, room type or source. Just think of the possibilities that gives you.
Benefits of the software module
Variety
unlimited rates;
multiple sources.
Full Control
custom restrictions;
smart cancellation policies.
Revenue Flow
seasonal pricing;
advantageous sales conditions.
Save the hassle of traditional pricing management and try the state-of-the-industry Room Rates hotel software by HotelFriend.
Request demo and make the most out of your hotel's room inventory now!
WE ARE MENTIONED














HotelFriend solutions
Analytics & Reporting Hotel Portfolio