Make comfort the DNA of your hotel
and see revenue grow
Service Management
Great hotels will always be in high demand. Services are something peer-to-peer accommodation cannot compete with. From breakfast in bed to conference and banqueting - everything can work hard for your image and profitability. If you have the tools. We know how to add love to your services to secure repeat clients, generate much higher revenue and bring apple-pie order to such departments as restaurant and bar, spa, etc.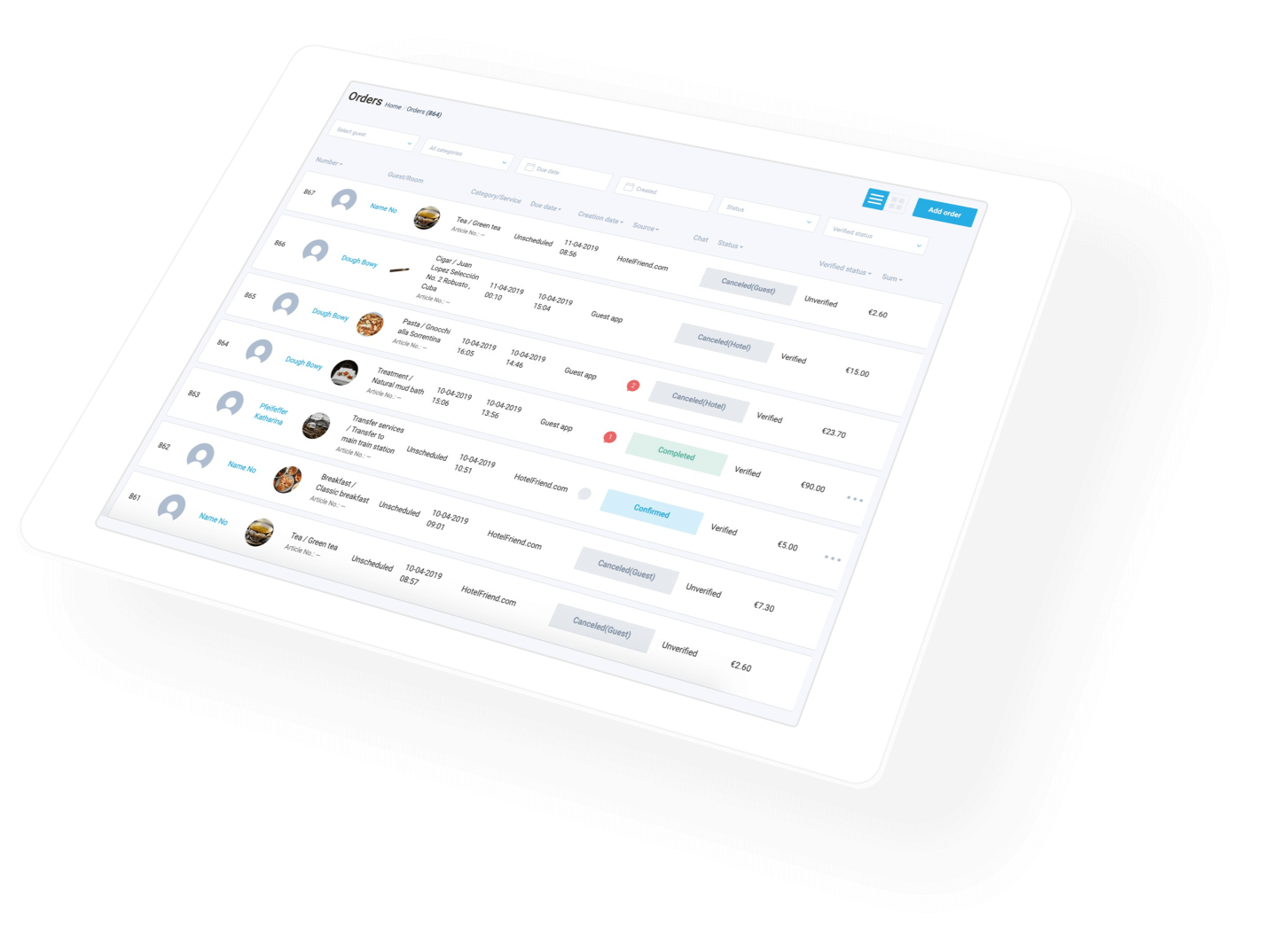 Why is it necessary
How to sell chargeable services? To hope that people will also order a massage or a guided excursion when they book their stay? At this stage, most of them are interested in the room only. To educate your personnel not only to provide information about services but persuade guests to buy them? Not classy and annoying. Booklets with many pages on great facilities of your hotel often just gather dust. How about posters with mouth-watering colors in the right places? Or social media campaigns targeted at people who need a facial, a venue for a birthday party or conference, or just a great lunch spot? And all it takes is to scan a QR code - no hassle, no calls.
But we think not only about your guests. Your employees also deserve a stress-free working environment, and automation is the way to achieve it.
10 simple steps to start the success engine
1. Set up Service Management Module.
2. Import services from our library with thousands of options.
3. Create deals and bundles for even higher sales.
4. Customize your services with nice pictures and catchy description texts if necessary.
5. Generate a Services PDF with QR codes and place them on leaflets, posters or social media for maximum visibility.
6. Guests download the mobile app through a QR code.
7. Guests scan QR codes of services and order with a few clicks.
8. Billing and payment is made in the app without POS terminals.
9. Orders go directly to the department and can be processed easily.
10. Statistics and reports are effortless to retrieve in different formats.
Seamless guest experience with online orders
guest can order
hotel can manage
Features
Orders can be made without registration.
Selection of the exact delivery time and zone (e.g. room number, table, etc.).
Change order status in the system: confirmed, canceled, fulfilled.
Sort orders by guest, date, time, and status.
Direct chat with guests .
24/7 availability .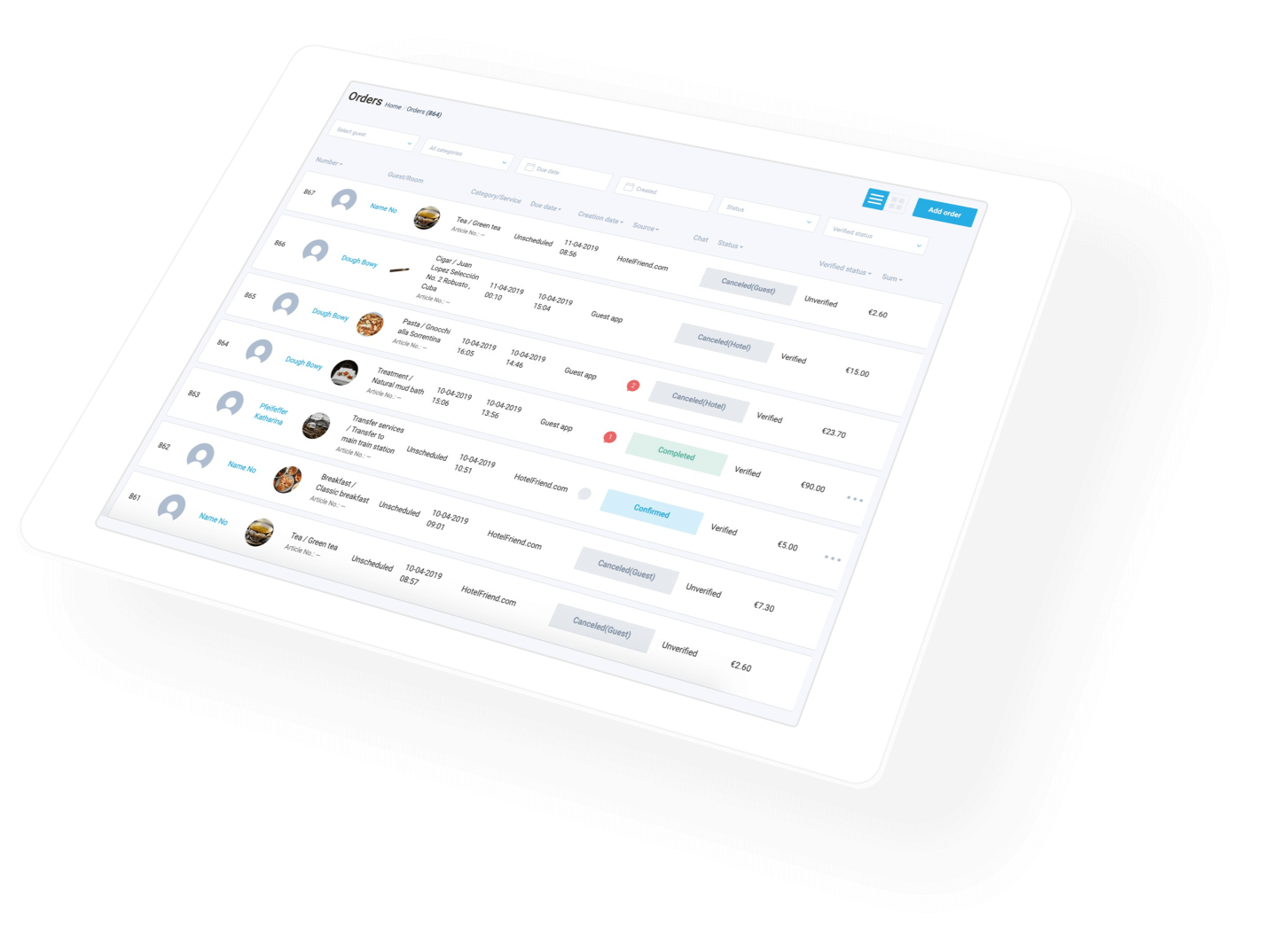 With HotelFriend Service Management Module, your hotel feels like home. But better. The mundane work of service departments is automated and your personnel can focus on creative ideas.
No stress, just happy vibes and higher profits. Try now for free and make sure it works.
Try it for free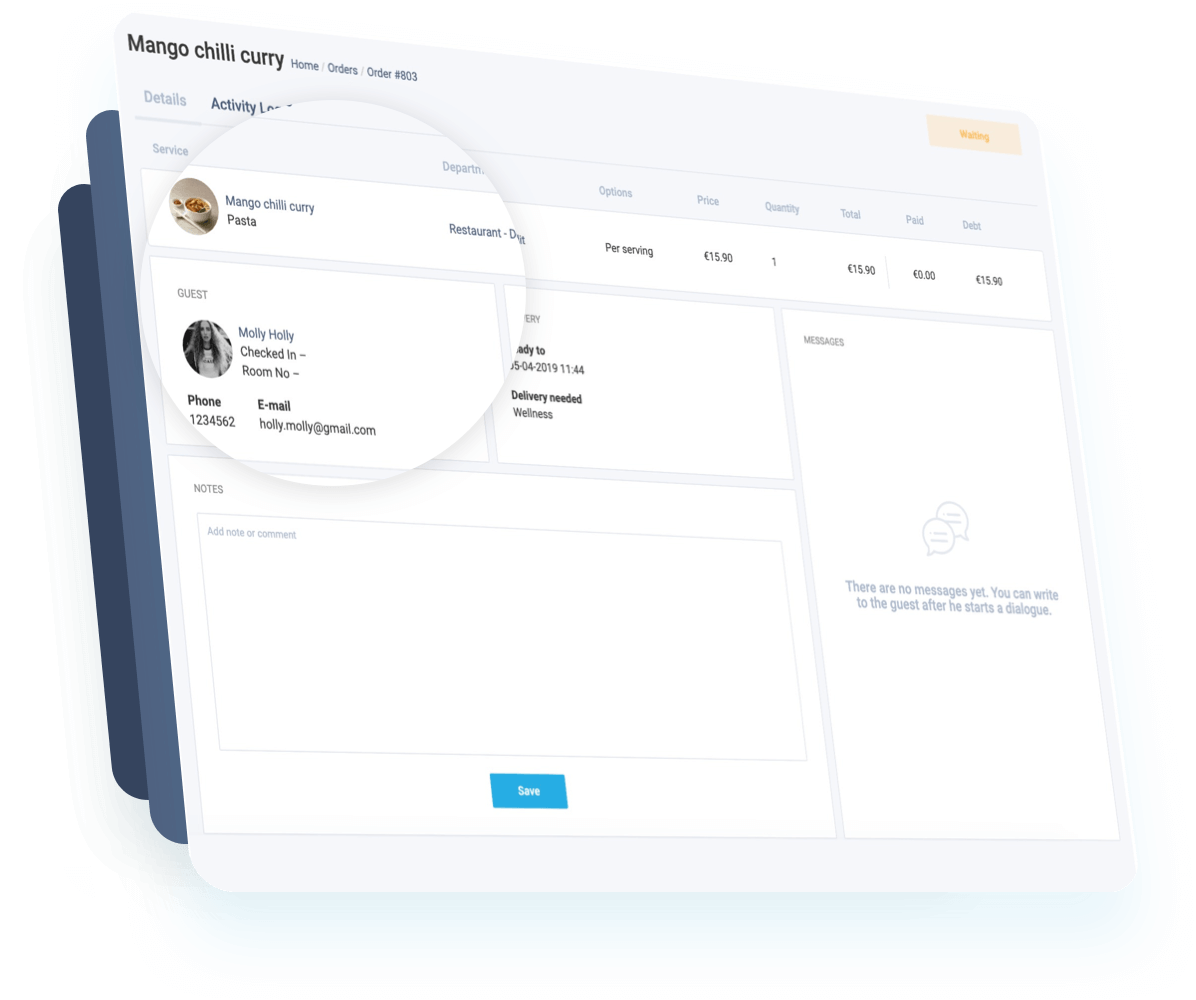 What you will get
BETTER CUSTOMER EXPERIENCE
Meet top hospitality standards: equip your guests with cutting-edge technology. Now leisure arrangements are easy to make without being physically present at the hotel or phone calls. On all stages - from order to delivery - your client feels you really care.
HIGHER VISIBILITY
Let non-guests also enjoy your great facilities. Stylish leaflets or posters with your services or events and QR codes can be at airports, bus stops, social media pages - everywhere to reach your target audience. It's modern and cool.
EFFICIENT SALES FUNNEL
Not only will your clients have all the offers on their smartphone, ordering and paying are also just a few clicks. Now people even don't tolerate a website that loads too long. Speed sells.
IMPROVED PLANNING and ANALYSIS
Hotel departments receive orders digitally, which prevents errors and helps plan and organize work better. The convenient format of statistics and reports allows analyzing your hotel performance to improve the sales strategy.
HotelFriend Features
Hotel Management
Front-Desk
Department Management
Employee Management
Room Management
Hotel Dashboard
Housekeeping
Maintenance Management
Mobile Hotel Live Chat
Operations Outsourcing
Task Management
Finance & Payment
Accounting and Document
Payment Management
Reporting System
Booking Balance
Digital Cash Book
Revenue Management
Room Rates
Service Management
Guest Relations
Guest Management
Booking Request, Offer
Self Check-In
Guest Communications
Communication Automation
Digital Marketing
Hotel Website Development
Destination Management
Deal, Package Composer