Marella Cruises & TUI River Cruises at TUI Partners with HotelFriend to Elevate Cruise Ship Management and Delight Guests
Property Type
Cruise ships
The project launch
September 2021
About
Marella Cruises & TUI River Cruises at TUI
Find out how HotelFriend helped Marella Cruises & TUI River Cruises at TUI to achieve enhanced operational efficiency and provide a seamless user experience both online and offline.
The world-famous Marella Cruises & TUI River Cruises at TUI UK offers premium river cruises across Europe's famous waterways, including the Rhine, the Main, the Moselle, the Danube, and the Dutch and Belgian waterways. Their fleet consists of three adult-only passenger ships: Isla, Maya, and Skyla, with a maximum capacity of 155 guests each.
On board their floating hotels, TUI aims to provide outstanding service, excursions, and nightly entertainment while ensuring each guest enjoys ample personal space.
Challenges Faced by
Marella Cruises & TUI River Cruises at TUI
Prior to partnering with HotelFriend, Marella Cruises & TUI River Cruises at TUI encountered several major challenges in their daily operations.
Manual and time-consuming processes
The reliance on manual data entry during check-in, paper documentation for passenger manifests, as well as Excel-based cash books and tour planning, led to inefficiencies and increased risk of errors.
Lack of centralized data available both online and offline
Marella Cruises & TUI River Cruises at TUI needed a unified system to consolidate and manage crucial data such as passenger details, crew information, VAT records, and payment transactions even without an Internet connection.
Fragmented guest information
The client sought a solution that could easily integrate with their native app designed as a platform for passengers where they could plan their activities both on the ship and in the port.
Solutions Provided by HotelFriend
HotelFriend offered a customized HotelFriend suite tailored to the requirements of the company. The cloud-based system is capable of a quick check-in of 400+ passengers simultaneously and includes a set of other essential features.
HotelFriend PMS tailored to the specifics of the cruise industry

The system digitized and automated the core processes and documentation, including the Passenger Manifest which contains the names and passport data of all individuals onboard, and Cash Books which enable efficient handling of passenger transactions. This eliminated manual work, reduced errors, and saved valuable time for the crew.

Korona POS

HotelFriend's integration with the Korona POS system facilitates an easy recording of sales information across various departments. This system supports foreign currencies and can run on different devices, including POS terminals, tablets, and PCs, streamlining the sales process.

Papagena PayCruise

The integration with the Papagena PayCruise enables cashless payments in any world currency on board the ship. It helps to reduce and automate the effort involved in registering, checking, and using credit and debit cards on board.

Integration with native TUI Navigate app

The HotelFriend team collaborated with TUI to integrate their Navigate guest app. This integration allowed the company to better manage important guest-related information, and provide a seamless and convenient experience for guests.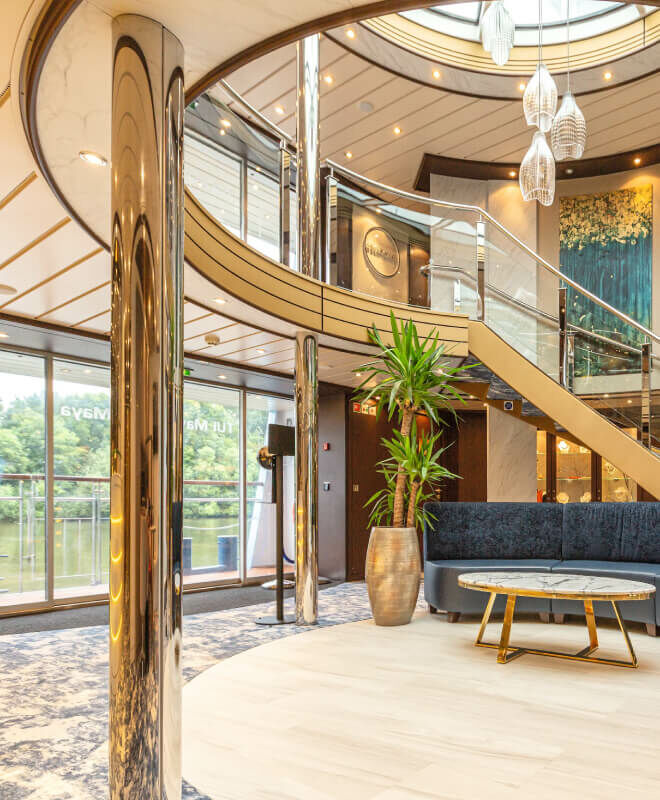 Passengers could effortlessly plan their activities on and off the ship and leave feedback on their dining and entertainment experiences, and the system would instantly gather all that information for the company.
Results Achieved
With the active use of HotelFriend's comprehensive software, Marella Cruises & TUI River Cruises at TUI continues to deliver exceptional river cruise experiences while maintaining compliance with industry standards and optimizing its operations.
Improved service for 50,000 passengers in six months
The new software suite played a pivotal role in elevating the service quality for TUI ships. Over a span of six months, approximately 50,000 people enjoyed exceptional river cruise experiences. From smooth check-ins to well-coordinated onboard sales, the company is able to deliver a hassle-free stay, leaving passengers with more time to relax, explore, and enjoy the breathtaking scenery.
Swift check-in for 100+ passengers simultaneously
With the Thales passport swiper integrations, TUI achieved fast and efficient check-ins for their clientele. The automation of essential processes and centralized data management made hassle-free check-ins possible, ensuring a smooth start to each passenger's journey.
Сentralized data management with TUI Navigate integration
HotelFriend's PMS is seamlessly integrated with the Navigate app, enabling TUI to centrally manage and access critical data. The integration facilitated efficient synchronization, ensuring that guest information, schedules, and onboard account details were consistently updated and readily available for both guests and staff.
Reduced paperwork by up to 98%
With HotelFriend's automation capabilities, Marella Cruises & TUI River Cruises at TUI significantly reduced the need for paper-based documents. Processes such as manifest creation and cash book management are streamlined, leading to a reduction of up to 98% in manual labor. This not only saved valuable time for the crew but also minimized the risk of discrepancies.
Flawless business continuity due to online-offline capabilities
The system's offline mode allows employees on the ship to continue working without internet access. All data and operations can be carried out locally on the ship, ensuring uninterrupted productivity. The system automatically synchronizes with the cloud version once the internet connection is restored, ensuring data integrity and accuracy. Payments made onboard are recorded on the offline server and processed once the ship regains an Internet connection.
«Your professionalism and commitment to excellence are commendable. It's a pleasure to work with such an innovative partner!»
Executive Vice President Hotel Operations River Advice AG
Stefan Bloch