Make Every Room Count
Room Management
A hotel's heart lies in its rooms and this integral part of our system will keep it beating. It doesn't matter how vast your property's room inventory is. HotelFriend has thought ahead about each detail in order to offer you a means of managing every room type, from standard single room to presidential suite.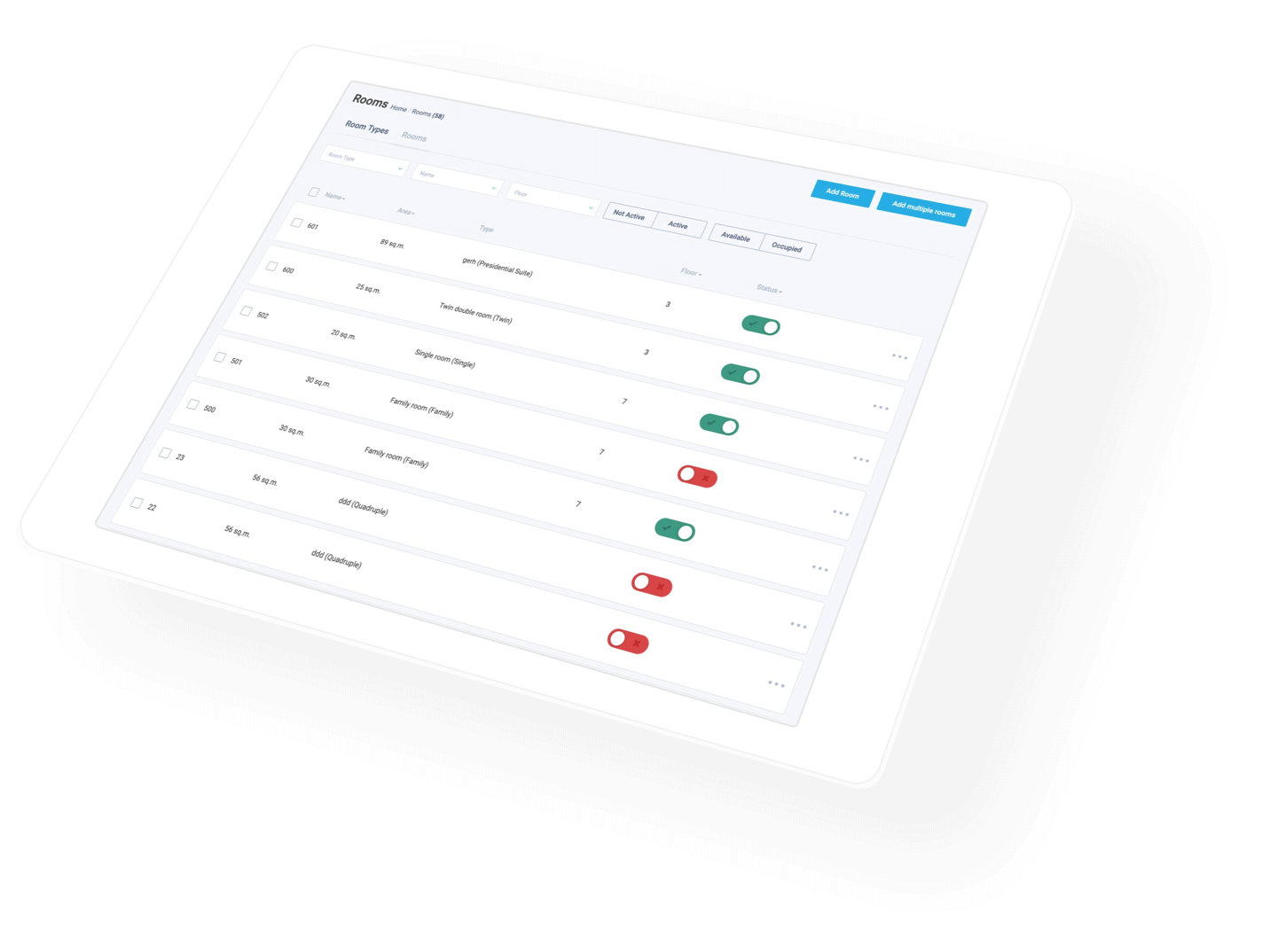 The importance of Room Management
One of the first steps towards the digitalization of your hotel is to set up the available room categories and rooms in the Property Management System. In doing so, you form a clear view of hotel capacity, centralize it in a single place and therefore optimize its usage. By creating or customizing the types of rooms and specifying all the important data about them, you are able to put your hotel's inventory in a favorable light and attract more clients. Eye-pleasing design, impressive photos, and SEO optimized descriptions will make sure of it.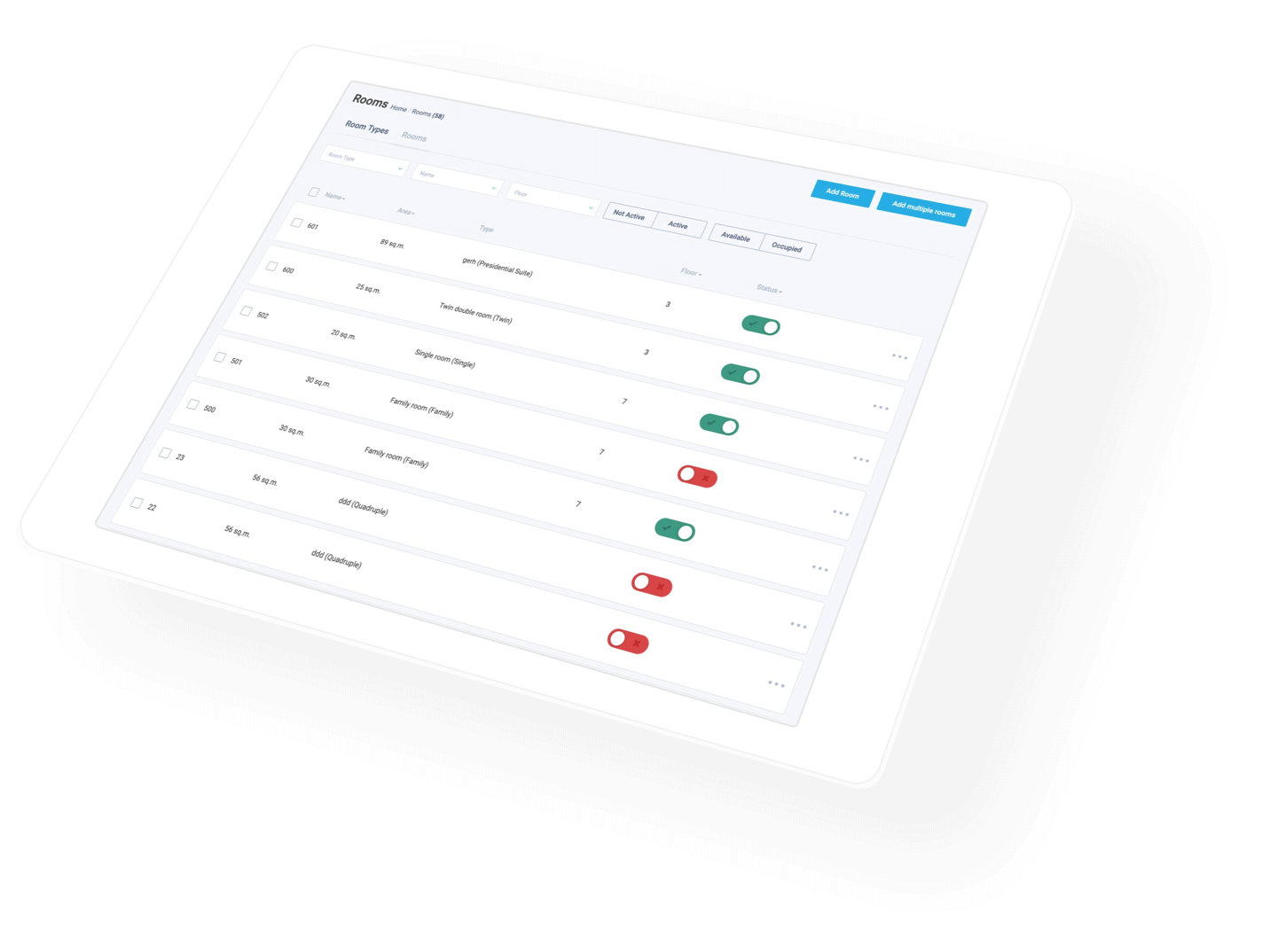 A clear view of hotel's capacity in a single place
Set up the available room categories and numbers
Specify all data about them to attract more clients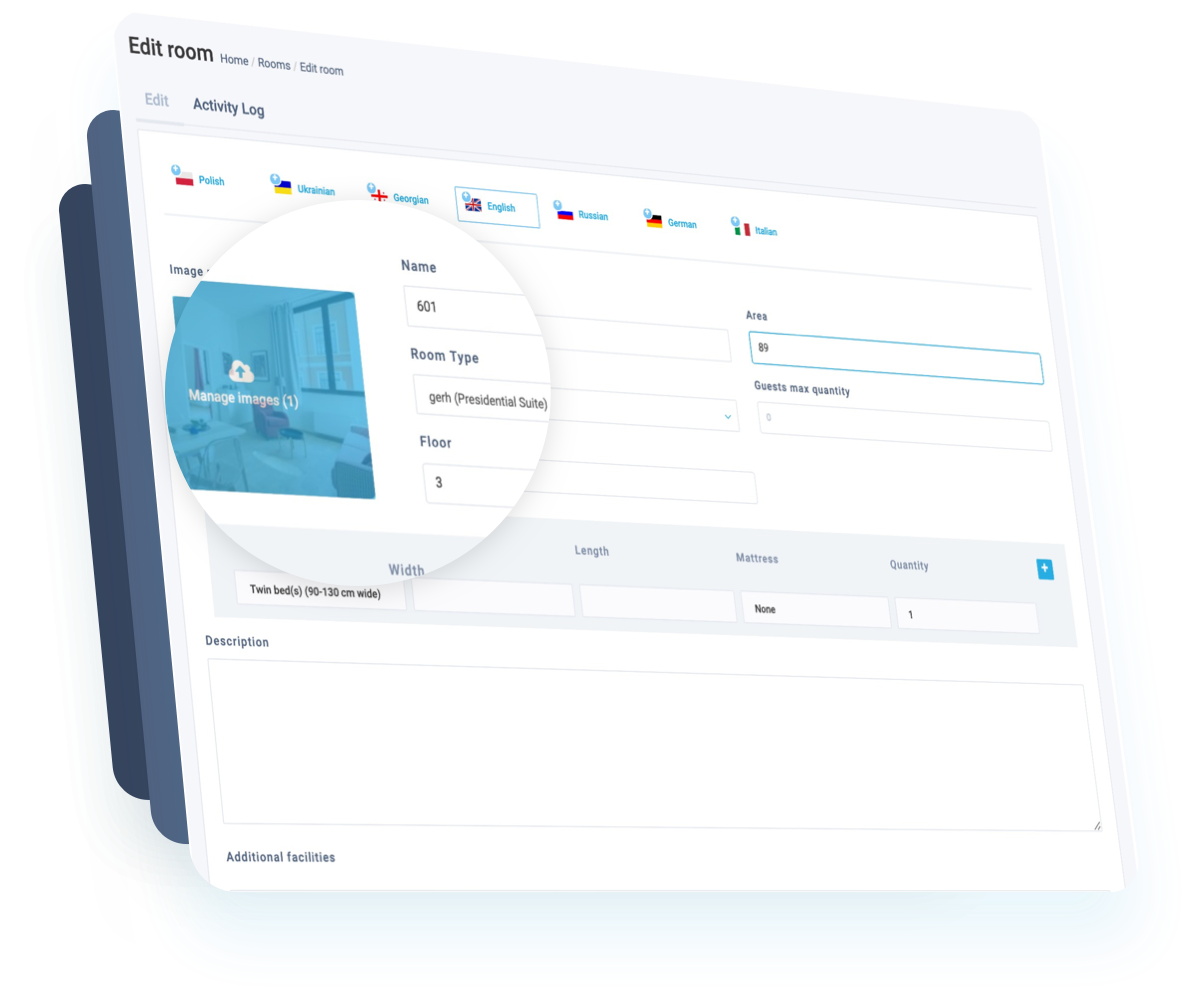 What you get
Hotel Room Management Software is an ultimate time saver and a magnet for guests as well.
Сomprehensive room information
Fill in the simple form which includes location, area, bed characteristics, maximum occupancy, the maximum number of adults and children plus a host of other parameters. Neither you nor your customers will have a need for more details; the tool has it all.
All thinkable amenities
You will also find an abundant list of facilities with nifty-looking icons in the room settings. Just mark the relevant checkboxes of the amenities featured in the room or room type. They range from view and accessibility to electrical appliances and outdoor conveniences - you name it.
Strong presentation
The next steps in the direction of effective room management are to upload the photos and to type in the description of the room/room type. Choose from over 100 languages to automatically translate the text, and you're all set to present your house in the best possible way.
Agile moderation
Moreover, the tool allows you to create multiple rooms of a specific type at once as well as change their sale status (Active/Not Active) at the touch of a button. Finding a suitable room for your guest won't take more time, than a couple of clicks ever again. No worries, all provisions have been already made for you.
Want to become your guest's favorite hotel?
Get free trial and see how a smart product can revolutionize your business.
Try free
Benefits
Easy Operation
multiple room type handling;
quick room search.
Quick Response
all needed room statuses;
detailed room parameters.
Awareness
attractive photos & descriptions;
multiple language support.
HotelFriend Features
Hotel Management
Front-Desk
Department Management
Employee Management
Room Management
Hotel Dashboard
Housekeeping
Maintenance Management
Mobile Hotel Live Chat
Operations Outsourcing
Finance & Payment
Accounting and Document
Payment Management
Reporting System
Booking Balance
Digital Cash Book
Revenue Management
Room Rates
Service Management
Guest Relations
Guest Management
Booking Request, Offer
Self Check-In
Guest Communications
Communication Automation
Digital Marketing
Hotel Website Development
Destination Management
Deal, Package Composer