Simple, Fast, and Flexible
Property Management System
A cloud-based PMS for daily hotel operations, automation, and business scalability. Manage a heavy load of organizational tasks in a few clicks.
Easy to use drag & drop calendar with extend stay option
Effortless reservations management
Guest Concierge App for mobile orders,
Check-ins/outs, payments & guest communication
Hassle-free accounting in compliance with German law
Maintenance module with tasks for the staff
Competent support, easy setup, staff training
Fair pricing with no hidden costs
Get 30-day free trial Book a demo
Manage your hotel online on any device
A user-friendly interface combined with comprehensive functionality makes it easy to control and manage operations. Anywhere. Anytime.
Addressing the demand for a simple yet efficient solution, we put your comfort first. From the booking request to invoicing — Front Desk, Housekeeping, Reports, Department Management, Mobile Orders, Fast Check-in, Billing and Payments, and more at your service.
A perfect match system for most kinds of hospitality facilities
HotelFriend PMS is complex but provides great flexibility and a preconfigured set of functions to match the requirements of different properties. Just select the package you'd like to go with to get the most of the benefits.
Small & Medium Hotel
Large Hotel & Chain
Boutique Hotel
B & B, Apartment
Bar & Restaurant
That's how it works
See how complex tasks tend to get solved:
Show More
Play Video
Old processes in a new way
guest can extend
hotel can manage
guest can check-in
hotel can confirm
Front Desk
Get a complete overview of all Front Desk operations right at your fingertips. Stay updated on any changes in check-ins, current room statuses, and inventory with a clearly laid-out calendar.
Automates and simplifies hotel management processes
Saves plenty of time on search of reservations and when creating a booking
Enables you to keep track of reservations from any device
Offers your guests what they expect faster with room filters and housekeeping statuses
Learn More
Integrated Channel Manager
Place information on more than 200 popular OTA systems. Avoid overbooking as well as irrelevant information on rooms and rates.
Sell available rooms

on all OTAs from one system

Manage rates with seasonal prices

Real time quota synchronization

Cancellation policy & booking restrictions
for all distribution channels
Booking offer by mail
2-way synchronization
Manage an unlimited number of online sales channels effectively and simultaneously, in real time.
Learn More
Reservation Management
Unlike other cloud property management systems, HotelFriend allows hoteliers to manage not only reservations but also services.
Manage services effectively
Grow income through service orders & ancillaries sale
Communicate with the guests - contactless and digitally
Track your bookings
Keep an eye on arriving and leaving guests
Manage the stages of booking and get system notifications on payments
Learn More
Room Management
Customize the types of rooms and add special features as well as characteristics, change the status of availability and much more.
When creating a room type, it is possible to specify all the information about the room: area, accommodation, type, and the number of beds, arrangement of the equipment in the room, photos for the guest map and the booking engine on your website, automated creation of rooms according to their type.
Learn More
Become your guest's favorite hotel
Our next-generation Property Management System is complex, so you have everything you really need in one place
Book a demo
Rate Management
Set various options for rates, tariffs, booking guidelines, booking restrictions and booking options, such as cleaning fees or meal options.
With the room rate tool, you are able to add a variety of tariff plans and thus offer the guest all possible bookable options for your accommodation.
Learn More
Department Management
The automated administration system allows managing the different departments of your hotel. After order was placed, the notification will inform about the service status change. Employees can easily track orders and react individually.
All incoming orders are prioritized by the status and urgency that enables prompt service processing. For example, the SPA center or a conference room can be managed in clear shift and occupancy plans directly from the hotel software.
Learn More
Service Management
Promote your services and increase service sales - across departments. Let your guests enjoy all the additional services. Inform your guests about all extras with the practical HotelFriend guest app. Enable your customers to get contact-free and mobile information, order digitally and pay with their smartphone.
Learn More
Guest Management
Keep track of your guests and save all necessary information, such as personal preferences of regular guests, information on allergies, notes for housekeeping and about meals.
Learn More
Contactless Room Opening
Your guests will be able to not only check-in and out, order services, and pay for them using their smartphones but also skip the front desk and access the room keyless with a mobile. With this new integration, contactless room opening will end the times of lost keys and play a crucial role in hygiene measures.
Learn More
Deal Management
A user-friendly and efficient combined service sales tool that allows you to create your own arrangements by adding rooms and choosing where to stay.
A unique deal constructor which helps to sell all hotel services and rooms online by creating special packages for the guests.
Combine the best activities around your hotel with suitable options and in-house services, offer romance, wellness, action - your hotel has more to offer than just rooms.
Learn More
What you get with HotelFriend PMS
Fast Setup
The system can be configured immediately. Our team will be happy to help you set it up easily.
Intuitive Interface
We have developed a solution for the hotels that is easy and convenient to work with. Friendly interface, accessible menu — all actions are performed with just a few clicks.
Full Control
Keep an eye on everything. You will receive notifications of all actions so that you can react immediately.
Tailored Customization
HotelFriend supports integration with other systems. Therefore, familiar tools do not need to be discarded, just added to the cloud PMS.
Work on any device
Our Property Management Software operates in a cloud and is compatible with absolutely any operating system and device. You only need internet access.
Increase Sales
The sales-focused PMS helps generate your income with services, specials and channel managers. With statistics on all income, you can increase your sales.
Get a free trial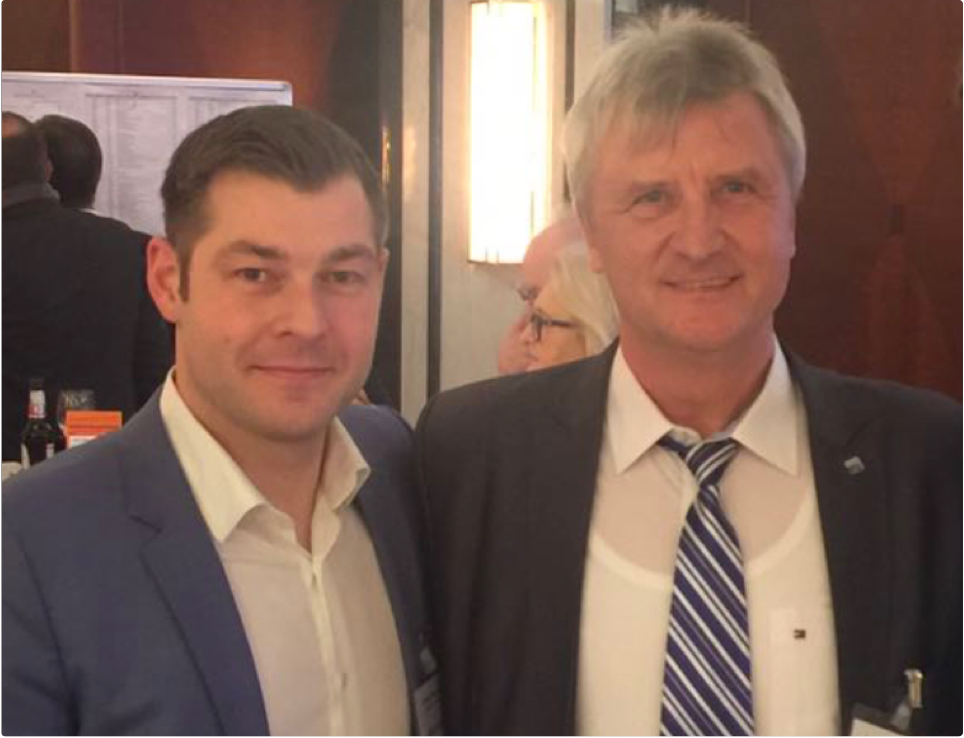 Denis Severyuk
CEO HotelFriend
Frank Doepelheuer
former DEHOGA President
DEHOGA Expertise
"The market has been waiting for this product for a long time!" — Frank Doepelheuer
"As a former DEHOGA President and Honorary President of DEHOGA, I am primarily a consultant and member of the supervisory board of this great and innovative company. By providing administration software for hotels, an integrated channel manager for the sale of the rooms on the common internet platforms (Booking, HRS, Expedia) and its own booking engine for hotels own website - HotelFriend lays the basics for essential hotel operations from a single source: room sales, prices & availability, accounting and invoicing."
Frank Doepelheuer
Success Stories
HotelFriend AG
HotelFriend is a global IT company and provider of business software with offices across Europe.
The company specializes in R & D in the travel and hospitality sectors, cloud computing, e-commerce, CRM, ERP, and the development of mobile and desktop apps.
450.000+
development hours
Fair Pricing
Single- and multi- Property Management Software for excellence in guest experience.
Starting at € 64 per month*, after 30-day free trial.
* based on up to 10-room annual payment Manage contract.
HotelFriend F.A.Q.
Do you provide support?
Yes. If you have any questions or problems, you can always contact our support team via live chat or email at support@hotelfriend.com. Our employees will be happy to help you. Basic support is included in any package. Applications are processed within 24 hours on weekdays. To get weekend support, you can purchase a 24/7 support package.
Do you provide training?
Yes. To sign up for training, you need to follow the link and select the most convenient training time in the calendar.
How do I switch from my old system to HotelFriend?
You can export data from the current system and import it into the system, configure the necessary settings with the help of HotelFrind employees.
What about HotelFriend's compliance with Germany's GoBD regulation?
Yes. There are many inexpensive products on the market that promise their customers to simplify hotel and restaurant management. When choosing the right system among all these options, you should make sure that it is the principles for electronic accounting (GoBD) compliant. Here is how to do it.
Does HotelFriend integrate with other systems?
Yes, there are a number of systems with which HotelFriend supports integration. Also, HotelFriend staff helps to integrate and configure everything correctly. You just need to provide the necessary information.
How do I synchronize my OTA systems with HotelFriend?
If your tariff plan includes the Channel Manager module, contact your account manager or write to Support. HotelFriend staff will help you synchronize and, prior to it, check if your account is prepared for the synchronization process.
Can I use the same tariff plan for several channels?
Yes, you can. When editing the
Room Rate
in the Source field, pull up the sources where you need to place this tariff plan. In case you need to display the tariff plan on any OTA system, you should select
Channel Manager
.
How can I accept payments and keep information in the system? Can I specify a deferred payment?
You can connect the Stripe payment system, as HotelFriend provides integration with it. Once you have connected the
payment system
, you can enter the guest's credit card information into the reservation card. Sure, by observing all security and confidentiality conditions, these cards will be tokenized. Besides, when receiving payment from a guest through the Stripe system, the information in the reservation card will be displayed automatically. You can also connect a POS terminal and add payments to the system as soon as you accept payment by credit card. If you accept payment in cash, you should add a payment to the system using the
Add Payment
function.
I am trying to add rooms, but the system notifies that the limit has been reached. What should I do?
This means that you have exceeded the limit of rooms indicated in the chosen product and tariff plan. Please
contact Support
, they will check the information and, upon your request, increase the limit of rooms.
How can I create a reservation for a company? Is it possible to automatically import the reservation list into the system?
To create a reservation for a company, you should enter the company data in the
Guests
module in the Company tab. Once you have saved the company data, you should move on to the booking method convenient for you. In the guest type, drag and drop the Company Guest and the company from the drop-down list. The
reservation creation
process is similar.
Do I need to set up a separate account for Booking Button?
No, you just need to select the sections that you want to place on your site and the color palette of the buttons that will suit the site style of the accommodation. After you copy the code generated by the system and install it on your website, the information will be transferred to the website from the HotelFriend system. The
Booking Engine
module provides step-by-step instructions.
Does HotelFriend provide limited system access based on employee position?
Yes, Hotelfriend provides the ability to create limited access for employees. For example, you like the
Housekeeping module
, but you do not want to provide full access to the system to your housekeepers. The accommodation administrator can create access for employees of the housekeeper positions. In this case, housekeepers will have access only to the housekeeping
Maintenance
module. Similarly, other departments can create limited access for employees.
HotelFriend Features
Hotel Management
Front-Desk
Department Management
Employee Management
Room Management
Hotel Dashboard
Housekeeping
Maintenance Management
Mobile Hotel Live Chat
Operations Outsourcing
Task Management
Finance & Payment
Accounting and Document
Payment Management
Reporting System
Booking Balance
Digital Cash Book
Revenue Management
Room Rates
Service Management
Guest Relations
Guest Management
Booking Request, Offer
Self Check-In
Guest Communications
Communication Automation
Digital Marketing
Hotel Website Development
Destination Management
Deal, Package Composer
Ready to get started?
Start free Book a demo