Time-limited special offer
A professional Bundle of must-have Hotel Property Management Tools that will simplify daily operations of any hotel.
Hotel Digitalization Offensive
Time-limited special offer
until 25.05
Your way to shorten lines
Fast Check-in/Check-out
This feature is a must-have option which helps to simplify the check-in/-out process and improves the guest experience. No lines of grumpy clients at the reception desk - more regular customers.
Why is it necessary
Just a few decades ago, we couldn't imagine it would be possible to do any actions with the help of a small gadget let alone to make purchases from any place in the world, to manage bank operations or to organize a trip in 10 minutes. Our life is completely digital nowadays, and it goes without saying that people are used to getting everything they want instantly.
By using the "Fast check-in/-out" option, you will keep up with the times and meet the "digital" requirements of guests. You can forget about long waiting lines at the reception, make your hotel's check-in/-out process more productive, and improve the service.
How does it work in our system
In order to be able to benefit from the "Fast Check-in/ Check-out" option, clients have to create an account in our system, fill out a digital form with their personal data, upload photos of documents in their profile, and sign digitally. The information will be saved for future hotel stays.
If clients want to change the date of their stay, they can discuss it with the staff via the direct chat. It is a handy way of communication which allows employees to meet the requirements of guests better and to find alternatives faster.
Look how easy it can be.
Guest says the booking number
Guest receives the keys
hotel can manage
Guest says the booking number
Guest says the booking number
Guest receives the keys
Guest enjoys vivid impressions of an unforgettable vacation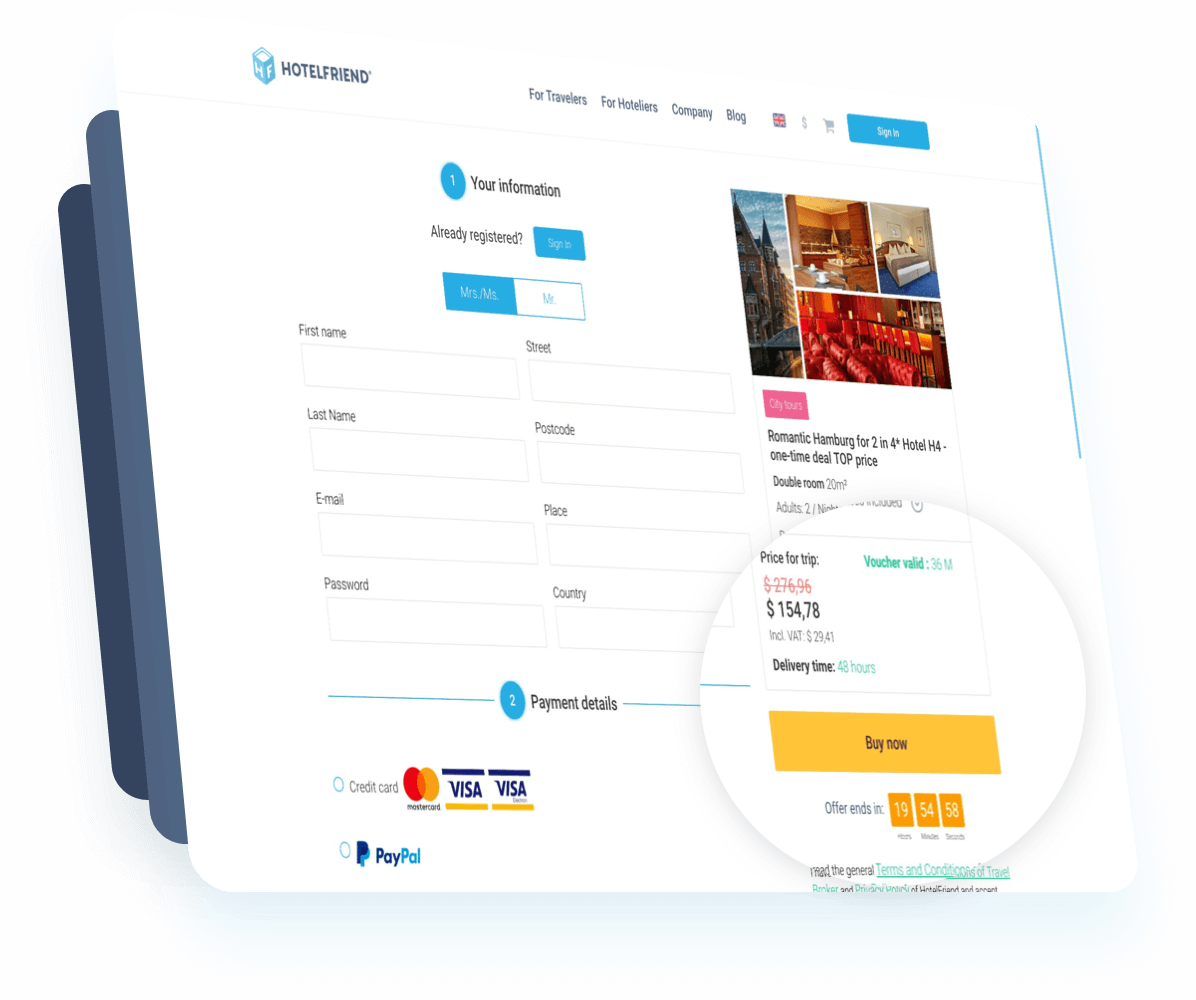 Some guests avoid contact with hotel staff during their vacation. With "Fast Check-in/ Check-out", clients have more independence and can save their time: they only have to get the keys at the hotel. Introverts will definitely be thankful for that option. Using our system, you can easily provide comfortable conditions for a perfect stay at your hotel.
Benefits
Easy to integrate
No coding required.
Only a few steps - and you
can start using our product.
No budget needed to implement
The hotel has to pay no additional
costs for the "Fast Check-in
/ Check-out" option.
No waiting lines
Guests and especially families with
young children don't have to wait
at the reception desk with all
their bags after an
exhausting journey.
Security
All orders go directly to the hotel.
No missed orders = no misunderstandings
on the guest's arrival.ct.
MODERNIZE YOUR HOTEL'S CHECK-IN/CHECK-OUT PROCESS AND LEAVE RIVALS FAR BEHIND.
Request our demo, and you will see the result!
WE ARE MENTIONED














HotelFriend solutions
Fast Check-In / Out
Analytics & Reporting Hotel Portfolio